How to Pick a Product?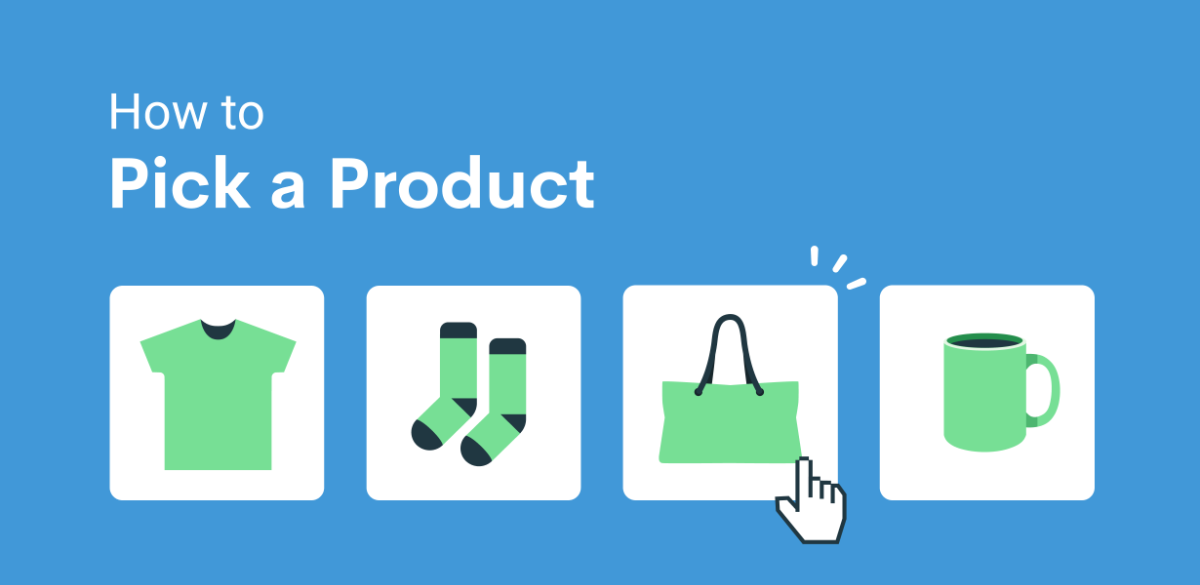 Although Printify strives to make merchants' lives easier with a simple website, integration, and designing tools, occasionally some things might seem unclear or tricky while creating products for online sales. But, we are here to help.
Dive into this guide and explore all the tricks and tips on how to use our product catalog, select the most interesting and bestselling products, pick the right print provider and find everything you need with a few simple clicks.
What Product Categories Can You Choose From?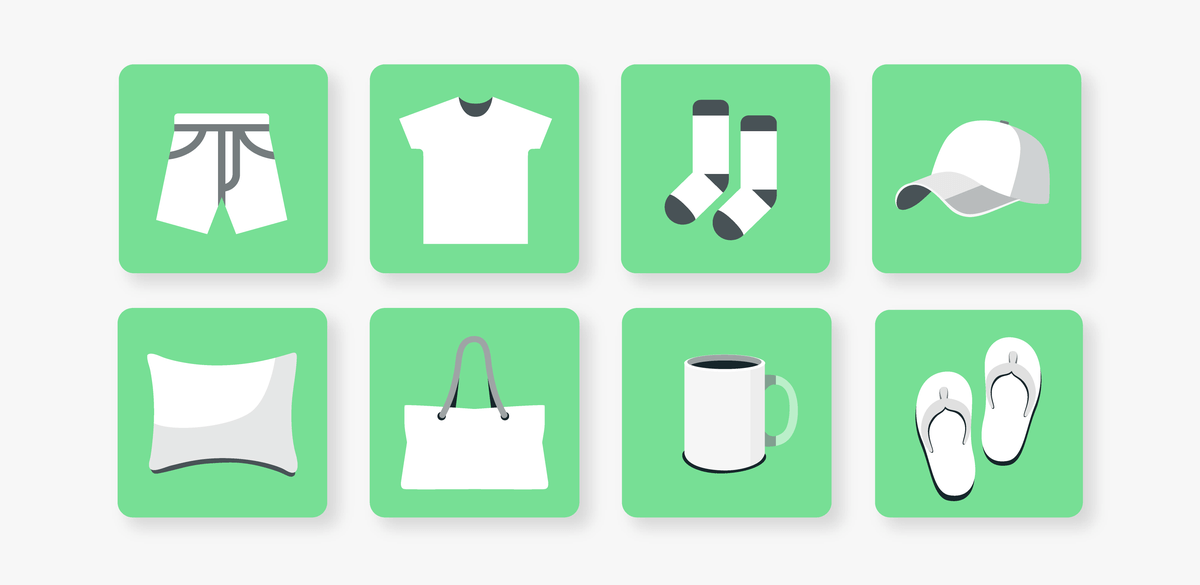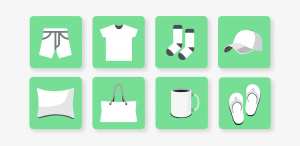 Our 400+ products are listed under six main categories. Here is a brief description of each of them.
Printify is a leading print-on-demand (POD) company that stands out amongst the competitors with low prices for quality items and the vast amount of products we offer to our merchants. 
Currently, our catalog holds almost 500 white label products of various types, for every taste, age, gender, event, and occasion, from apparel for big and small to accessories, pet merchandise, and home decor items that will help everyone create the perfect home aesthetic.
Keep reading to find a full list of our product categories and a brief insight into all of them to help you find what's best for customers and your online store.
The men's clothing section has  subcategories such as T-shirts, Hoodies, Sweatshirts, Long Sleeves, Tank Tops, Sportswear, Bottoms, and Shoes specifically for men. Under the subcategories is a list of all available items. From neck and sleeve types to different design elements and more. Search and find the best match for your online store.
Pick from various brands and bestselling items to design and sell top-notch men's clothing for every taste and occasion. Click on any of the subcategories and browse through various options, filtering them by size, color, cut, print provider, fulfillment location, print options, sleeve length, and more.
The women's clothing section in our catalog includes the subcategories T-shirts, Hoodies, Sweatshirts, Long Sleeves, Tank Tops, Skirts & Dresses, Sportswear, Swimwear, Shoes, and Bottoms.
Many of our apparel have unisex options. Some are specifically designed for women, such as skirts, dresses, swimwear, shirt dresses, and more. In this section of the catalog you will find every clothing option for women to design according to your taste and brand preference.
Skim through filters and choose between colors, sizes, printing styles like dye sublimation or direct to garment printing, and more. Limit the search to front and back or all-over prints, fulfillment locations, and other specifics to choose the best for your business.
We offer multiple choices for our youngest customers as well. The children's clothing subcategories are T-shirts, Sweatshirts, Long Sleeves, and Baby Clothing. Choose from toddler shirts and hoodies to bibs, custom baby hats, and apparel for teens in various sizes, styles, shapes, and more.
Design matching shirts or hats for parents and babies, or simply customize various styles and types of clothing for the younger generation, personalizing their wants, hobbies, trends, and needs. Filter through the most trustworthy brands, print areas, sizes, and more to create the best clothing selection for all of your customer bases.
The accessory section in our catalog is your chance to shine with creativity. Add one or more of the many fun knick-knack options we provide to attract more customers and show the fun side of your business paired with practicality.
It includes the subcategories Face Masks, Phone Cases, Bags, Socks, Custom Underwear, Hats, Baby Accessories, Mouse Pads, and Other, which includes items such as key rings, wallets, custom belts, phone accessories, custom bookmarks, yoga mats, poker cards, pins, tags, and many more.
Follow the current trends and design custom face masks, useful and stylish backpacks, or follow your brand and add various accessories like custom beanies, scarves, or even Christmas-themed oven mitts. The possibilities are endless.
This section of our catalog is the biggest of them all. It includes various home decor items and things for everyday use, style, artsy DIYs, and home aesthetics.
The subcategories are Mugs, Bottles & Tumblers, Canvas, Posters, Postcards, Christmas Ornaments, Journals & Notebooks, Magnets & Stickers, Home Decor, Bathroom, Towels, Blankets, Pillows & Covers, Pets, and Kitchen Accessories.
Style and design creative, fun, and practical items for your customers. From custom pillows, custom coffee mugs, and cutting boards to fun products for pets, custom candles, tablecloths, and even jigsaw puzzles to provide family fun in one-of-a-kind design for every day, holidays, or special occasions.
Which Featured Products Should You Pay Attention To?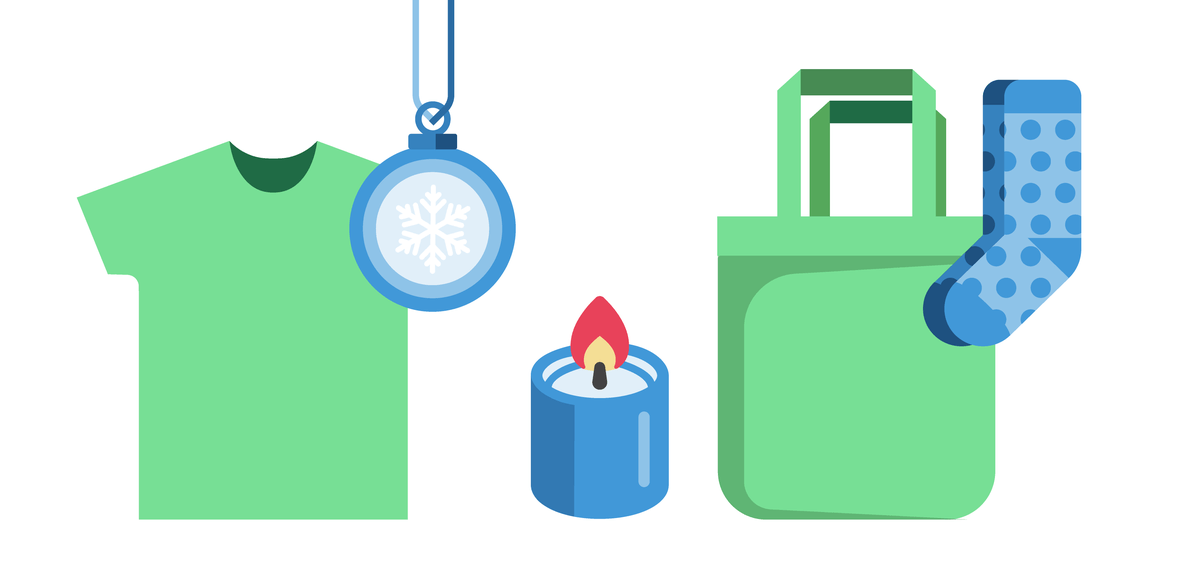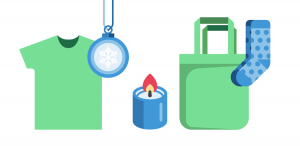 There are five special-feature product categories every merchant should pay attention to.
There are many items that stand out from others during special seasons of the year, holidays, and special occasions. These products can help merchants find the right niche for their store or cash in on some seasonal or specific income when it comes to different products.
These categories include Holiday Picks, Bestsellers, New Arrivals, AOP Clothing, as well as Eco-Friendly products. See more detailed information below to learn why you should keep an eye on those selections.
We encourage our merchants to be aware of our "Seasonal Picks" which change multiple times a year. Under this section, Printify sellers can find products and items with an increased global demand for special seasons and occasions.
Such categories as "Fall Picks", "Holiday Picks", "Summer Picks", or "Valentine's Day Picks" provide an insight into products with on-demand trends and nudges merchants to add them to their online stores. This sub-section is a helpful guide for boosting seasonal sales all year round.
Style and design creative, fun, and practical items for your customers. From custom pillows, mugs, and cutting boards to fun products for pets, custom candles, tablecloths, and even jigsaw puzzles to provide family fun in one-of-a-kind design for every day, holidays, or special occasions.
If you're low on inspiration or can't decide what products to sell online, we're here to help. If nothing specific comes to mind when creating a product list, take a look at our best selling items. Add your own design and cash in on current shopping trends and demands.
Currently our best selling products are tote bags, phone cases, t-shirts, socks, custom hoodies, notebooks, stickers, hats, and posters. A large variety of products to choose from and customize to your brand, customer needs and preferences.
If you want your business to stand out from the competition, offer consumers different types of merchandise. This is where our New Arrivals section comes in handy. Whenever our print providers add new white-label products for printing, we update the New Arrivals page and let our merchants  immediately know what  cool new items they can design and sell.
Amongst the current new arrivals are  cutting boards, bomber jackets, hardcover journals, playing cards, custom aprons, different types of tees and sweatshirts, business cards, leggings, oven mitts, ice buckets, leashes, and many more items that differ from the usual online listing.
The AOP section provides a list of all white-label products in our catalog that apply to all-over-print or sublimation printing. This type of print does not limit merchants to specific printing areas. The entire product surface can be covered in a custom design.
Choose AOP clothing for your online store to provide consumers exceptionally vibrant and long-lasting prints. As there are very few design limitations, there are many pros proving AOP to be the best choice for your merchandise. The current list includes items like socks, pajama pants, t-shirts, jackets, skirts, underwear, swimwear, and more.
If you want to make a statement in the sales world  as an environmentally friendly business, choose the Eco-Friendly section in our catalog to design and sell products matching  your cause. As going green is becoming more important, brands will want to join in.
Eco-Friendly products are made from, or with, sustainable materials & methods. When you include sustainable, eco-friendly products in your online store, you support cleaner air, better soil and water conservation, and farmers' livelihoods. By purchasing green products, consumers feel they're helping the environment and getting good karma.
Choose from tees, sweatshirts, tote bags, candles, phone cases, bottles, mugs, and more eco-friendly products to add a great cause to your business.
How To Pick The Right Print Provider?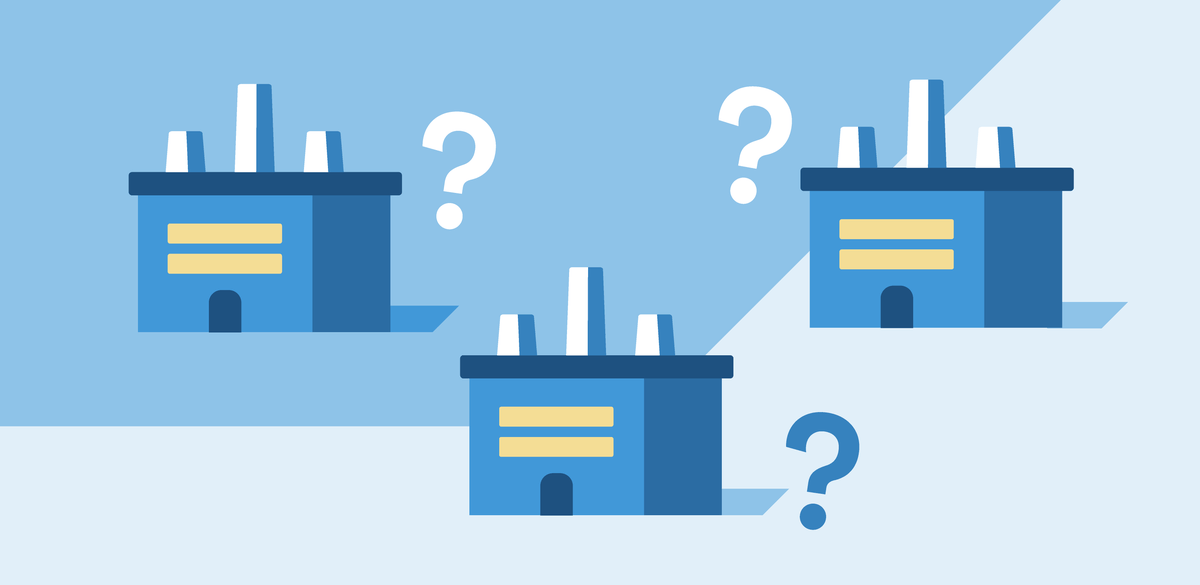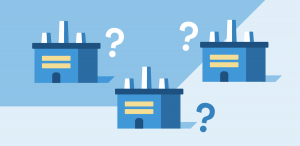 Choosing the right print provider for your order fulfillment is one of the most important steps of running a successful POD business. Print providers are the ones who print, package, and deliver the order straight to your customers. They are the ones who outline the quality and outcome of your merchandise.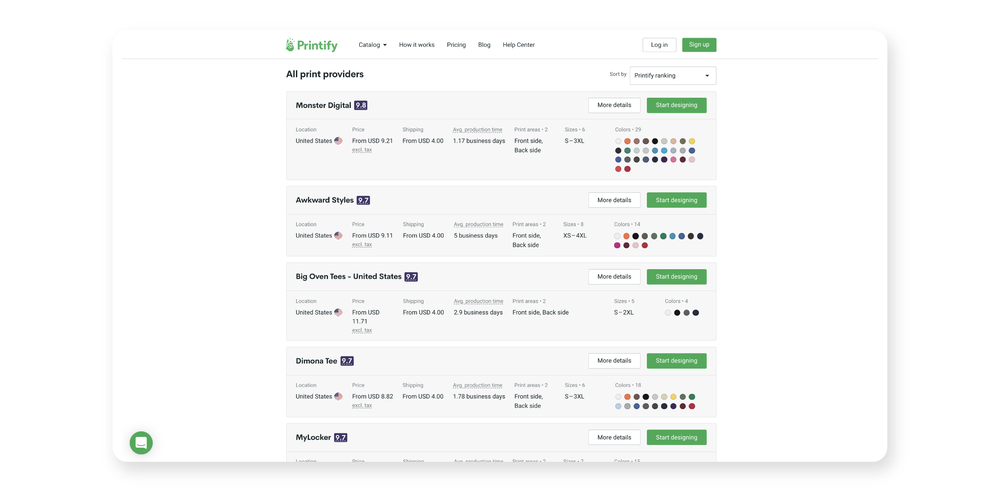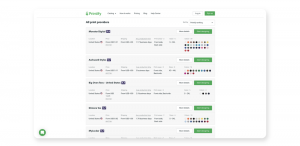 If you have decided on the product but there are a lot of print provider options to choose from, pay attention to:
Sort all print providers by their ranking, production time, price, shipping, or any other features, depending on what's important to you, and pick the best one for your business.
How To Find Another Product From The Same Brand?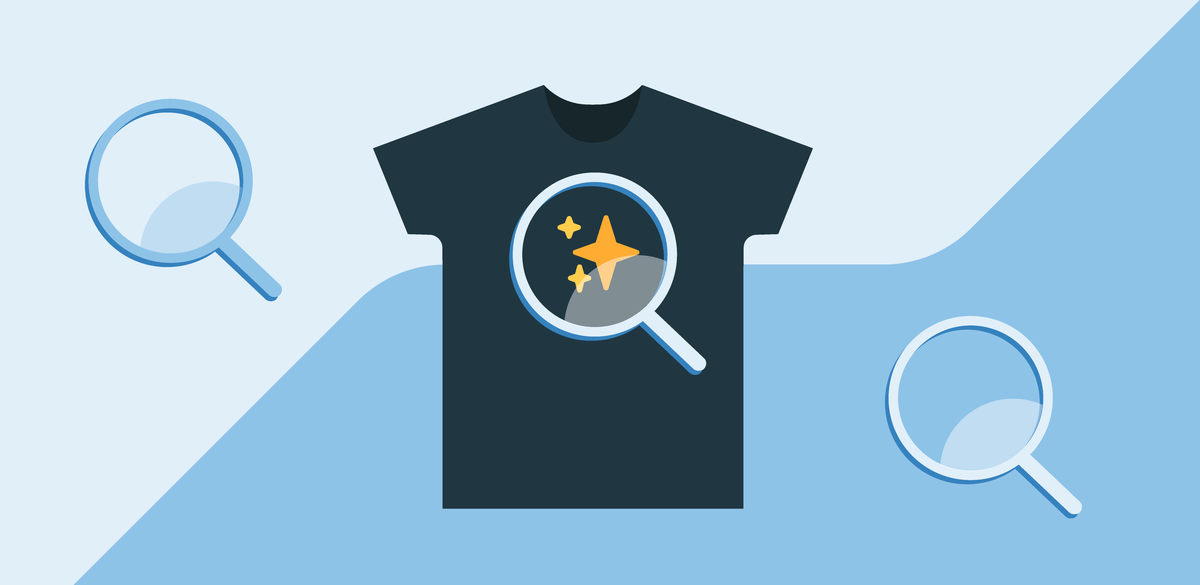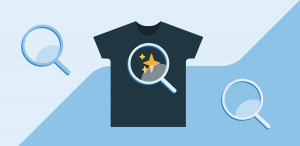 If a specific brand has caught your eye and impressed you with the quality of the end-product, it's only natural to want to expand the assortment of your store with additional products of the same brand. 
The easy way to do it is by checking our Brands page. It provides an alphabetical list of all the brands we work with and the number of products each of them offers. By clicking on any brand name the site will automatically take you to their page, showing all the products you can choose from.
Keep in mind, though, that the variety of products will not be that big, as the brands are limited to specific niche markets. For example, Champion is a well-known brand worldwide, but it offers 4 different products – crop top, hoodie, sweatshirt, and t-shirt – which are all clothing pieces.
If you want to expand your assortment with accessories, kid's clothing, games, or home decor items, sticking to one brand might not be possible. However, Printify has partnered with only the best brands and print providers to ensure top-notch quality for products and fulfillment.
Browse through our catalog, select your favorite products, choose a print provider and earn easy passive income with Printify. Focus on growing your business while the printing partners take care of the rest. Using our catalog is simple and easy, the way everything in life should be.
If you're feeling overwhelmed or unsure about a certain product or printing partner, there is always the possibility to replace both later on. Study this helpful guide and use our catalog in the best way to create perfect merchandise for your business.
Share the article
Topics