Take a warm hot sip of cash with profitable custom enamel mugs!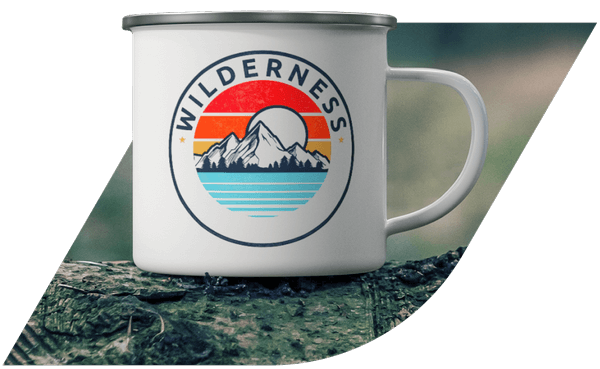 Create and Sell Beautiful Campfire Customized Mugs
Why Create Your Own Custom Enamel Mugs?
Enamel mugs are sure to have a moment, and you can get in on the trend by selling with Printify. Our mugs are strong, rust-resistant stainless steel that doesn't stain or corrode easily. That's a huge benefit for your customers and makes things easier for you as well. What else are they? Profitable.
Profitable Custom Campfire Mugs
One of the great things about the internet and getting a little side hustle going is that there are so many opportunities for products, designs, and niches. Sometimes, it's a bit difficult to choose what direction to go in or what niche you might want to carve out for yourself.
The biggest thing that might dictate what you decide to begin selling online is how much your potential profit is on your products. The great news about custom enamel mugs is that they are extremely profitable with Printify – and even more so if you sign up for Printify Premium – our unparalleled subscription service that gives you up to 20% on our products.
But how profitable are custom enamel mugs? Even without Printify Premium, we see custom enamel mugs selling at major online retailers for twice or more what we're selling them for to you. That's a mighty profitable product in a sea of low-margin side hustles.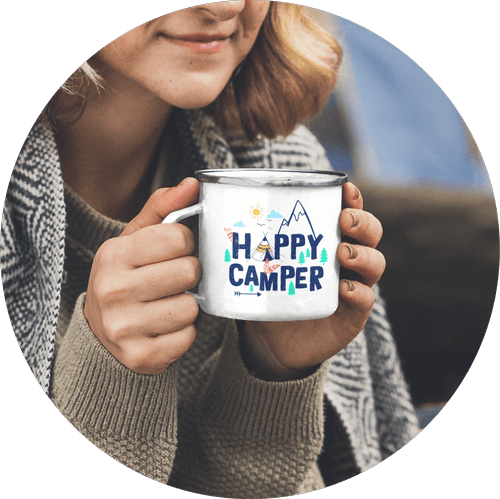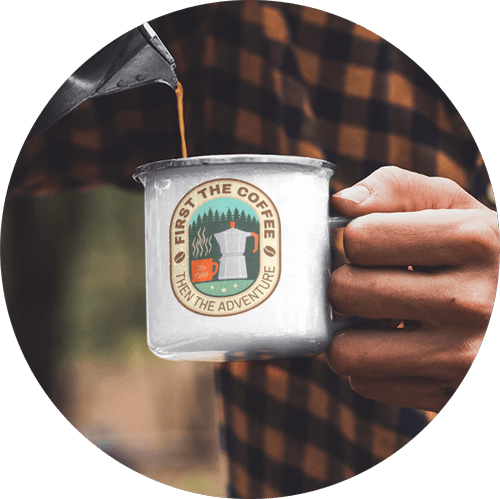 Incredibly Popular Moment
Campfire mugs are all the rage for hiking, camping, and of course, the ever-popular and Instagrammable "van life" trend. Young couples are converting old vans and trucks into full-time homes for travel – especially domestic travel.
These couples are roaming national parks and the great outdoors in search of an authentic experience and personal growth. And what is the number one thing you see when you follow van lifers on Instagram? The perfect shot – looking out of the back of the van – usually over some green grassy hills or a deep, crystalline blue lake, with a cup of coffee in their hand. But not just any cup – a custom ceramic mug – the only thing needed to complete the aesthetic.
Super Strong Custom Campfire Mug Companions
Without getting too technical, the enamel mugs have an image transferred onto them at high heat through a process called sublimation. What's sublimation? It means that the heat actually condenses the ink for the design and then cools it. The cooling process doesn't involve condensation, so the ink doesn't run when it cools and is transferred to the enamel of the mug.
The mug itself is a super lightweight stainless steel that is completely encased in the enamel. The mug also has an extremely strong handle in a C shaped, and the whole piece is pressed all at the same time to allow for one strong campfire companion!
Make Your Own Custom Enamel Mugs!
Use Our Free Mockup Generator to Build Your Mugs
Get up and run selling custom enamel mugs in just a few minutes. How? Use Printify's mock-up generator. If there were an award for mockup generators, surely our mockup generator…would win it. It's an easy process, just pick your product, then pick your provider, and drag and drop your beautiful designs. 
You're free to be as creative and inspired on your mugs as you want; they're all going into your store. If there's a part of a personal brand, remember they'll reflect on you. We certainly do, and that's exactly why you'll have so many tools and resources behind you from Printify to help you sell our amazing products with your stupendous designs.
Design Inspiration for Custom Campfire Mugs
From hippie campfire drum circles to Instagram hiking models, nearly everyone needs a custom enamel mug in their life. That's good news for you, and you can take advantage and bring some of your own creativity to the party to help you get that side hustle going online.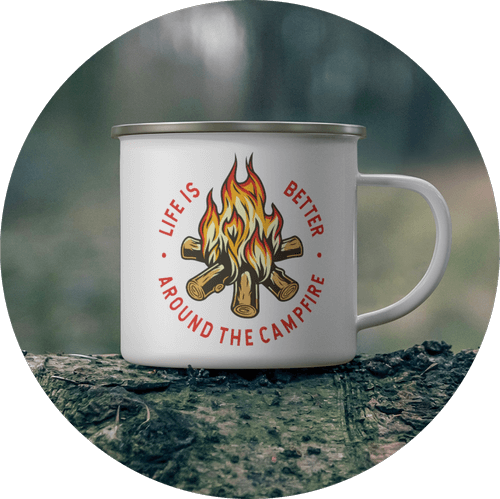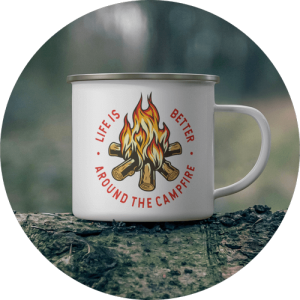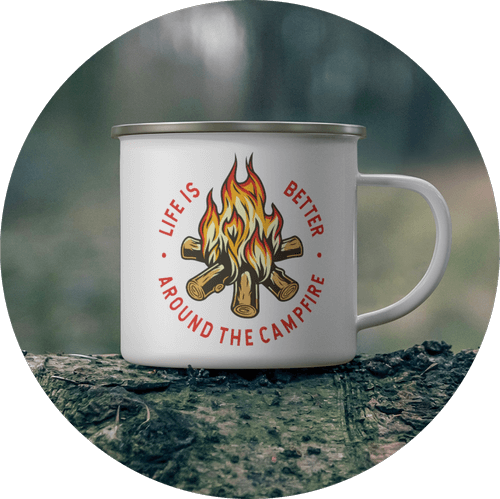 Lovers of the great outdoors and nature will love custom enamel mugs, and they'll love adding to their experience by reinforcing their belief that they're communing and diving deep into all that mother nature has to offer with designs inspired by what they see around them.
This could be a pine tree forest on the mug, the name of a place or national park, or even a summer camp (much like the ever-present Summer Camp Tee that many people sport). Let your custom enamel mug help to enhance their trip through the use of some special nature-themed custom campfire mugs.
People sometimes need a little extra motivation in the morning to get out of bed and get moving, and that means the canvass of the custom enamel mug is ripe for fun. Choose your funny and amusing best designs to put on these mugs, and help to give your customers the boost they need in the morning to get themselves through the day.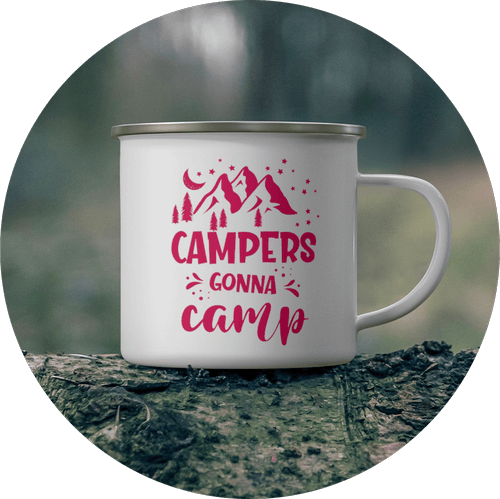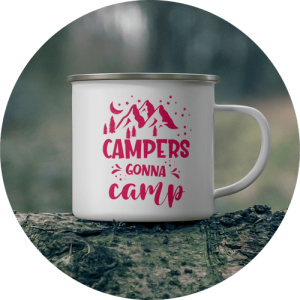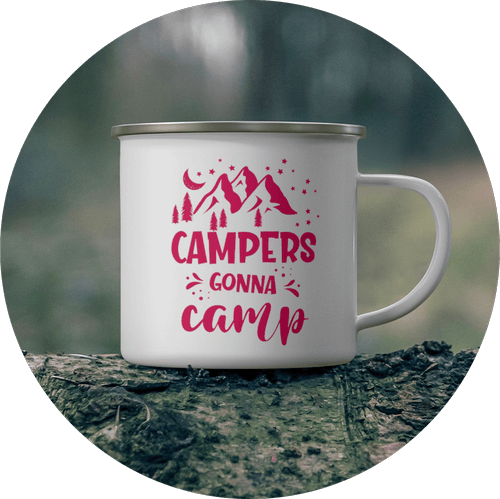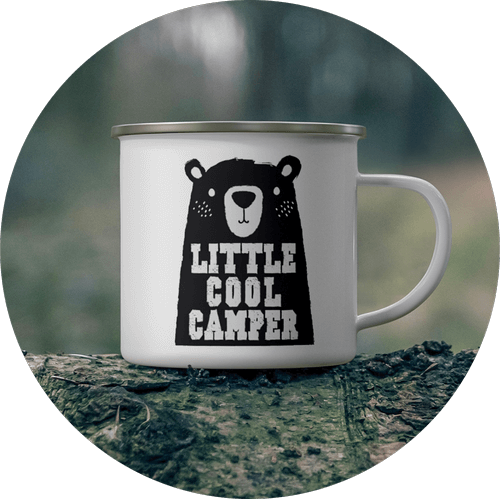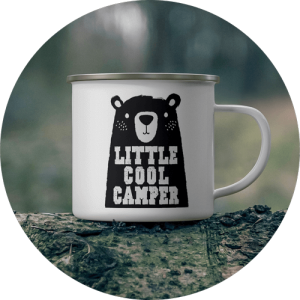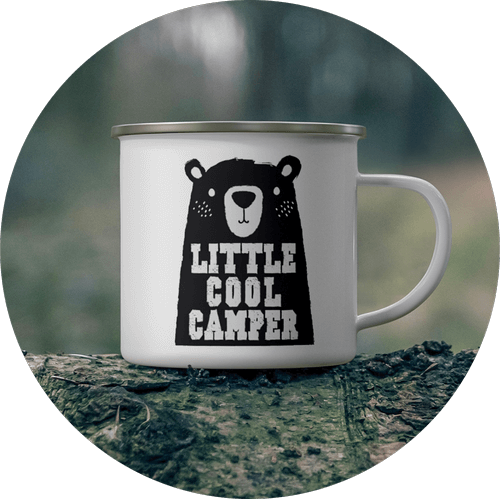 In what could be a subcategory of the above, animal-themed custom enamel mugs are incredibly popular. If you're struggling with ideas, just try brainstorming with cats or dogs as a part of your design. They won't disappoint, and neither will all of the animal lovers of the world that may see and fall in love with your designs.
Frequently Asked Questions About Custom Enamel Mugs
How to Get Started Selling Custom Campfire Mugs
We hope we've given you some thirst for sales – only to be quenched by our custom enamel mugs – with our introduction above. If you're wondering how to put it all together, here's where we show you how to do it. We're one of the fastest-growing print-on-demand platforms, and that's because we offer competitive prices to produce them. Here's how to get started.
Make Your Own Custom Enamel Mugs!