Take a warm, hot sip of cash with profitable custom enamel mugs!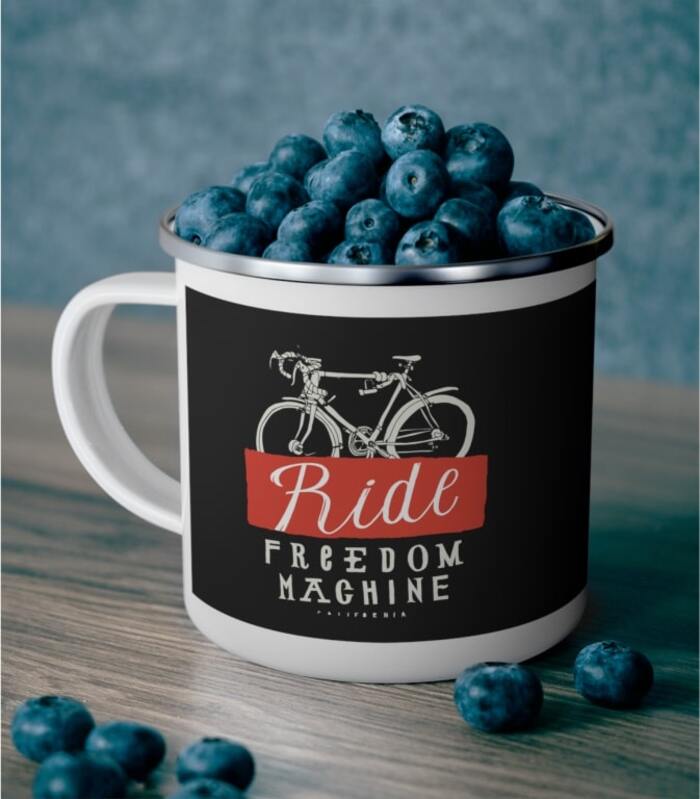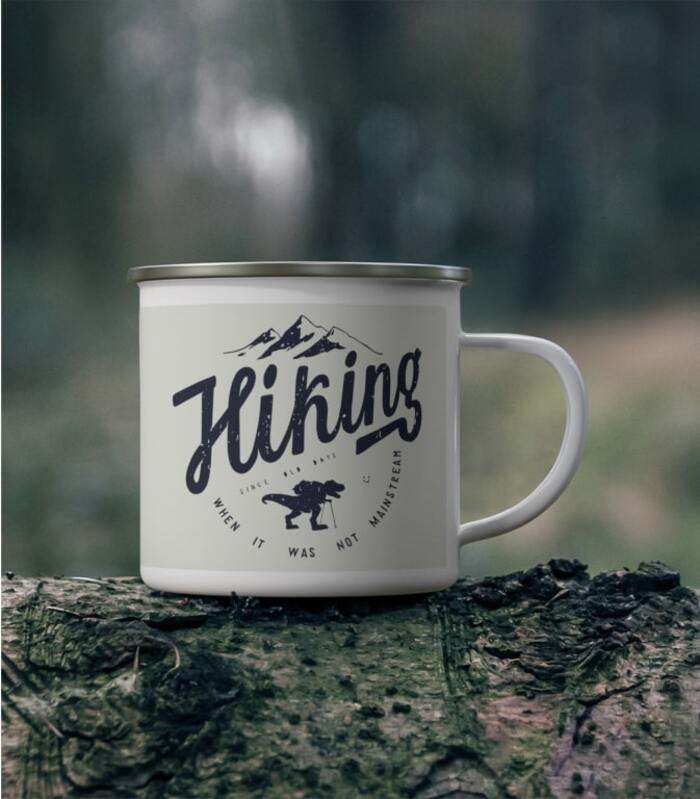 Design Custom Enamel Mugs With Printify
Create Your Own Camping Mugs
Personalized enamel mugs are an exceptional outdoor camping tool for hot beverages, and we're happy to announce – Printify is the hottest place to create them.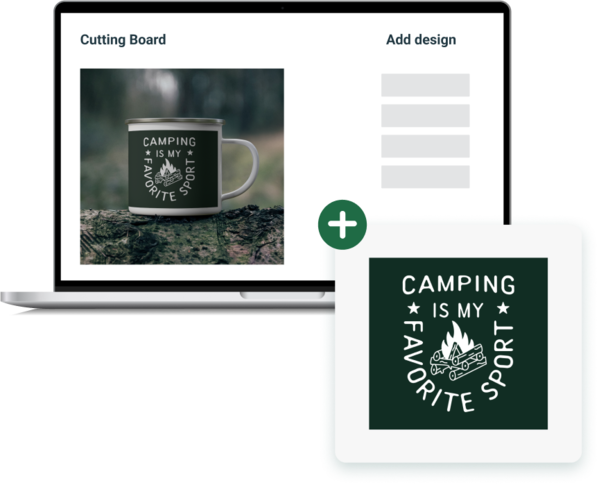 Pick one of our enamel mugs
Search by category or type and select one of our top-selling personalized enamel mugs from our ever-growing selection of blank white labels. Click on any of our helpful product pages to overview manufacturing details, available Print Providers, production costs, and design features.
Upload via our Mockup Generator
Printify's Mockup Generator will help you throughout the design process with a comprehensive user interface. Simply drag and drop an image from your device, style your print area, monitor resolution requirements, and preview your finished product all on one screen.
Publish and start selling
Integrate with your own store
Printify provides integrations with top-selling eCommerce sales channels like eBay, Etsy, Shopify, WooCommerce, and more. Create a product in a few hours, add your store, and sell print-on-demand products without running out of stock.
Why Design and Sell Camp Mugs With Printify?
Use the print-on-demand order fulfillment method to list products straight to your store and sell directly to your customers automatically.
Printify's custom enamel mugs hold 12 oz of liquid, held by a durable steel outer shell with rounded corners. The mugs have a glossy enamel finish made for outdoor use. Designs can fit the wrap-around exterior as logos, images, or personalized photos.
Other Custom Enamelware Products
From cups and tumblers to bespoke enamelware bowls, Printify boasts a vast selection of enamel products fulfilled around the world, with frequent releases throughout the year. Learn about our other options in the Printify Catalog, ready to sport your message or logo.
Make Your Own Custom Enamel Mugs
Why Create Your Own Enamel Mugs?
Mugs are a staple for a great experience on any camping trip, and with the help of your design, they can also be surprisingly profitable to sell. Strong, rust-resistant stainless steel mugs that don't stain or corrode easily are a huge value proposition for your customer.
Campfire mugs are an excellent addition to eco-friendly line-ups and hold well with many colors for unique designs.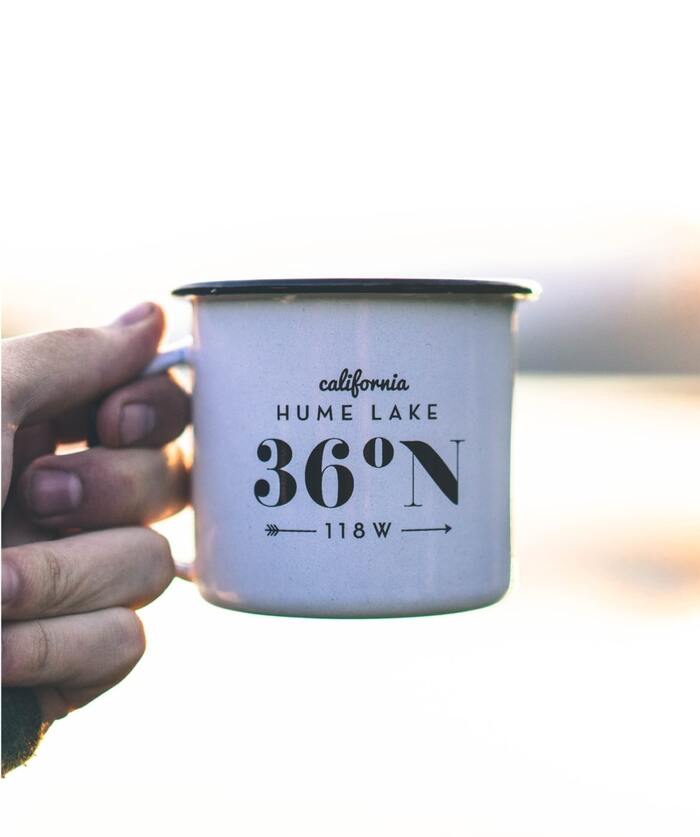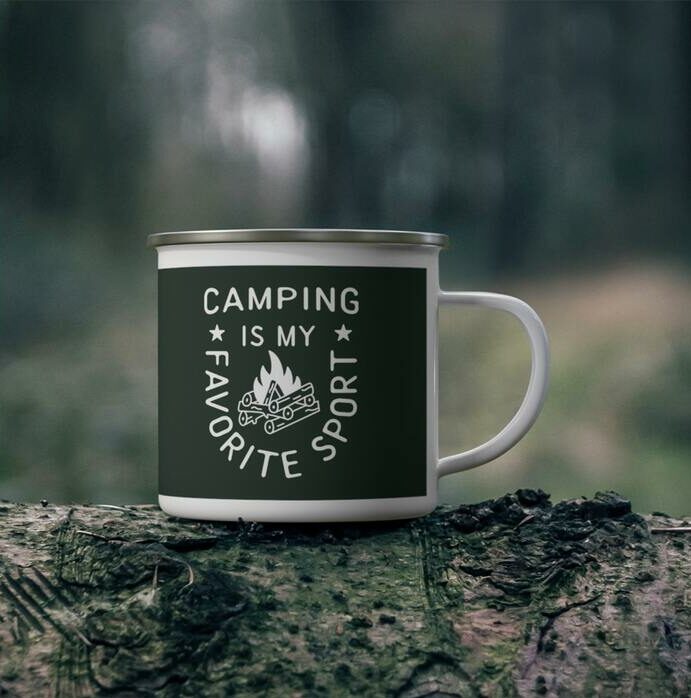 Practical Campfire Mug Companions for the Great Outdoors
Enamel mugs are printed through a sublimation process, where the art is transferred at high heat. The heat condenses the ink for the design, which is then cooled and tempered. The cooling process doesn't involve condensation, so the coating doesn't run or get disturbed. The whole piece is pressed all at the same time to allow for maximum durability.
Personalized Enamel Mug Design Ideas
Decide on your niche, from seasoned trail hikers to a company sales team of influencers  – nearly everyone needs a custom enamel mug in their life. That's good news for you. Bring some of your creativity to the party to help you get that online shop going – styled with your design, put in packaging, and shipped off to adoring audiences or company employees.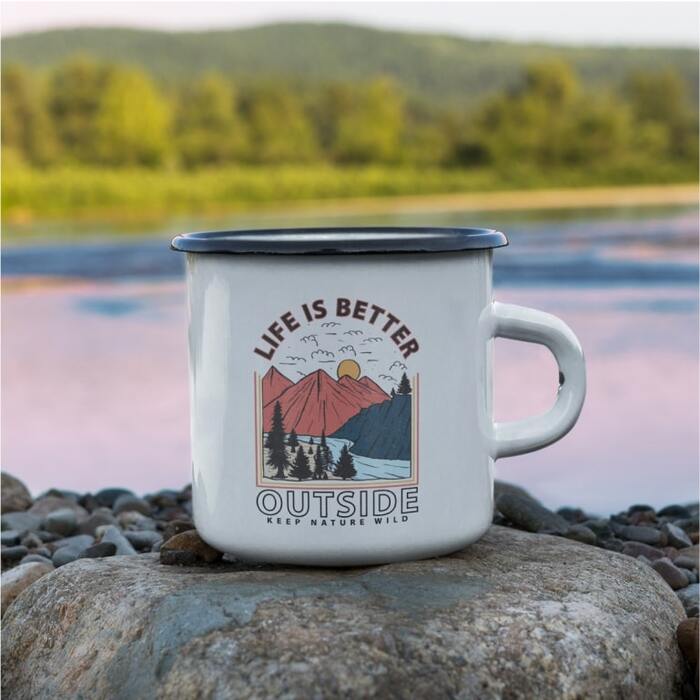 Lovers of the great outdoors or travelers in campers will love personalized enamel mugs. And they'll love adding to their experience by reinforcing their belief that mother nature has everything to offer with designs inspired by what they see around them. Pine tree forests, national parks, or even a summer camp sported by the seasoned vacationer.
People sometimes need extra motivation in the morning to get out of bed and move, which means the custom enamel mug canvas is ripe for fun. Choose your hilarity-inducing bangers, and help a person get the boost they need to get through the day.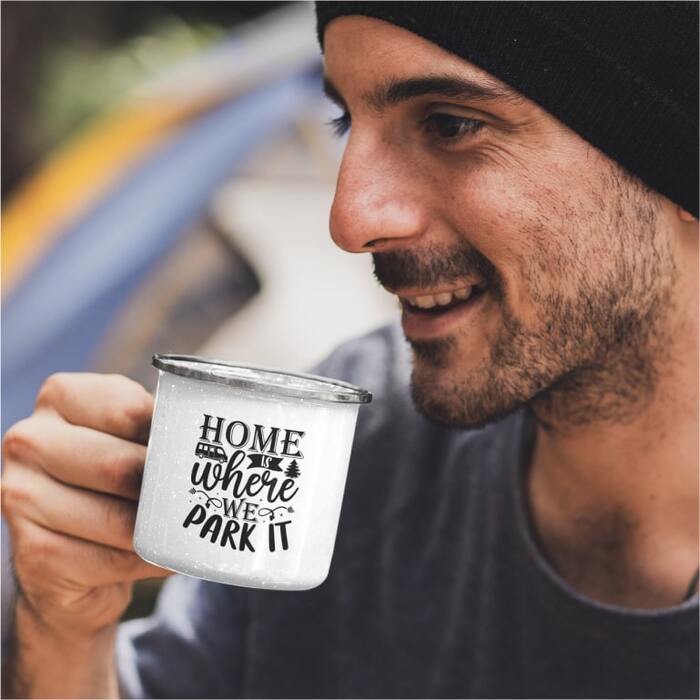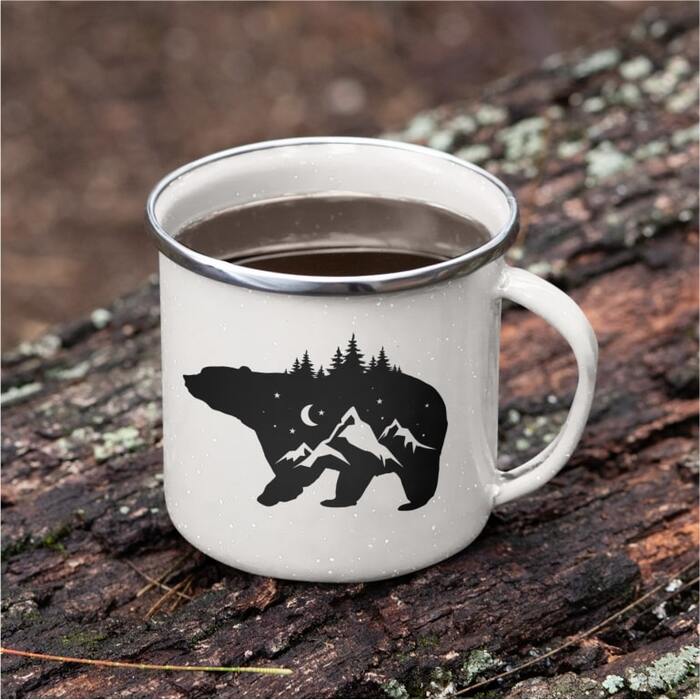 In what could be a subcategory of the above, animal-themed custom enamel mugs are a brand favorite. If you're struggling with ideas, try brainstorming with cats or dogs as a part of your design. They won't disappoint, and neither will all of the animal lovers of the world that send their thanks for falling in love with your dream designs.
Frequently Asked Questions About Custom Enamel Mugs
Make Your Own Custom Enamel Mugs!