A popular wardrobe staple, custom hoodies are always in demand. Design your own hoodies and start selling today.
100% free · Easy to use · 800+ options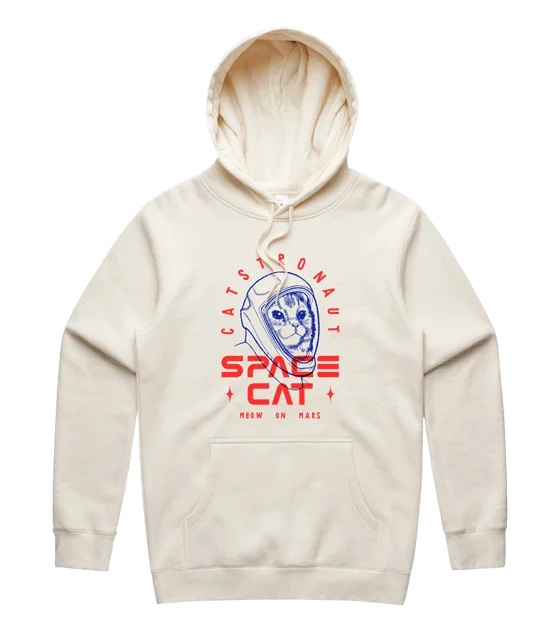 Here's what people say about us
Rated Excellent 4.8 out of 5

Absolutely love these guys
Absolutely love these guys! I have been with them for last couple of years and there sure have been bumps on the way but they always come around. Business at the end of the day is to grow and evolve and provide even better services and they have surely been growing beautifully. Best wishes to the whole team and new customers 🙂

Printify has been amazing
Printify has been amazing. They have built, and continue to build, an extensive network of printing providers offering a huge range of quality products at very competitive prices. They are fantastic with resolving any issues that may arise, and their customer support is always kind and accommodating. I highly recommend Printify!
Honestly, everything. I love how intuitive the website is, the options that show you where your products are being printed, as well as the convenience of linking it to my Etsy shop. This is really a great resource to support folks with building their own products or small businesses.
It is an easy process to create designs items from the catalog. The best part is that you can set a price and it tells you how much you will profit from that item. I also enjoy that fact that you are able to publish your design straight to your shop front.

I found Printify through a TikTok post…
I found Printify through a TikTok post and connected it to an Etsy store. The ease of setting up both accounts was very helpful to my creative process. Between Printify, Canva and Etsy, I have found the perfect side hustle for my creative outlet and I never even have to touch a single shirt. Who knew coming up with T-shirts could be such a potentially lucrative business?

I added my Etsy shop to my Printify…
I added my Etsy shop to my Printify profile and already made a sale in the first 30 days. I also use Printify for my website through Shopify. I find Printify to have great and a wide range of products, an easy to use template for transferring designs and my customers are happy with the quality of my products.

Pretty easy to understand
Printify has been very easy to understand. There are some limited products / features, but undeniably an outstanding print on demand service.

Printify is Very Supportive
I had some products setup on Printify and it seemed they were not syncing to my online store well. I reached out and within 2 minutes I had an easy solution that was simple to deploy. I am very appreciative for the quick support!
Make Your Own Custom Hoodie
Design Your Own Custom Hoodies Today!
Create Bestsellers With Our Custom Hoodie Maker
Use the Printify Mockup Generator to personalize your own hoodies. It has a powerful, user-friendly interface that shows how your designs will look in real life. It's free for everyone with a Printify account; all you need to do is follow the steps below.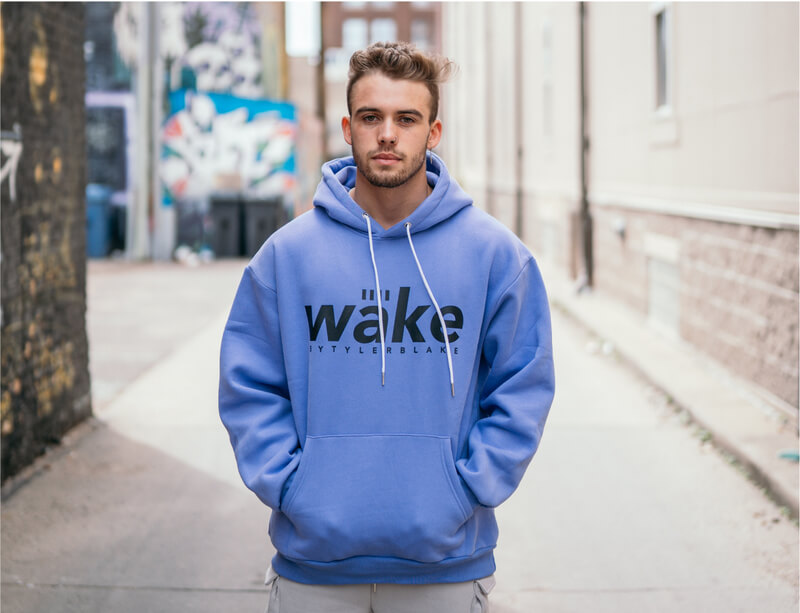 Step One: Select a Product
We offer a one-of-a-kind variety of hoodies. Browse through different fits, like a classic, medium, or relaxed fit.
Choose between a zip-up or a pullover hoodie. Last but not least, filter them by printing techniques – direct to garment, dye sublimation (all-over-print), or embroidery.
We also have eco-friendly options for your environmentally conscious customers.
Step Two: Create a Design
Let your creativity loose and create an original winning design that speaks to your desired target audience. 
Upload the artwork to the Printify Mockup Generator in a suitable format, pick its placement and drag it into position. You can add some lettering with our text editor if it complements the design.  Click Preview to see and download the mockup images. Use these visuals to publish your custom hoodie listings on your online store.
Have a design idea but don't know how to make it? Hire a professional designer to customize a hoodie for you.
Step Three: Start Selling Custom Hoodies
Use our integrations with the largest eCommerce platforms and marketplaces to publish your custom hoodies to your store.
You can track each process stage, like fulfillment and shipping, directly from your Printify account.
Advertise your custom products to reach more shoppers. Find out how to do it efficiently by checking out practical marketing tips and insights on our blog.
Unisex Heavy Blend™ Hoodie From Gildan
From USD 19.85 · From USD 15.29 with Printify Premium
A crowd favorite – the unisex Gildan custom hoodie – continues to prove itself as a bestseller. Merchants love it for the great profit margin, and shoppers adore it for its quality and comfiness.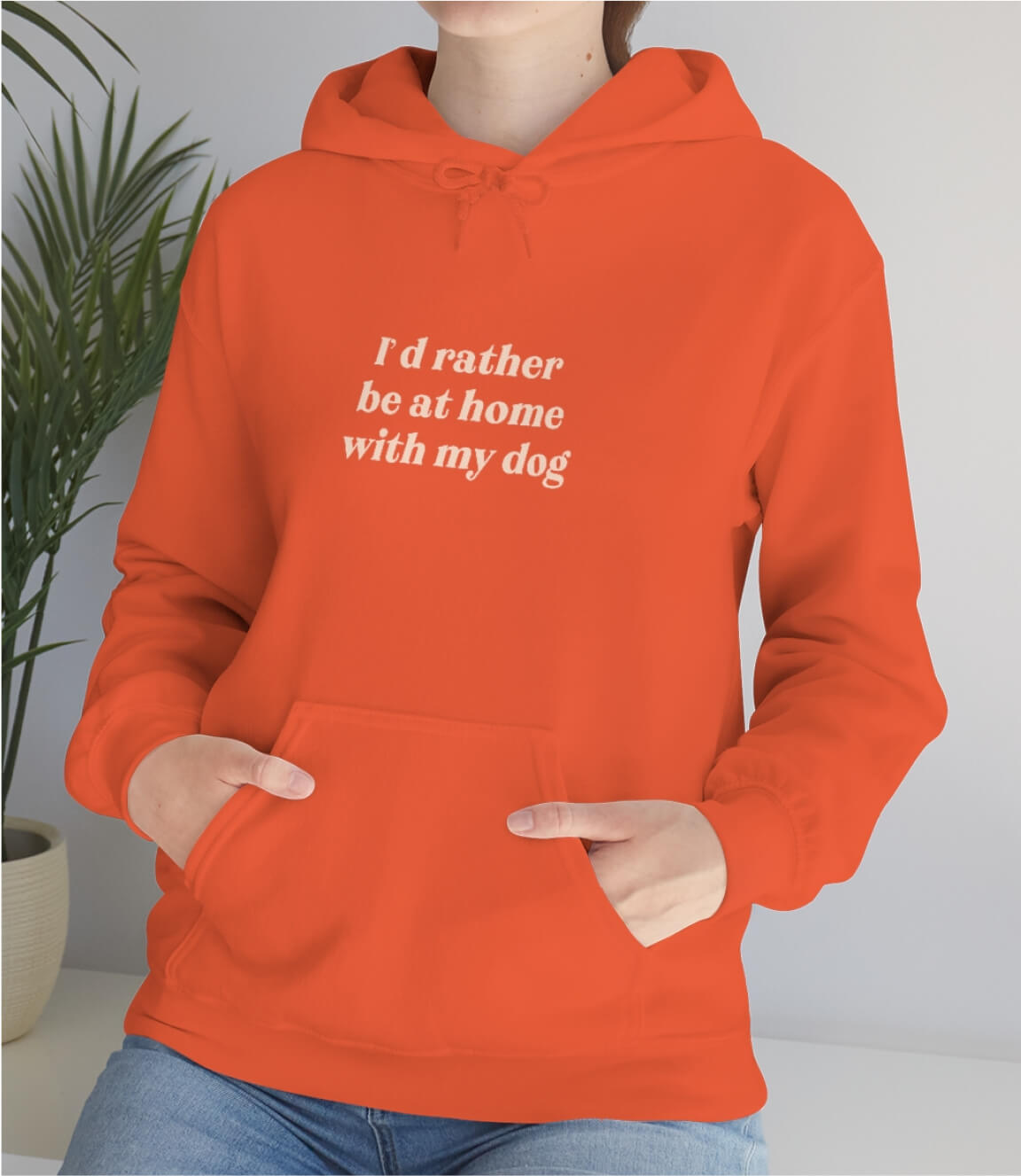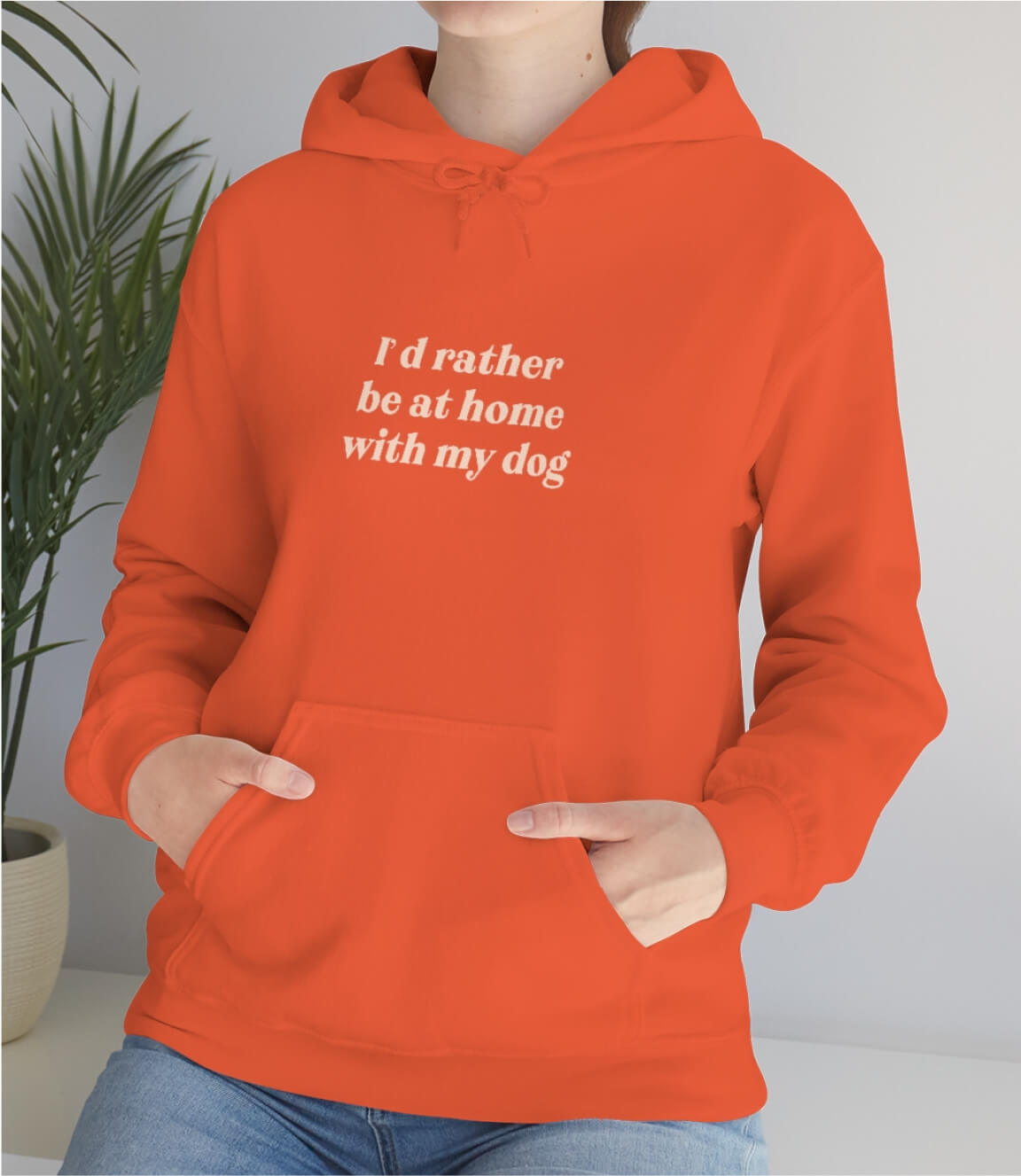 Choose and Design Your Hoodie
Explore the different styles of our customizable hoodies in women's, men's, and children's categories.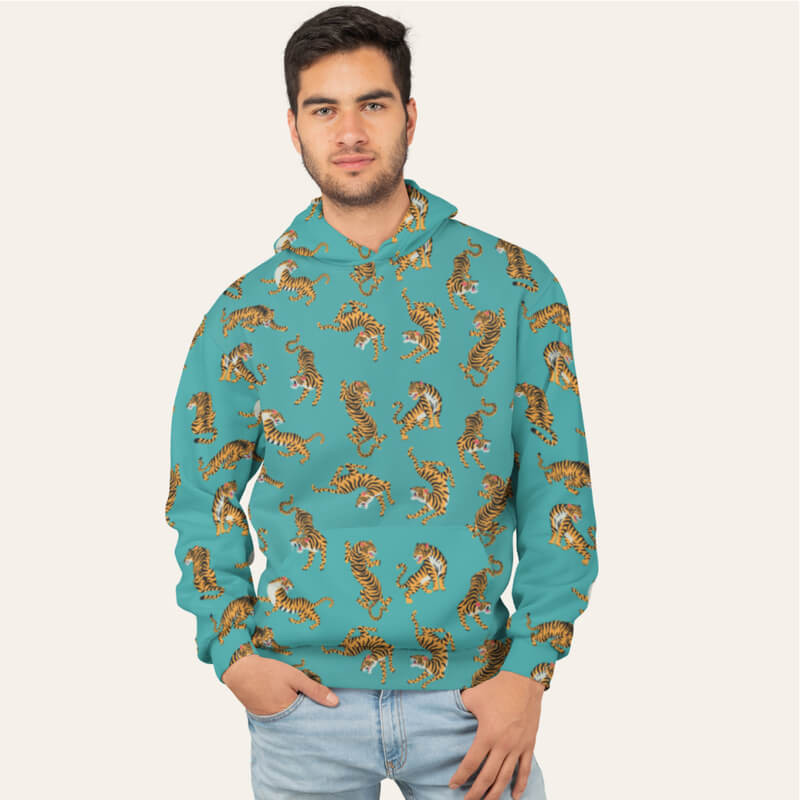 Custom All-Over-Print Hoodies
Cover every inch of the hoodie with all-over-print (AOP). This printing method offers you the largest print area possible to unleash your creativity.
All our AOP hoodies are made from 100% polyester or a polyester blend. It's a popular material for printing because it makes the colors pop and stick for longer. The dye becomes one with the fibers instead of just sitting on the top of the garment.
They're also made with the cut & sew technique, where print providers print the design on the fabric before it's cut and sewn together, leaving no room for issues on hemlines.
Make Your Own AOP Hoodies: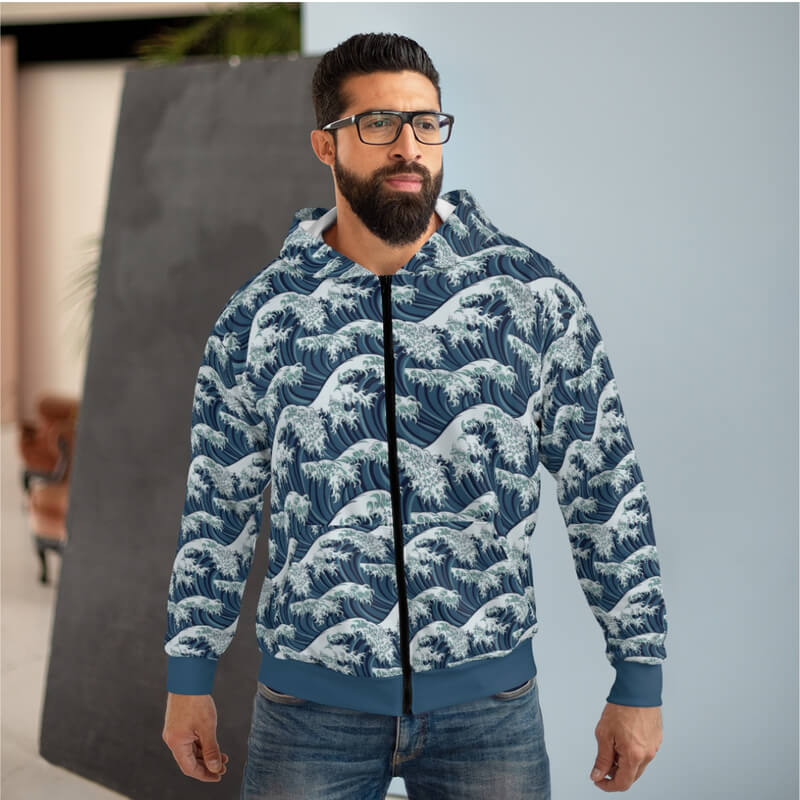 Zip up and roll out! These hoodies are super versatile, easy to layer, and will fit any style while keeping the wearer warm and looking fresh. We offer many different colors and fits.
Our zip-up hoodies are made from high-quality, durable materials that are smooth to the touch, perfect for printing, and will last for many years.
Choose between three decoration methods – dye sublimation, direct to garment, and embroidery.
Make Your Zip-up Hoodies: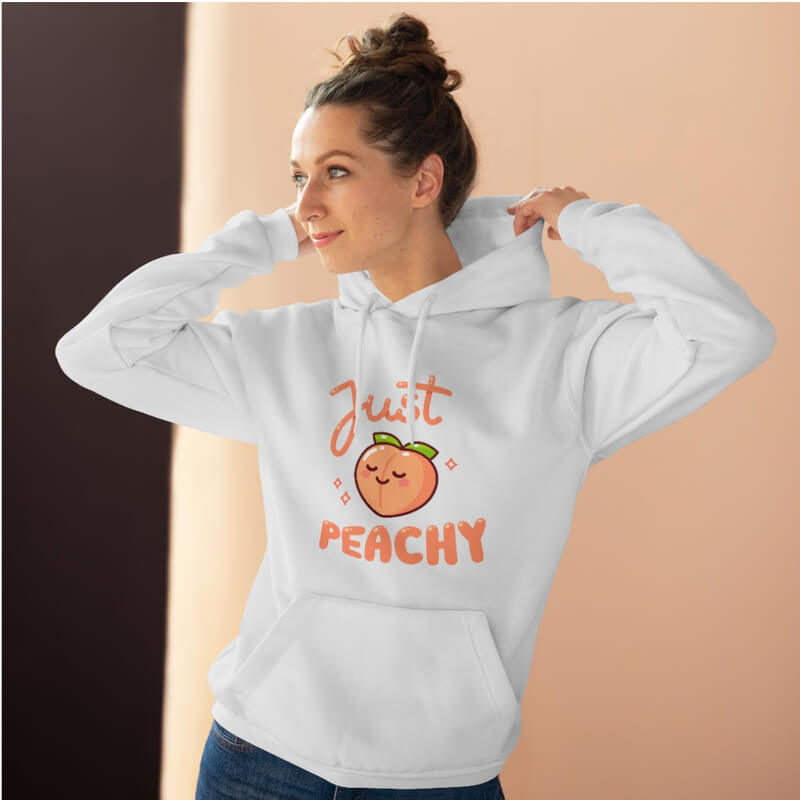 The pullover might just be the most popular style of hoodie out there. Each pullover hoodie in our catalog comes in medium or premium quality at affordable prices for every budget. They're manufactured by reputable brands like Hanes, Bella+Canvas, and Lane Seven.
Our chosen manufacturers make every pullover hoodie from durable fabric blends excellent for printing vibrant and long-lasting designs.
Choose between two printing techniques – all-over-print to make fully sublimated hoodies or direct-to-garment for decorating only the front of the hoodie.
Design Your Pullover Hoodie: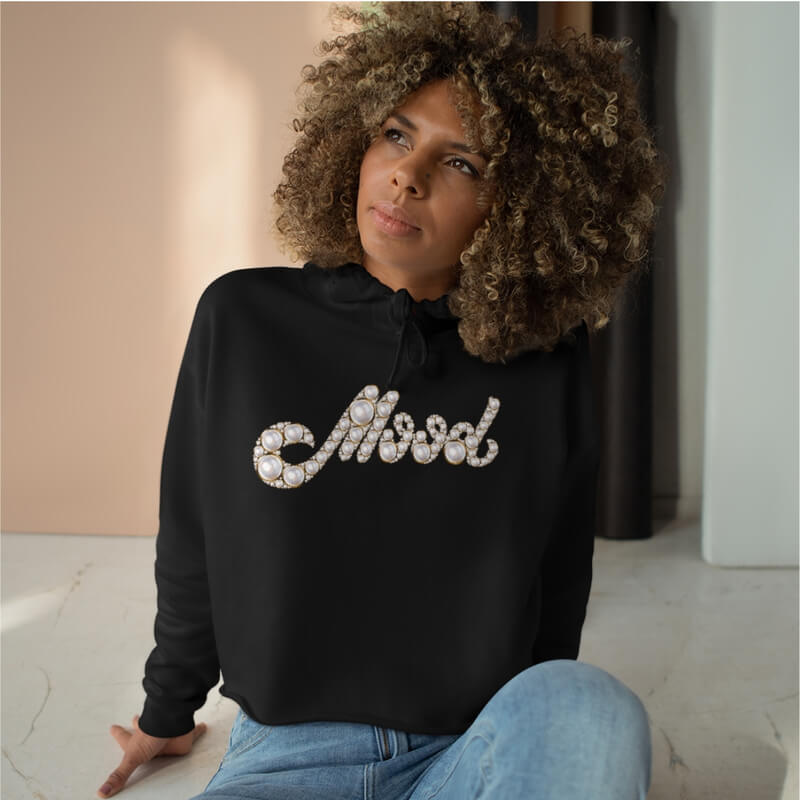 Trend alert: there's a high demand for custom crop hoodies worldwide. These personalized hoodies are soft, breathable, and comfortable thanks to the cotton fibers used in manufacturing. Browse multiple color options to suit any style and taste.
Their short fit doesn't make them exclusive for the summer months – fashionistas know how to layer them to keep warm while still looking stylish.
The crop hoodies come in trendy, relaxed fits with a raw or drawstring bottom hem and no front pouch pocket. Choose between multiple neutral tones like white, pale pink, or sage, and add your beautiful design.
Design Your Crop Top Hoodies:
Design Your Own Custom Hoodies Today!
People are buying custom hoodies all year round. This global love for hoodies can secure a steady stream of income for your hooded sweatshirt business.
Currently, streetwear takes the throne in fashion, and what's the centerpiece of this style? Bingo, custom hoodies. In this segment, customers are comfortable paying more for a one-of-a-kind design.
The obsession with hoodies comes as no surprise – it's the ultimate comfort piece of apparel, thanks to its versatility. You can dress it up or down for cool summer nights out or cozy winter days at home.
You can customize a hoodie to fit any fashion trend. Play around with color and add wild patterns or keep it simple with minimalistic text and a white, gray, or black base.
They also sell great as a custom gift on special occasions and promotional products.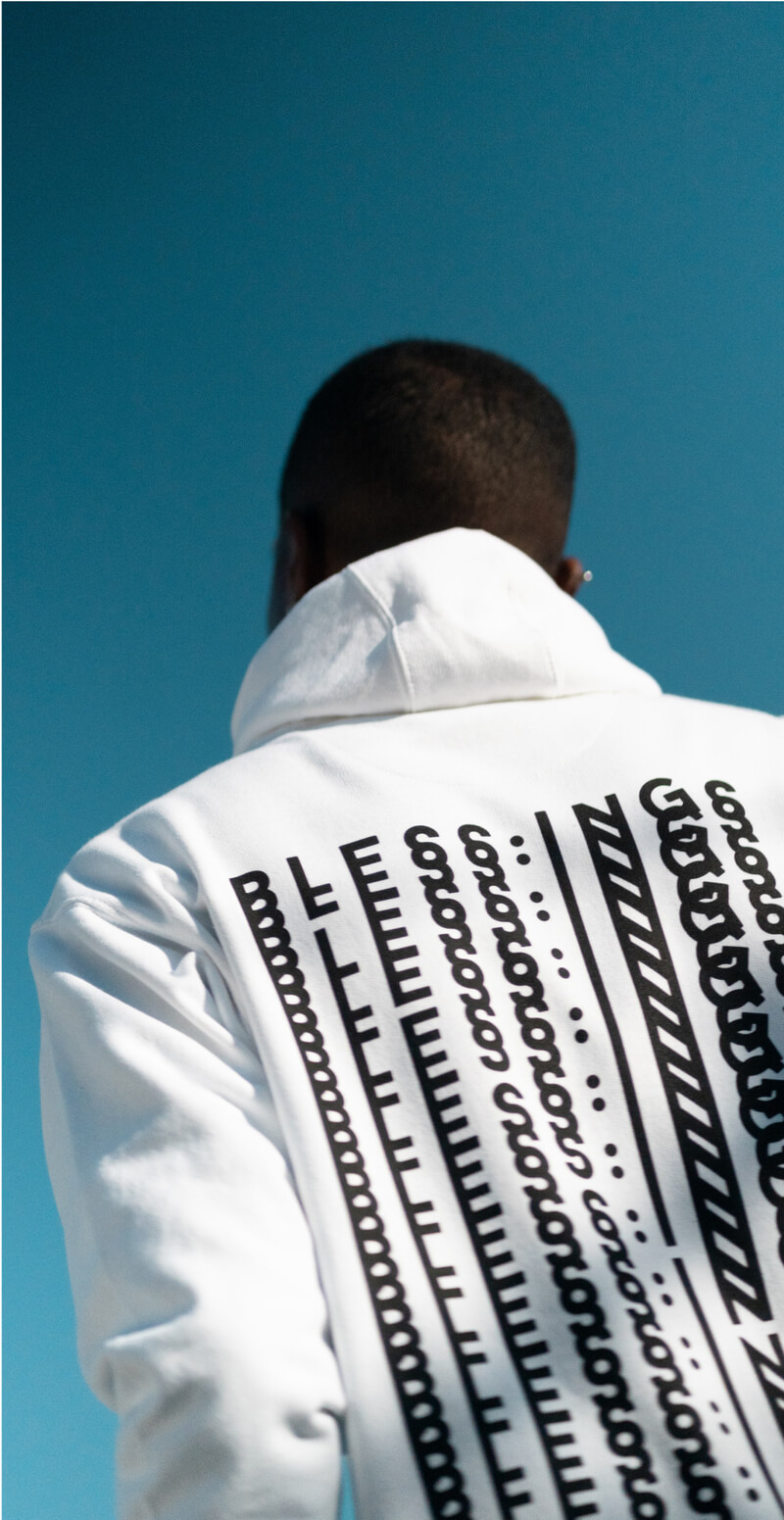 Make Money With Printify – Let's Reach Greatness Together
Be your own boss – start a hoodie business for adults and youth with no upfront cost. Come up with a trendy, original design everyone wants to wear and let us do the rest.
Frequently Asked Questions
Design Your Own Custom Hoodies Today!
Looking for a specific country?