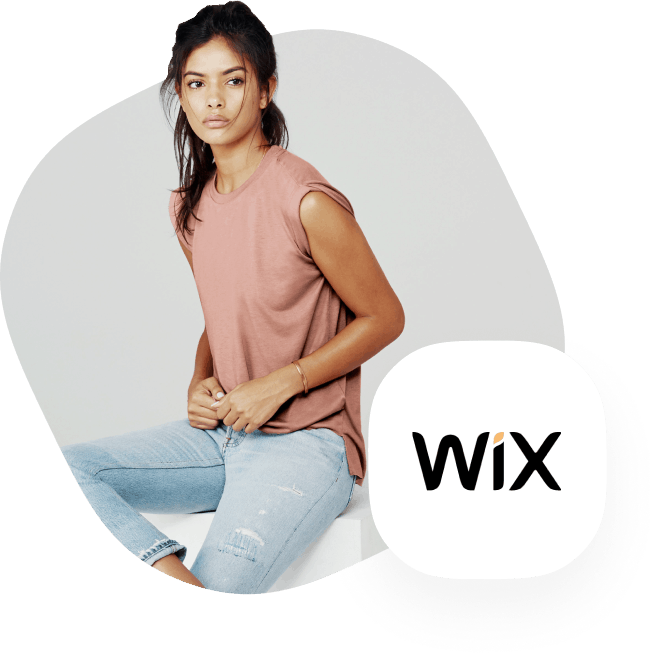 Sell On Wix
How to sell on Wix? Wix has a lot to offer in the design and overall appearance of your store. The Printify platform becomes the best tether for your business as it simplifies the use and efficiency of print on demand. 
So whether you're an eCommerce pro looking to simplify or diversify your business process or you are just starting an eCommerce business and are looking for new products to sell on Wix, you'll love the simplicity of the Printify app.
With Printify, you have the option to preview your design on all our custom products such as shirts, mugs, pillows, custom blankets as well as templates for specific designs such as watches. Grab your high-quality product images from our 3D Mockup Generator and order samples to see your products in real life.
Printify is a Wix print on demand service where order production and shipping services are all automated. This means your Wix eCommerce integration is made simple. The integration also makes publishing your new products to your Wix eCommerce store seamless.
What Is Printify and How Do I Sell On Wix With Printify?
connects your Wix store with the best print providers who facilitate all your fulfillment and shipping processes. Once you create your own custom products and start selling them in your Wix store with Printify, you gain instant access to a network of print providers across the US and Europe, such as DTG to Go, MyLocker, T Shirt and Sons, Textildruck Europa, and Print Geek among others.
You can choose any custom product from our wide selection to get the highest quality product at the best prices in the market. Take your pick of your favorite products from our range of over 800 custom products. In addition, you can make them truly your own with our limitless customization options and free t-shirt designs. Use our Mockup Generator to create your own custom T-shirts, custom phone cases, custom mugs and more with minimal skill requirements. Simply upload your design, pick your product, add your design and preview them from our free Mockups. You can also download these images to use in your store. Easily publish your products to Wix.
Sign up to Printify and start selling in your Wix store.
Start a Print on Demand Business on Wix
The rules of starting a successful online business remain the same regardless of product. Establishing your niche, brand, target audience and a print on demand partner are essential steps to beginning your eCommerce journey. While some additional aspects may be included, there are three fundamentals one should follow: 
1. Target Your Niche Audience
A niche is a unique following or audience that gives you the edge that is required to create a demand for your products. Whether you are selling t-shirts or color-changing mugs, thorough market research can help you identify a passionate and engaged audience that will make it easier to sell to them. As a brand, identifying what needs your audience's needs and how you can make your niche ideas work is crucial. Once you understand your audience and what they gravitate towards, you will be able to know what makes a great product for them and how to market it.
2. Set up Shop and Pick Your Products
Sign up on both the Wix and Printify platforms and use our integration to join their functions. Next, you'll need to pick the products you want to sell. The good news is the search begins and ends with Printify. We have over 800 products to choose from ranging from t-shirts and hoodies, to combat boots and flip flops. The platform also has a great, easy to use free mockup generator to help you customize and brand your products and sell.
3. Market Your Wix Online Business
In order to properly market your new Wix eCommerce store, it's good to monitor the trends to follow and how to make them uniquely yours in order to sell. Making your own customs products with Printify does not require you to be a graphic designer or photography guru, all you need is your passion and creativity. To turn your passionate venture into a lucrative business, use the Wix marketing tools accessible to you to market and rank your brand. There is a lot of information, marketing tools, and tutorials online to help you, there's a wide variety of websites that connect you with talented artists and graphic designers.
Choose Your Next Wix Bestseller From Over 300 Products
You can create and sell a diverse range of products from our extensive range of product items and categories. Here are some examples to choose from:
Keep up to date on all our new products ranging from clothing, home decor and accessories such as Stainless Steel Travel Mugs or Custom Mugs for tea or coffee in 11-ounce and 15-ounce sizes.
Try out sublimation printing for different products such as tote bags, throw pillows, blankets, shower curtains, and towels.
Even the smallest quantities can be printed on-demand with Direct to Garment Printing (DTG). Try out most sellers' favorites custom t-shirts brands: Bella Canvas 3001 t-shirt, Gildan 5000 t-shirt, and the Next Level 3600 t-shirt.
Free Mockup Generator to Customize Your Products for Wix
The  Printify Mockup Generator is a free of charge design tool made by Printify to help you customize and brand your products for sale. To create custom products with the mockup generator, start by first reading and following the easy to understand, must-read design guide. You can then pick your product and choose a print provider. To start customizing products, you will need to upload your unique designs to your Printify account. Always make sure your images fit the requirements for great printing quality. You can do this by referring to the size specified at the bottom of the design panel, which indicates the best pixel size for each product. The Printify team also checks your finished designs for image quality, before sending it to production, and will let you know if your image quality does not meet the printing standards.
Switch between styles and other variations with the mockup generator by clicking the gear icon at the top of the design panel for settings. The setting menu shows the different variations the custom products you chose are available in. You can preview your custom mockups by switching to "Preview Mode" where you can view each product from different angles and get high-quality product images for your store. All print on demand products is only produced after each purchase so you never have to worry about pre-stocking or warehousing.
Print on Demand is a retail fulfillment method printing products on-demand and only after purchase. Once a customer buys your custom product from your Wix eCommerce store, the order goes through a quality check and is then sent to your chosen print provider who begins the process of production. This one by one purchase system eliminates the need for order fulfillment in bulk and storage space.
Print sizes and standards change depending on your product and its variations. That is why it is always advised that you look closely at the specified recommended image sizes to maintain a high printing quality throughout. 
Why Choose Print on Demand for Your Wix Online Business?
With print on demand, you save time and money because there's no need for a huge investment, no need for storage space or inventory. Furthermore, you pay only after you sell, you never go out of stock and you never end up with unsold products. With Printify's technology, you get to enjoy a smooth creative process and get stunning 3D product images for your store. Print on Demand automates your fulfillment and shipping processes which means that you have a lot more time to build your brand and focus on growth.
Why Choose Printify for Your Wix Online Business?
On top of the aforementioned product range on our catalog plus the easy to use free mockup generator, you can rest assured that over 500,000 online entrepreneurs trust Printify for their print on demand needs. With Printify, you gain access to our network of 80+ print providers with 110+ printing factories that instantly connects you to print on demand services.
Printify print providers facilitate the production of your customized products and ships them directly to your customers. This relieves you of the hustle to find capital, warehouse storage or a broadened delivery channel. We are fully integrated to work seamlessly and provide ease of use for your online store on Wix. 
Sign up to Printify and start selling in your Wix store.