Custom printed tote bags have become the answer to reducing single-use plastic shopping bags, not to mention becoming a must-have fashion accessory.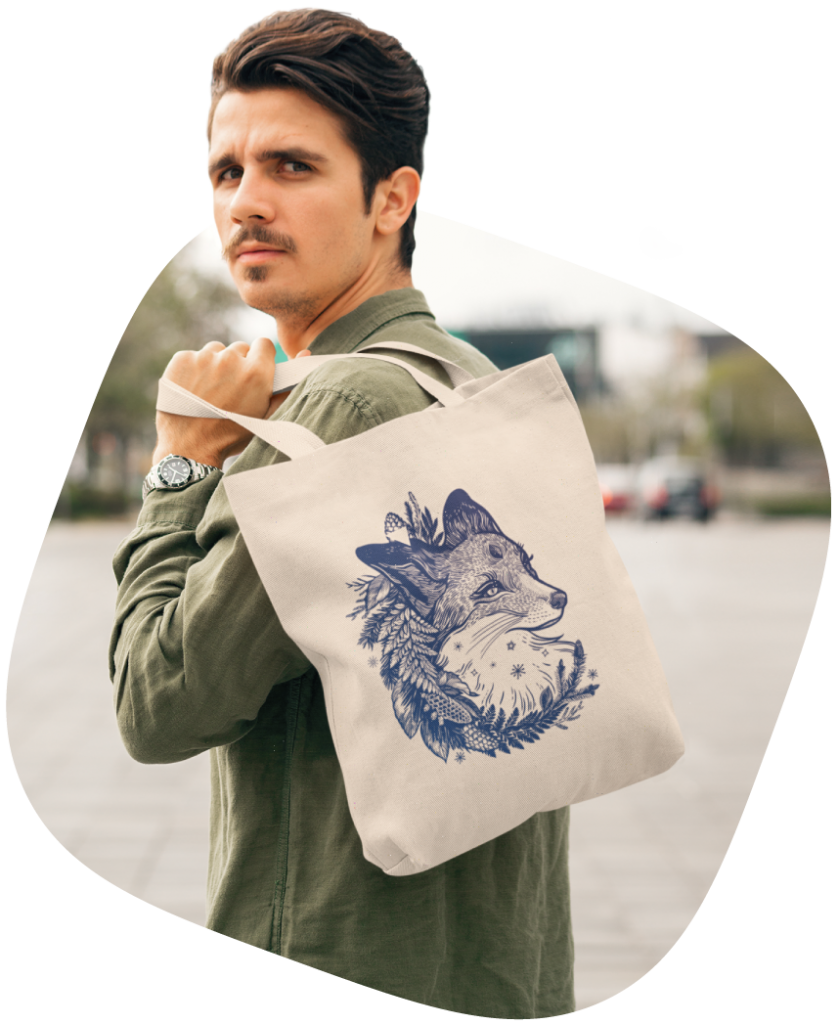 Create custom tote bags that will make a lasting impression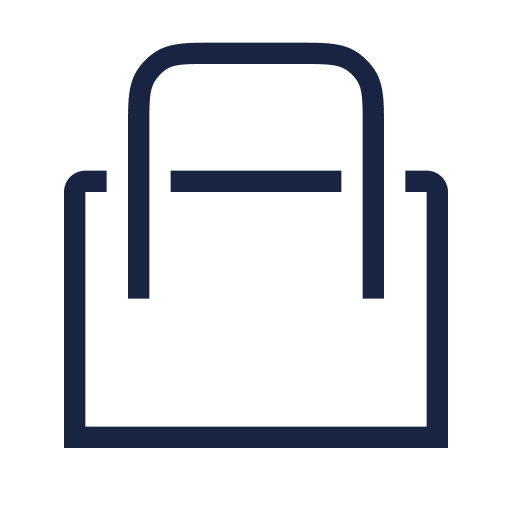 Different styles of tote bag means you can increase your product range easily.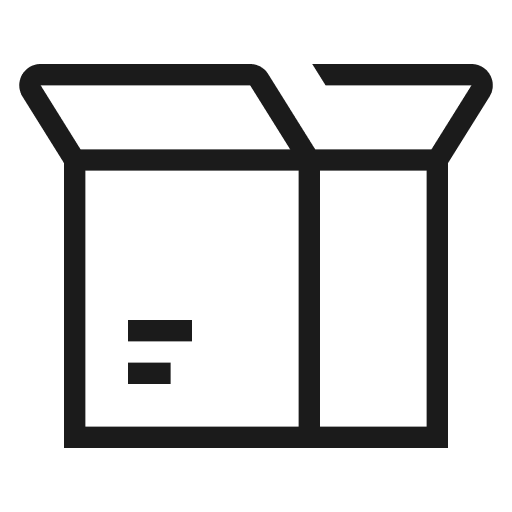 No minimum order required
Avoid holding stock, giving you the freedom to do what you do best – create.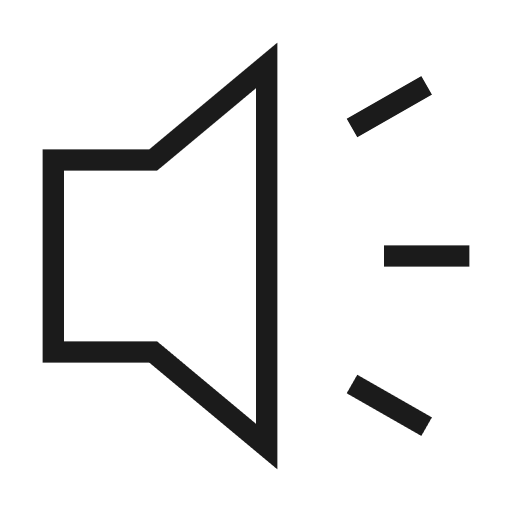 Stand out with powerful messages and designs that can't be missed.
Why to sell custom printed tote bags?
The tote bag industry is set to grow by $5.17 billion by 2023, showing a global increase of 5% each year. So it's fair to say that this is a product worth having in your store. Custom tote bags are multi-purpose, they are used for carrying your groceries, taking home materials from trade fairs and of course getting your towels to the beach.
Why are custom printed tote bags so popular?
It's hard to fathom the number of tote bags that are sold every year, but there is a good reason why they are so popular. They are extremely lightweight, can be rolled or folded to save on space and of course make the perfect blank for printing your custom designs. Check out the different tote bags available here at Printify.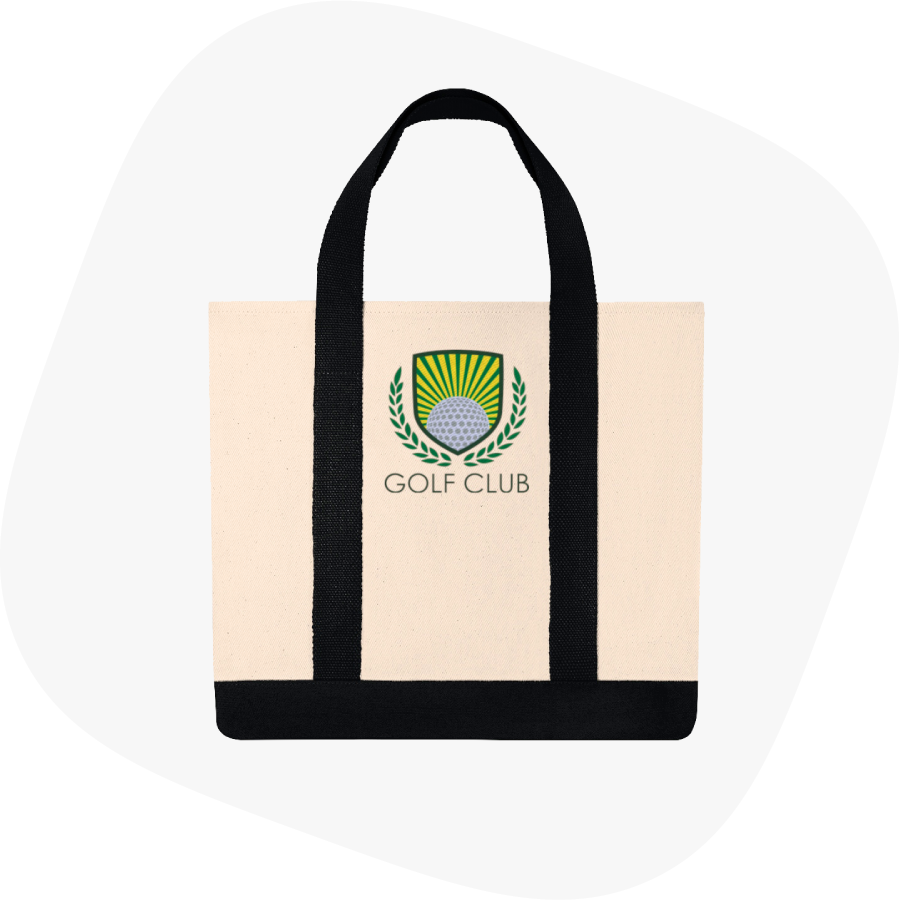 The shopping tote is perhaps the most common use for this type of bag. Don't be fooled by the name though, this custom printed tote bag can be used for multiple applications. Featuring large cotton web handles and a deep exterior pocket, this custom tote bag has everything your customers need for a trip to the shops, or farther afield.
This custom tote bag also features embroidery, adding an extra level of both quality and longevity.
Key Features:
100% Cotton twill

Cotton web handles

Multiple color options

Boxed corners
Available in three different sizes, this AOP (all-over print) custom tote bag is perfect for merchants who want to create a fully customized tote bag. The 100% polyester material is hardwearing and fast-drying, increasing its number of practical uses. This tote bag is ideal for everyday use and can easily double up as a casual fashion bag.
The AOP feature allows you to create colorful prints and designs that cover the surface of the bag. 
Key Features:
100% Polyester Body

Reinforced Stitching On Handles

Boxed Corners

Black cotton handles
Black lining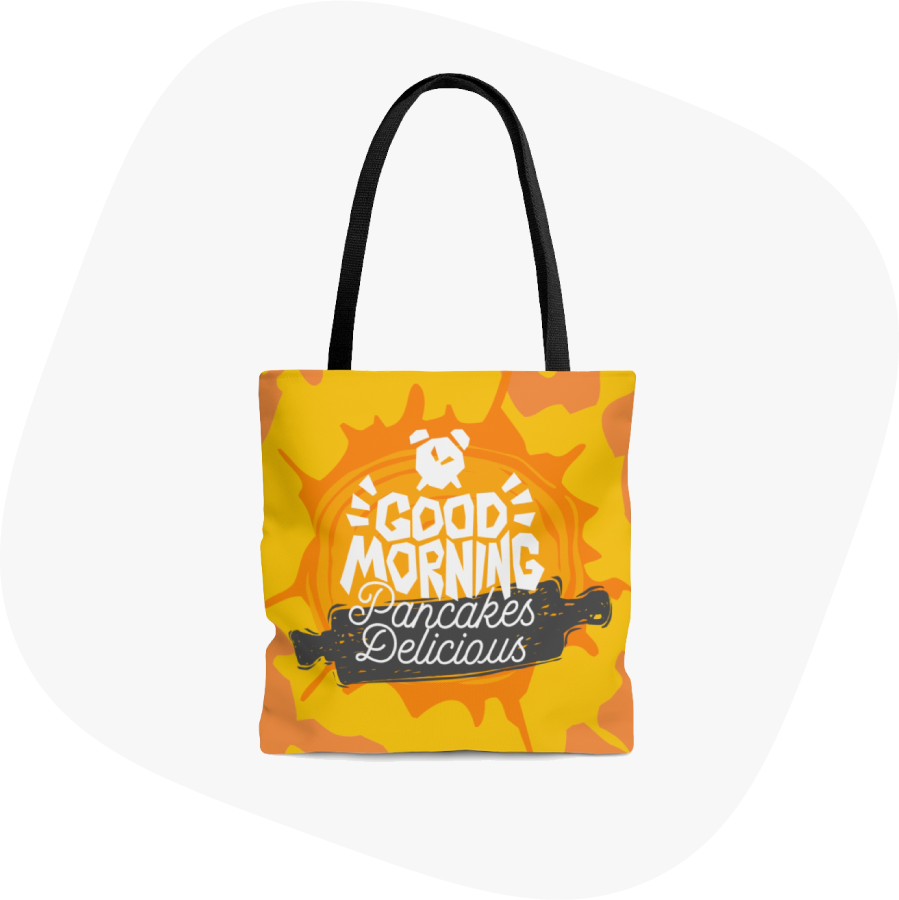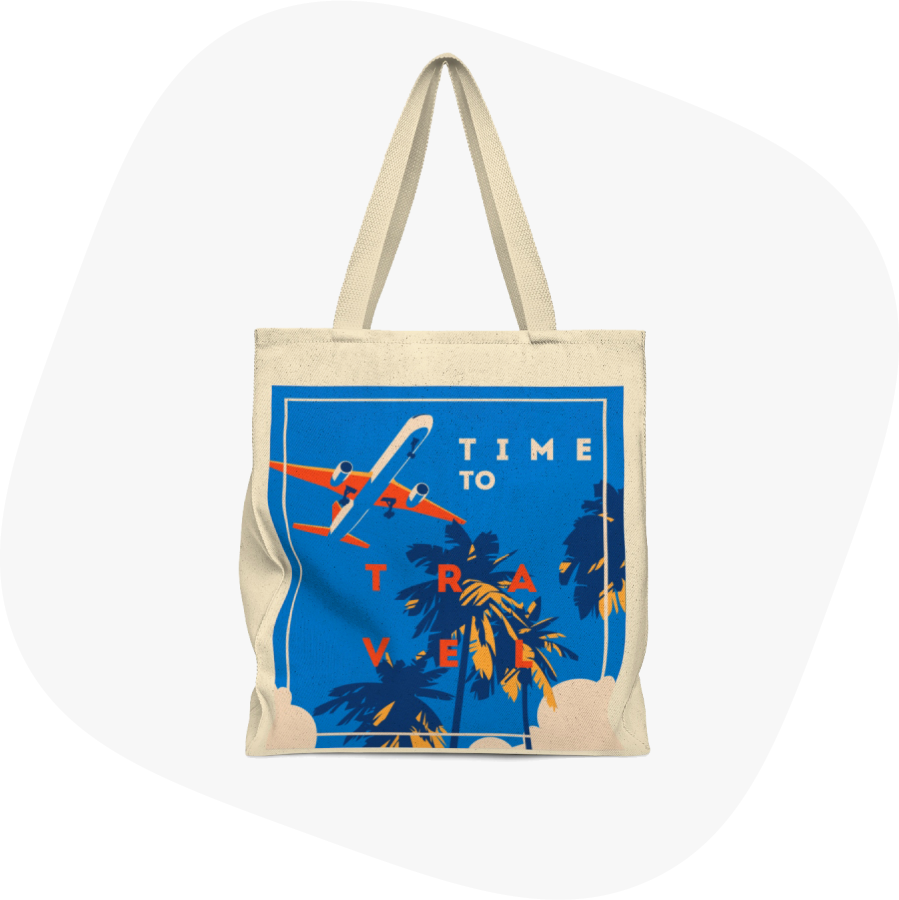 One of the key features of this shoulder tote bag is the straps, designed to be carried comfortably on the shoulder. The reinforced stitching on the handles allows the bag to carry items like books, laptops, groceries and any other objects that are too large or heavy for a handbag.
Key Features:
100% Natural cotton twill

Cotton web handles

Boxed corners 

Reinforced stitching on handles
To achieve that original vintage feel, this custom print vintage tote bag is the winner. With its color contrasting handles and organic cotton, your customers will get the feel of a classic tote bag. With fewer stitched seams, this personalized tote can be rolled up to save on space until it's needed. 
Key Features:
100% Open-end cotton

Flat corners

Contrast handles

Reinforced stitching on handles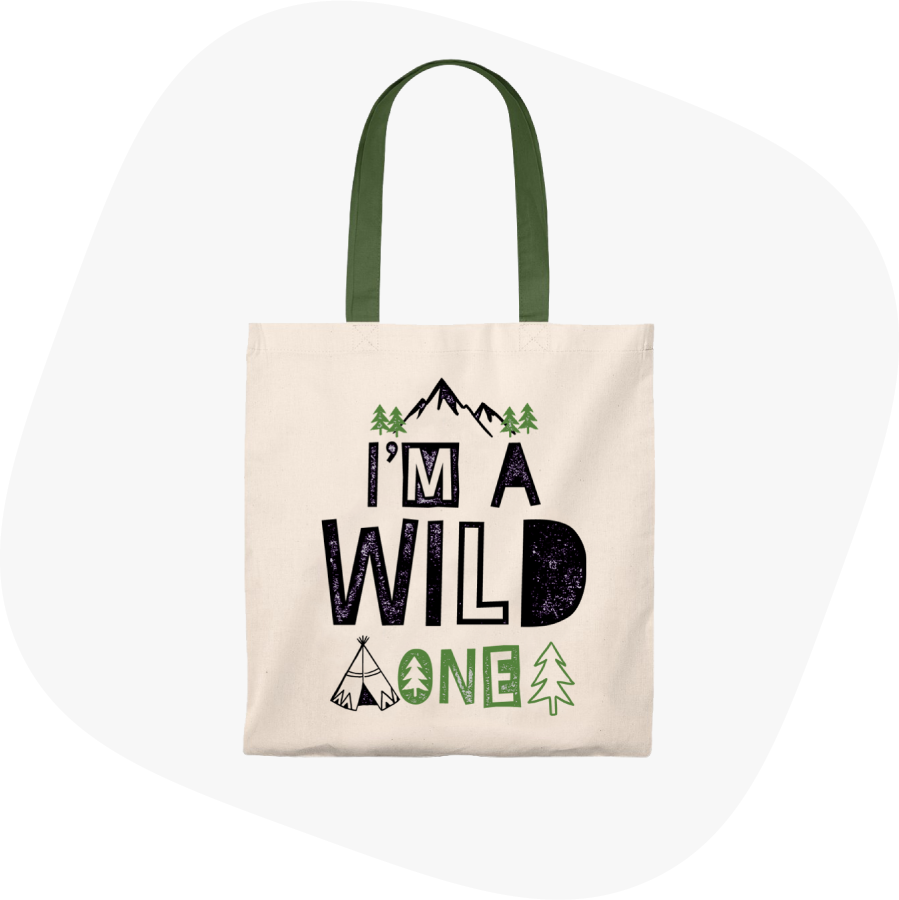 Top 7 questions about selling customized tote bags
What are customized tote bags used for?
Tote bags are used for multiple applications, some people use them just for transporting their groceries, while others use them for everyday life, in place of a handbag or backpack. Understanding which niche you want to go for will help you with your custom designs.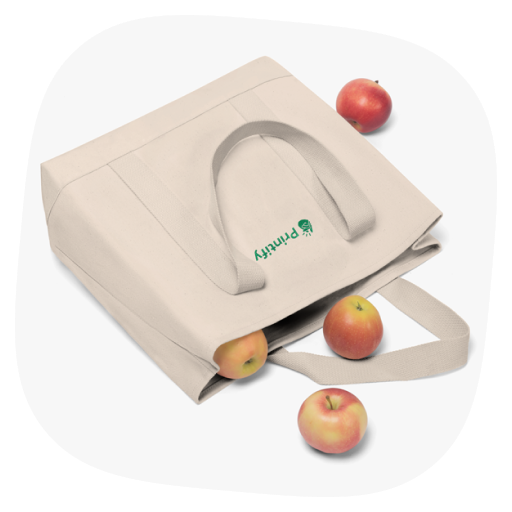 The grocery store – Help your customers stand out in the store with some fun quote based designs. Create personalization by adding a name.
Everyday tote – The humble tote can make for a perfect everyday bag. From carrying books to college or your laptop to the office, custom printed tote bags are designed to withstand day to day use.
Fashion tote bags – Did you know that the most expensive tote bag ever sold cost $379,261
so there is a market for customized tote bags that target the fashion industry. 
Customized Beach tote – Customized tote bags are the perfect beach bag. They can fit everything needed for the beach, don't take up space and are easy to carry. 
Custom tote bags with no minimum order
Although personalized tote bags don't take up too much space, you really don't want to be sitting on stock. So, we have good news, there is no minimum order when you order with Printify – that's right, zero, nil, nada! You only need to place an order when you get a sale, this really helps with cash-flow, order management and of course the space in your spare room. The only thing that we highly recommend is ordering samples of your products before selling online, but the good news is, you can always use the samples yourself.
Design your own custom tote bags
With so many customized tote bags already out there, how do you stand out from the rest? Be creative, the majority of personalized tote bags out there are using text-based designs. Use inspiring images, or add your own artwork to add some color and depth to the bags.
Although tote bags might be traditionally fairly plain by design, it doesn't mean that your custom printed tote bags should follow suit. 
Each custom printed tote bag uses sublimation printing, this means the colors and designs will really stand out. It also means that the ink will not fade or crack, giving extra longevity to your custom tote bags. With your personalized tote bags ready for printing, the next step is to start selling. 
With Printify you can let your imagination fly – create all-over print tote bags or even tote bags with embroidery for that extra look. 
What are the print options for custom tote bags?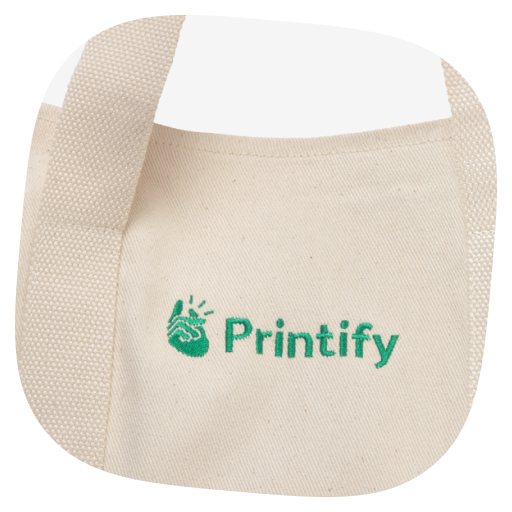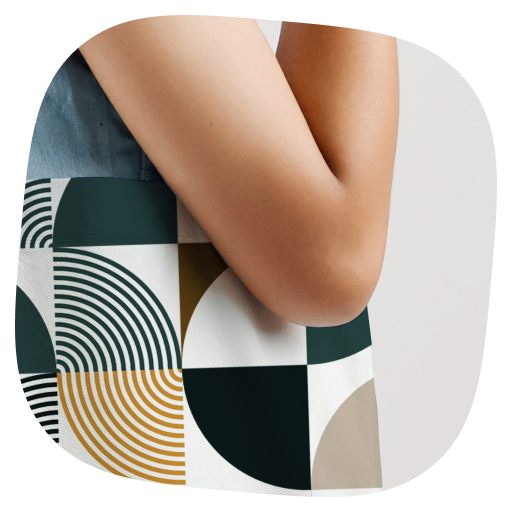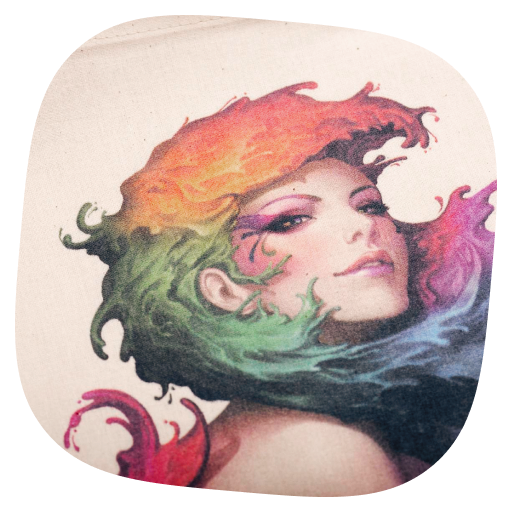 This is a classic way to get your designs onto a garment or product. Embroidery always feels more exclusive than print and many merchants prefer this option for their high-end items. The embroidery is done using one of the industry's most powerful multi-needle embroidery machines offering 16 different thread colors. 
When you chose to use embroidery, it's important to understand how your design will look. Use our embroidery guide for more info.
One of the most popular forms of printing, AOP allows you to print your design over the whole exterior of the bag. This allows you to get creative with your design and also adds another level of customization. Designs are printed using a sublimation process, this heats the ink to vapor where it clings to the fabric. The result is a hardwearing, high-quality image that will withstand washing and day to day wear.
The most common form of printing, this method is exactly as it sounds. Your design is printed directly to the custom tote bags, the result is a bright, vivid print. DTG is popular with merchants as the product turn around is fast and also cheaper than both embroidery and sublimation printing. 
Selling custom tote bags online
The general consensus is that the average household in the US has more than one tote bag. There are many reasons for this, however, if you ask most Americans if they have bought a tote bag in the past 6 months, the answer will likely be yes. Why? Because they are an essential part of everyday life, unfortunately, there are millions of plain, sad tote bags out there, crying out to be loved. 
Customized tote bags should be a consciously made purchase, if your customers love the design, they will use it, over and over, the way they were designed to be used. As customers become more conscious about waste, recycling, and upcycling, tote bags become more valuable – there are plans for airports to ditch plastic bags, replacing them with tote bags, further adding to the growing positive image that a customized tote bag has.
Custom printed tote bag design ideas
Whether you're just getting your customized tote bag store off the ground, or a seasoned designer looking to add some new products to your catalog, it's always nice to get some free design inspiration. At Printify we see literally 1000's of new designs every day, this puts us in a great position where we can see which styles are the most popular and what sells the best. So, to make it easier for you, we have come up with five different styles of custom printed tote bags that you can add to your store.
Custom printed tote bags can be a fashion item as much as a practical day to day bag. Fashionistas need practical items and they are willing to pay for a beautifully designed custom tote bag. Remember the $2145 Balenciaga 'Ikea' bag? OK, so there is no guarantee you can sell your personalized tote bags for that price, however, there is a market for it. 
You can go for elegant designs or be more outrageous, look at what some of the big brands are doing and then apply your own style. The AOP tote bag is perfect for this, you have more freedom to create with no limitations or boundaries to your print area.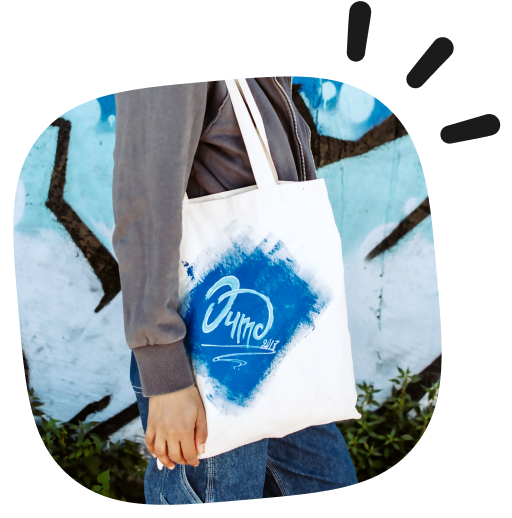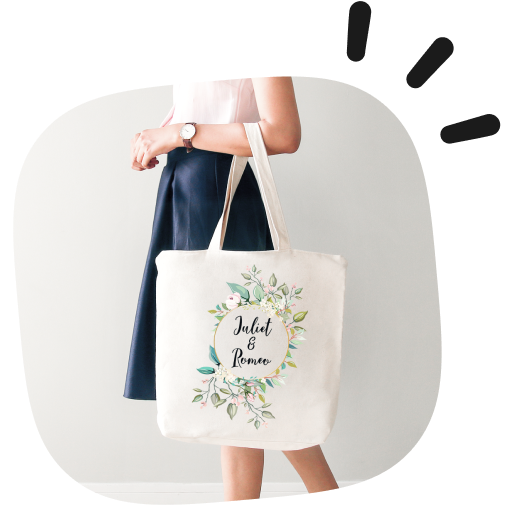 Novelty Custom Printed Tote Bags
Customized tote bags are perfect for novelty, events, and celebrations. Weddings are a great example of a celebration where customized tote bags are in demand. Brides like to give their bridesmaids bags with some goodies and keepsakes, while the grooms might hand out custom printed tote bags to his party, containing items like cufflinks and shoes. 
Other novelty uses for custom tote bags include festivals, birthdays, Valentine's day and even Christmas. For each occasion, think about how you can make your designs special, using fun patterns, colors and of course relevant quotes and texts.
There seems to be an unwritten rule when it comes to animal-based designs, customers love them. There is an animal out there that we can all relate to, perhaps that's why customers feel compelled to buy when they see a design they love. 
Designs that feature animals are also relatively easy to produce, there are hundreds of free cartoon or vector-based images that are available for commercial use. You might also want to create a series of personalized tote bags that feature animals doing funny things, or go for a series of cute animals.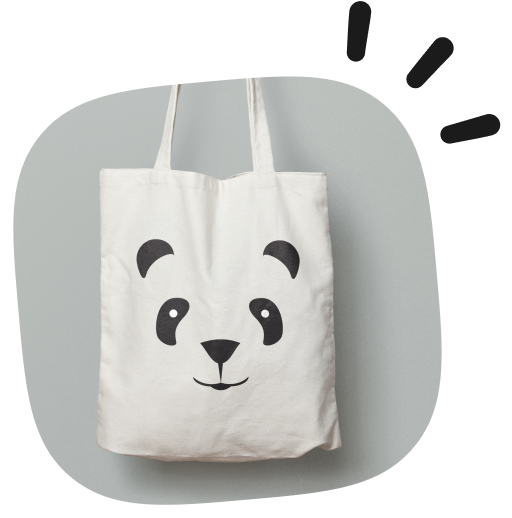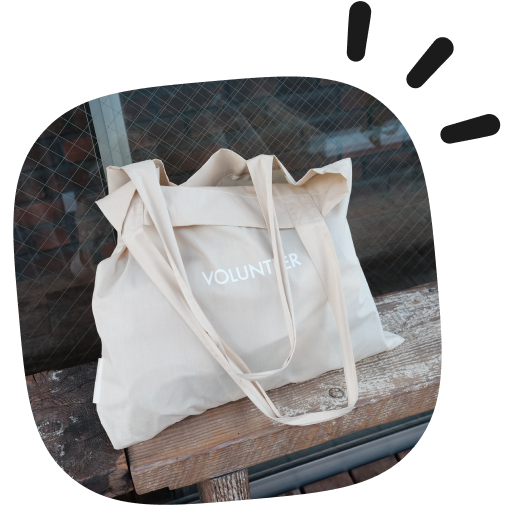 Get your message out there
Text-based designs are by far the most popular when it comes to custom printed tote bags. So if you can't beat them, join them, just do it better. Think about fun quotes, saying or if your brand is about delivering a message, make it stand out. The key element here is to get the font right, with the right font your text-based designs will fly off the shelves. 
If you believe in a cause or want to raise awareness, text-based designs are a great way to do that – just keep the message clear and simple.
With all this handy knowledge and insight, you must be eager to get started on your first personalized tote bags. The good news is that you are only three steps away from getting your awesome new designs out in the marketplace. With Printify, moving from concept to production really is as easy as 1,2,3, just follow these steps and you will be selling custom print tote bags in no time at all.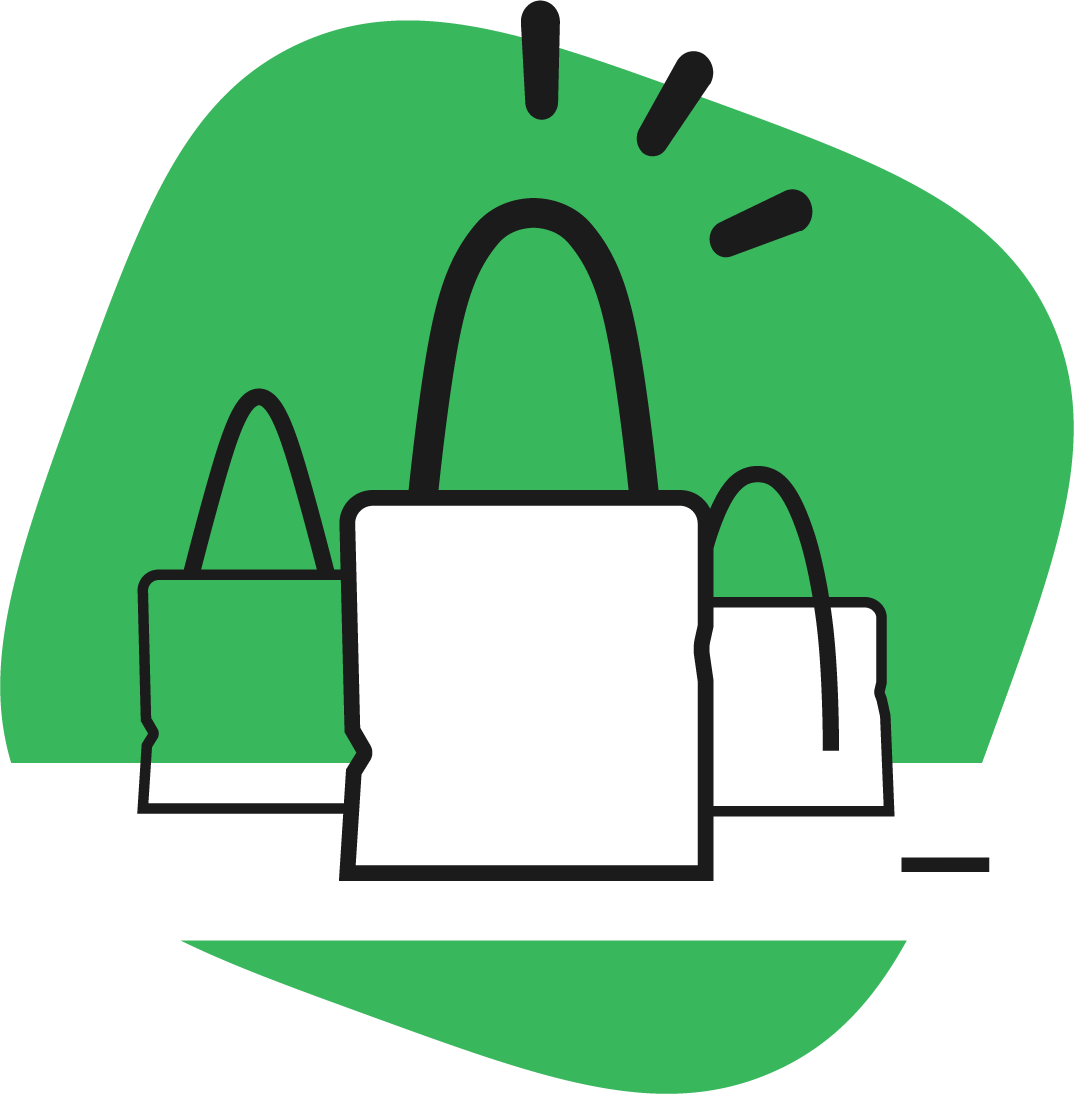 This is the most important step, which tote bag are you going to choose for your first design? Make sure you research all the options available to you before going ahead. Each print provider lists the features available to you as a merchant.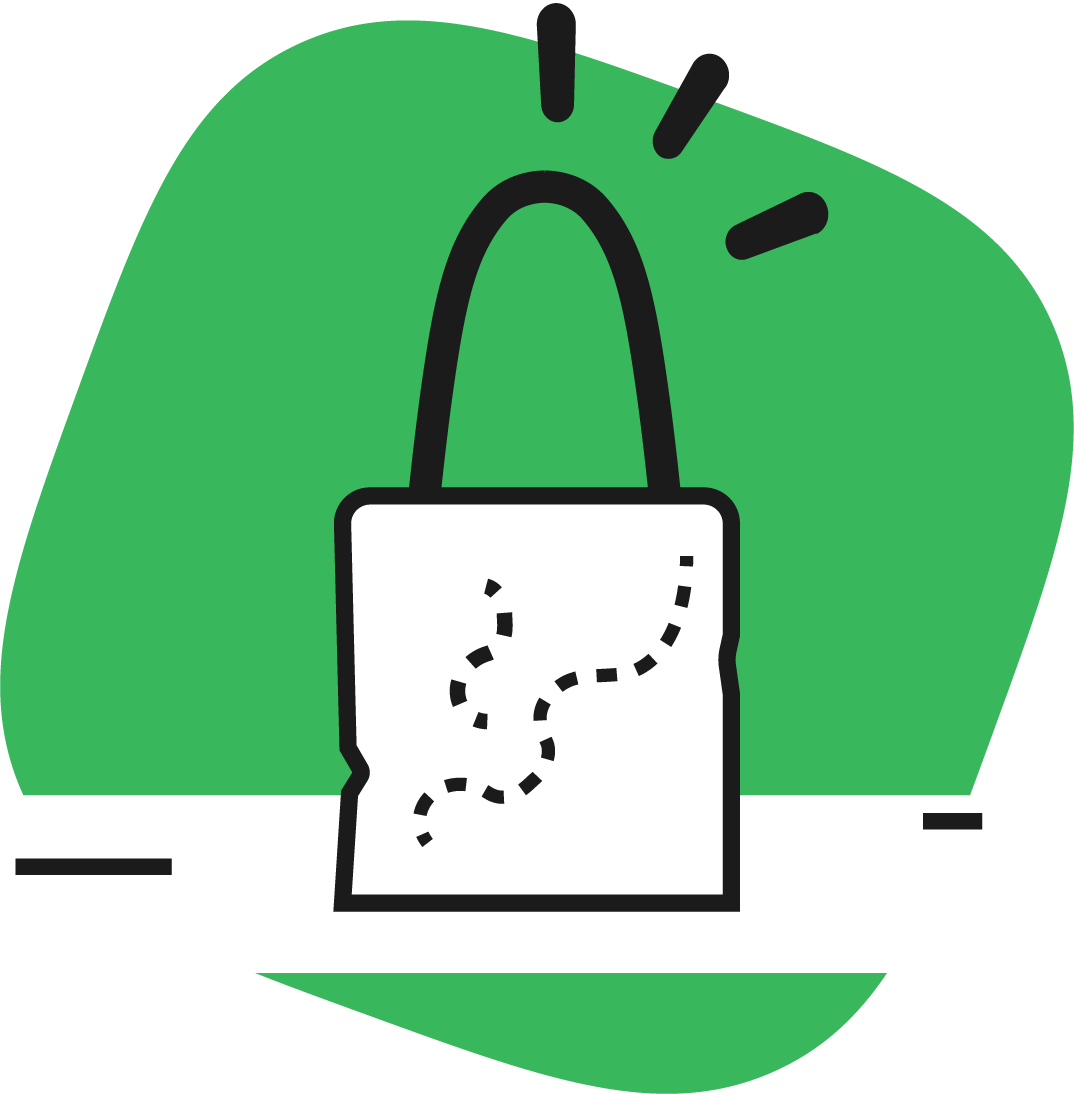 With your chosen tote bag in front of you, it's time to add some color and design. This could not be easier with the Printify design tool. Simply upload your design and follow the prompts, you can even connect to Gdrive and dropbox, so you can stay organized.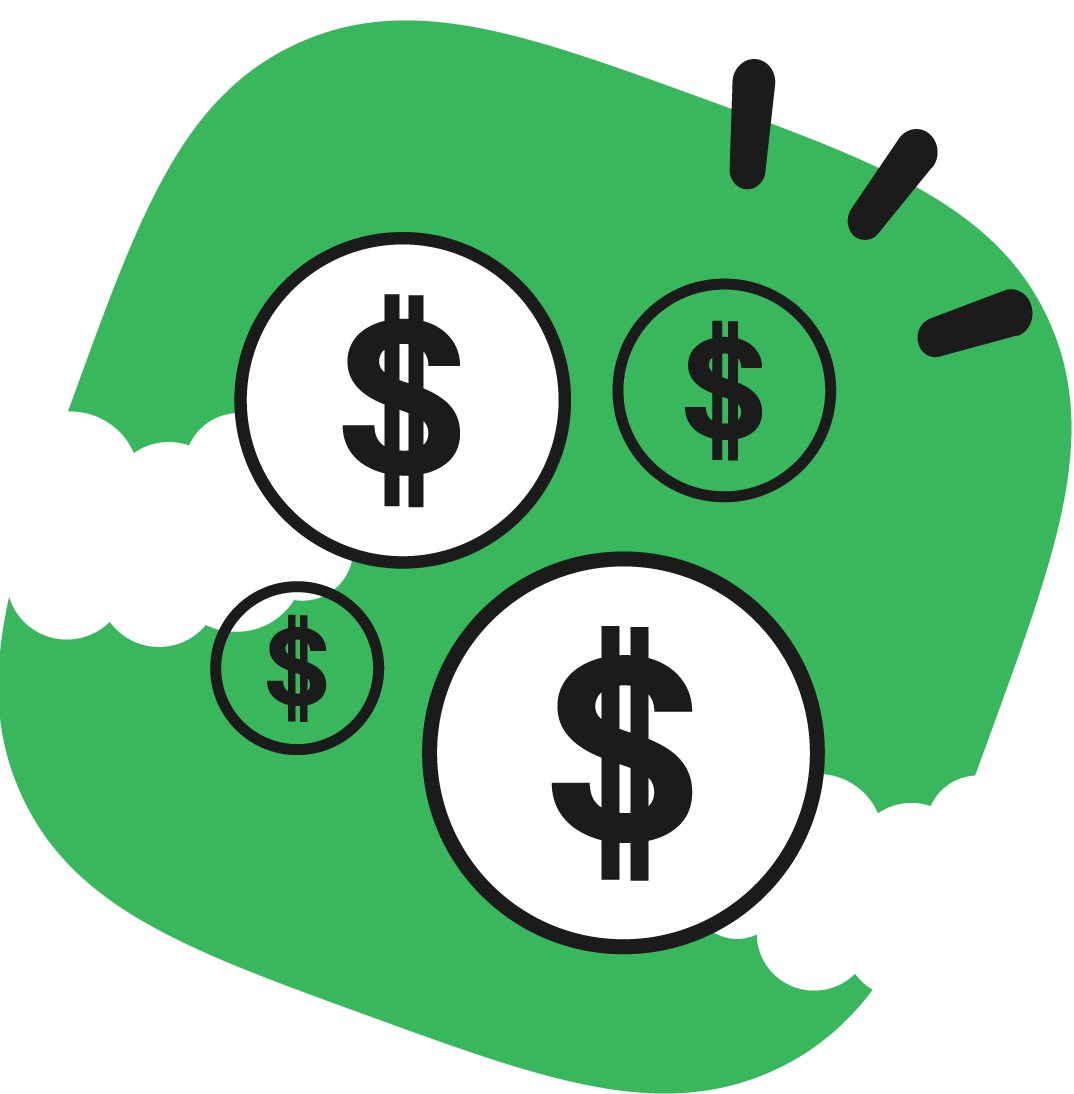 Design is done, now it's the moment you have been waiting for – sending your customized tote bags to production. Here the magic happens and your personalized tote bags are sent out to their lucky new owners – congratulations
Start selling custom tote bags