Create custom all-over-print hoodies that your customers will love. Show off the creativity and uniqueness of your brand with custom prints and designs.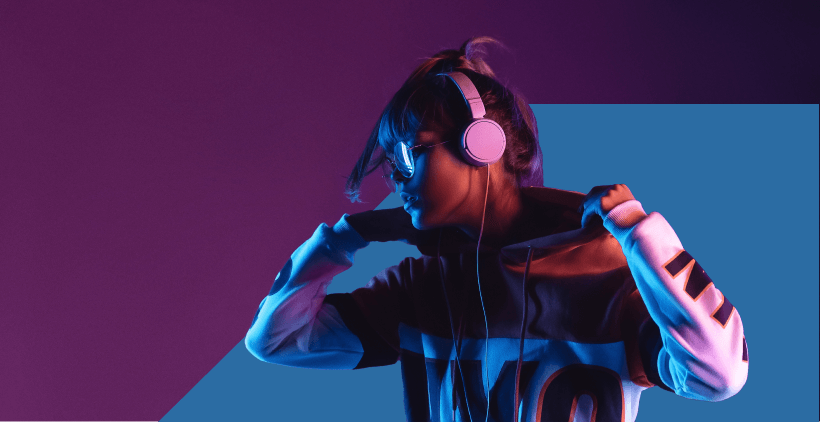 Make and Sell All-Over-Print Hoodies with Printify
Design Your Custom All-Over-Print Hoodies!
The all-over print is a garment printing technique that offers maximum print coverage – every inch of fabric will be covered in your custom-made design. The only boundaries are the physical dimensions of the item and the limits of your own imagination.
This form of printing is mainly done on white polyester fabric for the best quality results. If the item is listed as custom cut and sewn, your design will be printed on the material before it is put together. This eliminates the chance of white streaks, a frequent side-effect of all-over-print products.
How to Make Custom All-Over-Print Hoodies with Printify
Custom all-over-print hoodies are a solid choice for anyone looking to add a unique and high-quality product to their wardrobe or clothing store. Create your products on Printify and add them straight to your shop in just a few minutes.
Head over to our catalog and browse multiple options for your print-on-demand business. From a men's all-over-print hoodie to styles for women and kids. Choose colors, styles, zippers, pockets, and more. Pick the best all-over-print hoodie for your designs and get creative.
Select products based on criteria that matter most to you, your brand, and your vision. For example, production costs, shipping time, fulfillment location, shipping costs, sizes, colors, print provider ratings, and more.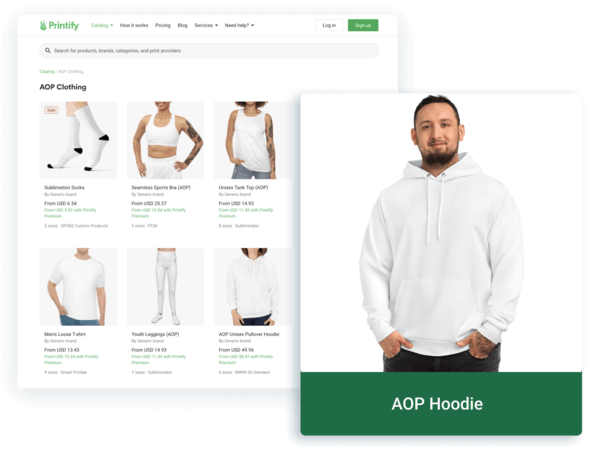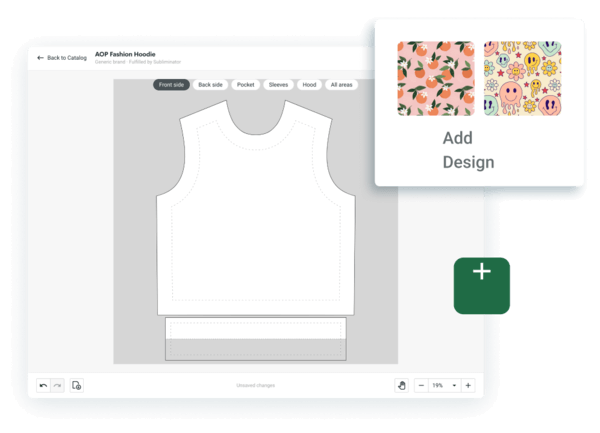 Step 2: Design Your Own All-Over-Print Hoodie
Use our free and user-friendly Mockup Generator to create money-making designs and apply them to your custom all-over-print hoodies. Upload an image, add text and layers, and customize it to your liking to deliver the best quality product to your customers. 
Low on inspiration or designer skills? Hire an expert, integrate free images from Shutterstock, or browse your options on sites like Fiverr. Professionals, beginners, or mid-level designers – everyone can design and sell all-over-print hoodies for their print-on-demand business.
Place a sample order to evaluate your store's products in real life. Not even the most accurate product photo comes close to holding your custom hoodie in your hands. Evaluate the price, print quality, service, packaging, and shipping time before offering your hoodies to your customers.
Make design adjustments if necessary, choose a different product, print provider, or design, and customize your all-over-print hoodies to perfection before listing them online. Make sure your customers get nothing but the best when it comes to your service and print-on-demand hoodies.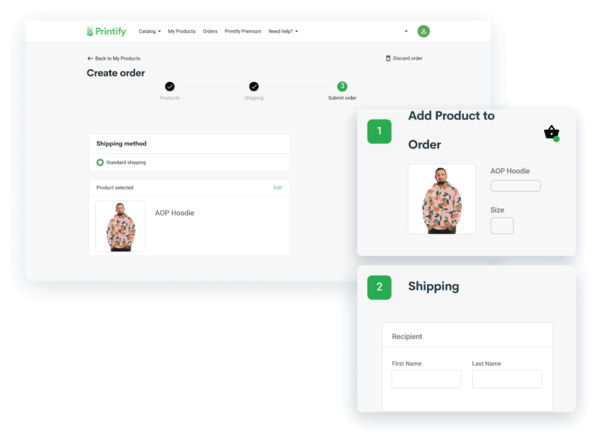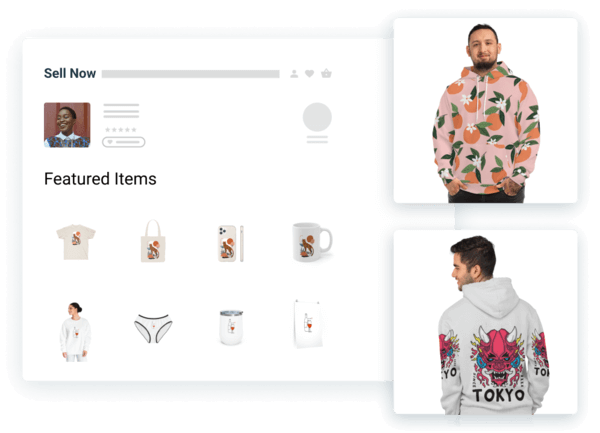 Step 4: List Your Custom All-Over-Print Hoodies Online
You'll need to reach customers to sell your designs, and the best way to do it is by connecting to an eCommerce platform or marketplace. Fortunately, Printify automatically integrates with all the top players in the industry, including Shopify, Etsy, Wix, and more.
If you're unsure which sales channel is the best choice for you, check out our guide with an overview of all the integrations Printify offers. Compare the pros and cons and make an informed decision to skyrocket your business.
Step 5: Start Selling While Printify Does the Rest
Printify has automated the entire fulfillment process, allowing you to focus on growing your business. Grab a cup of your favorite beverage and sit back to watch the automated order process from the point your customer places an order, to the point they receive it.
Every stage of your order fulfillment is easily monitored from your Printify account. From production to shipping, and delivery. Stay on top of the processes and always be informed. In the meantime, you can focus on marketing your products and growing your business to boost traffic and sales.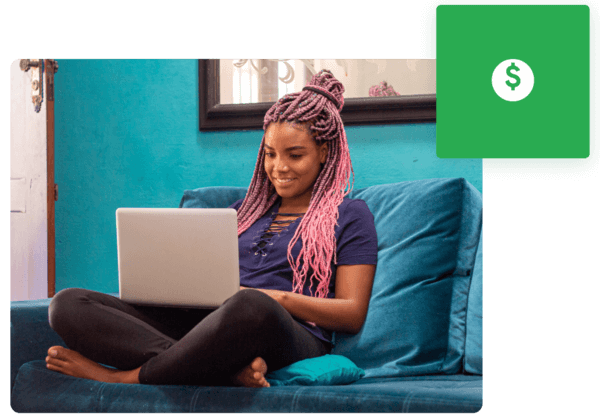 Choose Your Own All-Over-Print Hoodie
Check our selection of all-over-print hoodies to find the most relevant products for yourself and your customers. From zippers to pockets, to lengths and styles. Add a custom touch to your virtual inventory and sell soft personalized hoodies around the globe.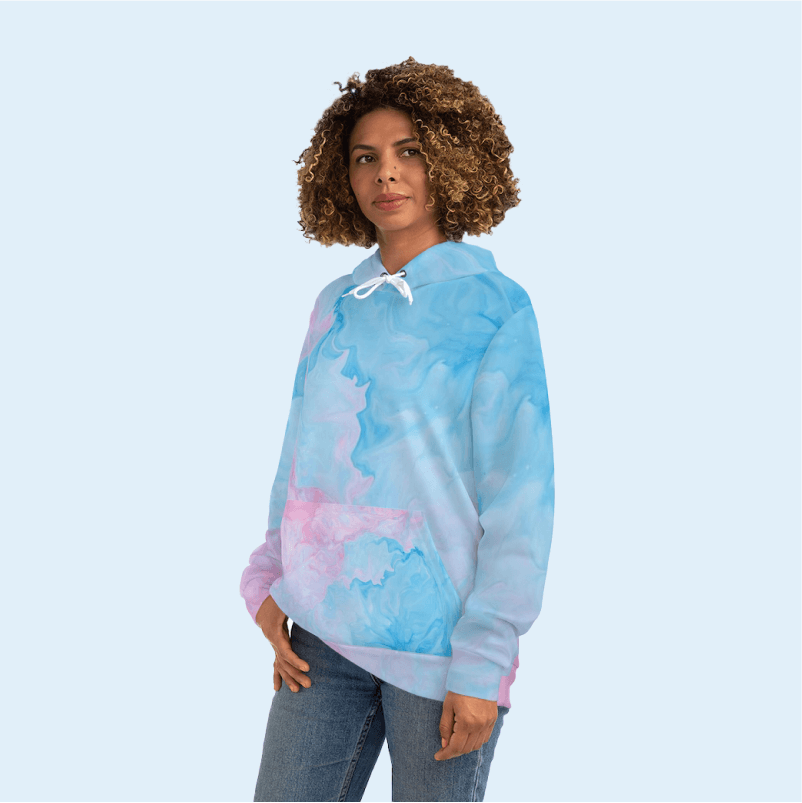 Hoodies and custom designs are cool, but nothing comes close to the coolness of a hoodie covered in a design – seam to seam. This all-over-print hoodie is made from 75% polyester, 20% cotton, and 5% spandex. It's soft, and printed designs look crisp and sharp. Grab this one for a chilly afternoon!
Uncomfortable, styleless chilly evenings are a thing of the past thanks to this 100% polyester hoodie dress. In addition to being warm and soft, each hoodie dress is custom cut & sewn with a long hood that is perfect for any cold day of the year. Don't be afraid to use its large print area to the fullest.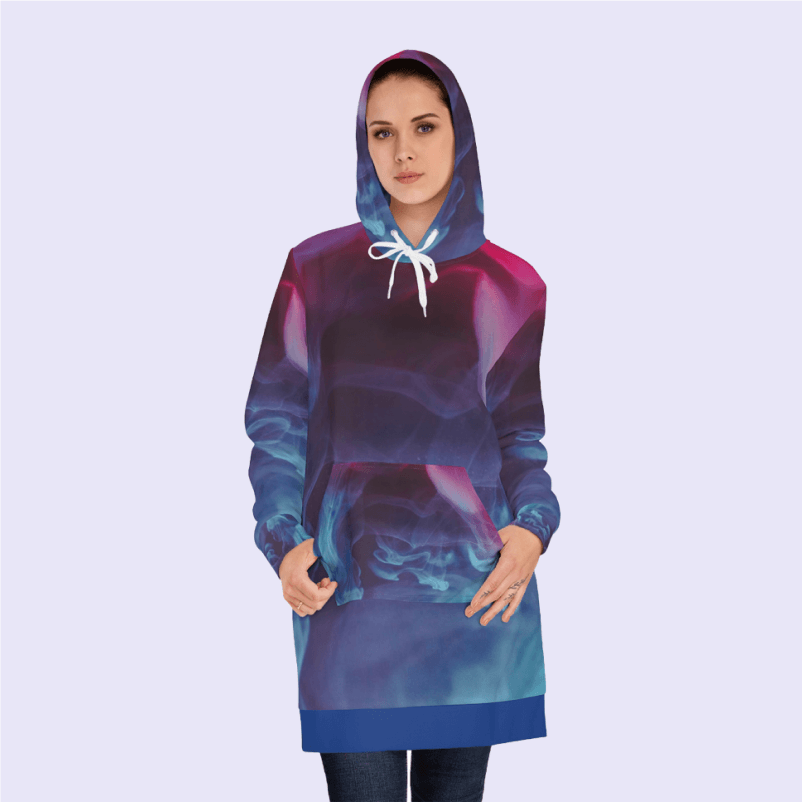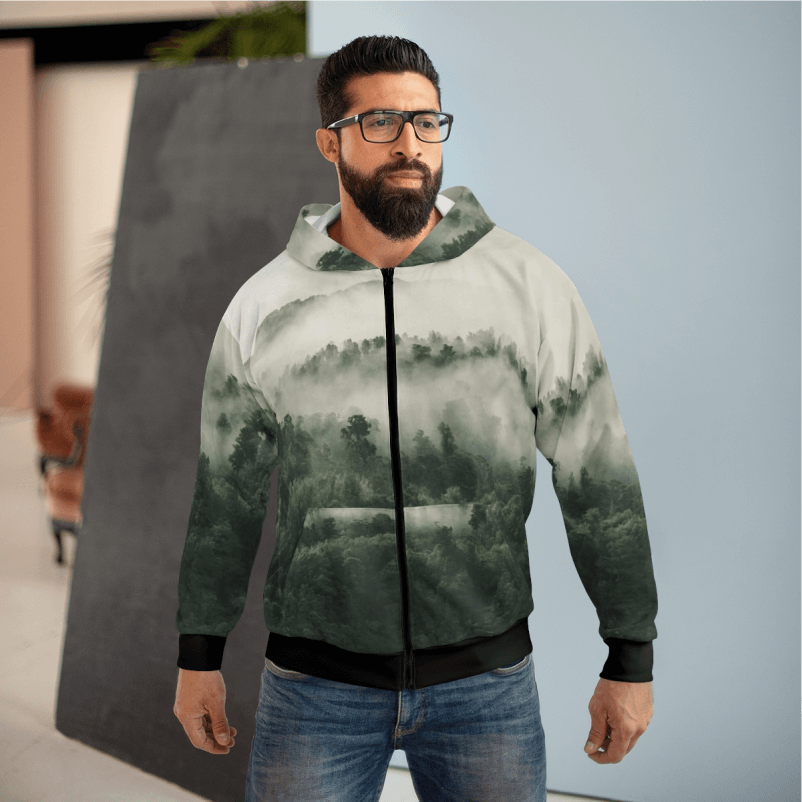 This premium 86% polyester, 14% cotton all-over-print zip hoodie will keep you warm and comfy through all the breezy and cold evenings. It's soft and very easy to customize. There won't be any white lines at the seams, because it is custom cut and sewn. It also has a large front pocket, a black zipper, and a roomy hood.
This 86% polyester, 14% cotton pullover hoodie is made for warmth and comfort. It's custom cut and sewn and features a large front pocket and a hood with a drawstring. The fleece inside is soft and comfortable, adding a warm and cozy touch. This one could be just the hoodie your brand is looking for.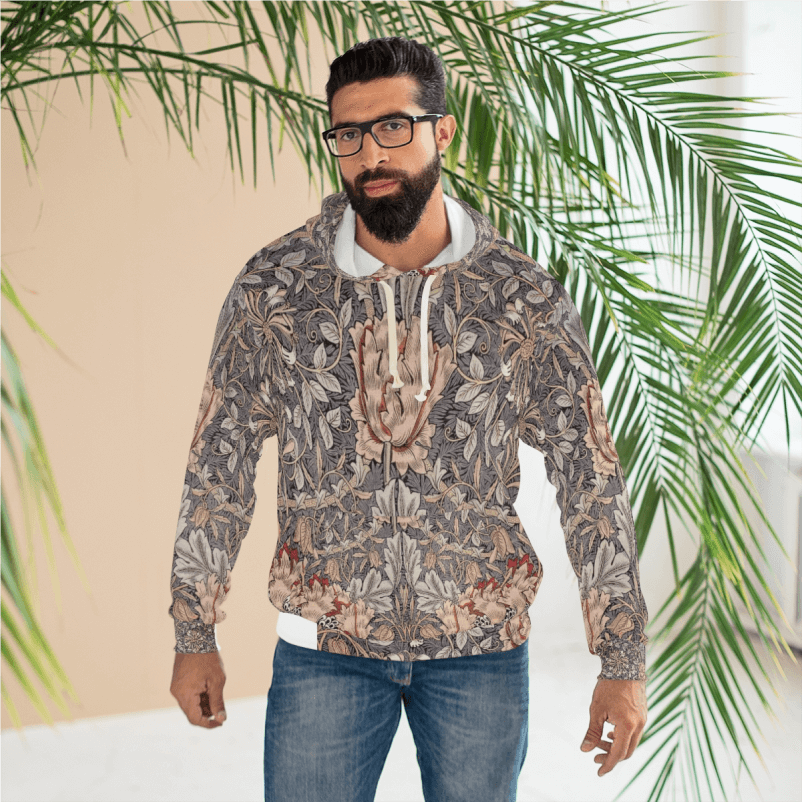 Printify Is Trusted by 2 million+ Merchants Worldwide With More Joining Every Day
I don't have to invest the money I can't lose into my business. With Printify, I only pay the fulfillment fees, and the rest is all profit.
I really appreciate working with Printify on my brand. Afro Unicorn was only supposed to be my design on a white shirt. It is so much more. Printify allows me the time to run the business and not work in the business.
Printify helped me start a completely hands-off revenue stream. When you spot a niche that you want to enter quickly, you don't have to worry about buying stock or equipment.
Printify Premium has helped my profit margins tremendously, and spending $20 a month has probably saved me over $200 a month.
Using Printify saved our struggling business of 6 years and gave us more time with our family.
I like Printify products because they tie in with our organisation's message.
I love the Printify Mockup Generator. It keeps everything consistent and allows me to keep my brand looking sharp and professional.
Design Your Custom All-Over-Print Hoodies!
A custom all-over print is a much sought-after possession for many online shoppers. With that in mind, we've collected some of the best all-over-print products on the market to bring them straight to you.
With Printify, you can start designing and selling your very own all-over-print hoodies in just a few minutes.
Our all-over-print hoodies are made from comfy, high-quality materials and offer vivid all-over prints. Unleash your creativity and start selling with Printify!
Start Selling Custom All-Over-Print Hoodies!