How To Put a Picture on a Shirt: POD and DIY Options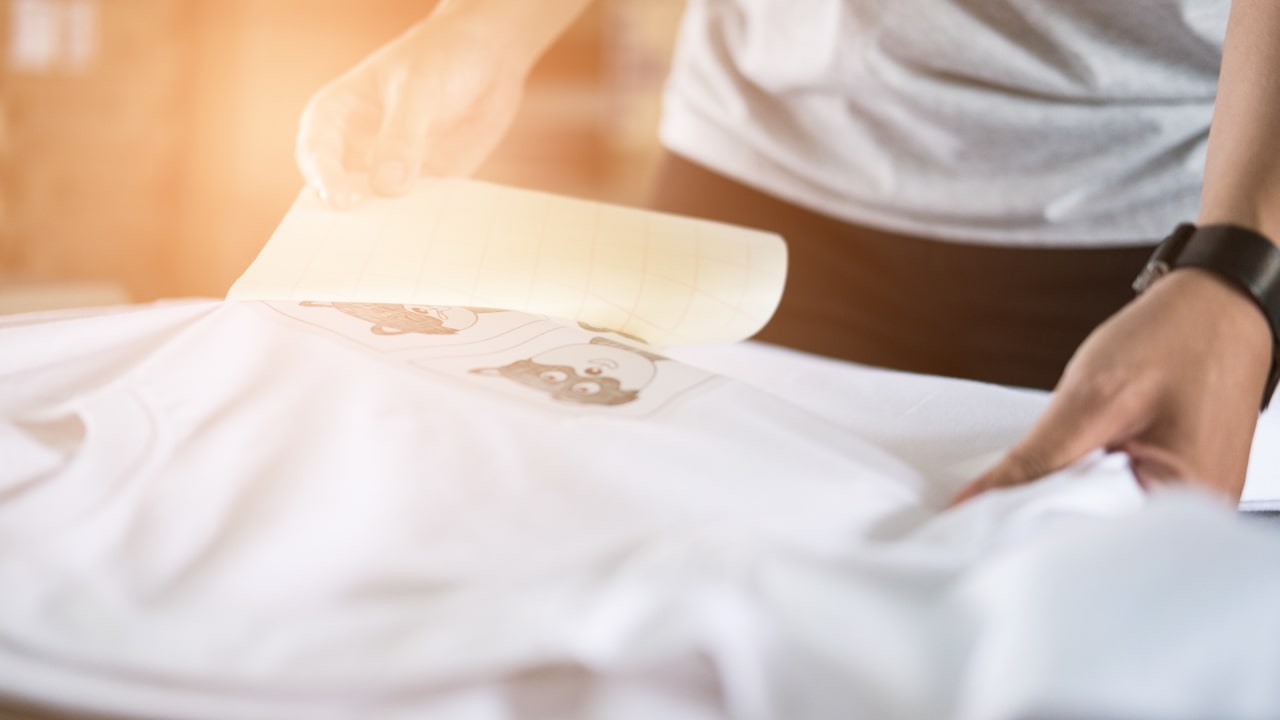 Whether you'd like a budget-friendly way to create a shirt for yourself or sell custom shirts online, there are several t-shirt printing options to put a picture on a shirt. We'll describe them in this article.
Learn how to print an image on a shirt from home, how to choose between different printing methods, and find out some crafty DIY t-shirt printing techniques.
How To Put a Picture on a Shirt at Home With No Equipment
Don't have a printer at home? Add a high-quality print to a shirt with the help of Print on Demand.
POD is an order fulfillment method in which every product is made on demand. So, whenever you want a t-shirt made, you can create a design with your picture and then have it printed and shipped directly to your doorstep.
Let's see how to print a picture on a shirt in a few simple steps.
Step 1: Pick the Right Shirt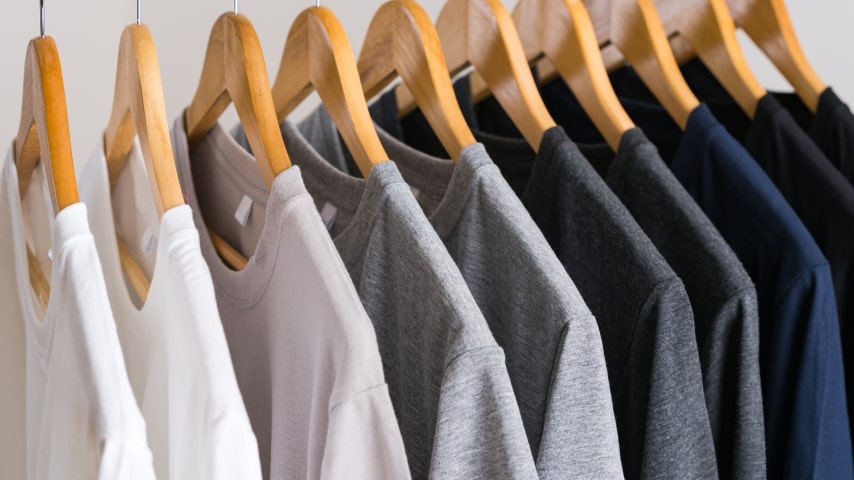 It starts with picking the shirt that your image will be printed on, and there are plenty of options to choose from. You can select between different fabrics and colors, and also pick the printing method to be used.
Let's go over some of the main aspects to consider.
Printify's product Catalog offers various printing methods, like direct-to-garment (DTG) printing, all-over printing (AOP) or sublimation, and direct-to-film (DTF) printing.
Since you want to add a single picture to a t-shirt, the best option is to go with either direct-to-garment or direct-to-film printing.
While DTG printing is better suited for shirts that are made of cotton or a cotton blend, DTF works great with various materials and is often used on activewear. We'll have a closer look at both of these printing options later in the article.
Consider which color will serve as the best background for your image.

For example, if your image has rich colors and some darker details you'll want to consider printing on light-colored shirts. If the image includes soft tones and more subdued colors, look at dark-colored shirts.
Having a clear contrast between the image and the shirt will make the print stand out more, but feel free to experiment with different colors and shades to get the best results.
When choosing the fabric of your shirt, consider comfort, durability, and cost.
Will it be worn casually, or used for workouts? What kind of printing method do you want to use? How much are you willing to spend? Answering these questions will help you find the most suitable fabric for your shirt and image.
Inspect our detailed T-Shirt Fabric Guide to get all the answers you need about selecting a fabric.
Find the right t-shirt by using the filters in Printify's product Catalog. You can sort by color, size, print area, fulfillment location, print type, brand, and Print Provider.
Step 2: Prepare Your T-Shirt Design File
For your print to look good on the shirt, you must use a high-quality and high-resolution image file. Printify allows JPEG, PNG, and SVG files for the design. You can get specific print file requirements for every t-shirt.
If you want to make adjustments to your image, there are plenty of free and low-cost photo editing tools you can use, for example, Canva, GIMP, Fotor, or Pixlr.
Read our thorough Design Guide to optimize all of your designs for the best possible result.
Step 3: Apply Your File to the Shirt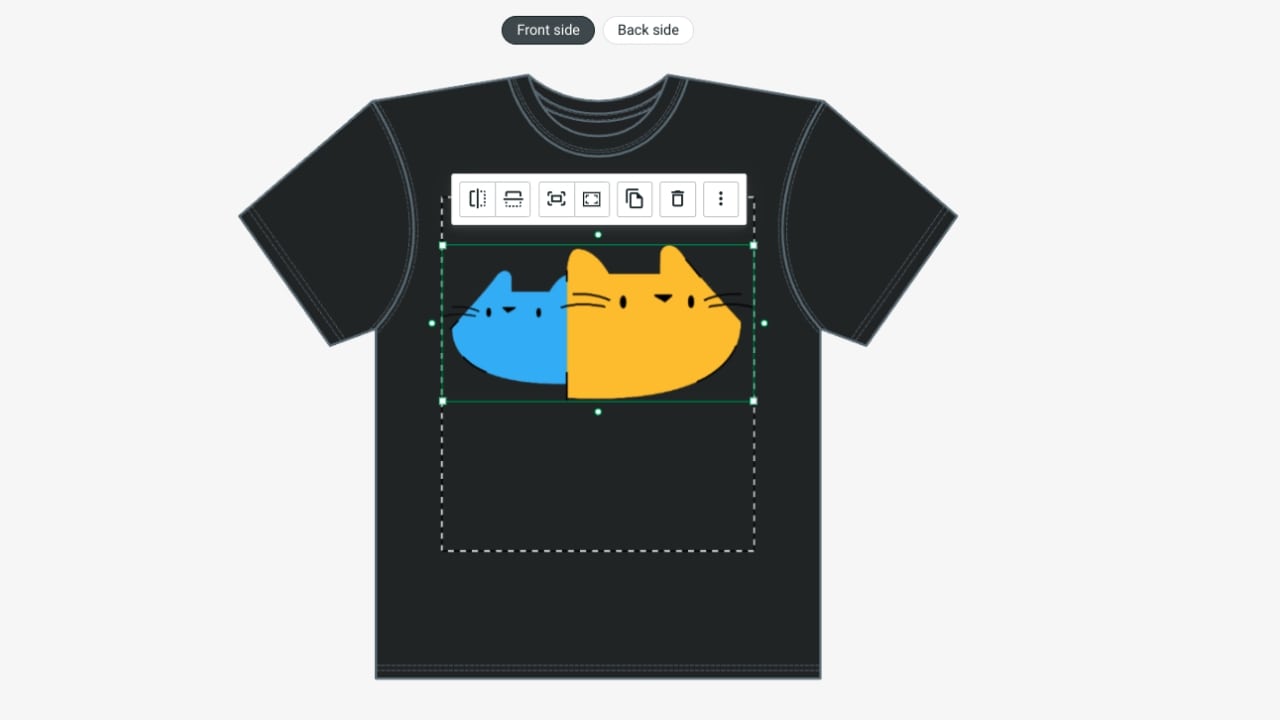 Time to put your design on the shirt. Printify's easy-to-use Mockup Generator lets you add your photo to the shirt and adjust its size and positioning.
Once you're done editing, select Preview in the top right corner to get a real-life mockup of your shirt.
Step 4: Order for Yourself…
If you're making a printed t-shirt for yourself, now's the time to order it. Do that by making a sample order of your shirt.
After you've created your shirt and saved the design:
Go to

My Products

Select

Get samples

and pick the t-shirt

Choose the t-shirt size and the amount you want to order

Add your shipping details

Select

Fulfill

and wait for your custom shirt to arrive
This step is also very useful if you're planning to sell your custom tees online and want to check the quality before listing the product.
Step 5: …Or Publish and Start Selling
Since Printify is all about helping eCommerce merchants build their online businesses, you can also sell your printed t-shirts online.
Connect to all major online marketplaces (e.g., Etsy, eBay, Amazon, Walmart) and eCommerce platforms (e.g., Shopify, WooCommerce, Wix, etc.) and start selling right away.
Once you've added the t-shirt to your store and made a sale, Printify's print-on-demand solution handles the production and shipment of your item.
Which T-Shirt Printing Method To Choose?
While there are several ways to transfer your design onto a shirt, some are more efficient than others. Let's have a look at a few of the most popular apparel printing techniques.
Direct-to-garment (DTG) printing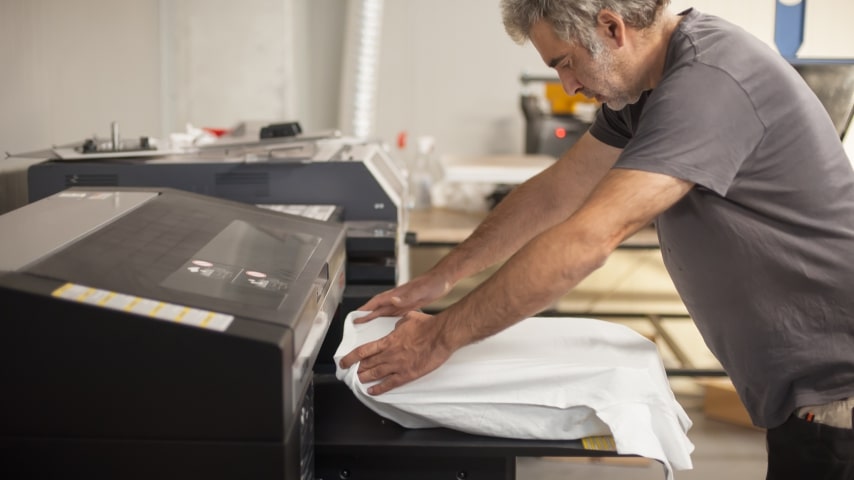 A DTG printer works similarly to a regular office printer, applying water-based inks onto apparel using modified inkjet technology. This ensures high-quality results with very detailed prints, and the setup time is much shorter than with other methods like screen printing, for example.
Why choose DTG printing?
Durable designs.

This option lets you transfer visuals directly on the shirt, ensuring that the design binds with the fabric and has a smooth finish.

It saves time.

DTG printing doesn't require any extra steps in the printing process, with the printer applying pictures straight to the fabric.

No order limits.

You can order as many or as few t-shirts as you'd like.
Learn more about this printing method in our Guide on Direct-To-Garment Printing.
Direct-to-film (DTF) printing
DTF printing requires a heat-press mechanism to transfer your visuals onto the shirt with the help of a film and powder. Since there are more steps, DTF printing takes longer than DTG printing, but you can be sure that any transferred image will look great on the shirt.
Why choose DTF printing?
Print on any fabric.

While DTG printing works best with cotton fabrics, direct-to-film printing suits any type of tee.

Vibrant prints.

DTF printing ensures vibrant colors (without penetrating the fibers of the fabric) and durable prints.
Other popular printing methods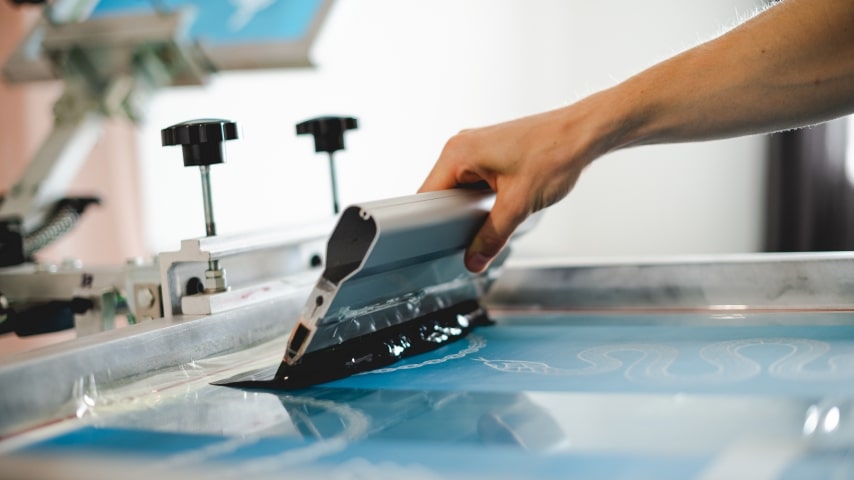 Screen printing.

A very popular stencil-based printing technique, where the ink is applied to the fabric through a mesh screen.

All-over printing or dye sublimation.

With this method, images are digitally printed onto a special heat transfer paper that's used to transfer the designs onto fabric by applying heat. It lets you cover the entire shirt with your print.
When choosing a printing method for your custom shirt, consider quality, design limitations, durability, and cost.
Learn more about all of the available options for adding your picture to a shirt in our Ultimate Guide to the 8 Most Common Types of Shirt Printing.
How to Get a Picture on a Shirt: DIY Methods
There are a few tried and tested ways for you to transfer pictures onto tees at home. Although some require more equipment than others, you can make use of regular printer paper to get decent results.
Let's have a look at three popular DIY methods to transfer images onto fabric.
Iron-On Transfers With Transfer Paper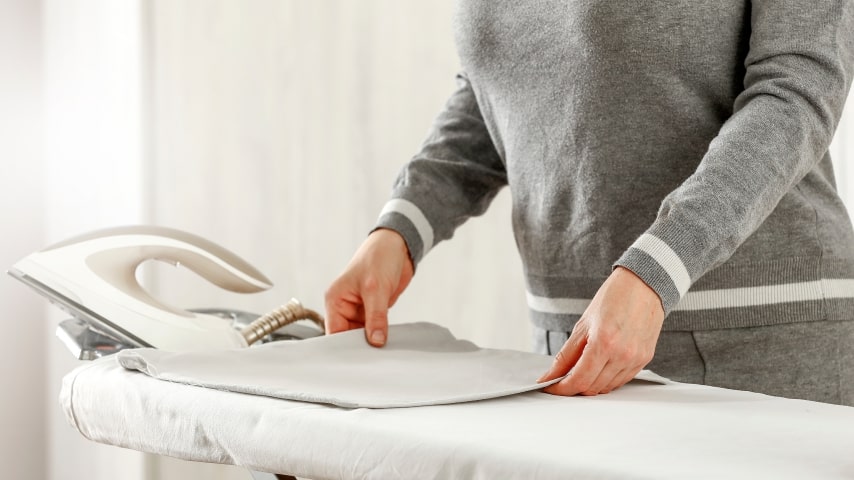 Iron-on transfers let you create beautiful shirts at home, but there are some things you can't do without. You'll need an inkjet printer, some transfer paper, and an iron.
1. Get the right transfer paper
Transfer paper can be purchased at most stationery, craft, and office supply stores.
Buy light transfer paper if you're planning to use it on light-colored shirts, and get the transfer paper meant for dark fabrics if you're using dark-colored shirts.
When you have your image ready, print it on the transfer paper using a regular inkjet printer.
Check if you need to use a mirror image for your design since transfer paper for light shirts is usually applied face down, while the dark one is used face up. This is especially important if you have any text elements in the image.
After printing your design, cut around the edges of your picture to make sure there's no excess transfer paper left before you iron it onto the fabric.
Check the ironing instructions included with the transfer paper. If there aren't any, set your iron to the highest temperature possible for the fabric you're using, and make sure it's set for dry ironing without steam.
Lay your shirt on a flat surface and iron out all wrinkles.
Then, place the transfer paper on the shirt, make sure the image is straight and in the right position, and press the hot iron onto the shirt. Apply pressure evenly for a couple of minutes – the instructions should indicate for how long.
5. Let the shirt cool and carefully peel off the paper
Take the iron off and let the shirt rest for a few minutes. Once it's cool, gently peel off the paper, and you have your custom shirt ready to go.
Parchment Paper Transfer With Plastic Wrap
Don't want to use transfer paper? This truly DIY option might be just the thing you're looking for. Even if you don't have a printer or a heat press, you can create cool designs with cut-outs from magazines.
1. Find and print your design
Unlike the previous method, you can use regular printer paper for your design. If you don't have a printer, cut out an image from a magazine.
2. Cover the image in plastic wrap
Cut out your picture as close to the edges as possible and cover it in cling wrap. Fold the excess wrap to the back of the image.
3. Place the image on the shirt with parchment paper on top
You can put some fabric under the shirt for easier ironing, but make sure the shirt is lying on a hard surface and there are no wrinkles on it. Put the wrapped picture on the shirt and lay a piece of parchment paper on top of it.
Take your pre-heated iron and iron over the picture. Apply pressure evenly and iron around all of the edges.
Then, let the shirt cool for a couple of minutes and remove the parchment paper. That's all there is to it.
Cricut™ Machine Transfers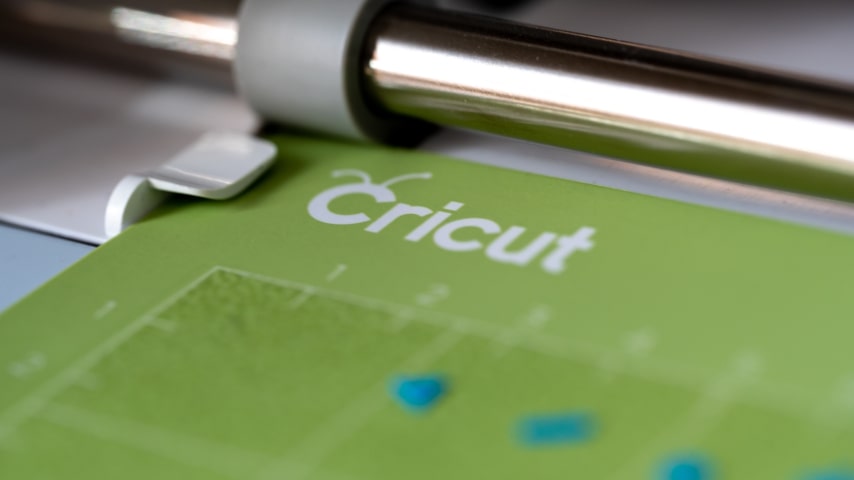 If you want to make more professional-looking tees at home, you may want to learn how to put a picture on a shirt with Cricut™.
A Cricut™ machine lets you create intricate designs and cut out images with all of their tiniest details intact. You do, however, need to purchase or borrow the cutting machine.
Here's what you need:
Heat transfer vinyl

A t-shirt

Cricut Maker® or Cricut Explore® cutting machine

A StandardGrip Mat

A Cricut EasyPress® or a regular iron

A weeding tool
Start by creating and adjusting your image file in Cricut Design Space, then attach your vinyl to the mat and insert it into the cutting machine to cut out your image. After the design is cut, use the weeding tool to peel off all excess material.
Lay your design onto the tee and iron it on with the Cricut EasyPress® or regular clothing iron. Don't wash the shirt for at least 24 hours to make sure the design doesn't come off.
You'll find more detailed tips in the article on How To Make T-Shirts With Cricut.
While some techniques for creating custom tees are cheaper and easier than others, there is one option that doesn't require you to use any cutting machines or printers, let alone iron your image onto the shirt.
Choose Printify for Printing Images on Shirts
Don't want to go through the hassle of creating your shirt at home? Do it with Printify.
Printify is a Print-on-Demand platform that offers over 850 products for you to customize, including t-shirts, sweatshirts, and hoodies. You can have your image printed on the shirt and shipped to your home in a few simple steps.
Here's how Printify works:
Additional steps to sell your tees online:
It doesn't matter if you want to create something for yourself or sell products online, Printify can be the right fit in both scenarios.
Ready To Make Your Custom Shirts? Start With Printify Today
Share the article
Topics