Design custom socks for yourself or start selling online. Customizable and ready to order or list online in minutes. Super easy, fast, and free.
Create Your Own Custom Printed Socks and Start Selling
All-Over-Printed Custom Socks – Gift Them, Sell Them, Wear Them
All-over-print is exactly what it sounds like: the print covers the whole fabric, rather than just one portion of it, giving your custom socks a seamless look. Personalize socks with your chosen artwork and explore all the possibilities this gorgeous product offers.
Custom socks are a great accessory for expressing a sense of style and personality. From inspired outfits and unique gifts to creative and comfortable accessories. Make custom printed socks for yourself, sell online, or design them as gifts for friends, family, and anyone who appreciates different sock styles.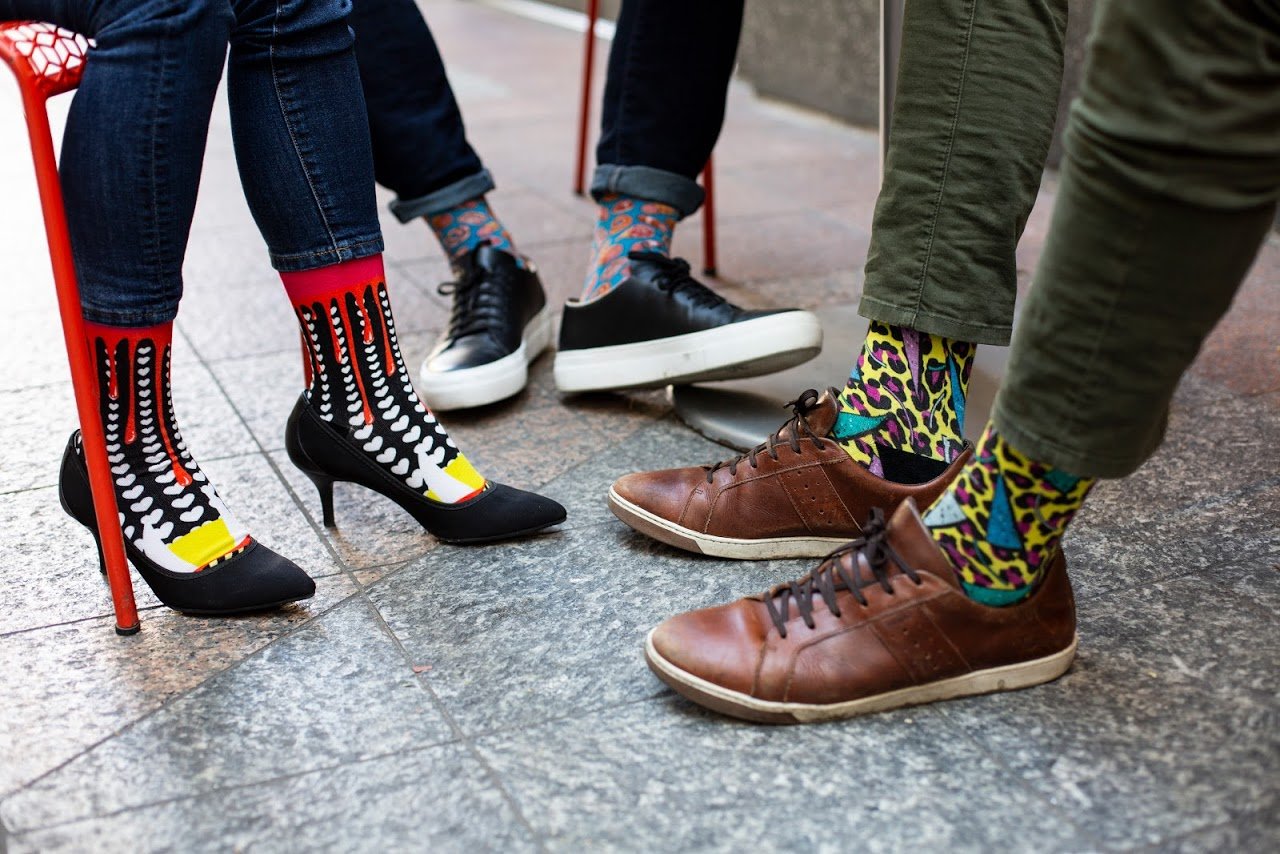 Start Selling Custom Socks!
Fully Customizable Socks from the Printify Catalog
Browsing our catalog, you'll find plenty of different sock types for every outfit, style, and occasion. Whether you choose direct-to-garment or sublimation (AOP), one thing remains consistent: high quality.
Each custom sock is made from soft and lasting materials, such as polyester, nylon, and elastane, ensuring durable and stretchy comfort for your high-quality custom socks.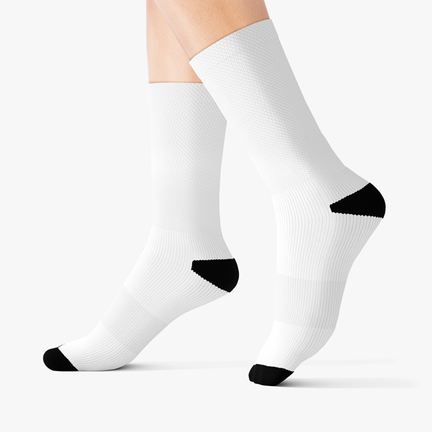 Our sublimation crew socks are one of our most popular items: first, they're affordable, and 'one size fits all' is perfect for selling to a large customer base. With AOP available, the sublimation process ensures that your designs are not only crisp and fresh but easily maintained with a simple machine wash.
Currently, our catalog offers unisex, crew, and mid-length sublimation socks, ready for your customized patterns. Multiple sizes, soft and comfy material, trusted print providers. The perfect custom product for your POD business.
Custom sock production in the US, EU, and China costs from $7.09.
Direct-to-garment socks are a great choice, with a one-size-fits-all solution up to a men's size 12 (U.S.). These socks are very comfortable and stretchy, with durable DTG prints, ensuring sharp and good quality patterns. 
Currently, our catalog contains various options for direct-to-garment socks, perfect for your special promotions and custom designs. Our crew socks are made from stretchy and smooth materials in the USA.
With Printify, Custom DTG sock production in the US costs from $9.45.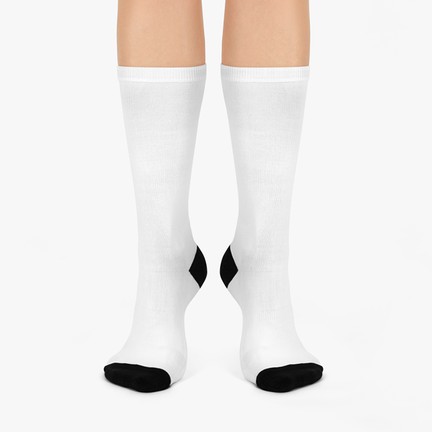 Printify Is Trusted by 2 million+ Merchants Worldwide With More Joining Every Day
I really appreciate working with Printify on my brand. Afro Unicorn was only supposed to be my design on a white shirt. It is so much more. Printify allows me the time to run the business and not work in the business.
Printify helped me start a completely hands-off revenue stream. When you spot a niche that you want to enter quickly, you don't have to worry about buying stock or equipment.
I don't have to invest the money I can't lose into my business. With Printify, I only pay the fulfillment fees, and the rest is all profit.
Printify Premium has helped my profit margins tremendously, and spending $20 a month has probably saved me over $200 a month.
Using Printify saved our struggling business of 6 years and gave us more time with our family.
I like Printify products because they tie in with our organisation's message.
I love the Printify Mockup Generator. It keeps everything consistent and allows me to keep my brand looking sharp and professional.
Start Making Your Own Custom Socks Today!
Design Socks With Our Free Mockup Generator and Sell Them Online
The Printify Mockup Generator turns designing into an easy process, allowing you to create custom socks with photos, texts, and other cool patterns in mere minutes. Partner up with our trusted print providers, try out custom designs one sock at a time, and have your customized pairs listed for sale in three simple steps: choose a product, upload the design, and start selling.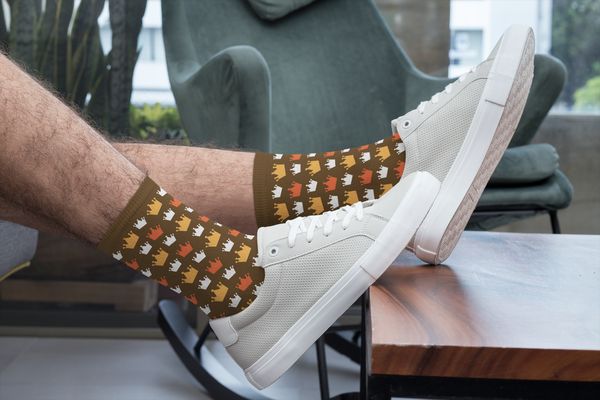 Choose Socks From Our Catalog
Pick your favorite sock pair from our huge selection. Crew socks, mid-length, unisex, DTG, or sublimation – pick a pair based on criteria important to you and your target customers. From great materials and print providers to locations, a simple ordering process, fantastic prices, speedy delivery, and more.
Now it's time to let your custom sock design shine. Simply upload or drag and drop your own design and enjoy the whole process of customizing a pair of socks until you have them perfect. Add layers, photos, and texts to create the perfect accessory for feet around the world. 
Preview the design and order samples to ensure your customized socks match the mockup to the last detail.
Start Selling on Your Trusted Sales Channel
Connect Printify to your online shop in seconds, using one of our many integrations with the biggest eCommerce marketplaces and platforms. List your personalized socks online and ensure great customer service with our support. See your customized products, orders, and fulfillment statuses on your Printify account, and always have a transparent overview of all involved processes.
Profit From Selling Custom Socks
You pay for fulfillment only when you make a sale.
You pay for its production
100% Free To Use · 700+ Products · Largest Print Network
Easily Connect Your Products
You need to reach customers to sell your designs. The best way to do this is by connecting to an eCommerce platform or marketplace. Fortunately, the Printify merch maker supports automatic integrations for Shopify, eBay, Wix, WooCommerce, Etsy, Squarespace, BigCommerce, and PrestaShop.
Custom Design Socks: The Perfect Gift
How do you get your custom socks to stand out? Typically, colorful designs will grab people's attention, however, the beauty of personalized socks is that each customer will find their own reasons for buying them. Here are some design ideas for socks as fun and practical gifts.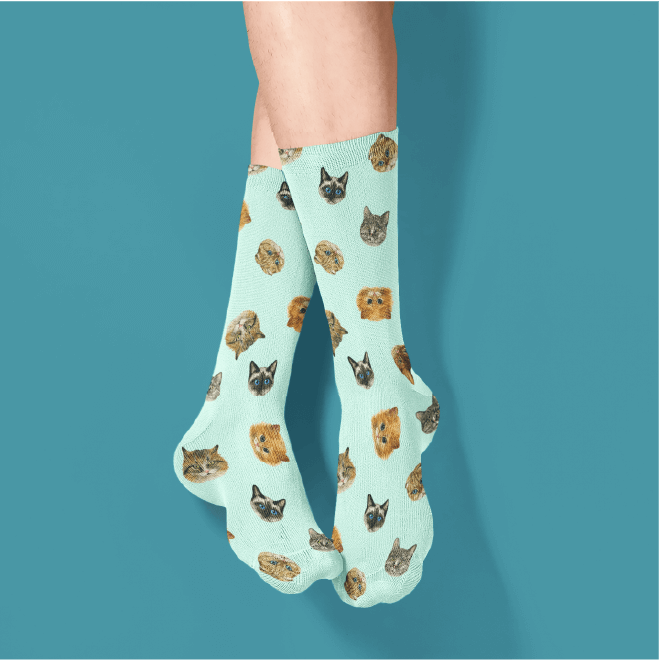 Who doesn't love a pet's face on their socks? Treat pet lovers all around the world with a pair or two of custom pet socks featuring adorable pet-themed designs. Add cats, dogs, or a charming python to celebrate the special occasions with furry (or scaly) cuteness. From personal photos to cute animal prints, paws, whiskers, and more. Support the pet enthusiasts with custom sock designs.
Embellish our great quality socks with good Christmas cheer. Reindeer, Santa Claus, snowflakes, your face on a Santa's hat… there is so much room for creativity when it comes to winter designs. Create a pair for your special someone as a thoughtful Christmas gift or open a store and start selling them to make some sweet side money. A thoughtful gift with a custom design will always be a hit around the holidays.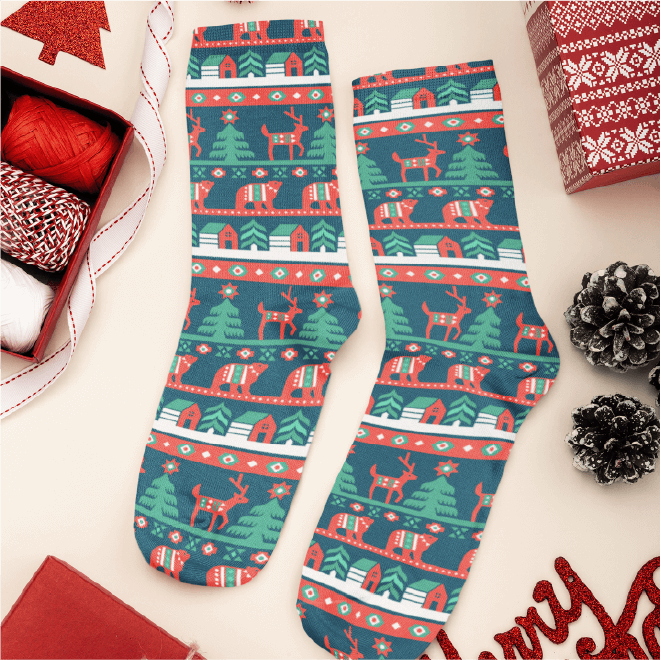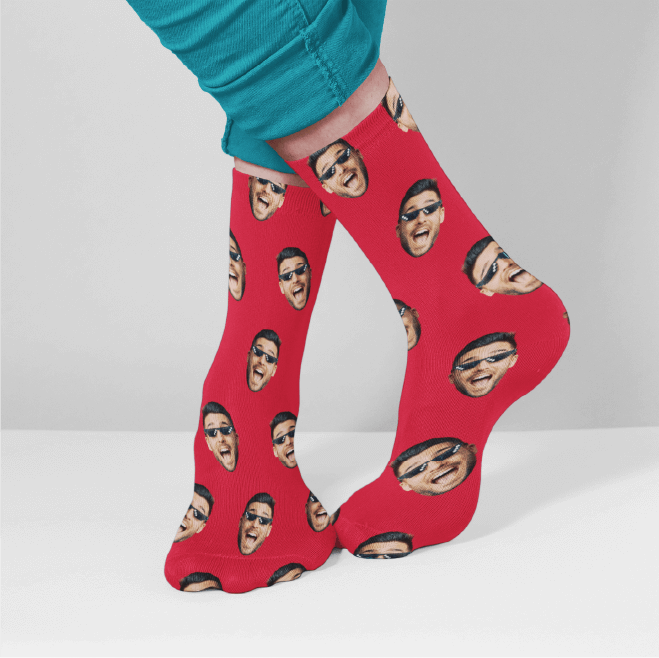 Make your own custom face socks using Printify with just a few clicks. With our highly-customizable blanks, you can create custom picture socks as personalized gifts for any special person or occasion – Christmas, weddings, birthdays, Father's Day, kids, family, or a friend who'll appreciate the humor in your custom face designs.
Custom Branded Logo Socks
Create high-quality custom branded logo socks as useful corporate gifts for team building or presentation. Design branded socks with logos that represent the spirit of your team and company culture. Branded socks with logos are perfect for promoting your business, and employees always prefer a practical gift over a meaningless knick-knack that collects dust.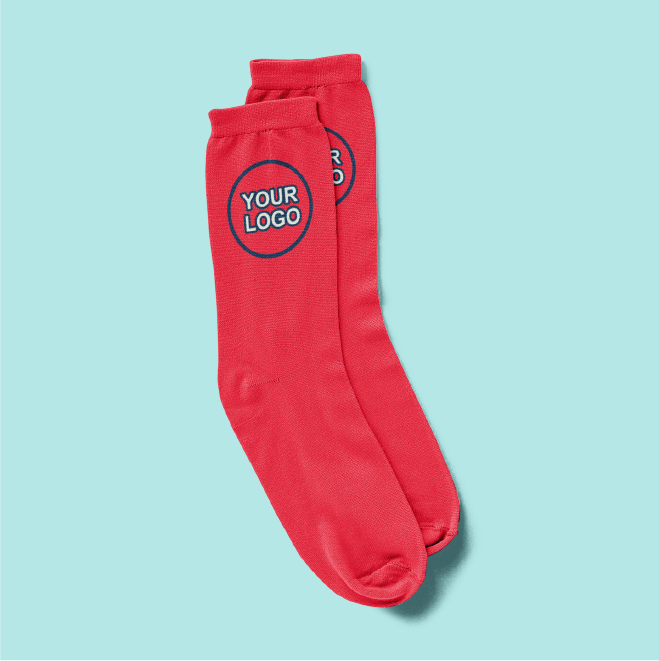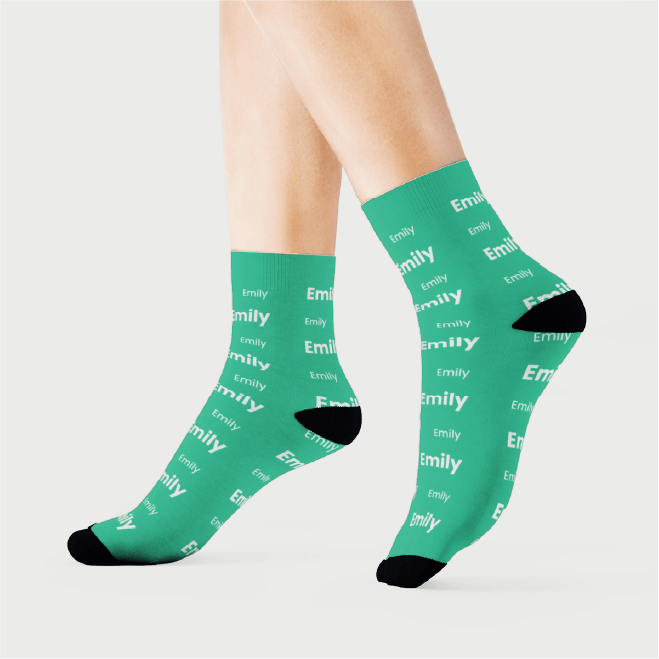 Personalized Socks With Text
Design fun personalized printed socks with people's names, quotes, or various puns and create a targeted ad campaign to sell your custom socks as fun gifts for events like bachelorette or bachelor parties, weddings, etc. Or create socks with "Best Friends", "Best Dad", "Cat Mom," and other fun, expressive texts for those who appreciate wearing a little bit of personality.
Start Selling Custom Socks!