Complete your cooking experience with our one-of-a-kind custom apron. Personalize it to meet your customer's hobbies, styles or inspiration. Custom aprons are a sure way to spice up any kitchen.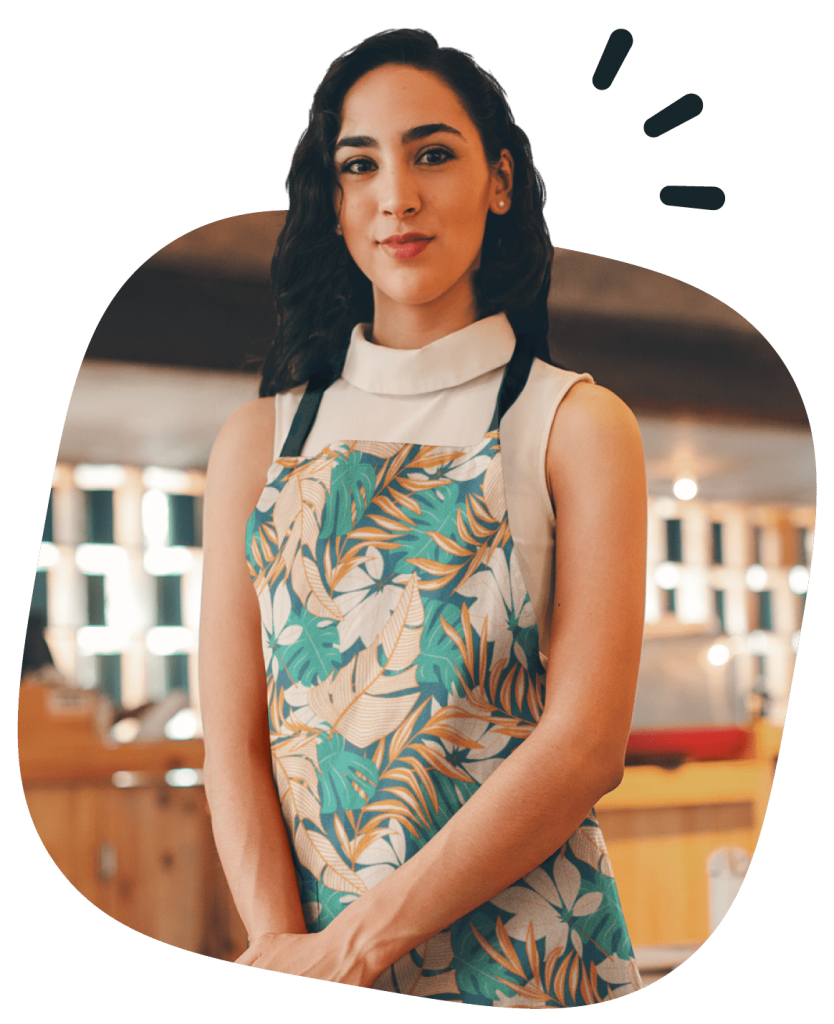 Make your own custom aprons online

Made of extremely strong and durable synthetic fabric that retains its shape and dries quickly.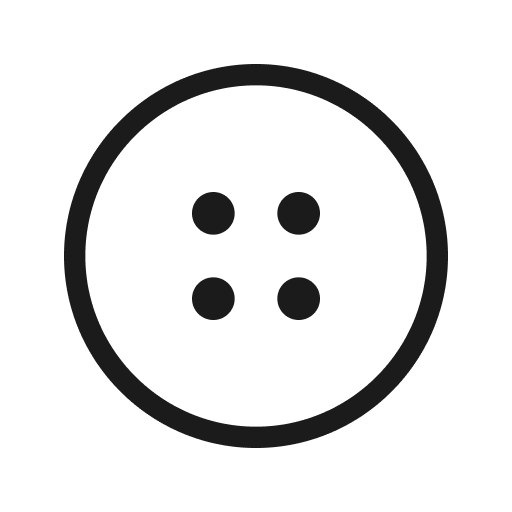 The aprons have four buttonholes to attach or detach the straps for easier fit and adjustments.
The aprons are sewn with overlock, making the seams stronger and longer lasting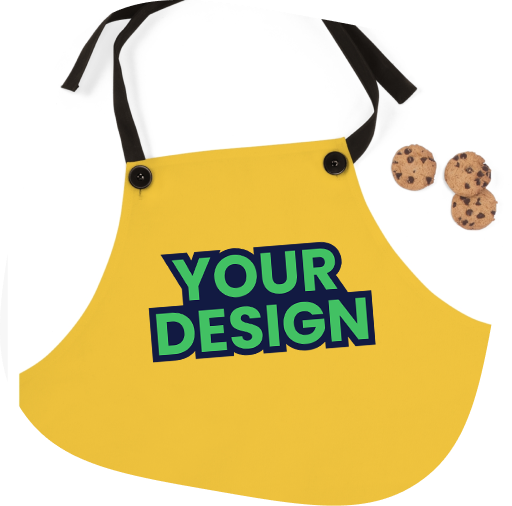 Aprons are versatile and flexible to meet any need. Whether they are used traditionally in the kitchen, at the garage to avoid oil smear, or at the barbeque for father's day, they are not just good at keeping clothes clean but if customized for the occasion, can enhance the ambience and experience of the cook. 
Fun, colorful custom aprons add a nice touch to any aspiring chef and sell well all year long for the aspiring entrepreneur.
Our poly twill aprons are a perfect cooking accessory for any aspiring chef. They are lightweight, stylish and durable for a long lasting experience. Sell them in your store with your own unique designs that will make your customers look great during those backyard cookouts.
100% Polyester

One-side print

Black detachable twill straps

Finished hems with overlock seam
Custom apron production in US, cost from $18.03. Average fulfillment time from 2 business days (MWW On Demand).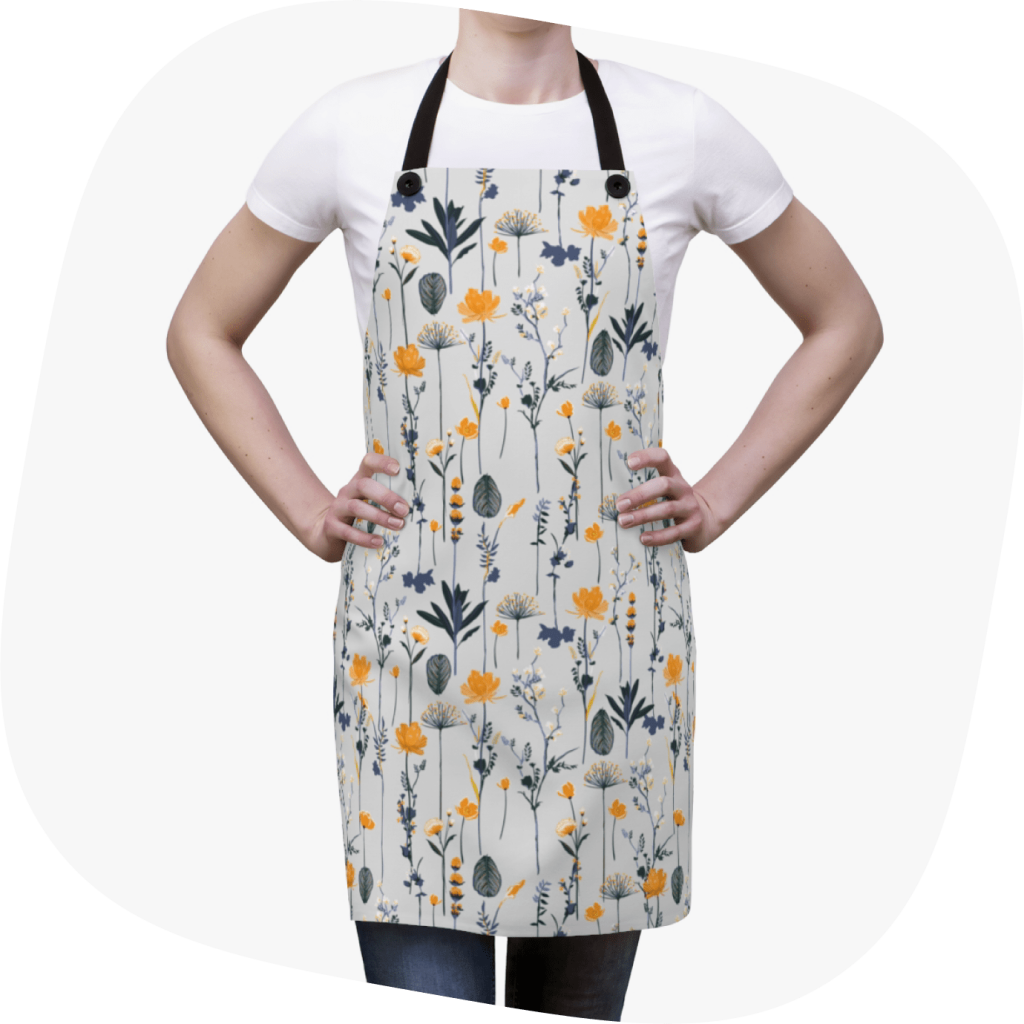 Answers to some of the most frequently asked questions about custom aprons
Custom aprons with no minimum
The print on demand business model defining characteristic is that you pay for each product individually and only after you make a sale and they are ready to be fulfilled. However, this does not limit you to only selling one product per order, it means that you get custom printed aprons with no minimum whenever you need them.
You can also be ordered in bulk, no matter how large your custom printed apron business gets. Print on demand gives you peace of mind because you will never run out of stock regardless of how much you sell.
An added advantage of custom aprons with no minimum is you can sell them throughout the year and change your design to meet the season. You are also free to try selling in bundles.
Bundling is a marketing tool used to boost sales by selling multiple items at once as a set. They are a great way to not only meet demand, for instance in bundles for families, but also to boost seasonal gifting sales for your store.
Personalized aprons in bundles for mother's and father's day as well as fourth of July and christmas are just a few ideas of sets to sell. Custom aprons with no minimums allow you to generously bundle and sell without worrying about inventory or stock keeping.
Custom aprons printed on demand
If you are new to Print on Demand, it can seem like a foreign concept that is too complicated for you. On the contrary, print on demand is easy to grasp. It is simply a modern business model for many online stores, with as many as 3 million online entrepreneurs using print on demand to sell over 60 million unique print on demand merchandising items every day.
Print on demand has over the years been proven as a variable business opportunity, racking in tens of thousands of dollars for entrepreneurs of varied interests across the world.  You too can sell custom printed aprons online and as long as you keep the demand high, make a good profit off of it. Take advantage of this great business opportunity today and start your own unique custom apron store.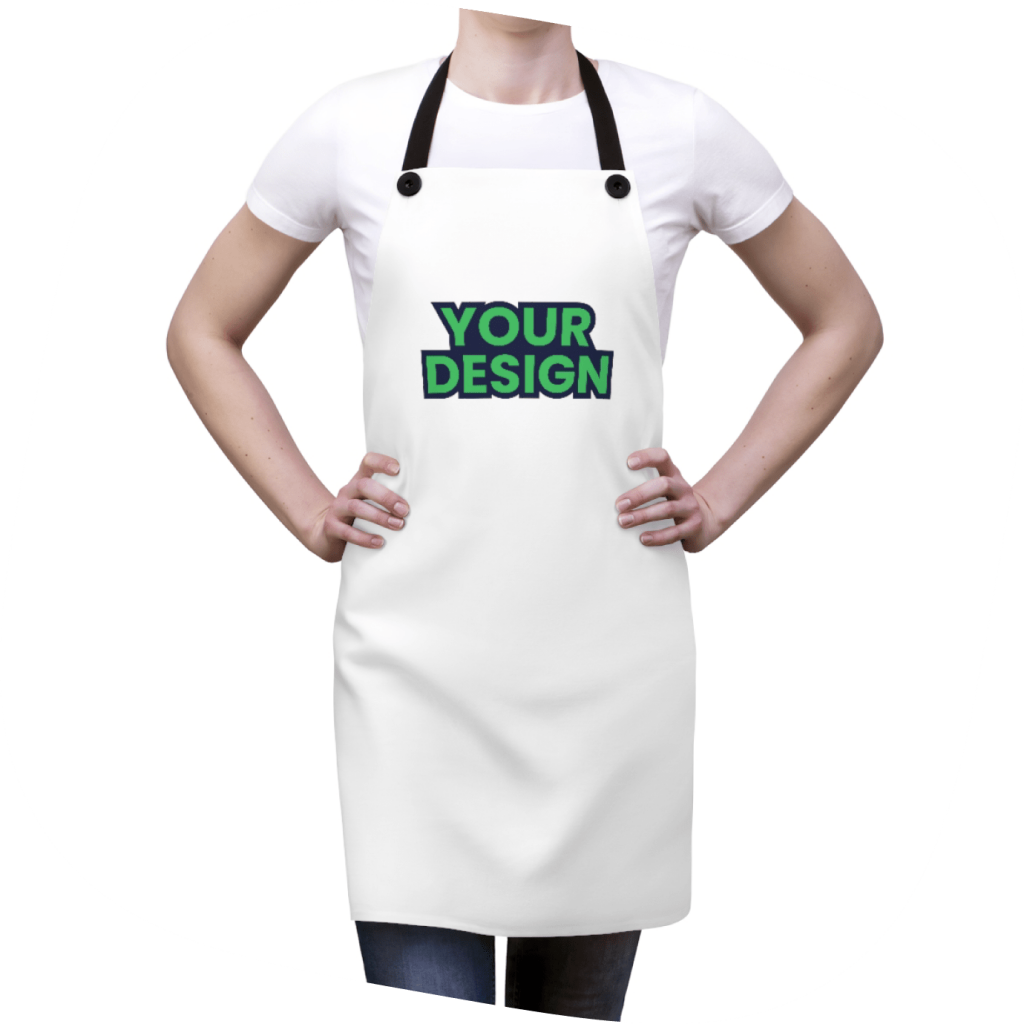 Sell custom printed aprons through Printify
Printify will open your custom apron business opportunities to a global market.
Join the more than 300,000 online sellers who choose Printify to produce and sell thousands of products through print on demand.  We connect you to our network of print providers with more than 90 printing factories with the latest printing technology and machines around the world.
You will also get a direct channel to popular online store platforms such as Shopify, Etsy, eBay, Wix, where you can confidently use all their resources while your store remains fully integrated to provide ease of use across these platforms.
Design ideas to make your own custom aprons
An apron is a protective garment to guard your clothes against stains of food. It is intended to wrap around your clothes so that you can cover your front body while cooking and avoid unwanted splashes of food stain.
While most people associate aprons with the kitchen, there are many more areas that aprons come in handy. They can be used at home, in restaurants, cafes, by artists, or by flower shop owners. They are commonly used by men, women and kids  and can be used while working at a bakery or flower shops, or while cooking, painting or doing pottery.
Custom aprons add a more personal touch to what is already an established item in our everyday lives. Here are a few more ideas to design custom cooking aprons.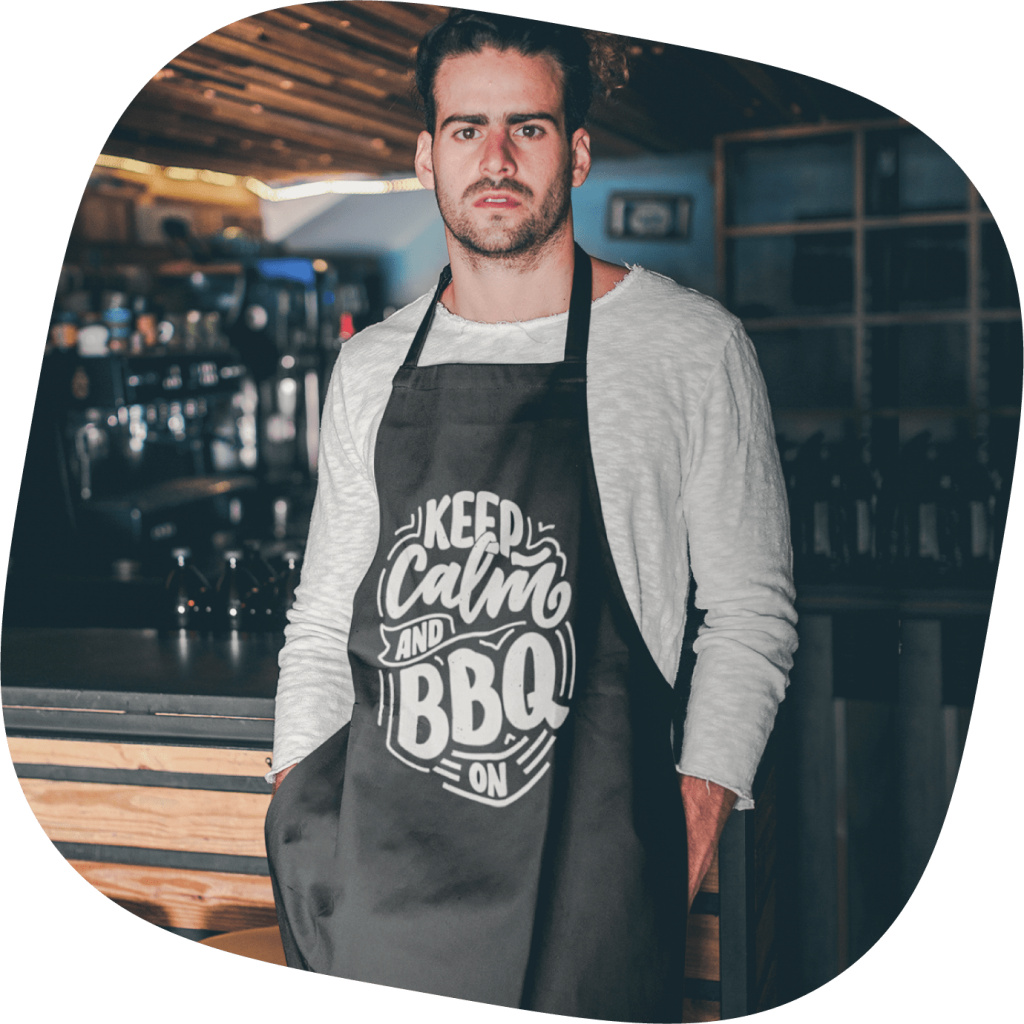 The perfect personalized gift
Personalised aprons can be designed to match the people they are intended for and for the activity they will most probably be doing while wearing the aprons. With your designs, these roomy, comfortable fit, adjustable aprons are a good multi-use choice for doing things in a kitchen or workshop.
Design custom aprons as gifts for fathers who love to bbq or for mothers with organic backyard farms. They suit the hipster chic foodie who loves to cook up a storm or the dreamer who paints all night.  Whomever they are for, custom aprons are a great gift option.
Personalized aprons for him
Design cool personalized aprons for that friend or family member who always mans the barbecue at parties. He deserves recognition for his skills too with a chic custom apron.
You may offer your customers the opportunity to add a name at the top of your vibrant graphics as a gift anyone handy with hamburgers and brats will appreciate. Father's day, valentines or children's day are also great opportunities to design custom aprons for him.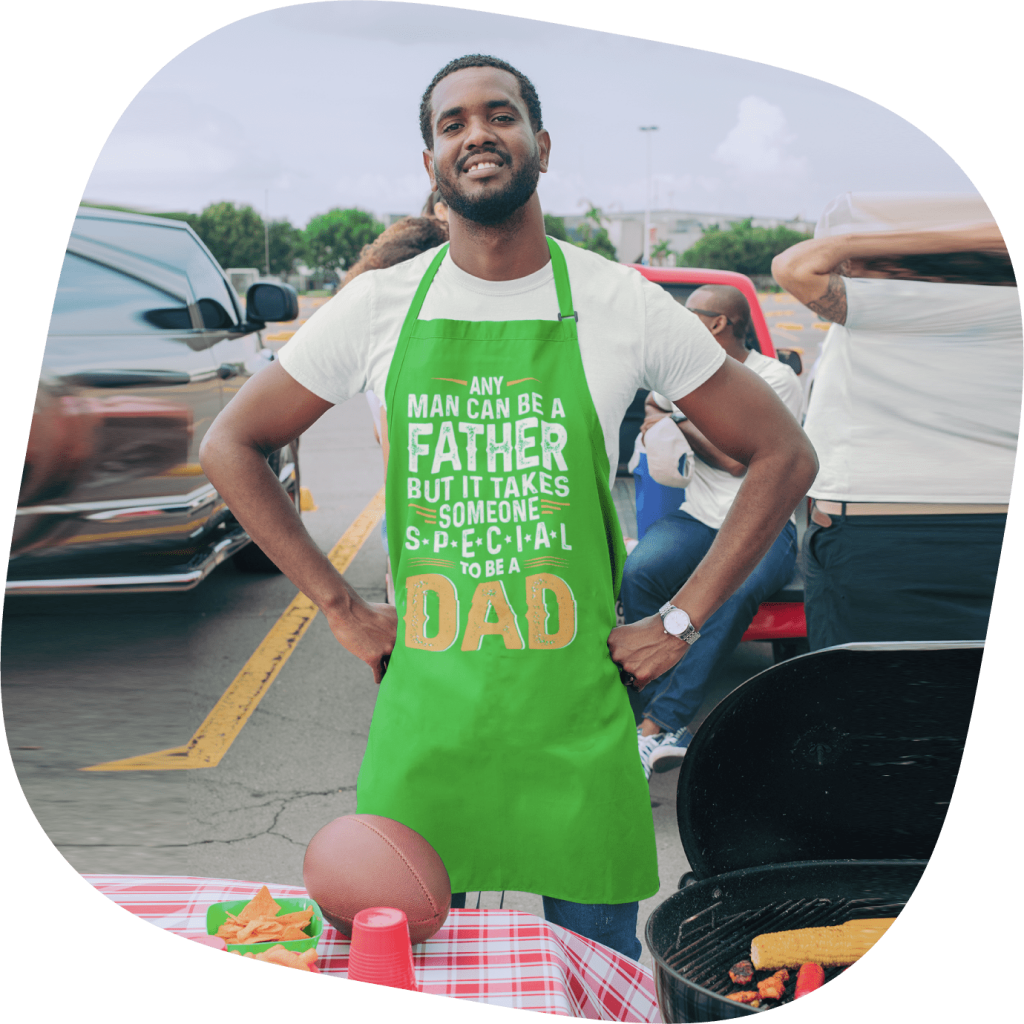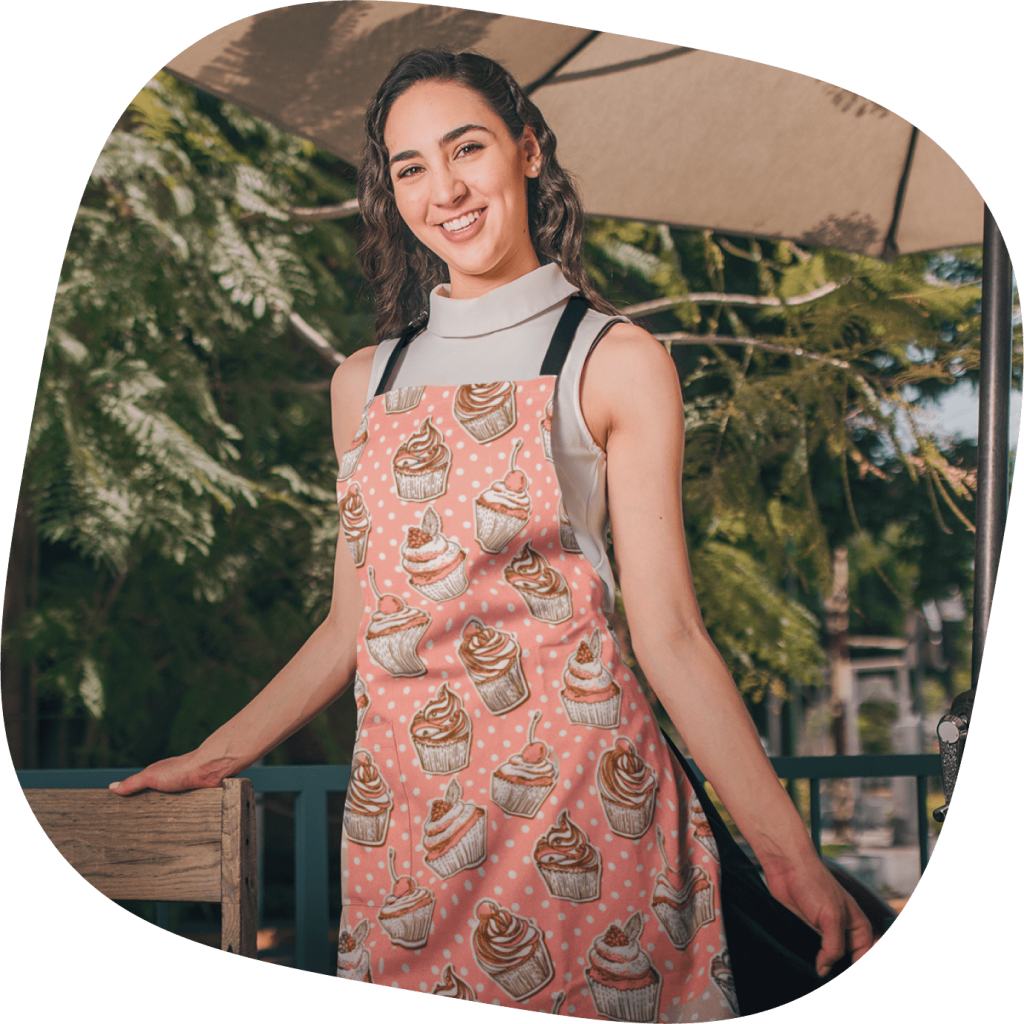 Custom kitchen aprons for her
With people spending lots of time indoors, many emerging aspiring bakers are everywhere online. Design cool custom kitchen aprons for the new baker who wants to try making sourdough for the first time or a kid who wants to be a sous chef when she grows up. 
Cover the custom apron in a cupcake print and cute pie and fruit colours to march the theme. You may also choose lovable characters from shows that might actually get the little ones excited to wear them, keeping them stain-free while decorating cookies.
Custom chef aprons, aprons for restaurants
Anyone who has a restaurant or catering business, will want to have custom aprons for them and their employees. Custom chef aprons for restaurants should represent the brand and often feature brand logos and designs. You may choose to offer a personalizing option in your store where your customers can upload images, such as a company logo, and brand emblems and receive professional-quality aprons that unify their kitchen and staff.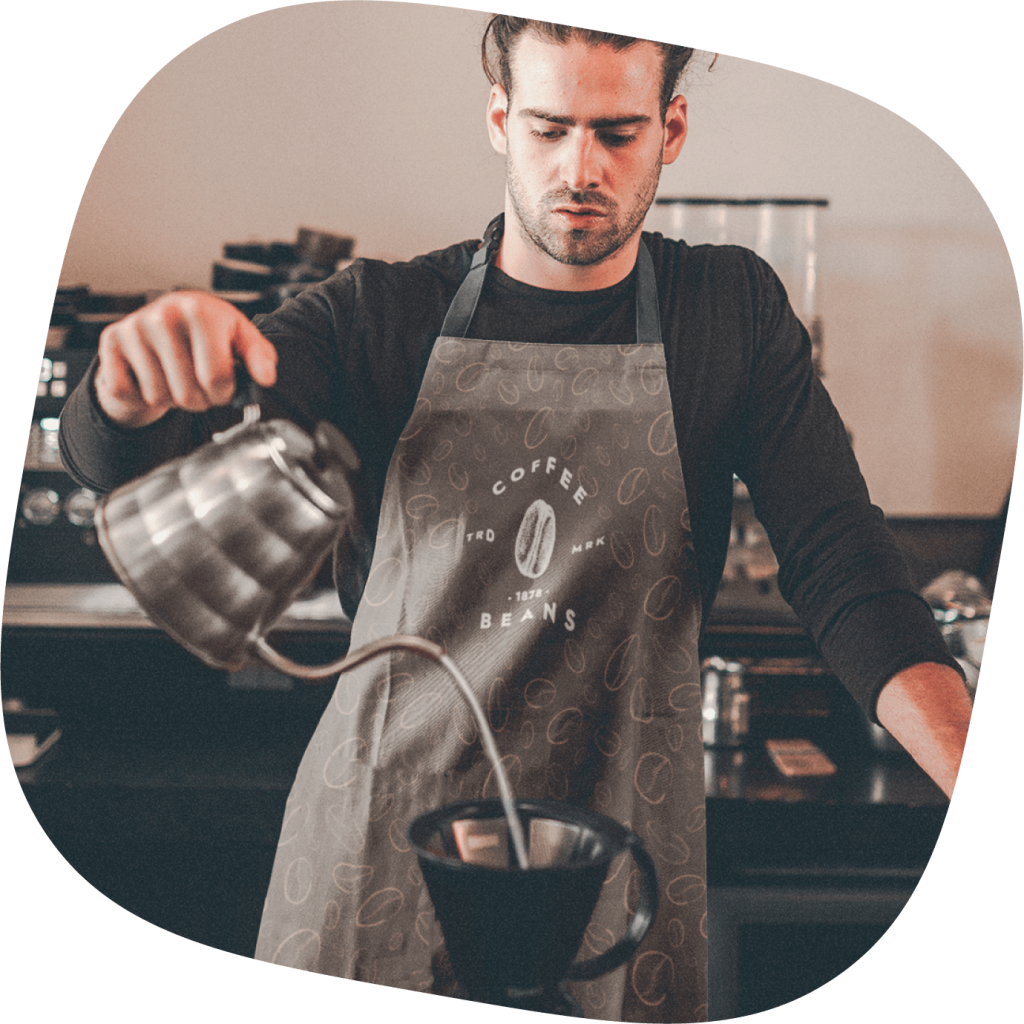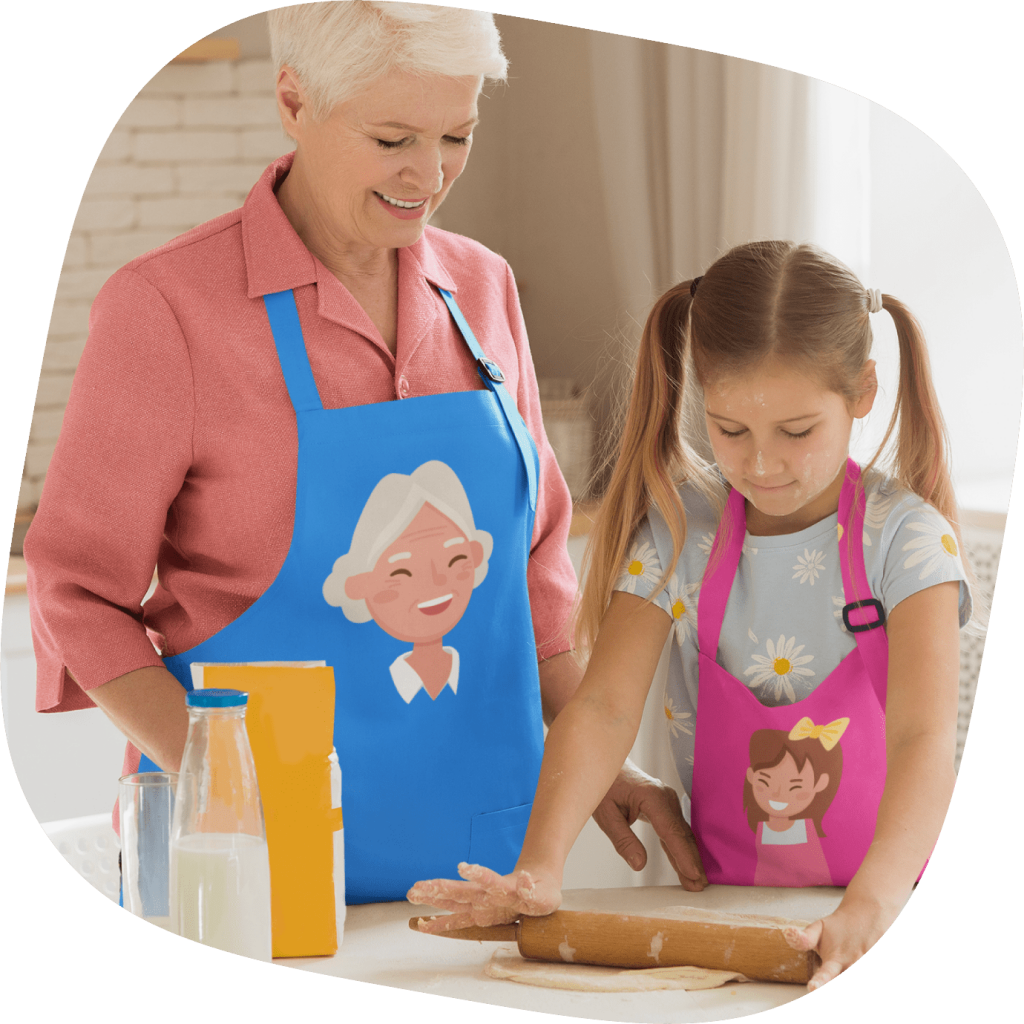 Custom cooking aprons as family sets
Design custom cooking aprons for the dad that loves working on cars in the garage or for the partners that want to try their hand in the kitchen. Custom cooking aprons can be awesome father-son aprons or mothers and daughters gift idea. All you need is to design two custom aprons and include them in a set. They don't need to be customized the exact same way, though, so the independent little one in your house can have his or her own style.
How to use the Mockup generator to design custom aprons
You can access our free Mockup generator through your Printify account. The mockup generator is made to be easy to use and navigate for even first time designers. With the Printify free mockup generator, you can start and finish designing your custom aprons with just a few clicks of a button. Here's how:
To start designing, all you need to do click on the blank custom apron from our catalog. Hit the "start designing" button to access the mockup generator. Upload your personal designs or photos from your computer. You may also select one from your existing library in your Printify account.
Make sure that your designs fit the requirements for a high-quality print. Every product on the mockup generator has the size requirements indicated at the bottom right of the user panel.
Once you've made sure you've picked the best pixel size for a high-quality print, apply your design on the custom apron. You can choose to preview your final custom apron print to check the placement and sizing of your designs. 
After designing your custom apron, publish it to your store and wait for a sale for it to go through production and fulfillment processes.
We go the extra mile to make sure you have the highest quality. This is why we do quality checks for each of your products and we will let you know if it does not meet the printing standards. If you would like to check first hand that your aprons look great, you can always order a sample before publishing it to your store. 
You can start your first print on demand business today with custom aprons. Custom aprons are a great sales opportunity for anyone looking to increase their online income. These are design-ready products ready for you to customize and sell. Follow the steps below to get started today.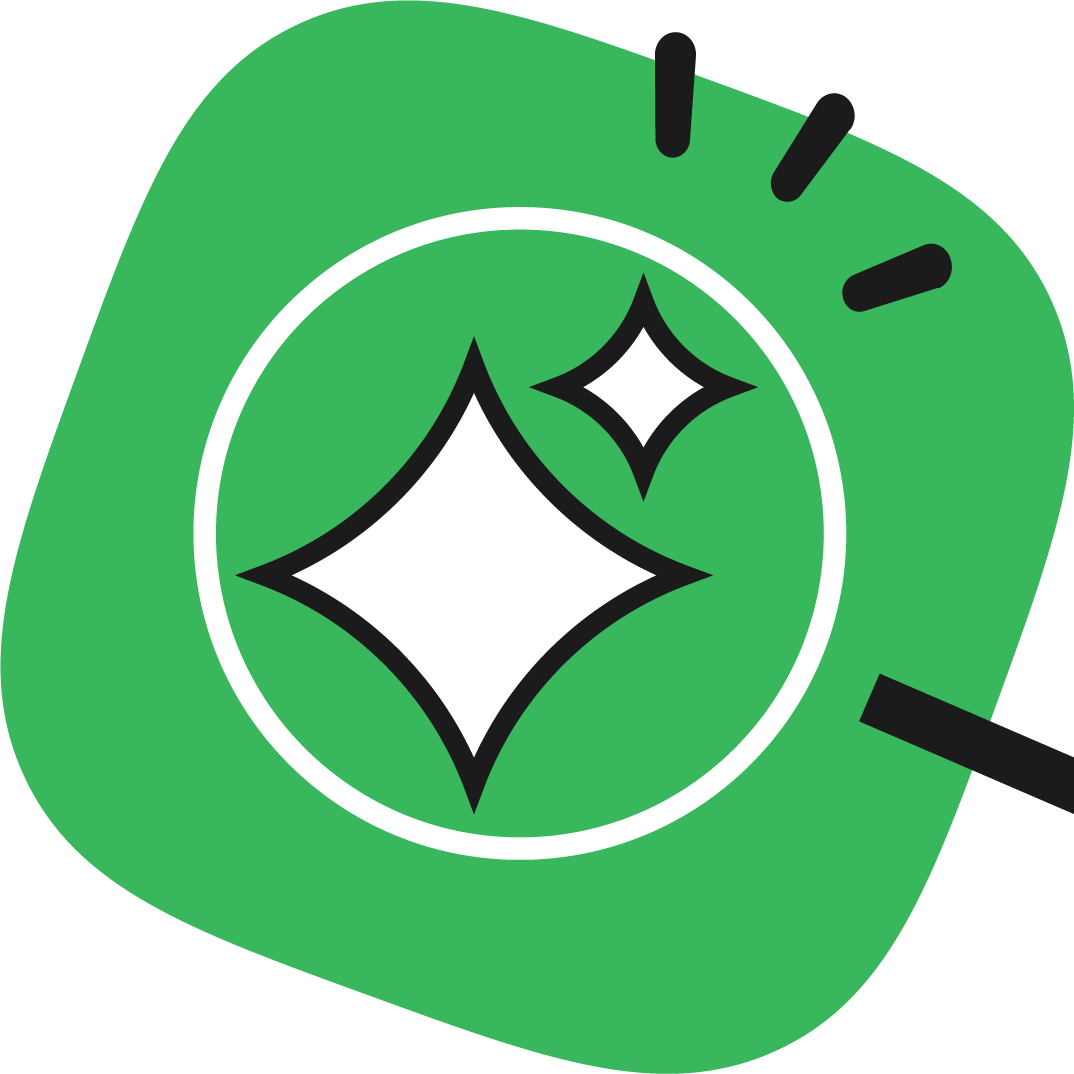 Choose a niche for your custom aprons
Take a look at the design ideas above and decide what style of custom apron is right for you and your store. Start designing personalized aprons that best work for the season or time and will be in high demand.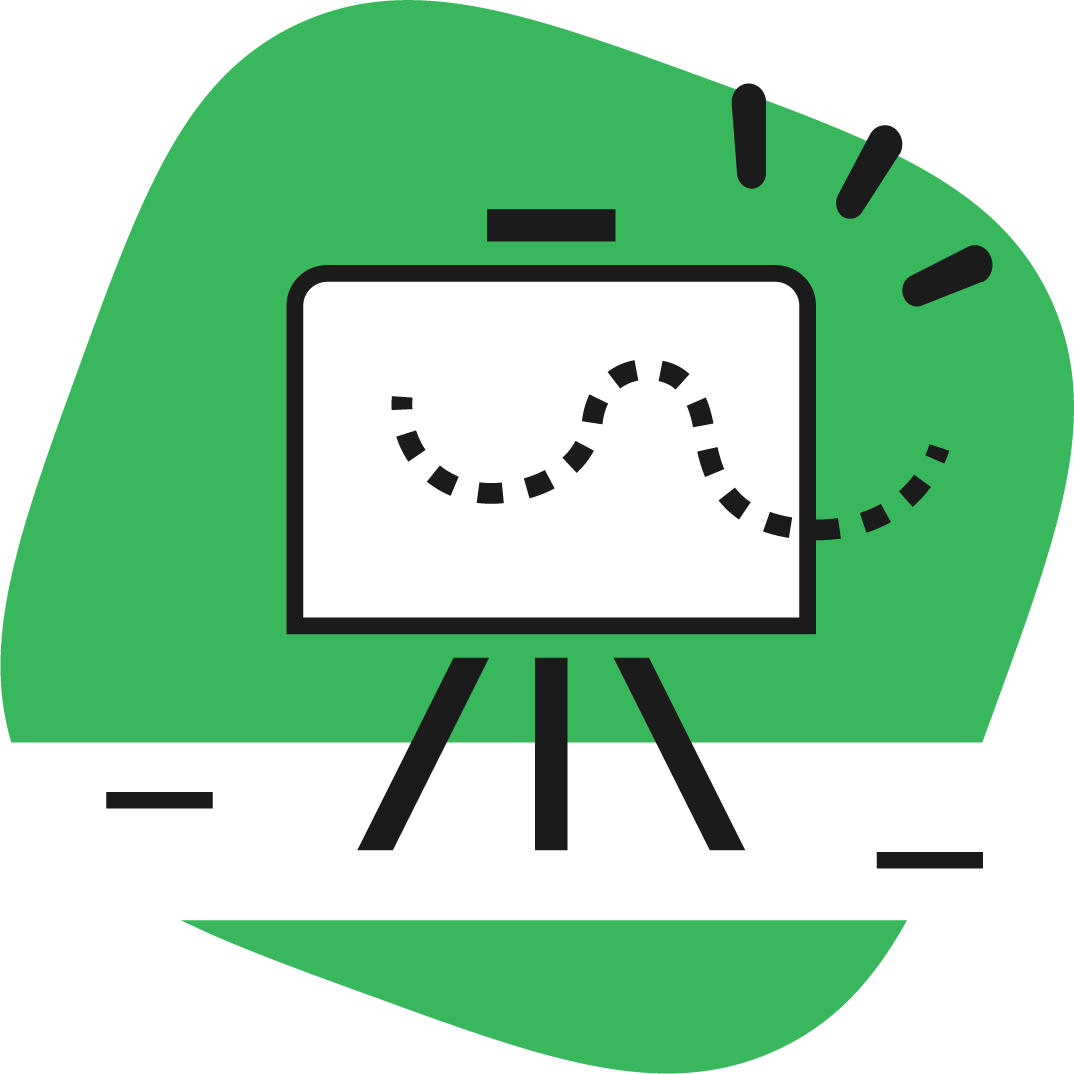 Use our Mockup Generator to design your new custom printed aprons. Pay attention to any image quality warnings, and preview your product with your design on it.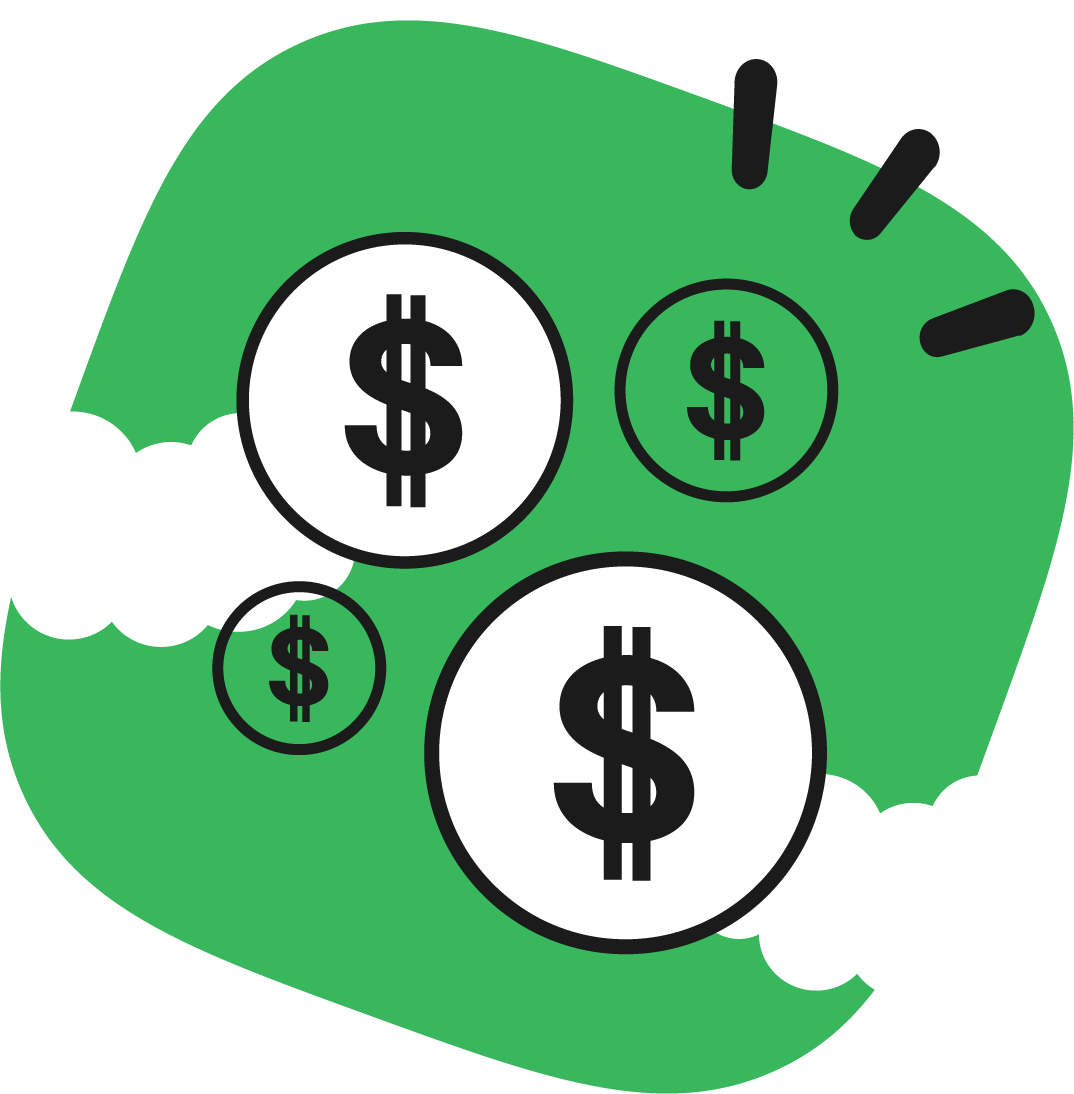 Hit publish and when you make a sale your custom apron will be sent over to production. You can order a sample before publishing it to your store. Your product will go through quality assurance, made, and shipped to your customers.
Start selling custom aprons