From back to school to commuter fashion, custom backpacks are an essential item of everyday wear. Casual, leisure or business, there is a place for your custom printed backpacks.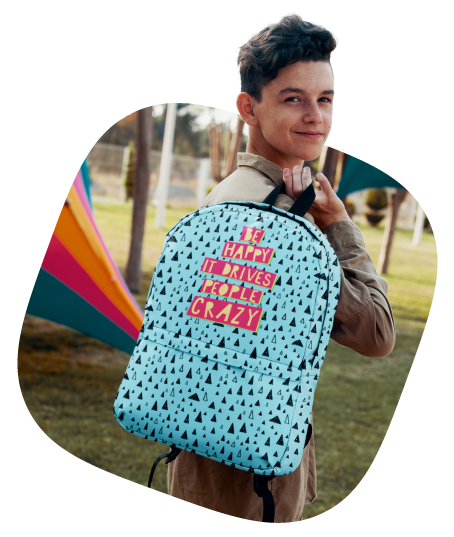 Create custom backpacks that will get people talking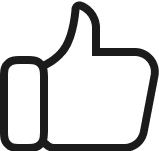 Practical backpacks with a blank canvas that can be turned into useful fashion.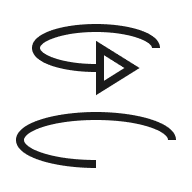 Small things make all the difference, from cute name tags to thoughtful laptop pockets, these custom backpacks have it all.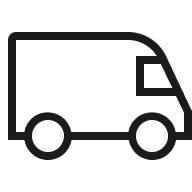 No minimum order required
Avoid holding stock, giving you the freedom to do what you do best – create.
Why design and sell custom printed backpacks?
Backpacks are used for everything, from carrying gym clothes, to safely transporting laptops to the office and of course to act as somewhere to keep study books for school and university. In 2018, the backpack industry was worth $17billion, with the trend set to increase to $23billion by 2023, so how much of that $5billion increase are you going to bank?
Custom backpack types at Printify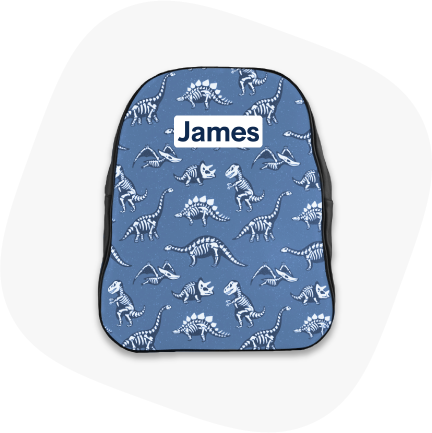 The ultimate classic, the perfect bag for carrying everything from your school books to a lunch box. The large front is perfect for printing your custom designs, the sublimation process allows you to get vivid colors and sharp details that will make your custom backpacks stand out.
Key features:
100% Polly synthetic leather body
Padded laptop sleeve
Plastic zipper with metal head
Inner pocket
This is a much loved design, largely because of the ability to print your custom design on the entire front side of the backpack, including the top and sides through sublimation. The padded back and straps make this custom backpack perfect for carrying items on your way to the office or the classroom.
Key features:
100% Soft Nylon Canvas
Padded back
Durable zipper closure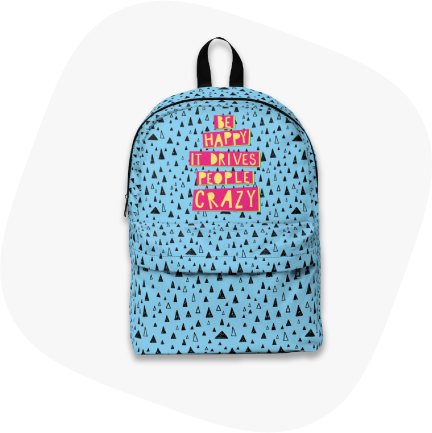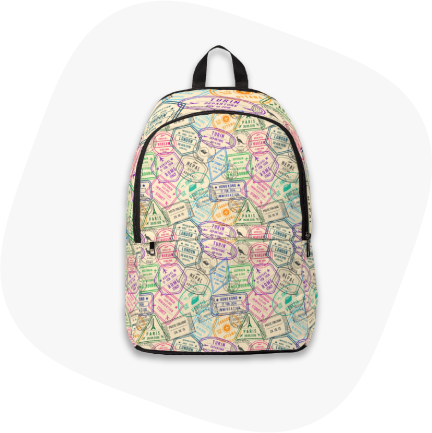 The great thing about personalized backpacks is that they can appeal to both male and female. These unisex backpacks are light weight but strong, perfect for everyday use. Print your custom design on the front, left and right side of the backpack, be creative and don't be afraid to design custom backpacks that appeal to both males and females.
Key features:
100% Soft Nylon Canvas
Padded back
Zipper closure
More in the style of a classic satchel, this is one of the most popular personalized kids backpacks. The large cover flap is a designers dream, hiding the main pockets (there are 6 on this custom backpack). The clips on the front of the bag keep the contents safe and protected from the weather.
Key features:
100% Oxford Canvas
Many compartments
Padded back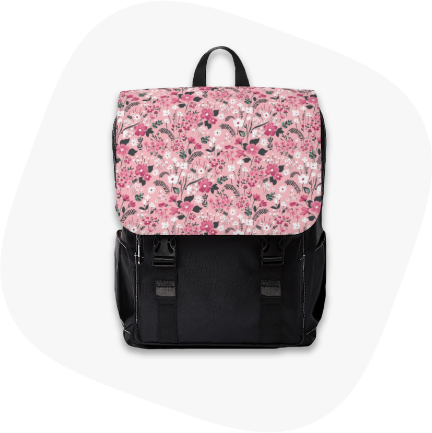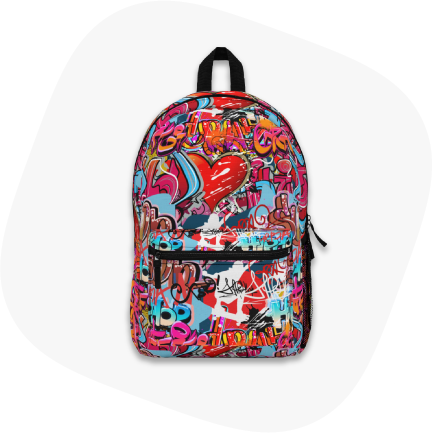 If your aiming to sell custom printed backpacks to those who love the great out-doors, this is the bag for them. You can print your custom design on the front, top, bottom and sides to get the ultimate in personalized backpacks. The sublimation printing gives clear vivid colors, and strong stitching means this bag is ready for whatever can be thrown at, or in it.
Key features:
100% Plolyester
Padded back
Zipper closure
Many compartments
Questions about selling custom backpacks answered
Custom backpacks with no minimum order
The last thing you want is to clutter up your bedroom, office or front room with stock of custom printed backpacks. That's why there is no minimum order with Printify. You only need to order when you make a sale, giving you the freedom to start marketing your product without the fear of shipping stock. Each provider takes care of the whole process, from order to fulfillment and even shipping, direct to the customer.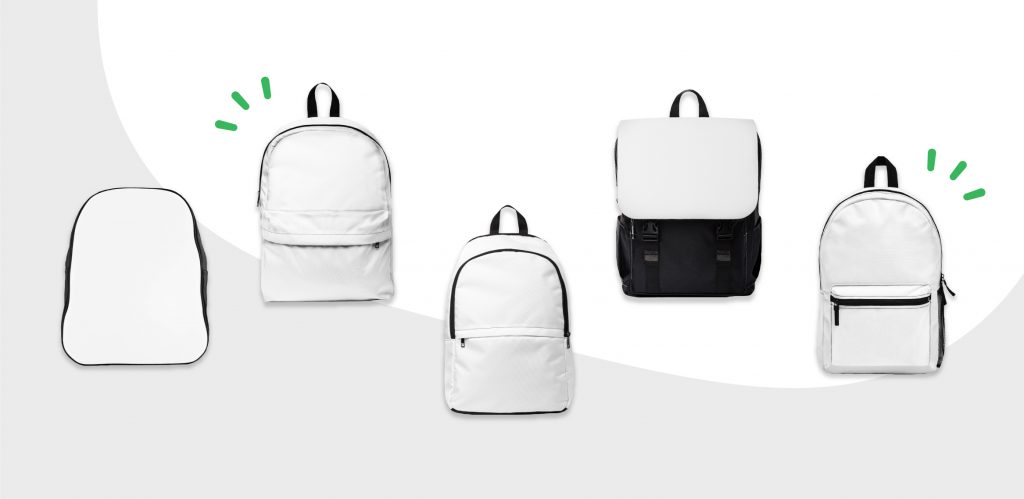 This is the fun part, getting creative with designs and patterns that will make these custom printed backpacks pop. Using the Printify mock-up generator, you can piece your designs together to form your custom backpacks.
Don't worry if you have never done this before, the preview tool allows you to see how the bag will look once it's been printed, allowing you to make adjustments as needed. 
Each backpack uses sublimation printing, this means the colors and designs will really stand out. It also means that the ink will not fade or crack, giving extra longevity to your custom backpacks.
With your personalized backpack ready for printing, the next step is to start selling. With Printify you can connect to multiple stores, including Etsy, eBay and other platforms like WooCommerce and Shopify.
Choosing a backpack style
Adding custom backpacks to your store is clearly an opportunity too good to be missed. But how do you know which backpack style you should add to your store? Are you targeting the gym lover, or the offer commuter? Perhaps you are aiming your designs at kids who want to stand out at recess, either way we have a backpack that is a perfect fit for your store. 
Gym Lover – These guys want a bag that is lightweight but big enough to fit a towel and a change of clothes. 
Commuter – It's all about slimline, the office commuter is eating lunch out and needs enough space for a laptop and maybe some paperwork.
School kids & Students – Kids put their bags through the wringer, make sure you go for a tough bag that can handle the rigours of everything from the playground to the study hall.
Design ideas for personalized backpacks
Let's face it, how many backpacks does the average person own? One (unlikely) two (maybe) but it's probably more like three or four, why is that? Simply put, each backpack carries its own use. That's why custom printed backpacks are such a unique, simple addition to your store, customers are always looking for something that sets their collection apart from the rest.
Perhaps your designs focus on travel inspiration, or motivational quotes for those who need to be reminded why they are up at 05:00 going to a spin class. 
For some it's about being practical but looking great at the same time – the office can be a dull place, so a stylish fun design might be all it takes to add some color to your customers day. 
Designing your first custom print backpack will be so much fun that you will find inspiration from everywhere. To help get you started we have come up with great design ideas that are already killing it in the marketplace. Remember to draw inspiration, but don't copy, create your own identity and your customers will love it.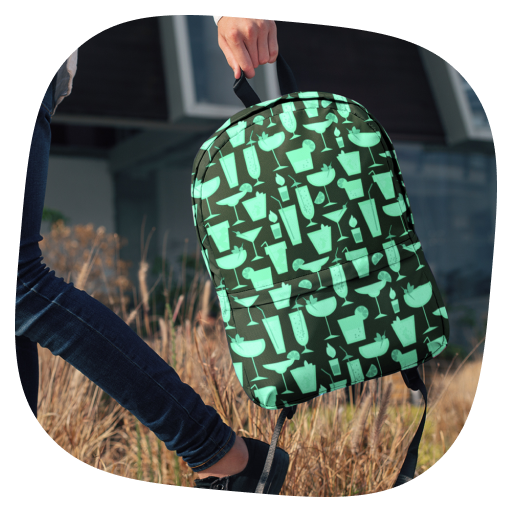 Make it a fashion statement
Custom backpacks are more than just function, they should make a statement. With some bold repetitive patterns you can really make your custom printed backpacks stand out. Think about geometric shapes, or designs that aesthetically work to blend the edges of the backpack. 
Some of fashion's biggest hitters are selling backpacks the people are using in everyday life, but especially when travelling or going on holiday.
Make it personal without being individual
If your going after the back to school market, or a younger audience, one fun, simple but personal touch, is to add children's names to your design. This is a great way to seem like the bag has been designed specifically for the child. All you need to do is select the most popular names and use them to get started.
Personalized kids backpacks always hit the mark, especially with parents that want their kids to look great at school – it also helps kids to identify their backpacks more easily, reducing the number of lost bags and contents.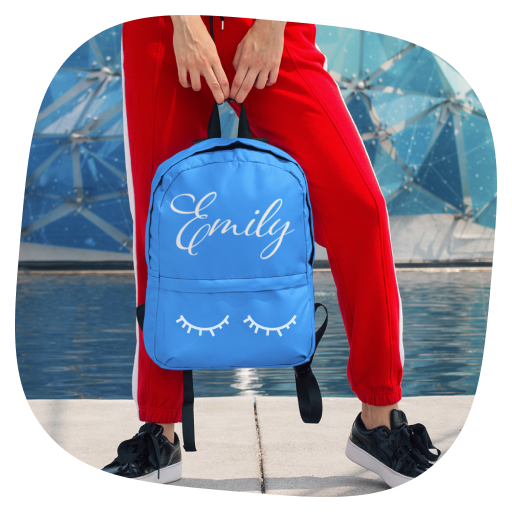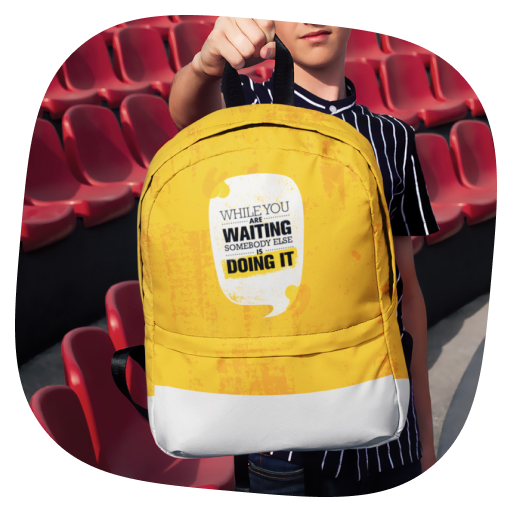 Design backpacks to inspire
Use your custom backpacks to inspire with words of encouragement, or motivation. Sometimes it only takes a little extra push to do something special, if these words can inspire your customer, or those that read the message then the world will be a happier place…right!
If inspiration isn't your thing then why not try and put a smile on someone's face with a witty remark, or quip from a famous movie. You can even theme your custom print backpacks with a movie twist, just remember to avoid any copyright or trademark issues.
If your really stuck for inspiration then you can't go wrong with some cute animal inspired designs. These work for all ages and both male and female markets. For guys, think about animals that are a bit more aggressive looking, while girls generally prefer a softer approach. The great thing about custom printed backpacks is that they transcend gender and age, making them the perfect item to add to your store.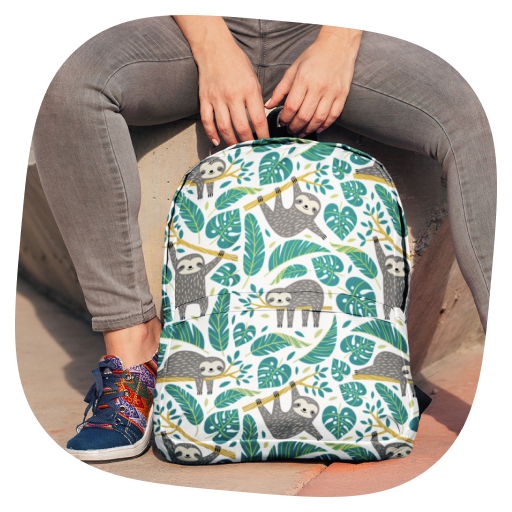 Ready to create your first custom backpack?
Backpacks have become an integral part of everyday life. This creates a wonderful opportunity to create professional custom backpacks for your store, with so many different uses personalized backpacks can appeal to a wide audience. Each backpack is a blank canvas waiting for your creative designs – stand out in a sea of black and grey with your high quality custom printed backpacks.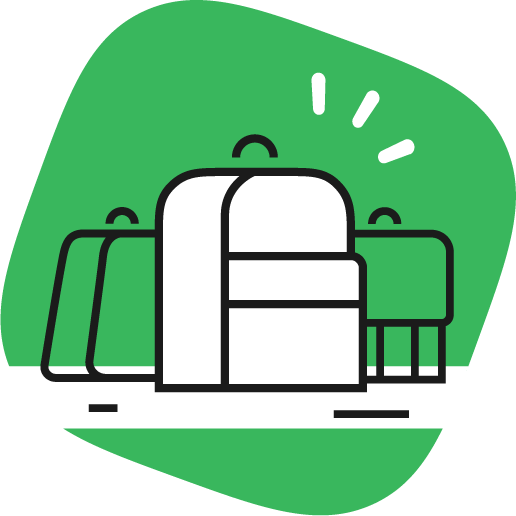 Choosing the right style for your market and your design is quite important, so choose wisely. You can check the price, shipping and average production time at this stage, that might influence your decision.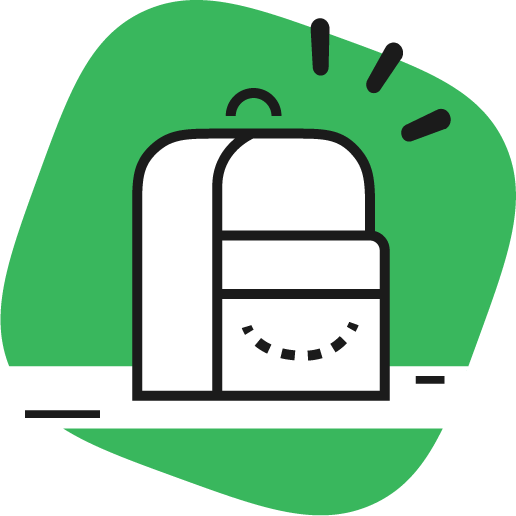 Time to upload your designs, using our super easy design tool, you can upload your designs in just a few clicks, direct from your desktop or link to Gdrive and dropbox.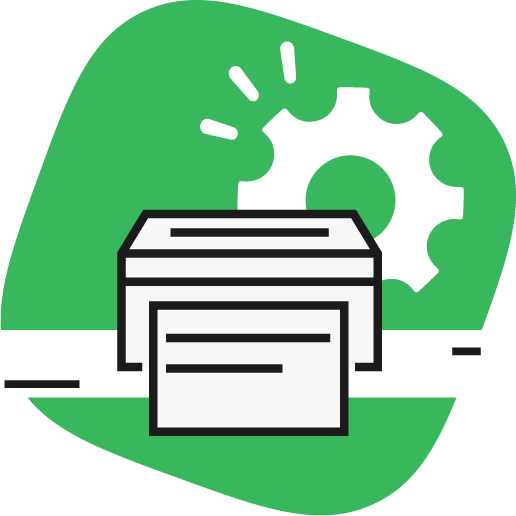 With your designs uploaded your ready to sell. The production process is simple, as soon as you get your first order, all you need to do is send your custom backpack for production. 
Start selling custom backpacks