Gamer Merch: A Profitable Niche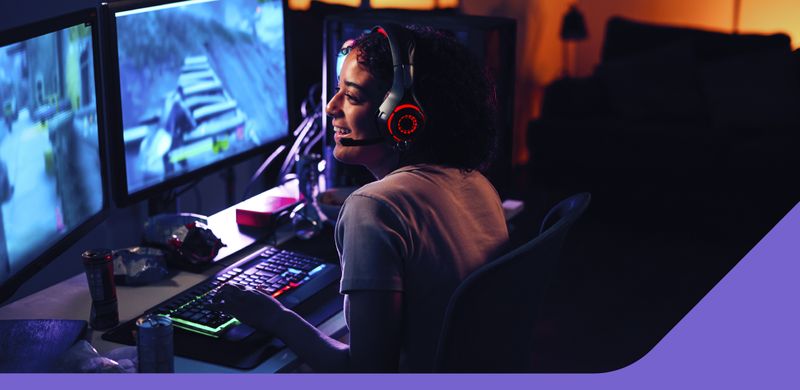 The gaming industry is massive. It is even larger than the movie industry – can you imagine? And that means there's some serious money to be made – more and more gamers are selling their merch online with great success. Gamer merch print-on-demand dropshipping has especially boomed during the corona outbreak, and its popularity remains at the highest level and is not going away anytime soon.
Why Sell Gaming Merch Online?
These days, every gamer out there seems to have their personalized gamer merch; They have their own stores where they sell products that their loving fans can buy. I've got to be honest: I think it's a genius way of maximizing revenue and capitalizing on their brand while creating a stronger connection with the fans.
If you are a gamer with a solid fanbase, don't you think it's time to start selling your merch and earning a nice passive income? Besides, not to toot our own horn, but Printify is a verrrry nice option for your printing partner. You only have to come up with rad designs and choose the items you wish to sell from our vast catalog of 300+ blanks, and we'll do the rest, including printing the products, packaging, and shipping.
Before you get started, it helps to learn what gamer merch sells well, the top colors, and other valuable intel. We've compiled all the necessary information in the following few paragraphs. We're also going to be looking at some of the most successful gamer merch stores out there.
The World of Gaming in Numbers and Figures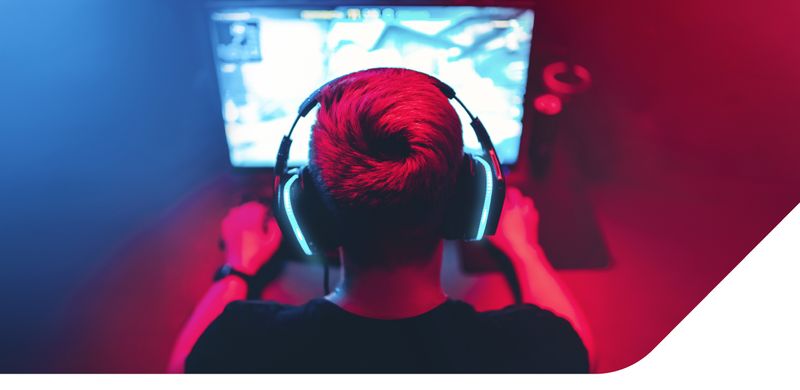 The increasing popularity of mobile devices and the massive availability of games online, and innovations in both hardware and software are impacting the increase of the global gaming market. Additionally, the growing adoption of mobile and browser games that offer free-to-play business models is another trend gaining traction in the gaming market.
Fact: According to the 2020 report, "Gaming Market: Global Industry Trends, Share, Size, Growth, Opportunity and Forecast 2021-2026", the global gaming market value reached US$ 167.9 billion in 2020.
Also, with the growing popularity of eSports, the gaming market is observing an even more significant growth. The global market of gaming is expected to reach a value of US$ 287.1 bn by 2026, presenting a compound annual growth rate (CAGR) of 9.24% during 2021-2026.
What Are the Most Popular Products That Sell Exceptionally Well?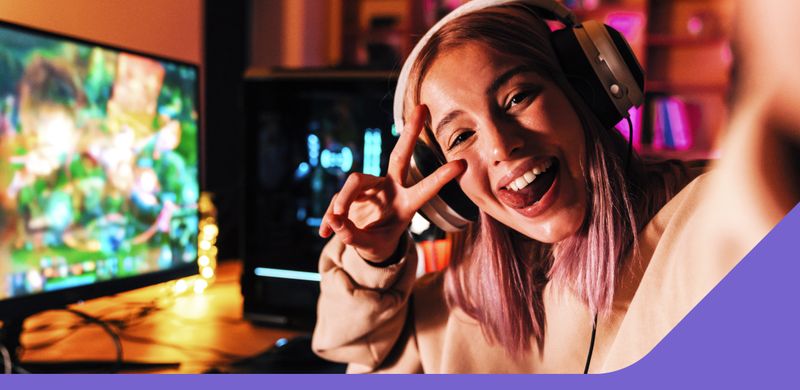 We analyzed TOP gamer merch, and what did we find? Have to tell you there are no surprises here: t-shirts and hoodies are the absolute winners. Because who doesn't love a t-shirt? Crazy people! The same goes with sweatshirts and hoodies, the latter being the supreme grandmaster when it comes to gamer merch.
What Is the Top 5 Best-Selling Gamer Merch?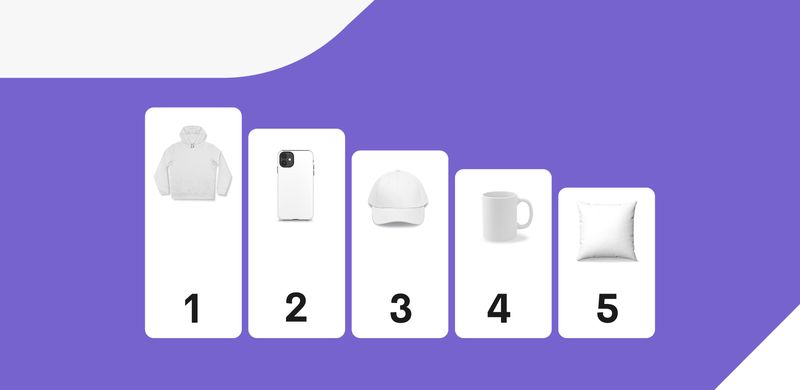 Comfort above all: t-shirts, hoodies, and sweatshirts, and sweatpants;

Accessories: stickers, phone cases;

Hats, socks, and face masks;

Drinkware: Mugs, water bottles;

Home decor: Posters, cushions & blankets
Considering the pandemonium, I mean, pandemic, it is not surprising that alongside apparel, home decor items, such as pillows, cushions, and printed fleece blankets, are among the most popular gamer merch. Let's also not forget personalized water bottles that help your fans to quench their thirst. And also stickers. Stickers that you can distribute, and your fans can adorn their gaming laptops, phones, and every place imaginable.
What About the Colors on Gamer Merch, You May Ask?
What's the first color that pops into your head when thinking of gamers and streamers? Black, of course. And neon. So there you go, black + neon and white + neon or other bright colors are the top sellers. Let's also not forget the sublimation or the so-called all-over-print, where the garment is covered in design seam to seam.
And the most popular designs to smash onto your merch are logos, graphics, of course, catchphrases, and channel opening lines.
Create Your Own Merch Today!
Take a Look at Some Gamer Merch Stores
Andre Rebelo, better known online as Typical Gamer, is a Canadian YouTuber and a competitive eSports gamer well known for his Fortnite and GTA 5 videos and live streams. With over 11M subscribers on YouTube, his store contains various comfy apparel and accessories – bags, hats, and glasses. Upon checking out his store, you can see his line of gaming merch isn't too broad; It consists of the most popular items, adorned with different versions of his logo.
Despite the grumpy name, GameGrumps is a comedy gaming show hosted by Arin Hanson and Dan Avidan. Their channel has over 5 million subscribers, and they run a pretty strong gaming merchandise side hustle. In their online storefront, you'll find merch that stands out: personalized body pillows, custom keychains, bandaids, stickers, and some apparel, of course. Their designs are super unique and wonderfully represent Arin and Dan's online personalities – fun, whimsical with just a smidge of grumpy.
Austin Hargrave or PeanutButterGamer, with 2.05 million subscribers on YouTube, is another online gamer with a successful line of gaming merch. In his store, Austin sells t-shirts, posters, and face masks with his signature artwork.
This Dutch gamer girl Evelien' Gab' Smolders, with over 600K subscribers on Youtube and 200K+ on Twitch, in her gaming merch store sells cutesy stickers and t-shirts, even though she's known as a badass horror game lover. Everything about her designs screams, "OMG SO CUTE." Gab has spent some time in Japan, and that period shows in her artwork.
Croatian gamer and actor Marko KOFS (King Of Fails Show) has over one million subscribers on YouTube. And not only that. He also has an amazing line of gaming merchandise that is literally the epitome of gamer merch: in his store, he's selling t-shirts in colors black, white, and neon. His merch is on a more affordable side – t-shirts cost only $13, but man, they look great. In his designs, he has used his YouTube channel logo, as well as his catchphrase. 
In the Croatian platform, shop.goodgame.com, you'll find many more fantastic gaming merch items by various online gamers.
Another gamer girl, Janet Rose or xchocobars from Canada, runs a successful streaming channel on YouTube with over 200K subs and over 800K subs on Twitch. She also has a line of gaming merch that consists of sweatshirts and mugs. Regarding the designs, she has chosen her tagline "When you're happy, I'm happy," as well as drawings of her pets as the central motif.
Karina (also known as Gamer Girl) is arguably YouTube's most famous female streamer. Some of Karina's favorite games include Minecraft and Roblox. Despite her massive following of 5.37 million, Karina's line of gaming merch is rather humble: two brightly colored t-shirts. But sometimes, less is more, as they say.
Now that we've looked at some gamers' magical creations, you're probably thinking, who are the TOP gaming influencers, the creme de la creme of the gamers' realm?
Top 30 Gaming Influencers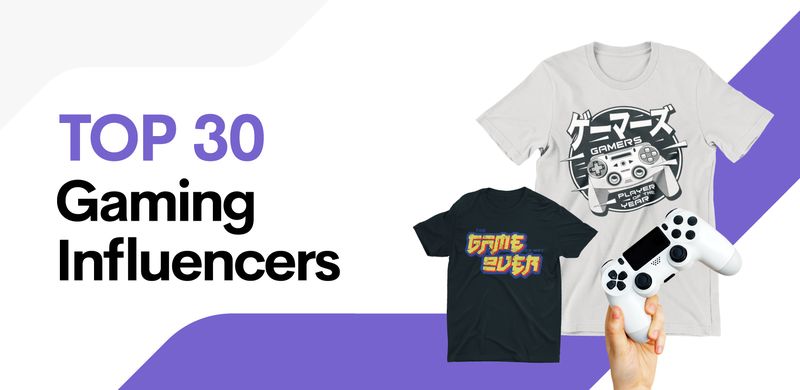 The list, of course, begins with the gamer king himself: PewDiePie or Felix Arvid Ulf Kjellberg. This Swedish chap has got over 110 MILLION subscribers on YouTube. His "Pewdiepie News" often gets more views than the network news broadcasters in the United States. It's not often that a Youtuber becomes more popular than traditional media sources, but Pewdiepie has done it. 
Needless to say, besides running this mammoth of a YouTube channel, he also runs a successful merch biz. There's an impressive line of products in his official store, from branded zip hoodies to hats and t-shirts to yoyo and tambourine! 
From a design point of view, PewDiePie is a textbook gamer: the color palette consists of black, white, red, and some neon. The merch is printed and embroidered with his logo, various catchphrases, and other relevant writings. 
We're not going to be scrutinizing each of the top streamers; this article then would be gigantic, and, I have to be honest, I need to leave some time in my day for a Sims 4 and Last Of Us therapy – that PlayStation isn't going to play itself, amirite? 
So here's a list of the next 29 TOP gaming streamers (my name is not on the list. Yet.)
VanossGaming


Markiplier

Ninja

Jacksepticeye

DanTDM

KSI

SSSniperWolf

W2S

Syndicate

TFue

IHasCupquake

Shroud

tsm_myth

Gaming With Jen

LDShadowLady

Aphmau

Summit1g

Tim The Tat Man

Dakotaz

Riot Games

Pokimane

DrDisrespect

DrLupo

Little Kelly Minecraft

Nightblue3

ImaQTpie

LIRIK

StacyPlays

KittyPlays
Printify vs. Old-School Printing Partners for Gaming Merch
Alright, now let's talk business. Let me introduce you to Printify – one of the biggest print on demand platforms out there, with over 300 customizable products for you to offer to your fans and friends. In our vast catalog, you will find not only apparel and accessories but also home decor items and even pet products, and a customizable lamp!
We deliver to 220 countries from various printing locations worldwide. On our network, there are 50+ print providers. Printify is a fully transparent network so that you can manage your gamer merch business online hassle-free: you come up with designs, and we, with the help of our partners, do the rest. 
The outstanding Printify merchant support will gladly help you with any order issue if one should occur – with us, you're in safe and caring hands. Like we always say – we're here to help you earn more by doing less.
Browse through our catalog, pick the items you'd love to offer your fans, and design away – your line of gaming merch is but mere hours away!
Create Your Own Merch Today!
Share the article
Topics