Make Your Own Custom Sweatpants
Custom sweatpants are cool, comfortable, and unique. Use your unique designs to stand out from the crowd and start selling custom sweatpants pants today!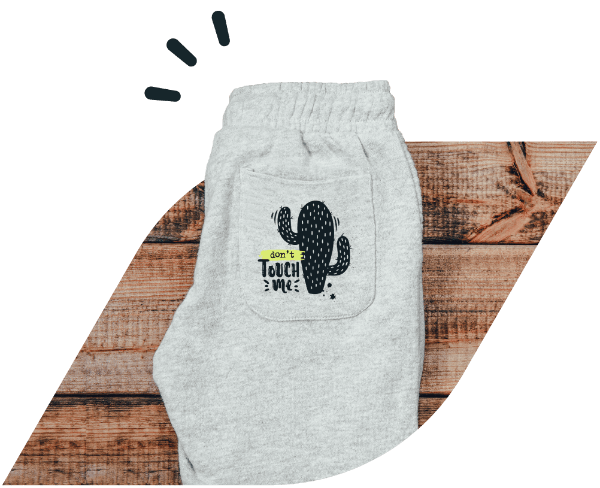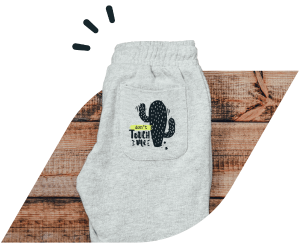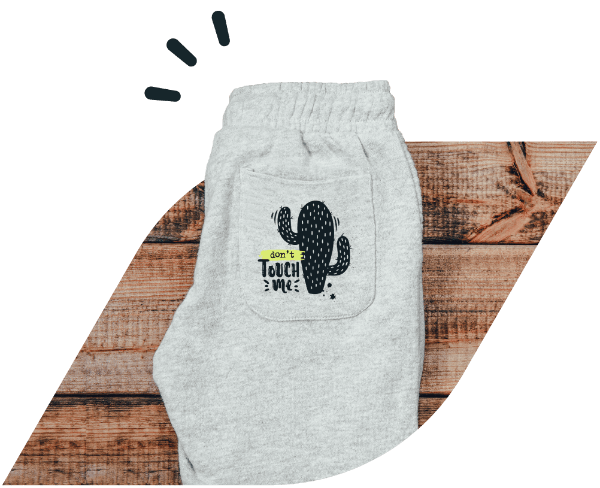 Create and Sell Custom Sweatpants Online
Forget mass-produced, zero personality custom sweatpants. Showcase your unique designs and dress to impress… or start selling!
Design Your Own Sweatpants to Sell in Your Store
We offer several different styles of custom sweatpants enabling you to find the perfect style of custom sweatpants for your individual needs and the desires of your customers. Sweatpants are used in many different environments including Yoga, hanging out with friends in bars, taking a long stroll in the park, or the classic custom sweatpants for men. You can design unique custom sweatpants and offer them to your clients in your online store.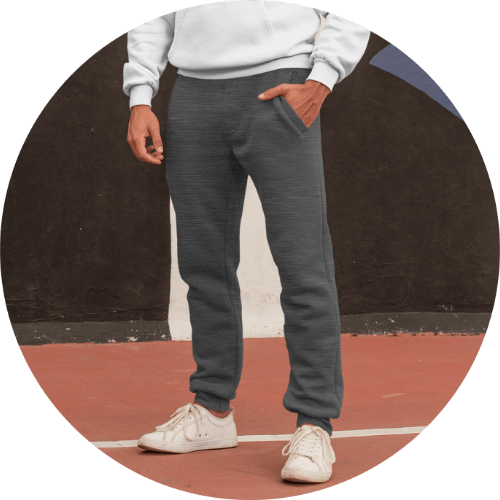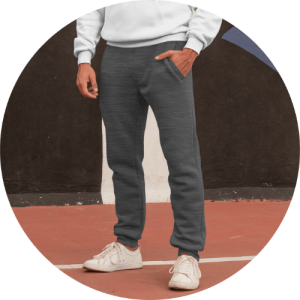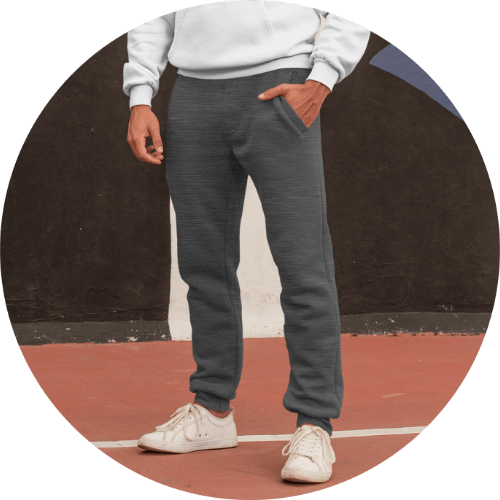 Why Are Custom Sweatpants Popular?
Sweatpants started as sports apparel. They became very popular in the 70s and then in the 80s when they became fashionable with the hip hop scene and the worldwide culture that came out of it. In time, sweatpants have become extremely popular because of their comfort and are now worn in all kinds of informal situations. In the 2020s, sweatpants are seen as cool and fashionable.
Sweatpants come in many different kinds of materials and can be referred to by several different names including sweatpants, and tracksuit bottoms. Most people prefer to wear their sweatpants with a pair of sneakers but with so many different styles of sweatpants now out there, increasingly they are also worn with shoes.
In recent years,sweatpants have become a wardrobe essential. Let's be honest, they are more flattering on most people's bodies than yoga pants or leggings! They are often matched up with T-shirts or hoodies. One of this season's looks is matching up sweatpants with stylish polo shirts. 
One thing we can say for sure about selling custom sweatpants is that this type of clothing is more popular than it has ever been! The global market for this product continues to grow. If you create beautiful unique designs and get your marketing right then the sky is the limit!
Design Ideas for Custom Sweatpants
Sweatpants are becoming popular all over the world and with this the designs, styles and fits are numerous. Designers enjoy making unique custom sweatpants designs that allow their customers to own something that is completely different from everyone else.
Flame sweatpants are a great example of this. The forward facing flame design on the back really makes this product stand out. Ideally, the flame colour compliments or matches the top worn with it to give a cozy stylish look. 
One of this season's cool looks is definitely with butterfly designs. These custom joggers are particularly popular with girls and women. Cute and unique butterfly designs on the back or leg really make these beautiful on the eye.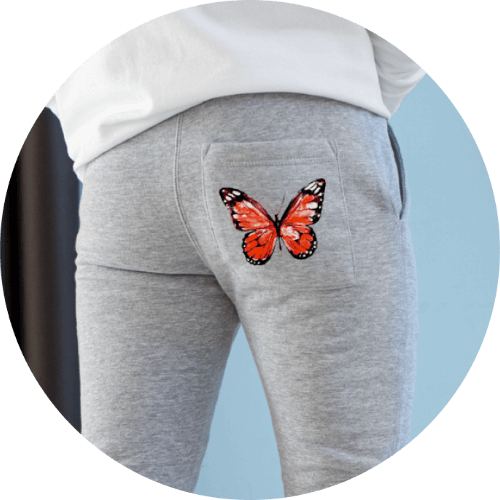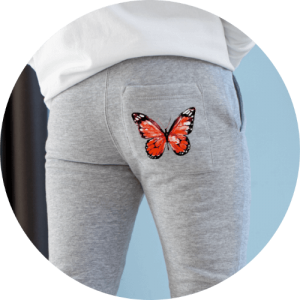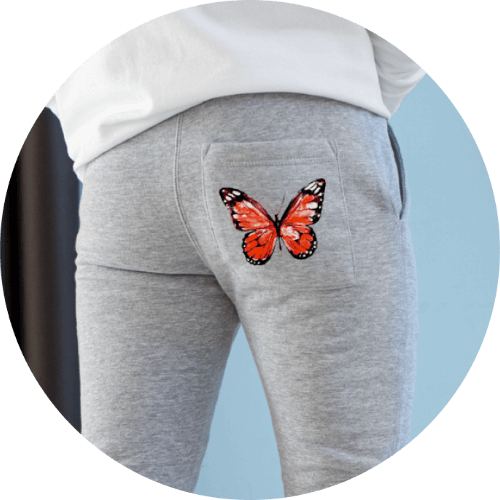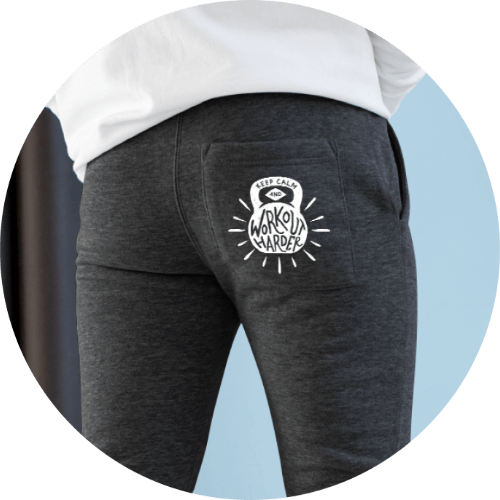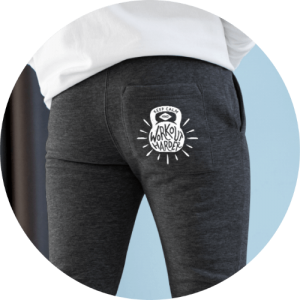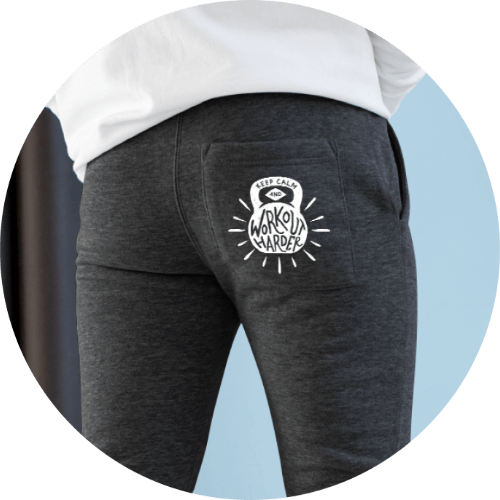 Personalized Custom Sweatpants
Custom sweatpants with personalized logos, phrases or numbers is another fantastic design idea. Thousands and thousands of different high quality graphics with countless designs are out there. From a seller's perspective, these are often unisex opening up opportunities to sell to kids, men, and women. This is the opportunity to create or own custom sweatpants that no one else on the planet has!
Everything You Need to Know About Custom Sweatpants
Custom Sweatpants Mockup Generator
Use our Printify online design tool to create your design. Our simple to use mockup generator takes the hassle out of designing and enables you to use unique designs quite unlike anything else out there on the market!    
Because all of our sweatpants are custom print, you can be as creative in your designs as you wish!  Using our free design tool, find the style that you believe will best suit your customers.  
There are dozens of different styles of sweatpants today for men, women, children, and, of course, unisex. Think street culture, sporty, home chill…the list goes on and on. When it comes to creating unique ideas for your custom sweatpants that sell, the possibilities are only limited by your imagination.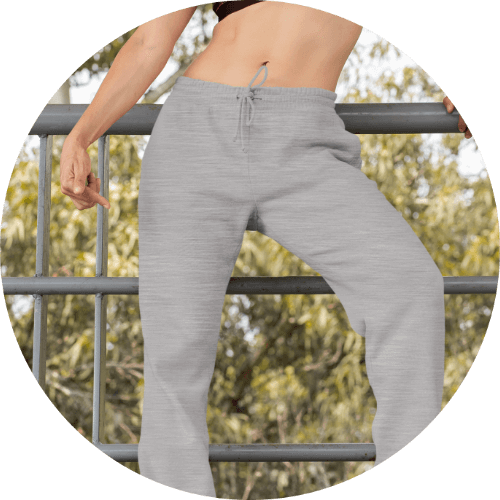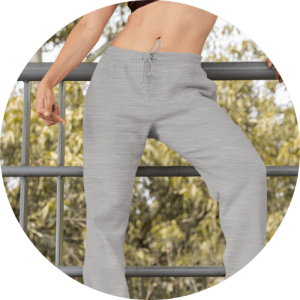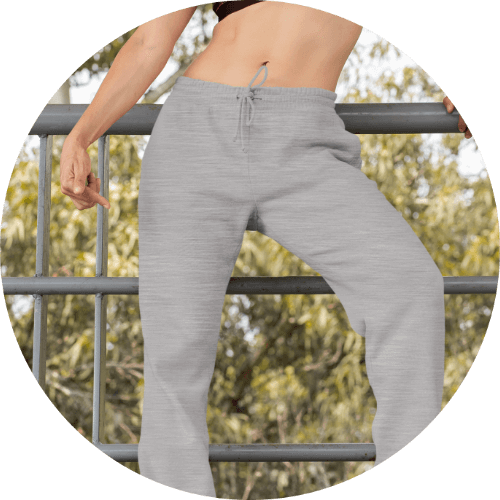 Create a Custom Sweatpants!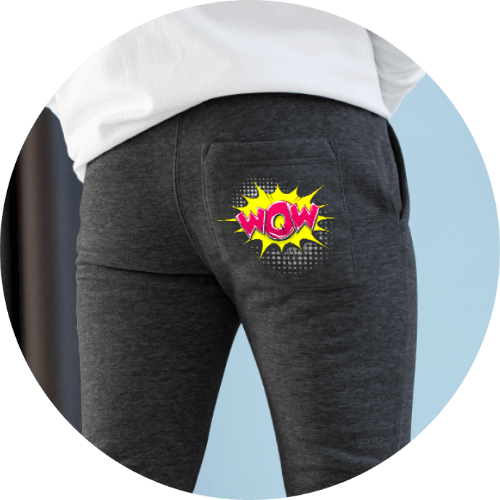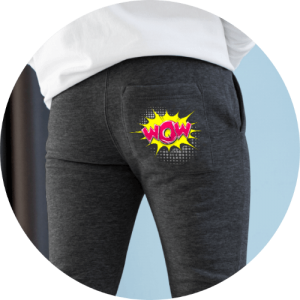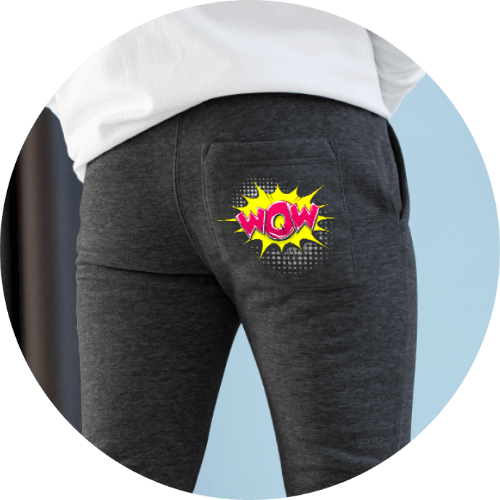 Custom Sweatpants No Minimum Order
One of the many reasons we have so many happy and satisfied customers is because we like to make life as easy as possible for those who use our services. A typical example of this is our no minimum order rule. We are happy for you to order how many custom sweatpants you need, be it a couple, or hundreds! And our brilliant free mockup generator is available to all our customers regardless of their order size.
Many people are coming to realize that print on demand has many critical advantages for any independent business. By not having to hold excess stock or invest large sums of money in hundreds of garments to get started, you can more easily profitably operate your business.  
Consider holding some product examples for yourself. There are several reasons for this: not only can you see the quality and feel of the product for yourself, but in these social media conscious days, you can use these samples for marketing and promotional purposes.  
Sit back and let us get on with the business of shipping your custom sweatpants to your customers' front doors! 
5 Most Frequently Asked Questions About Selling Custom Sweatpants Online
Our Mockup Generator Is Even Better Than Before!
Our free mockup generator is extremely popular with our customers. Especially now that we recently upgraded it and made it even better than before! Prinitfy's mockup generator is your one-stop go-to place for getting the most out of your personalized designs for your custom sweatpants. 
We recently made the following improvements to our extremely popular mockup generator:
UI update – A UI update means the mockup generator is now easier to use than ever.  
Design panel redesign – Switch layer positioning and functions with our design panel redesign.
Mobile device optimization – Printify has optimized how our mockup generator looks and feels when using mobile devices.
Image previews – Our preview service is better than ever enabling you to see exactly how your custom joggers will look in real life.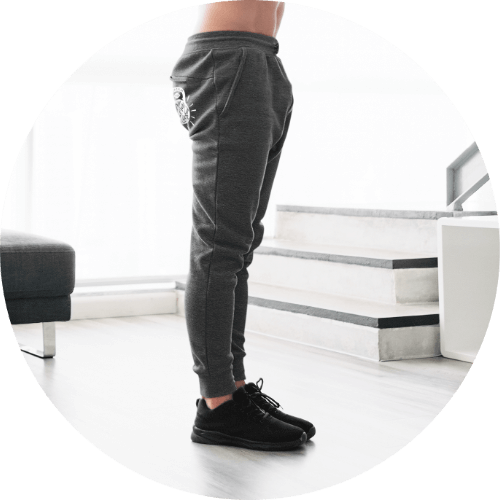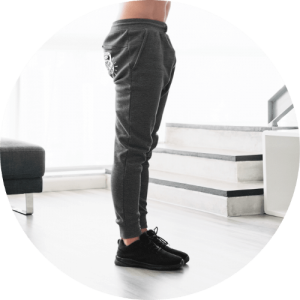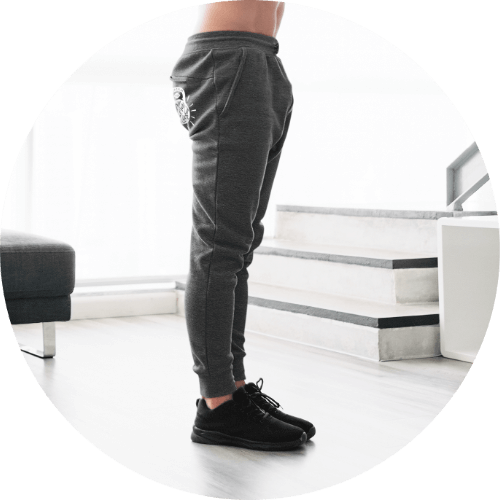 Once you are ready to get started, the process of creating and customizing designs, and printing your custom sweatpants can begin.
Start Your Print-On-Demand Business Now!