Make your Own Podcast Merchandise
Want to elevate your podcast game?
Start designing and selling podcast merchandise to make some profit. You already have an audience and stories to tell – monetizing your show is the next step.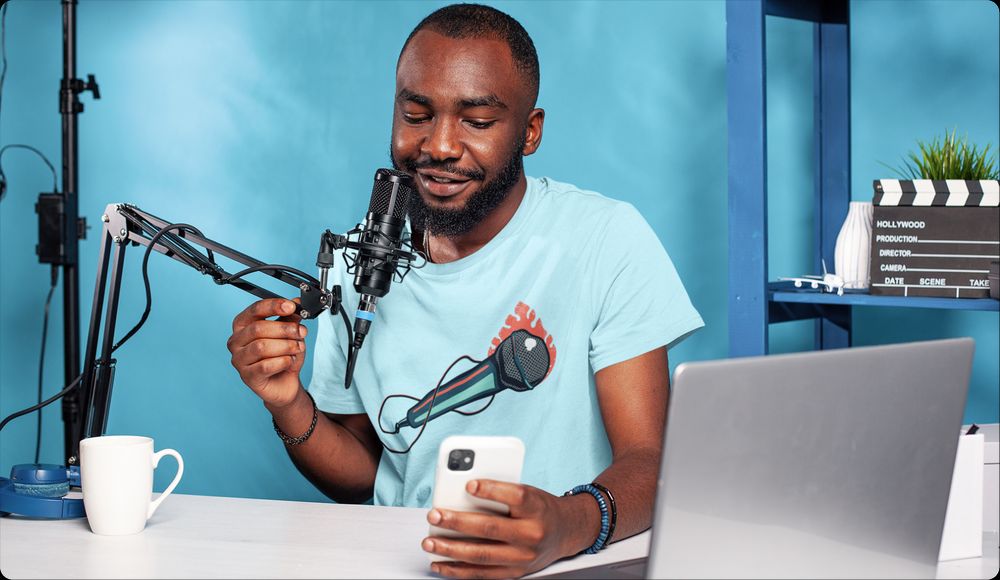 Why Sell Podcast Merchandise With Printify
Podcasts: The Media of the Future
Even though podcasts have been around for almost twenty years, the format we know now has blossomed in the past five or six years, and it's continuing to grow. More Americans today listen to their favorite podcast than go to church on Sundays.
What makes this format so appealing is that it requires no effort, as opposed to reading books or watching videos. If the latter two require your undivided attention, podcasts can be listened to while doing other stuff – commuting, working out, cooking dinner, or painting… you get the picture.
And speaking of working out, more people are opting to listen to podcasts instead of their favorite tunes, as people are so focused on productivity that they feel like listening to music is a bit of a waste of time. Whereas listening to a podcast allows them to learn new stuff; multitasking at its finest.
Podcast Industry In Numbers
If you're like us, you love when claims are based on actual numbers.
Here is some key data for you – before you smash your podcast logo onto t-shirts, custom tumblers and mugs.

How to Sell Podcast Merchandise — in 5 Steps
If you're here, you've probably already started a podcast and have a loyal listener base. The next logical step for you is to monetize it – create one of those small businesses that generate income with almost no investments. That's why many established companies sell their company merch – to boost brand awareness and loyalty among customers. It's also a great way to reward employees or show appreciation to clients and can be a unique and memorable gift for special occasions.
And here's where Printify comes in. When you partner with us, consider that money is already on its way to your bank account – yes, it's that simple. To start selling podcast merchandise, you need to open your podcast store and follow these 5 easy steps.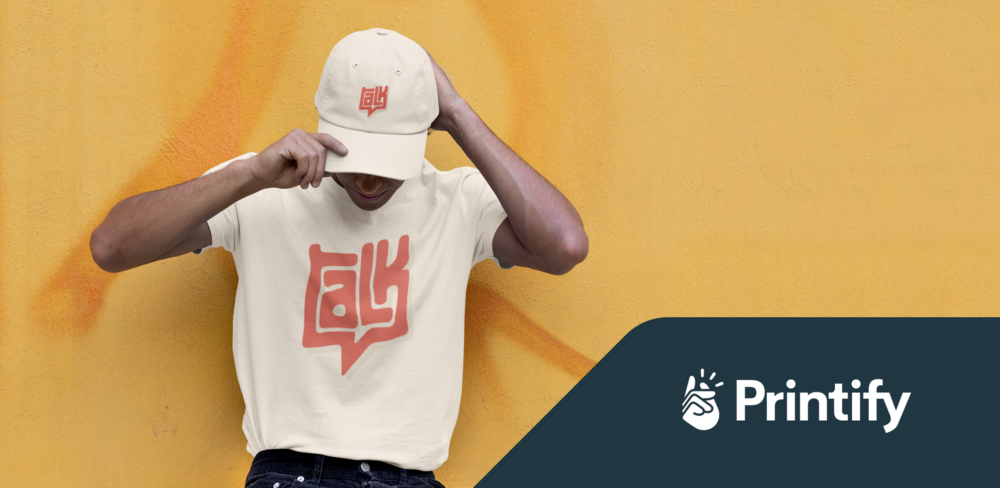 The simplest way to start selling your official merchandise is to sign up with a print-on-demand (POD) platform like Printify. Working with Printify is so easy since all the heavy workload is taken off of your hands: In this step, you only need to Sign up & create an account. It takes just a few minutes, and you can do it here.
For deeper insights, check out our guide how to start a POD business guide.
With the POD model, an endless array of products makes for awesome podcast merchandise. It isn't limited only to t-shirts, hoodies, or mugs. Think of your audience; what would make sense to them? Today, podcasters can even customize BlueTooth speakers or wireless phone chargers. Maybe a yoga mat, so your audience can enjoy the latest episode while working out. When thinking of podcast merch ideas, here are some more items that would be fun to design:
Custom socks are wildly popular among all age groups. Create stunning all-over-print socks where the design covers every square inch or opt for a strategically placed logo or catchphrase. Socks also make great gifts for every occasion and are relatively inexpensive to produce, so can generate higher profit margins for you.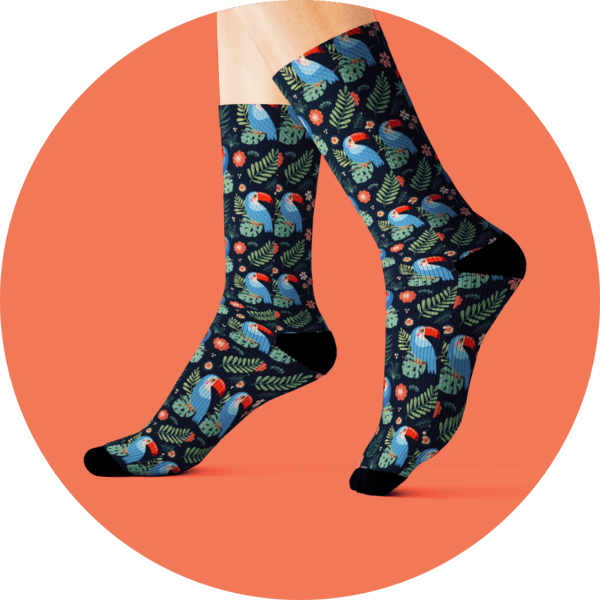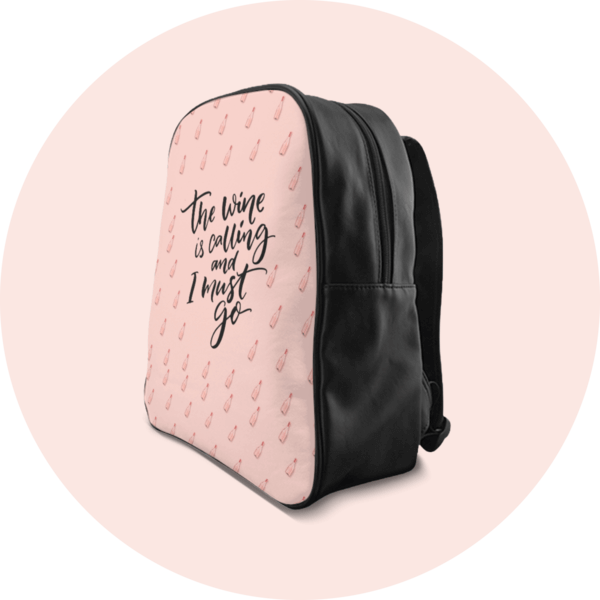 This is one of those categories where you can really play around with different designs: from backpacks and luggage to small makeup pouches and tote bags. If you feel like your podcast's audience is more masculine, opt for a handy backpack that they can carry their gym clothes or laptop computer in.
If you truly want to stand out from the crowd, designing a custom lamp to add to your store is the way to go. A nicely designed lamp can completely transform a space, both aesthetically as well as practically. A custom lamp can also be a statement piece that reminds your listener to illuminate their senses by listening to your latest episode.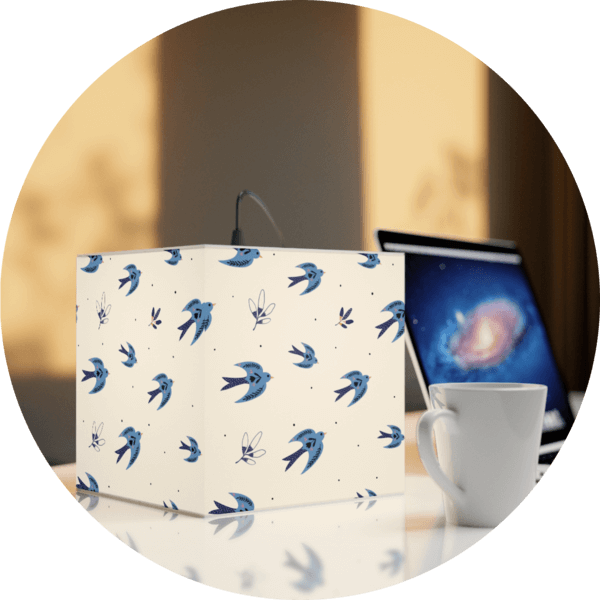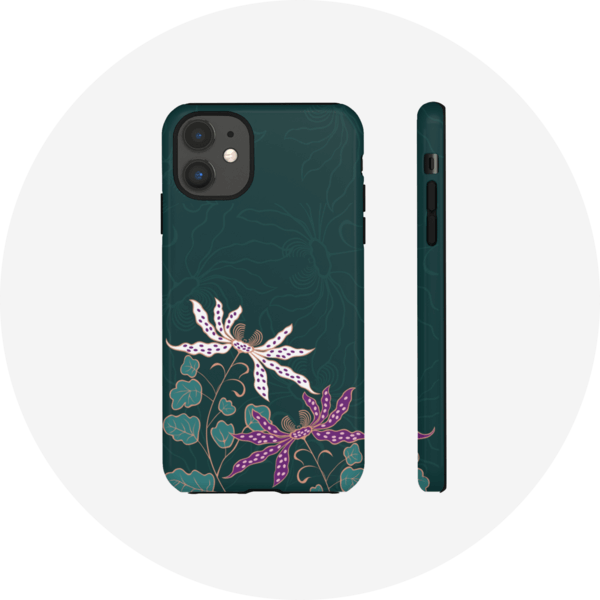 Phone cover art is a whole genre. A phone case is what nearly every smartphone user on this planet buys, at least once a year. Phone cases are super easy to design, and they sell extremely well; you can even cater to your eco-conscious audiences by offering biodegradable cases with your podcast logo.
Stickers are one of the best mediums to advertise your podcast. They're super inexpensive to produce and ship, as they weigh next to nothing, so you can put generous markups when pricing them. Stickers are everywhere – on laptops, phone cases, notebooks, on streets and bars all around the world… People just can't resist stickers.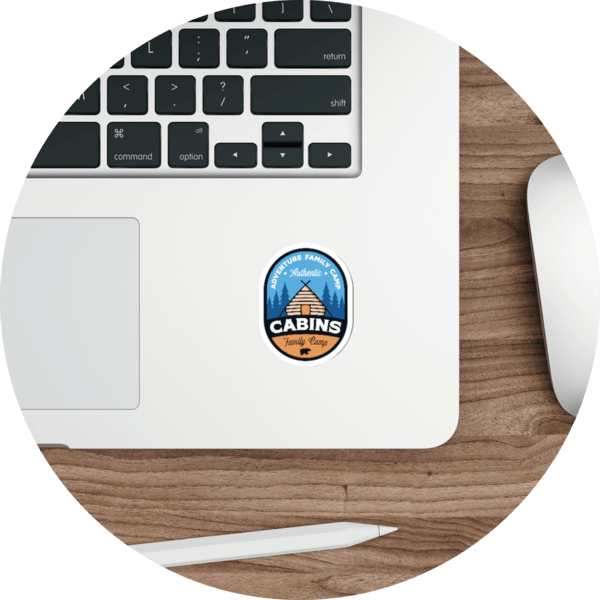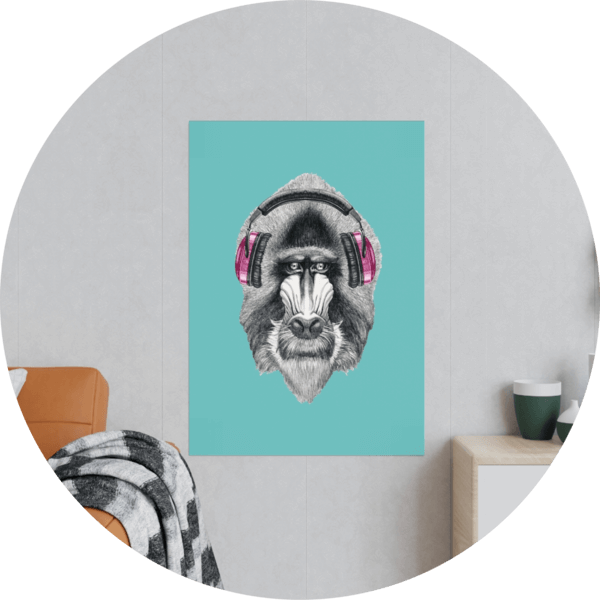 Custom posters in different sizes can act as statements to create a truly personalized environment. When it comes to podcast merchandise, a nicely-drawn poster can easily become your fan favorite. They're easy to design, cheap to produce and ship, ando very impactful when strategically placed on a wall. Secure your place on your fans' walls and start designing custom posters.
A customized hat is another wildly versatile item on this list. Baseball caps or beanies with an embroidered logo scream style. Everyone likes hats, so create a line of hats for your fans to wear in public and notify everyone about this cool podcast community that they're a part of.
To make your life simpler, here's a more comprehensive guide on these and other high-profit-margin products that can help when you're just starting out in podcasting merchandise.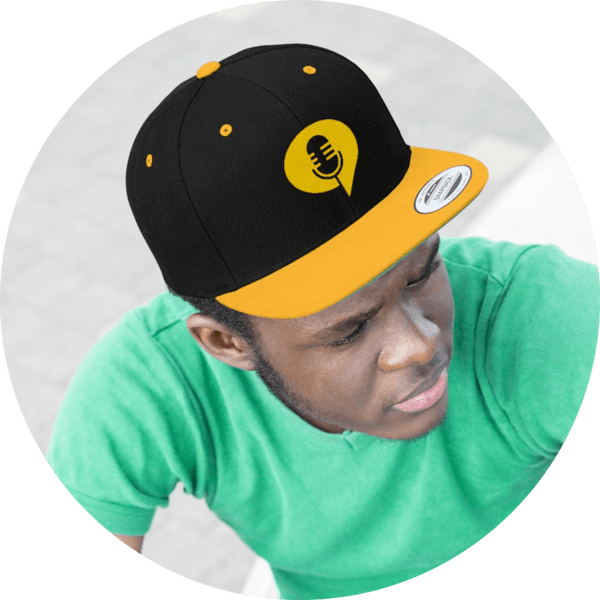 Don't forget to validate your designs. What may seem like a fabulous idea in your head might be misunderstood entirely by your customers. The most common way to validate podcast merchandise ideas is by sharing designs on social media, online forums, or your personal network. Don't worry about physical stock that might collect dust in the corner, as items are only produced after you've made a sale.
Another great way of validating your custom merchandise is to order samples before you start selling. This way, you can touch and feel the end product, and if something isn't right, you can make adjustments before offering the merchandise to your listeners. By ordering product samples, you also instantly become a walking billboard and can show off your latest arrivals.
3. Create and Upload Custom Designs
Although the success of podcast merchandise relies heavily on unique designs, artistic skills are optional. You don't necessarily have to be an experienced designer to come up with design ideas. Do it yourself or hire independent artists to do it for you, and we will do the rest: production, packaging, and shipping – no piles of stock, no unsold items, just profits!
Once you have your designs, you're ready to tackle the creation of actual products, which is super easy with Printify's Mockup Generator:
Choose the product or products that you would like to offer to your audience;

Use the Mockup Generator and play around with your uploaded designs;

Take advantage of our text tool to add words that matter;

Voila! – you're ready for the next step
Now that you've designed your products, your next step is to publish them to your store and start selling. Luckily, Printify makes integrations with some of the most popular online marketplaces and eCommerce platforms smooth as butter: no matter which you choose – Shopify, Etsy, eBay, WooCommerce, BigCommerce, or other – connecting your store to Printify is simple and straightforward.
To give an example, here's a quick video on how to open a store on Etsy.
If none of the above options are a good fit, it's time for the Printify Pop-Up Store.
Podcasters enjoy the simplicity and quick set-up with Printify Pop-Up. Open an online store instantly to sell print-on-demand products via your own unique store link and profit thanks to zero commissions.
When you've chosen the platform or marketplace and opened your store, think of how your listeners will see it. When coming up with merchandise designs, remember to also create various banners and profile photos for your store. You want to make your customers feel good while they browse your products, so a good-looking, simple and esthetically pleasing storefront is a must.
5. Start Selling Podcast Merchandise
The fifth and final step is where all the fun really begins: you can now publish all the custom merchandise you've created and start making money.
In this step, you don't need to do anything: once a listener purchases from your online store, Printify will automatically receive the order request. And within a couple of days, our print provider, that you have chosen, will print, package and ship your podcast merchandise directly to your customer. Meanwhile, you can get busy promoting your designs all over your channels.
Pro Tip: You want to set your prices right – don't go too low and don't go too high. To learn more about pricing custom products, read this guide.
Create Your Own Custom Podcast Merchandise
Winning designs are just that: winning. Podcast merch is similar to gamer merch – a great niche to capitalize on your brand. To help you get started with ideas, below is a neat little list of designs and themes where you can get inspiration. We're absolutely sure you can do better than us, and we salute you for it! When it comes to themes, podcast merchandise usually revolves around the podcasters themselves, their show, catchphrase, etc. But, of course, it can always have a central theme that you can design around.
Frequently Asked Questions On Podcast Merchandise
Start Selling Podcast Merchandise With Printify
Podcast popularity keeps increasing and new podcasts sprout like mushrooms after rain almost every day; there is no shortage of topics to cover. With this in mind, remember that dedicated podcast listeners are happy to support their favorite show by purchasing its merchandise. Create matching product sets to sell more. Instead of just buying podcast shirts, guide your listeners to purchase a baseball cap, mug, pack of stickers, and a hoodie.
One of the best ways to create podcast merchandise is through a print-on-demand business model. You don't need to buy blank shirts and other items, look for a printing facility and then store them in your basement in hopes that somebody will buy them. POD is the fastest, cheapest, and most lucrative way to monetize your podcast with zero investment and hassle. Trust your business to us and we'll do the heavy lifting of producing, packaging, and shipping your products, while you focus on marketing and, of course, profits.
Create Your Own Custom Podcast Merchandise