Are you looking to make and sell your own custom stickers? Make cheap custom stickers using our online sticker maker.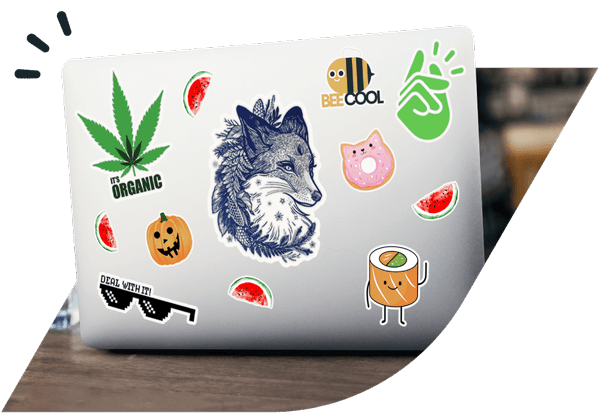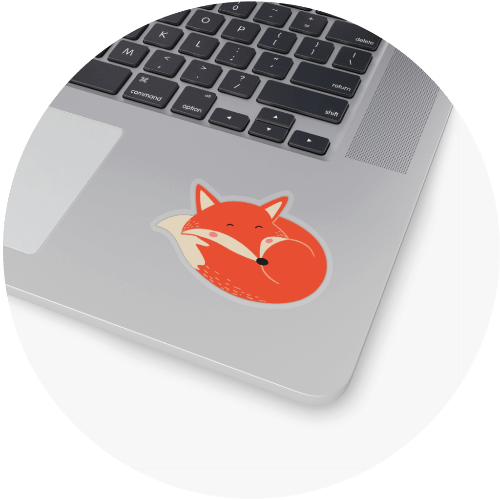 When it comes to custom printed stickers, it's hard to look past kiss-cut. This method of cutting the sticker to the shape of your design helps to create a more custom, personalized appearance.  
The term kiss-cut comes from the way the sticker shape is cut from the material. A cutting die cuts through the adhesive 'sticker' part, but only kisses the backing paper, allowing you to peel your custom sticker from the non-adhesive paper in the desired shape.  
Available in 4 different sizes 2×2″, 3×3″, 4×4″, and 6×6″. Just like the square cut stickers, our kiss-cut stickers can be used both indoors and outside. Giving you endless applications and design options while making your own stickers.
You can achieve any shape you like with kiss-cut stickers. One thing that is important to remember is your design will be followed by either a white or transparent 'edge':
2×2 sticker – Kiss-cut will be 20 px away from the edge of the image
3×3 sticker – Kiss-cut will be 30 px away from the edge of the image
4×4 sticker – Kiss-cut will be 40 px away from the edge of the image
6×6 sticker – Kiss-cut will be 50 px away from the edge of the image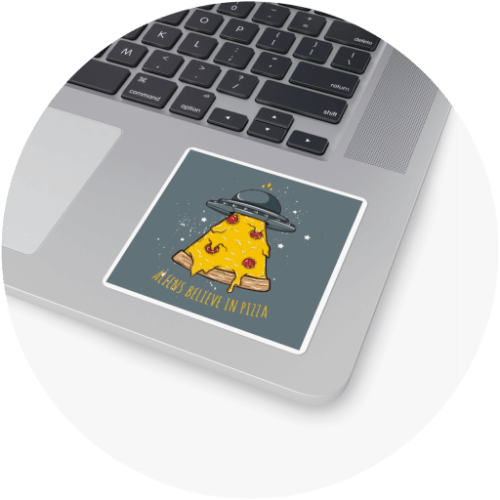 If your designs are all about retro vibes, uniformed shapes, and clean lines, square-cut stickers are for you. This type of sticker looks exactly as described, its a 1:1 ratio cut sticker, so no matter what shape you design, it will only ever print on a square blank.
Our square cut stickers are made from a vinyl that can be used both indoor and outside, which opens up a number of additional applications compared to stickers that can only be used inside. The glossy surface is also scratch-resistant, which again makes these stickers perfect for exterior use.
The reason that square-cut stickers are so popular is down to the fact that, with the right designs, you get a lot of sticker real estate. Make your own stickers using edge to edge designs will really help your stickers jump out from any surface they are applied to.  
Available in 4 different sizes 2×2″, 3×3″, 4×4″, and 6×6″. You can print your own stickers with each size in mind, or simply apply your design across the range.
Making Custom Stickers - The Process
The process to make your own stickers with Printify could not be easier. In fact, it can be summed up in three fairly easy steps, especially when using our design tool and mock-up preview. Usually, it is the getting started part what is the hardest, but if you have got this far you are already in the right frame of mind. When it comes to making your own stickers, you should try to identify what you want to achieve with them? Once you are clear on your direction, you can start to think more closely about your designs and those who are most likely to benefit from them.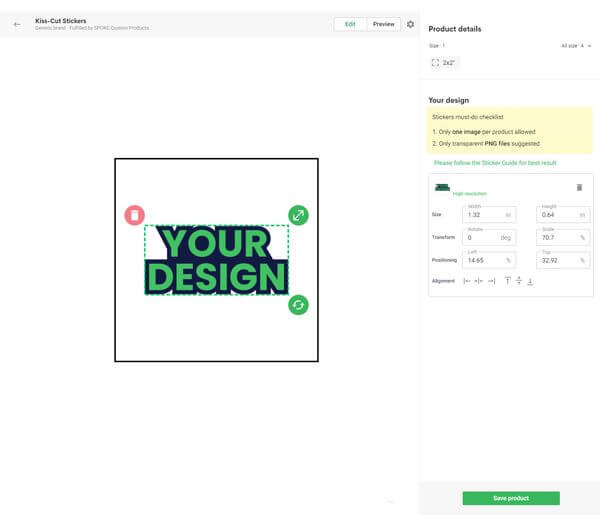 Printify Is Trusted by 2 million+ Merchants Worldwide With More Joining Every Day
I don't have to invest the money I can't lose into my business. With Printify, I only pay the fulfillment fees, and the rest is all profit.
I really appreciate working with Printify on my brand. Afro Unicorn was only supposed to be my design on a white shirt. It is so much more. Printify allows me the time to run the business and not work in the business.
Printify helped me start a completely hands-off revenue stream. When you spot a niche that you want to enter quickly, you don't have to worry about buying stock or equipment.
My experience has been amazing so far. With thousands of sales, there's always going to be obstacles to overcome. But, when something has needed fixing, it has always been amazing.
Printify Premium has helped my profit margins tremendously, and spending $20 a month has probably saved me over $200 a month.
Using Printify saved our struggling business of 6 years and gave us more time with our family.
I like Printify products because they tie in with our organisation's message.
I love the Printify Mockup Generator. It keeps everything consistent and allows me to keep my brand looking sharp and professional.
Make Your Own Stickers With These Design Ideas
 If you want to make your own stickers, you need some inspiration. For some merchants, design inspiration comes easy, for others, it can be more of a process that requires careful planning and thought.
To make it easier for everyone we have come up with some of the best sticker design categories on the market now so that you can make your own stickers with ease.
Custom Stickers With Memes
We have all used meme stickers on our online chats, so why not take them into the physical world. Memes and characters made famous by memes are one of the best selling stickers, they are perfect when using the kiss-cut style, especially when using the white border. Meme stickers are a great way to personalize everything from a laptop to a skateboard, they transcend most age groups and can add both humor and individuality to any surface. Create your own stickers with memes and rake in the profits.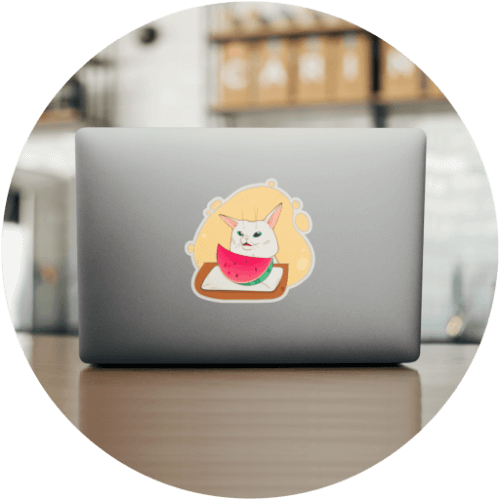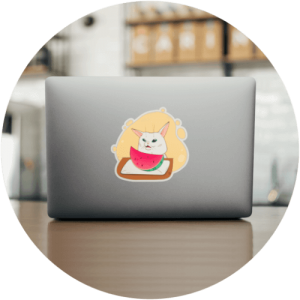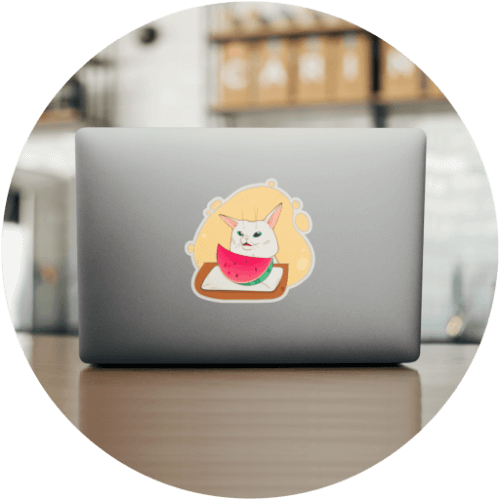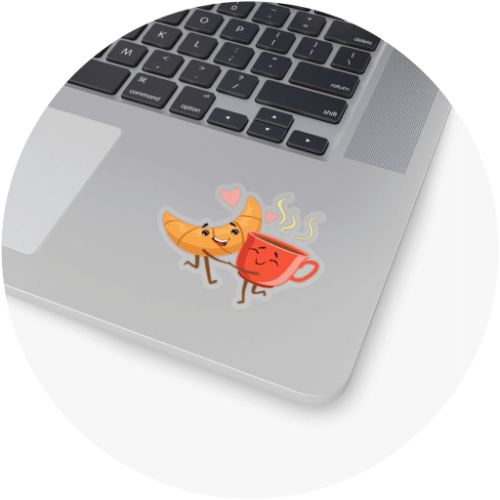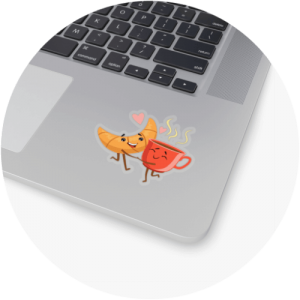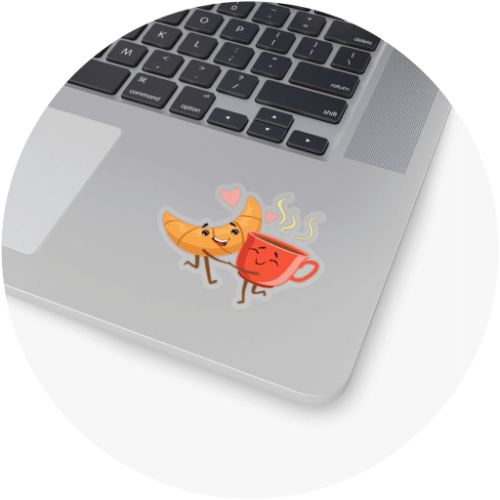 Customers are always more likely to buy stickers that they can relate to. From a funny quote or a design that sums up their personality.
 When designing these types of stickers, the application is not so important. Many customers will use these types of stickers on their laptops, phones, and other devices that are used daily. They are personal to the user and therefore they feel the need to customize it to stand out from the crowd.
QR codes are still a thing of mystery for many, however, this is a truly unique way to deliver a sticker experience like no other. By using a QR code, people can scan the sticker with their phone, this will then take them to a predetermined destination online.
It might open up an app, it might take them to your online store, the possibilities are almost endless. Sticker printing for QR codes is easy and gives your customers the information they need!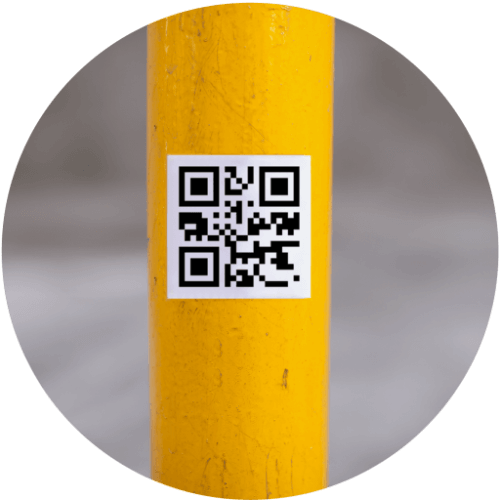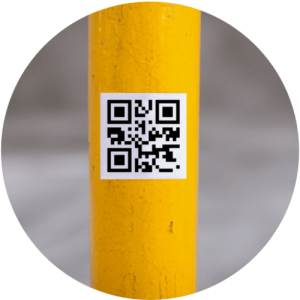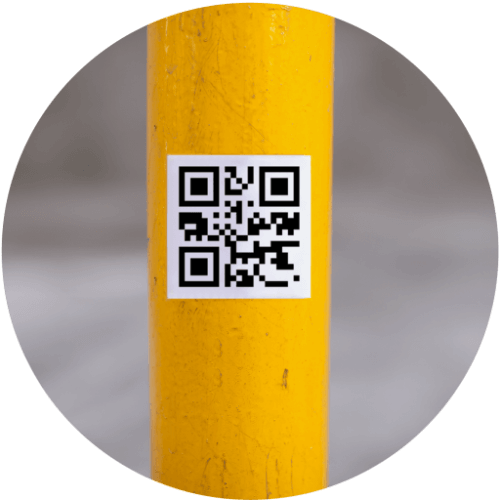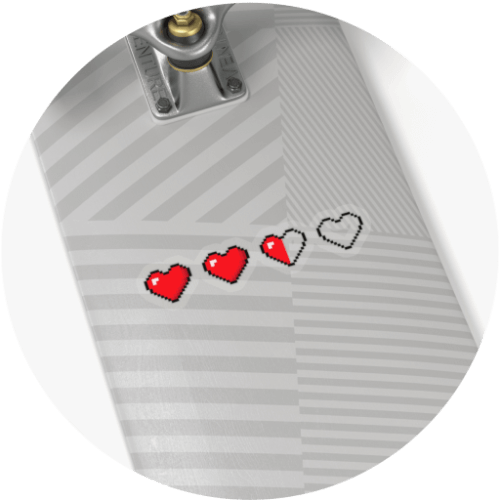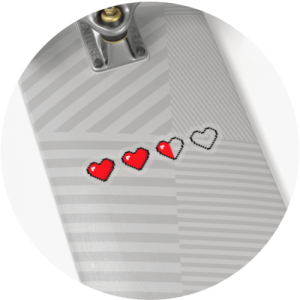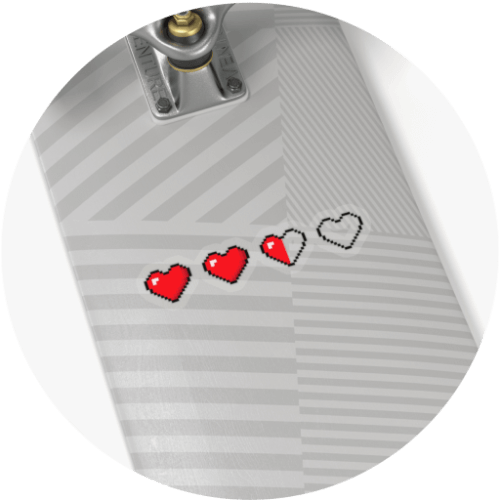 For some customers, lifestyle is about belonging to a group. Take for example skateboarding and alternative sports, by showing up with a deck covered in awesome customized stickers, your customers are going to stand out.
Window stickers include everything from your car window to your living room, each application can have multiple uses. Let's take a look for example at a cars rear window, this is the perfect opportunity for your customers to show their support to a local football team, or to tell other drivers that they are carrying precious cargo.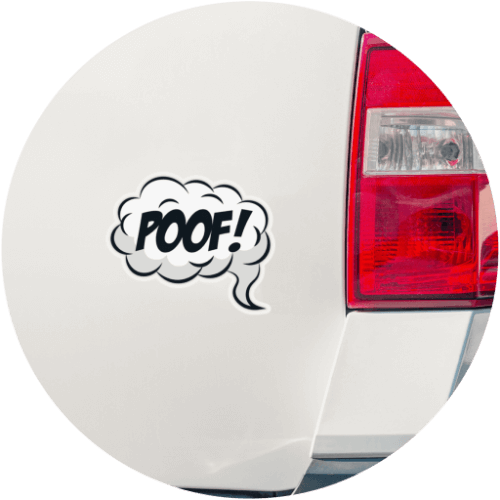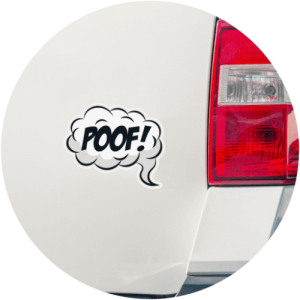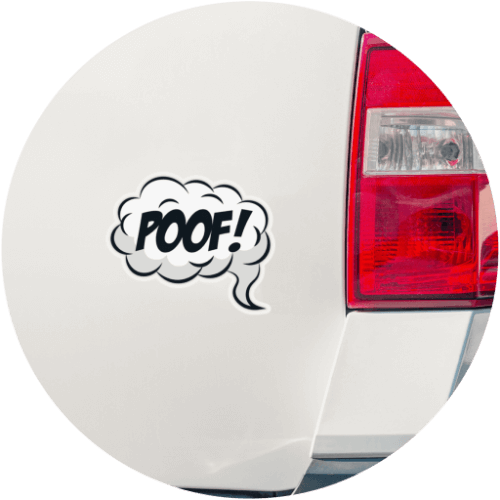 Frequently Asked Questions
Looking for a specific region?
Start Selling Custom Stickers!