Custom bumper stickers are a great way to make your car more fun or express your views on religion, politics, or share your favorite pun with the world for just a couple of bucks. Add Printify's custom bumper stickers to your store and grant people access to endless fun!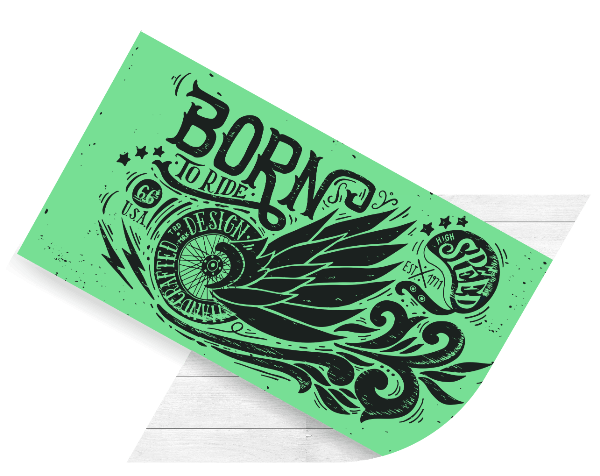 Why Sell Custom Bumper Stickers
Custom Bumper Stickers by Printify
Designed to get your brand right into the hands of your customer, these print-on-demand customizable bumper stickers are a promotional staple. Choose from three different sizes and feel free to use them indoors or outdoors; The thick vinyl material is laminated for top-tier durability against water, sunlight, and scratches.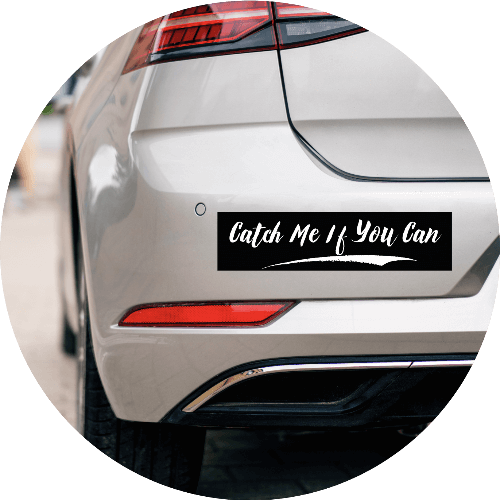 7 Design Ideas for Custom Bumper Stickers
The custom sticker comes in handy when you have a message, and you want to deliver it as plainly as possible. Even though our cheap custom bumper stickers are made for cars, they're weatherproof and can stick to any smooth, hard surface. Use it wherever you want your thoughts to be seen. It doesn't matter if your message is a joke, a pun, showing support, a political opinion, or complete nonsense; all you need to do to create a bumper sticker is pick a design and type your message. Yes, it's that simple!
Designing bumper stickers with Printify is super easy and fun. And why is that? It's thanks to our super easy-to-use free Mockup Generator, which lets you easily upload designs and adjust them. The Mockup Generator is the foundation of a successful online product. Upon creating your designs, you'll probably invest most of your time there playing around and creating everything from bumper stickers to mugs, to apparel or home decor, and get the most beautiful-looking product mockups to flaunt in your online store and social media. 
So let's get to the design ideas.
Stuck in traffic? Share your views on politics! Bumper stickers are a great way to express your political views. Design a custom bumper sticker to spread the word about your own campaign or display support for a candidate.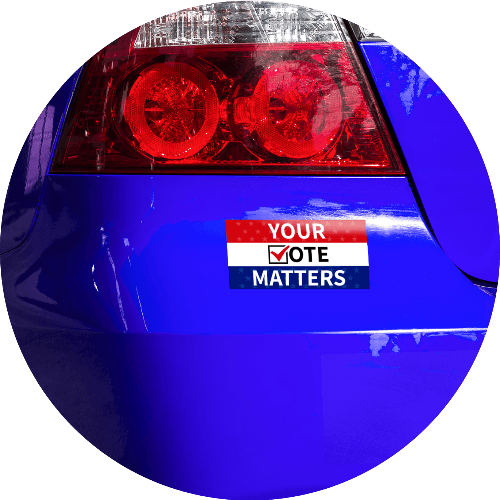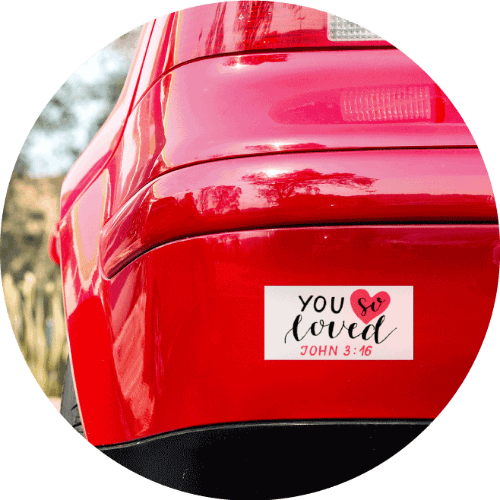 No matter what belief system you subscribe to, custom bumper stickers bring us all together. Place your favorite quotations, slogans, imagery, or favorite sacred geometry and let your message be heard & read in a bespoke fashion.
Create personalized family bumper stickers for all the family-oriented folk out there. Don't forget that not only people are our family, but pets as well, so don't be afraid to include our little brothers and sisters in your designs!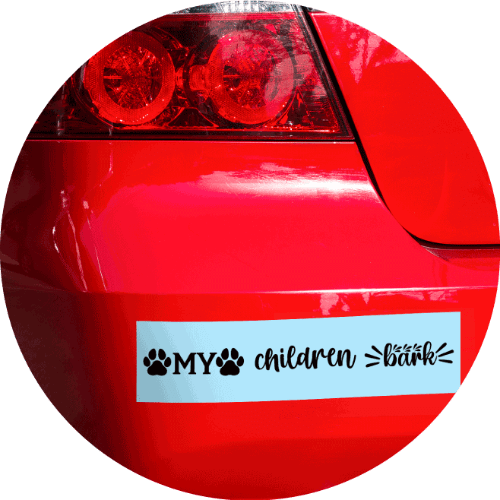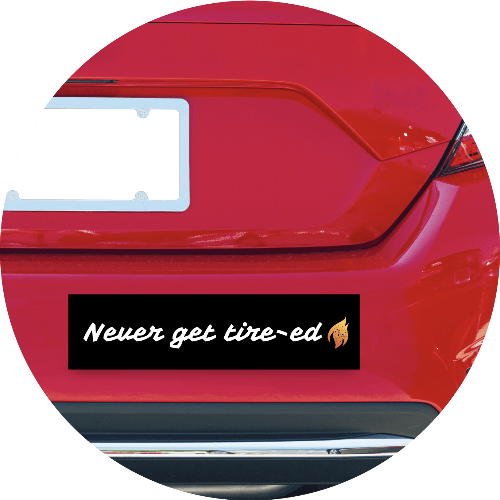 Whoever said that puns are the lowest form of humor obviously couldn't come up with a single great pun, and should be pun-ished for that! We love car humor and so do millions of people. Instead of 'Baby on board', go for 'Former baby on board'.
Does your audience consist of proud army parents, army spouses, or veterans? Then treating them with 'Army mom', 'Army dad', 'Proud Army wife' custom bumper stickers is *the* way to go. Additional ideas for this passionate community can include military-themed jokes like "My other car is an attack helicopter", classic "Hooah!" stickers, and designs based on national celebrations like personalized memorial bumper stickers.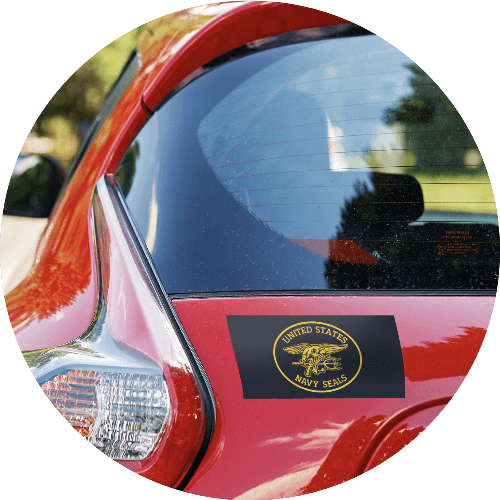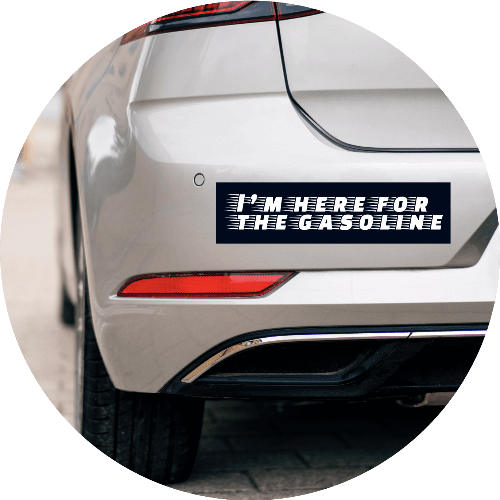 Movie and TV references are the best! The infamous Regina George's line from Mean Girls, "Get in loser we're going shopping", or "It's the car, right? Chicks love the car" from Batman Forever, or what Bo Duke in The Dukes of Hazard said, "Man, I'm never gonna get out of this car again!" Choose what you or your potential audience might love and start designing.
Shine Bright Like a Diamond
Today, it's not uncommon for people to boast their social media handles on their cars and trucks. Offer your customers a chance to flaunt their IG profiles for everyone to see.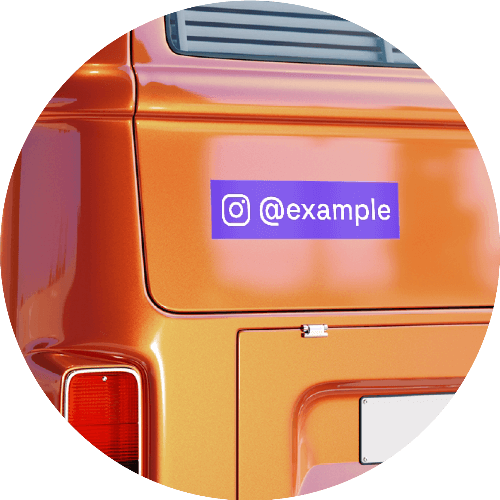 How to Make Custom Bumper Stickers With Printify
Looking for a way to make a statement? Choose custom bumper stickers. Whether you want to support your favorite politician, sports team, cause or even display your business logo, Printify's bumper stickers will have your back. Made with weather-resistant vinyl, our stickers are durable, easy to apply, and perfect for cars, trucks, and vans. Upload your artwork to our Mockup Generator and design away!
If you're just getting started, you need to know that working with our design tool is extremely easy – even your great aunt Muriel can do it! Our Mockup Generator lets you upload and adjust your designs, switch between color options, pick size variants, and preview your brand new designs on a  beautiful product mockup. You can then easily publish the product directly to your Etsy, eBay, Wix, Shopify, or WooCommerce store, and use the photos to market your goods on your social media channels.
How to Use Printify's Free Mockup Generator
You can read detailed instructions on how to use our Mockup Generator here or watch the video below, as it takes you through the steps of creating your first custom product.
Now that you've gotten your dose of inspiration, we bet you're eager to get to work and design a line of heartwarming, funny, opinionated, or simply cool personalized bumper stickers. When you work with Printify, you only need to come up with designs. We will do the rest. Upload your designs to our Mockup Generator, place them onto your blank bumper sticker, and after that, you'll be ready to publish it to your eCommerce store.
Frequently Asked Questions About Custom Bumper Stickers
Ready to Start Selling Custom Bumper Stickers Online?