How to make custom all over print shirts?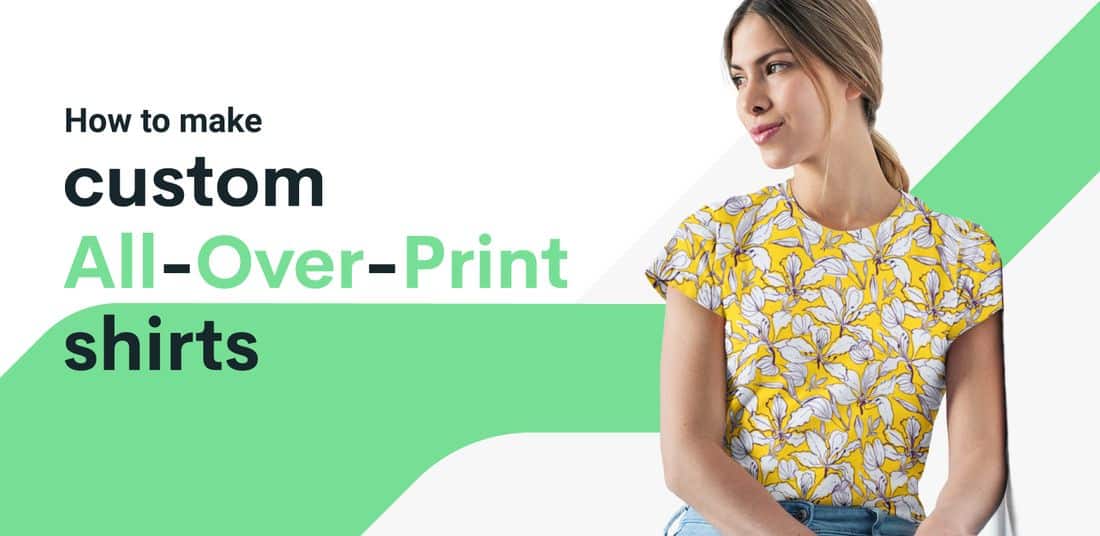 If you've ever made a design too awesome to be limited by standard print sizes, consider custom all-over-print shirts. In addition to being increasingly popular, the unrestricted printing area takes any artwork to the next level. 
Custom all-over prints aren't just fashion statements, they're a proven method to expand merchant portfolios. They also open up design possibilities for larger or unbroken scenes, patterns, landscapes, and more.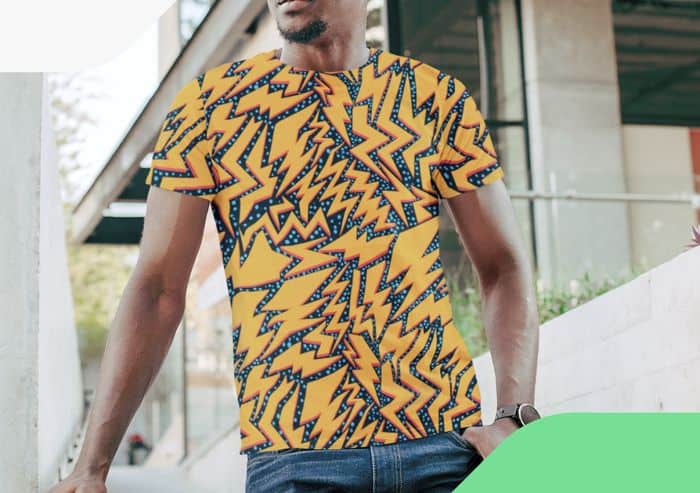 An unrestricted foray into a world of decoration, the unisex all-over-print cut & sew tee is also incredibly comfortable against the skin. Constructed from high-quality polyester, these custom tees are reinforced with a supportive twill taping across the shoulders. Add a design that builds on itself to capture the attention of your niche.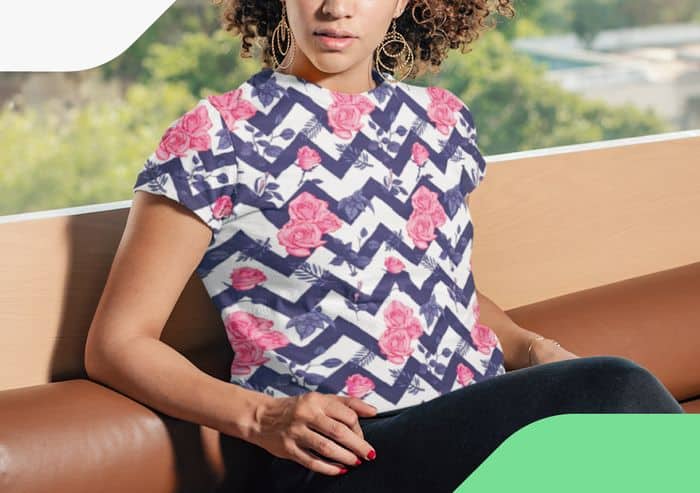 With a stellar fitting due to a slight tapering in the torso, the women's all-over-print cut & sew tee is perfect for creative souls. Built to be both comfortable and durable, these polyester shirts help take designs to the next level.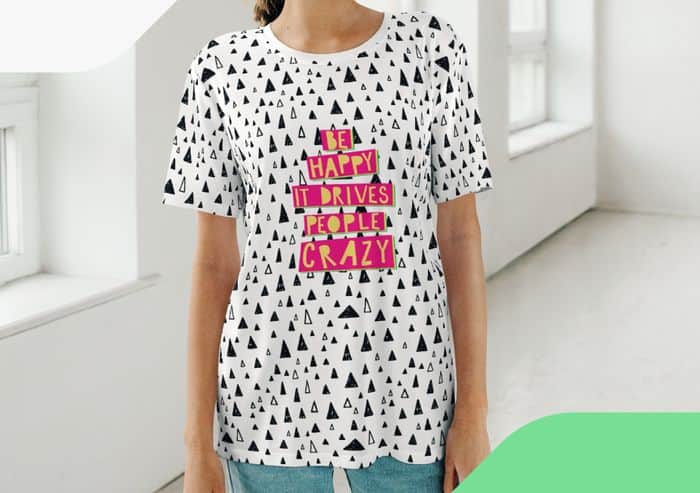 With an incredibly diverse range of printing areas, this shirt is one sure to satisfy even the pickiest of customers. Whether your design calls for an expansive landscape or a scene from your favorite anime, this polyester-spandex hybrid can easily support the weight of your dream design.
Already found what you were looking for?
Make it happen right now.
Custom all-over-print shirts by the numbers
Let's look at the data. When we analyzed the Top 30 YouTubers and their merch store products, we found that 20% of them sold custom all-over-print shirts – in several cases, it was their number one product.
Another thing we noticed during this analysis – the most popular element was a printed quote, catchphrase, or message. Now, while the use of text is perfect for direct-to-garment printing, all-over-print shirts provide an opportunity to make a broader impact.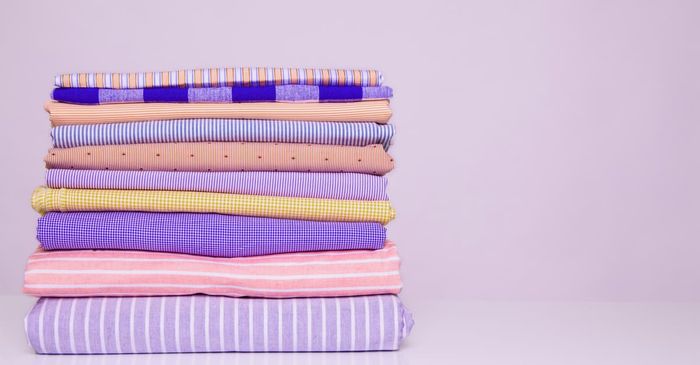 Let your imagination flow with custom all-over-print shirts
Luckily for you, you've got some great ideas that the expanded canvas of custom all-over-print shirts offers you, right? That's what we thought! You might be considering a custom all-over-print shirt simply because you want to use the whole shirt in your design. Expand your ideas with the canvas of design and you'll be pleased with the results – and the sales.
An all-over-print shirt design allows you to express yourself more creatively, and those are the types of eye-catching designs that can set your store apart – and allow the fashionistas that wear your garments to do the same!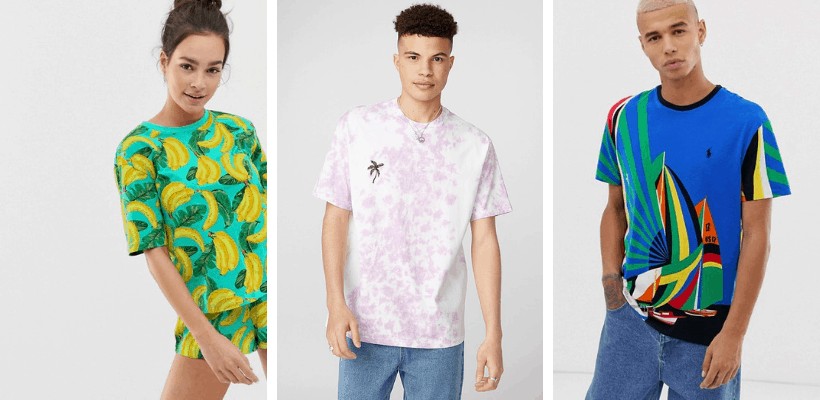 Your designs should express some kind of continuity, like a vast expanse of ocean, outer space, desert, etc. These types of ideas brought to life on an all-over print shirt really pop out of the canvas – into the minds of those that see them. 
From maps to masterpieces, custom all-over-print allows a different type of shirt to be worn and the wearer gets a different type of reaction from those that see them. Our advice – go big and bold with your all-over-print shirts.
Eye-catching designs that turn heads are the way to drive sales with all-over-print shirts. Utilize the larger printing area of all-over-print shirts – increase the artwork's size, or utilize a wrap-around framework. Experiment with quotes, logos, and other elements that make the most of this uninterrupted canvas.
Already found what you were looking for?
Make it happen right now.
Custom all-over-print shirt printing – types of design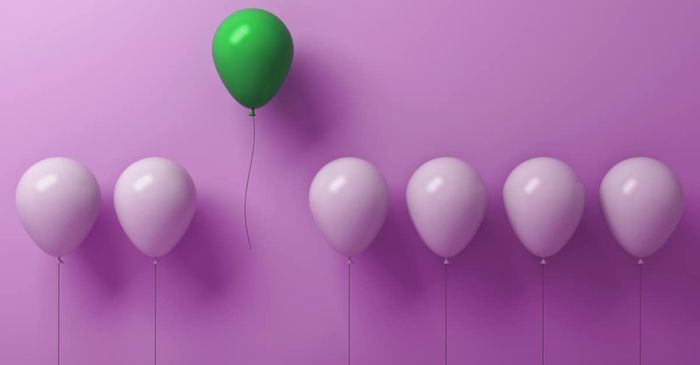 Having trouble thinking of some themes for a design? Here are some ideas you might try for a custom all-over-print shirt:
Paintings or drawings 

Flags

Ironic situations or spiritual exploration

Outer space and science fiction
When picking a theme, remember that there are no limitations with all-over-print shirts. Keep your design flowing across the garment's entirety.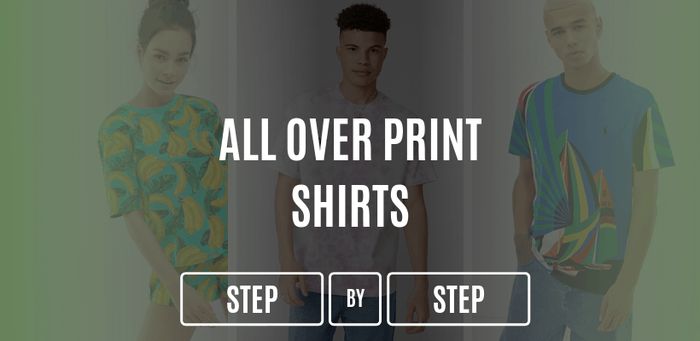 Is there room in your store for more custom all-over-print shirts?
In most cases, the answer is definitely yes! Creating your first all-over print design can be challenging. Here's how to avoid all of the missteps and challenges that come with making a stunning all-over design for your store or channel.
1. Choose your custom all-over-print shirt type
There are two major types of custom all-over-print shirts: cut and sewn and sublimated. Cut-and-sewn print shirts are exactly what it sounds like – shirts that are created AFTER the design is printed on the fabric. Sublimated shirts use prefabricated (already made) shirts and add the ink later.
Printing ink absorbs differently into various fabrics. It all depends on the type of material used in the garment. Take a look at this guide for an explanation of material differences.
It's always a good idea to see the final product for yourself. To make sure there are no unexpected surprises for the end customer, we recommend ordering a sample before releasing a product to the public. This way, you'll have a perfectly clear idea of the fitting, look, and feel of your brand-new, all-over-print shirt.
Make any adjustments to the garment that's required after you order the sample. You can think of this as your own personal quality check, and if you've passed, you can skip this step. It's also a good idea to get a second opinion or two on your products. Just make sure the people you're asking people in your targeted niche. Otherwise, you're going to get advice inconsistent with your brand's development.
5. Decide where to sell your custom all-over-print shirts
Where are you planning on selling your merchandise, through your own store or through an eCommerce platform like Etsy, eBay or Shopify, Wix and BigCommerce? This is an important decision, and generally, beginners need to do some research. It all depends on your situation and goals. If the idea is setting up your own site, a marketplace like Shopify is likely the best place for you. If the goal is linking in some WordPress material, please see the WooCommerce Printify plugin. And, for the especially tech-savvy out there, we've made our custom API accessible – If you're up to connecting without a plugin.
What are you hoping to make from the sale of a product?  Is it for a charity, passive income, or to boost awareness for a particular organization? These are all the questions that go into deciding the price. Here, it's a great idea to see what similar items are selling for on Etsy or Amazon. They both have massive all-over-print shirt best-seller sections. Once you've decided what your goals are, prices largely sort themselves out.
7. Market your custom all-over-print shirts
Is this just a single offering for a channel? Or, do you have an idea for an entire store? Either way, it's a smart move to spread the word via some marketing. Take a look at just how useful social media can be as well. These are often the cheapest (and most effective) ways to start attracting some attention to a product, brand, message, etc.
How can you easily make custom all-over-print shirts?
No worries here. Here are a few easy steps you can follow to create your very first  custom all-over-print shirt:
Choose your custom all-over-print shirt for

our catalog

Add your custom design or use

Shutterstock integration

Order a Sample

Make adjustments

Decide where to sell custom all-over-print shirts

Set the price

Market your custom all-over-print shirts
Share the article
Topics