What Do I Need to Print T-Shirts at Home
T-shirts can be printed at home. With the right equipment, printing method, and knowledge, you can have a finished shirt ready for personal or business use. But is it the best practice for getting the world to wear your designs? Let's find out.
If you're asking yourself: "What do I need to print t-shirts at home?" – this article will provide all the answers. We'll cover the best printing methods for your t-shirt business, what equipment each of them needs, and other easy alternatives you can try in the t-shirt printing industry.
Best Methods For Printing Your Own Custom T-Shirt at Home
While there are different methods to choose from, two techniques are undoubtedly the best and easiest for making t-shirts at home. These are heat press methods involving either paper or vinyl to transfer your own designs onto blank t-shirts.
Heat Transfer Paper Printing
This printing technique requires little setup, low costs, and basic tools. It is ideal for printing an entire image, letters, or abstract graphics.
Iron-on transfer paper

Clothing iron or a heat-press machine

T-shirt (preferably 100% cotton)

Cotton pillowcase

Inkjet printer

High-resolution image file

Image editing program

Scissors

Craft knife

Flat surface that can withstand heat
How to Print T-Shirts With Heat Transfer Paper at Home
Grab all the above-listed supplies, check your printer settings for top quality, and let's get to work.
Step 1: Prepare the T-Shirt Design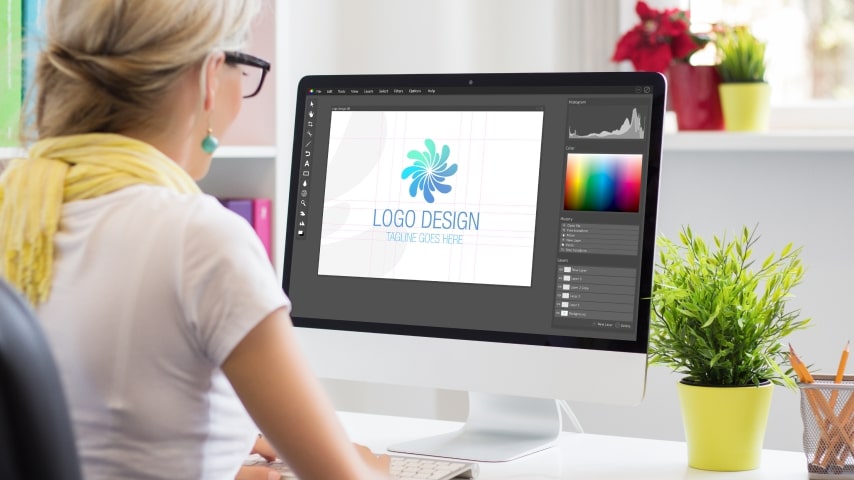 To achieve top-quality t-shirt designs, you'll need professional software, such as Photoshop or Adobe Illustrator. Create different elements, texts, patterns, or print and press your own photos. 
Remember to use a high-quality image or save it as a vector file to avoid a pixelated print. If you plan to start an online t-shirt business, print original artwork to avoid copyright-related issues.
If you only have your artwork in physical form, turn it into a digital file via scanning or photographing.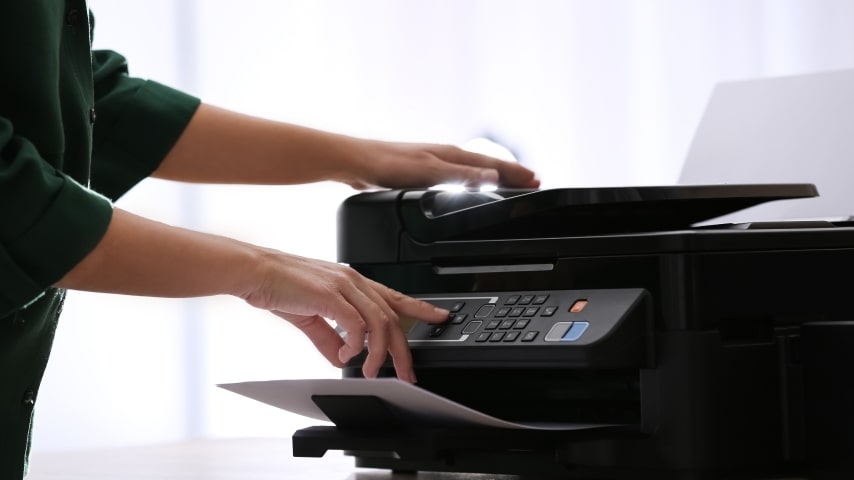 There are a few tricks to know about iron-on transfers. First, make sure you've picked the right transfer paper – regular printer paper won't do the trick. 
Second, the paper and printing specifics for light-colored shirts differ from those of darker shirts. Read the transfer paper's instructions to avoid any mishaps or confusion.
Light Transfer Paper.

The transfer paper for light shirts creates a mirror image, meaning you have to flip the design before printing it. In the Print Options window, look for a mirror setting or flip it on your design software.

Dark Transfer Paper.

This paper applies the transferred image onto dark-colored fabrics exactly as it appears on the screen – do not mirror the image for dark shirts.
Finally, make sure your iron-on transfer paper is compatible with your printer. Using paper for an inkjet printer on a laser printer can ruin your design and the machine.
Step 3: Prepare the Workspace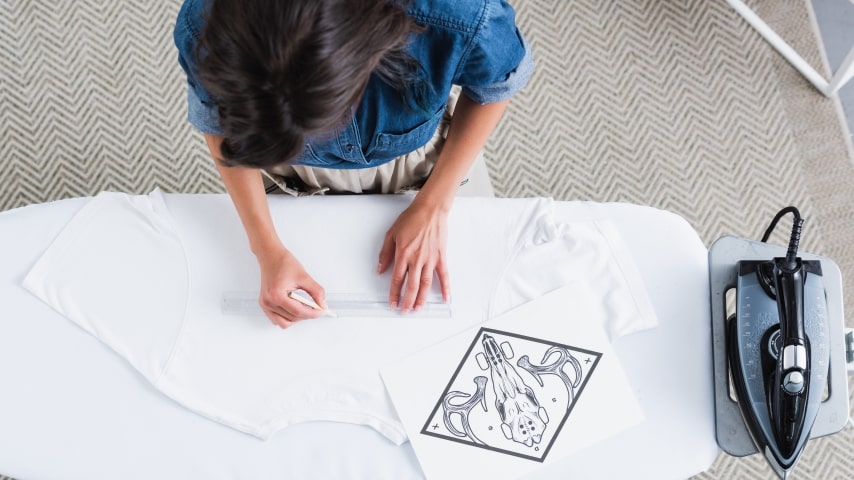 While your printed ink is drying (for a few seconds), prepare the shirt and space for transferring the design.
Pick Cotton Shirts for the Win. Choose shirts with tight and smooth textures to ensure top-quality design.
Pre-Wash the T-Shirt. This is suggested to avoid shrinking after applying the design.
Iron the Shirt. Get rid of wrinkles and provide a smooth surface for your design to stick on.
When your t-shirt is ready, prepare the workspace. Find a flat, hard surface that is suitable for ironing and can withstand heat. This can be a table, countertop, cutting board, or an appropriate ironing board (avoid ones with metal bars).
Lay down a cotton pillowcase, spread the t-shirt over it, and heat the iron according to the transfer paper's instructions. If those aren't specific enough, use the high or cotton setting on your iron and avoid using steam.
Finally, cut the design. Carefully cut out your artwork as neatly as possible to avoid unwanted thin film layers on your finished shirts. Any part of the transfer paper you leave will show on the fabric – so grab a craft knife or extra sharp scissors for the more complex edges and parts of your design.
Step 4: Iron On Your Custom Design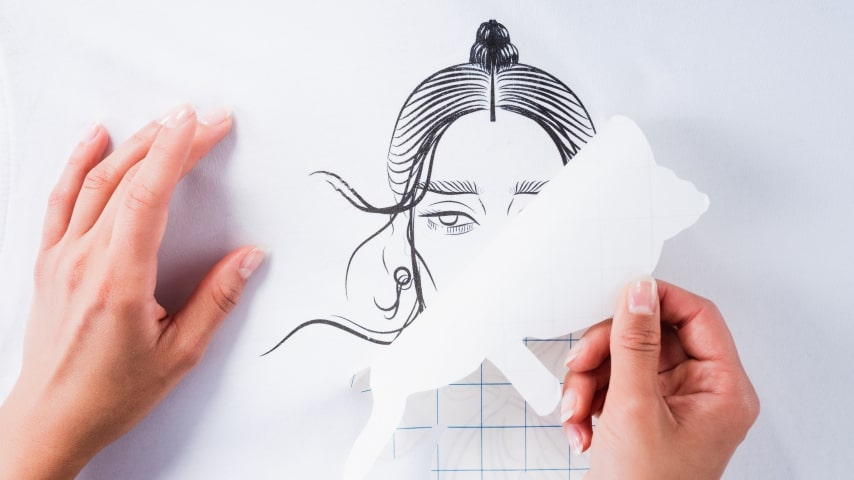 Place the transfer paper on the t-shirt – face down for light-colored shirts, face up for dark-colored shirts. Use the iron as a heat press to transfer your design onto the shirt – press it down for a specific amount of time according to your transfer paper instructions.
Let the paper cool for a few minutes, peel it off, and voila! You've got your first home-printed shirt.
Heat Transfer Vinyl Printing
The vinyl printing method is a bit more advanced than paper printing – but still manageable at home with the right equipment. Applicable to various fabrics, it doesn't limit you to only cotton t-shirt options. And it works equally well with colored and white shirts.  
Heat transfer vinyl

Clothing iron or a heat press machine

Vinyl cutting machine (for example, Cricut)

Wide-format printer (a laser or an inkjet printer will not work)

Weeding hook

Parchment paper

Cutting mat

T-shirt

Image editing software
How to Print Shirts With Heat Transfer Vinyl at Home
Step 1: Prepare Your T-Shirt Design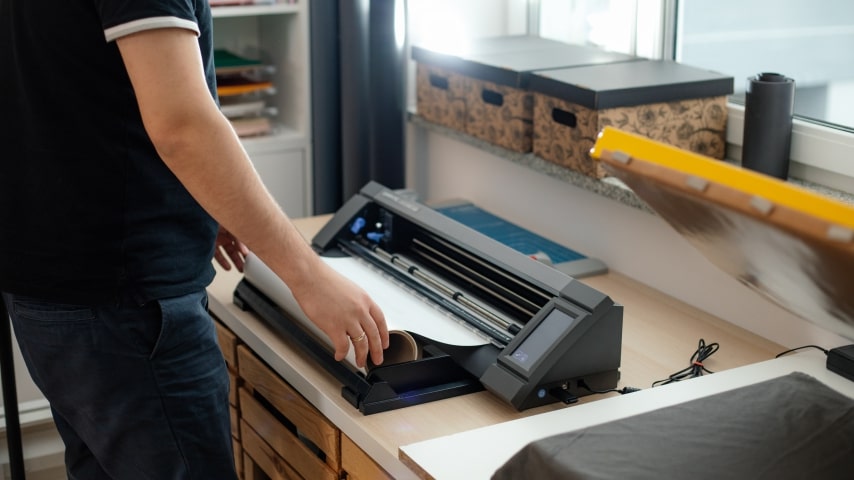 Use editing software like Cricut Design Space to create the perfect t-shirt design. Use SVG vector format for the best quality and scale the image to fit your t-shirt size. Approximately 10" will work well for a medium-size t-shirt.
Don't forget to mirror the print. Images need to be cut backward, the same as in heat press paper printing. Remember to flip the design before cutting it.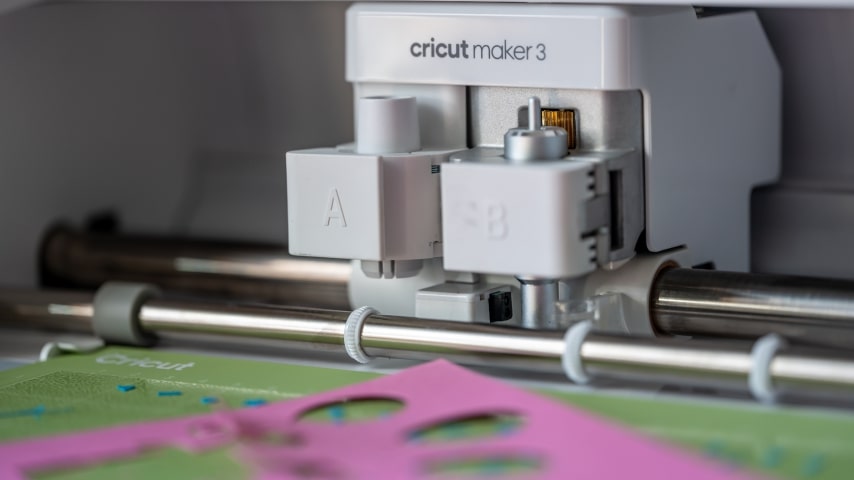 Adjust the Cutting Machine.

Set the cut settings according to your base material. Each type of vinyl requires different adjustments, so make sure to pick the right ones for your particular type. 

Prepare the Vinyl.

Place your heat transfer vinyl (HTC) on the cutting mat, glossy side down. The shiny side is called the carrier sheet that transfers your design to the shirt.

Cut, Cut, Cut.

Put the cutting mat in the cutter and let the machine do its job. In a few seconds, you'll have your design ready for the heat-press process.
Step 3: Weed the Excess Vinyl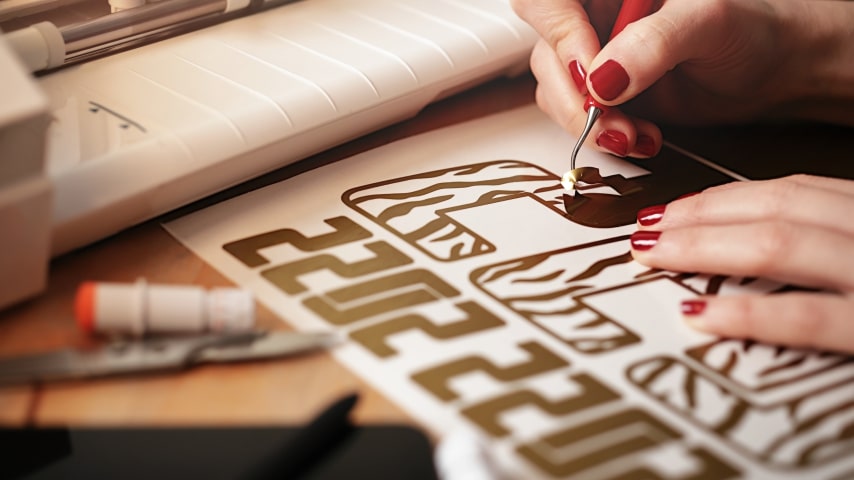 Weeding means clearing away any unwanted bits of vinyl around the edges of your cut design on the carrier sheet.
Peel the vinyl off the mat.

Put the glossy carrier side down.

Grab tweezers, a pen, or any other weeding tool.

Peel off the first vinyl layer.

Remove all unnecessary parts that don't belong to your design.
Step 4: Prepare the Shirt and Workspace
Just like with transfer paper printing, you'll need a flat, sturdy surface, a wrinkle-free t-shirt, and an iron – or a heat press once your t-shirt printing business takes off.
Avoid using an ironing board. The applied pressure can cause it to bend or fold, resulting in a disastrous experience and print. Use the floor, table, counter, or a piece of wood instead. 
Finally, put the iron on high or cotton setting and get ready to create your shirts.
Step 5: Iron On Your Cut Design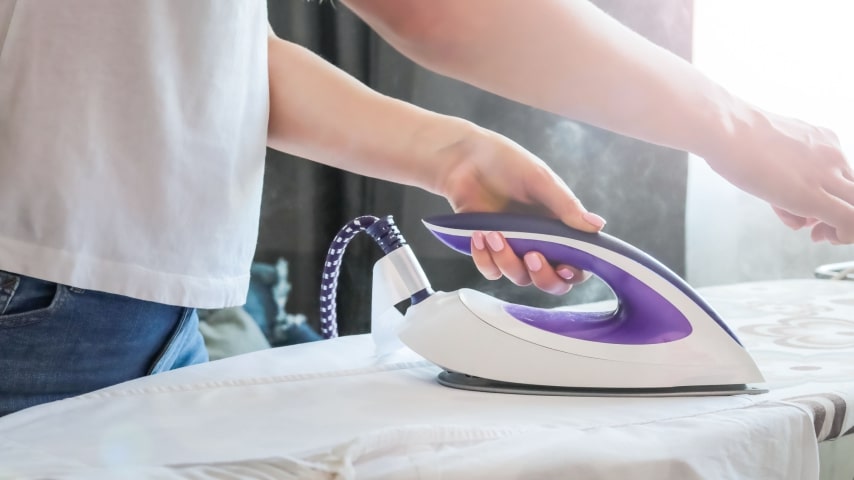 This step will require heat and pressure. 
First, place the shirt on your flat surface and align the design wherever you want it on the fabric.
Pro-tip. Cover the HTV with parchment paper to protect your iron from getting vinyl on it. This will also help with layering and repeated heating.
Then, put the iron straight on the design – one spot at a time – and press it down for 10-15 seconds per section. Pick it up and move to the next part of your design – don't slide it over, as it can cause the HTV to wrinkle.
Finally, peel off the carrier sheet and check the final result. There is cold-peel and hot-peel vinyl, meaning that some designs need to cool down a bit before the sheet is removed. Check the vinyl instructions to avoid mistakes.
And there you have it. A custom-design shirt – made at home.
Tips For Printing Shirts at Home
Now that you're familiar with both techniques, equipment, and processes, it's time for some helpful insights to excel in t-shirt printing at home. Whether making t-shirts for personal or business use, there are several things to keep in mind. Remember, these are just tips to help you improve the overall t-shirt printing experience.
Do a small test print or cut before making the whole design.

Keep your workspace clean and well-organized

Ensure good lighting for your workspace

Use original designs to avoid legal issues

Iron or heat press the shirts before applying the design

Do proper research on trends, processes, and design tips

Keep a close eye on the vinyl or transfer paper instructions

Consider investing in proper tools and machines for the long run

Consider printing t-shirts with print-on-demand to skip all the work and hassle
Other T-Shirt Printing Methods Worth Knowing
There are a few other printing techniques for making your own t-shirts. While these are less home-friendly, they're worth mentioning.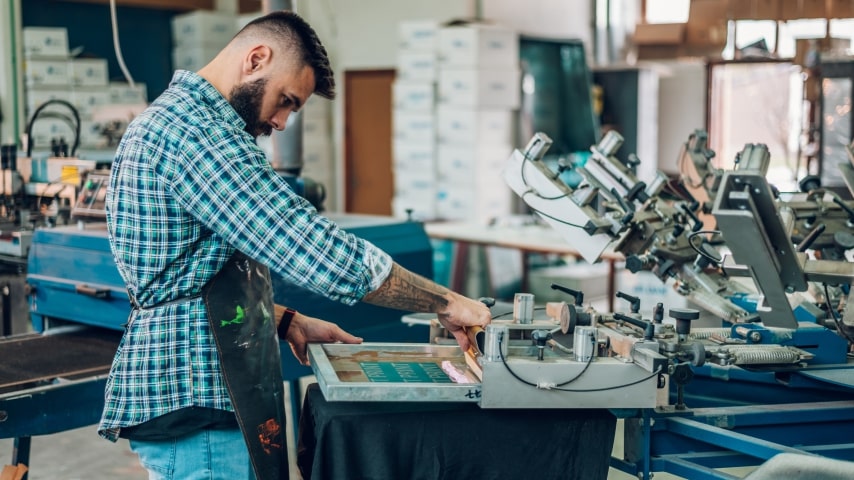 Screen printing requires thick inks that ensure long-lasting and vibrant designs and a mesh screen to apply your artwork. You first create a stencil on the mesh screen and press it down to imprint your design on the shirt. This method is ideal for large quantity orders and designs with few colors.
Direct-to-Garment Printing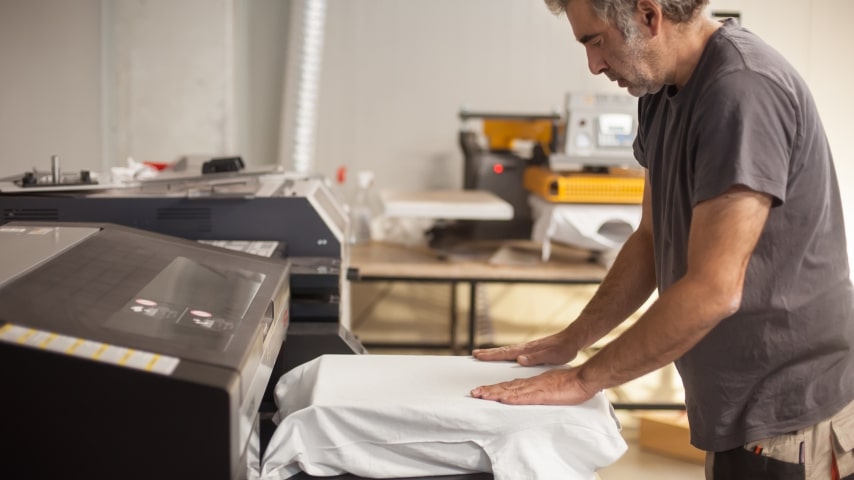 This technique uses a direct-to-garment (DTG) printer to spray ink directly on the shirt that has been pretreated to make the ink stick better. This is a wallet-friendly solution for smaller orders and one of the most popular printing methods.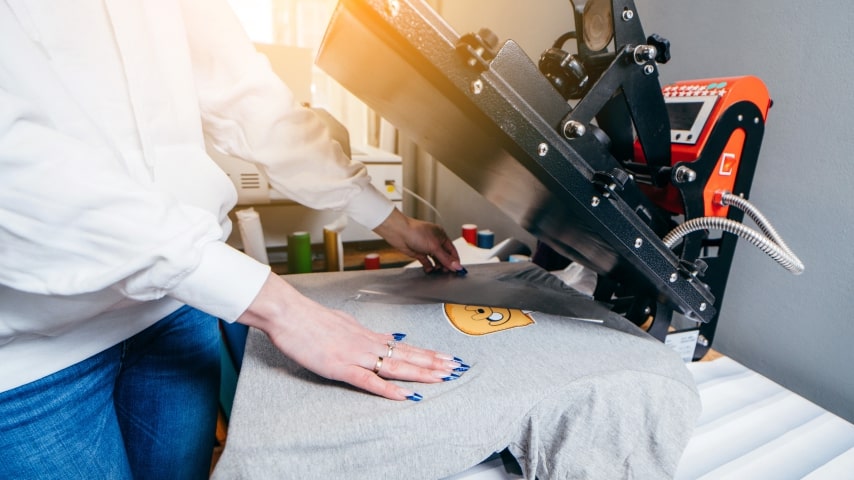 The dye sublimation or all-over-print (AOP) method is a great way to create exquisitely unique designs. 
Your artwork is first printed with liquid inks on heat transfer paper. The whole setup is then placed in a heat press, where ink turns into gas – the fabric soaks up the ink and becomes one with the design. The applied pressure then turns the gas ink solid, ensuring a vibrant and long-lasting image.
How to Make Your Own T-Shirts With Print on Demand
In case the above-listed methods seem too messy or time-consuming – which they are – you can always opt for Print on Demand (POD), where all you need is a computer and a dash of creativity.
Printify T-Shirt Printing Methods
Our Print Providers print custom products using the following printing techniques:
Direct-to-garment (DTG)

Sublimation or all-over-print (AOP)

Direct-to-film (DTF)
How to Make Custom T-Shirts at Home: FAQ
Share the article
Topics