Direct-To-Garment Printing
Direct-to-garment printing or DTG is a printing method that involves spraying ink onto a garment, then waiting for it to soak into the fabric.
What Is Direct-to-Garment Printing?
Direct-to-garment printing or DTG is a printing method that involves spraying ink onto a garment, then waiting for it to soak into the fabric. It is just like printing on paper and allows you to put custom designs on various garments.
The best thing about DTG is that it is very easy to print a one-off item, and there is no setup time. The process is even smoother if you have an online store connected to a print provider offering DTG printing.
As soon as the customer places a custom order, your print supplier will immediately get a notification. The printer will print, pack and ship the order directly to the customer in your company's branding. You can still place bulk orders if that is what a customer requires. A lot of print providers offer discounts on bulk orders.
What Type of Design Assets Can You Use With DTG Printing?
DTG printers are very flexible when it comes to color options. You can print photorealistic images and designs in detail with no color limitation. Flexibility is important for businesses that try many colors in their designs.
The one thing you must avoid in DTG is transparency. Any element that is less than 100% opaque will not transfer well on garments. Therefore, it is best to use a solid color or make fake transparency with halftoning. The DTG printer will then attempt to print the missing color by spreading ink, making gaps in the fabric.
Apart from this, you can work with any pattern or color. For best results, you should create graphic designs in the sRGB profile as they match DTG printers' colors the best.
Is Direct-to-Garment Printing Right for My Business?
Direct-to-garment printing is a hassle-free method of getting print-on-demand products. You do not have to worry about maintaining stocks because most DTG printers have no minimum order requirement for DTG products. In DTG, the entire design prints in one go. There is no color count either, so there is no extra time to set up or start the printer. As soon as the order arrives, you can fulfill it with the help of the print provider. This model is great for those who want to enter new markets with low budgets. If the product does not sell, you can replace it or discontinue without worrying about stocks.
However, direct-to-garment printing has few downsides as well:
So make sure to weigh up the benefits against the drawbacks before choosing the DTG printing method for your custom products.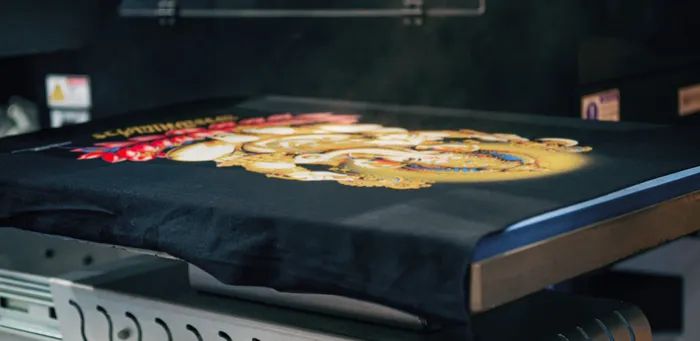 Is DTG Environment-Friendly?
DTG is a more sustainable business model compared to screen printing. Printing a one-off product saves more money and avoids overproduction and waste. Ninety-two million tons of textile go waste every year, and a business model like this is revolutionary for the fashion industry. In DTG, you print a garment only when the customer demands it. 
Moreover, many DTG printers now manufacture to lower the carbon footprint. The printers produce almost zero wastewater and operate on much lesser energy. Kornit is one such company that produces printers that use water-based vegan inks created from their labs. Inks from Kornit are non-hazardous and biodegradable, with no animal products.
Direct-to-Garment vs. Screen Printing
Screen printing and DTG are two different printing methods. In screen printing, the ink goes through a woven mesh (also known as mesh stencil) onto the fabric. Unlike in DTG printing, the ink does not soak into the fabric in screen printing; it sits on the fabric as a layer. 
In screen printing, a special mesh screen has to be made each time you create a design. Once the elements are created, colors and elements of the original design are applied layer by layer on the fabric. If there are many layers in your design, it will take longer to print, and the printed layers will feel thicker on the product.
Setup times are longer in screen printing vs. DTG printing. This is why screen printing works well for printing items in bulk quantities. It is not cost-effective to print one t-shirt with a stencil that takes hours to set up. However, screen printing is not as eco-friendly as DTG printing because there is a chance of overproduction in bulk. If your screen printing bulk orders are not sold, they may end up in landfills or get burned. DTG also uses less water vs. screen printing, and the inks are completely biodegradable.
In case of rush orders (like someone requiring a few shirts within 12 hours), DTG printing will come to your rescue. Your print provider will start the printer, pre-treat shirts, and get them printed quickly. Some rush orders might be reprints or replacements. Maybe a single shirt is missing from the order, or a print got botched. In either case, the printer can fire off a custom short and ship it without remaking screens. 
So DTG printing or screen printing? Here is a table to help you decide which method of printing is for you:
| | Direct-to-Garment | Screen Printing |
| --- | --- | --- |
| High Quality | Yes | Yes |
| Detailed Designs | Yes | No |
| Unlimited Colors | Yes | No |
| Order Minimums | No | Yes |
| Fulfillment on Demand | Yes | No |
| Bulk Discounts | Yes | Yes |
| Requires Upfront Investment | No | Yes |
| Sustainable | Yes | No |
Choose Your Printing Method Wisely
There is more money and time at stake when deciding on a printing method for your business. Before you choose either DTG or screen printing, consider few points like:
If you are looking for the easy way, then DTG is best for your business. It is easy to introduce new designs to the market with little cost. You will have more time to test, experiment, and learn with the DTG method. 
There is no worry about keeping stocks or selling them before they become a hassle. Moreover, you get to ride along with the sustainable fashion movement and create good products for the environment. Additionally, the large selection of color options means that you do not compromise on design outlook as with other printing methods.
Although there are limitations to DTG printing, it is the right choice to select the right garments, especially ones for creating custom promotional products.