The Ultimate Guide to the 8 Most Common Types of Shirt Printing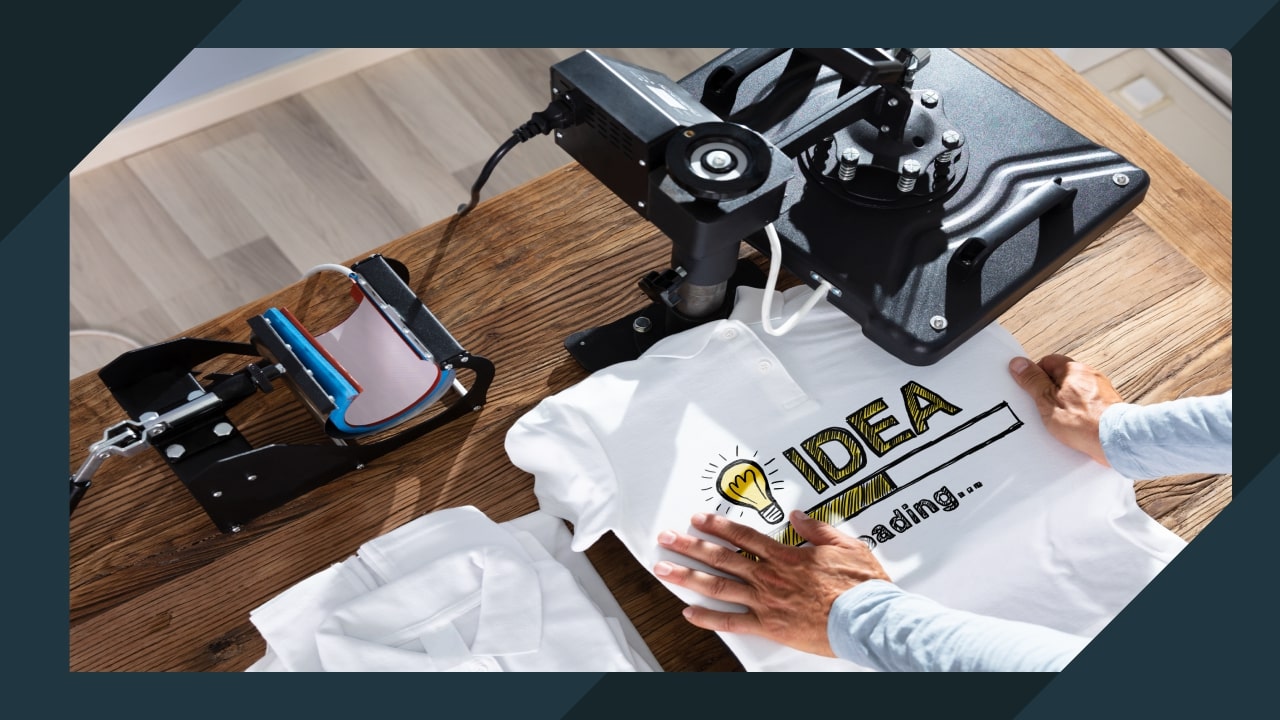 Are you planning to create custom t-shirts for your business or an event? You'll need to know about the different types of shirt printing available.
In this guide, we'll look at the eight most common t-shirt printing techniques, from the most basic ones to embroidery and even combined techniques.
We'll start with the two most popular t-shirt printing methods: screen printing and direct-to-garment printing. We'll then move on to heat transfer methods, including sublimation and vinyl printing.
Last but not least we'll discuss other types of t-shirt printing for achieving unique results.
So, whether you're looking for a simple solution or something more complex, this guide will help you find the right t-shirt printing technique for your needs.
The Most Popular T-Shirt Printing Types
Two of the most popular types of printing on t-shirts, where the ink is put directly on the garment, are screen printing and direct-to-garment (DTG) printing. In this section, we'll look more closely at both of them and discuss their pros and cons.
Direct-to-Garment Printing (DTG)
Direct-to-garment or DTG printing uses an inkjet printer to print the artwork – as the name suggests – directly onto the garment. DTG printing offers a full-color, high-quality print, making it ideal for complex designs or photographic images. 
Keep in mind that inkjet printers are pricey but other than that, they do not have any setup costs and are therefore more cost-effective for smaller orders. If you need just a few t-shirts, the DTG printing method is your best option. 
This process requires a pre-treatment step as the inks are printed directly onto the fabric of the t-shirt, and pre-treating allows the ink to be nicely fixed and won't let it soak through the material. Additionally, the t-shirt needs heating before printing to activate the treatment process.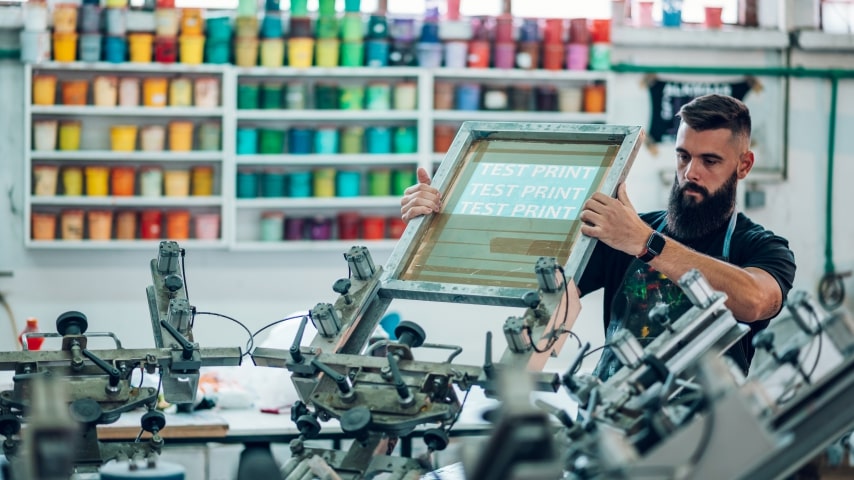 Screen or silkscreen printing is a stencil-based printing technique where ink is applied to the t-shirt through a mesh screen. 
It's the most popular printing method and has been around for decades – first done by hand and now by printing machines. 
It uses special screen printing inks that are thicker than those used for other printing methods, resulting in very vibrant, longer-lasting prints. As opposed to DTG printing, screen printing is better suited for designs with fewer colors.
Silkscreen printing is ideal for large orders up to 500 t-shirts, as it is relatively quick and easy to set up. However, it can be more expensive for smaller orders, as there is a setup cost involved.
Heat Transfer Printing Methods
Of the many different methods for printing t-shirts, heat transfer printing is one of the most popular. This uses a heat press to transfer an image or design onto the t-shirt. 
Heat transfer printing is different from both previous methods since it doesn't require any special inks or dyes – all you need is a heat press machine and transfer paper.
Heat transfer printing is a great option for custom t-shirts because it's versatile. You can print almost any design or image onto a shirt, including all-over-print designs that cover the entire t-shirt. 
All the methods listed below are essentially subtypes of the heat-press printing technique, so to choose what's best for your t-shirt printing business, let's look at each of them.
Dye Sublimation or All-Over Printing (AOP)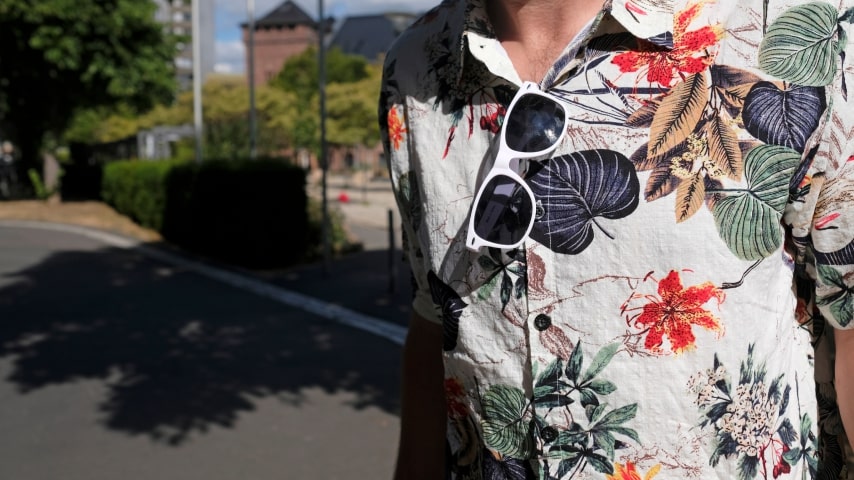 Dye sublimation printing, also known as all-over-printing (AOP), is probably among the most popular types of shirt printing. The printing graphics are digitally printed onto a special heat transfer paper which is then transferred onto t-shirts by applying heat. 
Dye-sublimation heat press method uses dye-based ink that turns into gas upon heating, which is an entirely different process from the other heat transfer printing techniques mentioned later in the article. 
The applied pressure and heat turn the dye-based ink into a gas and then back to a solid state. It is perfect for synthetic fibers like polyester fabrics. As the dyes penetrate the fibers to the core, they become one with the material, resulting in vivid and long-lasting t-shirt prints. 
Dye sublimation printing can't be used with cotton, which is very porous, causing so-called bleeding – the result looks dull and blurry. 
Synthetic materials rule here – the higher the percentage of polyester, the better the end result. This method is best with white polyester t-shirts, as dark base colors don't work as well because the dyes completely integrate with the fibers of the material.
The screen printing process and DTG printing can't be used for all-over printing, so you can be more creative with the dye sublimation method in your t-shirt business.
Direct-to-Film Printing (DTF)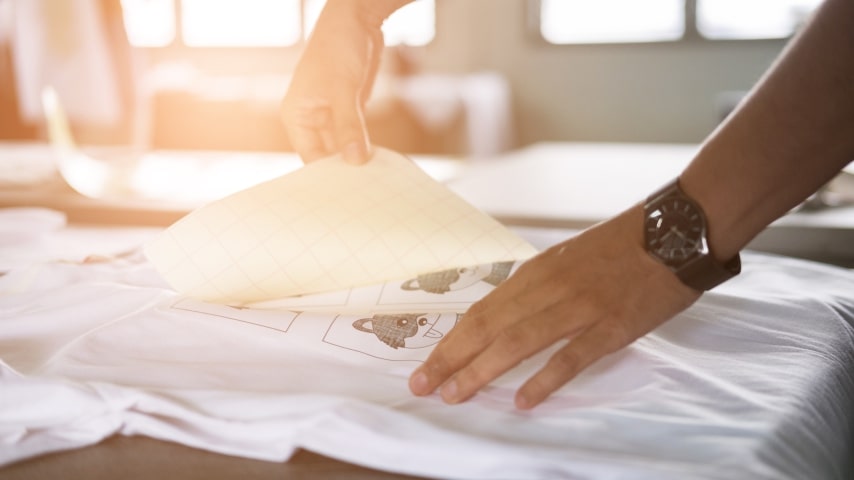 Direct-to-film printing, or DTF, is one of the best t-shirt printing techniques and involves printing designs onto a special PET film (Polyethylene Terephthalate) and then transferring them to a t-shirt using adhesive powder and heat. 
As opposed to DTG printing, DTF doesn't require pre-treatment of the garment, as the design is pre-printed onto a film.
This heat transfer method can be used on any type of fabric. Create polyester t-shirts or cotton t-shirts – the result is equally good. 
However, in DTG the design and inks are incorporated into the fabric. With the DTF method, the fixing powder renders the design plasticky and shiny. Because the colors do not interfere with the base color of the t-shirt, it gives a more vibrant end result.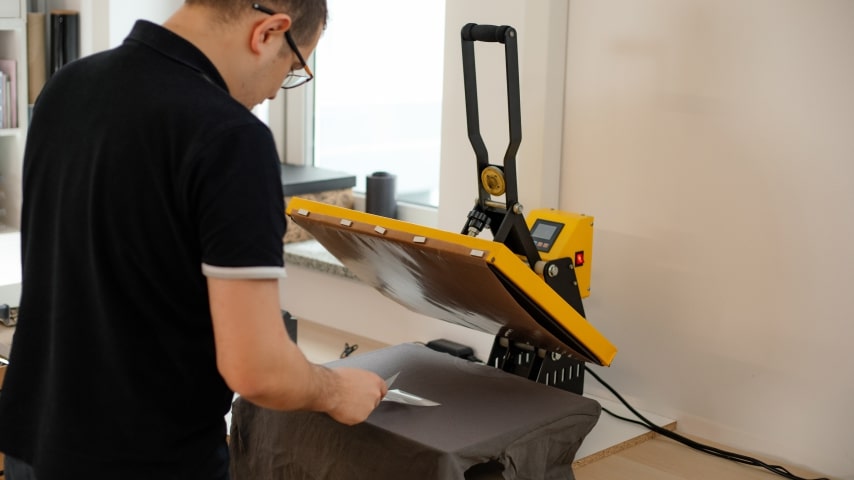 In the list of heat press printing, we need to mention plastisol transfers. This is a type of indirect screen printing – the methods are a bit similar, but instead of printing directly on the t-shirt, the design is first put on heat transfer paper. 
Plastisol heat press printing can be applied to a range of fabrics, not just cotton or polyester – neoprene and some nylons will also work.
Plastisol transfers are a widespread alternative to silkscreen printing and other printing methods, as it's cheaper for lower product quantities. 
The first step in this heat transfer method is placing the plastisol transfer paper under a screen on a printing machine. Sand-like grain is then distributed across the paper to prevent the design from blurring.
The plastisol ink is printed directly onto the plastisol paper, then aligned with the t-shirt on the heat press machine, which is used to transfer the design from the paper to the t-shirt.
Thanks to the parchment paper used in the process, it's also possible to achieve special effects, such as a glossy or textured finish.
CAD Heat Transfer Vinyl Printing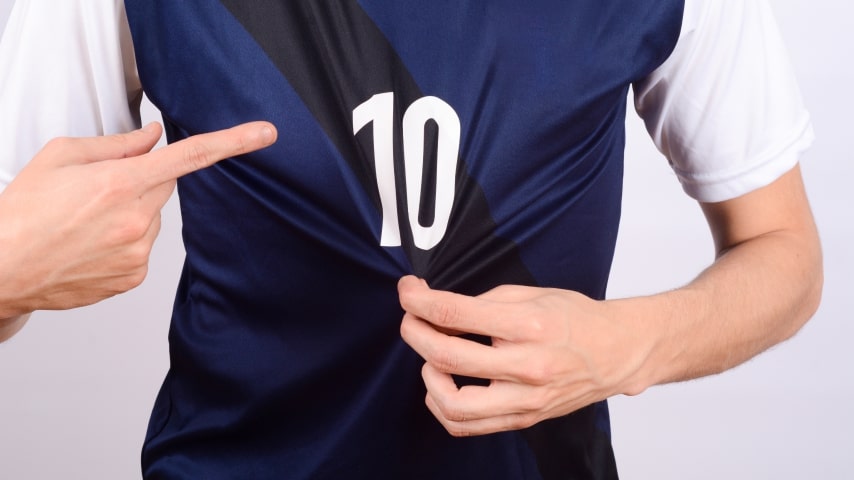 Computer-Aided Design or CAD heat transfer vinyl printing is mostly used for printing the player numbers, names, and logos on athletic team t-shirts or jerseys, requiring a very precise cutting of the material.
A machine cuts out CAD designs on pieces of colored heat transfer vinyl which are then put onto the t-shirt with a heat press.
As with most other types of shirt printing techniques, this requires special equipment – a CAD cutting machine for precise lettering. This t-shirt printing method gives a rather stiff result because of the vinyl used in the process.
Other Printing Techniques
Besides DTG and heat press printing, there are other types of shirt printing that you can use to apply your t-shirt designs onto a garment. With these methods, you can achieve slightly different products for your t-shirt business.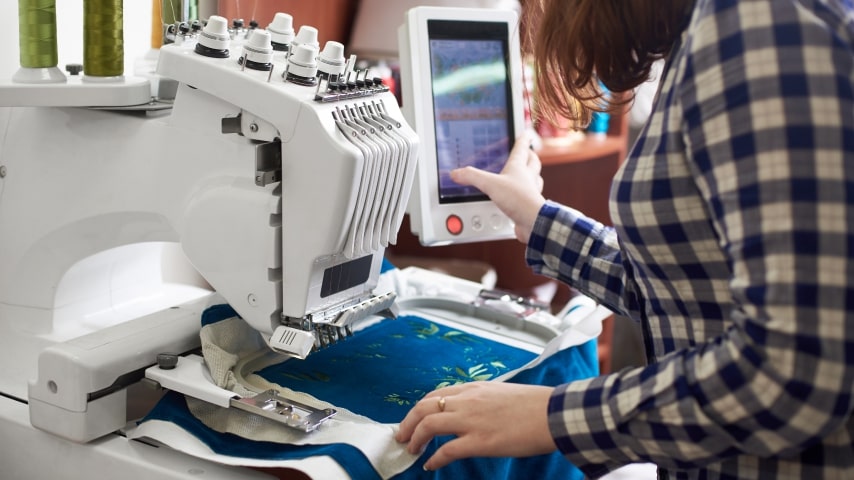 Embroidery is a great way to add a bit of intricacy to your t-shirts. Embroidered logos look more sophisticated than what the vinyl printing method can achieve.
When you want to create a t-shirt design using embroidery, you need to follow strict design requirements, as the designs are made with a sewing machine, not a printer. The color variations are limited, as is the print area. However, embroidery will last longer than any other printing method.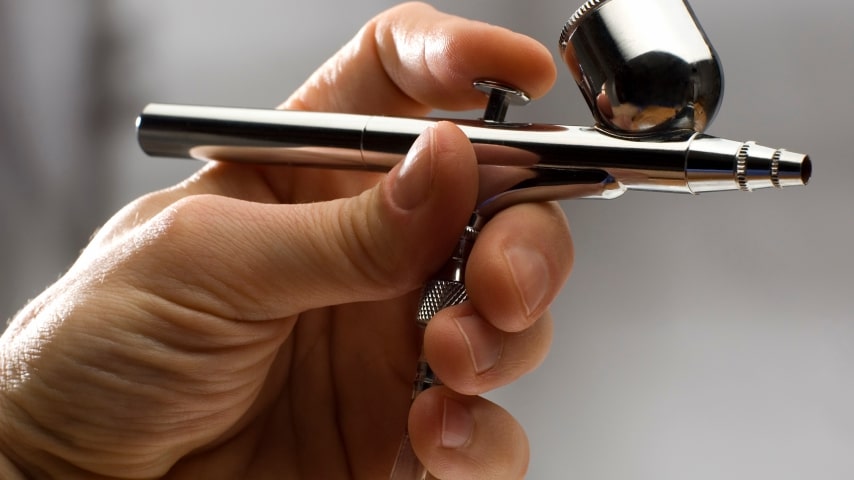 This is very different from all the other t-shirt printing methods mentioned above, as it does not require any transfer paper like sublimation printing or any other heat press technique. Actually, it does not require any DTG printers or other machines at all. Airbrushing is completely manual work done by hand.
This t-shirt design technique is preferred by hobbyists as it gives plenty of room for experimenting. Keep in mind that the outcome heavily depends on your skill level and how steady your hand is.
Airbrushing or spray-painting t-shirts is considered pretty messy and requires a well-ventilated room. But other than that, all you need is a stencil of what you want on your t-shirt and securing it safely onto the garment. Then you spray until it's ready.
Which T-Shirt Printing Methods Should You Choose?
When it comes to printing t-shirts, you have many options for creating beautiful products. If the types of shirt printing above seem a bit overwhelming, we're going to help you out.
It all comes down to whether you want to print complex designs, invest in a DTG printer, or trust the process to a printing company like Printify to handle your heat press or DTG ideas from A to Z.
Also consider what types of designs you have in mind: a small logo, large designs or an intricate print
Let's compare them all:
| | Quality | Print Area | Design Options | Durability | Time | Volume | Cost |
| --- | --- | --- | --- | --- | --- | --- | --- |
| DTG | High | Medium | Many | High | Fast | High | Medium |
| Screen Printing | High | Medium | Medium | High | Fast | High | High |
| Dye Sublimation | High | Large | Many | High | Medium | High | High |
| DTF | High | Medium | Medium | High | Fast | Medium | High |
| Plastisol Transfers | High | Large | Medium | Medium | Medium | Varies | Medium |
| Vinyl Printing | High | Large | Limited | High | Varies | Medium | Low |
| Embroidery | High | Small | Limited | High | Medium | High | High |
| Airbrushing | Varies | Large | Many | Low | Varies | Low | Low |
DTG
Quality
High
Print Area
Medium
Design Options
Many
Durability
High
Time
Fast
Volume
High
Cost
Medium
Screen Printing
Quality
High
Print Area
Medium
Design Options
Medium
Durability
High
Time
Fast
Volume
High
Cost
High
Dye Sublimation
Quality
High
Print Area
Large
Design Options
Many
Durability
High
Time
Medium
Volume
High
Cost
High
DTF
Quality
High
Print Area
Medium
Design Options
Medium
Durability
High
Time
Fast
Volume
Medium
Cost
High
Plastisol Transfers
Quality
High
Print Area
Large
Design Options
Medium
Durability
Medium
Time
Medium
Volume
Varies
Cost
Medium
Vinyl Printing
Quality
High
Print Area
Large
Design Options
Limited
Durability
High
Time
Varies
Volume
Medium
Cost
Low
Embroidery
Quality
High
Print Area
Small
Design Options
Limited
Durability
High
Time
Medium
Volume
High
Cost
High
Airbrushing
Quality
Varies
Print Area
Large
Design Options
Many
Durability
Low
Time
Varies
Volume
Low
Cost
Low
Use Multiple Types of Shirt Printing with Printify
If you don't feel like investing in any sort of equipment for your t-shirt printing business or getting your hands dirty while figuring things out, there is a neat and cost-effective way to do it without lifting a finger. Printify was created to help you effortlessly design and sell t-shirts.
Printify is a print-on-demand dropshipping company that specializes in t-shirt printing and offers over 900 other custom products for you to design and sell online for a profit.
What Types of Printing Methods Are Available with Printify?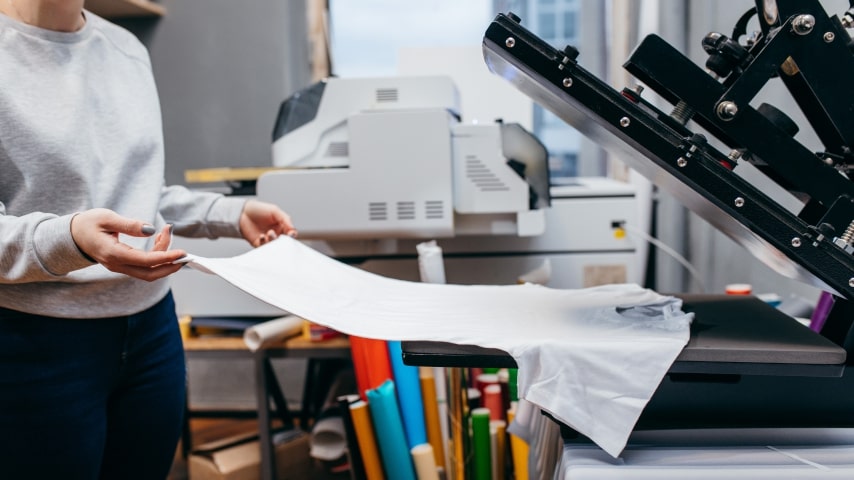 Currently, Printify offers the following printing methods for dropshipping products:
Direct-to-Garment printing or DTG

Dye sublimation printing or

AOP

Direct-to-Film printing
Print-on-demand is a particular order fulfillment method where a product is only printed after the customer pays for it. This is amazing for a couple of reasons.
First, there are no unsold items, as the products – as the name suggests – are printed on demand. 
Second – designers and merchants like you do not need to maintain stock. 
And third, you don't need to stress about anything that transpires after making a sale. The entire process, from printing your t-shirts to packaging and shipping and even customer support, is entirely done by Printify and its printing partners around the world.
Printify offers easy integration with the most well-known eCommerce platforms and marketplaces like Etsy, Shopify, Walmart, WooCommerce, PrestaShop, and others.
Printify is here not only to help you to open an online store; anyone can create custom t-shirts, as they do not have a minimum order quantity. 
You read that right. Even if you want to create a single shirt for yourself or a couple of shirts for your bridal party or other special events, you can at no added cost. 
You can also print products using multiple print providers in different locations, combining different printing methods and print areas. And again, with no minimum order.
How To Create T-Shirts With Printify
We hope this guide helped you to make some sense out of all types of shirt printing methods. 
Maybe you're so inspired you're now thinking of starting your own clothing line. Because with print-on-demand, it's so easy and rewarding.
The world of t-shirt printing is full of options, as there are so many various techniques for designing your t-shirts. Opt for heat press for products like sublimation t-shirts, or choose a heat transfer vinyl application for creating sports team t-shirts – it all depends on your wants and needs.
Invest in equipment for that gratifying feeling of creating t-shirts yourself or trust your business to Printify, who can do everything for you. The choice is yours.
Now that you've learned what is what, start drawing up some sketches, thinking of your brand name, and design away!
Share the article
Topics