All-Over-Print or AOP is a garment printing technique that covers one entire side of the garment.
​​The newest trend to hit the world of print-on-demand apparel is All-Over-Print (AOP). It is not like regular printing and takes into account all parts of a given garment. Let us explain the technique in detail and give you some tips and tricks to ace your first AOP design.
All-Over-Print or AOP is a garment printing technique that covers one entire side of the garment. For example, a shirt is printed with screens of 40"x36". This size is as big as the front shield window of a truck.
One way to know if a garment was All-Over-Printed is by checking the seams, hem, and places like the zipper. You won't see this in regular garment printing. If the hem or interior of the garment looks printed, it means that the garment was printed before it was sewn. This is the result of the traditional All-Over-Printing technique.
How Is All-Over-Print Done?
All-Over-Printing appears flawless across the garment, which is impressive. Designers create a seamless look in All-Over-Print to give an illusion that the print is larger than the canvas. Designers take caution to include space for bleed in their work, which leads to flawless results.
Bleed in design is the negative space that goes beyond the planned design of a garment. When doing All-Over-Print, you trim the design but do not touch the bleed, so it acts like a safety net. The final product looks just as planned, and any mishap is covered in printing by the bleed.
To ensure that the final design covers the entire garment as planned, designers put 2-5mm space on each side. So if the graphic extends into this 'bleed zone,' there won't be a white space that becomes quite an eyesore. When you cut the design to the required dimensions, the inner area becomes the 'trim zone.'
What Products Does AOP Have?
All-Over-Print can be used on a wide range of products, including socks, leggings, to-shorts, and more. Those selling POD clothing are most likely to use this printing method.
What Is the Difference Between AOP and DTG Printing Methods?
With AOP, you're not limited to specific print areas. You can print the entire product surface – the reason why repetitive patterns work well for All-Over-Print items.
Another difference is that AOP relies on synthetic materials such as polyester due to the demands of the printing technique. DTG products, on the other hand, mostly feature cotton-based fabrics. If we speak about garments, they're cut & sewn in most instances. In other words, the design is first placed on the fabric, after which the printed fabric is used to create the garment.  
It's worth mentioning that dark colors, especially those with a background, should be avoided because the printing happens over a white material. If you don't want the items to show white lines through your visual patterns, go with lighter shades.
All-Over-Print offers the following benefits:
Why is All-Over-Print Specialized?
Here is why All-Over-Print is a specialized technique: 
When to Avoid All-Over-Print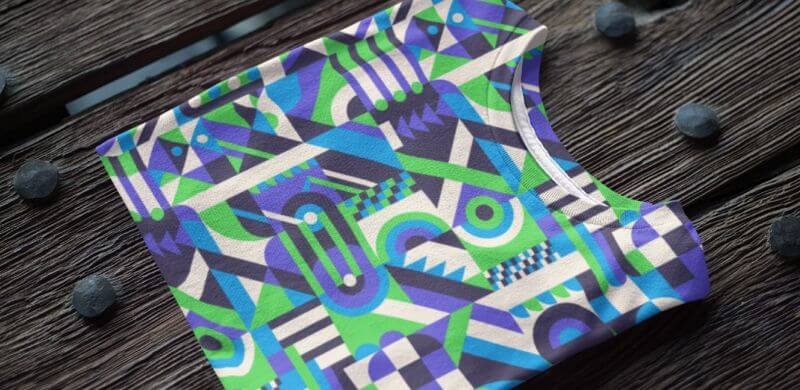 All-Over-Printing is done in several ways, but we will discuss the most popular AOP techniques, namely:
Large-scale screen

Sublimation printing
This is like regular screen printing but enough to consume a garment of XL size with a huge screen. It's a popular technique that is done by hand or by using an industrial belt screen-printer.
Working with a print-on-demand partner makes your life easy in this line of work. Once you receive an order, it can go straight to your print partner through automation. Print partners will also pack and ship your order to the customer. 
Sublimation or dye printing is a computer printing technique that uses heat to transfer a dye to the product. A heat press transfers the design where the dye turns into a gas and absorbs into the fiber. This means that the dye becomes part of the fabric and ends up looking great!
Tips and Tricks for All-Over-Printing
You must be looking for some insider secrets to deliver the best results to your customers. Here are some lesser-known tricks that always work in the world of All-Over-Print:
1. Prioritize High-Resolution
Always use high-resolution artwork in your designs. This is non-negotiable because a good design builds the foundation of a good print. If your file has a high resolution, half of your worries will vanish.
2. Expanding Beyond the Bleed
For sizes larger than XL, make sure the bleed area covers enough space to accommodate print. You can end up with white space in larger-sized garments if the bleed is not customized. 
3. Always Preview Before Launch
The preview button is your best friend. Make sure that you always preview the designs before moving onto the next step, as it clears any last-minute confusion. 
4. Minimize White Streaks
During sublimation, the print might not reach areas like under armpits, which leads to white streaks. The trick here is to work with light backgrounds to minimize the impact of a possible white streak. 
Sun-activated, glow-in-the-dark, and temperature-activated inks give a dynamic All-Over-Print result. These inks can change standard designs into larger-than-life artwork. 
All-Over-Print Apparel Ideas
When it comes to custom AOP designs, you've got a range of options. You could start with big and bold designs, utilizing the vast printing area of shirts or All-Over-Print hoodies. Experiment with logos, quotes, and other elements. Print a vast image of outer space, ocean, or anything that expresses some type of continuity. These ideas look immensely cool and pop out on an All-Over-Print shirt.
 Want to play it safe? Florals and stripes have got your back. These designs are always in demand and can even be used for men's clothing. Trust us; nothing says I'm confident more than a man donning a floral pattern on his printed shirt. You could even go retro by printing images of childhood characters.
Pricing Your All-Over-Print Products
The best way to price your AOP item is to see what similar products are selling for on a marketplace. You could check out Amazon or Etsy – both platforms have best-seller sections for all-over-print shirts. Consider pricing just a tad bit less than the ongoing retail price to encourage customers to make a purchase.
Is All-Over-Print Fault-Free?
Although All-Over-Print has opened up a wide range of possibilities, it's still a new technique, and hence faults tend to occur. A common fault is any wrinkle or crease the product might have gotten during the printing process will leave a prominent white spot and mess up the print. Hence, the individual performing the printing procedure should adopt caution and ensure the shirt is fully flat during the process. Otherwise, it's going to be a waste of time, effort, and ink.
We learned about All-Over-Print, why it is the right choice for you and how to get started on this catchy trend. There are obvious advantages and disadvantages of using this technique. You can come up with the best product with the help of a great design team and top-notch production quality. All-Over-Printing gives you the freedom to create something timeless.