What Is Sublimation Printing?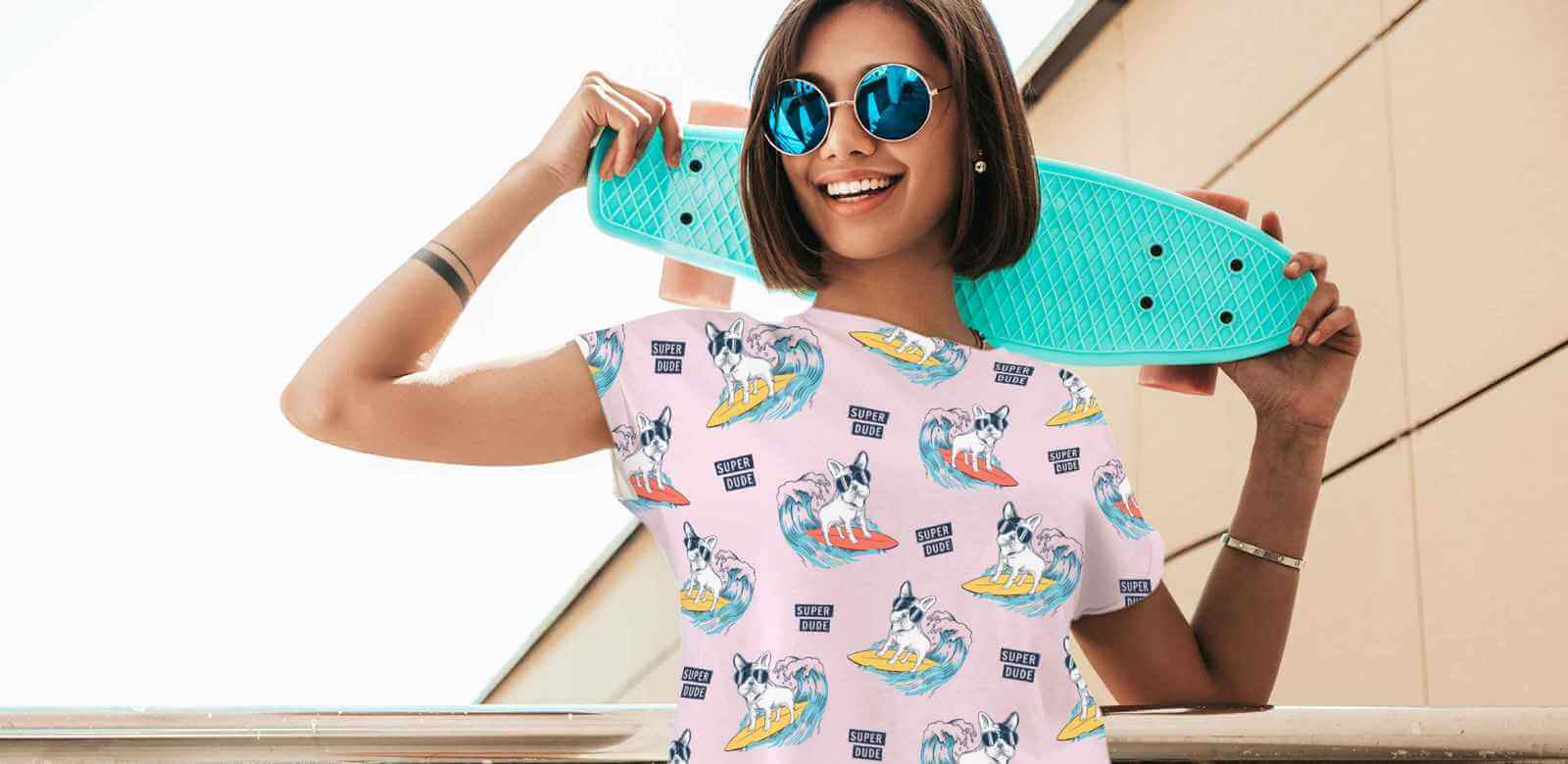 If you've been around the block, you've probably heard of the term sublimation printing or all-over-print (AOP). This article will tell you more about this sublime technique that helps create unique pieces of clothing, accessories, and even custom drinkware that you can add to your eCommerce store. Hint: customers love them!
If you're new to the print on demand (POD) dropshipping world, there are a couple of different printing techniques. But let's talk about the most eye-catching of them all: sublimation printing. Otherwise known as all over print, sublimation printing is a design process where inks are transferred onto the product using heat. 
If you're looking for long-lasting POD products that feature distinct colors and high-resolution quality, keep an eye out for AOP clothing in the Printify catalog. The process is applied to achieve that vibrant, all-over, everlasting graphics on apparel and home décor.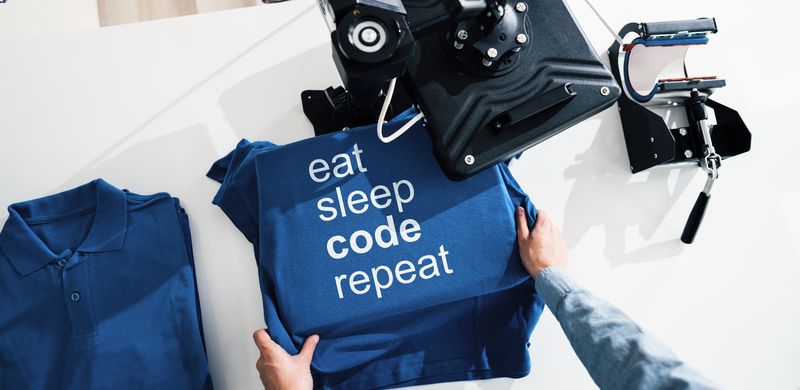 In short, here's the whole sublimation printing process:
Artwork is printed with sublimation ink onto sublimation paper

The blank item is then placed onto a jig

The garment is wrapped in the desired design

Then it's pressed in a heat press

Et voila!
How Does Sublimation Printing Work?
Sublimation printing uses heat to fuse ink and surface material or fabric, depending on the case. The inks used in the sublimation process turn into gas when brought under heat, then combine with the textile and permanently imprint onto the fabric. The result is permanent and significantly less prone to fading, as the ink penetrates the material instead of simply laying on top like a regular print.
Think of sublimation printing almost like tattooing where fabric is used instead of skin. Then, instead of pores, there are fibers that open up under the heat. There the ink cools while pressure is applied, transitioning back to a solid, secure form.
Fact: The sublimation printing method allows for long-lasting designs – the images won't crack or wear even after dozens of uses.
This quick, effective print method is constantly gaining popularity, especially for designs that rely on nuances. Sublimation printing, or 'all over printing' (or AOP – these two terms are interchangeable, so don't get confused if you see one or the other), allows you to play around with designs that cover the entire blank product from seam to seam.
What About Sublimation Shirt Printing?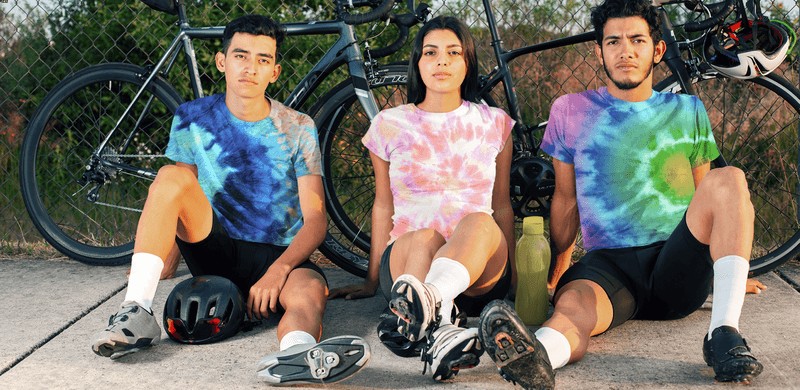 When it comes to sublimation t-shirt printing, the artwork is first printed onto a special sheet of paper. That image is then transferred onto another material, like polyester or a polyester mix, and the ink then gets heated until it literally disintegrates into the material. The process of sublimation shirt printing may cost more than other methods (screen printing) but it lasts longer and won't crack or peel over time. And did we mention it looks way cooler?
The Pros and Cons of Sublimation Printing
The most exciting upside for this method is purely the freedom you have with your designs, which is not always possible with other printing methods or embroidery. With sublimation printing, you can go bonkers – a shirt that's covered seam to seam in hotdogs? Knock yourself out. AOP socks that look like blocks of cheese? I want a pair of brie, I mean three. A gorgeous galaxy print leggings? You betcha!
Of course, you can also keep it classy with prints of cloudy skies, grass, cupcakes, landscapes, etc. The possibilities are endless, which will keep you (and your customers) coming back for more.
The longevity of sublimation print is another positive aspect here – a design that won't crack, peel or fade even after countless wash cycles.
Sublimation printing is fit for small batch orders, seam to seam patterns, and garments with many design variations and applications.
The cons lay mainly in the choice of materials. Sublimation printing isn't available for natural fibers like cotton or silk – it's only suitable for garments that include pure polyester or polyester blend. Although you could use cotton, the image won't be permanent, plus cotton fibers are way more absorbent, and the outcome simply won't be pretty. And silk would just get damaged in the process as it is not heat resistant at all.
If you're lusting after a distressed or vintage look, simply look for apparel items with a lower percentage of polyester. For your convenience, we have a whole section of AOP apparel in our catalog + many a home decor and drinkware items. 
Another potential issue to watch out for is white creasing. Sublimation printing is only available on white blank products, and if there are areas of the garment that are left uncovered or simply out of reach (like the area around the seams, for example), they'll remain white. This can occur by accidental folding, or when minuscule droplets of moisture accumulate on the transfer paper. This is not a huge dealbreaker, but you should definitely be aware of this.
Other than material that can be used for sublimation printing, one of the core limitations is the color of the blank items. Because sublimation printing is a dye process, you get the best results when the fabrics are either white or light-colored (that's why in the Printify catalog, you will only find white blanks).
Is There White Ink in Sublimation Printing?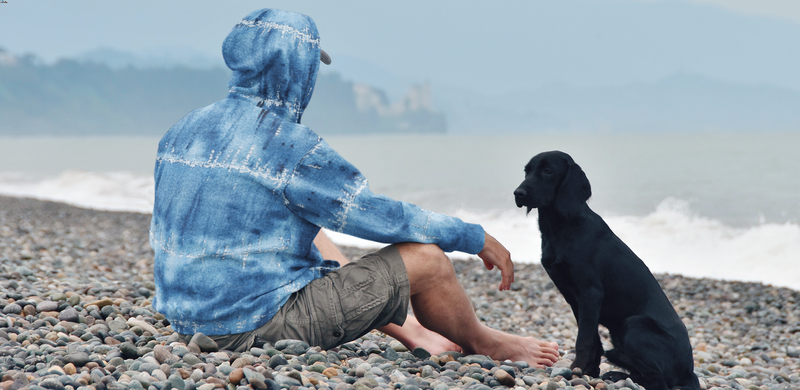 Unfortunately, no. And this would add to the cons list. Sublimation employs a CMYK color scheme; thus, no combination of any base color ink can create the color white. You can print onto lighter color or ideally white materials, but this will not work with sublimation if any of your designs have white within them.
What Are the Best-Selling AOP Products?
Designs That Work Well With Sublimation Printing
Sublimation printing works especially well with dramatic, whimsical, and almost, dare we say it – ridiculous designs. I can neither confirm nor deny that the author of these lines owns leggings with dozens of bratwursts printed on 'em.
What Sublimation Products Does Printify Offer?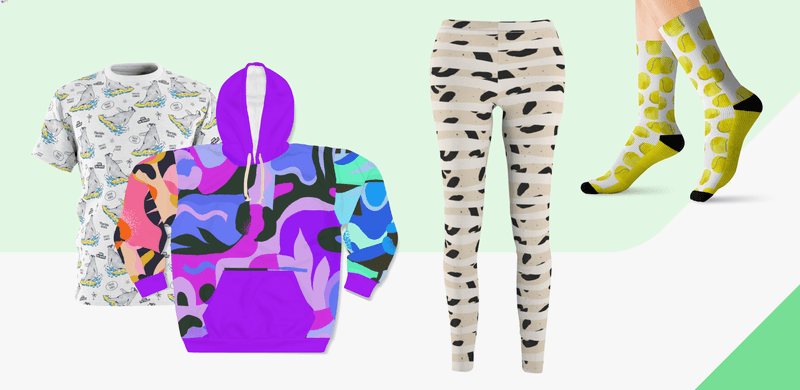 In the Printify catalog, you'll find blank all-over-print goodies for every need: we offer leggings, t-shirts, hoodies and jackets, socks, custom underwear, custom swimsuits, bags, and even countless home decor items – mugs, cushion covers, and so much more – you'll simply have to visit the catalog and see for yourself.
What Makes Printify the Best Sublimation Printing Provider?
It's simple – working with us is a walk in the park. Printify is free, foolproof, and oh so lucrative. Besides the vast catalog of 300+ printable items and a network of 90+ highly-rated print providers from all around the globe, Printify provides you with tools that help you sell more:
Now that you know a little bit more about this sublime printing technique, it's time to get your hands dirty. Figuratively, of course, since Printify does everything after you've come up with some designs to offer to customers. 
So, if you haven't already, set up your online store, connect it to Printify and let there be fun. Fun, you might ask? Yes, because Printify's Mockup Generator is super easy and fun to use, especially with all-over-print products. So, go ahead, start creating beautiful continuous designs that cover your high-quality blanks from edge to edge and seam to shining seam.
Start Your Business Today!
Share the article
Topics