100+ Funny T-Shirt Sayings Worth Clicking on in 2023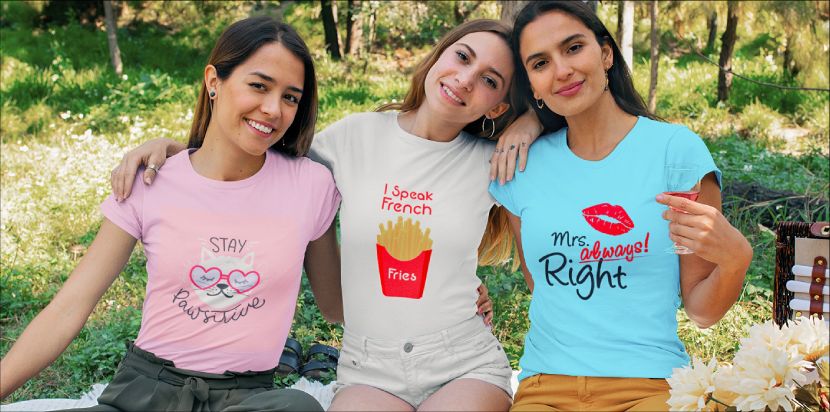 Funny t-shirt sayings are profoundly popular – and profitable. As such, this is an (attempted) comedy page to help you generate some ideas. Along the way, it's possible that we hurt some feelings. Hopefully, though, it'll be all of us laughing at some funny t-shirt sayings.
We all enjoy poking fun at weak, vulnerable, or momentarily disadvantaged aspects of reality – or each other. But the point is: funny t-shirt sayings have serious passive income potential – particularly during sales peaks like Christmas.
Now, let's talk about monetizing the phenomenon of written comedy.
So, Do You Have Some Funny T-Shirt Sayings Ready?
We're assuming you've got some at this point. But, "funny" comes across differently for different people – and when it's read rather than spoken. Some people think they're hilarious until they get on stage and grab a mic. 
Fortunately, you've got nothing to lose – this is free to try. You've got the opportunity to go create something without having to worry about investment. So, get to it; go create make one of the next great "Sh*t Happens" funny t-shirt sayings. 
Or, stick around and see a few of our ideas; get the grey matter working.
If you think these jokes suck, feel free to do better.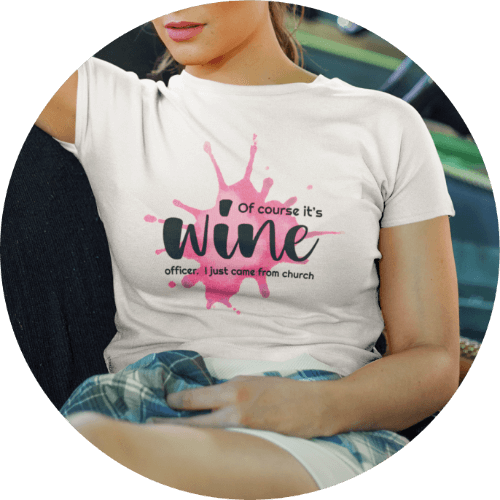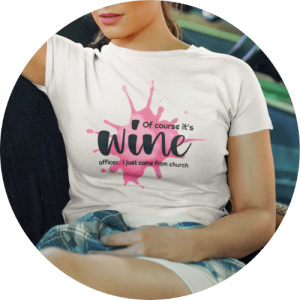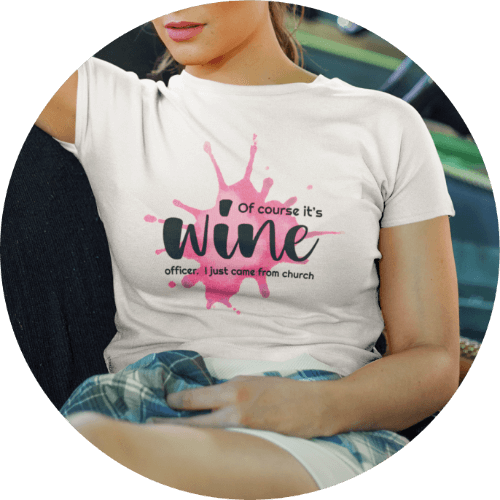 A lot of people drink. And, things are funnier when you drink – that's why comedians prefer the audience to imbibe before/during stand-up shows. As for funny t-shirt sayings about alcohol, they almost write themselves. 
A large percentage of the population has a beverage they prefer crawling into after a difficult day. And during those thoughtful moments staring over a half-empty bottle – or jar, plastic bag, or even a shoe – some funny t-shirt ideas can appear.
Of course it's wine, officer. I just came from church. 

Not enough cheese for all your wine.

To Wine, or not to Wine. Yes, to Wine. 

A good man is like a good wine – locked in a basement until it's mature.

The Grape Depression.

Are we drinking tonight? A) yes. B) A. C) B.

I feel (fill in the blank) I need some wine. 

Albert-Wine-Stein

I'm full of wine. You're full of crap.

"Wine can of their wits the wise beguile, make the sage frolic, and the serious smile" – Homer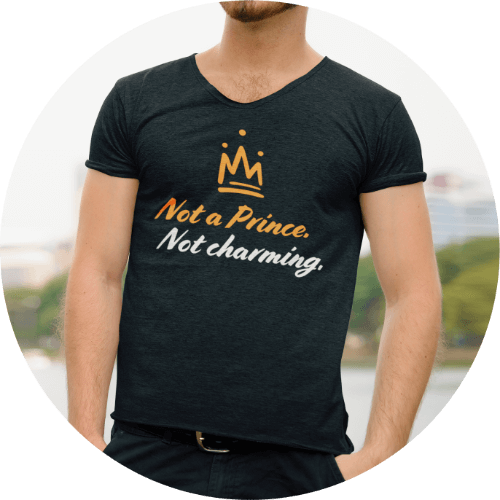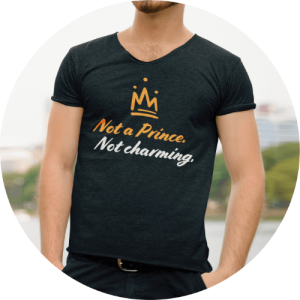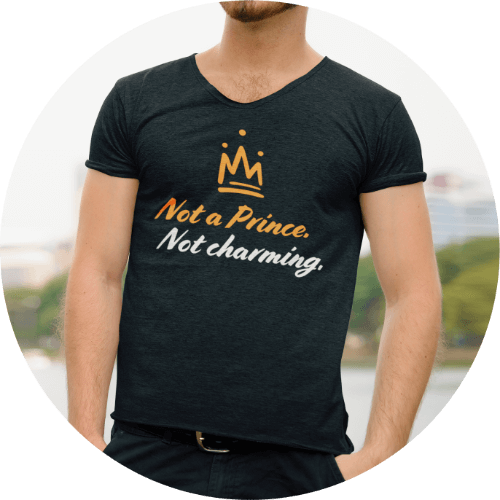 For those that dislike… everything – even funny custom t-shirts. And rightfully so. Just about everyone has had a few thoughts pertaining to running away from all the human-related problems of the world. These sentiments are popular because, hey, we're all over it sometimes. 
If your funny t-shirt sayings can make one of these cynical quacks crack a smile, they might also crack open their wallets.
You. Offend. Me
Not a Prince. Not Charming.
Don't talk to me. Ever.
I can see you. That's a problem.
If you're reading this, stop. 
Put your eyes on something that cares.
Why aren't you bowing?
Unamused. Do better.
Go away… Faster.
Sorry I'm late, I didn't want to come
Sorry, I'm not good at people-ing
NOPE. Not today.
Mr. Always right
Allergic to people
I can. But I won't.
No. Thanks.
Hang on. Let me overthink this.
IRONY. The opposite of wrinkly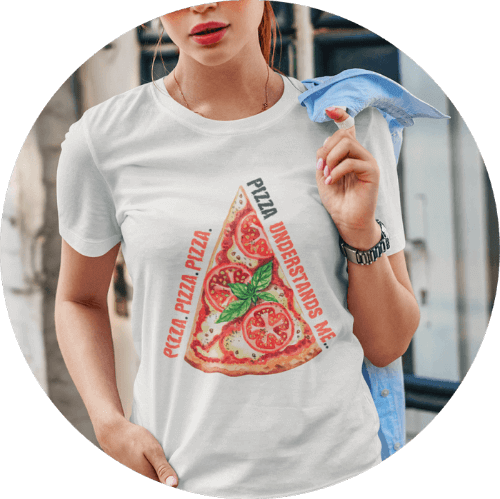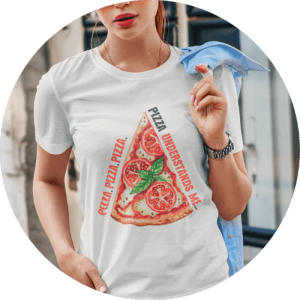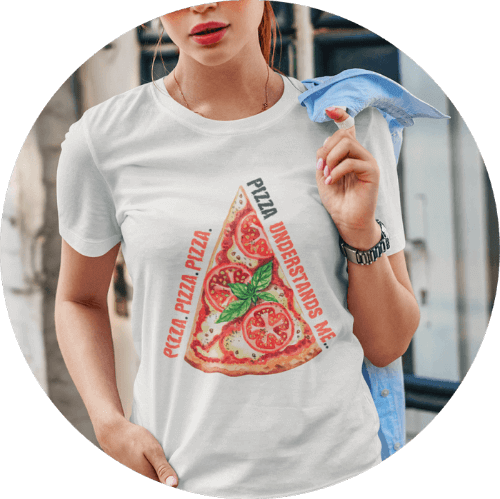 Food can be a touchy matter. Well, rather those who have special considerations relative to the subject. We all eat, some better than others. For example, those magnificent athletes at hotdog eating competitions – low hanging fruit, there. Moving on, let's roll through a few calorie-dense funny t-shirt sayings like a flaming wheel of cheese.
Bigger is better. And I'm bigger than you.
I could eat you, or you could leave. 
Put it in my mouth.
Be afraid, or feed me.
Don't bother me while I'm eating.
Not a fan of sharing.
5 rules for life: Do. Not. Touch. My. Food.
With imagination, everything you see is edible.
BBQ Sauce Boss
Will engage in conversation for candy.
I'm here just for the FOOD
Pizza. Pizza understands me.
There's too much bacon, said no one. Ever.
Make nachos not war
All I care about is tacos and like 3 people
I speak French (fries)
WTF. Where's the food.
Eating spaghetti to forgetti my regretti
Hangry.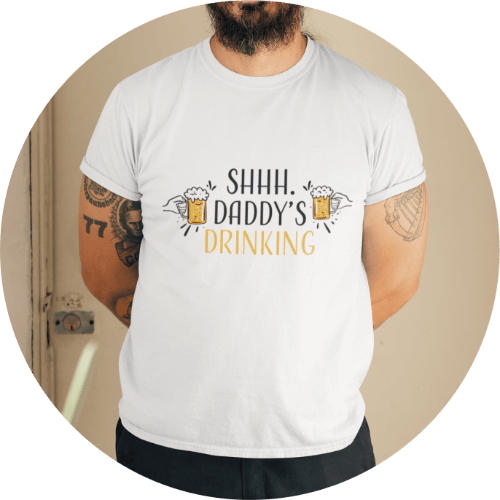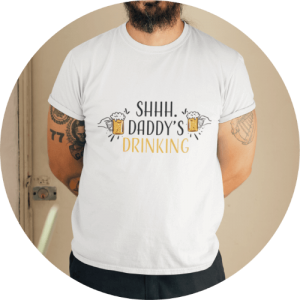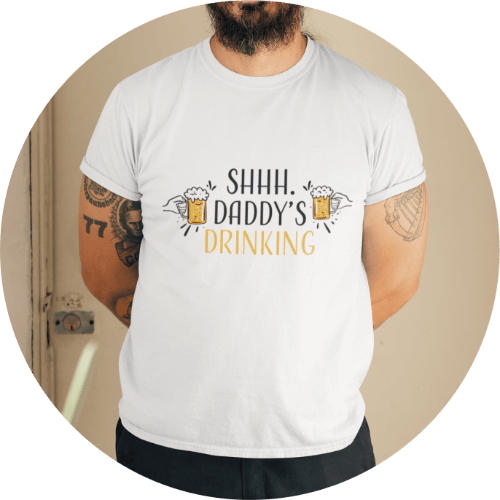 No one fights quite like a family. We all have some truly unique insights into the grittiness of social interaction. Brothers, sisters, moms, grandmas, and aunties; everyone does weird, joke-worthy things. And all those idiosyncrasies that compose our individual personalities are perfect cannon fodder when a bit of perspective is directed. So, strap in and prepare to roast those you love you most with some funny t-shirt sayings custom-built to torch them.
Shhh. Daddy's drinking.
These are my kids. I'm pretty sure. 
My brother still wets the bed
Mom's favorite.
Like my sister, but better.
When you're not here, you're not family.
I'd rather be golfing.
I'd rather spend time at work than be with my family.
I'd rather be with my family than go to work. Kidding.
These are sort of my children. 
Some moms cuss too much. It's me. I'm some moms.
Mama in the making
Papa. The Man. The Myth. The Legend.
Mark your children: The original / The remake / The encore / The mic drop
You can't scare me, I have three kids
It's not a dad bod. It's a father figure.
Matching shirts for parents and kids: (CTRL + C), (CTRL + V)
Love them. Spoil them. Give them back. #grandmalife
If you met my family you would understand
Create Your Own Merch for Free!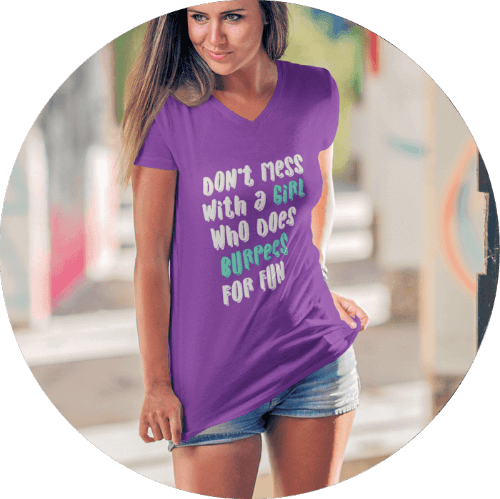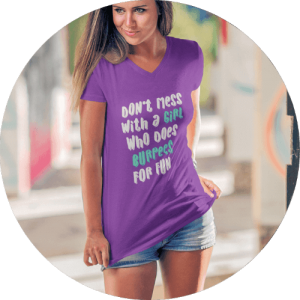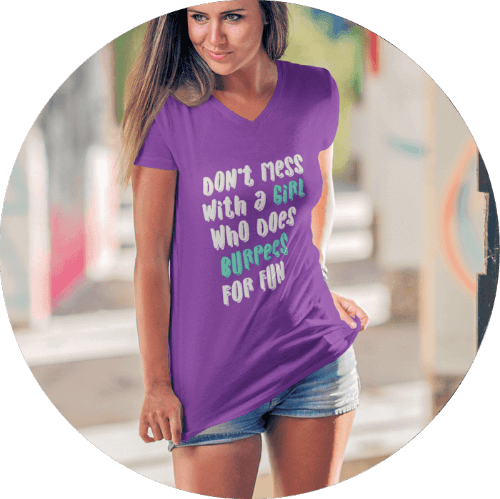 If you got picked last in dodgeball, now it's your turn – to make fun of the last pick in dodgeball. For real, though, what's better than ripping on someone that throws a baseball with a limp wrist? And before you go thinking this is a "throws like a girl" rip, go watch some softball and educate yourself. 
Moving on, it's perfectly acceptable – within the occasionally uncomfortable gauntlet that is sports – to blast just about anything. It's part of the game. After all, as the great Tom Hanks famously said, "There's no crying in baseball." Thank goodness we have funny sports t-shirts to keep humanity from evolving into a more cerebral culture.
My daughter could kick your ass.
Haha, this guy can't wrestle.
Your sport is not a sport. 
I throw Hammer. Ask your daughter.
Harder to kill than you.
Sweat is fat crying
I just hope both teams have fun
Classy, until tipoff
I'm not slow, I'm just not fast
Hockey is my favorite season
Don't mess with a girl who does burpees for fun 
Does running late count as an exercise?
Resting burpee face
GYM? Did you mean gin?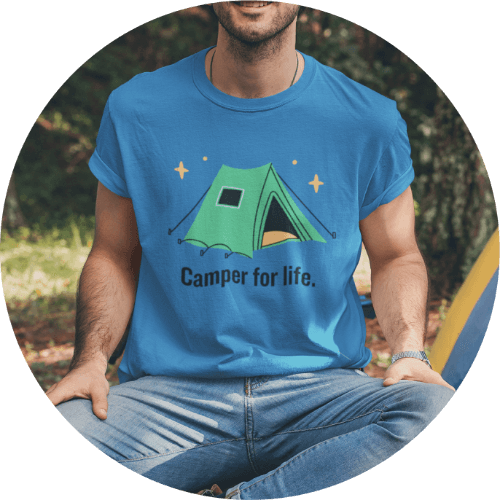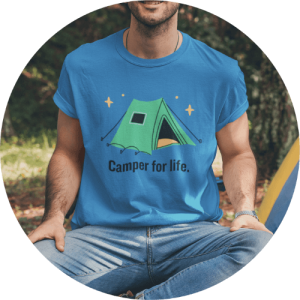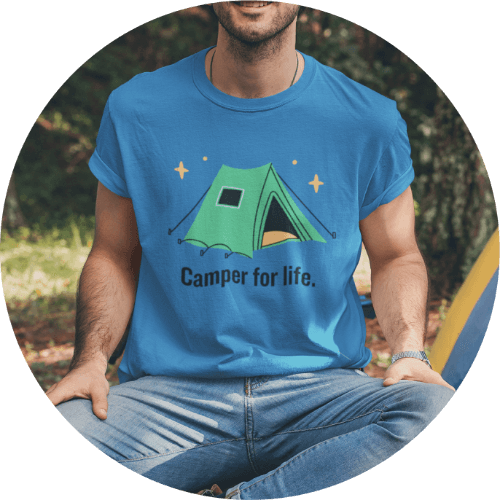 Have you ever played games before? Depending on the administrator, a given server can be the most offensive, disagreeable, and ultimately free ranges of personal expression in modern times. With a sufficient degree of latitude, it's often easier to piss gamers off with words more than no-scope headshoting their spawn zone. Indeed, the pen can be mightier than the sword when it comes to psyching out these virtual opponents – maybe with some trolling funny t-shirt sayings?
Camper for life. 
If you're an influencer, I'm an assassin.
I'd like to play a game.
Your mom's wifi is fast, kid. I'm gonna be here a while.
Can you speed this up? I'm trying to finish a game.
I don't need a life – I'm a gamer – I've got lots of lives
I went outside once. The graphics were not so good.
I paused my game to be here
My game is paused – talk fast or feed me pizza
I leveled up, to dad!
No Mom. I can't pause an online game.
Gamer Mode ON
I don't always play video games …oh, wait, yes I do.
Eat. Sleep. Game. Repeat.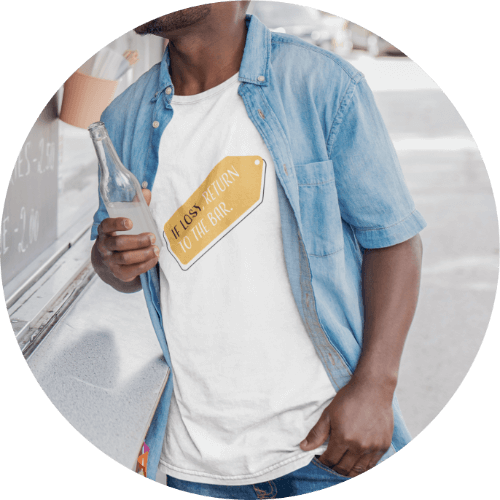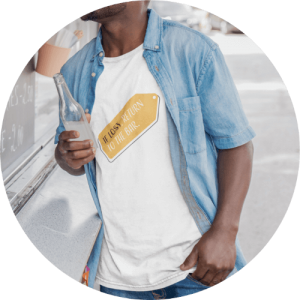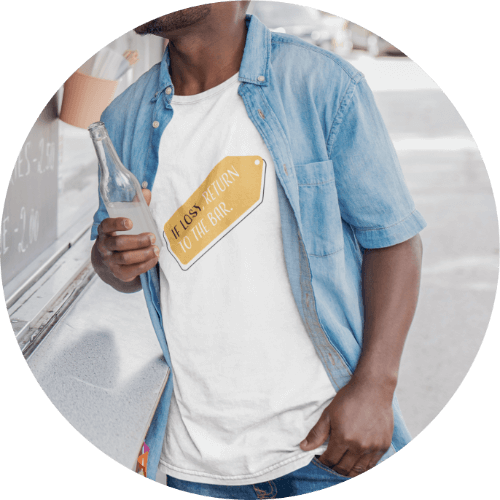 Let's face it, no one is expecting the best of behavior from tourists during their vacations. It's literally the time to cut loose; to blow off the year's steam. So, drop your best funny sayings into the text editor and storm some beaches.
If lost, return to bar. 
I didn't come here to talk to you.
If you can read this, fill my drink.
This guy likes to party.
No losers in drinking games; you win or drink.
I want a ticket to anywhere.
Tanned and tipsy.
Vacay mode ON!
Adios beaches.
Drinking coordinator.
On vacation until further notice.
Road trippin'
Oh, Hey, Vacay!
The beach is my happy place.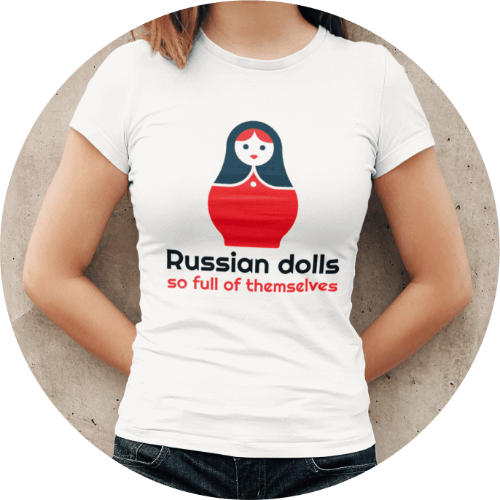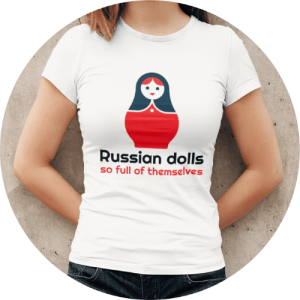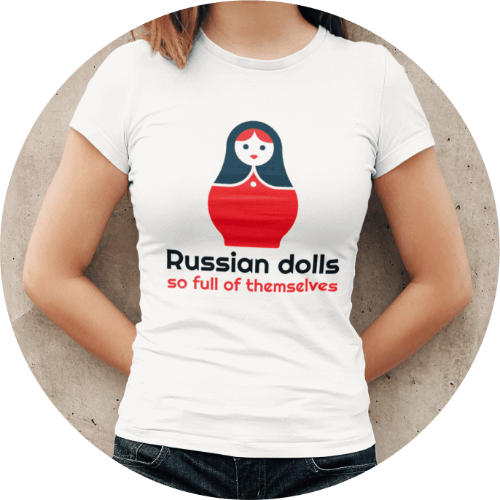 For those seeking some cringe-worthy dad jokes, welcome to the world of circular logic, hyperbole, and (somewhat) smart-ass perspective distortions. Simply take a word concept, phrase, whatever, and spin-off in a random or direction with it. On the other hand, some puns rely on a visual to make them work. As you can see in the animal bits below – they'd be much better off with some supporting material.
Cannibalism: An all-vegan diet.
Russian dolls – so full of themselves
Smoking is for quitters.
Here's a tense situation: Past, present, and future all meet in a bar. 
Computer jokes aren't funny. Not one bit. 
I tried to start exercising, but it's not working out.
Bear-ly awake.
Everything whale be ok.
Stay pawsitive.
Like no otter.
Just dill with it.
Purranormal.
Stop stressing meowt.
Oh for fox sake.
Do you even carrot all?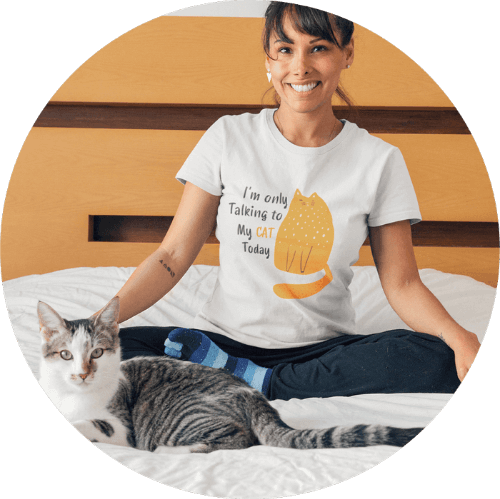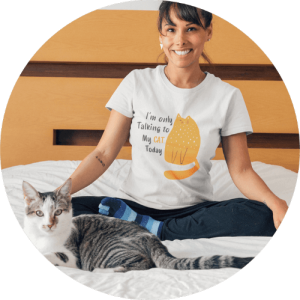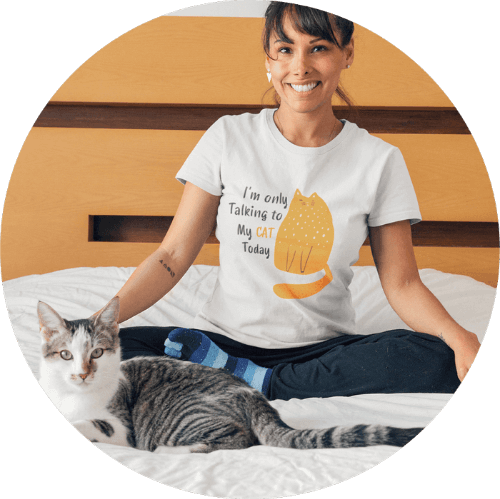 The market for pet-based products is huge and growing with no end in sight. These days, they've become a legitimate contender to replace human children entirely – jokes, people. But for real, there are a ton of owners out there who are happy to line up for pet-based merchandise. Supply that demand, and you'll have a clean passive income stream from your funny t-shirt sayings. We all love our fuzzy (scaly?) little friends, so tap into the customer's serotonin sources.
Running with– from the wolves.
Bone appetite.
You can tell dog trees by their bark.
Alley Cats Bowling Team
Chasing tail tonight.
Who let the frogs out?
I just want to pet all the dogs.
My kid has paws.
I'm only talking to my cat today.
Talk birdy to me.
Cat hair don't care.
Let's face it, I was crazy before the cats.
I'd love to but, my dog said no.
Weekends. Coffee & Dogs.
If I can't bring my cat I'm not going.
How to Make Money From Funny T-Shirt Sayings - For Free
So, you've got some giggle missiles perfect for a funny t-shirt, huh? Well, the good news here is that turning a joke into a selling funny t-shirt takes four steps – or if you've done the research beforehand, 60 seconds. 
1. Sign up: Printify accounts are free and only require some basic information. Our business model (print-on-demand drop shipping) means that customers pay upfront for funny t-shirts before that item has even been created. Imagine paying for your order in a restaurant, THEN the cook fires up the grill and sources ingredients. 
2. Pick a funny t-shirt model: Our catalog has over 60 shirt base models. So, do some research and choose the perfect funny t-shirt. Fortunately, we've made it easy to see the who, what, where, when, and how. You just need to supply the why. 
3. Write the words: When you find the perfect funny t-shirt in the catalog, click 'Start Designing' near the print provider that works best for you. Congratulations, you're in the Mockup Generator. Here's it's an easy thing to use the text editor to write out your bit in a variety of styles and colors.
4. Start selling: With a finalized funny t-shirt, all that's left to do is to release it into the wild. Fortunately here, you can connect your masterpiece to a whole bunch of eCommerce platforms – like eBay, Shopify, Etsy, etc.
24/7 Support:

If you're ever in trouble, feel free to reach out. We will always have merchant support standing by.
Create Your Own Merch for Free!
Make Some Funny T-Shirt Profits Today
If you're still reading, there should be a few different ideas pulling at that brainstem. So, workshop that brainchild a bit, start believing in yourself, and make a selling funny t-shirt.
Even if you can't hear it now, be assured that funny t-shirt haters are building up tear-drenched arguments against your future bank account. The funny game is not an easy one – many a broken would-be businessman is stretched upon the rocks of public disapproval.
Stealing properly:

There's nothing worse than the perfect joke being built from someone else's intellectual property. To make sure that you don't get any cease-and-desist orders from the suits, make sure you avoid the almighty copyright.

Too hot:

There are a few topics that just aren't a good idea to mess with right now – even on a funny t-shirt. You have the right to be stupid. But, be smart if you do choose this route; there's a difference between making fun and playing with fire.
Making a funny t-shirt only takes a few minutes – if you've done the research. So make an effort beforehand and you'll be sure to sell.
Understand your audience's tendencies
Weigh different print provider strengths relative to goals
Check out funny t-shirt materials and sourcing
Analyze how different funny t-shirts fit
Set up Google Alerts regarding trending topics
Start using Twitter & Google as a business tool
Watch sales cycles and popularity on Google Trends
This list could be much longer…
As long as you avoid legal action, you're in the clear. Remember, just about any good joke worth its salt will piss some people off. But fear not. If someone is upset, those people aren't your market. These are the crusty, hyper-sensitives that won't ever buy anything your target audience considers funny. You'd be better off selling them shirts that say "My feelings are more important than other people's". After all, those that get offended on behalf of others do so because of moral superiority complexes rooted in virtue signaling, rather than legitimate desires to improve the world. Because, if these individuals did, they'd be busy volunteering for their championed cause, rather than keyboard warring with strangers – that may or may not be bots. 
Fortunately, it's not that hard to stay away from these haters… unless you're trolling them and farming for funny t-shirt ideas – a great idea in itself. There are few things funnier than making a joke so heavy that it sinks someone else's self-imposed pity party… until you post it on a funny custom t-shirt for everyone to enjoy.
Let's Create Your Account!
Share the article
Topics