T-Shirt Design Placement Guide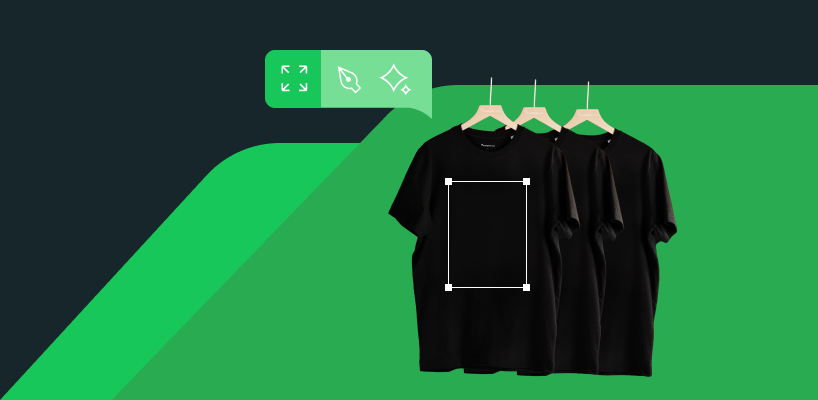 This t-shirt design placement guide will look at the specifics of garment printing and the eight most common print placement locations you should consider before putting ink to the fabric.
There are a few essential guidelines for fabric printing, like your design's size, position, and quality. You should also consider whether you use screen printing, direct to garment (DTG), or the sublimation method, as these impact the final result. Keep in mind that your designs will be worn and seen from multiple angles. 
Before deciding between a front, back, or sleeve design for your shirt, get to know the tips and tricks for proper design placement. Once familiar with top placement standards, you can follow or break the rules and make your apparel stand out with confidence.
Let's begin with terminology. We'll go through three main print placement metrics: print dimensions, size dimensions, and anchor points.
Then, we'll look into the specifics of how to print images on shirts:
Print dimensions regulate and measure the design relative to the shirt. Designers use some of these terms interchangeably, but it's helpful to understand the specifics:
Knowing the different size types offered is helpful to define a preferred print location and structure your ideas when we reach placement tips:
An anchor gives your design a fixed center point. It can overlap with the technical midpoint of rectangular or circular designs, but anchor points are most useful for non-symmetrical art pieces.
Defining anchor points provide print consistency throughout shirt templates without getting compressed into a predetermined print area.
How to Print Images on Shirts
We've made a handy guide for perfecting your file sizing.
When planning how to sell digital art on shirts, the main thing to note is that you have to translate your digital artwork into a print-capable file. This means that your print size – the physical dimensions of the final product – needs to be correctly defined in dots per inch (DPI).
DPI is a print resolution measurement, like pixels for digital images. DPI highlights the richness of the ink throughout the design.
The higher the DPI, the sharper the final print. To find and change your image DPI, you can check image properties in the Windows File Explorer, Mac Preview, your preferred graphics design software like Illustrator or GIMP, or even find a handy tool online.
Print on demand platforms can, and do, facilitate an easy workaround by presenting the optimal pixel and DPI dimensions upfront.
Printify's Mockup Generator is such a program; showing the requirements for a particular product before you upload your image, including the best file format for t-shirt printing:
Upon uploading your design, the Mockup Generator determines whether the quality is optimal or needs to be resized and allows you to orient your print placement manually.
These metrics may also include physical measurements like inches or centimeters, giving you a clearer picture of the final design size.
You can always inspect and change your file sizes and resolution using any graphic design software that offers a resolution menu.
Top Print Placement Locations
Time to get excited and put your creativity to the test. This part of our guide will list the top front, back, and sleeve print locations – how they compare, and the average measurements to base your designs around.
It's important to note that there is no gold standard for a print location. Your print area and placement will vary based on the t-shirt's country of origin, manufacturer, template, and design, like an S to 5XL shirt size.
We'll also give a few tips on the perfect placement in terms of symmetry and the average distance you should leave between collars, seams, hems, and your artwork. As a rule of thumb, you should try not to cross fabric barriers unless you're working with wrap-around or all-over-print designs to maintain clarity and limit distortion.
Design Placement on Front of Shirt
The front of the shirt is the most common print placement location. It's the view your customers see in the mirror and the design that stands out even if a jacket or dress shirt covers it.
Let's begin with the classics. The center chest print location is a moderately sized base standard for a lot of print manufacturing. It's placed about 4" below the collar and usually extends over the top half of the chest.
Use the center of the collar to place your design symmetrically. As a base standard, no front-facing design should overlap with the shoulder seams.
Center chest placement is about as safe as you can go for front-facing designs since it presents well with both logos and artistic pieces.
Some shirt sizes will naturally fit better with a specific print location. When choosing whether to pick the center chest placement, know that it's likely to function better on smaller sizes where the print area skews appropriate to the digital design. A full-front design might be the better option for larger adult sizes.
You'll want to go with a nice front-facing left chest design for clean logos and cleverly designed brand imagery. While you may see right chest placements from time to time, the industry standard is on the wearer's left side.
This is one of the smaller print areas, but sometimes you need to create a simple design to give customers the freedom to match, layer, and incorporate your shirt into their outfit. Focus on a design without too much detail.
When placing a left chest design, don't be intimidated by the asymmetry. Instead of relying on the center of the collar, follow the line at its shoulder end and move the design down vertically, leaving about 3" of space from the top, ending the design no lower than the armpit seam.
A full front placement is one of the most common t-shirt design locations. It's versatile and capable of managing a wide variety of print sizes. This is your go-to for landscape, portrait, and detailed artwork designs placed 3"-4" below the collar.
The entire front design can extend from the chest down to the length of the shirt, varying heavily in height and width.
Please note that this placement may run the risk of creating a print that's not fabric breathable, especially with screen printing, creating a heavy sheen and uncomfortable sweat spots. When determining your print area, consider playing with negative space and leaving parts of the design ink-free.
When it comes to non-standard front print sizes, we still have a larger contender that can extend to the bottom hem of the shirt. The oversize t-shirt design placement option is 2"-3" below the collar.
The differences between the full front and oversize placement vary but note that an oversize front design works best with more oversized adult t-shirts exceeding the entire front size limit. Youth shirts and smaller sizes are incapable of holding a large design.
In ink density and breathability, oversize is more prone to negative side effects like sweat spots. A helpful principle is to never overprint an oversize area. You can change the design background to be transparent or leave parts of the design deliberately clean by inverting the color scope, allowing the ink to trace the shape of your design but not fill it.
Design Placement on Back of Shirt
While the back of the shirt isn't visible as often, it provides a lot more room for intricate designs and larger frames.
You may have noticed that many shirts with back designs have a complementary visual on the front. Back designs are great for filling space and giving your creations more substance.
Let's move on to a more intricate placement location. The back collar print area is best for branding. It's placed around 1" from the base of the collar.
You shouldn't dismiss this placement as just an alternative fad or minimalist location. You can couple the back collar area with more prominent designs on the front or sleeves. Consider it a watermark or a signature place for your logo – a marker of your brand values and messaging.
Since this is one of the smallest placement types, you'll need an effortless design with fewer details. It doesn't have to lose its uniqueness, but understand that most people will see it while waiting in lines or sitting behind the wearer, not from afar.
The upper back placement location is versatile and medium-sized, similar to the front chest area. This placement covers the shoulder-blade region and prioritizes the width of the back for complete visibility, around 4" below the collar.
The t-shirt industry often chooses this placement for employee uniforms since it naturally covers an eye-level position. Event organizers, security staff, and any design important enough to be noticed in a crowd take the upper back as a standard.
You may also see more typographic designs on this placement location. Common uses are to promote events, businesses, or a specific cause. A non-standard equivalent is the lower back area. While it might draw a curious eye, it can't help but be prone to crease and fold.
The full-back placement is popular with t-shirt graphic designers, much like its front alternative. Since the back is usually flatter and more forgiving than the front, the full-back design can cover a larger print area for your designs, starting around 3"-4" from the collar.
This is your go-to for grandiose design projects, more colorful designs with intricate details that deserve a larger canvas. Just remember that a back design placement rarely exists on its own. You'll often see it complemented by a simpler front or left chest design, sleeves, or all of the above. A great example is imagining a sports jersey – a large number on the back, a smaller one on the left chest. 
The sleeve placement location provides its own added design benefit, although you might not find it as an option from many print providers.
Judge the placement location from the far center of the hem, usually going 1"-3" above it. One inch is usually the preferred distance for a standard design since it gives more room before the border on the left and right seams.
As with the left chest placement, a single sleeve design usually goes on the wearer's left, but it's common to find the same design on both sides.
Since it's a smaller area, you should relegate this area to simpler designs or logos. You might have noticed that it's a preferred option for business sponsors. Another less standard location is on or over the shoulders.
This placement location adds a bit of flair to a larger and more intricate design in the front or back.
Again, it's important to preface that these placement locations are guidelines you're not obligated to follow. Design placement can vary significantly, but you'll likely find these standards used by wholesale print providers and popular Shopify t-shirt stores.
Your main take away as a new print location expert should be to plan out how your designs engage with the print surface and how to measure and frame print area dimensions.
You can create designs yourself or outsource and look for inspiration from examples and existing merch. From Placeit t-shirt designs to ready-to-use templates, Etsy bestsellers, and more. Just keep in mind our recommendations to create the best quality product.
Make your print on demand journey easier by placing your designs where they look best. Good luck with the final steps of your design process!
Share the article
Topics