T-Shirt Design Size – A Guide to Designing the Perfect T-Shirt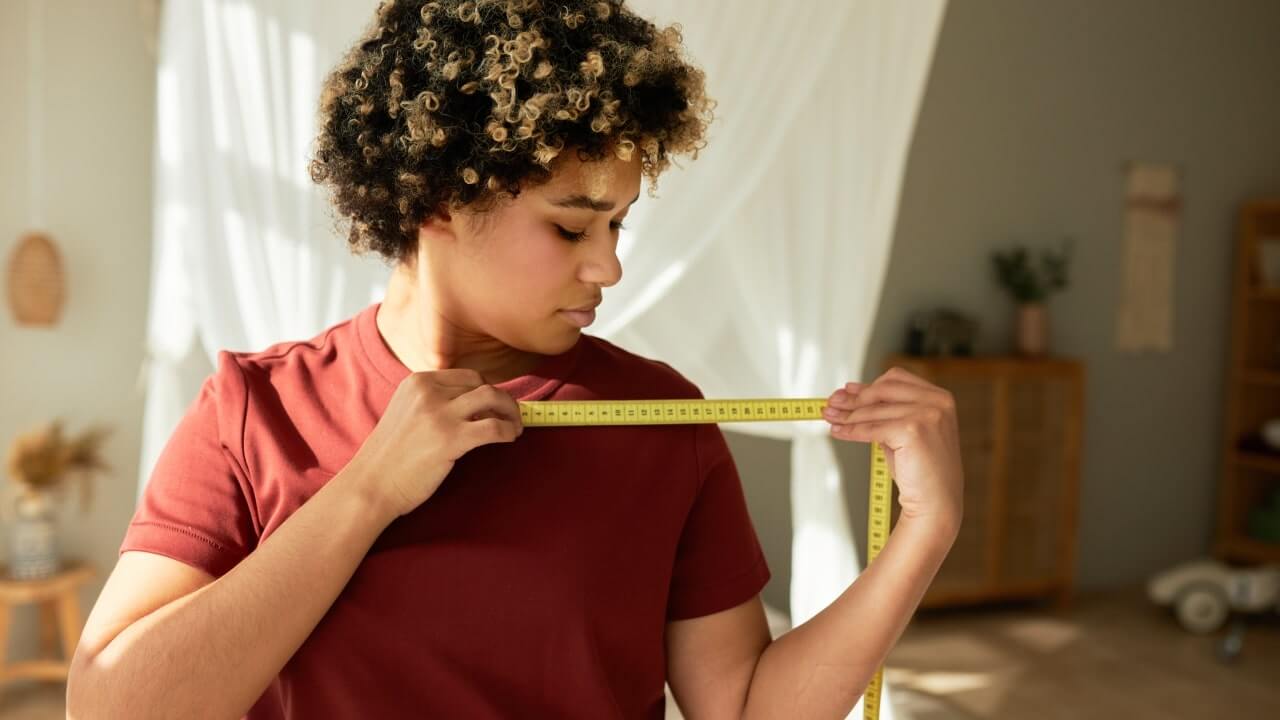 One of the biggest challenges for new and seasoned merchants is figuring out the perfect t-shirt design size to guarantee top-quality results on their products.
Wrong image resolution and size can result in poorly balanced layouts, low print quality, and unhappy customers.
To help you avoid these issues, we've put together a detailed t-shirt design-sizing guide with the perfect image size for each printable area, the most common placement options, and the best solutions for your artwork. 
Say goodbye to uncertainty, and hello to perfectly sized t-shirt designs!
T-Shirt Design Placement Options and Sizes
There are many design-placement options available for our t-shirts, but the same-size image won't give the best result on every print area. Let's look at all possible placements and the perfect image requirements for top-notch printing.
Full-Front or Center-Chest Design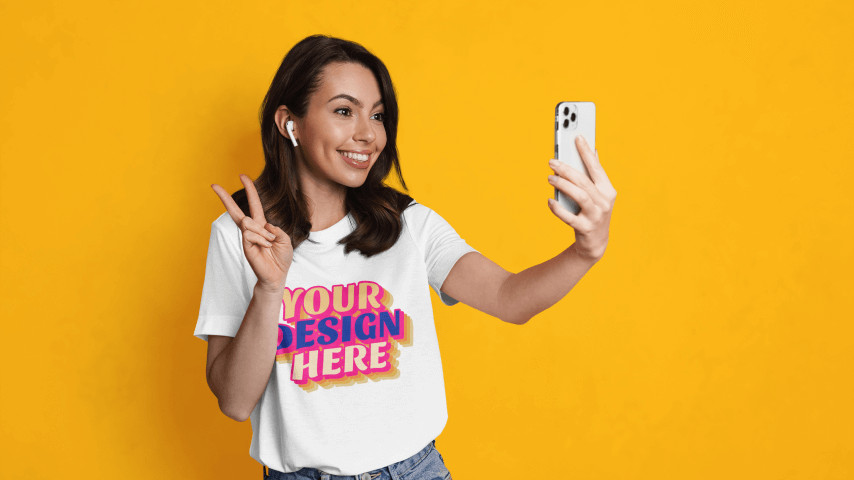 Design size for center-chest print:  8-10 inches.
Design size for full-front print: 10-12 inches (width) x 10-14 inches (height).
If you want to cover the entire front with large designs, or only the chest with a cool graphic or a logo – these placement options are a perfect choice. 
Full-front shirts are ideal for personal expression – printed in full size. For example, bands promoting their albums or printing epic graphics for fan art, or artists utilizing this large printable area for their artwork.
Center-chest is an excellent placement for company logos or minimalist designs, ensuring visibility. Place the design approximately three inches below the collar – no matter the shirt size – to make sure your graphic art is sharp and easy on the eyes.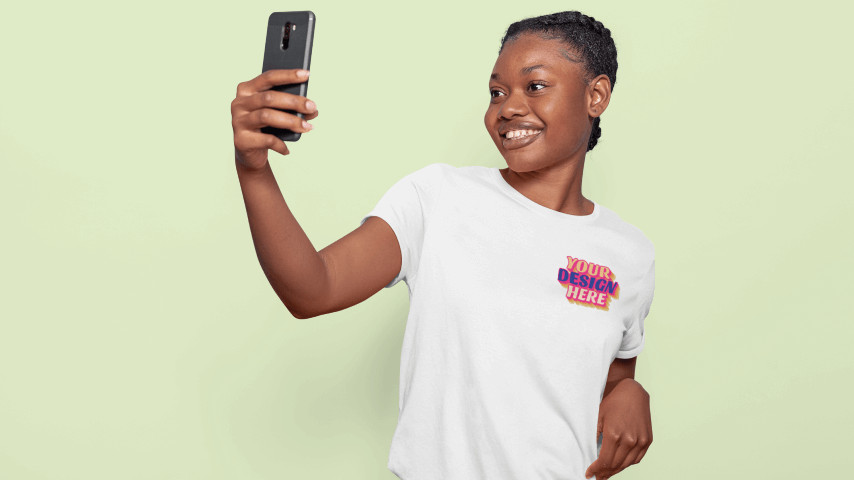 Design size for left-chest print: 3-4 inches.
Left-chest placement is perfect for a cute pocket design, school or team uniforms, or company logos. A popular choice for branding and promotional use, it adds a sophisticated and professional yet personalized look to a simple garment.
This placement is great for both children and adult sizes. The left-chest design fits well on polo shirts and button-down tees, displaying small illustrations and texts without overpowering the entire chest area.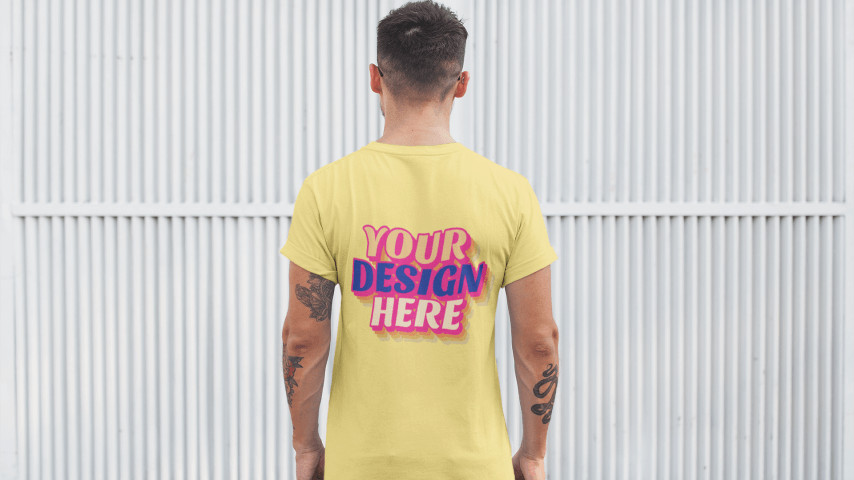 Design size for full-center back print: anything between 10-12 x 10-14 inches.
Full-back placement is ideal for diversity and creativity. A large print on the back is much easier to read than a stretched-out front design. Not only that, it provides balance for those who want to look slick and professional on the front – but a bit cheeky on the back.
Perfect for various shirt sizes, a full-back design is the right choice for multiple purposes. For example, numbered sports jerseys, names, or sponsors on the back, important messaging for a cause, or showcasing one-of-a-kind artwork that's guaranteed to turn heads.
Outer Back Neck-Label Design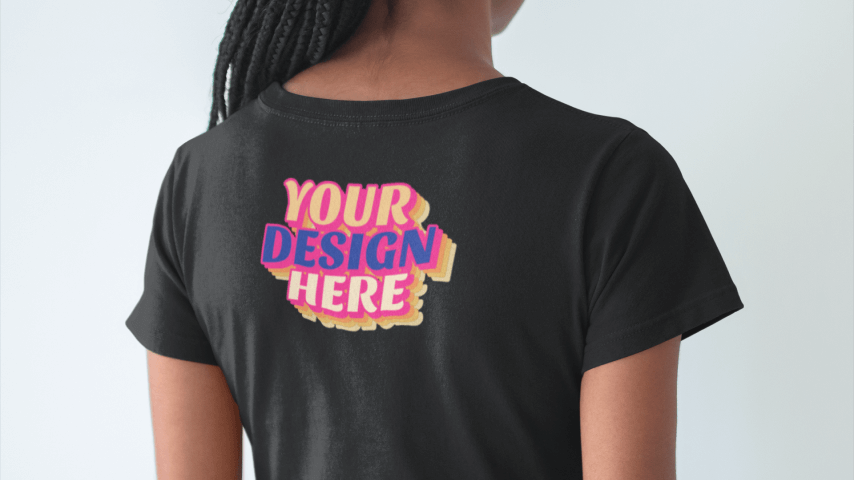 Design size for outer neck labels: 2-4 inches.
If you want your brand to be noticed in a creative way, try designing t-shirts with an outer back-collar label placement. These designs work like stylish business cards, displayed slightly below the neckline – ideal for branding. 
But don't go overboard – make sure the label is big enough to make your brand visible, but small enough so it doesn't overshadow the actual shirt design or interfere with the fit.
Popular fashion brands and sports teams often use collar designs in their apparel to advertise themselves or their partnerships without being too flashy. This t-shirt design placement gives you a unique opportunity to add similar credibility to your merchandise.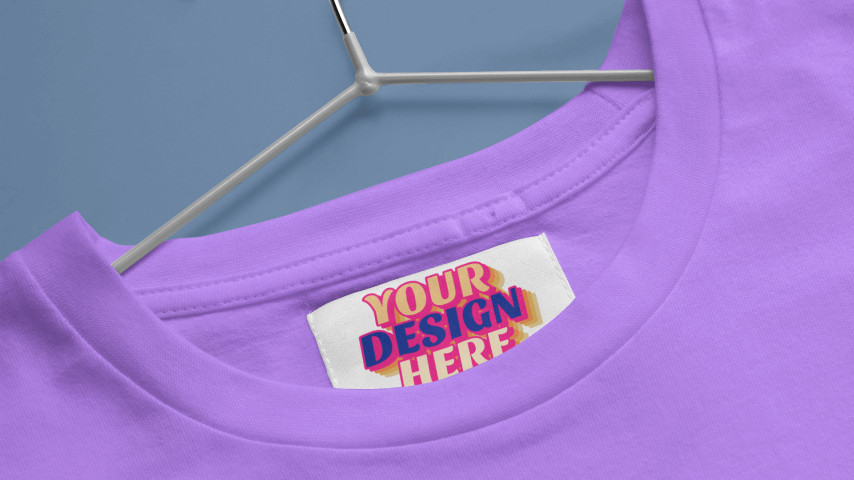 Design size for inner neck labels: 2.5 x 2.5 inches.
The inner label is a blank space perfect for promotional branding or any other additional information. Of all the shirt design sizes, this is definitely the smallest, but it could be one of the most important ones for promoting your business – it gives extra space for branding elements.
It usually covers a small square right below the collar on the inside of the shirt – and is an excellent place to tell an additional story.
From a brand logo, to care instructions, tips, and sizing — this little placement is a print location worth utilizing. You can even use a small, low-resolution image on this spot.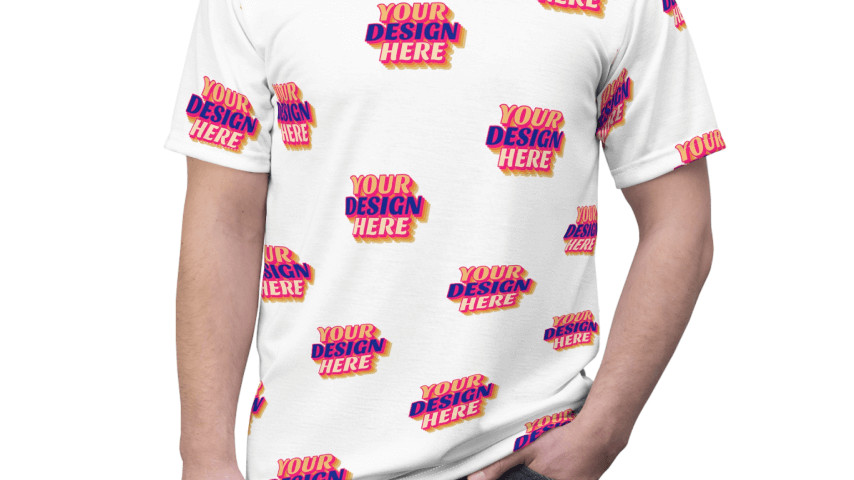 Let's forget about the standard width or correct placement for a second. AOP completely takes over the design space on a t-shirt by covering the entire garment's surface with the same design. Create repeated patterns or upload a single large design from seam to seam. 
AOP creates an exceptional visual experience providing unlimited creativity, with the entire t-shirt as your canvas. A good rule for AOP is to take into account all the seams, zippers, buttons, and collars to guarantee precise placement of your visual masterpiece.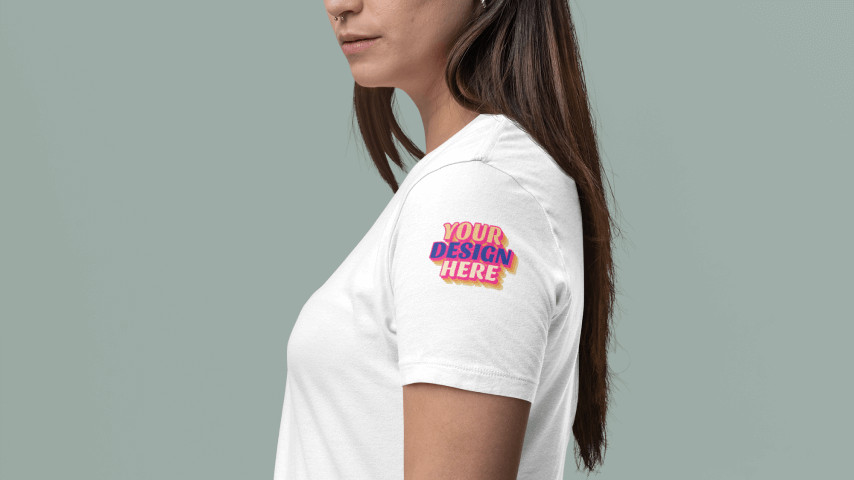 Design size for short-sleeve print: 3 inches.
Design size for a long-sleeve print: 2-4 inches width; 4-15 inches height.
The sleeve is another eye-catching place on a t-shirt which you can customize with unique graphic or text designs. It's also an excellent spot for branding shapes, logos, and messages.
Short-sleeve designs are perfect if you want your company or team logo printed in a convenient spot, or to add some pizzazz with a bold statement on the sleeve. Just remember to align your design to the center line of the sleeve for best results.
Long-sleeve placement allows you to cover a lengthy surface area with your custom design. This works great for brands who want to display their names or spread a message on both youth and adult shirts.
How to Make the Perfect T-Shirt Design Size for Custom T-Shirts
From the right placement to image size and design width – there are plenty of factors to consider while making graphics for shirts of various sizes, colors, and materials. Let's look at how to make sure your shirt design size is the right one for the best possible outcome.
Check the Print File Requirements
The best part about selling with Printify is that we've got you covered every step of the way. The print files are no exception.
To help you design the best shirts for printing, our user-friendly Mockup Generator displays all the necessary requirements and information for each product.
These guidelines include:
Supported print file formats

Print area size

Preferred resolution

Maximum file size of your design
Once you open a t-shirt in Edit mode, you'll find the requirements in the bottom right corner – clear as day.
Check the T-Shirt Size, Print Areas, and Printing Method
First, make sure you select the printing method that works for you. In this case, choose between direct-to-garment (DTG) or all-over printing (AOP). Filter your printing method preference while browsing our Catalog. 
Second, get to know your print area. Specifics are displayed in our Mockup Generator for every t-shirt — you'll see them under Print file requirements.
Last but not least, keep an eye on the size of the t-shirt. The general assumption is – the bigger the shirt, the bigger the graphic. However, this is not the case. 
Our Mockup Generator shows your design and placement on a size L garment. Anything smaller is automatically adjusted and scaled down.
Designs for sizes larger than L won't be scaled up – the design size will remain the same, only printed on a larger shirt.
Set Up Your Design Software Correctly
Image size is the main factor determining the quality of your printed design. If you make your own designs on a special software like Adobe Illustrator or Photoshop, make sure to set the right resolution for your selected t-shirt.
As mentioned previously, the preferred image size is displayed on the Print file requirements list in our Mockup Generator. Check the recommended size bullet point (which will differ for each t-shirt type) and adjust your settings accordingly.
Select the Right Print Colors
When creating your design image, pay attention to the color mode. Our Mockup Generator accepts CMYK color files, however, they'll convert to RBG, so the final result might be slightly different than expected.
To avoid this, set your colors to RBG and design shirts accordingly to avoid misunderstandings and print discrepancies.
Export the Design File in the Recommended Formats
The supported file types are: JPEG, SVG, and PNG format.
There are several limitations and requirements for each file format. For example:
JPEG

Export settings need to be at least

60-80%

quality.

PNG

Files should have no interlacing.

SVG

Vector files should be no bigger than

20MB

. 
Make sure to read our thorough design guide where we describe all of these specifics in detail. Pay attention to the image size, and design areas, and other important elements to help create perfectly-sized t-shirt designs.
Start Designing and Selling Custom T-Shirts With Printify
Browse our Catalog for t-shirts and apply the necessary search filters to find the perfect t-shirt for you. From location and printing methods to colors, Print Providers, size, and print area – we have t-shirts of all styles and materials. Choose your favorite then click Start Designing.
Our free and beginner-friendly Mockup Generator allows you to create the most amazing graphic design for your t-shirts. It has all the tools and features you need to customize and size your design with precision. You'll find the recommended image resolution displayed on the right side.
Don't forget to switch to Preview mode to see the entire design in life-like settings. Switch back and forth to adjust the design, click Save, then order samples.
The general rule of POD is to sample your products before offering them to consumers.
Pick a sales channel and integrate with Printify by clicking Add new store. Printify integrates with all the big eCommerce players, such as Etsy, eBay, Shopify, and Walmart.
Create your store in any of them – depending on your skills, needs, and expertise – then set up your listings with just a few clicks.
Create high-ranking listings to match your high image quality. List your t-shirts with relevant keywords, polished mockups, backgrounds, size charts, and information that will convince the buyer to place an order. Don't forget about marketing and social media – prompt your products and excel in t-shirt printing.
Design size matters. A lot. Finding the right design size for shirts is crucial for printing high-quality, visually appealing images. 
Follow this t-shirt design guide and take note of our tips and requirements for the perfect placement, image size, and resolution to make flawless, perfectly-sized shirt designs.
Share the article
Topics