Nothing says Beach Day quite like a custom beach bag. A personalized beach bag is a chic and convenient way to carry all your beach day essentials, and it complements your carefully curated beach outfit as well.
Create one for yourself or sell online!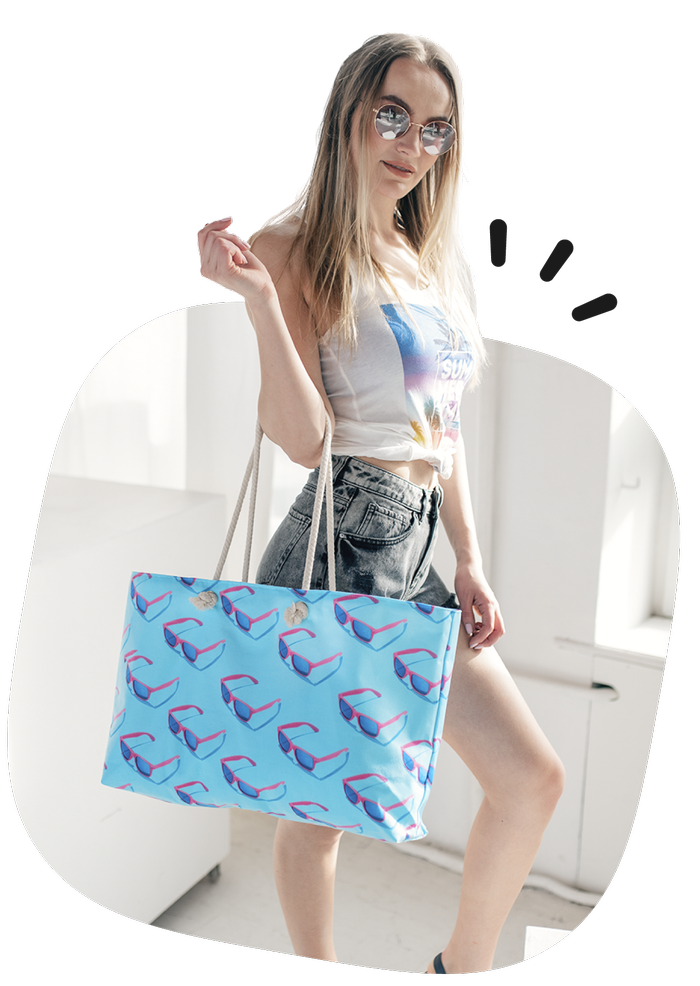 Create Your Own Custom Beach Bag Online
Custom beach bags and beach tote bags will be a great addition to your eCommerce store. Head to the beach or pool in style with a custom beach bag! Discover our wide assortment of custom beach bags and totes for kids and adults! 
What Types of Custom Bags Do We Offer?
Choosing the right bag for a beach or pool day is crucial. There are items one simply must carry, so you need a reliable bag in which to transport them all. Whether you choose a cotton tote or a weekender, you can be sure of its high quality. Choose an all-over-print tote or weekender for a pop of color, or a classic canvas tote – it's light enough to carry even for kids. And we all know how kids need their own bags (even if it's parents who end up carrying it). What bag to choose?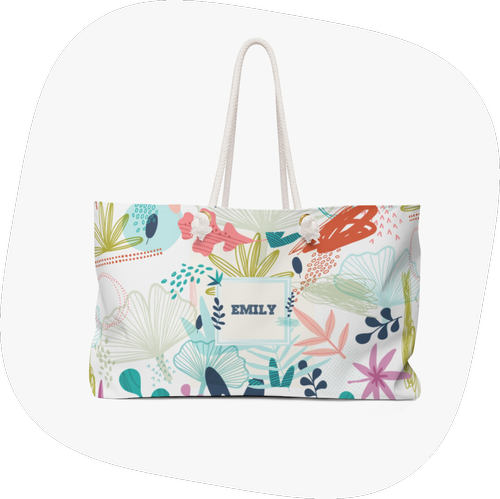 Our oversized all-over-print weekender tote is perfect for your day at the beach or prancing around town. The wide-mouthed, durable bag holds a generous amount of personal items and is easily held by its thick rope handles. And spilling drinks or sunscreen is not a problem – its laminated lining makes it for an easy clean! 
This practical, high-quality custom tote bag is available in three sizes. All over print provides comfort with style on the beach or out in town. It is made from reliable materials that will last you for years.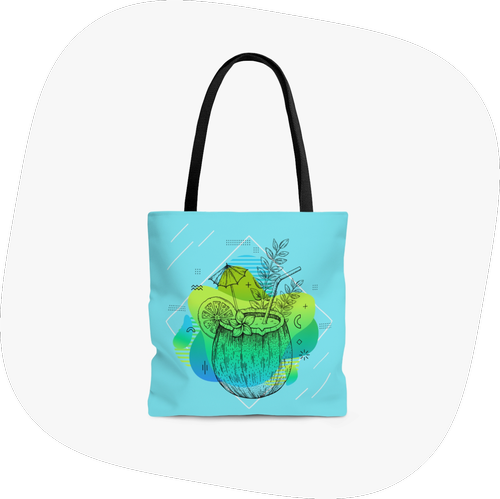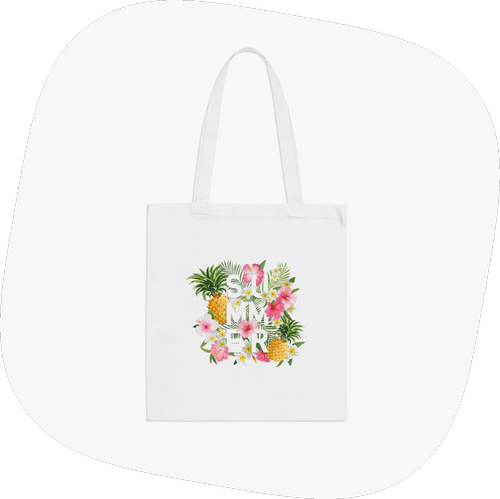 This long handle full-color tote bag is great for all your grab and go needs. It features cross stitching on handles for more stability, is suitable for embroidery, screenprint, and transfer printing so you can customize it however you like. And it's sustainable too since it's made of 100% cotton fabric. Sustainability is the word! 
This highly practical carryall custom tote bag is an ideal blank for any print. The wide handles provide comfort with style on the beach or out in town. It is environmentally-friendly manufactured, which gives a rough vintage feel to the bag.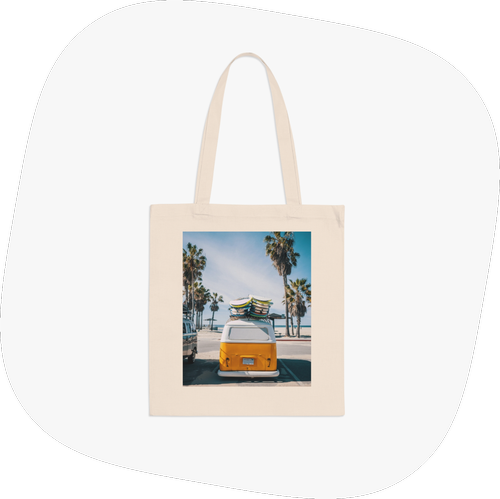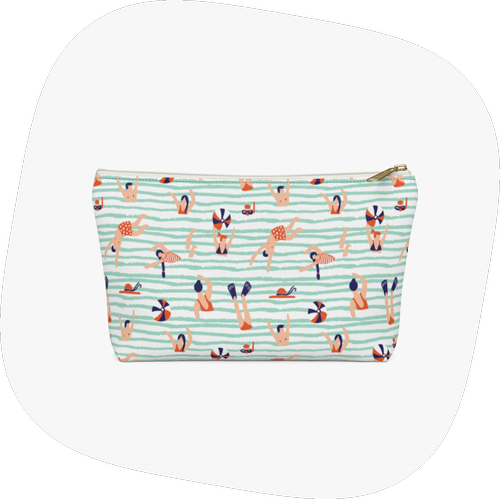 These t-bottom pouches vary from small to large and can be used for pretty much anything. Holds all the nick nacks and trinkets in place, just throw it in your beach bag and you're good to go. It is constructed of a durable material with zipper closure.
Start Selling Custom Beach Bags!
Soak up the Sun in Style With Custom Beach Bags
Sublimation or all-over-print (AOP) is a term that refers to the style of print where a pattern repeats over the whole garment. Both direct to garment (DTG) and sublimation are a type of all-over print that is very popular in the garment printing industry.
Beach bags have always been more of a practical item to tote all your beach necessities in, usually bought in a supermarket with a generic anchor on, in the best-case scenario. But those days are gone, thanks to all-over-print. Now you can create a line of eye-catching, unique custom beach bags, and totes to add to your eCommerce store or simply gift your friends and family. Or yourself. The very meaning of all over print suggests creativity, composed of a design that is repeated across the entire surface of the custom beach bag, meaning this practical item is no longer boring and looks good with any outfit.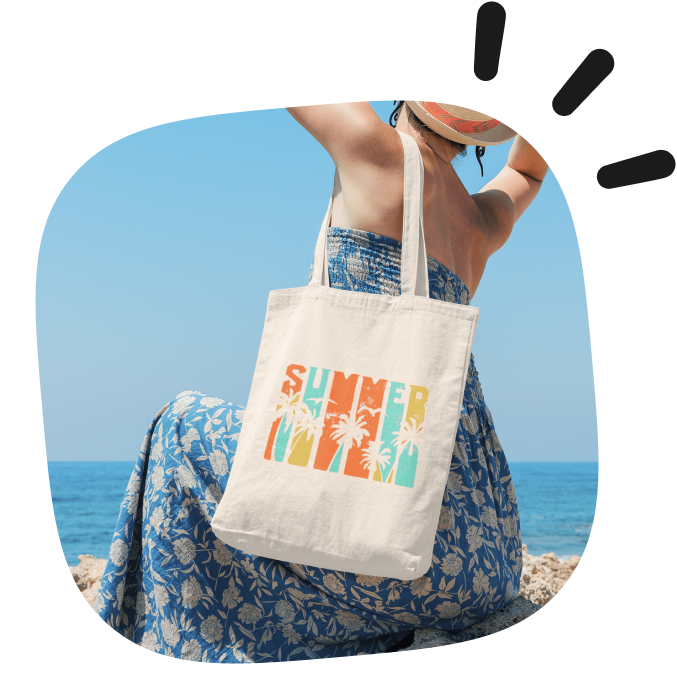 5 Most Frequently Asked Questions About Selling Custom Beach Bags Online
When you've chosen the bag or bags to add to your online store or gift your friends, it's time to get creative. Using the new and improved Printify mockup generator, you can start assembling your design. All you need to do is select the print style you want to use, and our intuitive and easy-to-use mockup generator will take you through step by step.
Because all our bags are custom print, you can be as daring as you like. Bold statements, vibrant colors, sassy catchphrases – the world truly is your oyster. 
Because each print style – embroidery, sublimation, or DTG – requires a slightly different process, you will have to apply different methods. But the fun part about the Printify mockup generator is that the more you use it, the more you understand what you can actually achieve with your designs.
Custom Beach Bags Are the Essence of Streetwear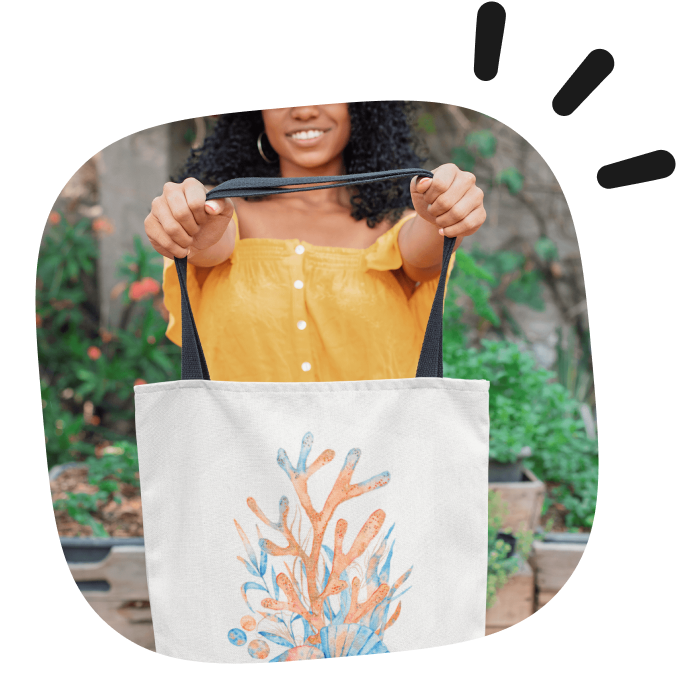 Because now it's all about the 90s, you can design a beach bag line that screams retro patterns. Pair it with a matching custom fanny pack, and you can't help but hear the Fresh Prince theme in your head. 
If you have something to say to the world, why not say it with a custom beach bag? Be it sassy, lovely, kinky, or funny – you can let your imagination roam free!
Unleash your inner Andy Warhol and throw some color into your custom beach bag line. The world needs more color! Go pastel, go neon, go mellow basics or crazy rainbows, everything is allowed to make you stand out from the crowd. 
Introduce a line of kid-friendly beach totes into your eCommerce store – little ones love feeling important and all grown up when parents let them carry the sunscreen and snacks! Regarding the design, kids' bags are the most fun to design: cute animals, celestial objects, or flowers – they love it all!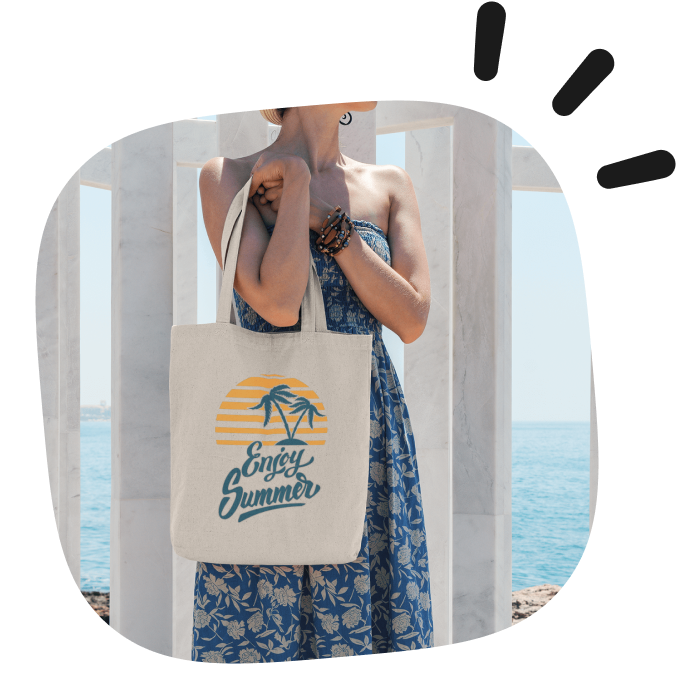 Ready to Start Designing Custom Beach Bags?
Now that you're full of much-needed inspiration, you must be eager to get your hands dirty. Figuratively, of course, because with Printify, you only provide the designs. We do the rest. Upload your designs to our mockup generator, place it onto your desired blank bag, and with just a few clicks, you're ready to publish it to your store.
Start Your Own
Print-On-Demand Business!