We Analyzed the 30 Best Youtuber Merchandise: This Is What We Found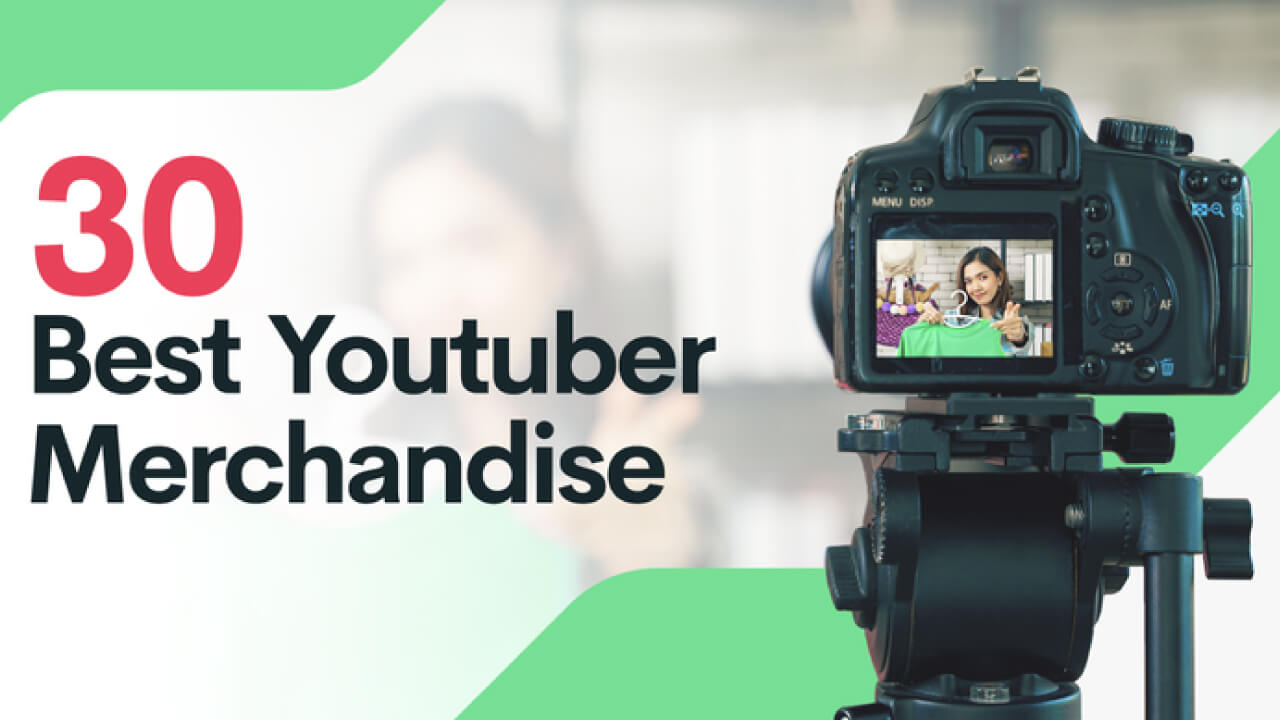 We analyzed the top 30 YouTuber merch stores and designs to see what we could learn about how merch is sold on Youtube. Together, these top sellers have gained an audience of over 100 million customers and a lot of success selling merchandise! 
What Stands Out From the 30 Best YouTuber Merch?
Let's find out what they say.
1. T-Shirts and Hoodies Reign Supreme for YouTuber Merch Sellers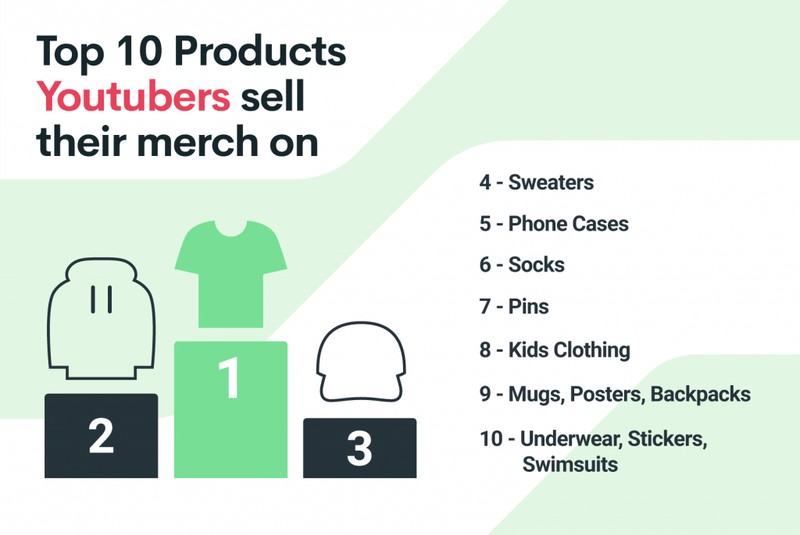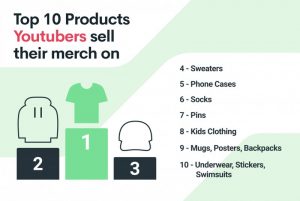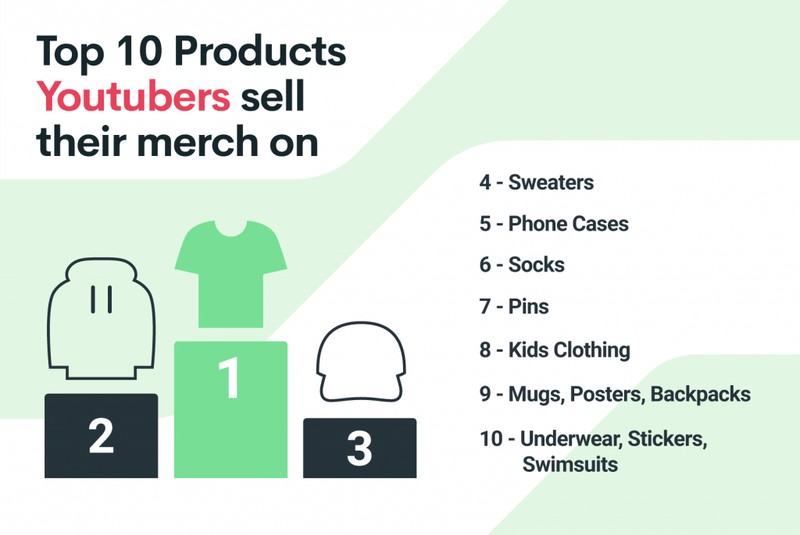 Of the top-selling group analyzed, 90% sell custom t-shirts as their main product, which isn't surprising given t-shirts are the best YouTuber merch products. 66% sell YouTuber merch hoodies, which are the second-most-popular product. Embroidered hats come in at 40%, sweaters at 33%, followed by custom socks at 26%.
Among non-apparel merchandise, custom phone cases come in with 23%, with pin button closeby at 20%. Custom mugs are at a more distant 10% – the same amount as backpacks and posters.
2. Most Common Color Combination on YouTuber Merch: Black + 1 Bright Color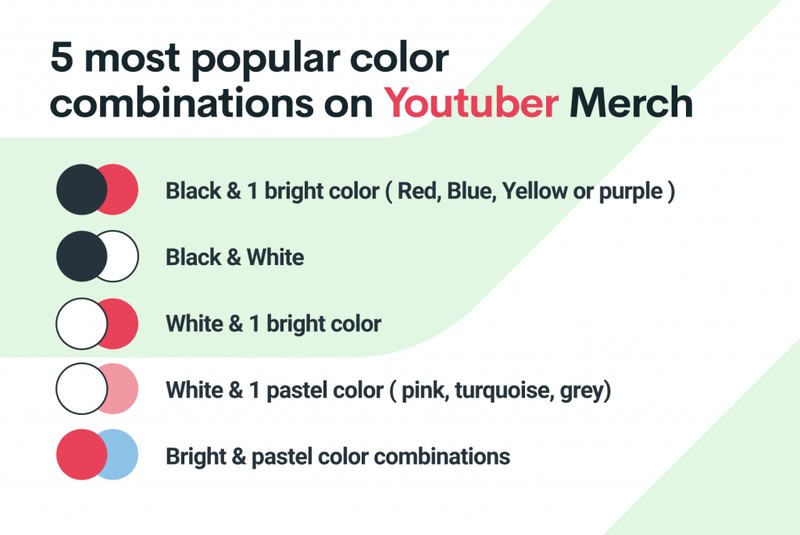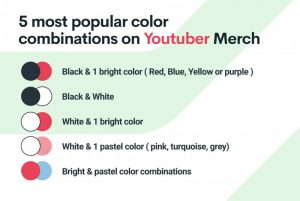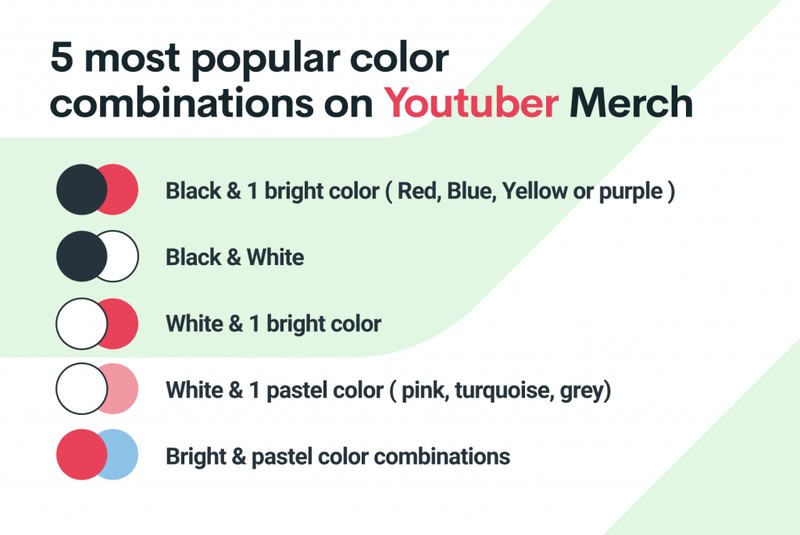 Basic black comes first with 20 of the 30, or 66% of all the Youtubers merch stores we looked at. Colorful patterns came in next, at 18, still above 50%, followed by white with 13, and finally pastels at 9.
3. Design Placement and Elements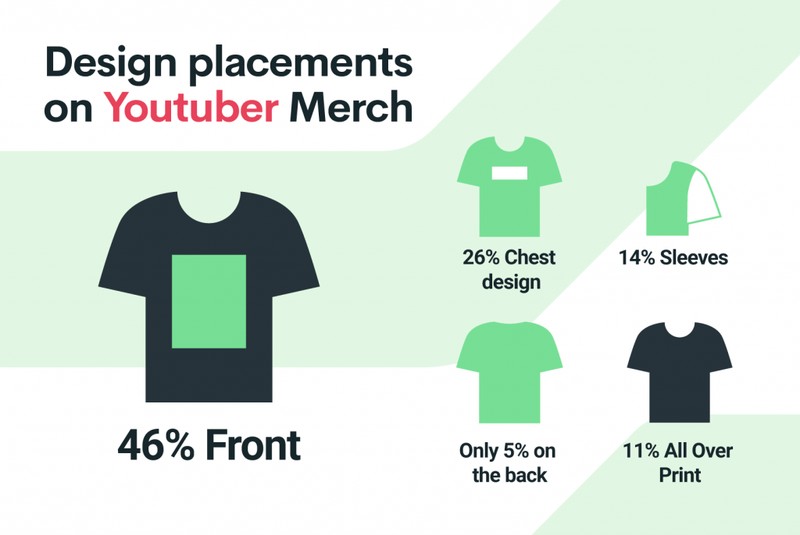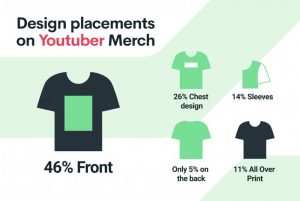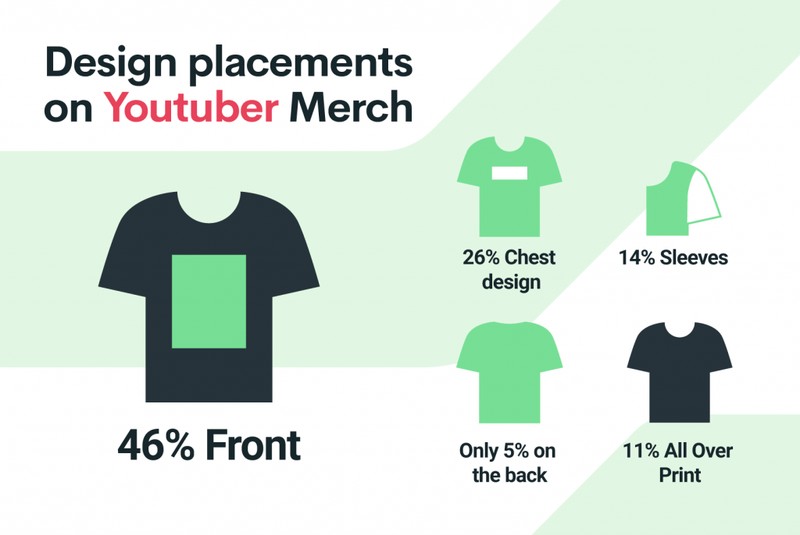 We also analyzed top design placements on the actual merchandise. 87% of the merch surveyed had only front designs. Chest and pocket designs were next at 47%. Sleeve designs on YouTuber merch hoodies came in at 27%, and All Over Prints (AOP) came in at only 20%.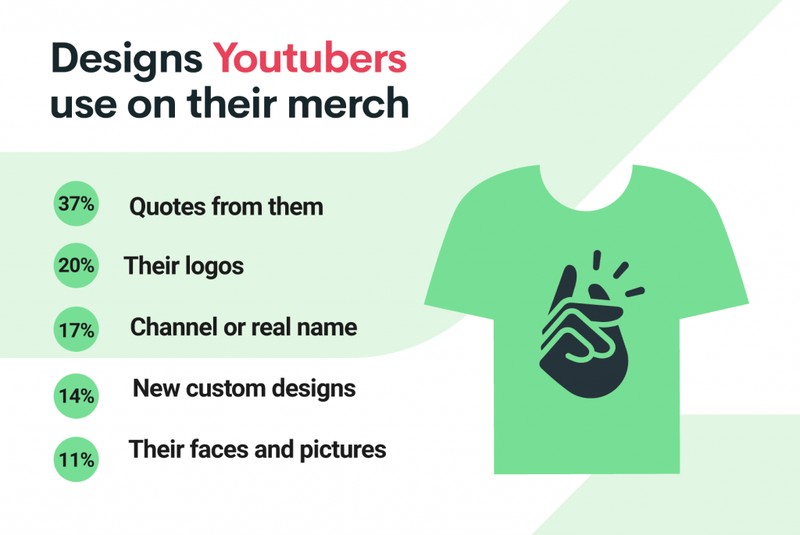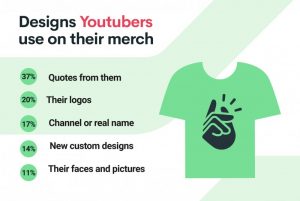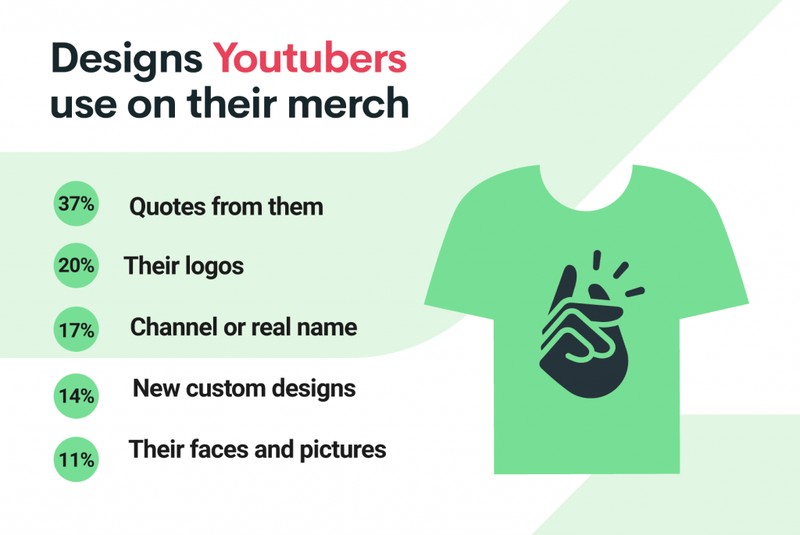 Create Your Own Merch for Free!
30 Best YouTuber Merch Secrets [ + Examples ]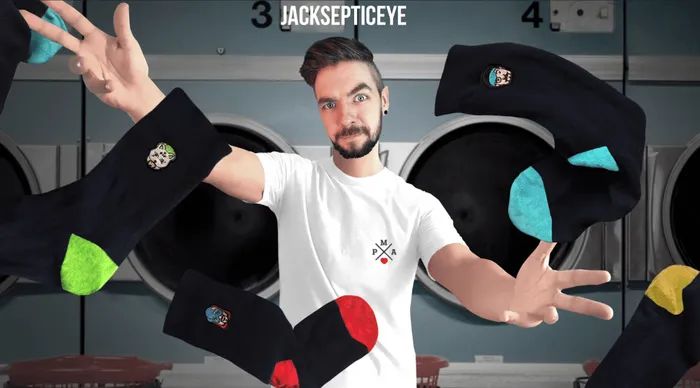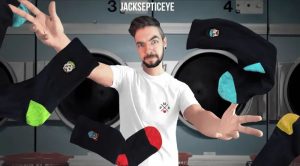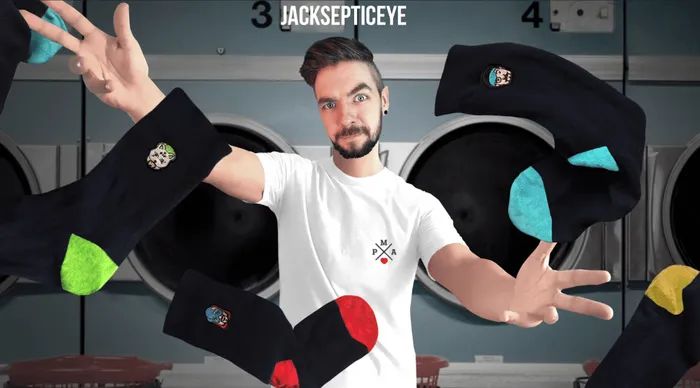 You've spent a lot of time building your audience as a YouTuber, and it now feels like it's time to build your Youtuber merch. But just because you're a popular YouTuber doesn't mean that it's going to be easy. Besides the stats we gave you above, you will also need to know the basics such as design, messaging, and target audiences. So, what's the best way to make money on Youtube?
Let's start with YouTubers who have uncomplicated, straightforward designs. These types of designs are great if you're unsure of where to get started, have limited design skills, or want a minimalistic brand to complement your channel. Simplicity and elegance is what these Youtubers Merch store creators specialize in.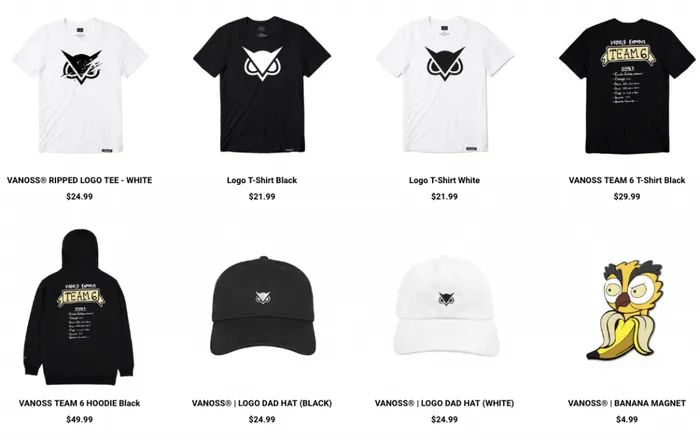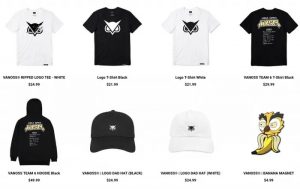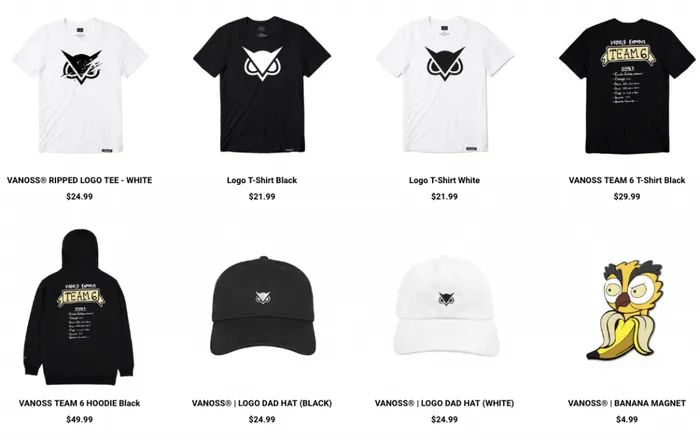 VanossGaming is the pseudonym of Evan Fong, the Canadian internet personality and gaming streamer. On Fong's channel, you can watch him play games, give updates about new games, and post vlog videos of himself and his friends having fun online. His channel has over 27 million subscribers, which is some serious YouTuber merch sale potential.
His logo – one of the most prominent elements in his store.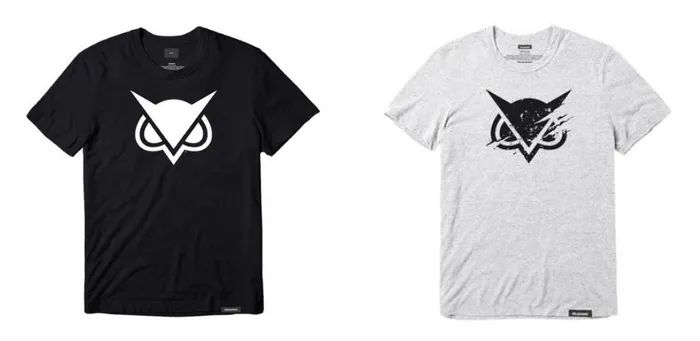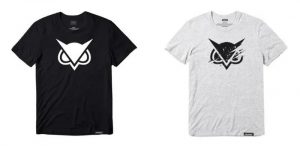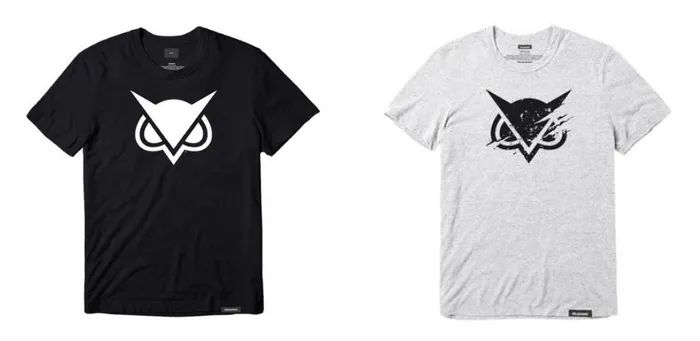 An owl with a prominent V, a reference to his online persona in Grand Theft Auto Online, is VanossGaming's logo. Most of his merch is his logo on black and white t-shirts, plus a distressed t-shirt version of the same. Even with his more 'out there' products, he still stays within the black design on a white, white design on black t-shirt pattern. His other designs include his online persona or the logo designed in different layouts.
As an established YouTuber merceh store owner, with a persona built behind the camera, and a winning logo, you will find a lot of inspiration for your own merch from this A+ YouTuber merchandise!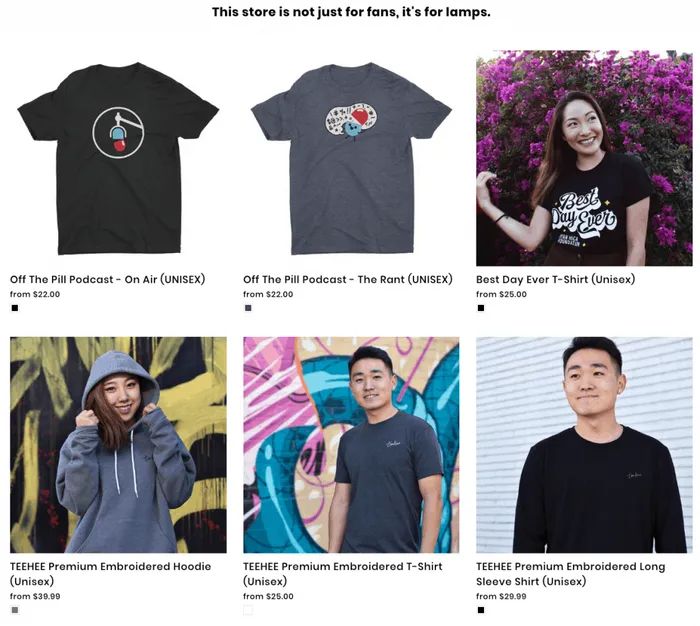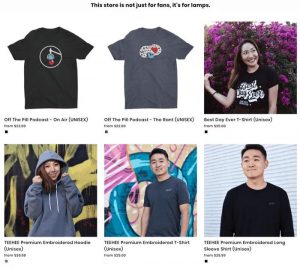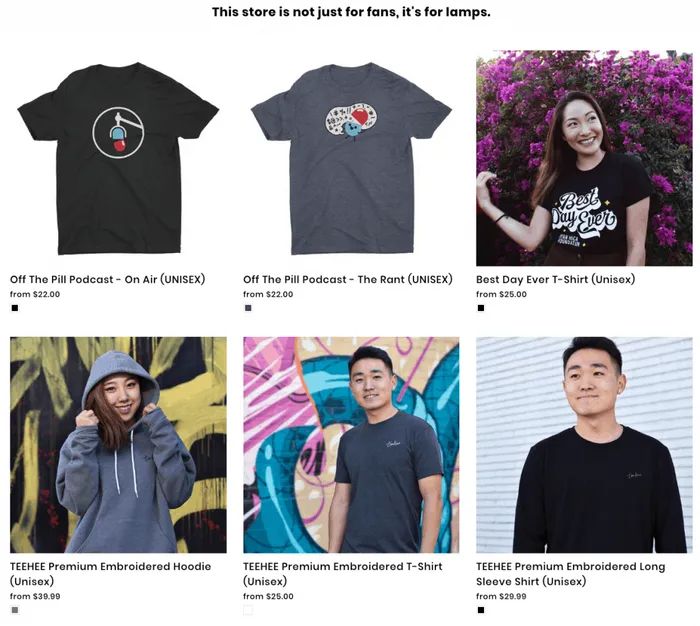 Ryan Higa is a Japanese American YouTube creator and personality. He's held the title of "most subscribed to channel" several times on YouTube and has over 21 million subscribers. His store is entirely geared towards his charitable foundation, the Ryan Higa Foundation. The foundation is targeted to caregivers and people that make a difference in other people's lives by offering a helping hand. The foundation rewards them with dream trips or vacations, or by granting them a wish that they've always wanted or needed.
All proceeds go towards the Ryan Higa foundation.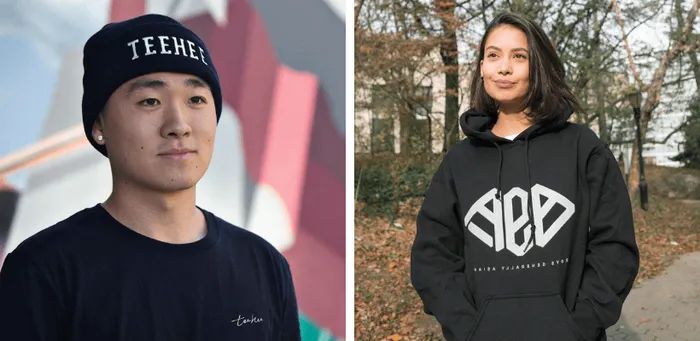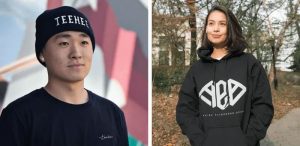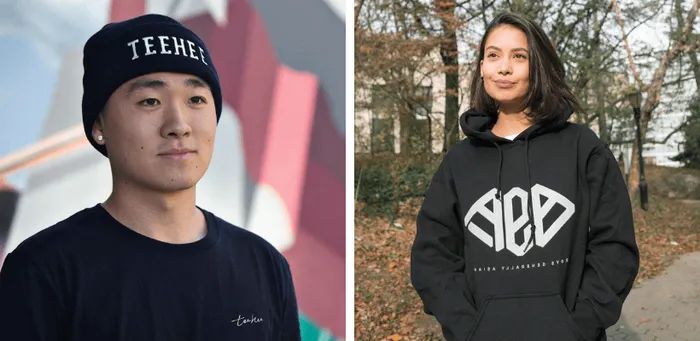 The designs for Ryan Higa's YouTuber merchandise are often his logo or some variation of his brand catchphrase "TeeHee," in a single color product. The design is placed either on the front and center or the pocket area. His designs are often simple, understated wording on a contrasting background.
He does experiment a bit with different fonts, but usually, it's a variation of a single design in different colors and placements. To find your best YouTuber merch, you can try this in your store to see which designs will sell better, and then once you identify the winning color combination, you can begin to experiment with different fonts.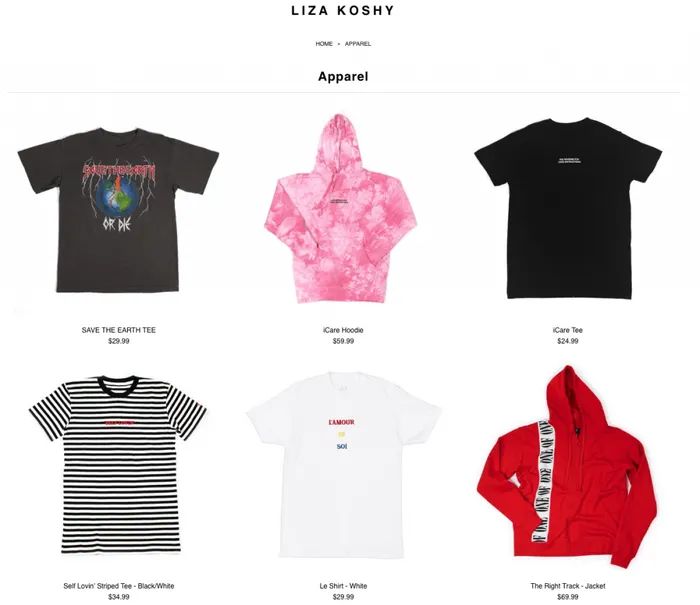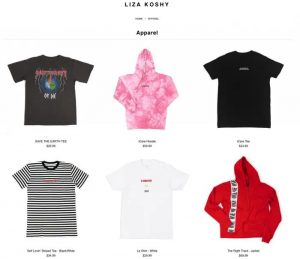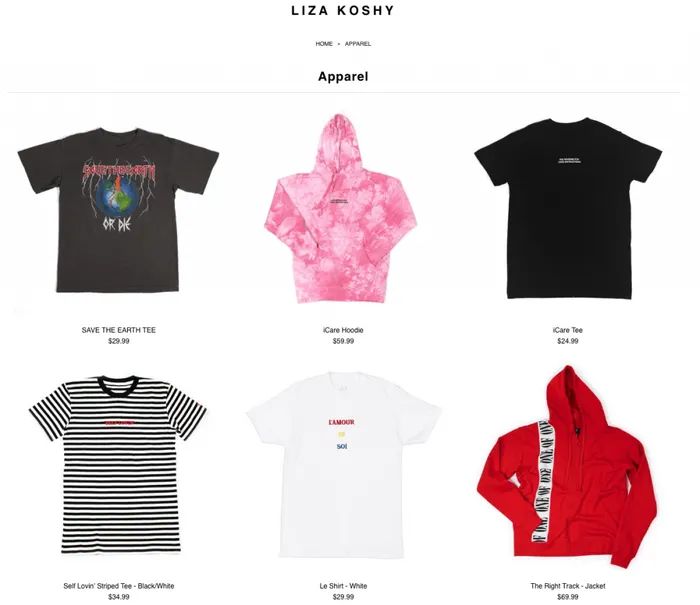 Liza Koshy is a comedian, actress, and YouTube personality that has a channel with over 16 million followers. She got her start on Vine when her fun and comical videos resonated well, gaining her a young and growing fan base. This YouTuber merch is funny, inspired, and minimalist.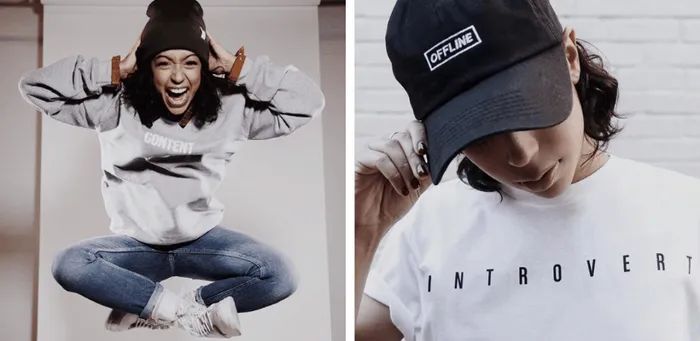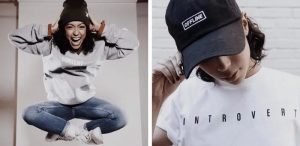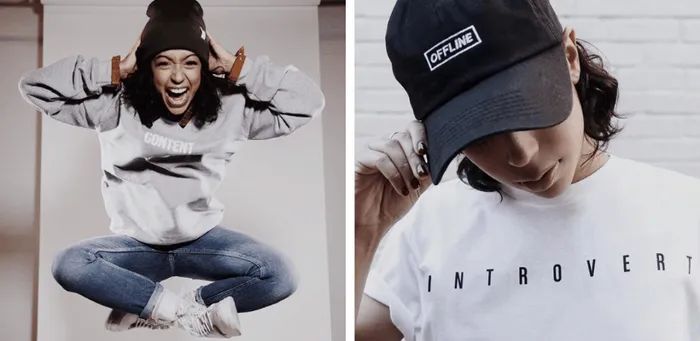 Another great example is the hoodie she wore in her "Dollar Store" music videos – the environmentalist-themed "Save the Earth – or die!" which is a graphic of the earth on a black background. She's a good illustration of a YouTuber who promotes her own merch for promotion. It is always a good idea to wear your best YouTuber merch every once in a while to promote sales.
YouTubers with bold designs have a clear, big, bold, and expressive personality. Their merch clearly matches this and goes along with it. If you're on your channel and people keep saying you've got a larger-than-life personality in the comments, check out these examples of a successful path for you and your merch!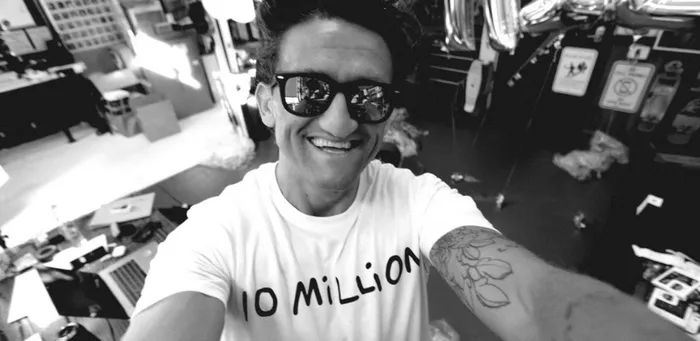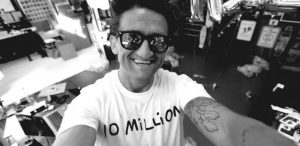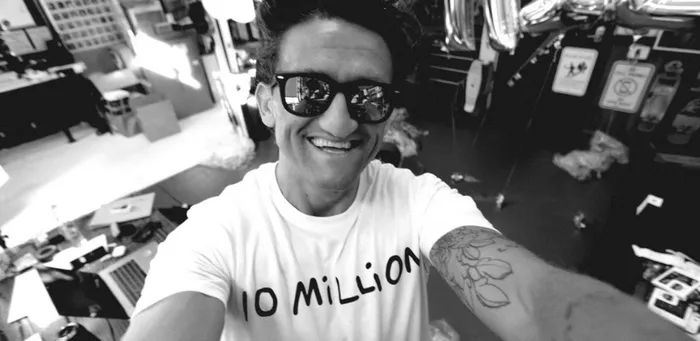 Casey Neistat is the famous Youtuber and vlogger that's gained a massive following on the platform, reviewing things like cameras and dispensing life advice to his millions of followers. He's also a media guru and accomplished photographer, and he shares the stories of his life and travels.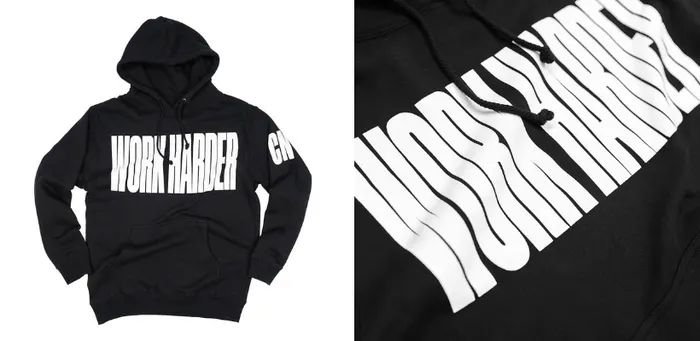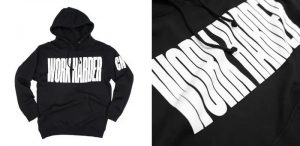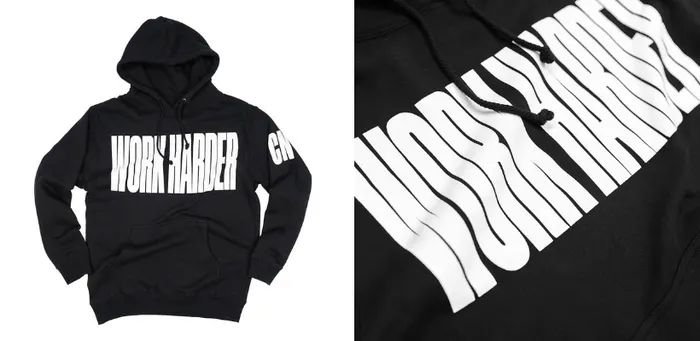 His designs are like his life, bold and big. He often uses off-centered, outlined graphics in his merch. Bi-colored merch, usually white on black, is featured in his merch, with large and stunning graphics that help build his brand as a larger-than-life personality. If your brand is big and bold or your personality is suited towards it, these are the types of designs that could sell for you with your audience!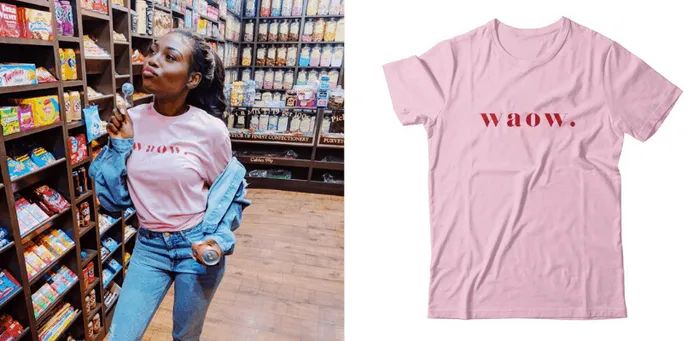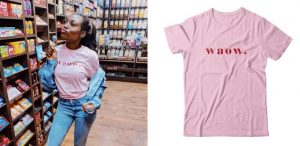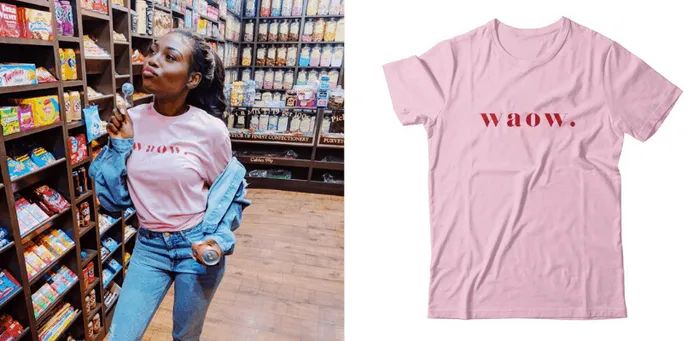 Patricia Bright is a Youtube personality focused on health and beauty products for women. She has over 2.7 million Youtube subscribers and is active on other social channels, including Instagram, where she has over 1 million followers. She's an up-and-coming (or, in our eyes, has already arrived!) social media superstar that knows how to market her merchandise!
Her store sells fun and inspiring, if not slightly ironic, set of merch that her audience clearly understands. Colorful and clear – and dare we say it, bright! Her designs often feature her familiar catchphrases from her videos or other funny things she's told while streaming. Her designs reflect her personality – fun, whimsical, and positive, just like her videos. This is an excellent example of developing a brand and YouTuber merch that goes along with it – bravo!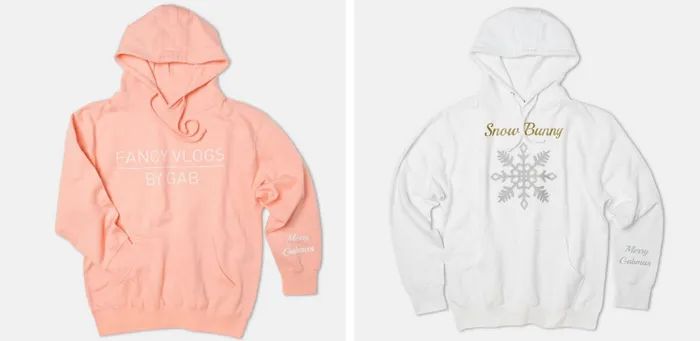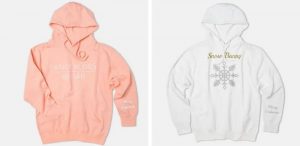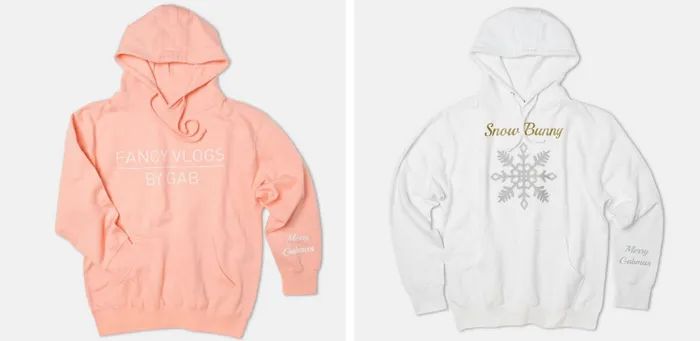 Gabi Demartino shot to Youtube and social media stardom through her makeup tutorials and satirical videos. Her character satirizes the modern American woman's vanity world while giving advice on makeup and hair. She also created a web series called "Blood Queens," and her videos frequently feature her family and friends, whom she calls her "V-Squad." Young women love her for her blazing hot commentary on the expectations they face. With over 2.7 million Youtube subscribers and 3 million Instagram followers, her channel "Fancy Vlogs"  has a lot of Youtuber merch sales potential!
Gabi's products are simple, typically custom hoodies or even cropped hoodies. She has her logo front and center on the designs. Her color palette used in most of her videos is pink and white, which carries over to her merch.
Take a look at what your viewers and subscribers say about you and your videos in your comments. If they consistently say something like, "Your videos always make me smile!" – then you might want to have a brand around smiling!
That's what one of our creators has done, but it's a great idea to take a look at your comments and see how you're best standing out from the crowd.
Take this information and incorporate it into your merch, and develop your brand along the way!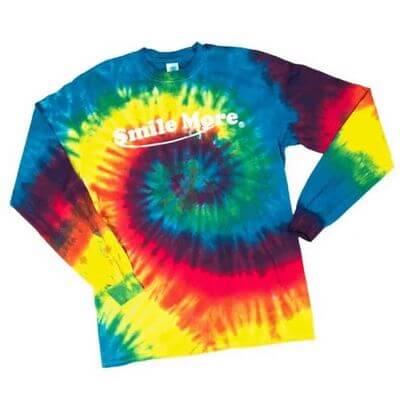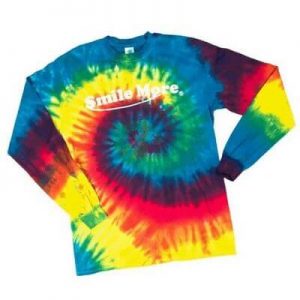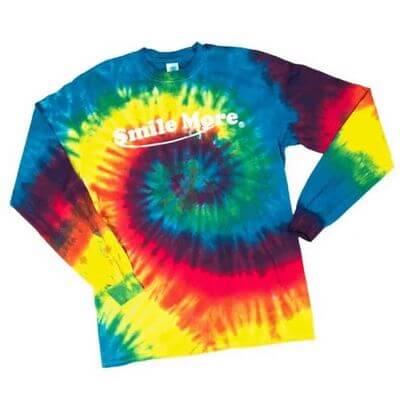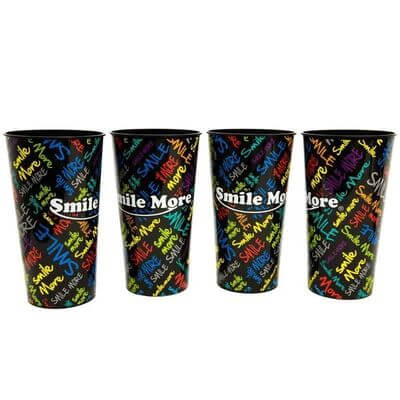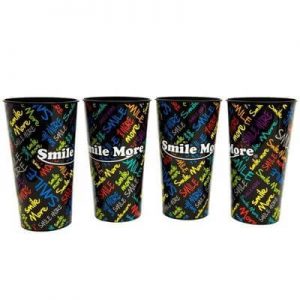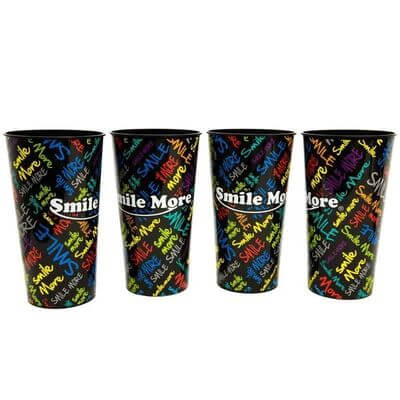 Roman Atwood's Youtube channel, Smile More, is a family-friendly, fun channel about Roman's life in Ohio. He has friends and family frequently in his videos, and they do pranks, tricks, and other absurd, quirky test videos such as "The Greatest Toy Ever Made," a video about the Sherp all-terrain vehicle. Roman's videos are fun, family-filled, and full of personality, perfect for great merchandise sales.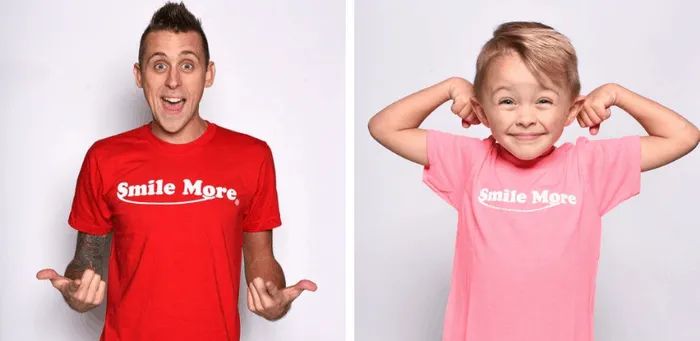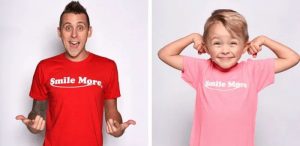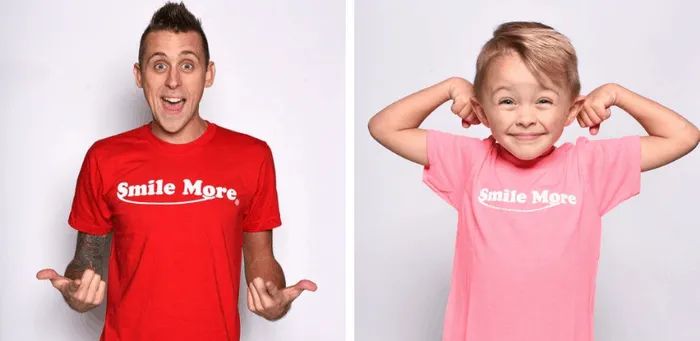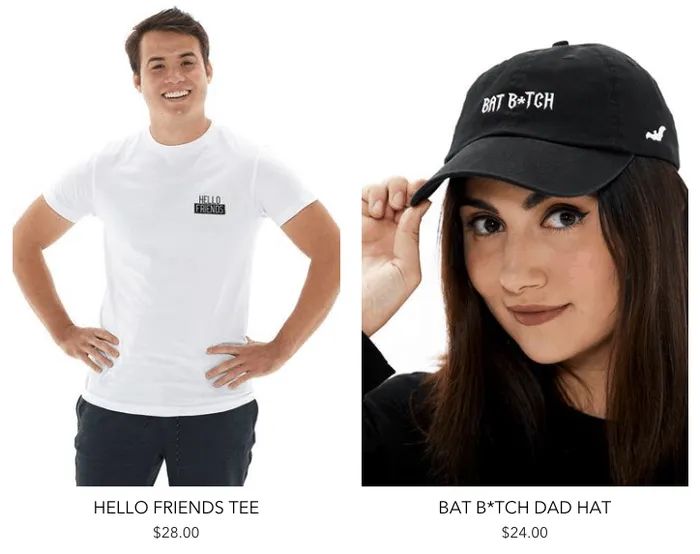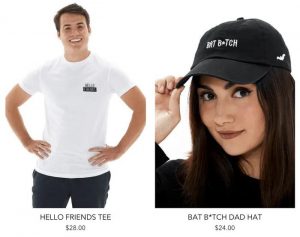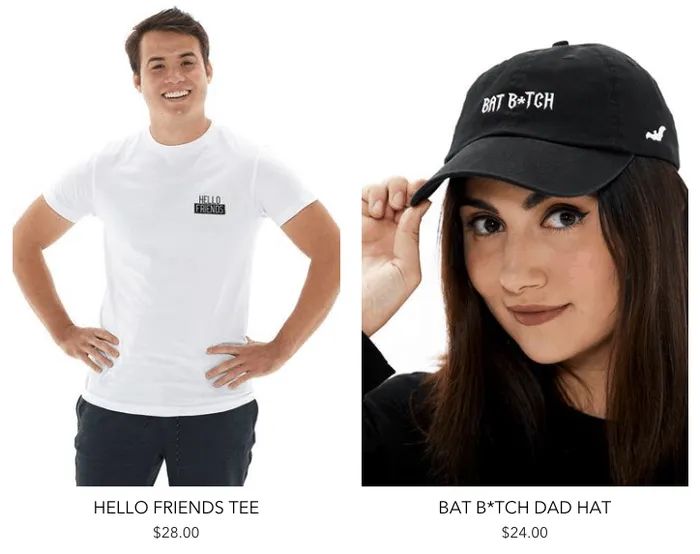 Safiya Nygaard is a perfect example of a unique and big personality Youtuber who takes simple, everyday themes and makes them into massive hits online. Her videos are often themed after every day or uncommon things, with titles like "I Tried Wedding Dresses from Wish" or "I Wore Thigh-High Uggs for a Week," she draws her audience in by scratching that consumer itch they have but resist when they're shopping. In order words, you get to watch her buy that weird stuff you laugh at! With over 7.6 million subscribers, who knew this niche would have such legs?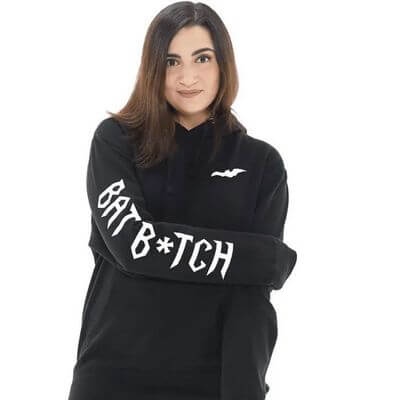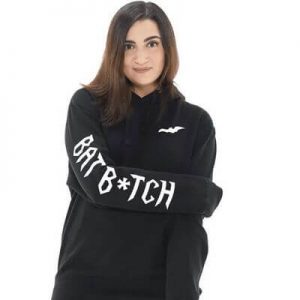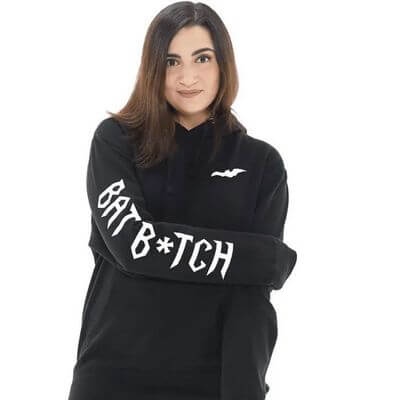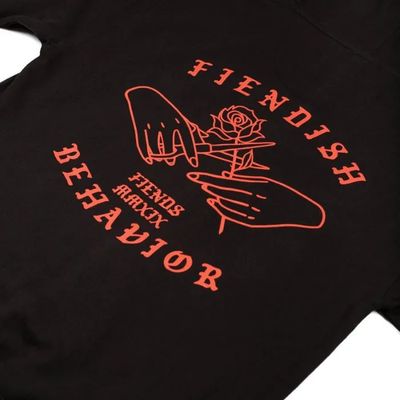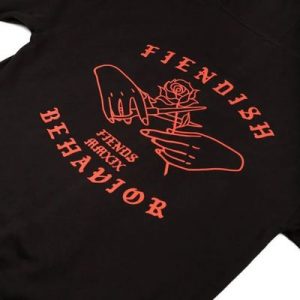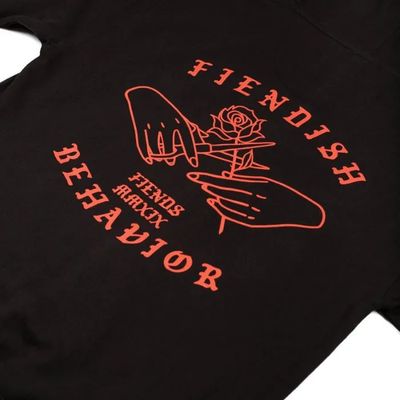 Her merch is fun and unserious, just like her videos! Set against black backgrounds and usually bi-colored, her designs invoke use slogans that call back to her videos and invite you to laugh along with her at the seemingly "crazy" behavior of her video subjects.
F.B.E. is an award-winning digital media company that produces all content types, including studio and even television shows! Their company has over 30 million subscribers across two channels on Youtube, and their content ranges from reaction videos to entire television shows aimed at the young viewer on Youtube.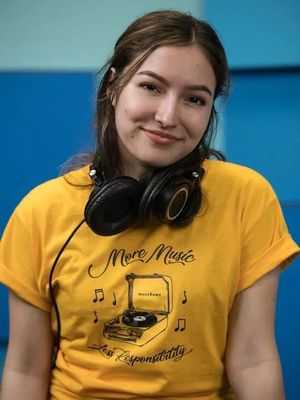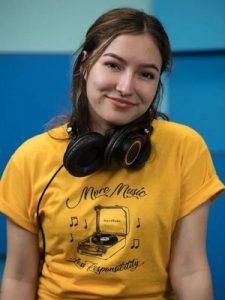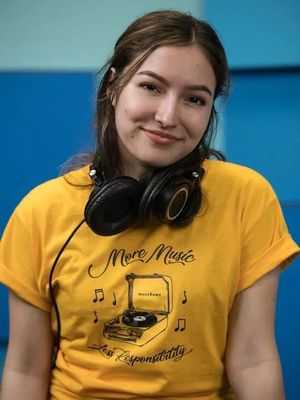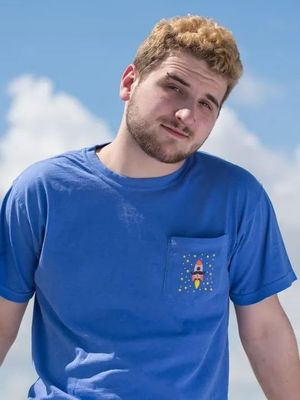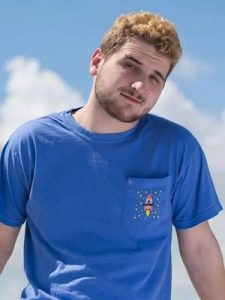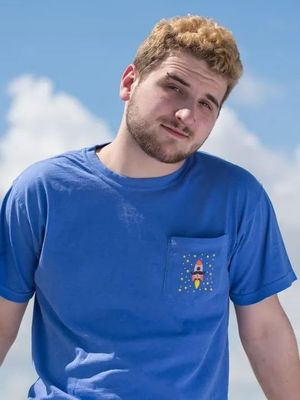 They've got a huge catalog of merch, most of them are colorful, light-hearted, and refer back to themes, characters, or titles of their content. Because they've built up a loyal base of followers that know their brand and love their content, they can directly market any number of products. They're also huge into accessories, giving their youthful and trendy audience a chance to wear their pins, stickers or have magnets in their lockers that display their favorite characters or shows.
There is a reason why people love specific Youtuber merch – it reflects the Youtuber's personality and style. When you are creating your merch as a Youtuber – don't lose your style. Be yourself and let that shine through to your audience. That's why they watch you begin with, and they like you and your brand. Your Youtuber Merch should give them what they want – more of you and your content!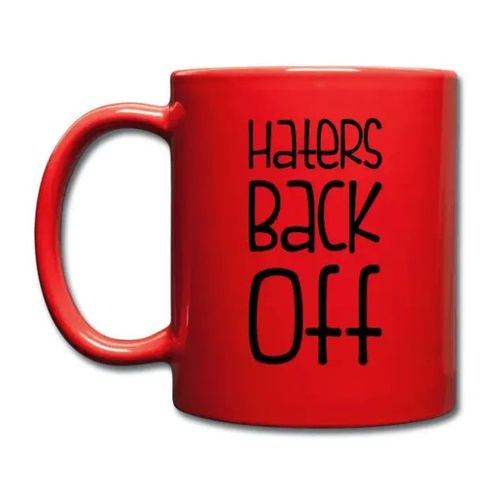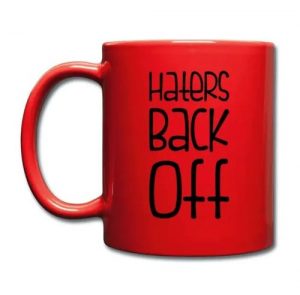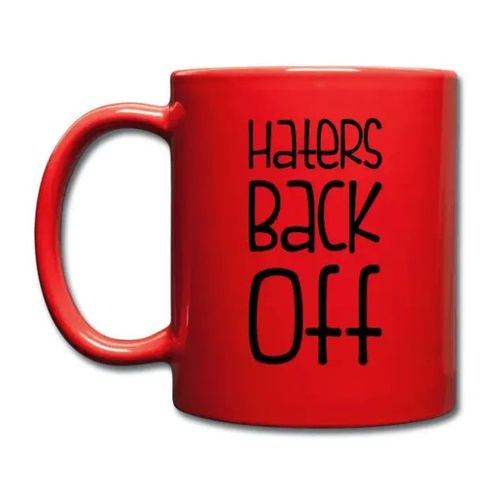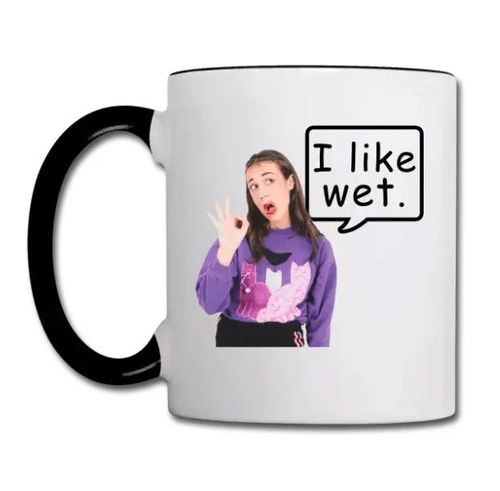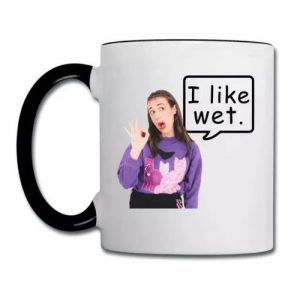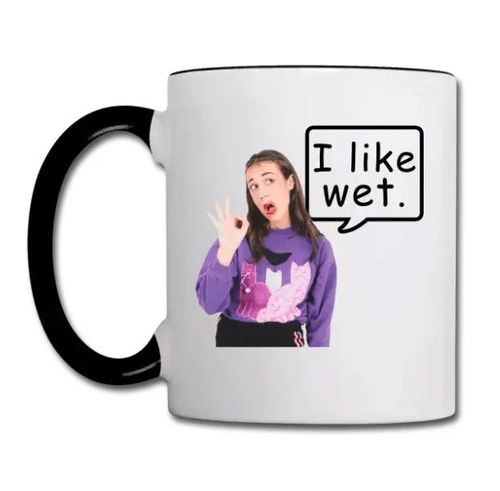 Miranda Sings is a fictional character created by Colleen Ballinger through her Youtube channel of the same name. Miranda is a slightly eccentric, quirky character with an exaggerated sense of her singing abilities – and her audience of 11 million subscribers loves it! Through her original songs and hilarious covers, Miranda brings a clueless and egotistical artist to the masses. This kind of creative personality allows a massive potential in Youtuber merchandise sales.
Miranda's store is quicky and colorful – and delivers her favorite catch-phrases and references to the character – just what her audience wants. When we say colorful, we mean it! Typically clad in purple or red, this Youtuber merch store is precisely what every superfan, or "mirfanda," wants when they go to the store and step out to represent! If you're interested in a shining example of merch imitating a character's personality on Youtube, check out her store!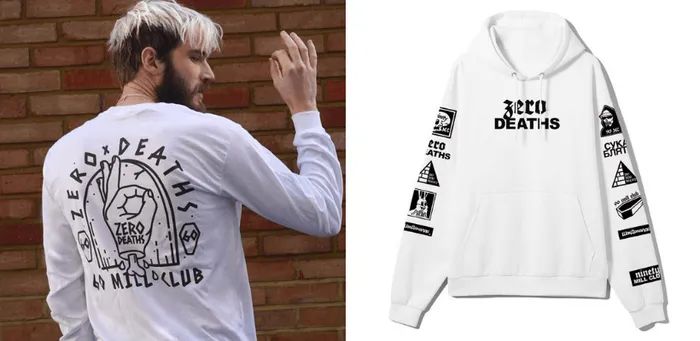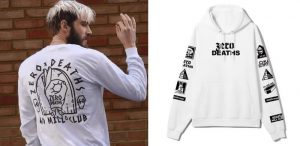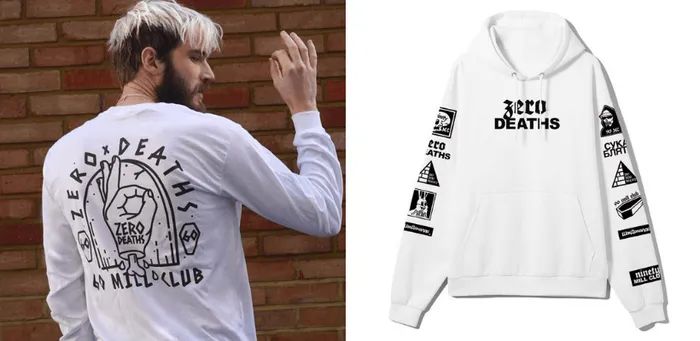 No discussion of Youtuber merch sales would be complete without including Pewdiepie – the King of Youtube. With over 93 million subscribers, his gaming streaming channel has exploded and evolved into what can only be described as a genuine internet phenomenon. His "Pewdiepie News" often gets more views than the network news broadcasters in the United States. It's not often that a Youtuber becomes more popular than traditional media sources, but Pewdiepie has done it.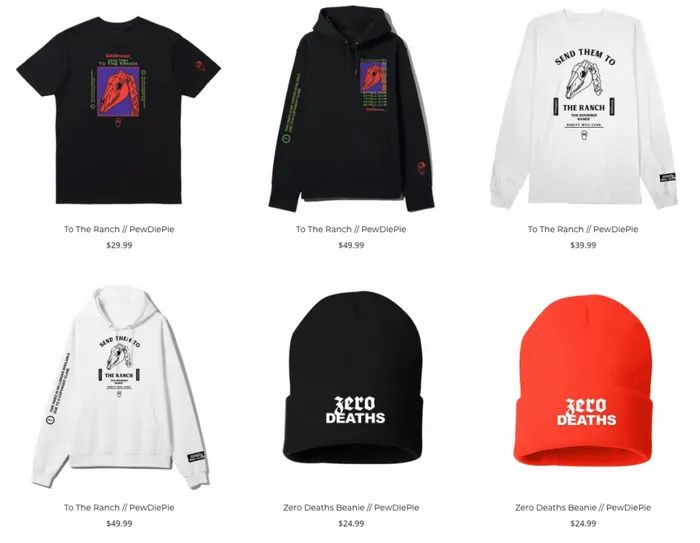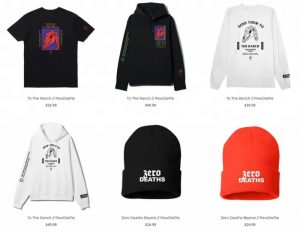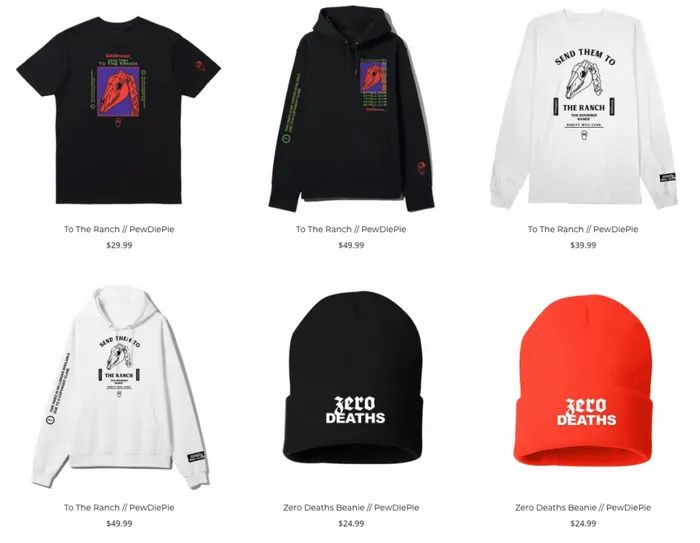 Pewdiepie's Youtuber merch store features designs that call back to his video and his well-developed brand. They're not simple or minimalist, often containing longer phrases on dark backgrounds with trace art. Hooded custom sweatshirts are a great example of one of his items: writing on the sleeves, graphic in the front on a dark background. His somewhat controversial content springs to life on his merch. His YouTuber merch store is a great way to show you how you can take some of your more popular videos or content and them into YouTuber merchandise.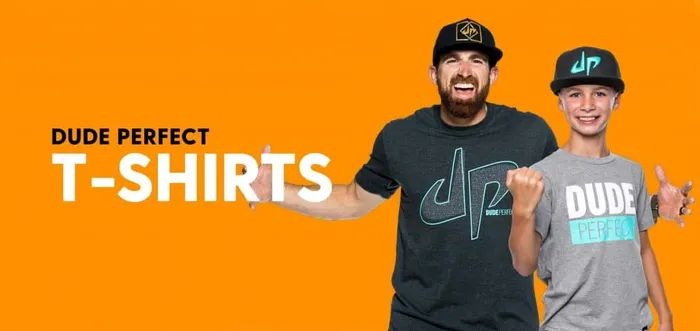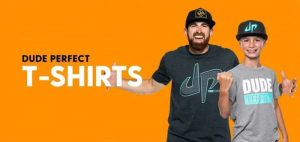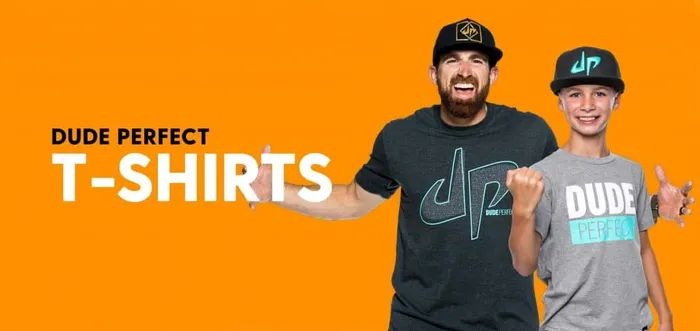 Dude Perfect bills itself as a channel for five friends that have a considerable amount of fun! They prank each other, test out products, and generally have fun together in the most extreme way possible. With over 41.2 million subscribers, their zany antics can reach new and even crazier heights. They have an extensive warehouse facility with a studio where they shoot many comedic bits and contests. Some segments include "That's unfortunate," where one of them spins a giant wheel with options and has to do whatever it says – including boarding a flight to a place for absolutely no reason or play a giant human-sized version of a battleship!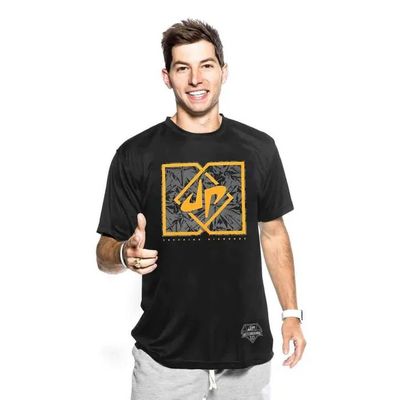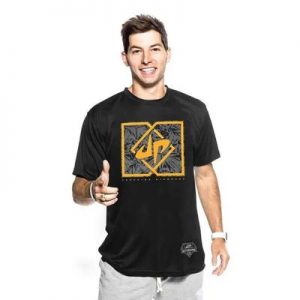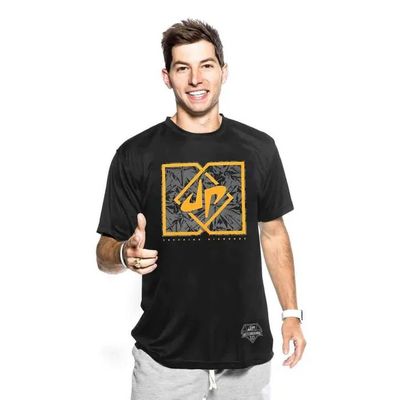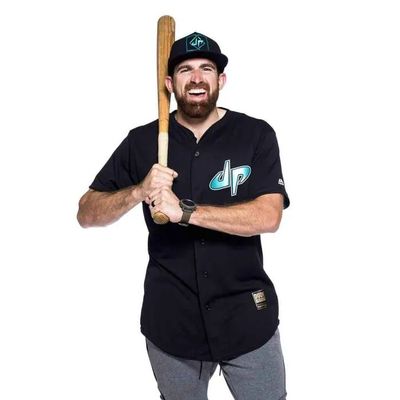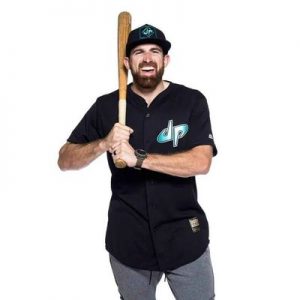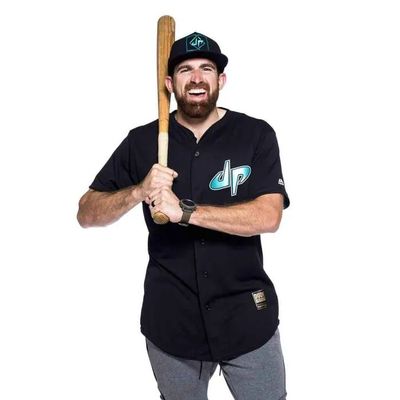 Most importantly for us, their merch game is on point. They have a huge store for all kinds of merch, with loads of different designs, colors, and garment options. Their audience is colorful and loves life, and their merch reflects that. As far as Youtuber merchandise, it's front and center in every video, with every one of the Dudes wearing a t-shirt, hat, or both for the video.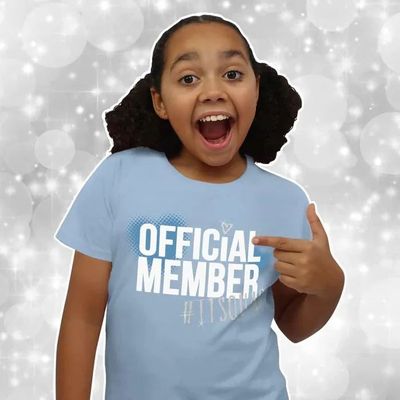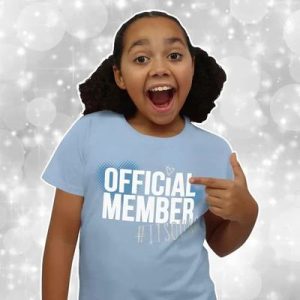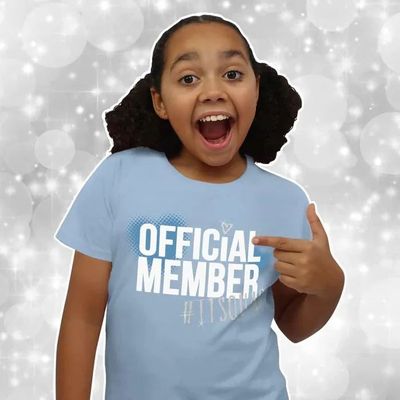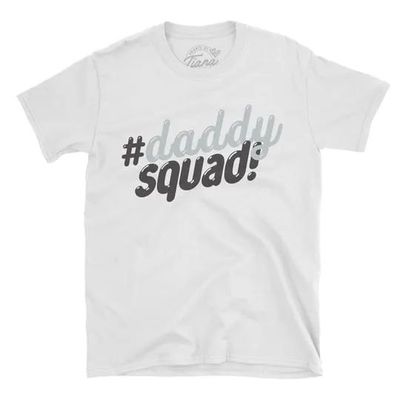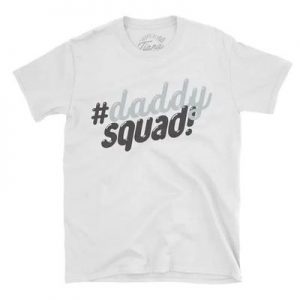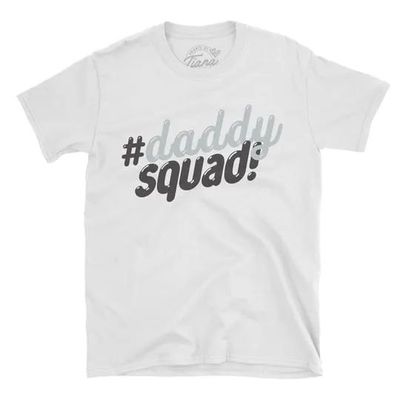 Tatiana is a little girl from the United Kingdom who posts videos of fun topics for children and adults. Her most popular videos are about her pranking her dad, typically by doing something like throwing a fake copy of his Macbook Pro into their pool! She's gotten close to 1 billion views on her videos, has over 4.5m subscribers, and one of her videos has been viewed over 100 million times! Considering she's only 11 and has been making videos since she was seven, she's really in a league of her own on Youtube!  
Take a look at your Youtube channel and think deeply about how you can monetize it with Youtuber merchandise. We at Printify certainly have, and we're ready to share our knowledge with you on how to do it. Taking examples from the many Youtuber merch stores we just showed you and their design ideas. All you need to do is take que from from the one that impresses you the most and use it to start your own YouTuber merch stores.
Youtube Revenue Calculator
Firstly, take a look at our Youtube Revenue Calculator and see how your views could earn you some cash. We took a look at our user's average monthly views. We then calculated their earnings to bring you a good estimate of your profits if you decided to start monetizing your channel and selling Youtuber merch with us.
We noticed that many of the Youtuber's we analyzed are doing their own production runs and hold inventory.
By working with Printify, they and you too could lower their inventory and shipping costs by Print on Demand.
Some of our creators wanted to have total control over their merch-making process. Still, with sample orders and quality control, you'll have an opportunity to have even greater control over the process and keep your hands out of the packaging and shipping!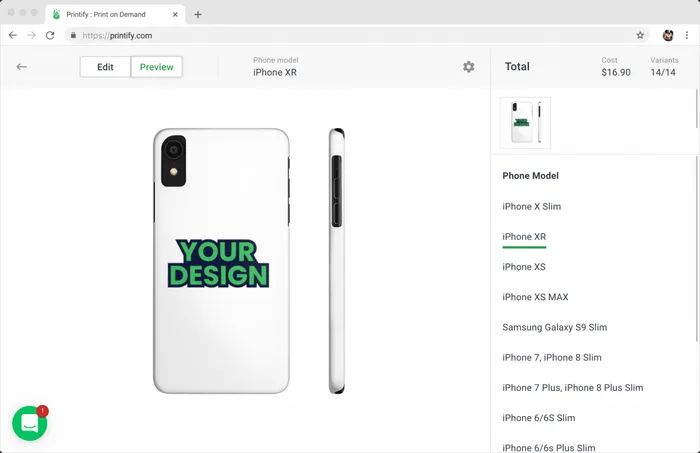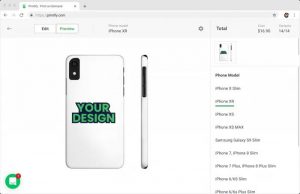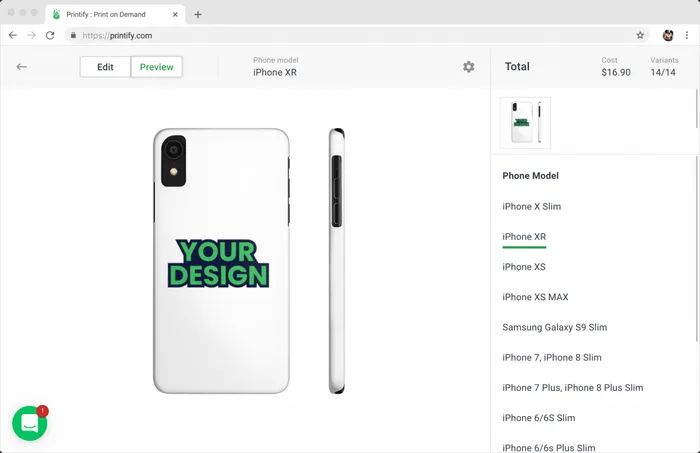 Our mockup generator saves you time by getting your designs onto our products as effortlessly and error-free as possible. This reduces errors and launch times that we've seen. 
Fortunately, getting your design onto our products and transformed into Youtuber merch is as easy as following the step-by-step instructions in our generator and guide. That way, your customers can experience your grand designs as quickly as possible. We have a vast product range that allows you to do just that! Check all 750+ print-on-demand products.
You can also use such sites as Placeit to create mockups for your store. You will find a huge selection of templates as well as design ideas for your custom merch. Just make sure your mockups look exactly like the products you offer. 
Youtuber merch is one of the best ways to supplement your income – especially vs. ads. Instead of breaking up your videos with advertising and affecting your audience's experience, give them something they want – more of you and your channel – which means more of your merch!
Create Your Own Merch for Free!
Share the article
Topics