Shopify Marketing: Tips for Promoting Your Store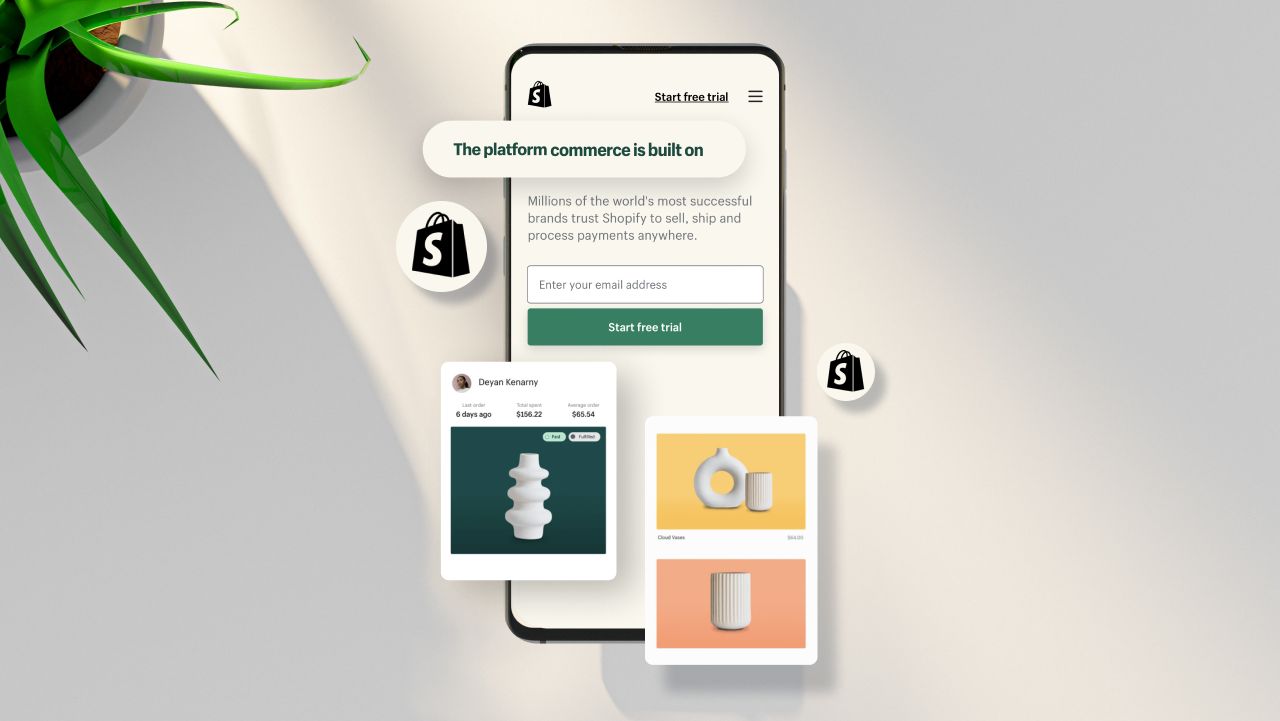 Your Shopify online store is built with one of the best platforms available today. In Q2 2022, Shopify held the largest market share among eCommerce platforms in the US, answering for approximately 32% of all American online businesses.
This also means the competition between eCommerce brands for the spotlight is steeper than ever. You will need to put together a thorough digital marketing strategy to target customers and promote your eCommerce Store with Shopify.
This article will help you through the process of implementing a Shopify marketing strategy. You'll learn basic techniques for boosting sales, including segmentation, email marketing, social media, automation, or affiliate marketing.
Additionally, you'll get our expert tips on Shopify advertising, the best marketing apps for Shopify, what to expect from paid ads, and which metrics you should track.
How to Drive Sales with Shopify Marketing
Many Shopify store owners start their businesses and learn on the go. While some can achieve success this way, a lack of planning can most likely lead to failure, leading some entrepreneurs to look for Shopify alternatives. 
A lack of a planned marketing strategy means your Shopify store will have far fewer chances to grow into a self-sustainable business.
That said, let's dive into key marketing strategies tailored to your Shopify store. You also will get acquainted with marketing features that you can use to promote your Shopify store.
1. Before You Start – Establish Your Shopify Marketing Strategy
Before jumping directly to your Shopify store marketing strategy, there are some preliminary steps to be taken so you get a big-picture of the challenge, define your main goals, and keep focused. Consider beforehand:
What are your

goals

? What do you intend to achieve? Is your online business a side-hustle or your primary income source? Do you dream that it will become your main source of income?

Target

customers – who are your potential customers, whom you may sell to naturally? What is your

niche

?

Key performance indicators

(KPIs) – did you gather data, such as keywords, trends, and numbers? Any objective fulfillment starts with concrete data. KPIs will assist you along the way in measuring what works and what should be changed.

Quality content

– plan your content strategy. What kind of content can you and should you produce? Establish a calendar, follow, evaluate, and adapt, but keep it consistent.

Sales

channels

– where will you be? A website, blog, or social networks? Several channels are ideal but don't overstretch to the detriment of quality and active presence.

Infrastructure

and

logistics

– plan your costs before, including expenditures on hardware, software, plans, apps, sample orders, and staff.
Don't miss our article on how to prepare a business plan. Also, update your ideas on what to sell on Shopify.
That said, let's look closer at the pillars of your Shopify marketing strategy.
2. Begin With Customer Segmentation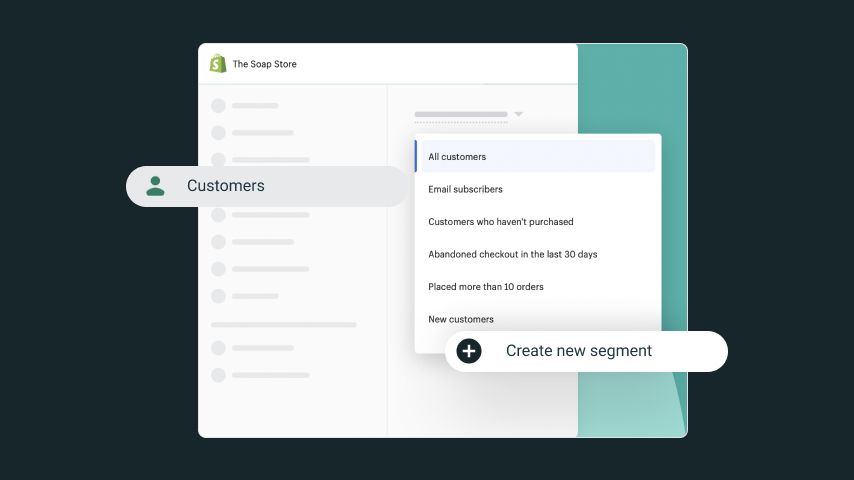 Shopify QL is a unique tool for customer segmentation. Its editor allows you to group customers into segments automatically as they fit some criteria, and to automate tasks accordingly to the segments.
Customers can be grouped by location, email addresses, or based on unique behaviors like the amount spent or the regularity of purchases. That allows you to personalize offers and target your customer base properly.
Why is it important to use the Shopify Customer Segmentation tool when starting an online store on Shopify?
The Shopify Customer Segmentation tool lets you easily group your customers based on common characteristics. Want to create a broad marketing campaign, targeting your subscribers within the US who still haven't made a purchase? Go right ahead. Want to create a super-targeted marketing campaign for your subscribers in California who have made at least 2 orders in the past year and spent over $100? No problem. With this tool, you can create any segment. Pair this with your marketing efforts and you'll be on your way to having a successful business.
3. Create Email Marketing Campaigns
Email campaigns are still relevant and effective communication channels, and this won't change for a long time. This is one of the most affordable Shopify marketing channels and retains importance for allowing full content, time, and distribution ownership. 
Email marketing campaigns require specific precautions. In the first place, email addresses should be obtained with the customer's consent, and messages should be sent only to those who subscribed and opted to receive them.
There are three main kinds of email marketing messages:
Transactional Emailing

– functional emails sent during the purchasing process, informing the customer of the steps. This includes order confirmation, shipping details, and check-in/survey emails.
In addition to basic information, checkout or order confirmation emails can be used as marketing tools by suggesting similar products, accessories to be bought together, or gifts for friends, for example.
Promotional emails

– the core of email marketing. Primarily, use this tool to upsell, inform customers about new products, and send regular newsletters.
Promotional emails can also be sent to segmented customers with customized and seasonal email campaigns, such as mother's and father's days, summer promotions, or limited-time discounts and coupons.
Promotional emailing can also be used to cross-sell based on segmentation and the customer's purchase history.
Lifecycle emails

– these emails are triggered by some action or criteria. Abandoned cart emails are a typical example of this kind of email.
Check out our expert tip on Shopify email marketing:
Did you know that 99% of email users check their email daily? So start building your contact list ASAP and you'll have a highly convertible audience to constantly market to before you know it. Shopify Email is the go-to app for your basic email marketing needs, and the best part is that it'll let you send up to 10,000 emails each month for FREE!
The Shopify email app offers:
Drag-and-drop editor and customizable templates for designing emails that promote your Shopify store.

Compatibility with Shopify automation and use of pre-built templates in conjunction with custom workflows.

Centralized management of email marketing campaigns, including design, automation, and analytics.
4. Practice SEO-Driven Content Marketing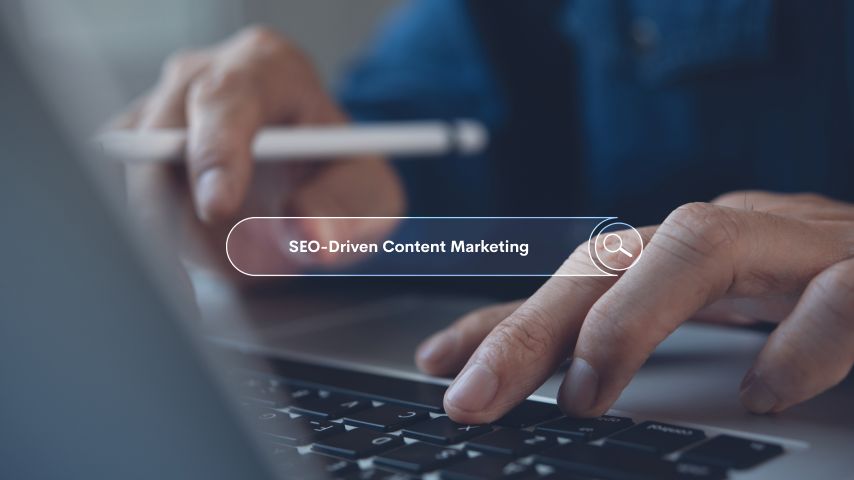 Applying content marketing and tweaking your Shopify SEO are the best ways to gain visibility in search engines and increase organic traffic to your online store.
Quality content establishes you as an authority in your business, increasing your visibility on Google search. It can be produced by blog posts, tutorials, podcasts, or videos rich in relevant keywords.
Content may or may not be directly related to product pages and can be distributed in social media posts, websites, or emails.
Allowing comments and social sharing from a blog post encourages customers to interact, increases customer engagement, and may lead to user-generated content.
Relevant content is targeted to the audience via keyword research. Don't create content for its own sake; instead, research what your audience needs, and answer that with relevant content.
Finally, remember to optimize product descriptions, adding relevant details to the product pages that promote your Shopify store.
5. Advertise and Sell on Google, Facebook, and Instagram
To use your Shopify store's full Google potential, you must first create a Google Merchant Center account. Afterward, go back to Shopify, install the Google Channel app, and choose Google as a sales channel at the Shopify admin. Then, connect to your Google Merchant account.
All the configuration is done in the Google sales channel setup, where the products should be selected. Changes made in the Shopify products will automatically sync with Google.
Fill in your product data on Shopify carefully, observing SEO, keyword research, and even every recommended Shopify image size. That will improve the visibility of your listings and promote your Shopify store before any ad spend.
Google provides paid and free listings for Shopify users and eCommerce stores.
Here is how they work:
Paid listings – Smart Shopping Campaigns
Google Smart Shopping are paid advertisements made with Google Ads campaigns.

The product information is sent from Shopify. Google automatically creates the ads and places them on the Google platforms, including Shopping, Search, Image, Lens, Gmail, and YouTube.

The products are promoted and can be bought on these platforms but are managed at Shopify.

Smart Shopping is integrated with analytics and benefits from the data collected from analytics to optimize the ads.
Free Listings
Google free listings have been available since 2020. They are displayed alongside paid ads but are only available in fewer than 50 countries.
Social Media Marketing with Facebook and Instagram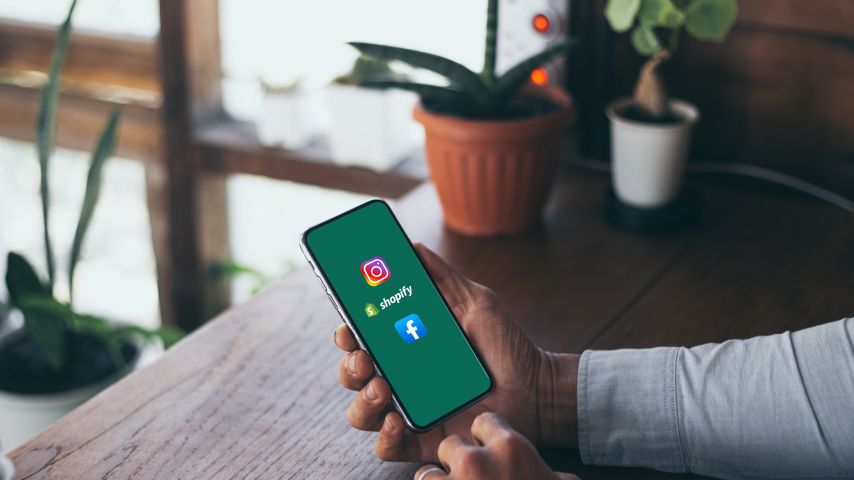 Products on Shopify can be shared through synchronized social media posts on Facebook and Instagram. It's possible to navigate and buy directly from the social platforms by clicking on the posts with the one-click checkout, without leaving the websites.
Selling Shopify store products on Facebook and Instagram is free, as the channel integration is included in the Shopify plans. Orders or payment management is done from the Shopify admin.
Facebook and Instagram shops have some degree of customization. It's possible to partially replicate some of the look and feel of your Shopify store. It's also possible to create collections.
For Facebook marketing, Shopify products can be advertised on a Facebook page through single or Carousel ads. Carousel ads group up to five products, allowing to display collections or even tell visual stories. The format encourages customers to click and explore.
Paid advertising is available on Facebook and Instagram. It's configured in the Facebook ads manager in the Shopify admin, or directly on Facebook and Instagram Meta business configuration.
It's possible to define ad spend per day, precise targeting, and how long the post or product will be advertised.
What are the most common misconceptions when people start promoting their products on Google, Facebook, and Instagram?
There are 3 common misconceptions many merchants have when starting their first paid advertising campaigns:
"Paid advertising will bring immediate results" – in reality, ad campaigns need to be thoughtfully planned, tested, and optimized for them to generate serious results. Be patient, stay focused, and don't give up.
"Paid search is the answer to all of my problems" – many times, store owners make this huge mistake. It's easy to think that the only reason your store hasn't been getting more sales is because you're not getting a lot of organic traffic. So what do most do? They waste money on advertising to drive traffic before knowing what the real issues are. Whether it's your products, web design, or something else, you need to be able to closely examine your business/website and be brutally honest with yourself. 
"Paid advertisement doesn't require much of an investment" – you can start running Facebook, Instagram, or Google Ads for as little as $5 a day but that certainly doesn't mean you should expect any results from it. Because of the nature of paid advertising, the success of the campaign will rely heavily on the budget, among other things. It's true that "You need to spend money to make money". 
In today's digital world, only an effective and strategically designed paid advertising campaign can boost sales and increase brand awareness. There are tons of resources out there that can help you learn more about digital marketing, but I would encourage you to not be afraid to ask for expert help. Check out the Printify Experts Program!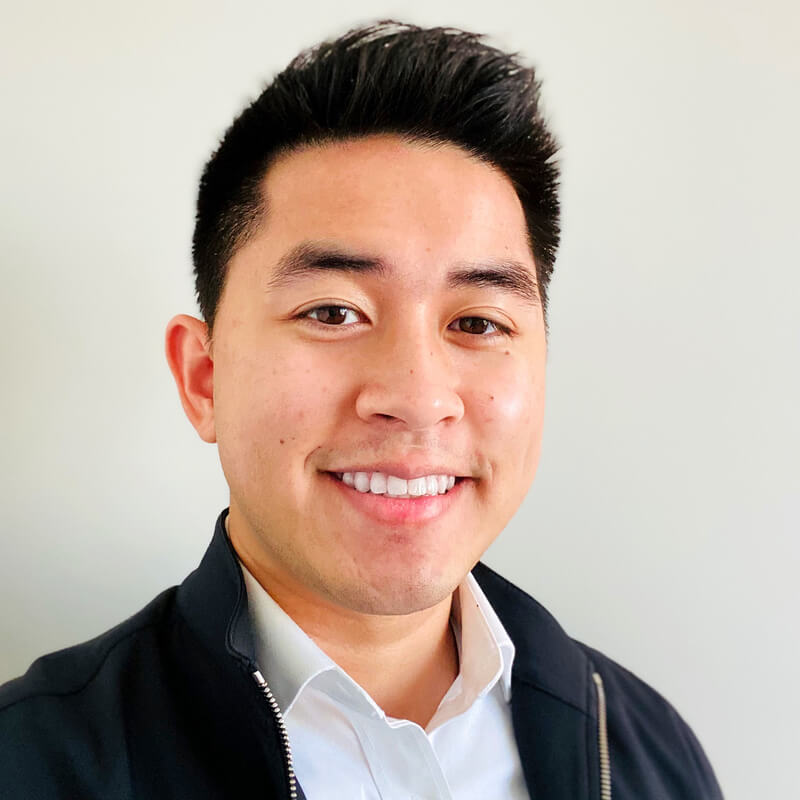 6. Introduce a Customer Loyalty Program
Returning customers are mostly the result of a positive customer experience. The larger share of revenues comes from returning customers, which loyalty programs can further encourage.
In short, these programs provide loyal customers rewards such as discounts, coupons, program points, exclusive products, free shipping, or free products.
Loyalty programs can generate the following benefits:
Retain the existing customer base and convert first-time buyers to repeat customers.

Improve segmentation and data by identifying the best and most loyal customers.

Identify, target, and win back lost customers.

Identify possible brand influencers and create a referral program.

Develop a Shopify affiliate marketing strategy, benefiting from organic traffic and influencer followers, to bring more customers.

Stand out among the competitors.

Reduce advertising costs.
There are several Shopify apps that specialize in loyalty programs. A proper app should be able to offer at least the following features:
Promotional and personalized offers.

Sharing in several sales channels, including social networks.

Reliable and 24/7 support.
This is our Expert recommendation for a loyalty app:
"Smile: Loyalty and Rewards" by Smile.io – Smile is a well-designed, robust loyalty program that can help you create an emotional connection with your audience to retain existing customers, attract new customers, and drive higher profits.
Price – it offers a

free

option with basic functionality. Plans start from

$49

per month.
In addition, consider these loyalty apps:
Growave: Loyalty, Wishlist, +3

– the app offers loyalty programs, wishlists, and customer reviews associated with Google Shopping. Plans cost from

$9

to

$99

per month.

UpPromote: Affiliate Marketing

– create a referral or an affiliate program. The app automatically generates affiliate links and coupons. It offers a free plan with basic functionality. Plans cost from

$21.99

to

$133.99

per month.
7. Showcase Customer Reviews in Your Store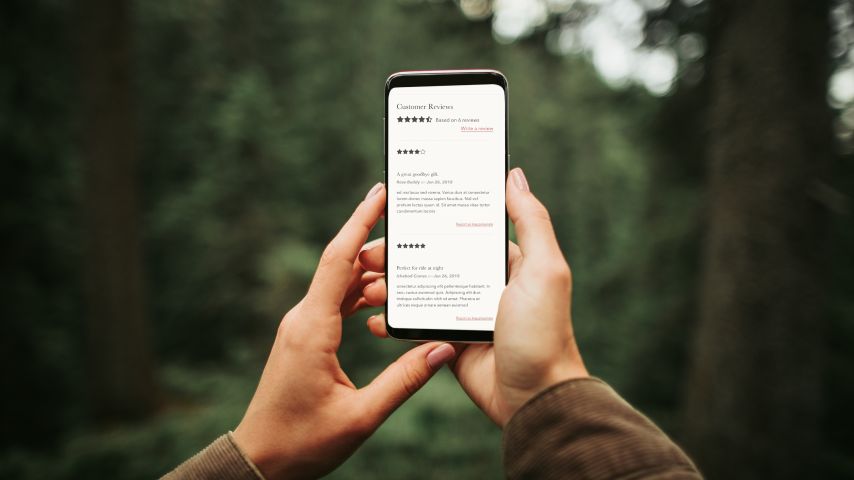 Customer reviews are social proof, reassuring other potential buyers of your product and encouraging sales. Reviews also increase customers' engagement with your store and with each other. 
Several Shopify apps allow adding customer reviews to products. 
The Shopify

Product Reviews app

is the standard app for Shopify stores. It supports Google-rich snippets and structured data, adding aggregate review scores, displaying them in Google, and increasing organic traffic.




Price –

Free

.
"Loox Product Reviews & Photos" by Loox – social proof is more important than ever. Over 95% of consumers make a purchase after checking reviews and will spend up to 30% more on stores with good reviews. Loox has everything you'd need in a review app, with a modern look and feel.
8. Explore Shopify Automations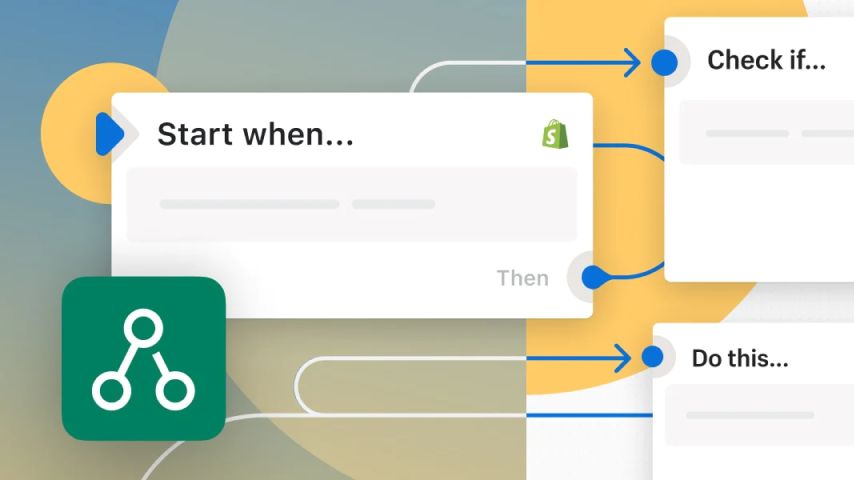 The built-in Shopify automations are available with the Basic plan and allow you to automate many repetitive tasks, saving and optimizing time and resources.
Any marketing automation for Shopify can be designed through an intuitive interface, with simple trigger conditions and ready-to-use templates. When the condition is achieved, the automated task will be implemented.
More extensive automation and integration with several apps are executed with the Shopify flow app, which is available in the Shopify plan.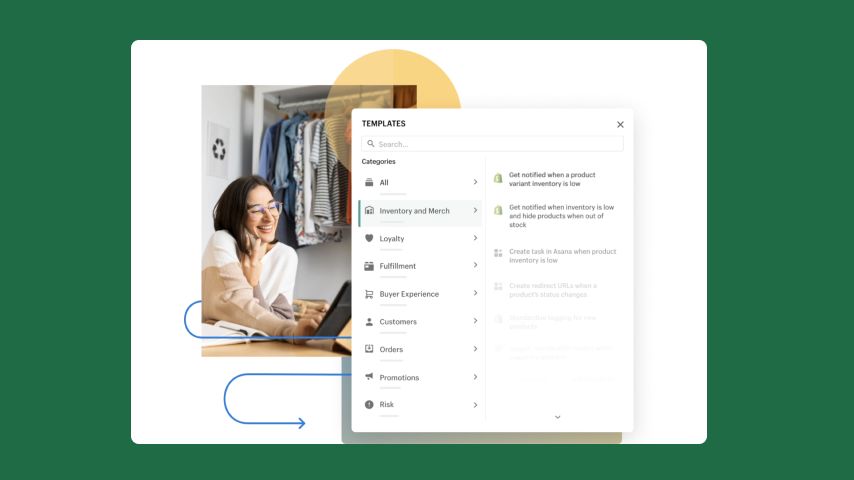 Automations also can be scheduled. Many automations will activate several resources simultaneously, such as regrouping customers or starting email campaigns.
For example, a Shopify marketing automation can be designed to send a winter sports email campaign in December for customers living in certain locations in the Northern Hemisphere. If a customer moves from Colombia to Canada, the automation will regroup this customer and activate the campaign.
Other examples of common automations are:
Scheduled sales, product releases, or promotions.

Discounts applied at checkout according to customer location, the total amount of the order, or the number of products.

Risk management – notify security teams of suspicious transactions, flagged customers, or locations.
9. Make Use of Shopify's Reports and Track KPIs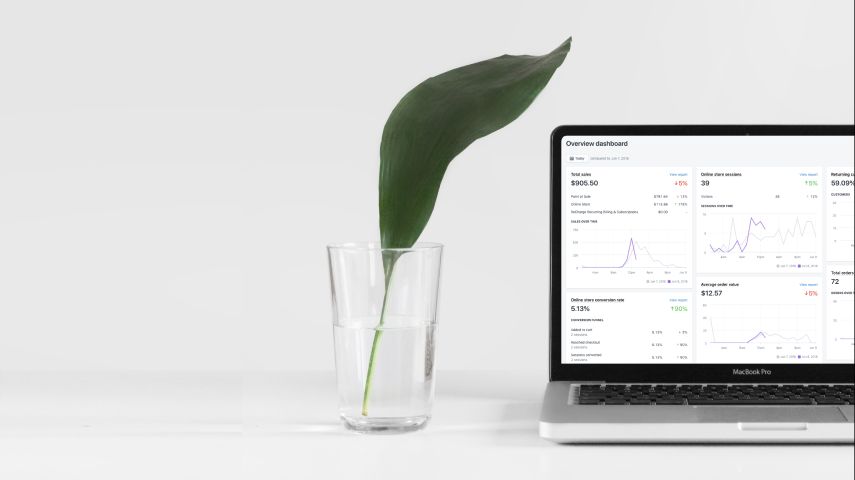 Tracking the progress of your online marketing campaigns is fundamental, as it allows you to correct course and adapt your marketing strategies, if necessary. Keep in mind that underperforming advertising will cost money.
Many metrics can be measured with available tools such as Google Analytics and Shopify's built-in analytics tools. Metrics will inform you which products are selling and which are not, who your Shopify store visitors are, and how well your campaigns are reaching their targets.
Check our expert tip for the most important KPIs for marketing to keep track of:
Which KPIs would you recommend tracking for everyone who is just starting out with their online store on Shopify?
The most obvious KPIs to be tracking are your Sales, Site Traffic, and Conversion Rate. These are broad, high-level KPIs that are used to give you a better sense of the overall performance of your store. After these, low-level KPIs that give you a more detailed view of your store's performance would be your Profit Margins, Average Order Size/Value, and Shopping Cart Abandonment Rate.
In addition, you can use Shopify and Google Analytics to keep track of: 
The number of social media followers and users' engagement.

Traffic sources for different channels and devices.

The total and the average number of clicks – these can be measured in the Shopify store pages, social media, or website.

Time spent on the site and average session duration – more time means more attractive products and designs, and more customer engagement.

Returning vs. new visitors – these metrics help evaluate your digital marketing campaigns' success and customer retention.

Bounce rate – this metric shows the number of visitors that leave your site after viewing only one page. A high amount is indicative that your page needs improvement and redesign.

Affiliate performance – this allows you to evaluate the performance of your affiliate program.

PPC traffic – evaluate the performance of your Social media and Google Ads.
10. Use Shopify's Educational Resources to Up Your Game
Shopify offers a broad range of educational resources to keep you updated.
Shopify

Help Center

and

Support

cover any imaginable topic on Shopify's products and ecosystem. The Help Center is open to external access and has plenty of internal links, in addition to a functional search system. 
Support is restricted for Shopify users.
Shopify Blog

and Shopify Learn provide content beyond the internal Shopify ecosystem, including eCommerce, marketing, design, product creation, and entrepreneurship.

Shopify Learn

offers curated educational material such as tutorials, courses, and webinars, prepared by Shopify's team or partners. 
Despite its marketing, Shopify Learn is not free. Although its resources don't require additional payment, Shopify Learn requires a Shopify account. It is possible to start using it with a Shopify free trial before acquiring a plan.
Check the competitors often and learn about their strengths and weaknesses. We've prepared a list of the best Shopify clothing stores for your inspiration.
11. Use Third-Party Apps to Reach Your Goals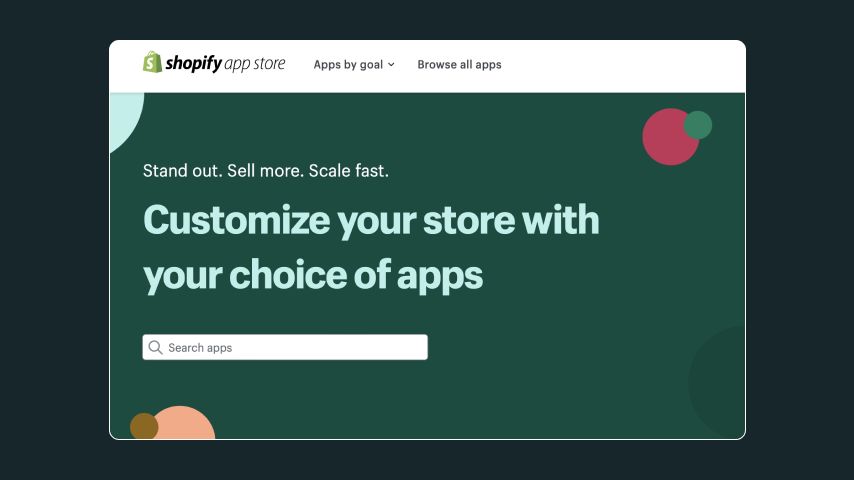 Shopify marketing features can be expanded and customized in any imaginable way through proprietary and third-party apps. The Shopify app store is unbeatable when comparing Squarespace or BigCommerce vs Shopify, offering over 900 marketing and advertising-related apps.
There are some precautions to be taken when adding apps to your Shopify store:
Plan the additional costs – there are many free Shopify apps, but some require subscriptions to unlock advanced features. Small subscriptions to many apps will add up in the end.
Multifunctionality

– if you decide to purchase an app, look for those offering more functions. We've just mentioned

Grove,

for example, an app that offers loyalty programs, customer reviews, and wishlists, and

UpPromote

, which allows creating a referral program, or creating a Shopify influencer marketing strategy with affiliates.

Don't overdo it

– don't install an app that you don't need, even for free. Every addition to your Shopify store should be functional; otherwise, it will consume resources and slow your page loading time, worsening the user experience and even negatively impacting your SEO.
Which additional third-party apps would you recommend to anyone who is just starting out with their online Shopify store?
It's easy to get lost in the huge selection of apps in the Shopify App Store. Here are two of the best Shopify marketing apps:
"AVA Trust Badges, Sales Pop‑up" by AVADA – the customer is everything, so focus on what they need to see before making a purchase. This app has a wide array of social proof/trust features, but the favorite is the Sales Pop-up.
"Bulk Product Edit & CSV import" by Hextom – though this is more for larger catalog stores, any merchant can find great value in this app. Save hundreds of hours using it. Hextom really did an awesome job with this one – it's straightforward to use and extremely useful. This app is able to edit just about any detail for your products in bulk. Work smart, be efficient, and use your valuable time on other higher-priority tasks that will help your business succeed.
Finally, also look at the following apps:
Additional Shopify Social media marketing

– consider establishing your online presence on

Pinterest

or

TikTok

, reaching other potential customers and demographics beyond Facebook and Instagram.

Spotify for Artists

– Leverage the power of the largest media streaming worldwide and sell

Spotify merch

with Shopify. 

Best app for Print on demand

–

Printify app

.
As a POD platform, Printify will connect your eCommerce store to a worldwide network of selected print providers. You can integrate your Shopify store with the app or directly from Printify, gaining access to over 750 customizable products from our catalog. Printify handles all fulfillment and logistics.
Learn more about Shopify dropshipping and how to create your POD demand store with Shopify and Printify on our blog.
Price –

free

(up to five stores per account, no product limits). Premium plan (

$24.99

per month billed annually, 10 stores per account, 20% discount on all products)
Well-thought-out Shopify marketing strategies can help you to reach your target audience, develop sustainable customer relationships, promote your Shopify store, and boost sales.
In short, these are central components for establishing your Shopify marketing strategy:
Now it's time to apply what you've learned. Promote your Shopify store with the aid of our tailored Shopify marketing tips and prosper in your online business.
Start Your Own Print-On-Demand Business!
Share the article
Topics