The Best 4th of July Marketing Ideas for 2023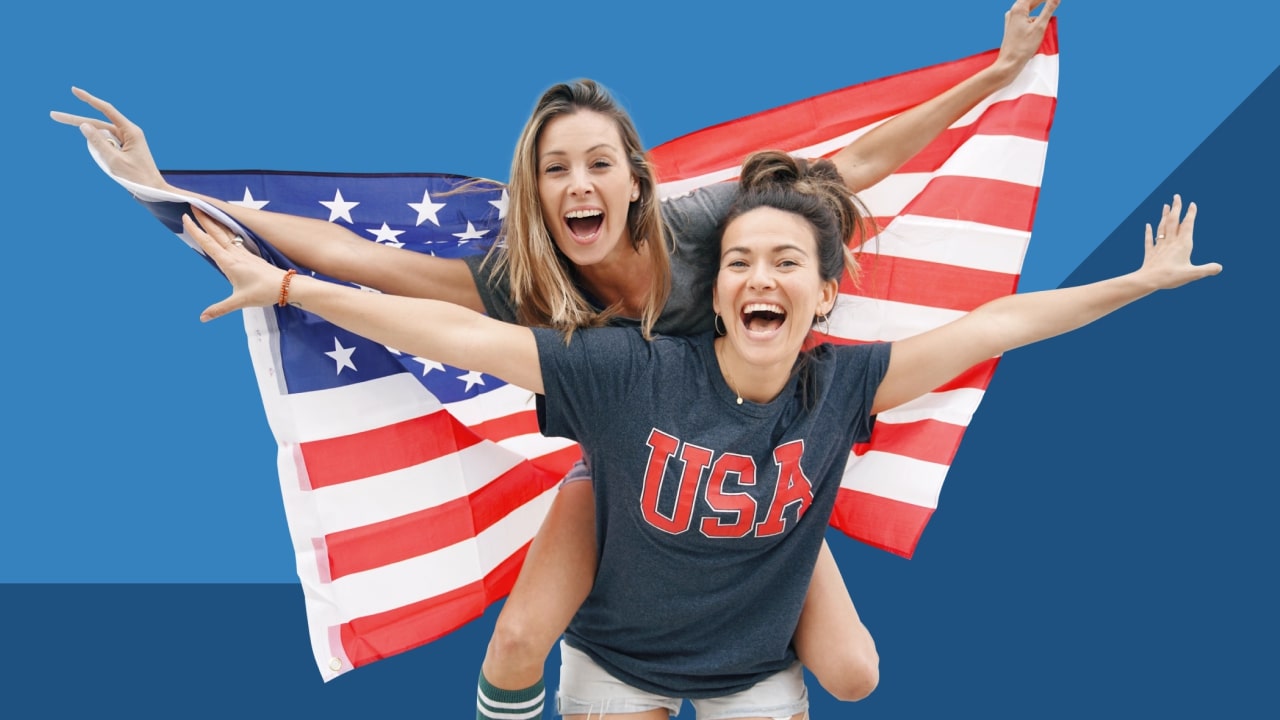 With the greatest holiday approaching, Americans prepare for one of the year's most significant celebrations – Independence Day.
The 4th of July is the perfect holiday to refresh your marketing efforts and celebrate with seasonal sales.
In this article, we explore the best 4th of July marketing ideas that reflect the patriotic spirit of this holiday.
Why Prepare a 4th of July Campaign?
Independence Day is one of the most festive holidays in the United States. In 2022, 84% of Americans planned to celebrate.
The holiday presents an excellent opportunity for businesses to drive sales and grow their customer base, regardless of what they sell.
Around 26% of Americans celebrating planned to purchase additional patriotic merchandise in 2022. With the right 4th of July marketing ideas, finding customers for your red, white, and blue products won't be hard.
How Do Americans Celebrate Independence Day?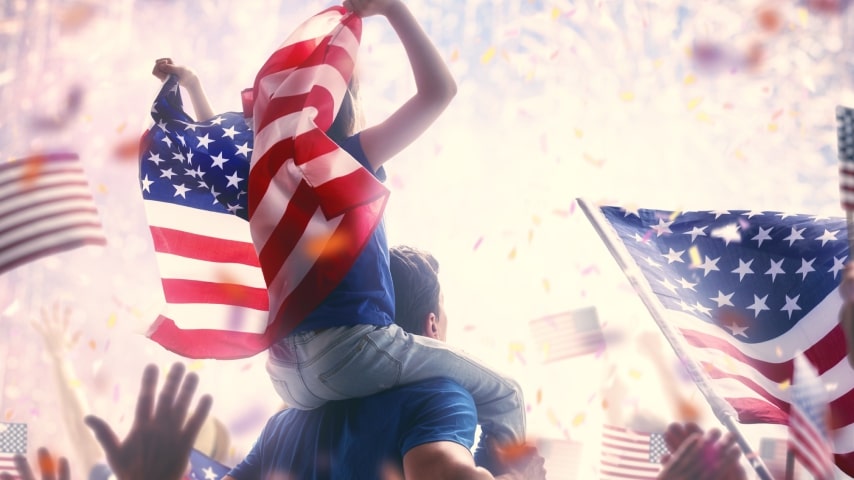 Whatever products you add to your 4th of July sales, keep your customers and their interests in mind. Without doing so, your holiday products might get lost in the sea of promotional offers from other businesses.
Take a look at how Americans celebrate Independence Day so you can pick the right products, designs, and 4th of July marketing ideas.
Barbecues and picnics.

Celebrating the 4th of July with a barbecue is an old American tradition. Undoubtedly, picnics and family get-togethers are widely popular too.

Fireworks and community celebrations.

Wherever you are in America, the community comes together for local celebrations – carnivals, fairs, parades, and fireworks.

4th of July travel.

Americans love to travel, whether it's a short trip to a local event, a lazy afternoon at the beach, or a quick getaway to the lake.
These wholesome Independence Day activities require certain accessories to make them more enjoyable, memorable, and engaging – a great opportunity for small businesses to increase their sales.
Make This the Best 4th of July Yet!
4th of July Marketing Ideas, Tips, and Advice
United in their love of freedom, liberty, and fireworks, Americans celebrate the 4th of July with a bang.
Although the market might seem saturated, everyone has plenty of opportunities. If you want to set your brand apart from all other 4th of July marketing campaigns, you're in the right place.
With a bit of preparation, anyone can successfully stand out in the minds and hearts of their customers.
Start by Targeting the Right Crowd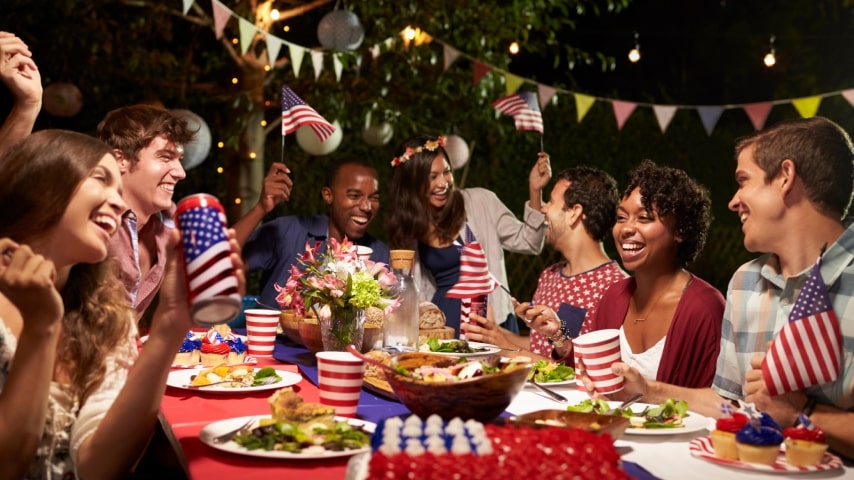 Identifying the right target audience is vital for the success of a 4th of July sale. This way, you can focus on those most likely to celebrate, visit your store, and make a purchase.
With market segmentation, you can divide your target consumers into approachable groups, making it easier to promote products. Segment your target audience by:
Demographics. Age, education, income level, and nationality.

Geographics. Residency of a specific country, city, or neighborhood.

Psychographics. Attitudes, values, opinions, and interests.
Although there are other types of market segmentation, these are the most relevant when preparing a 4th of July marketing campaign.
In short, before launching a campaign, always ask yourself the following questions:
Who are my current customers?

What's their nationality?

What are their values, interests, and needs?
By analyzing your current customer base, you'll be able to identify their main traits and unique needs – the imperative is to understand your audience, ascertain their preferences, and tailor the products to their liking.
With the help of this information, you can gain an edge over other businesses, promote a sale effectively, and encourage people to make a purchase.
Start Your 4th of July Campaign Early and Keep an Eye Out for Trends
When planning a campaign, nothing's more important than timing. Typically, people start searching for content related to the 4th of July around mid-June, with their interest peaking at the beginning of July.
To effectively implement your 4th of July advertising ideas, launch the campaign a month before the big day.
With timely planning, you'll have more time to research and check trends. Here's how to find what's most likely to sell.
Use Google Trends.

With the help of

Google Trends

, anyone can quickly assess the popularity of any topic.

Analyze search results.

Use research tools like

Google Keyword Planner

,

Semrush

, or

Ahrefs

to see what people search for.

Examine last year's bestsellers.

With a simple Google search, it's easy to find what sells and what doesn't.
Decorate Your Online Store for Independence Day
As you begin working on your 4th of July marketing ideas, don't forget to decorate your store – it's an easy way to get visitors into a shopping mood.
By welcoming them with beautiful imagery of the United States flag, fireworks, or holiday-themed products, it'll be easier to increase engagement and turn them into customers.
Whether you're decorating with promotional banners, pop-up messages, or showcasing product collections, use red, white, and blue colors.
Old Navy's 4th of July marketing idea – decorating the landing page and launching a limited collection of purple t-shirts, representing unity and belonging.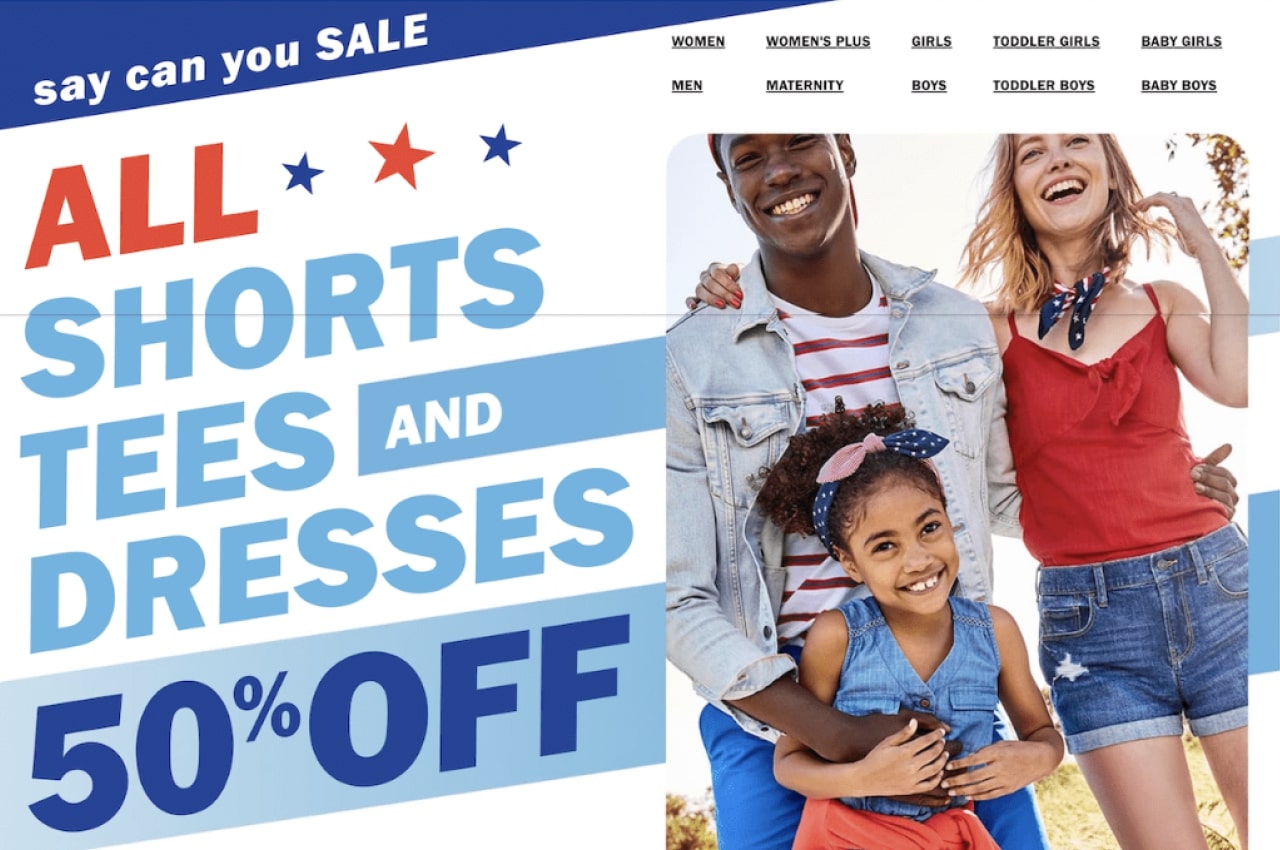 Wayfair's patriotic landing page, leading to its 4th of July collection.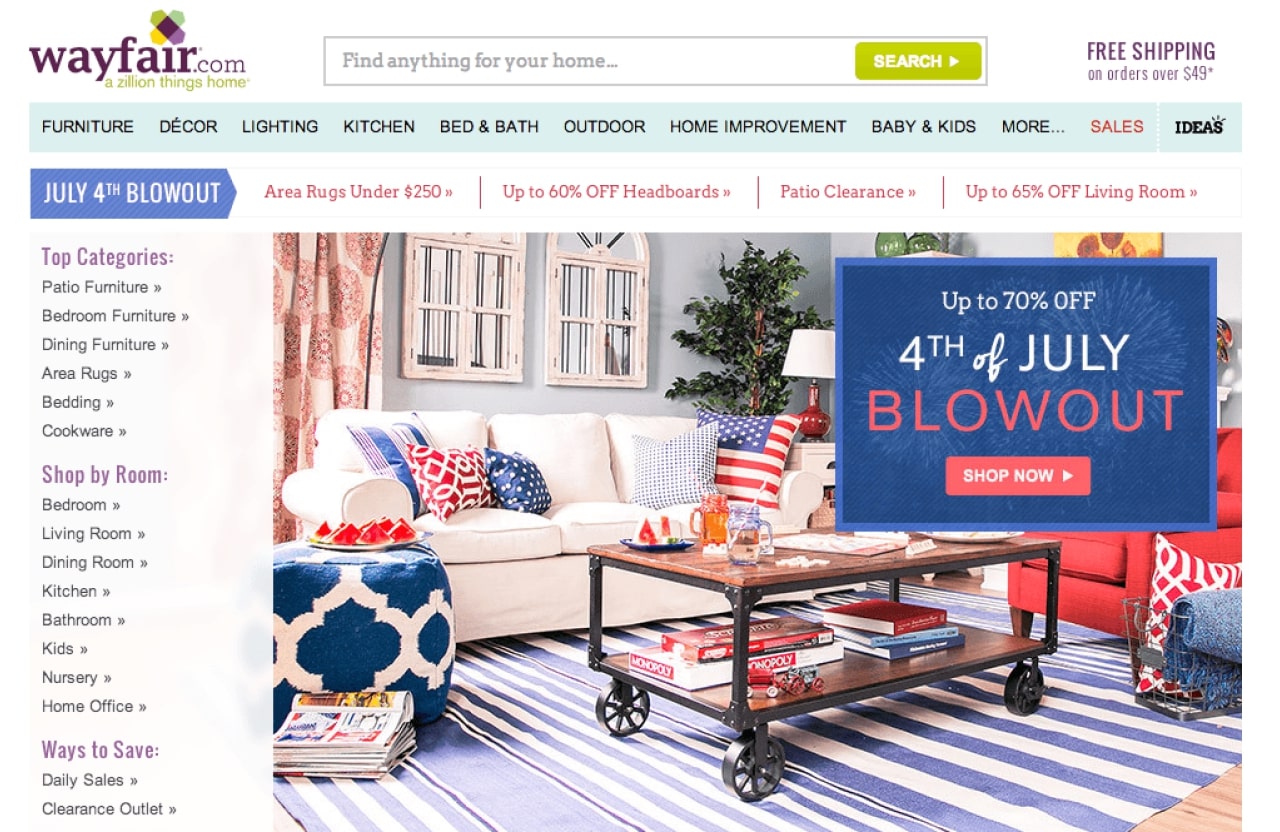 Offer Discounts, Free Shipping, and Promotional Deals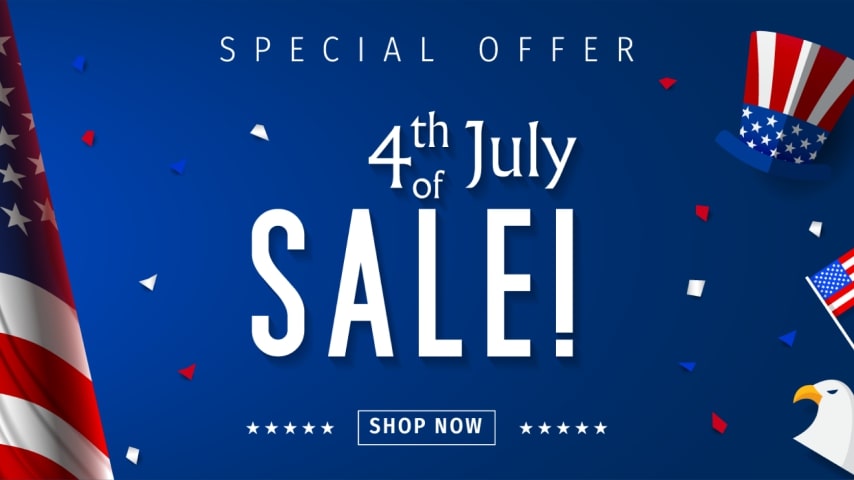 Offering discounts, free shipping, and promotional deals is a bulletproof way to generate hype around a store. Not only do these 4th of July marketing ideas help increase sales, but they're also a great way to attract new and keep existing customers.
For example, you can offer:
Discounts, gifts cards, freebies

Buy one, get one free deals

Free shipping
By enticing customers with exclusive 4th of July sales and offers, you encourage them to stay loyal to your brand and purchase from you again.
Steve Madden advertises its 4th of July sales in a very subtle yet effective way, offering free shipping in addition to discounts.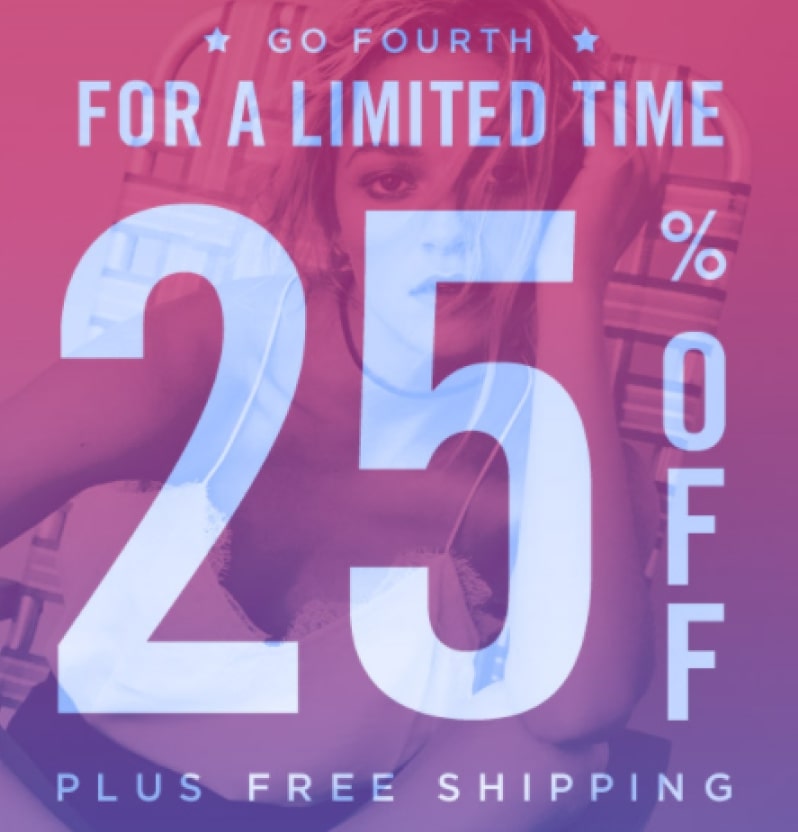 When it comes to Fourth of July marketing ideas, Tommy Hilfiger takes a traditional route – a simple firework gif and big discounts to spark their sales.
Use Social Media Marketing and User-Generated Content
The beauty of social media lies in its ability to reach a vast audience – it's an easy way to inform your potential customers about discounts, giveaways, deals, and other goodies your brand offers.
Use holiday challenges, hashtags, and trends connected to Independence Day to reach more customers and outshine other businesses.
Here are some 4th of July promotion ideas.
Regarding 4th of July marketing ideas, giveaways are always a big hit. Take time to create beautiful July-themed posts and ask people to comment or tag their friends for a chance to win a prize.
Post a holiday-themed photo and challenge people to create a clever caption, offering a gift card, promotional code, or freebie to the most imaginative.
Invite your followers to post content using a specific hashtag – for example, asking them to share photos of their most patriotic outfit. In exchange, enter them into a prize draw.
A hashtag challenge combined with the power of user-generated content is an excellent way to expand your reach, gain new customers, and drive brand awareness. With hashtag challenges, your business can quickly go viral.
Whichever of these 4th of July marketing ideas you implement, don't forget to add the most popular hashtags.
#HappyFourthOfJuly

#HappyBirthdayAmerica

#RedWhiteAndBlue

#ProudToBeAnAmerican

#StarsAndStripes

#LandOfTheFree

#July4th

#4thOfJuly 

#PartyInTheUSA

#America

#Fireworks

#IndependenceDay

#Freedom

#FreedomIsNotFree

#LandOfTheFree
Promote Patriotic and Summer-Themed Product Designs
Every American wants to wear something red, white, and blue on Independence Day. At the same time, not everyone wants to look like a flag.
Here are some suggestions if you'd like to show your American pride subtly.
4th of July apparel with catchy slogans and a touch of red, white, and blue

Summer-themed products

to reinforce the summer vibes

Family-themed apparel
When designing for this special occasion, keep temperance in mind so that these holiday products can be worn throughout the whole summer.
Offer Personalized Products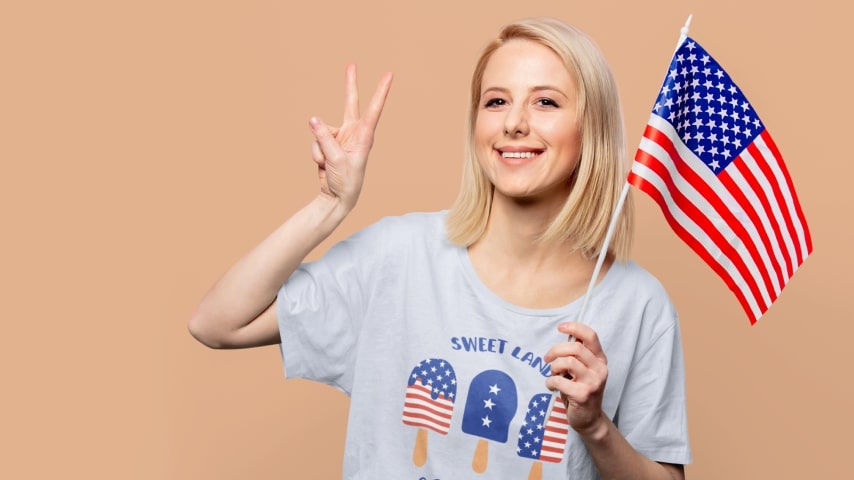 If you know your customers well, there's nothing better than selling products specifically designed for them. After all, personalization is gaining momentum.
With our powerful Mockup Generator, anyone can easily make one-of-a-kind products and add them to their 4th of July sale.
If you need just a few personalized products for yourself – no problem. Printify's print-on-demand service has no minimum order quantity, so you can order as few or as many items as you like.
Whether you need matching shirts, hoodies, or picnic bags for a local event or a family gathering, the Printify Catalog has over 850 high-quality products anyone can easily personalize.
Launch a Patriotic Email Marketing Campaign
Whether the goal is to convey patriotism, connect with customers, or promote a sale, 4th of July email campaigns are a cost-effective solution.
With an email campaign, you can easily boost traffic with just a few words and images. Strive to create a catchy subject line and a clear call to action so your customers instantly understand how you want them to proceed.
If you're looking for a tool to help you with this, try Mailchimp. Their software offers various designs, templates, and tools, enabling people to create appealing emails easily.
With a friendly reminder to get ready for the big day and a promise to deliver until then if the customers act quickly, the business inspires trust, subtly leveraging the fear of missing out.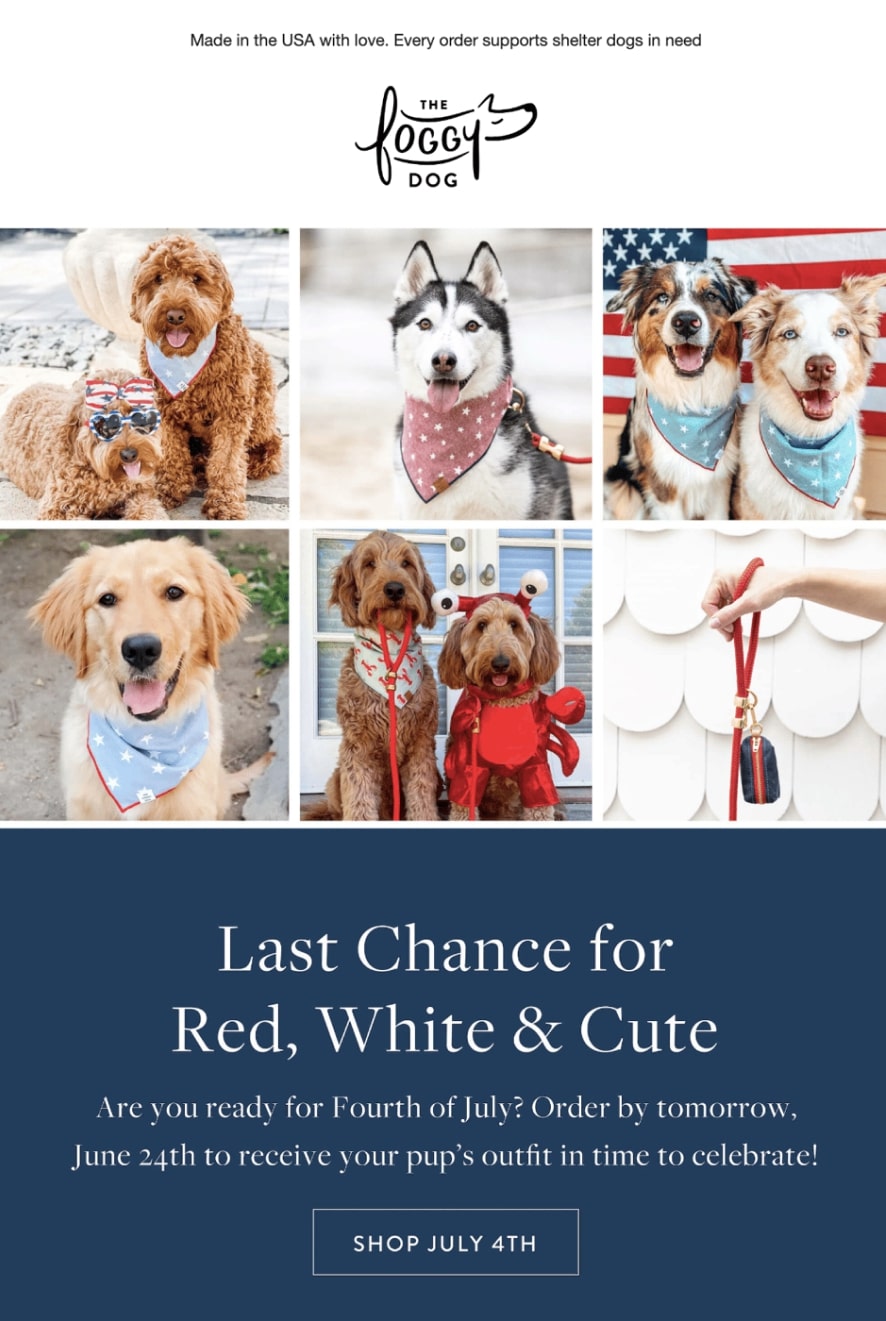 When it comes to Fourth of July sale ideas, reinventing the wheel isn't always necessary. With a minimalistic design, Paige builds a campaign around the concept of American style in a red, white, and blue color palette.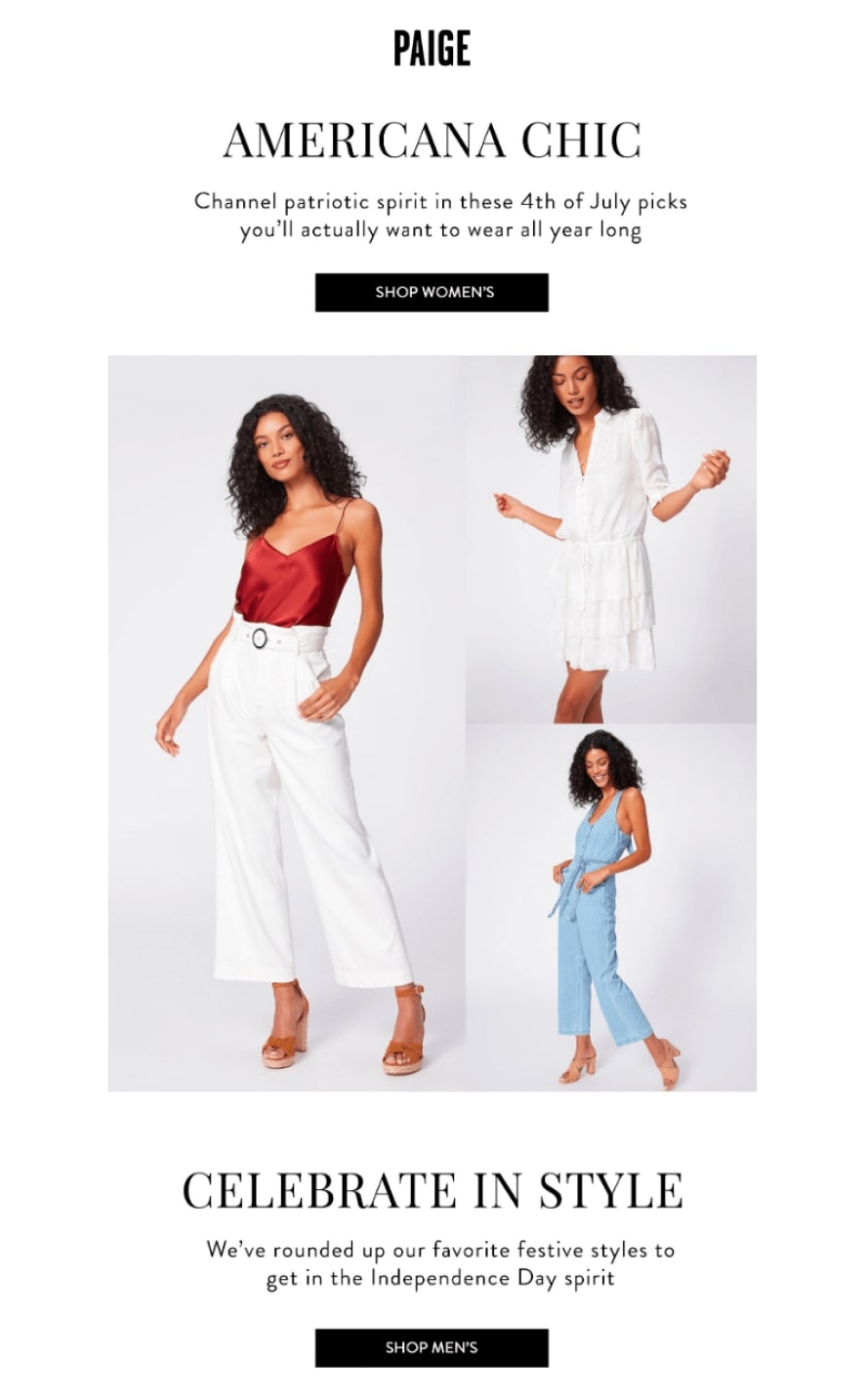 Content marketing is a common strategy used by many businesses. Building trust and authority becomes easier if a brand posts relevant content regularly.
Whether it's an inspirational story or practical advice, storytelling can be a powerful tool. Stories inspire us and influence our decisions.
If you know your audience well, tailor content to their liking – find what they're passionate about, gather information from social media, forums, and blogs, and provide useful advice.
Here are a few ideas:
The best places to watch Independence Day fireworks

How to keep your dogs safe this 4th of July

The best restaurants open on the 4th of July
When writing a blog or a social media post, choose words people most often use when discussing a topic. This way, you'll make your post rank higher in search engines.
Sponsor Local Events and Charities
When a business supports a local event or cause, they receive positive exposure. With improved public perception, it's easier to attract new customers and grow a business.
You can start by contacting your local charities and see what their needs are – sometimes, matching t-shirts for their local audience is all it takes to promote your business.
Make This the Best 4th of July Yet!
4th of July Slogans for Your Campaign
Discovering the best 4th of July marketing ideas is only half the battle. The other half is finding the right words that resonate with your audience. 
Whether you need 4th of July slogans for Instagram posts or email marketing campaigns, there are plenty of options. With the help of these, writing your own won't take long.
We're proud to be Americans, and we're proud to offer you the best 4th of July deals.

Let's celebrate with fireworks, freedom, and fantastic deals.

When America celebrates, everyone gets a gift.

This Independence Day, let's celebrate with stars, stripes, and savings.

This 4th of July, we're proud to offer you the best deals in town.

Red, white, and sale! Get the best 4th of July deals from us!

Oh, say, can you save! Deals you won't want to miss.

From bright fireworks to big discounts, let's celebrate the 4th of July with a bang.
Which Products Should I Add to My 4th of July Sale?
With Printify, adding a wide range of patriotic-themed products to your 4th of July sale has never been easier.
Whether you need just a few products for your family or a hundred for your customers, we've got you covered.
You can't go wrong with patriotic gear – it's a great 4th of July marketing idea. With various brands, styles, and colors to choose from, our Catalog has something for everyone.
Whether it's a t-shirt with a bold American flag, stars, stripes, or something more subtle, potential customers won't be hard to find as long as it radiates patriotism.
Barbecue and Picnic Essentials
In 2022, 59% of Americans planned to celebrate Independence Day with a picnic, cookout, or barbecue. By the looks of it, this year won't be any different.
In short, it's a wonderful opportunity to create a collection of holiday-themed products specifically for this occasion.
Whether people are hitting the beach, going camping, or visiting loved ones, personalized travel accessories make holiday trips much more enjoyable, memorable, and fun.
Americans love to travel. Add additional value to their celebration by providing some handy companions for their 4th of July adventures.
As we conclude our article on 4th of July marketing ideas, we hope you found them insightful and worth a try.
While much has changed since the Declaration of Independence was signed, one thing remains the same – the 4th of July celebrates American history and the values that make this country great.
As the big day approaches, it gives businesses a chance to show what they stand for, promote their products, and make a profit.
With the right approach, anyone can easily launch a successful 4th of July marketing campaign.
Make This the Best 4th of July Yet!
Share the article
Topics