A merch maker is a custom merchandise creation tool that eliminates guesswork from shipping, printing, and designing.
Everyone has a custom merch store nowadays. And there are good reasons to have it, as merchandising is a booming business.
However, the rise in ecommerce and demand for merchandise has saturated the market so much that it is difficult for you to produce and popularize distinctive merchandise in the masses. The business owner also has to get up to the high standards prevalent nowadays and still keep the products affordable for the end customer.
It makes sense to use a merch maker that takes care of guesswork involved in shipping and printing.
What Are the Advantages of Using a Merch Maker?
Using a merch maker works well for both a creator and a distributor. Merch stores are all about designing and marketing the products, choosing a platform, and printing providers. Thanks to merch makers, you do not have to worry about things apart from design, fee, and daily advertising. 
Printify has the 'biggest global print network' with a catalog of 300 product designs in its base store to choose from.  
In addition, you will also find a built-in Shutterstock integration, which gives you access to more than 300 million copyright-free images.
Thanks to user-friendly tools like the mockup generator, it is really easy to design unique products and sell merchandise to your customers.
Steps to Create Merchandise on Printify
To start creating merchandise, you will need to click on the product catalog available on the Printify website. From there, choose one of the many available products and click on it. Next, select the most suitable print provider. 
You can base the selection on a provider's location, prices, and other metrics. Or, just look at its overall print provider ranking. Printify has a large printer network with more than 35 print providers and over 90 printing providers across North America, Europe, Australia, and China.
Once you pick the print provider, click the "Start design" button. You will be redirected to the mockup generator page, where you can add design to the product by dragging and dropping it on a product or using the "Add your design" button.
The mockup generator on the left has a transformation box that lets you modify your artwork on merchandise.
As soon as you are satisfied with the product's design, click the "Next" button at the bottom-right corner to proceed to the product information page. Fill in the information, select your wholesale price, and publish the designed product directly to your store. You can save the design as a draft and wait for a sample before you put a product on your store.
After a product gets published on the store, Printify's network of print providers will handle fulfillment and shipping.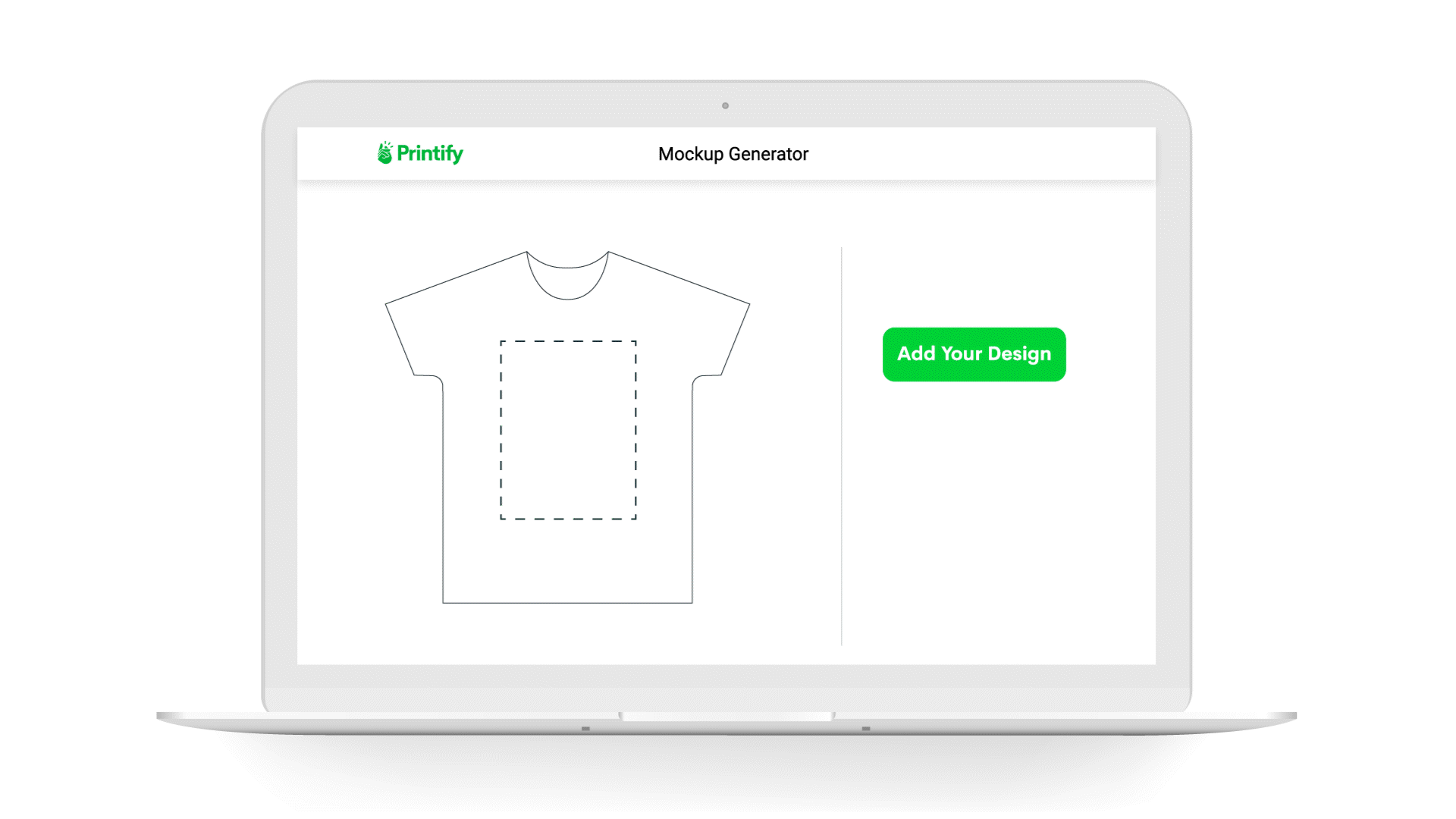 What to Consider When Creating Merchandise?
One of the most popular merch designs is putting up a quote on a shirt. But other things are also important for increasing the demand for your product. These include:
The placement of the designs is highly crucial. For example, shirts with embroidery or frontal printing tend to resonate well with the audience. All-round prints, sleeve designs, and chest pockets are some other great options for your merch. 
Among all colors you could use for your merch, black tends to be the most sold. Brightly colored and white products are the least popular, whereas standard color merch comes second to black.  
When it comes to merch design, simple is best. This means you don't have to go overboard with your design.
Who Can Benefit From Printify's Merch Maker?
It is not just aspiring or established custom merchandise sellers that can benefit from Printify's merch maker. 
Instagram influencers are a great example of how content creators can monetize custom merchandise and grow their brand even more. With the continuous rise of social media's popularity, even micro-influencers with a few thousand followers can offer their loyal fanbase custom branded clothing, accessories, and other POD products.
Similar to Instagram, TikTokers are also seeking opportunities to make money from their content. Using Printify for TikTok merchandise will do more than just bring you profit. It will also spread your influence even more.
Most YouTubers have dedicated merchandise and use it as one of the ways to monetize videos and promote themselves. Since more and more people are purchasing products associated with content creators they admire, being a YouTuber gives you a great opportunity to offer personalized merch to your subscribers.
Finally, there are bands and musicians who go on tours and sell merchandise at concerts to promote themselves further. Whether it is t-shirts, hoodies, hats, stickers, socks, or other merchandise that you want to sell to your fans, Printify has you covered.