TikTok Merch Analysis: Revealing the Best Products to Sell in 2024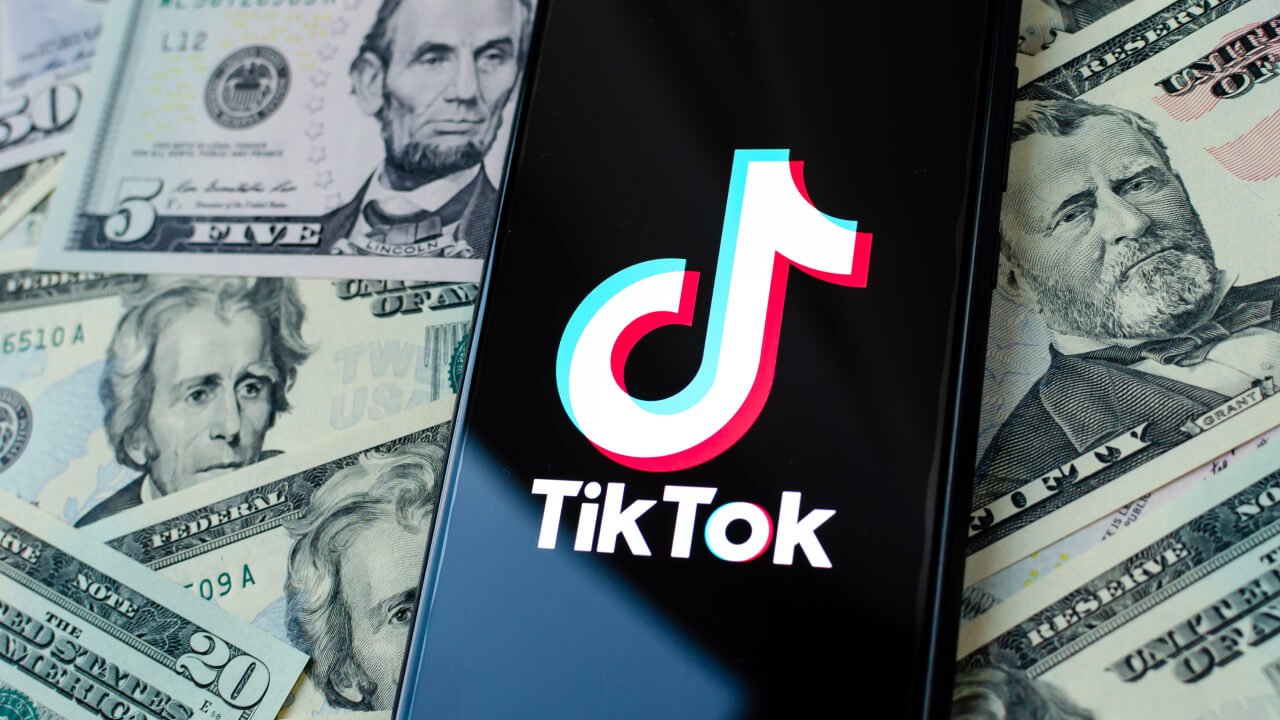 TikTok's wide reach and popularity have created a thriving community of individual creators.
Fashion goes hand in hand with creativity and inspiration. This is why print-on-demand has such a solid and growing presence on the platform, offering custom attire for adults, kids, and even pets.
We'll explore the reasons to create TikTok merch and analyze the top 20 TikToker merch ideas to help you identify the hottest products to sell in 2024.
Why Should You Create Tiktok Merch?
The simple answer – it's very popular. TikTok continues to dominate the social media landscape by being the most downloaded mobile app in 2022. On top of that, it surpassed both Instagram and WhatsApp by more than 124 million downloads.
In 2022, the TikTok total user count reached 755 million.
By joining other TikTok creators in selling branded merchandise, you can engage and expand your fanbase, which is bound to lead to more recognition and a growing number of sales.
After an Analysis of the Top 20 TikToker Merchandise, Here's What We Found
We took a deep dive into the world of TikTok to resurface with a precious collection of gems.
We're, of course, talking about some trustworthy advice that will significantly improve your chances of running a successful TikTok merch shop.
Ranging from the right TikToker merch to sell to the trendiest graphics to place on your products – we've got you covered.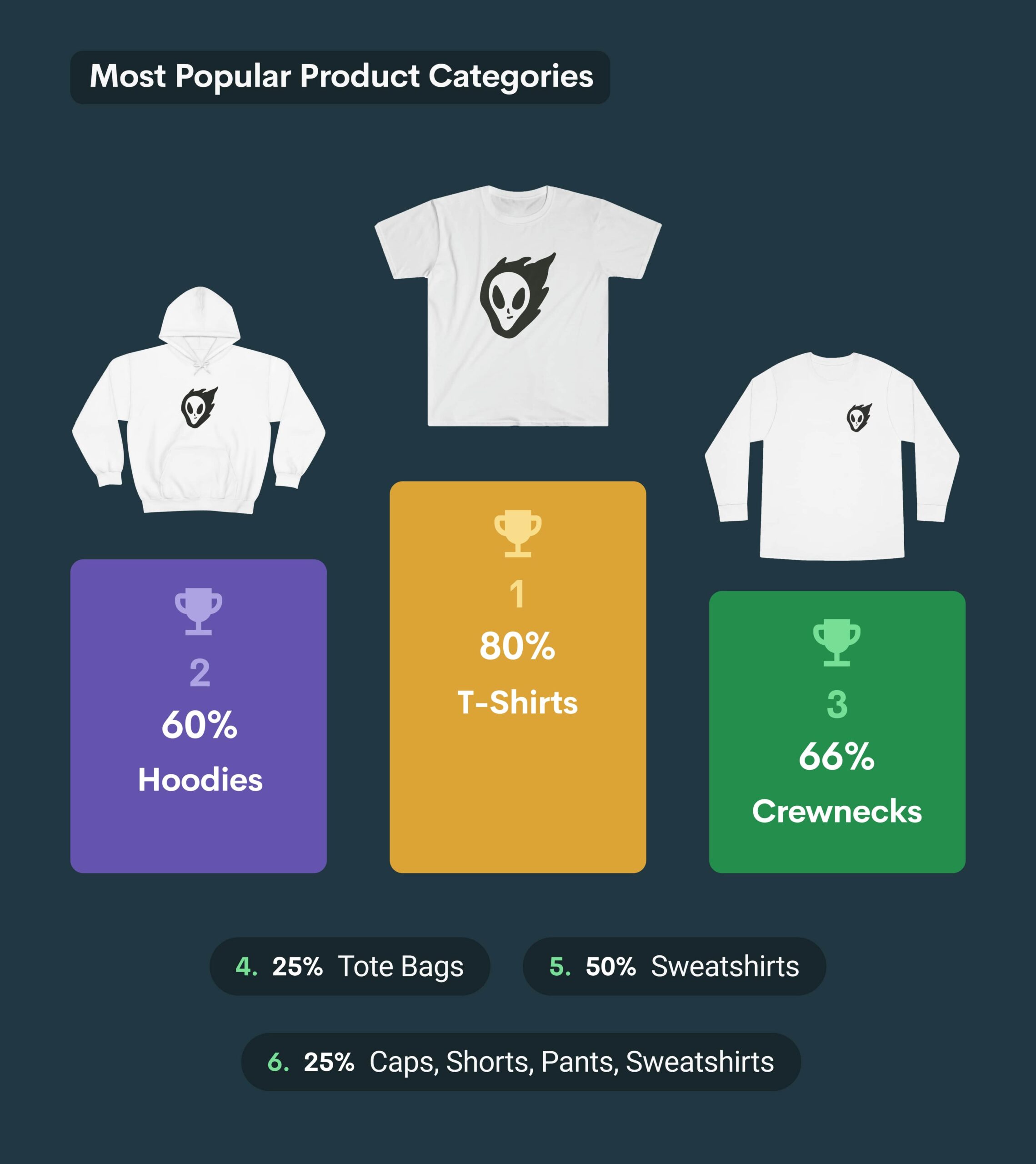 After taking a look at TikTok's top products, we can see the unmatched popularity of casual dresses, followed by perfume and t-shirts.
Don't forget about other popular pieces of clothing like hoodies, crewnecks, and sweatshirts, as well as accessories – tote bags, phone cases, rings, and necklaces, all of which hold a solid spot in an average person's wardrobe.
All of these products offer a winning attire selection for TikTok's youthful audience.
If you're looking for some of the more niche leading TikToker selections – go for candles and mugs.
Hottest Decoration Methods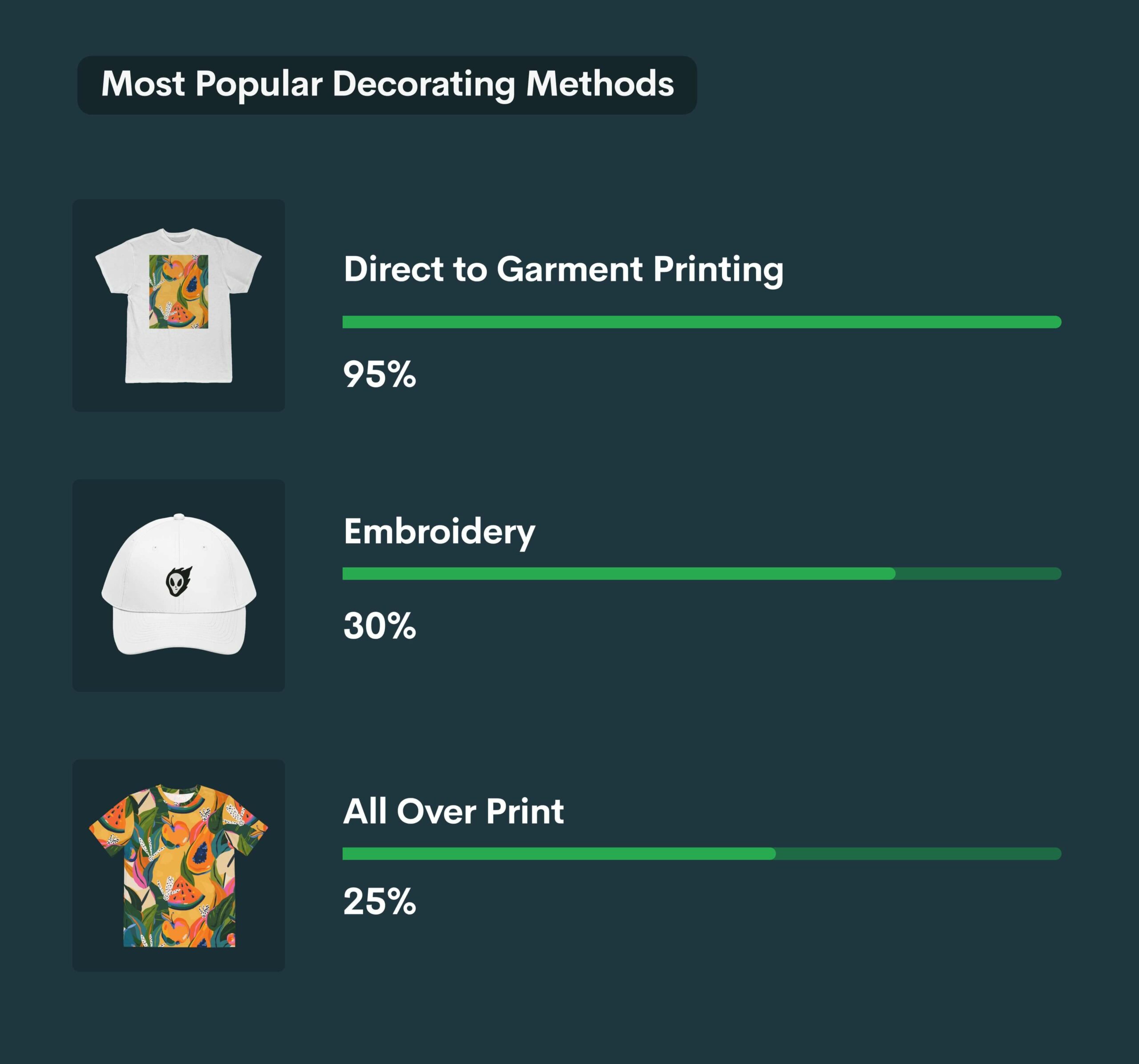 When it comes to printing methods, direct-to-garment (DTG) prints take a stable lead among products offered in TikTok merch stores.
And rightfully so – DTG prints come in vibrant colors, provide intricate details, and last through many wears and washes. All of this is what makes DTG the perfect choice for your brand merch.
Other notable types of decoration from the leading TikTokers include all-over print (AOP) and embroidery.
AOP allows you to wrap the entire garment in your unique design, while embroidery will provide a quality embellishment for your most tasteful merchandise.
Find the printing method that aligns most with your TikTok fans, and start printing!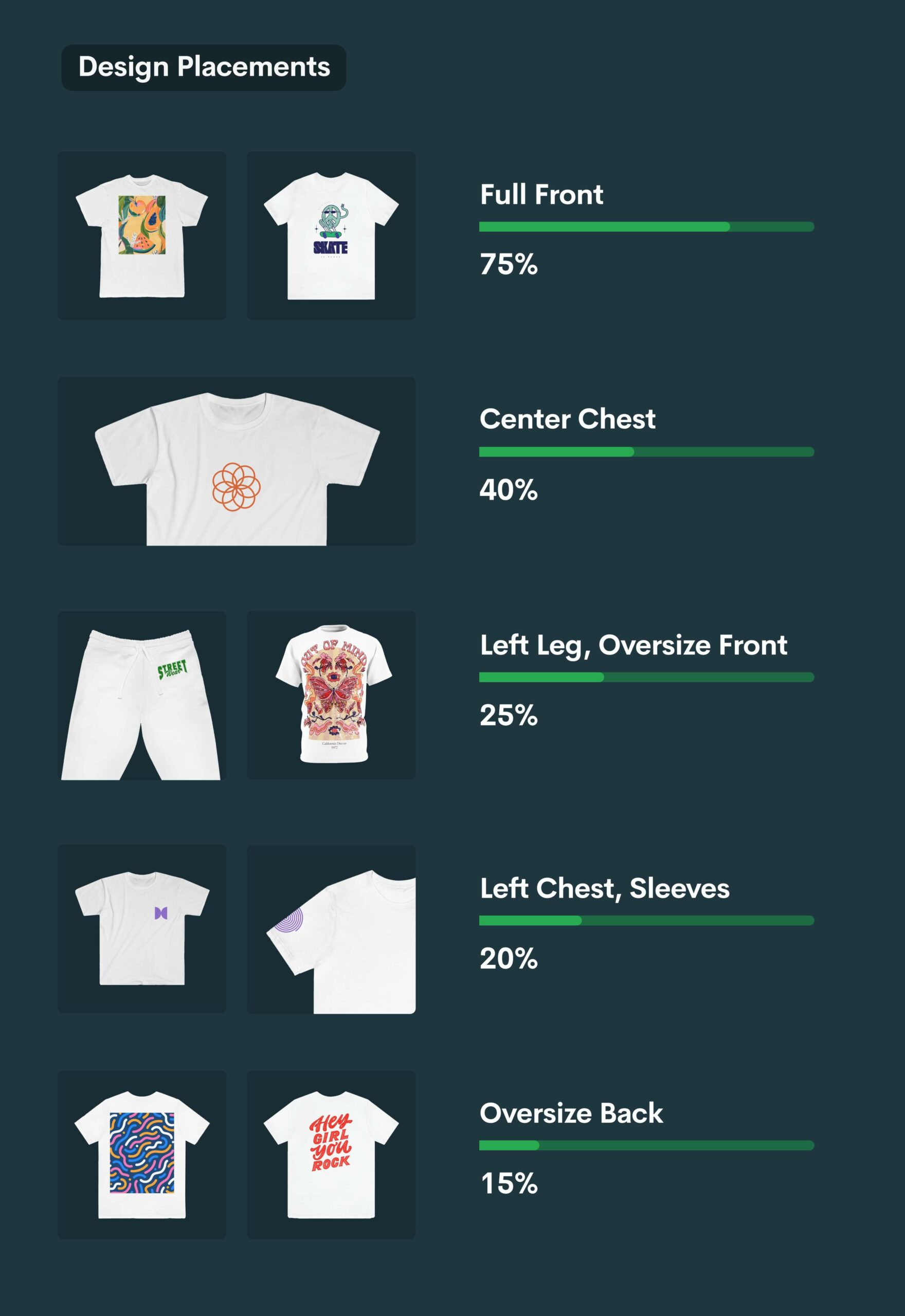 Our TikToker merch research revealed that most listed products feature full front and center chest designs.
Other notable design placement locations include oversized fronts, as well as the left chest and pocket areas.
Whether you go for a striking embroidered logo, a catchy phrase, or some colorfully vivid graphics, one thing is sure – placing the design on the front of the product guarantees maximum brand visibility.
Word-of-mouth advertising is one of the pillars for building a strong brand identity, so make sure to place your eye-catching logo in an eye-catching location.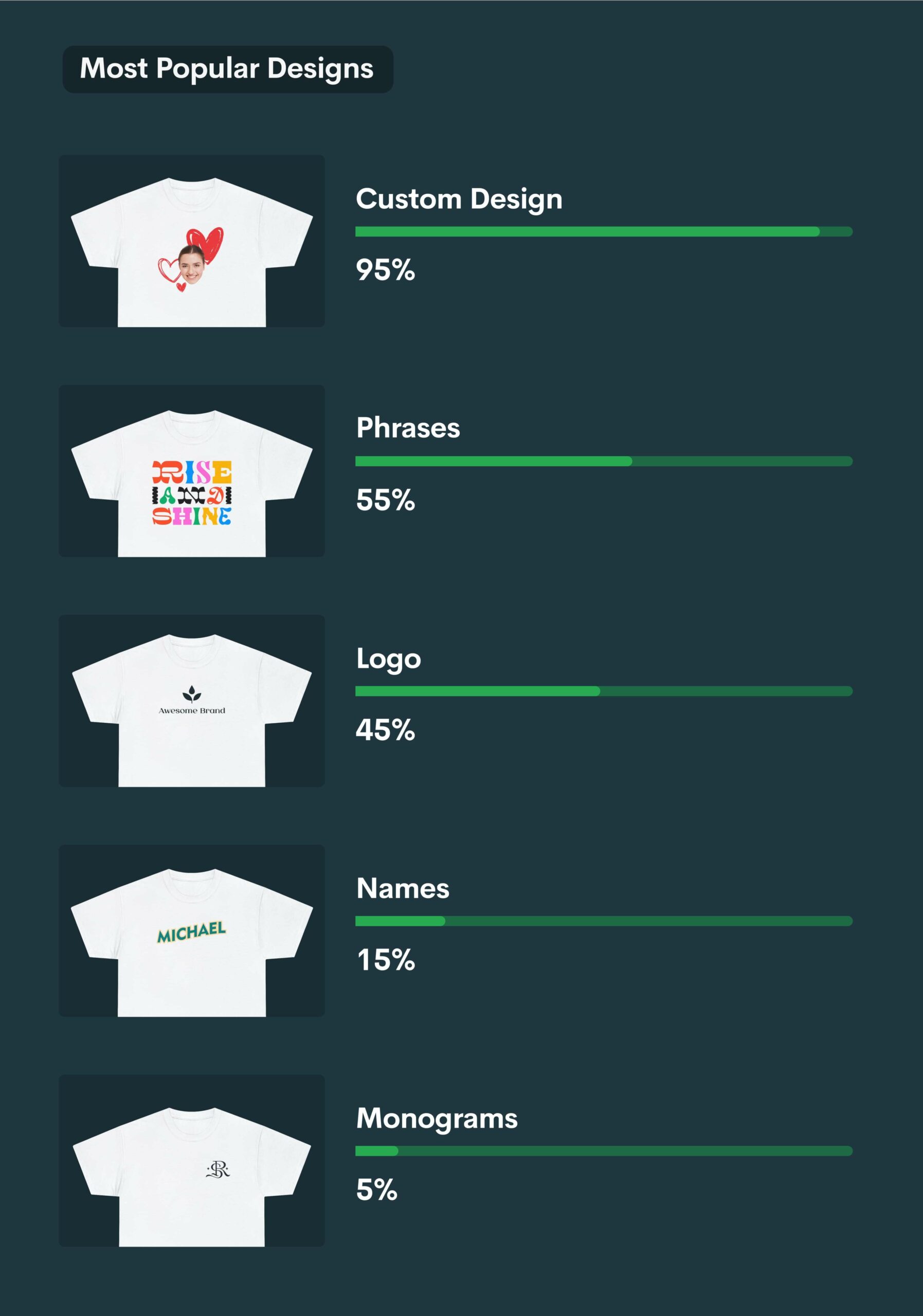 From a wide range of graphics, we identified several recurring types of design that populate the vast TikTok-verse and could do wonders for your brand, namely – custom phrases, custom designs, and logos.
Coincidentally, these are also the graphic design choices we examined by the leading TikTokers.
From witty slogans and popular memes to iconic catchphrases and minimalistic visuals. Try to capture the essence of TikTok culture in your merchandise to resonate with your fans, followers, and other platform users.
Creating a design has never been easier – find inspiration and start creating merch with our Merch Maker.
Why Choose Printify to Sell TikTok Merch?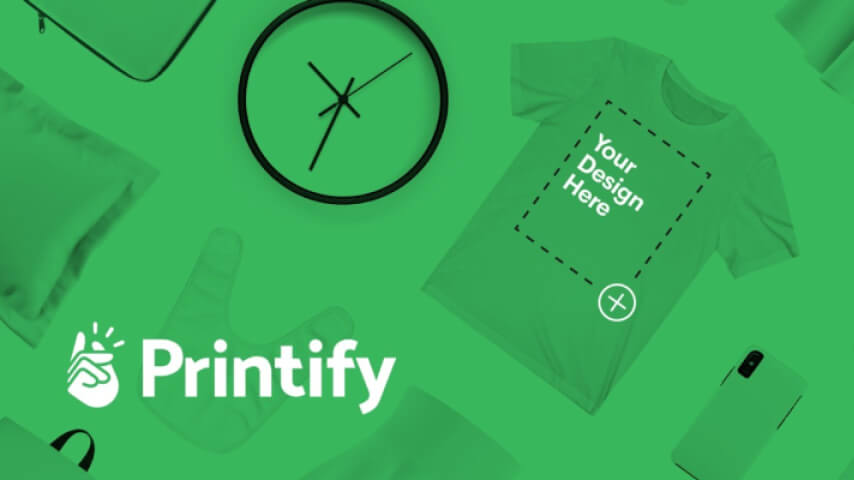 Printify is one of the leading print-on-demand companies, offering a wide selection of products, customization options, quality prints, and shipping solutions.
It's a beginner-friendly choice for anyone wanting to sell their custom merchandise on TikTok or any other popular eCommerce platform or marketplace.
Create Your TikToker Merch in Just a Few Clicks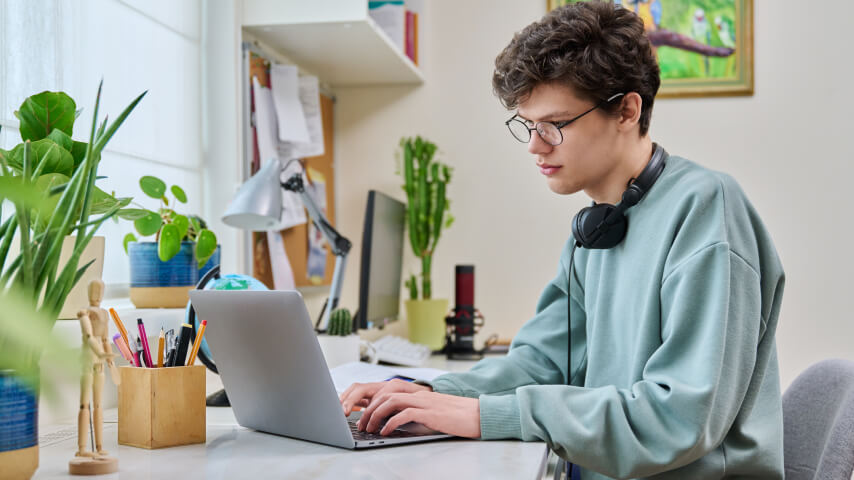 Although it might sound complicated at first, this process usually takes no more than a few minutes.
Start selling your merch with Printify by following the steps mentioned below.
Sky's the Limit with Printify POD
Don't limit yourself to selling merch only on TikTok – there's a sea of alternatives and platforms to bring your merchandise to the world.
Choosing the right platform to sell your merch will be your key to success, and the good news is that you're not tied to just one of them.
Consider these:
YouTube.

Upload videos in both short and long form. Selling

YouTuber merch

like branded t-shirts, hoodies, caps, stickers, and mugs on this popular platform can significantly boost your income.

Spotify.

Not only for musicians – it's also a great platform for podcast hosts. Hot-selling

Spotify merch

can include branded merch with iconic phrases from your podcast. Go through our

podcast merch ideas

.
Frequently Asked Questions
Explore our Product Catalog for items ranging from kids' attire to home decor, and discover products in the best colors, sizes, and other features you and your customers are looking for.
Use a design software or rely on our free design tools in the Mockup Generator to create your own high-quality merch to share with customers.
Set up a connection with an eCommerce platform or marketplace to save time and simplify the process of selling merch to people.
Absolutely!
Customizable items like t-shirts, hoodies, sweatshirts, and leggings come in various sizes and colors for adults, kids, and pets.
They're some of the most popular choices to sell as TikToker merch. The great news is that with Printify – you can customize all of that and more!
Your TikTok influencer merch will serve as a canvas for your unique designs and allow fans to show their support for your TikTok content through this trendy merchandise.
Consider collaborating with other TikTokers for successful cross-promotion, and use popular hashtags related to your TikTok community to make sure your content starts ranking.
Use product mockups or videos with your merch to showcase your brand outstandingly and memorably.
Whether you're just starting or are an established TikTok creator, consider selling branded merch to your followers.
Create products for adults, kids, and pets in various styles and colors, order product samples for a TikTok video, set up a store connection, and you're good to go!
How to make money as an artist? Printify will help you sell your merch and turn your creative ideas into a thriving business.
Share the article
Topics