Custom laptop sleeves – the must-have accessory for notebooks.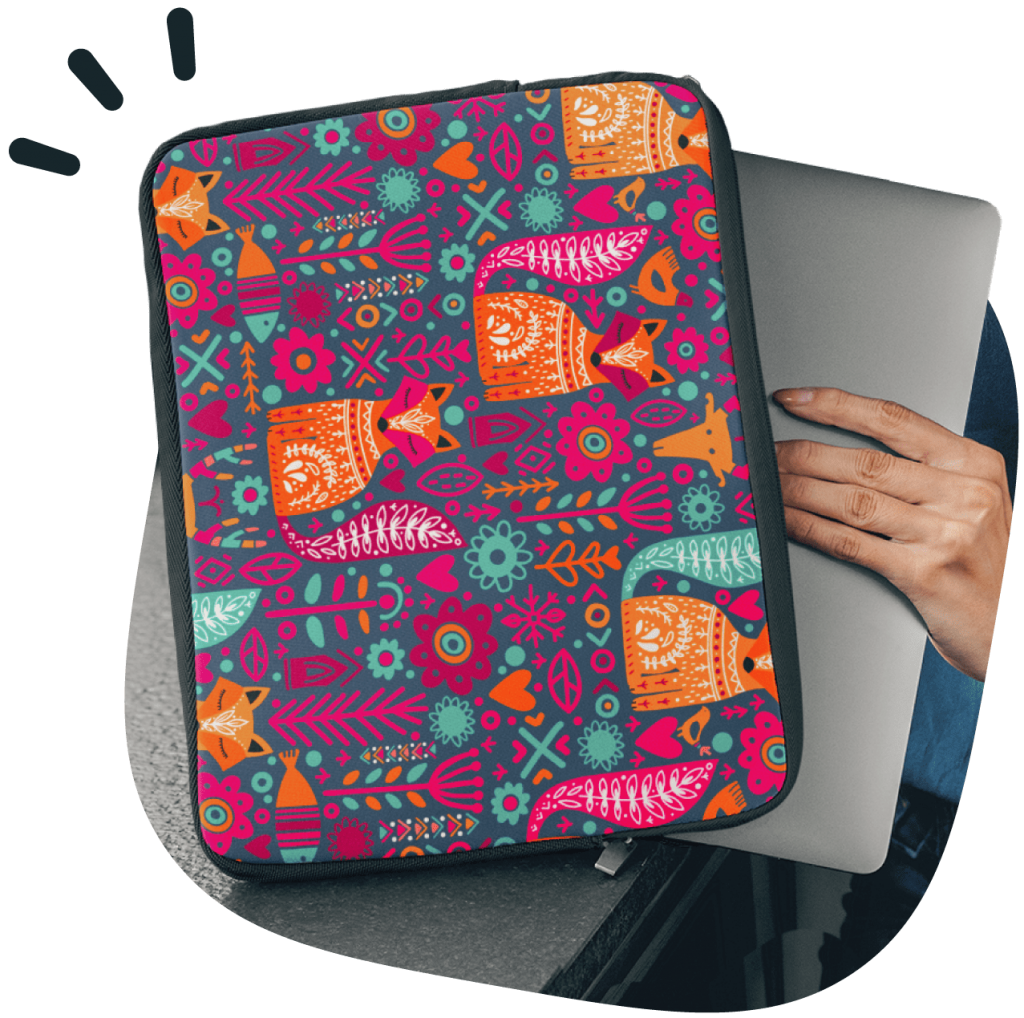 Why sell custom laptop sleeves?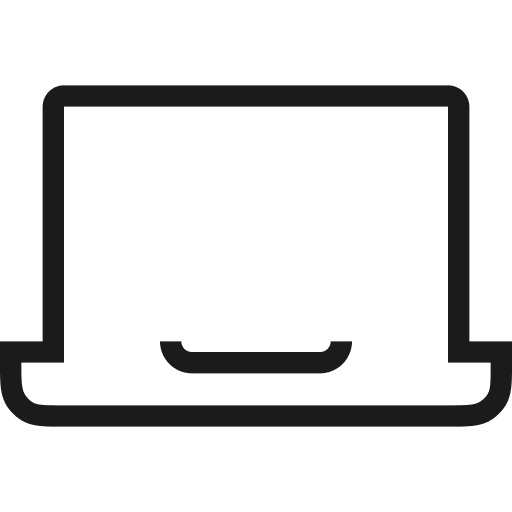 Laptops are once again the number one selling product type for computer or tablet. That means there is a great demand for laptop sleeves.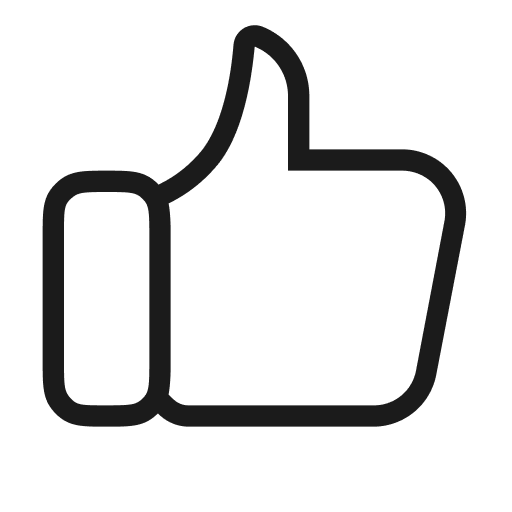 Three sizes, cushioned interior,  printable front area.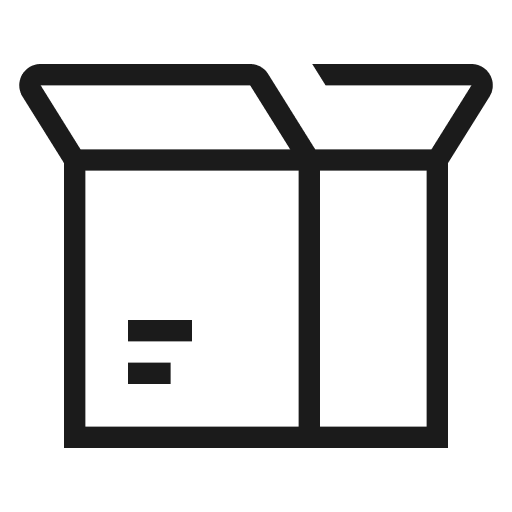 Sell one, two, or one hundred custom laptop sleeves at a time, all with no minimum!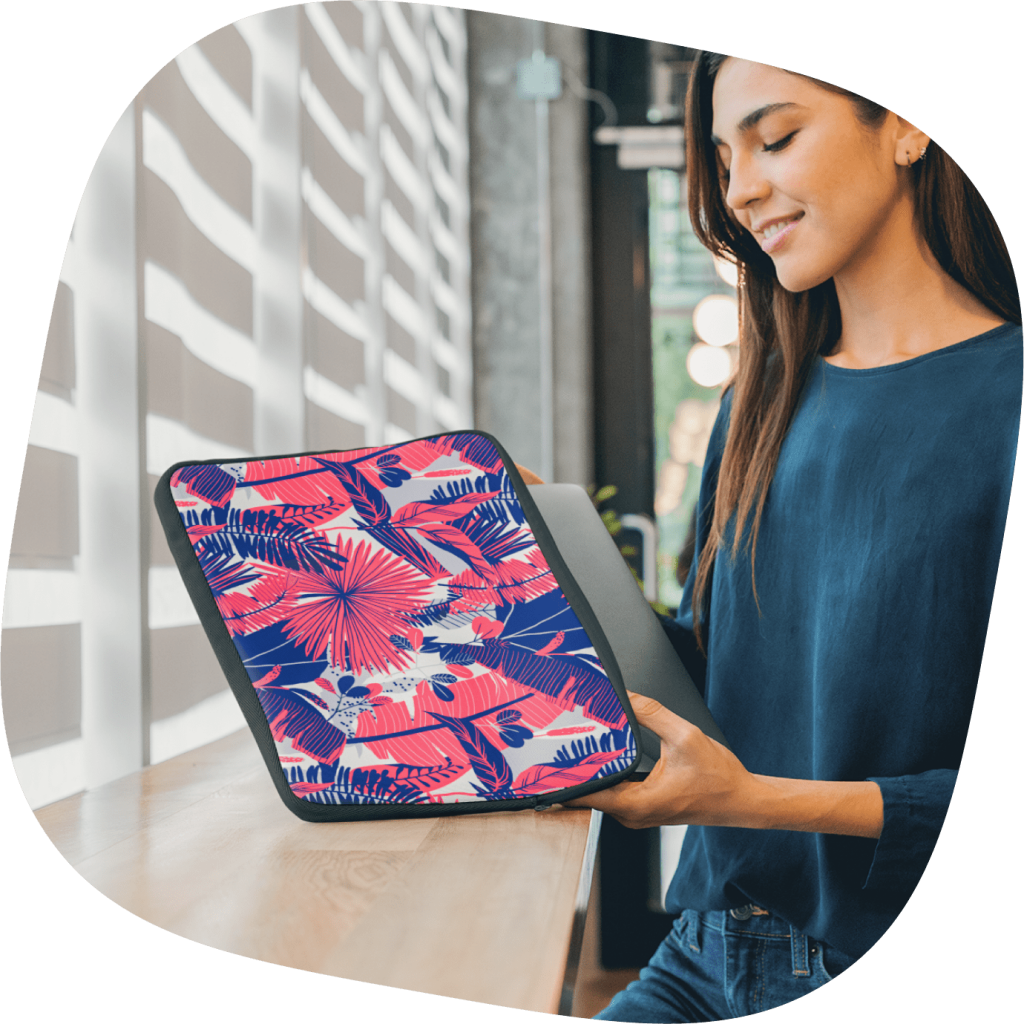 Make your own laptop sleeve
Laptops are more popular than ever, and custom laptop sleeves are the perfect companion accessory for the new, shiny investment laptops represent for most people. After all, what could be worse than buying a new aluminum laptop, putting it in your bag, and having your mechanical pencil put a nice big scratch in it while it jostles around? No one wants that!
Chances are, if you're buying or just bought a laptop, you'll want an amazing looking sleeve to pair it with, and to show off your personality. Why not offer laptop sleeves for sale in your store, and take advantage of this trend?
Everyone needs a personalized laptop sleeve
Our Printify custom laptop sleeve combines the best of all worlds, and your customers will appreciate the mix of quality and price that we offer. Our laptop sleeve is 100% polyester, with the standard top-loading zipper. It's super lightweight front printable, and has a basic black polyester black that goes with nearly any outfit or a back combination!
We have three sizes: 12", 13", 15".
The print area is the front side of the laptop sleeve. The backside is a black, polyester cover in matte. Inside, there is a soft cushion to prevent any bumps, scrapes or other minor dings and dents that come with everyday use.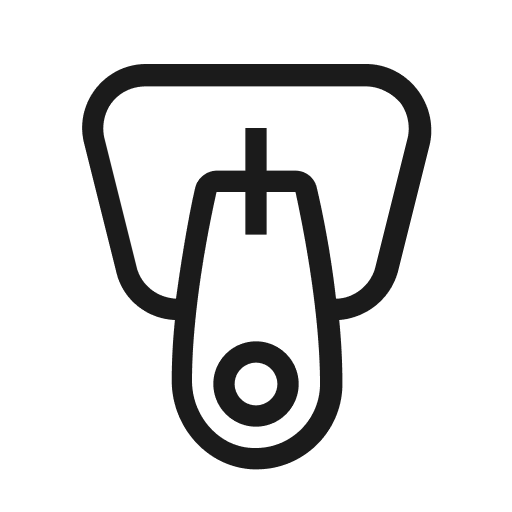 Plastic zipper with metal head
Durable plastic zipper on top of the sleeve that glides smoothly allowing easy and fast access to the laptop.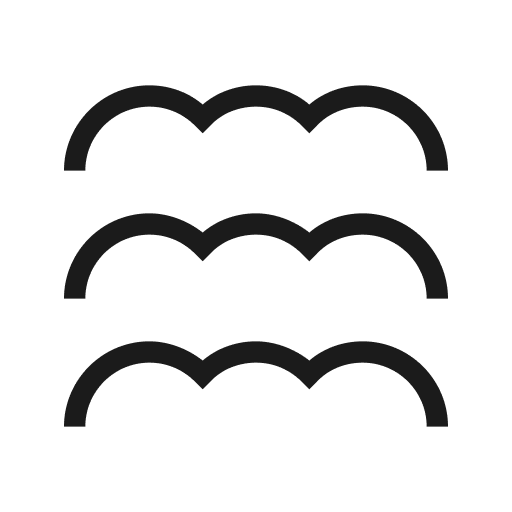 Protects your laptop from dust/dirt and absorbs minor bumps and shocks.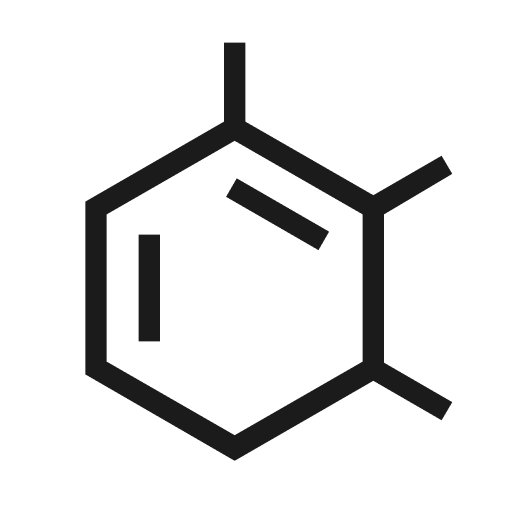 This extremely strong and durable synthetic fabric retains its shape and dries quickly.
Custom laptop sleeves, dropshipping vs POD with Printify
Dropshipping is the type of sales that outsources the production and shipping of the product from overseas sellers. These sellers will have variants of products that are set, meaning not chosen by you, and drop shippers will try to sell these items. It's a type of retailing, where the seller has little or no direct say over the creation of the product. There are many dropshipping companies available now, and an advantage in using a drop shipper is that oftentimes the cost will be extremely low even on a single unit.
The disadvantage is that you are competing with hundreds if not thousands of other sellers selling nearly exactly the same product and the main difference is the price. In the case that a drop shipper will allow a customized product, there will be large minimum orders required or long shipping times up to weeks, especially now given global shipping challenges. Worse yet, some drop shippers will put their products directly on large marketplaces like Amazon.com, and this is nearly impossible to compete with.
How to sell personalized laptop sleeves with Print on Demand
Print-on-demand is a different model, that is what we would say is a drop shipping variant. All of the items created using principles platform are chosen by you, totally customized, and shipped usually from a local supplier directly to a customer. 
While there's no middle man and the product goes directly to customers, there's also no inventory. This is because the products are only created once an order is generated by a sale. That means that without a sale, there is no order, in no production. 
The great part about this is you can experiment, sample, and go live with products without having to predict market demand or success by betting big on a large order of inventory. And the best part? Because the supplier can be chosen by you they can be as green and his local as you like!
Top 7 questions about selling custom laptop sleeves
Custom laptop sleeve vs laptop cover vs laptop case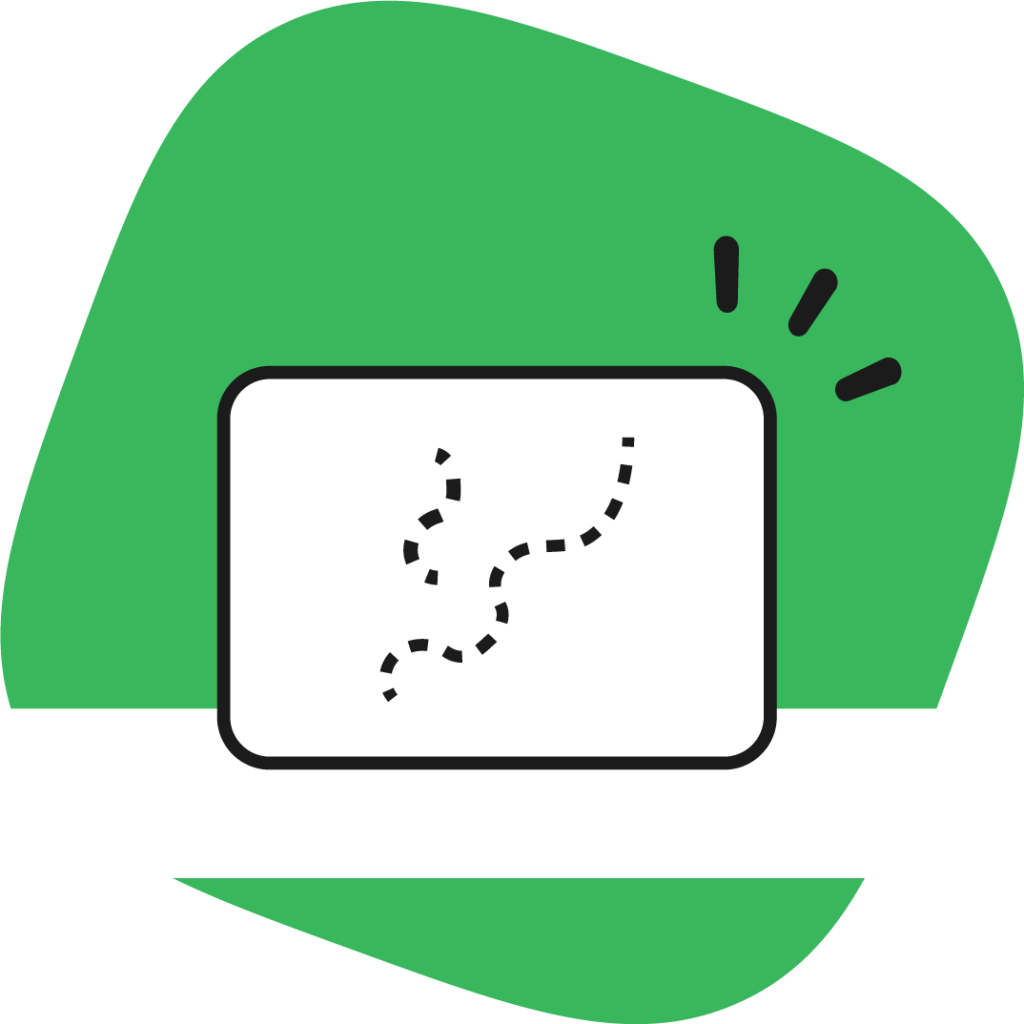 The classic zip-up laptop sleeve is probably what you're most used to seeing. These originated in the business world for business travelers like salesman and district managers, they needed some protection for their corporate-issued laptop. As a result, they're mainly mono-colored and feature zippers at the top it is often made of synthetic materials. These are at the low end of the price range as well as their mass-produced for the corporate market. Increasingly, these are being replaced by more colorful, fashion, or statement oriented pieces that show the personality, likes, and interests of the owner.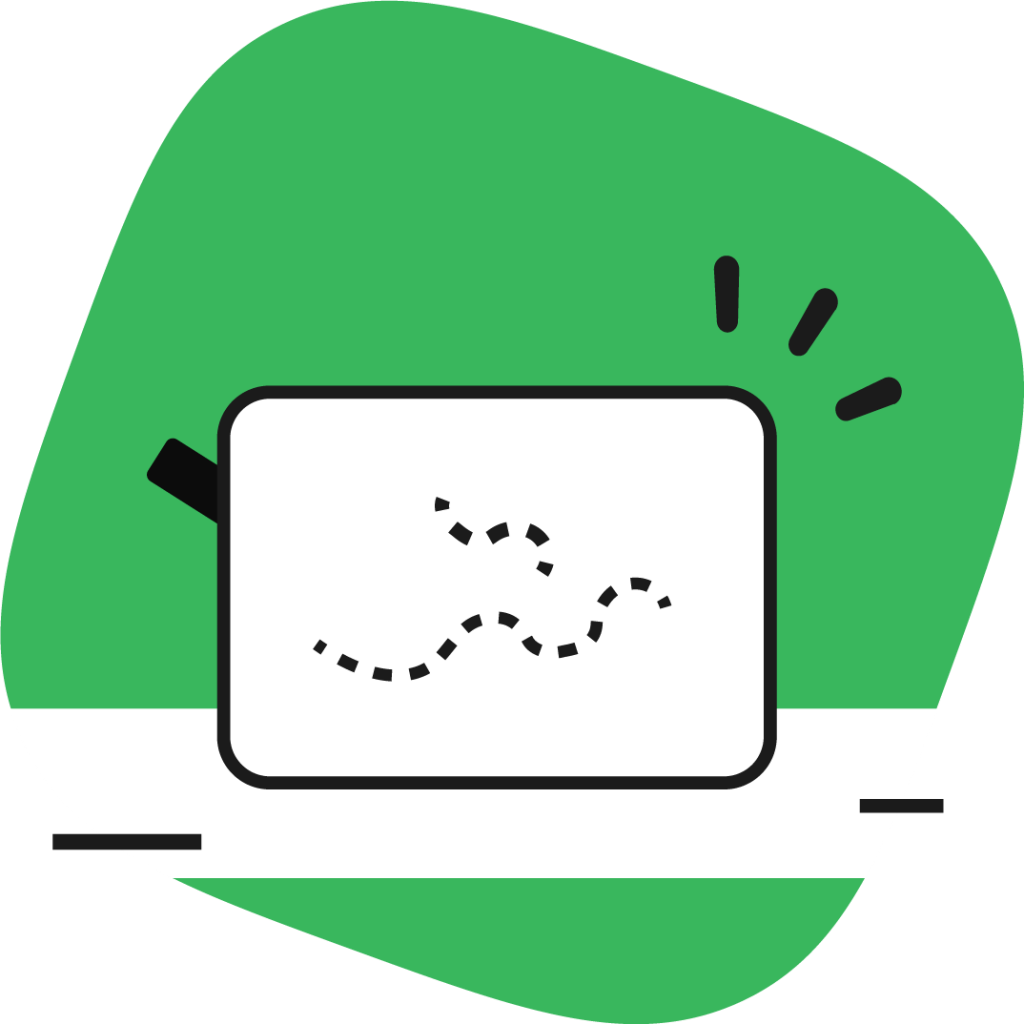 This is extremely similar to the classic laptop sleeve but usually has a handle at the top and sometimes even straps. It's not quite a handbag or a case simply because it's only designed to hold the laptop. Laptops have gotten lighter and thinner over the years, however hefty desktop replacement laptops still exist for engineers, software developers, and even serious gamers. These heavy computers can be hefty to carry without the use of a handle or strap.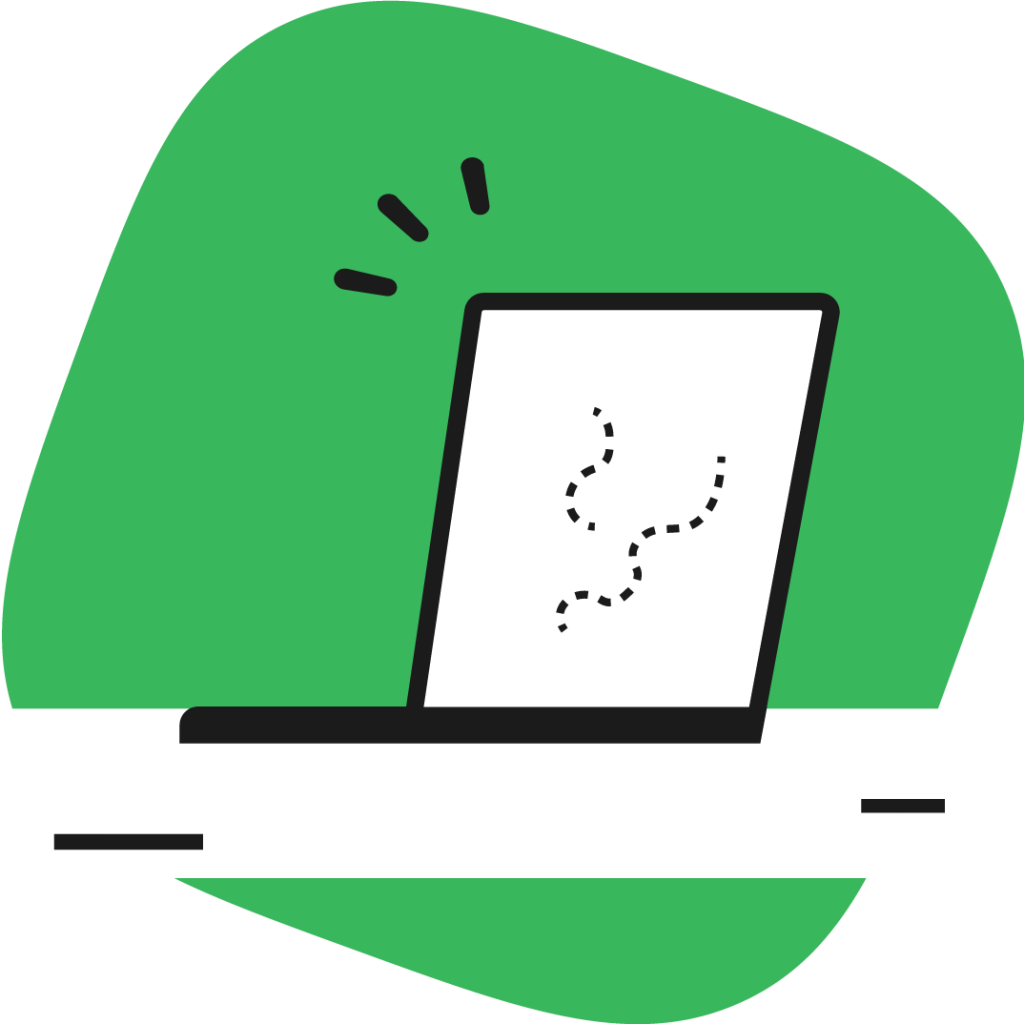 The laptop cover or shell
The laptop shell is similar to a sleeve in that it's primary purpose is to protect the laptop. Sometimes called a laptop case, a laptop shell is usually a strong, hard plastic cover for your laptop that attaches directly to the laptop body. This is especially popular for aluminum body laptops such as Apple or high-end Windows PC machines. They're incredibly strong and helped the laptop survive even moderate falls, however, they increased the weight of the laptop significantly.
Ready to make your own personalized laptop sleeve?
Go ahead and get started making your own personalized laptop sleeves today! The market is growing and the only thing that limits you is your own imagination. Get creative and inspired and put that energy into some fantastic looking designs that can sell in your store.
Luckily, designing and creating your own products with Printify is easy. Get started with our mockup generator and upload your design. We will let you know if your design does not meet our minimum standards.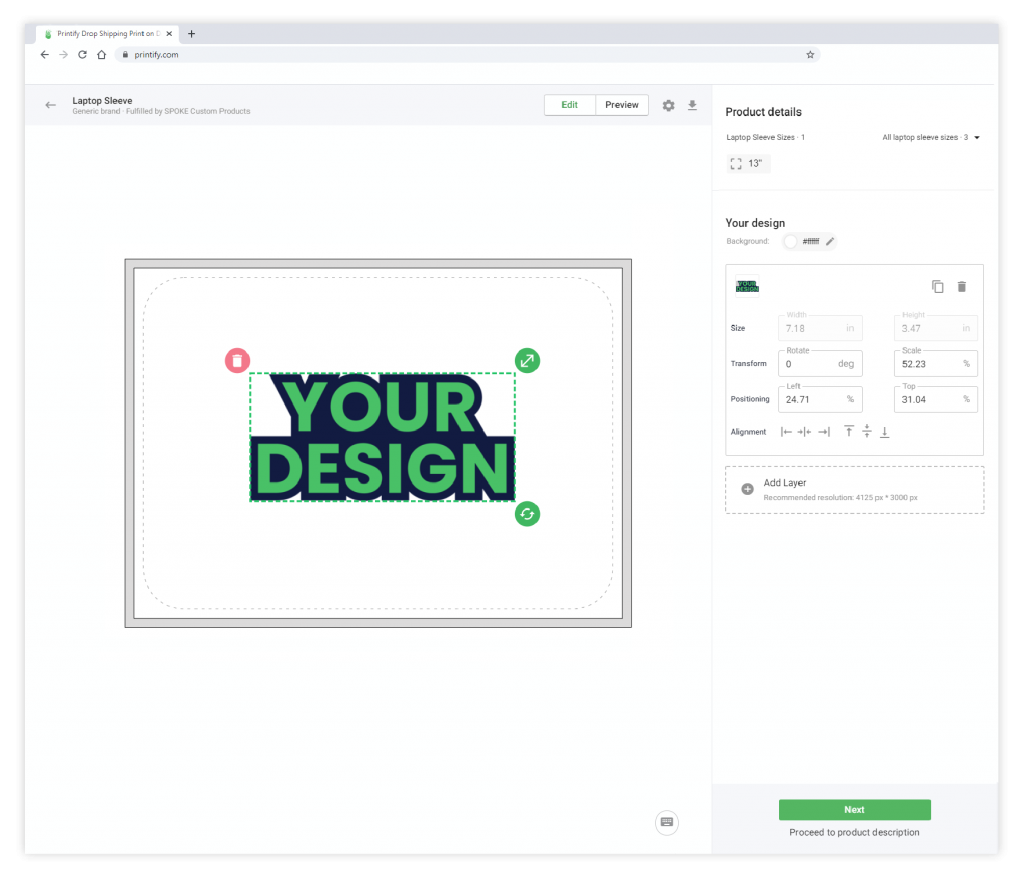 Your image quality should be 300 dpi, and if you don't know what that means don't worry because we'll let you know after you upload the image. Our design tool takes all of the stress out of making your new designs.
It's time to order a sample product and make sure it's everything that you wanted it to be. Look it over and make any changes you think are necessary. Once that's done, just set your selling price and add the product to store. You can connect with WooCommerce, Shopify, Etsy, and even eBay and leverage these platforms to reach new audiences. 
Pretty soon, your new redesigned laptop sleeves will be hitting University libraries and corporate boardrooms everywhere!
What custom laptop sleeve should you sell in your store?
Let's talk about the type of laptop sleeves you can sell in your store. Here's a list of the best selling types of laptops sleeves, what's popular, and what trends you can take advantage of.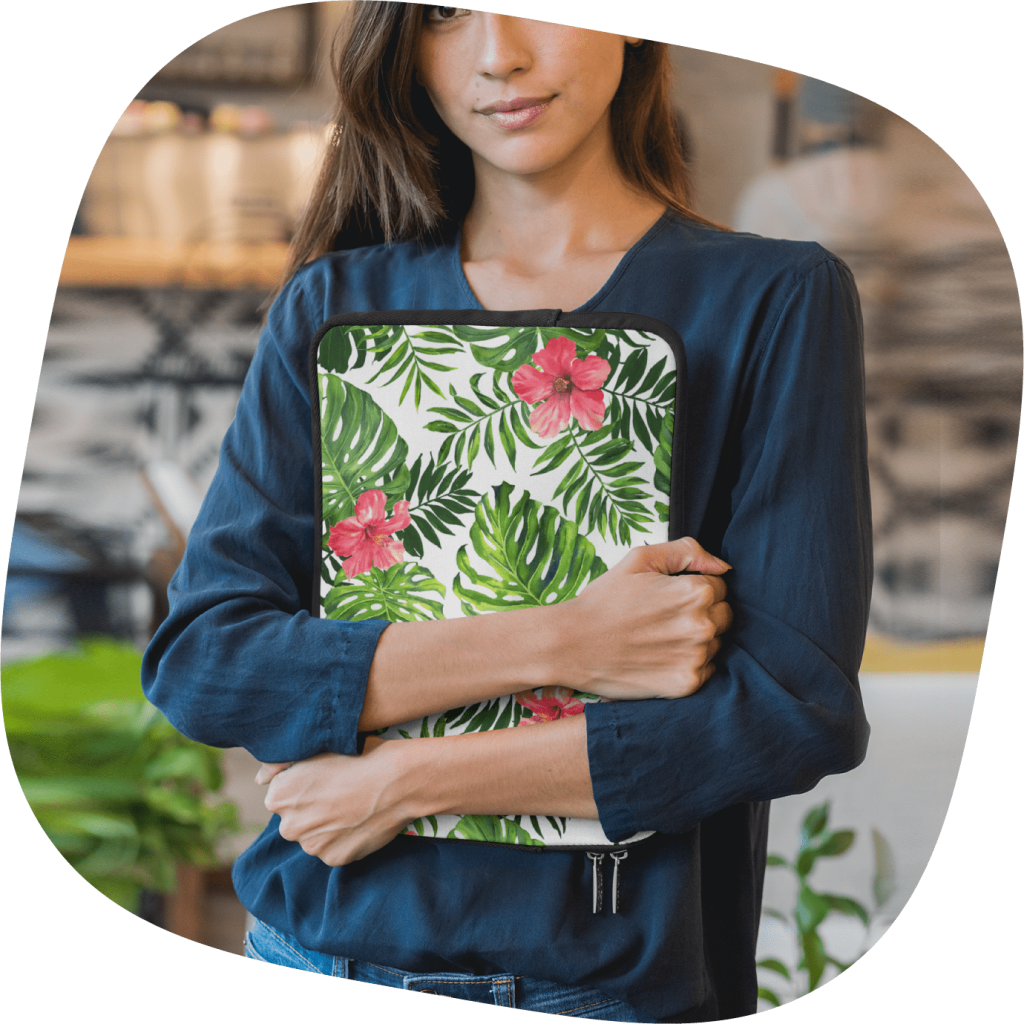 Laptop sleeve with floral prints
Floral prints are especially popular with women and is the number one result for a search variant (beyond just laptop sleeve) on Amazon.com. There is a wide variety of floral prints here, blooming trees, flowers, and just a single rose on a field. Take a look if your store caters to female customers or nature themes.
Custom laptop sleeve with animal designs
Kids are using laptops more and more for school, especially with learn from home and distance education taking off. What better way to showcase their personality and stow than with their favorite animal prints? Unicorns are especially popular, as are lions and bears, and of course – cats!
Personalized laptop sleeve with patterns
Etsy.com has a ton of creative people selling their creative wares, and custom laptop sleeves offer no exception. Custom patterns featuring earth tones, psychedelic or funky patterns are incredibly popular here. If you need some inspiration to see what's selling, take a look here!
Laptop sleeves with gaming theme
Laptop sleeves are for…laptops! Which are computers, so it stands to reason that there might be some great options for gaming and online culture themed laptop themes. From old school Nintendo controllers to anime cartoons, this popular segment is definitely something to exploit if your store already caters to this segment! Level up your store with these personalized laptop sleeves!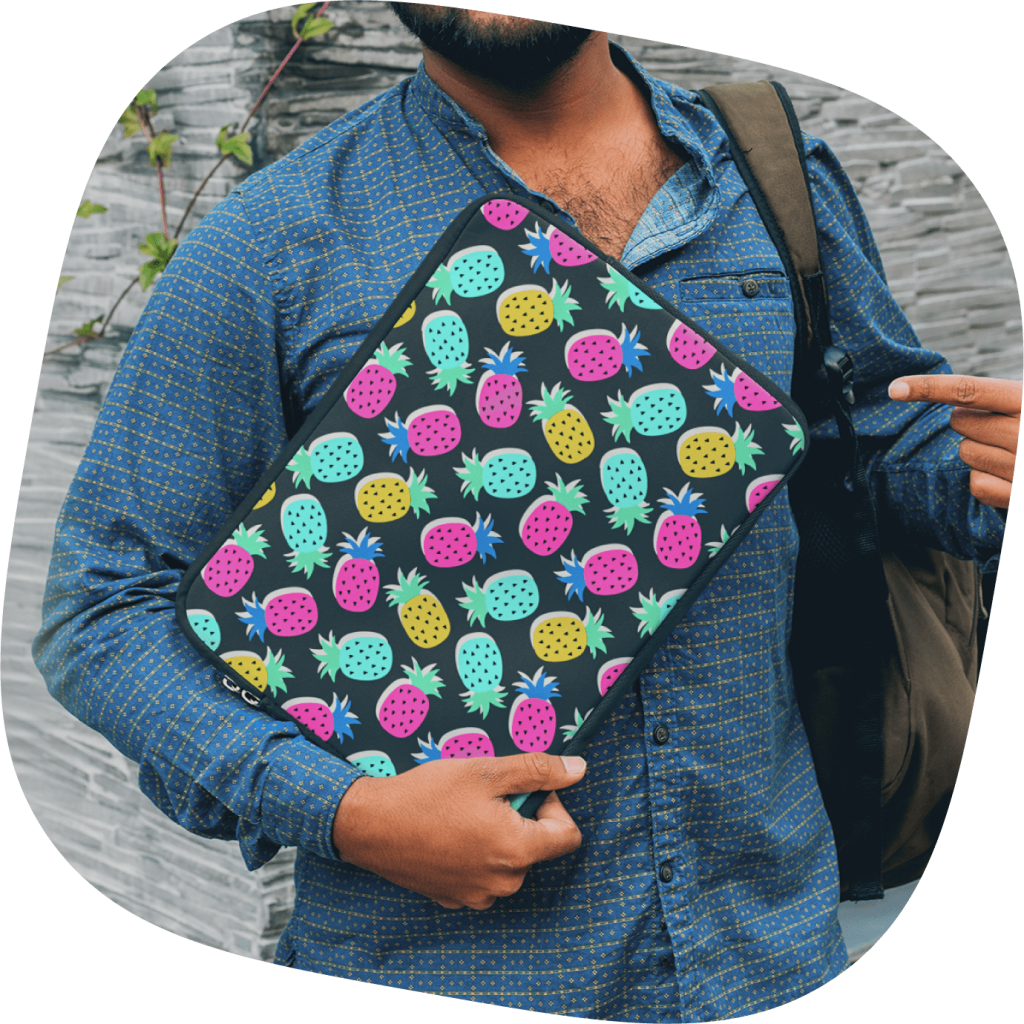 The buyer's market for custom laptop sleeves
Let's take a look at the main market segments for custom laptop sleeves. These are the groups of people that will more than likely be buying your products. We've analyzed Google search trends and large marketplaces like Etsy, Amazon and eBay to give you the top market profiles for buyers of laptop sleeves.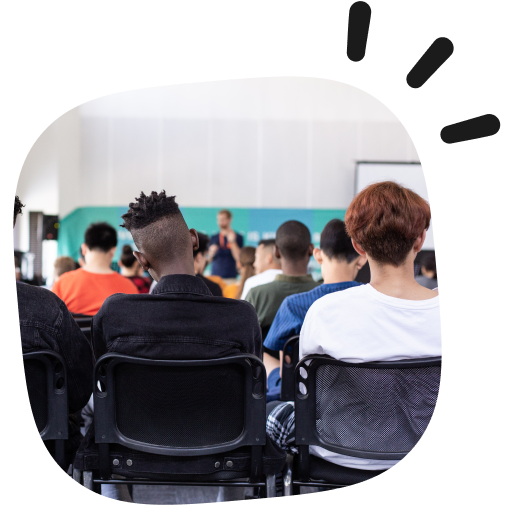 Customized laptop sleeves for u

niversity students
Let's face it, when you're going to University, you're getting a laptop. That means that you're going to want to protect your investment, which in most cases is brand new, with a cool looking sleeve to show all of your potential new friends at college. Expression and individuality and there are the things that young people are trying to discover about themselves at University, and this is what they usually use products they buy for. So why not give them something unique that helps them express their individuality to all of their new friends in all of their classes!
Stylish laptop sleeves for women
Women are one of the largest segments for buying custom laptop sleeves. Women have discerning tastes and the sometimes boring monochromatic laptop sleeves that often accompany new laptop purchases or that are given to them by companies don't cut it! 
As more and more people are working from home, they're being issued company supplied laptops and sleeves. Why not give women the choice that they're craving with some unique designs? Floral, pastel, in nature-themed designs are the best selling for women and Amazon.com. Take advantage of this with your own offerings and rake in the profits!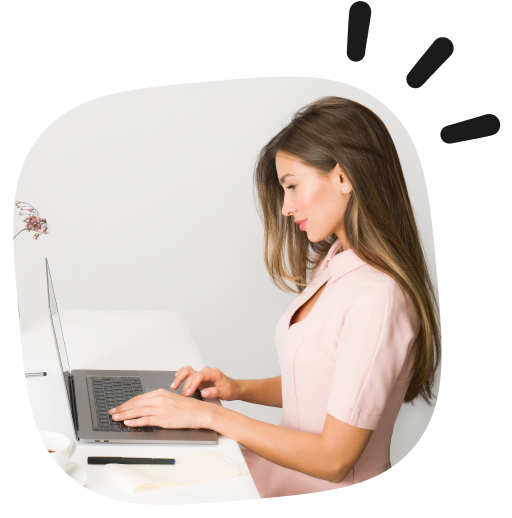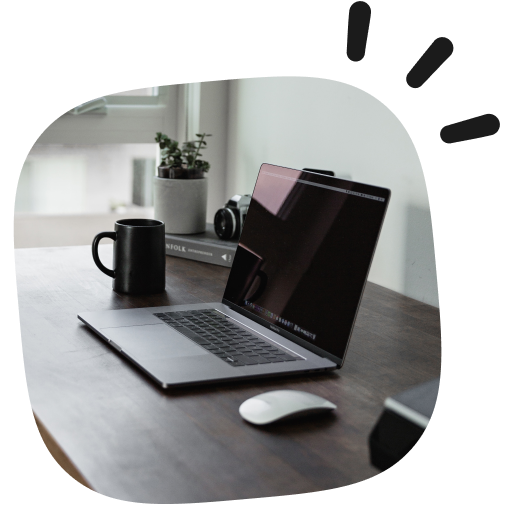 Custom laptop sleeve for office workers
Work from home is a new reality, and more and more office workers are carrying their laptops to and from their home office. Companies are also issuing more laptops than ever, and hot desking to save money on office space is the latest cost saving measure companies are using to stay profitable. What does this mean?
Office workers are in the office only a few days a week, so they're going to be transporting that laptop to and from their home office. Enter: the custom laptop sleeve! Help office workers show off their creativity and express their personality with your amazing custom laptop sleeve!
Start selling your custom laptop sleeves. There's no minimum order and the market is primed for new and creative designs. Take advantage of the giant societal transformations that the world is undergoing and start selling custom laptop sleeves.
Start selling custom laptop sleeves