How to Start Selling Dad Shirts in 2023
Everyone has a favorite shirt, something that combines comfort, quality, and feel-good vibes. This is what dad shirts are all about – and people are lining up to buy them. 
With the right shirt, anyone can be a dad.
Dad T-Shirts are Taking Over
Dad shirts are increasingly popular due to their comfort levels and broad appeal. Here's a detailed guide on the dad-shirt phenomenon — and how to profit by selling these hot items.
How to Start Selling Dad Shirts — In Seven Steps
The concept of the dad shirt is growing in popularity, affecting changes in fashion and significant profits (especially around Father's Day).
The product is right. Starting a business around these items is simple, too.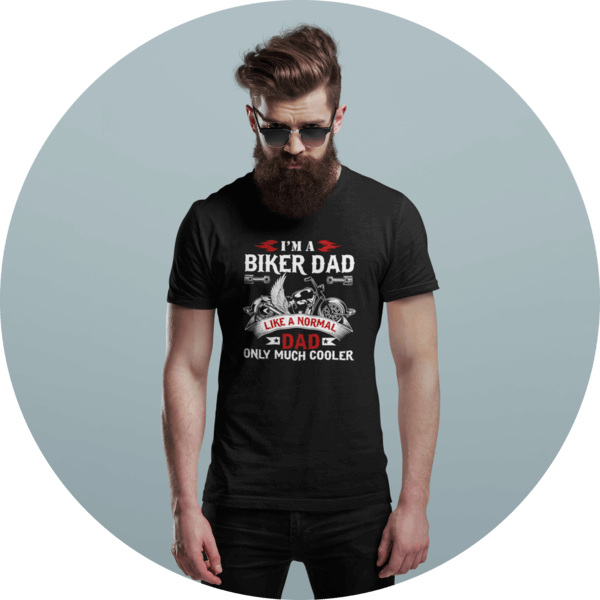 Who's Your Daddy?
Target the Correct Group of Dads
Finding a niche is vital to making sales and growing a business. Targeting the right people increases the chance they will purchase merchandise. Which subdivision of the dad spectrum will you target?
Learn a lot about finding a niche while having fun watching our video. Our blog provides some must-read articles on what is a niche and what are the most profitable niches for dropshipping.
Finally, professional designs, according to dad niches, may be purchased on sites like Vexels.
The Best Dad Shirt Designs
Below, we list some ideas and examples of great Dad shirts to inspire you. Be creative and mix up some of the categories. Dad puns belong anywhere.
Patriotic-themed shirts and flags
Patriotic shirts are all-time favorites and best-sellers for dads. Slogans and statements displaying love of country are a safe bet for increasing sales, including motivational phrases and spiritual inferences.
Stars and stripes are classics, but don't be afraid to experiment with the colors. Military green, for instance, is among the favorite colors in dad shirts and may create an all-time best-seller product.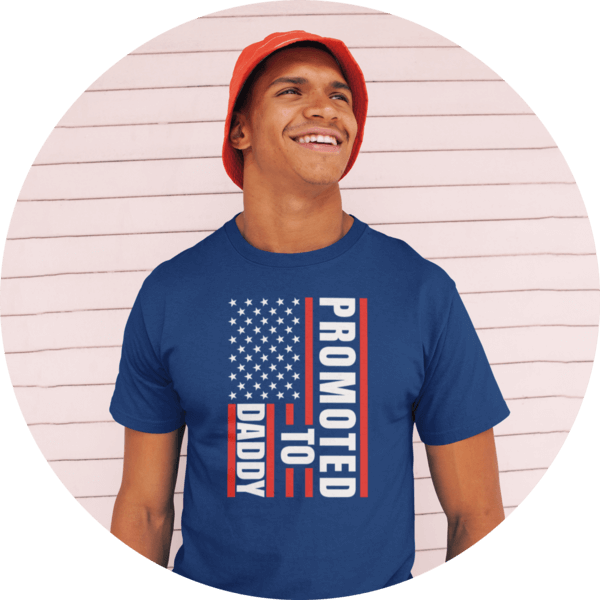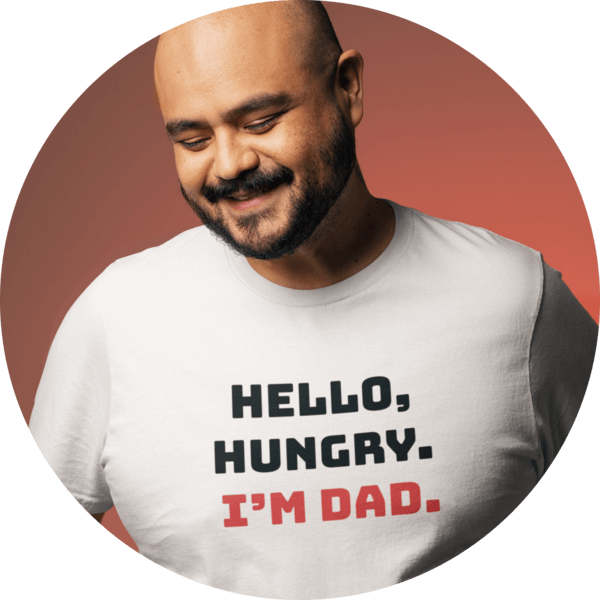 A dad joke fits in most categories, but you may produce shirts exclusively focused on humor. These tees are among the easiest merchandise to produce and sell. Depending on your skills, you may elaborate a well-rounded design:
However, it may be argued that too refined of a design speaks against the concept of a dad joke or even a classic dad shirt. The casual, homemade roughness sometimes has it's own charm.
Even in this case, you will greatly benefit from our article on how to elaborate text designs for clothes and our Shutterstock integration, guaranteeing that homemade doesn't mean unprofessional.
Forget war or duty. It is time for peace, a party, and some time under the sun. A shirt featuring palms, waves, surfers, and summer is a staple. Alternatives to the theme are mountains and camping.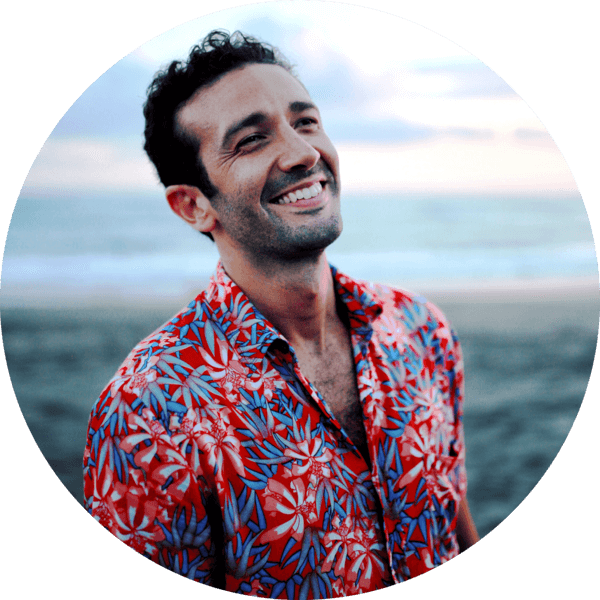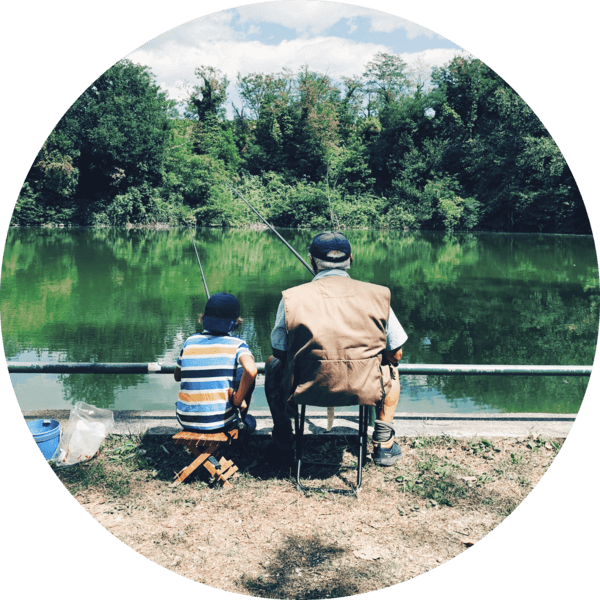 Woodworking, fishing, hunting – hobbies make memorable dad shirts. While woodworking is one the trendiest hobbies nowadays with tons of YouTube channels, fishing designs make a particularly gorgeous t-shirt.
Dog, cat, or a fish person? Pet shirts are a safe bet. They can be printed with a dad joke, cute phrases, generic pet pictures, or actual pet photos. In the last case, extra care with the design is recommended, or even assistance from a professional designer to create a merchandisable tee.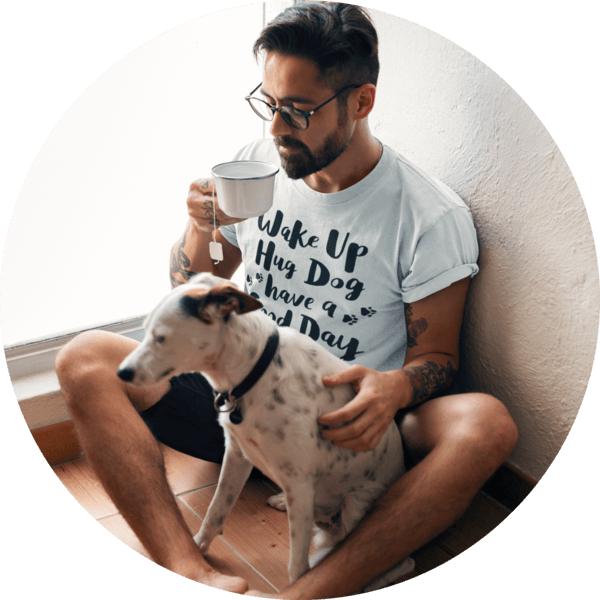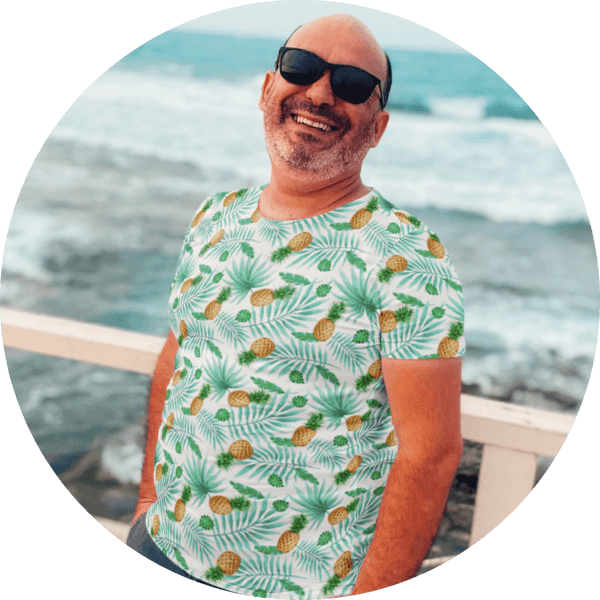 Make use of all-over-print products such as the Unisex AOP Cut & Sew to create geometric and repetitive patterns, waves, or plaid tees. Due to the increased printable area, an AOP t-shirt is more expensive. The price starts at $20.81. 
Alternatively, the Unisex color blast T-shirt is an easy and original way to get abstract and unique designs.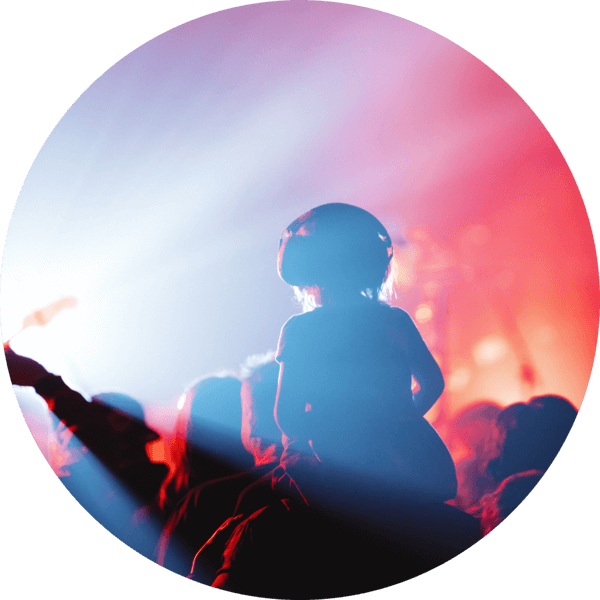 A T-Shirt Making Big Waves on eCommerce
Dad fashion means, for starters, comfort for body and mind. It conveys security, accessibility, and nostalgia. Wearing an oversized t-shirt or bulky sneakers all day is comfortable – freeing the mind from worry.
Various clothes or accessories are considered part of dad fashion and promoted as such: loose-fitting jeans, baggy pants, Hawaiian shirts, sneakers, vests, anoraks, windbreakers, jackets, polo shirts, and, of course, t-shirts fit for dad bods.
Dad fashion has long since moved past the father circle. Women are flocking to the same pillars as dad fashion – comfort, security, and nostalgia. 
This mom fashion is directly inspired by the '90s. This popularity is obvious in the many  occurrences of oversized feminine tees and the notoriously comfortable "mom jeans".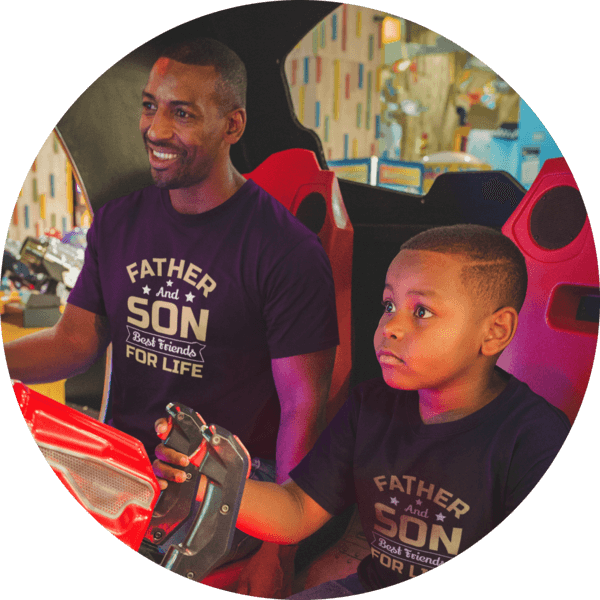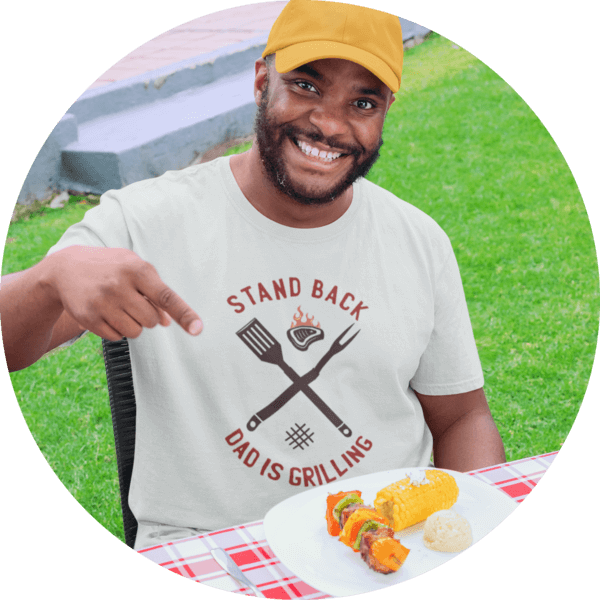 High Fashion is not the focus for dad fashion. However, some companies have created tees that move beyond physical comfort and flatter the figures of those middle-aged and upward. 
These are designed for the everyday guy's frame. They're fitted around the shoulders and arms but oversized around the belly. A bit of give in this area goes a long way. 
A good dad tee is made in soft and breathable fabric, preferably fine cotton or tri-blend. Fortunately, most products from white canvas producers currently fit most of these requirements or can be customized enough to deliver unique dad shirts.
Cyclical Trends - Breaking Down Sales Peaks
Dad shirts have been regular contenders sale-wise for years. They sell year-round, with cyclical spikes before Father's day, from May to June.
Research for mom shirts shows a similar regularity. The spikes are less accentuated, but the overall frequency is even higher. In addition, the spikes occur in different months, as expected.
Finally, let's add dad bods to our research: the spikes are higher and do not necessarily coincide with those of dad shirts or mom shirts, but are still cyclical.
Diving into the data shows that searching for shirts for dad bods has trended since 2021.
In short, dad shirts and similar trends are cyclical and do not necessarily overlap. 
A well-thought-out marketing strategy will enable you to profit all year long. You will be able to sell similar products with the same core characteristics of dad fashion well beyond father's day.
Choosing the Perfect Shirt
When selecting the most suitable products for a dad shirt line, you will have to consider product details. It's good to think about which people a particular store wants to serve.
Keep these materials, fit, and the shirt's purpose in mind when selecting for production.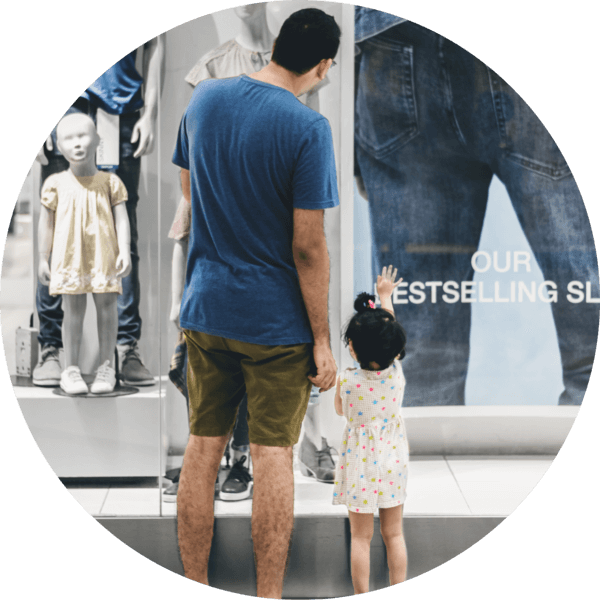 Cotton:

This is a very breathable fabric, making it comfortable to wear in hot and humid climates. It may feel a bit heavier than other materials, though. 

Polyester

is light but not as breathable as cotton. 

Triblend

is a mix of polyester, cotton, and rayon. While more expensive, these are top-quality tees — in more than just fit.
With this in mind, it may be worth targeting different types of people that will be wearing your stuff. While anyone can enjoy fashion of their own desire, here is some advice relative to physique. 
The best shirts for the dad-bod physique tend to be tighter across the chest and shoulder and looser around the midsection. 
Here, the Modern-Classic fit and, especially the Semi-fitted tees might be a good option. 
Men's Fitted V-Neck Short Sleeve Tee (Gildan 64V00)

–

Our best-choice for a dad shirt. Semi-fitted, it offers a modern and fashionable shape for dad bods, enhancing upper-body parts. It is breathable, comfortable, and durable, made of 100% ring-spun cotton with light fabric. Prices start at $10.39.
Modern-Classic fit – These tees feature dropped shoulders, straight armholes, and fuller sleeves.  
For the long, lean, and/or tall, the semi-fitted and retail fit may be the best options. 
Retail-Fit Shirts: Sometimes known as slim or contoured fit, these tees are tapered through the waist and midsection. A good dad tee with a retail fit should be woven in an exceptionally soft fabric. Otherwise, it will not fully meet the comfort prerequisites since it fits more snugly to the body.
3. Father's Day Fashion – Not just for Dads
Oversized tees aren't just for one occasion or body type. See the classic fit and relaxed fit for a bit more room. A classic fit t-shirt is characterized by longer shoulders, slightly curved armholes, and relaxed sleeves. 
Unisex Heavy Cotton Tee – Gildan 5000

– This t-shirt is 50-100% cotton, depending on the color. The medium-fabric adds durability to the cotton breathability. Heather and antique colors are made from mixed material, lighter but still contain a high-cotton content. It runs true to size at $7.90. 

Unisex Ultra Cotton Tee – Gildan 2000

– Similarly to the Gildan 5000, this tee's cotton content varies with the color (100% in solid colors). Made of medium fabric, breathable and durable, the Gildan 2000 runs larger than usual, adding extra comfort to the package at $8.48. 
The relaxed fit is similar to the classic fit, but the shirts are made of a lighter fabric. These tees don't hug the body and fit loosely, providing easy movement. 
Frequently Asked Questions
Dad shirts are comfortable, cool, and appeal to nostalgia. They rock year round sales with predictable cycles and regular spikes. 
So, gather some puns, design tees that not only dads will love, and start profiting now.
Cash in on Dad Fashion Today!