Logo Digitizing for Embroidery: How to Make Embroidery Files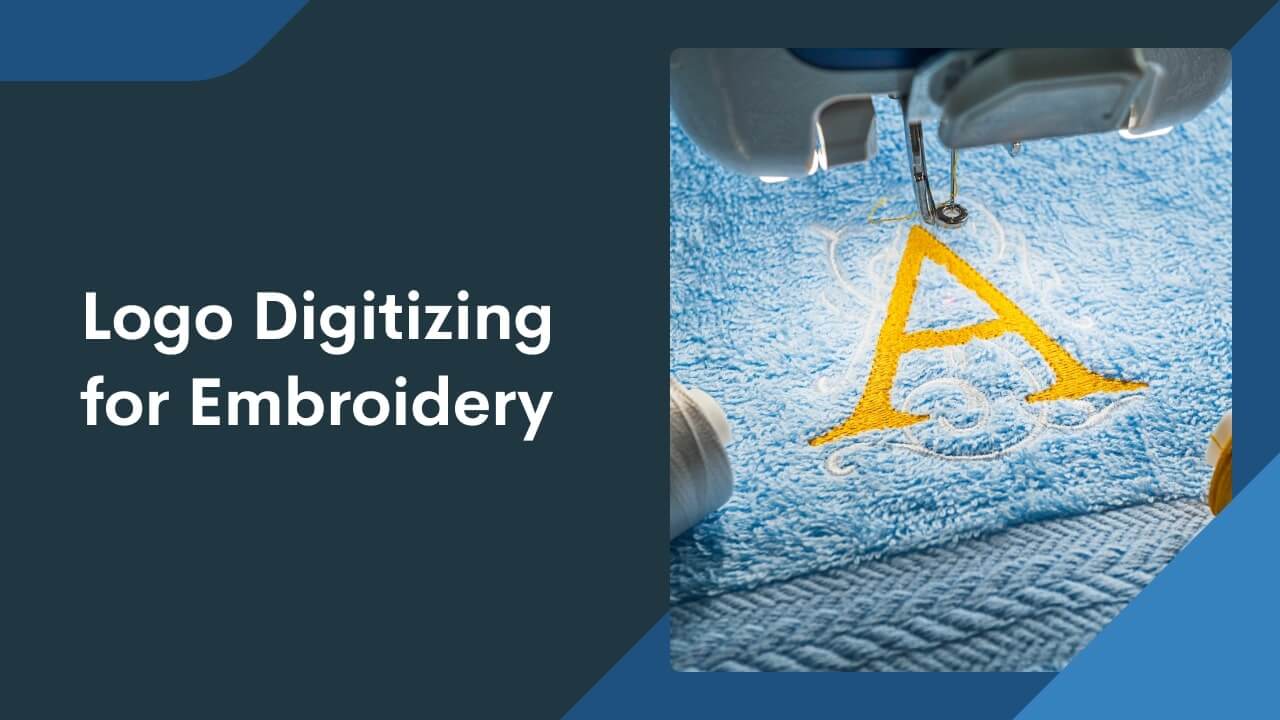 In 2023, it's easier than ever to print a custom wardrobe, bringing a wealth of opportunity to eCommerce store owners. Embroidery is one of the best ways to sprinkle a touch of quality and elegance on a fabric. 
With the global embroidery market expected to reach $2.2b by 2030, it's prime time to explore logo digitizing for embroidery.
In this article, you'll learn everything you need to know about machine embroidery, including the technical nitty-gritty, like thread colors, satin stitches, and what a maximum stitch length even is.
What Is Logo Digitization?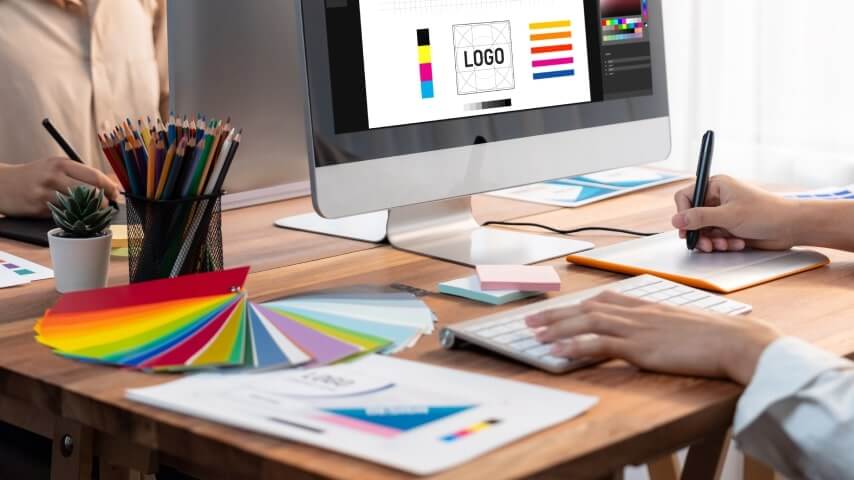 Digitization is the act of converting information into a digital format using software. Embroidery digitization means turning your image into a stitch file that embroidery machines can read.
A digitized file shows the thread path a needle should take, the correct stitch types, colors, and even the angle at which you should position the threadwork.
Remember that the colors in your design must match the thread colors available in the embroidery machine.
When your artwork is ready and uploaded to the machine, this digitized stitch file sews your design onto the fabric.
How to Digitize Your Logo for Embroidery
Perhaps you want to customize a t-shirt, finally use your commercial embroidery machine, or explore ways to make money with Print on Demand. 
Learning how to digitize an image for embroidery will give you an advantage regardless of the reason you're looking into the industry.
Use this knowledge to make a digitized logo for your business and eye-catching embroidery files to match.
Step 1: File Compatibility With Embroidery Machines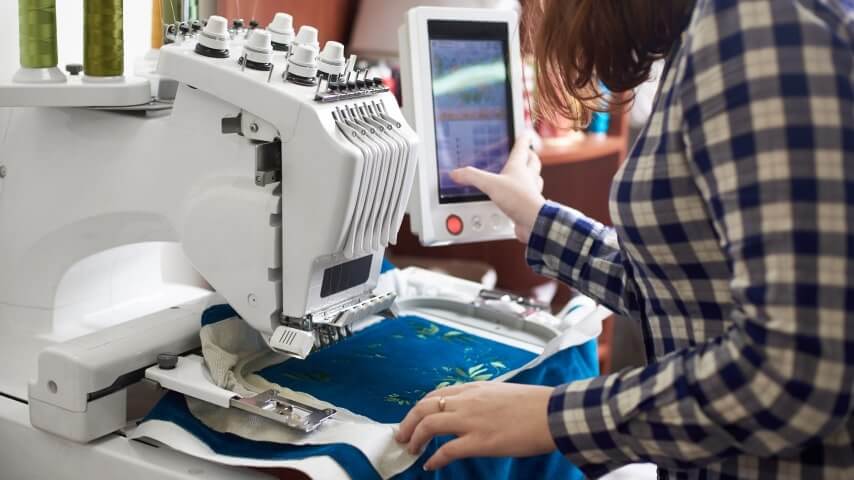 Prepare your logo for embroidery digitizing by making sure your file format is compatible with the embroidery machine.
There are many file formats, like .dts, .exp, and .jef. Compatibility for embroidery machines depends entirely on the manufacturer.
Let's assume your logo design is in a file format that the machine's software doesn't recognize. If so, you need to convert it using embroidery digitizing software like Bernina or Wilcom or seek help from a professional digitizer.
Step 2: Download Embroidery Digitizing Software and Upload Your Designs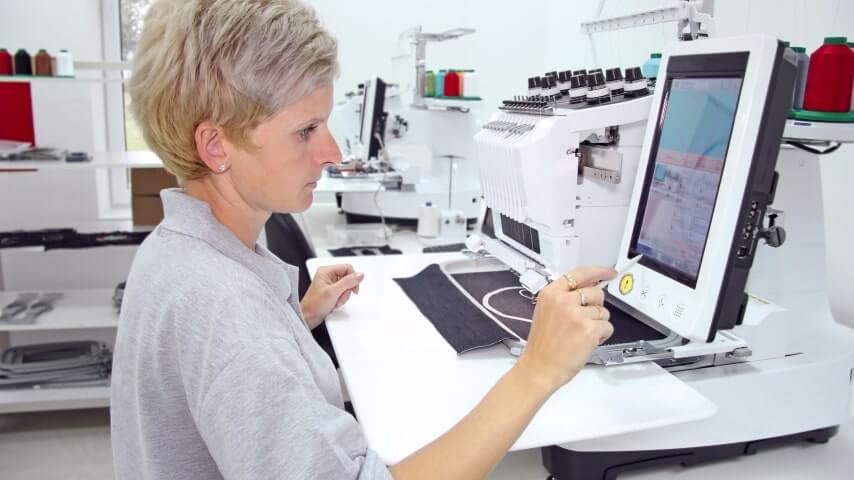 Step 3: Set Design Size and Dimensions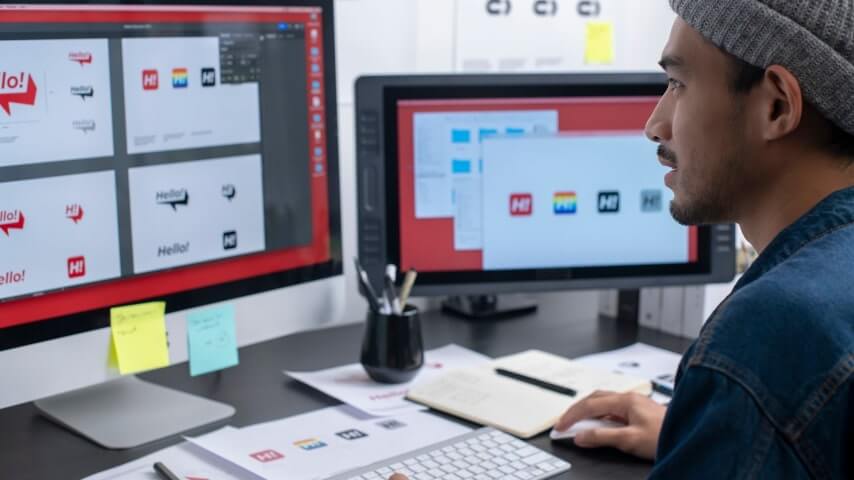 To create a precise design file, consider the product you want to customize with machine embroidery and its dimensions.
In commercial embroidery, it's also important to note the size and dimension limitations the machine's embroidery software can follow.
Adjust your design for different product types and embroidery areas. Remember that the smaller the size, the less detail you can add to your logo design.
Step 4: Select Your Stitch Type and Direction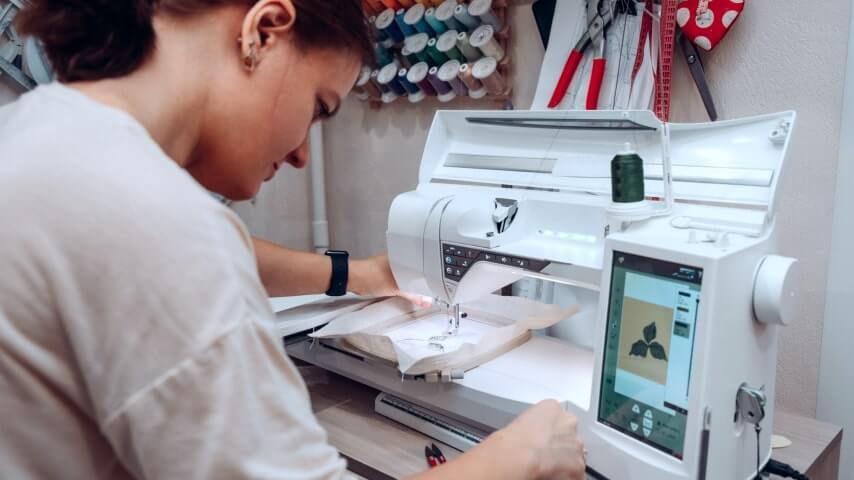 The stitch type and direction can make or break your design – along with embroidery thread colors. Each stitch type has a different texture and appearance.
Explore popular stitches.
Commonly known as the running stitch, it's the most basic type. The straight stitch is often used to create an outline or other fine details consisting of straight lines.
Also called the tatami stitch – fill stitches are generated line by line in a close stitch pattern and used to fill large areas of color.
The satin stitch, also known as the damask stitch, is a dense and smooth flat stitch that completely covers the embroidery area, giving it a finished look.
Don't use too many intricate details in your embroidery file because that may make your logo messy when embroidered on a garment.
Use clear lettering, simple design elements, and clean lines to create a memorable and appealing logo design.
Step 5: Pick Your Embroidery Thread Colors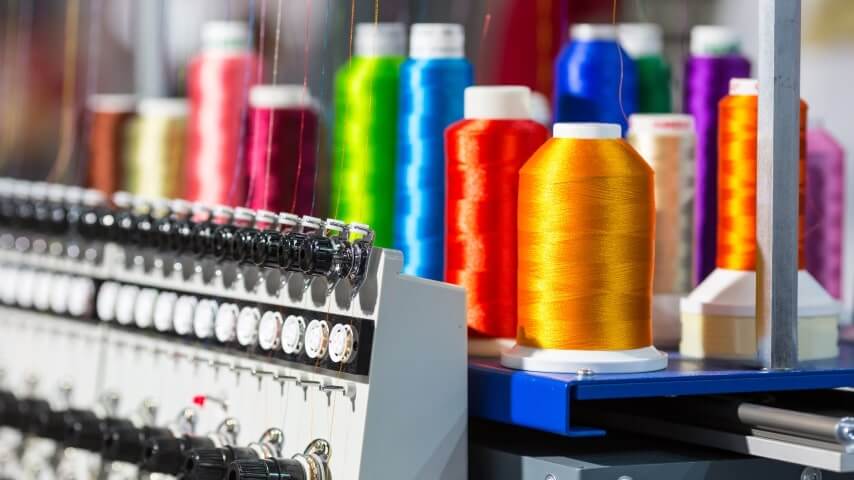 Select thread colors that closely match your digitized logo. Remember, your color choices should match those available in the embroidery machine.
This is an important step to remember, even if you're only digitizing logos.
Step 6: Transfer the File to the Embroidery Machine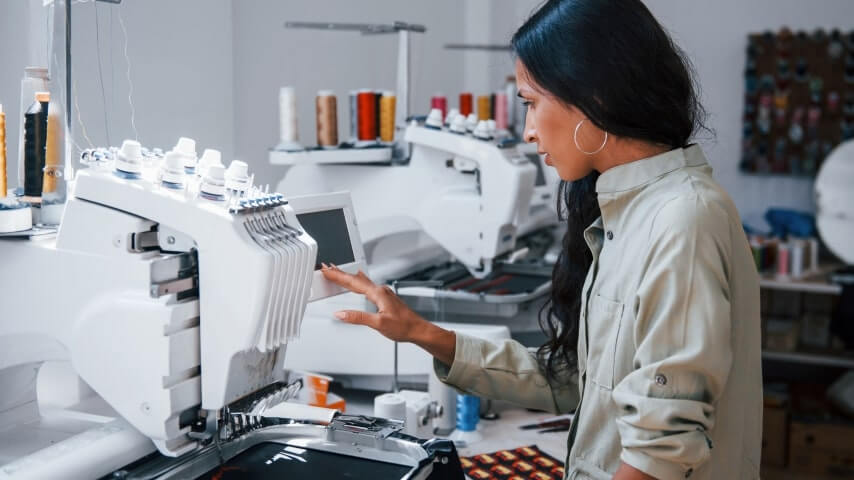 Once you've settled on the final size, picked the types and stitch direction, plus all the fine details of your embroidery file – the digitization process is complete.
Now, it's time to save your embroidery file in the correct format, transfer it to the machine, and start the embroidery process.
Transfer the file to the computer inside the embroidery machine via WiFi or a USB cable.
Step 7: Prepare the Embroidery Machine and Position the Fabric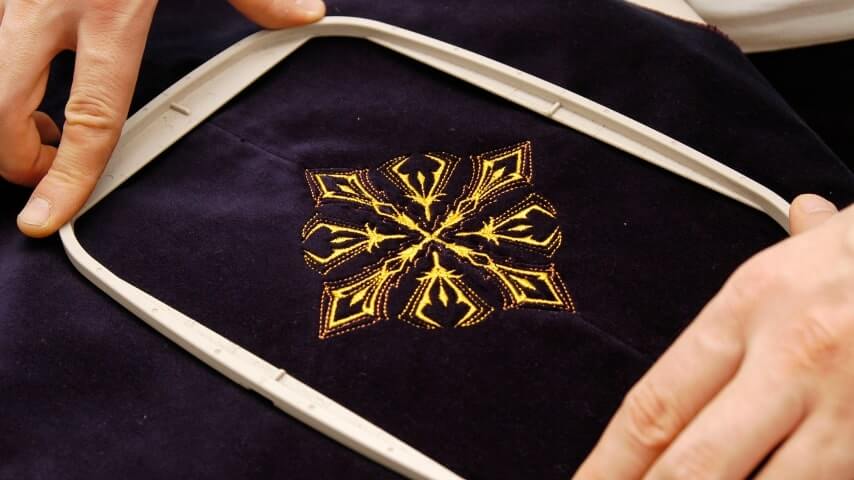 Before embroidering your design, prepare the machine and correctly position the fabric.
Thread the colors that match your logo and select the right needle for the fabric you'll use as a canvas.
Secure the fabric in the embroidery hoop. Take your time when positioning the fabric to guarantee the most accurate placement for your design.
Step 8: Make a Sample of Your Embroidered Logo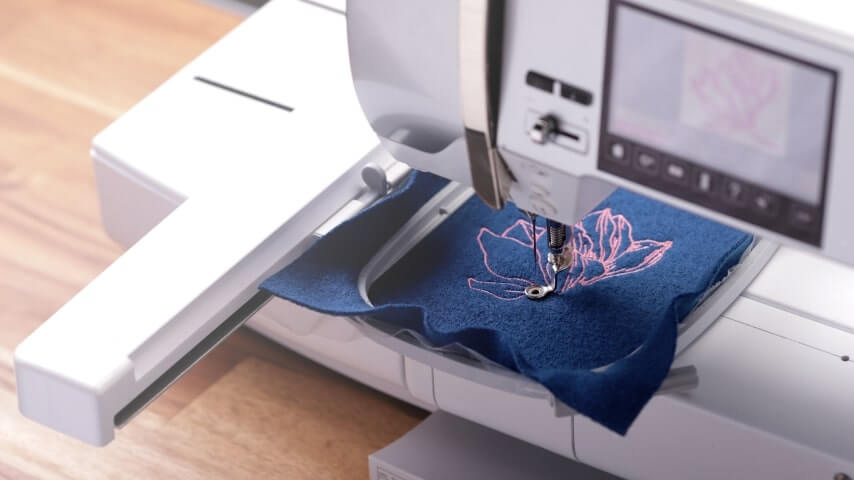 Create a sample of your logo embroidery on various products and in different positions.
Samples of your logo will help evaluate your embroidery – the quality of stitches, colors, your embroidery design size, and the overall look.
Adjust and try out different stitch types and colors to digitize the perfect logo for embroidery.
Step 9: Start Embroidering Your Products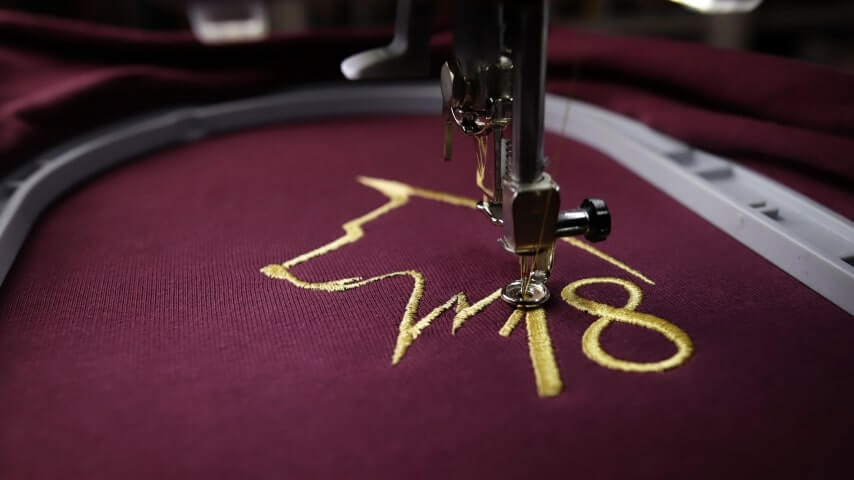 You have made it this far, and there's only one thing left to do – start producing your products in bulk. You've gained insights about embroidery digitizing, so it's time to turn your design file into profits.
What Are the Types of Commercial Embroidery?
Commercial embroidery is an industry with seemingly few boundaries. 
Let's explore various embroidery types.
A design is stitched onto a flat surface, such as a t-shirt or hat, without any added materials. It's one of the most common types of embroidery.
This technique adds texture and depth to your logo by using foam or padding underneath the stitching, creating a raised, three-dimensional effect. It works really well on hats.
Two very similar yet different types of embroidery. With patch – as the name suggests, you sew a patch onto the fabric. In applique, more intricate patches in different shapes and sizes are attached to a larger piece to form a design.
Tiny, flat sequins outline and change the design's pattern depending on the sequins' direction. This embroidery type can add a subtle sparkle to your designs.
Chenille is a soft, fuzzy yarn. When used in embroidery, it creates a textured look and a three-dimensional design. It's often used for creating a retro or vintage-themed garment.
Digitizing Files for Machine Embroidery: Conclusion
We've covered how to digitize a logo and how to prepare the embroidery machine process. While there are some ways to automate digitization through production services, embroidery is a valuable process to learn independently.
Express your style and make a bold statement through the power of embroidery.
Share the article
Topics