Design Your Own Tie-Dye Shirt
Nothing gives more effortlessly chill vibes than custom tie-dye shirts. Colorful, trippy, and oh so trendy, our personalized tie-dye t-shirts are the epitome of groovy summer days. Start designing t-shirts with your own logo and sell them in your online store for profit.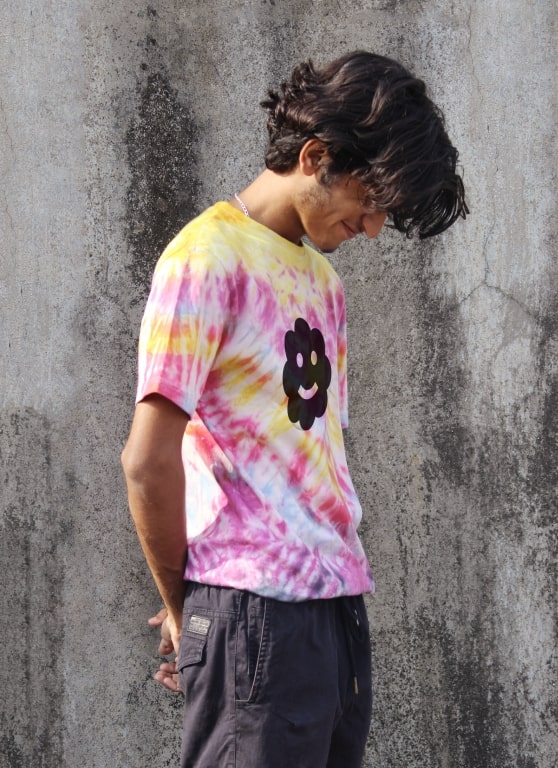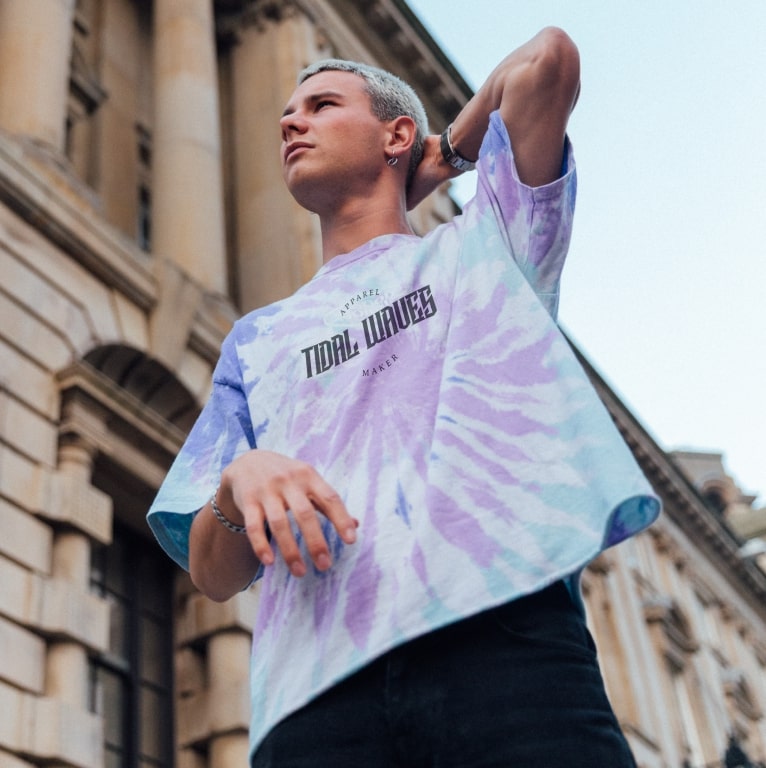 Printify and Custom Tie-Dye Shirts
Create Your Personalized Tie-Dye Shirts
Custom Tie-Dye Shirts No Minimum Order
Custom tie-dye shirts are a unique twist on classic t-shirts. They're eye-catching, affordable, and elevate one's style. The signature swirl paired with your designs, cool fonts, and logos will impress customers worldwide. With Printify, sell custom tie-dye shirts wholesale with no order minimum or maximum – no hidden fees, no hassle, just fun, and profits.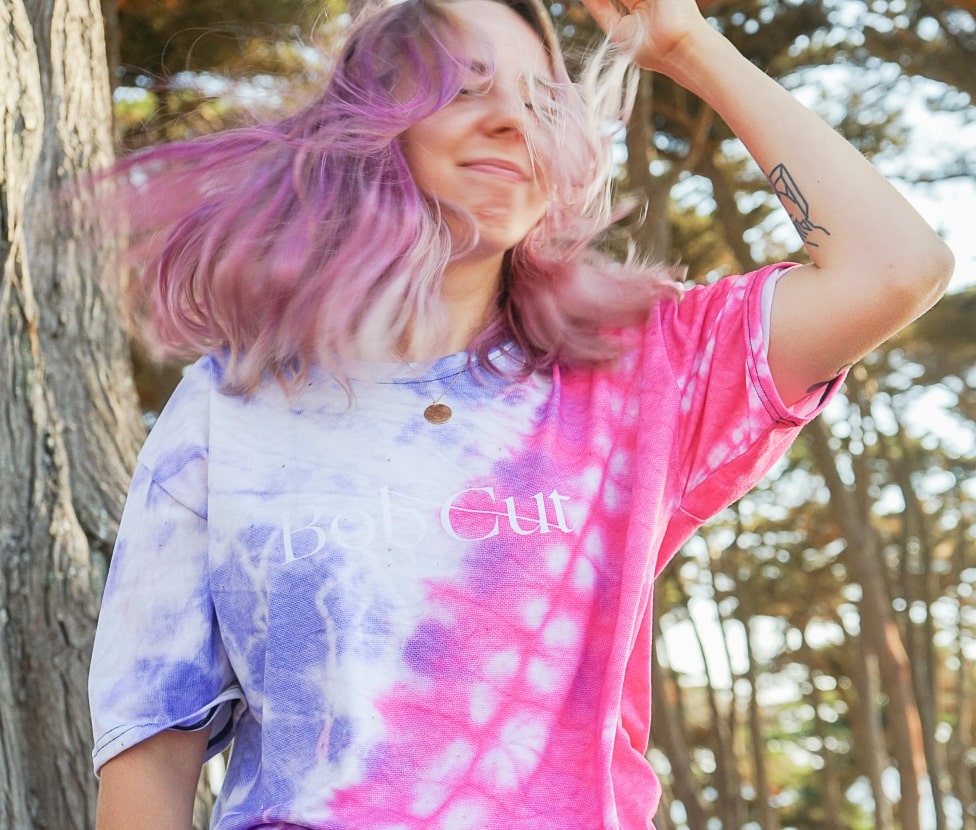 Explore Our Print on Demand Tie-Dye Shirts
Design your tie-dye shirt in minutes with unforgettable patterns using our easy-to-use Mockup Generator. Tie-dye t-shirt printing is a profitable niche as tie-dye tees have made their comeback and are here to stay. 
That's why we've added four different custom tie-dye shirts that are perfect for digital printing with your designs.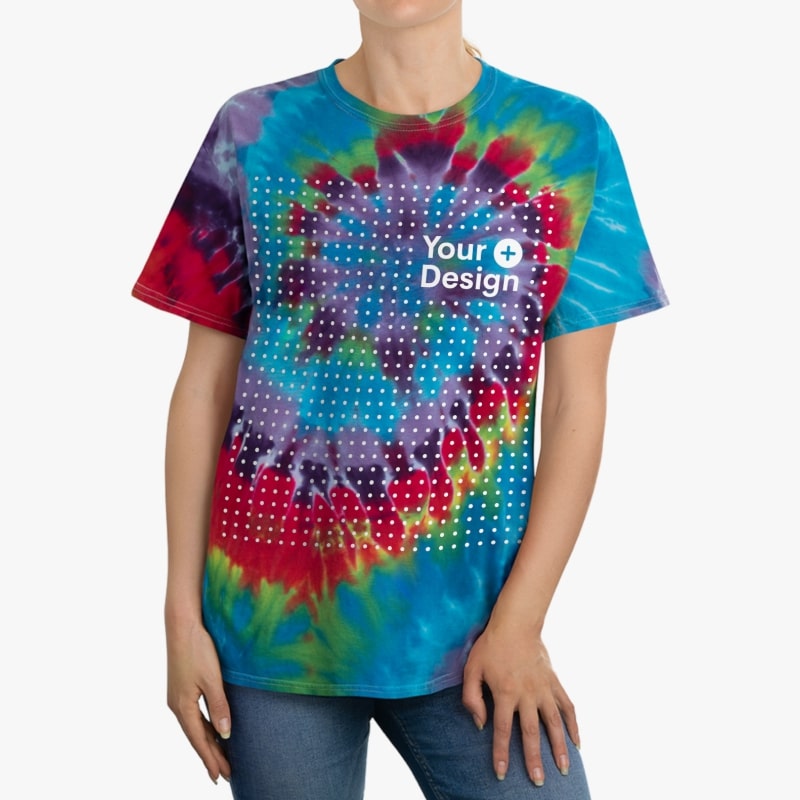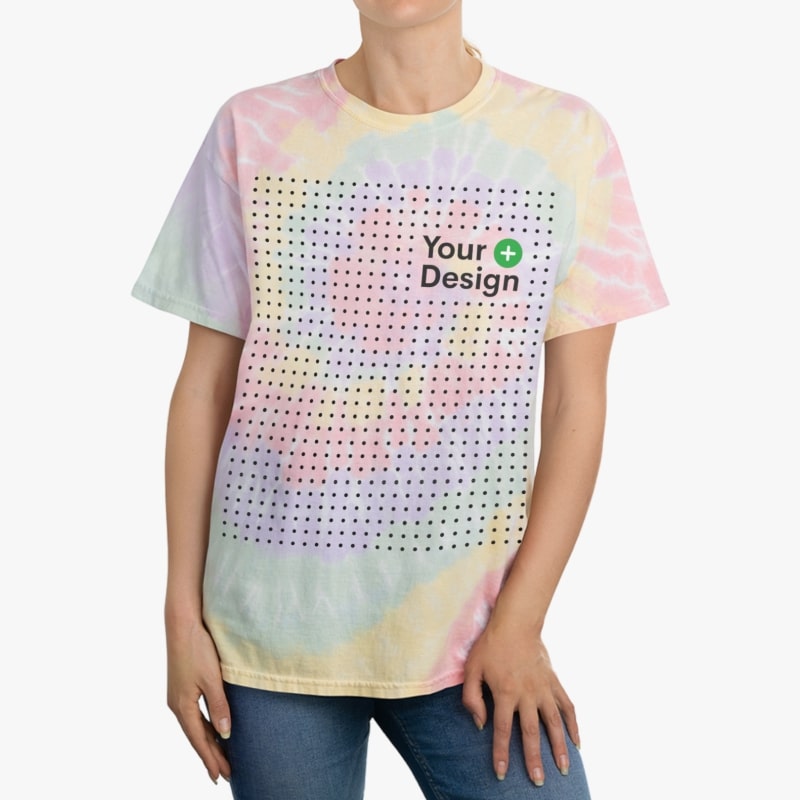 Available in two base colors and five versatile sizes, these 60's inspired rainbow spiral custom tie dye shirts are perfect for wearing at the gym, parties, or every day. Decorate with mesmerizing designs, slogans, or logos that show your business in the best light.
From USD 20.69 ·  From USD 15.93 with Printify Premium · 2 colors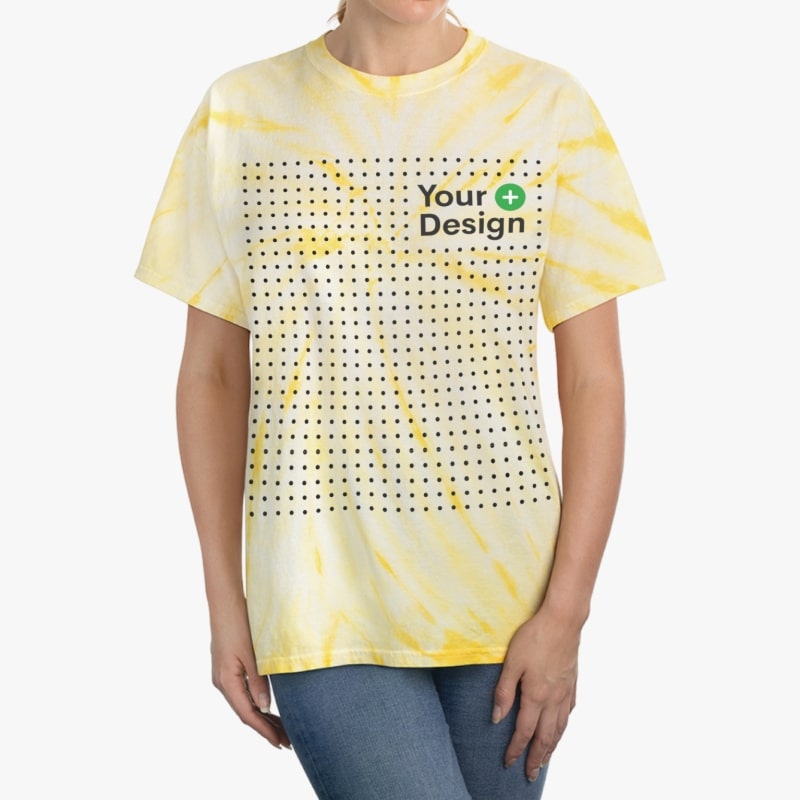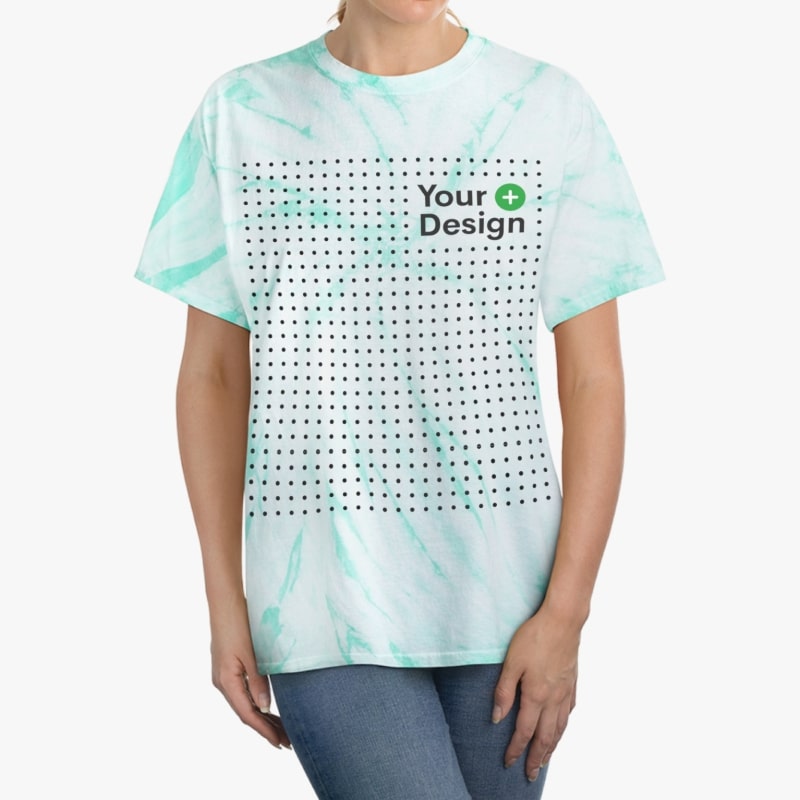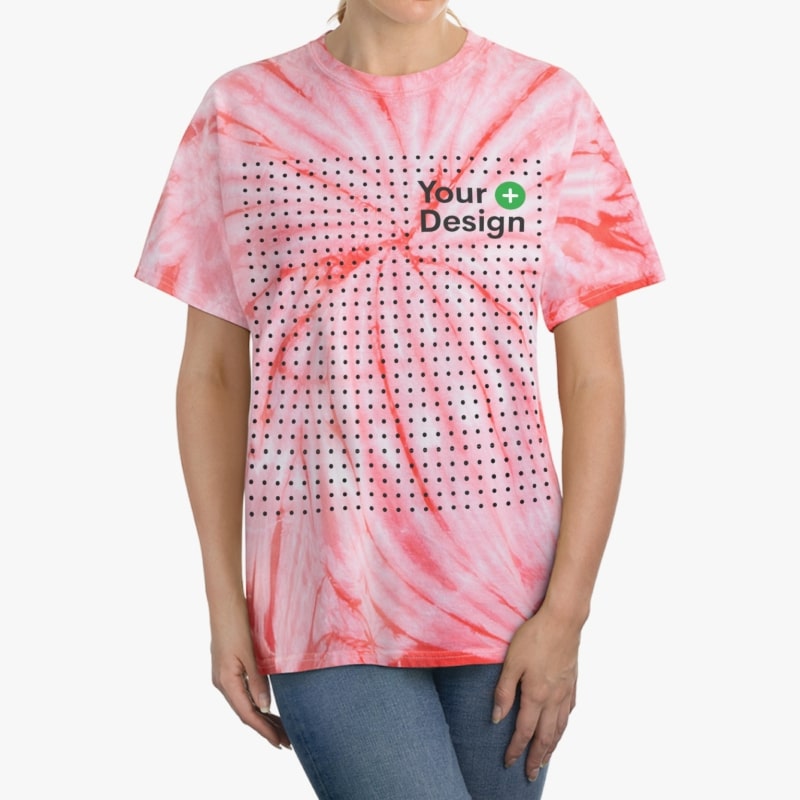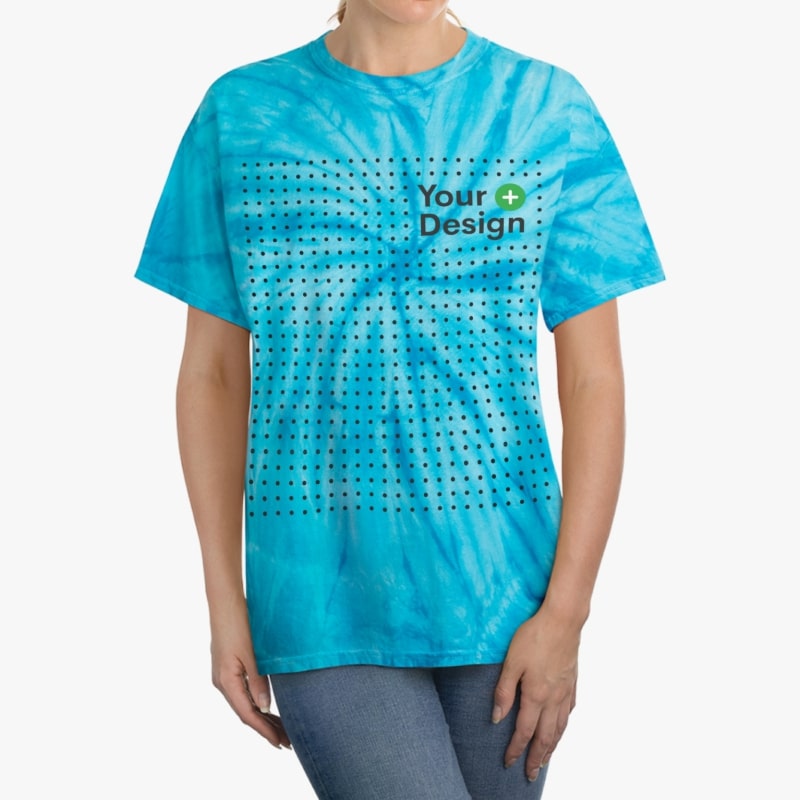 These tie-dye t-shirts with a cyclone motif come in four fun base colors and sizes S to XL and are made of medium heavy preshrunk cotton ideal for screen printing. Upload your designs and decorate from front to back, creating a stunning product that can be worn separately or layered under custom hoodies by your brand.
From USD 19.57 ·  From USD 15.07 with Printify Premium · 4 colors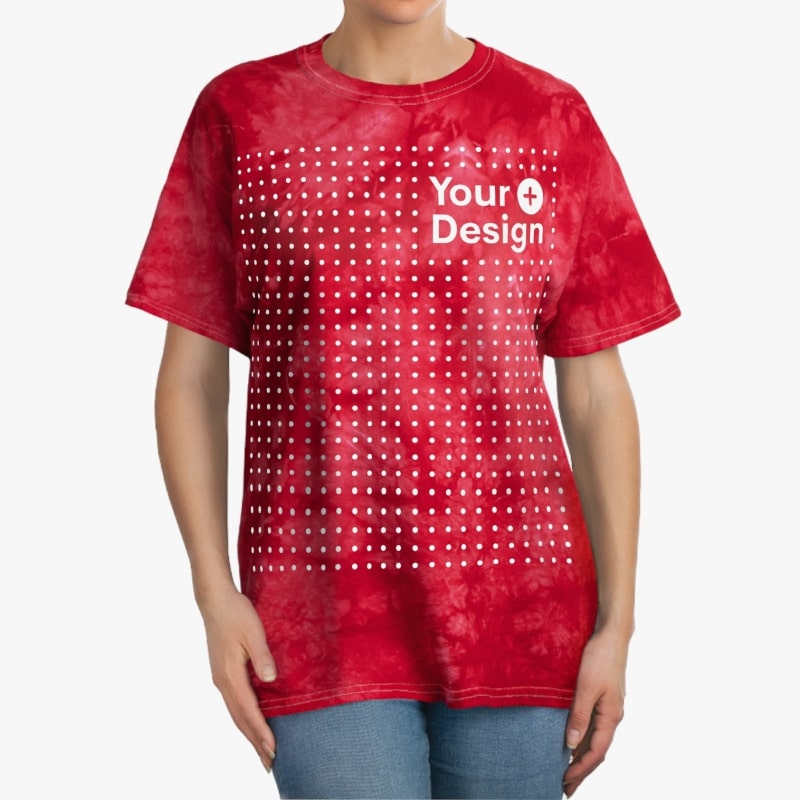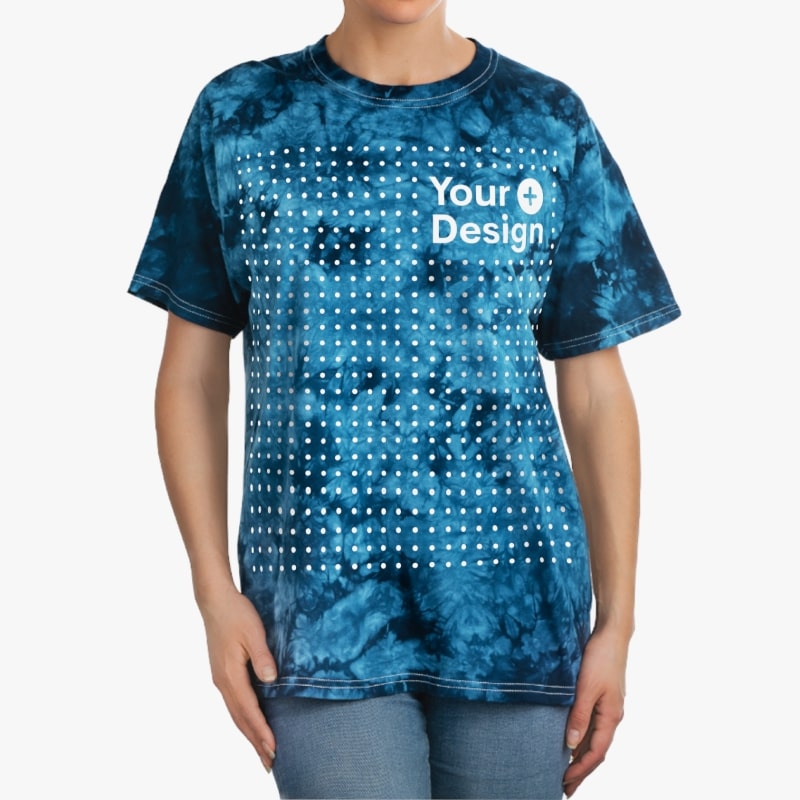 Our crystal tie-dye tee is available in red and blue base colors and comes in sizes S to XL. Add a splash of style with your artwork that covers both the front and back sides and sells online as a part of a 90s-inspired collection for youth and fun-loving adults. Made in the USA.
From USD 19.57 ·  From USD 15.07 with Printify Premium · 2 colors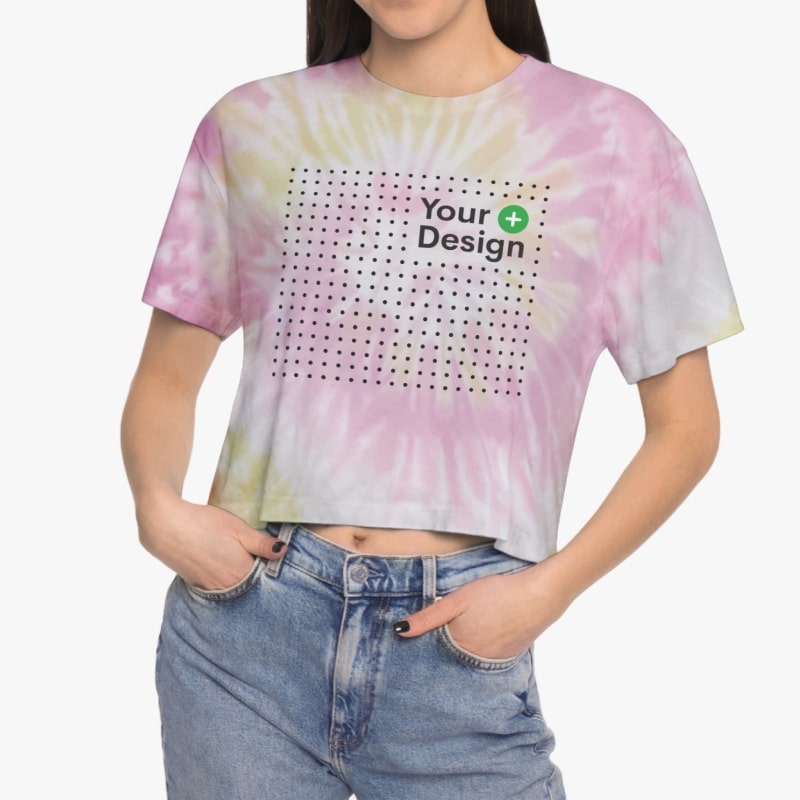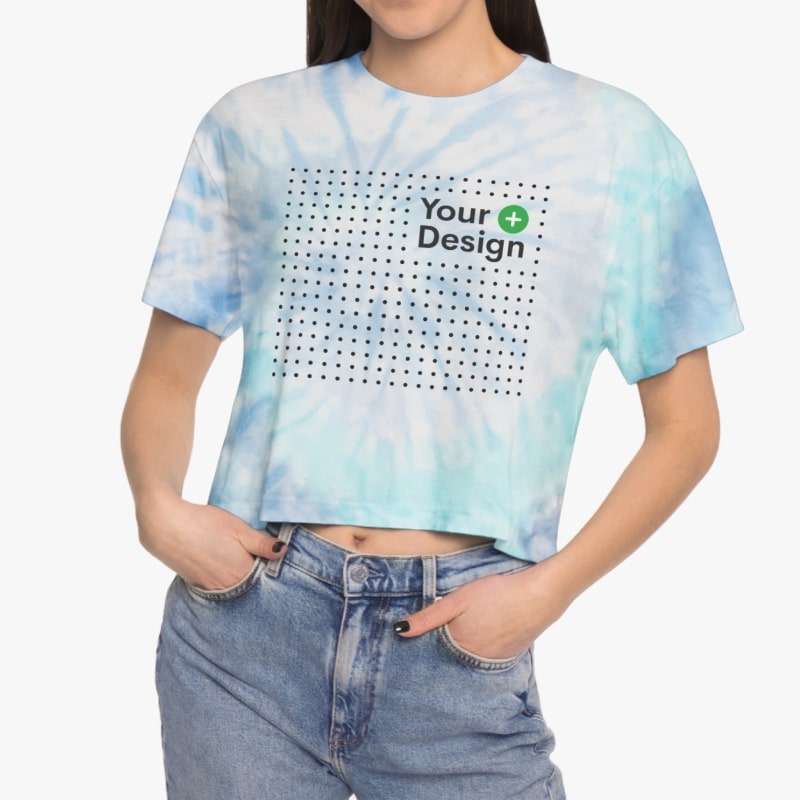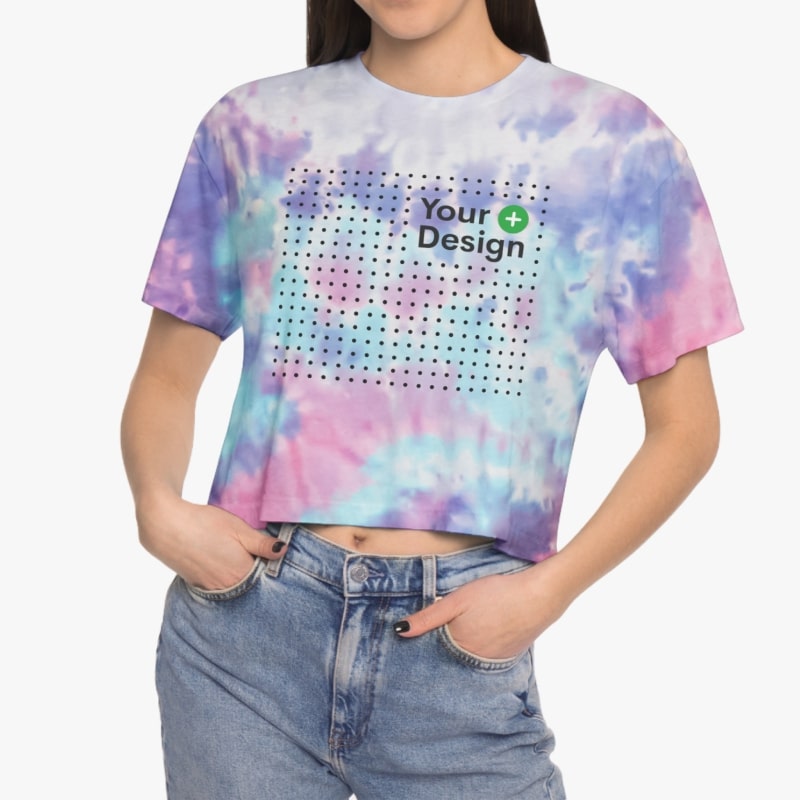 A shirt that perfectly matches her sunny personality, this cropped tie-dye t-shirt is a must-have. This shirt is available in three pastel base colors and five sizes and is a lightweight poly-cotton blend that's perfect for the gym and everyday wear.
From USD 19.27 ·  From USD 14.84 with Printify Premium · 3 colors
Creative Personalized Tie-Dye Shirt Ideas
Creating personalized tie-dye shirts is easy and fun, especially if done with our free Mockup Generator. It's straightforward with a clean and simple interface. Upload your designs, add up to five layers on each product, use the text editor and end up with a cool mock-up photo to use in your online store and social media accounts.
Tie-Dye Shirts With a Logo
Custom tie-dye tees with a logo are wonderful mediums for promoting your brand. No matter the field of your company, custom shirts are walking billboards. Add your logo on the front or back of the garment or both to spice up your business.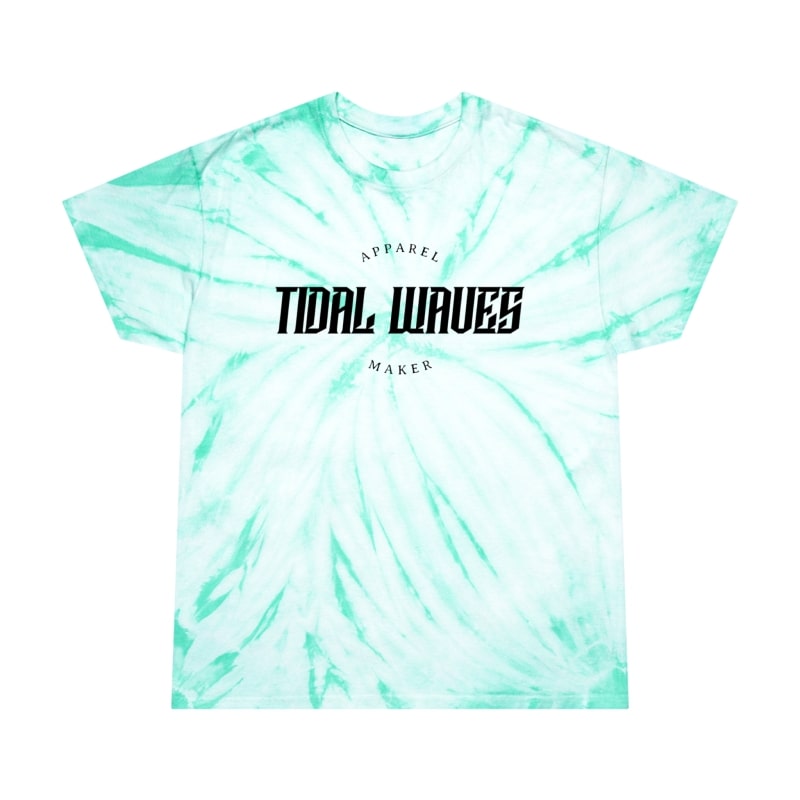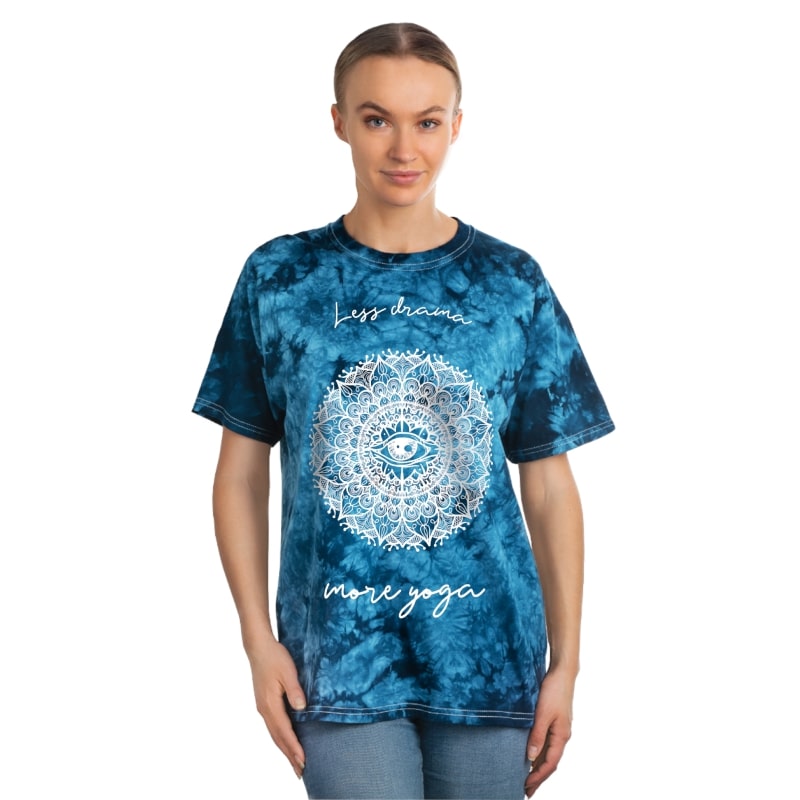 Appeal to the new-age spiritual crowd with mandala tie-dye shirt designs. Go through free design templates on Shutterstock or create your unique ones to sell on Etsy, Shopify, and other sales channels.
Tie-Dye Shirts With Words
There isn't a one-size fits all formula for designing t-shirts, but profound quotes or funny puns are the closest things to it. Create designs in specialized software or use our text edit tool to add meaningful words or hilarious one-liners that scratch below the surface in style.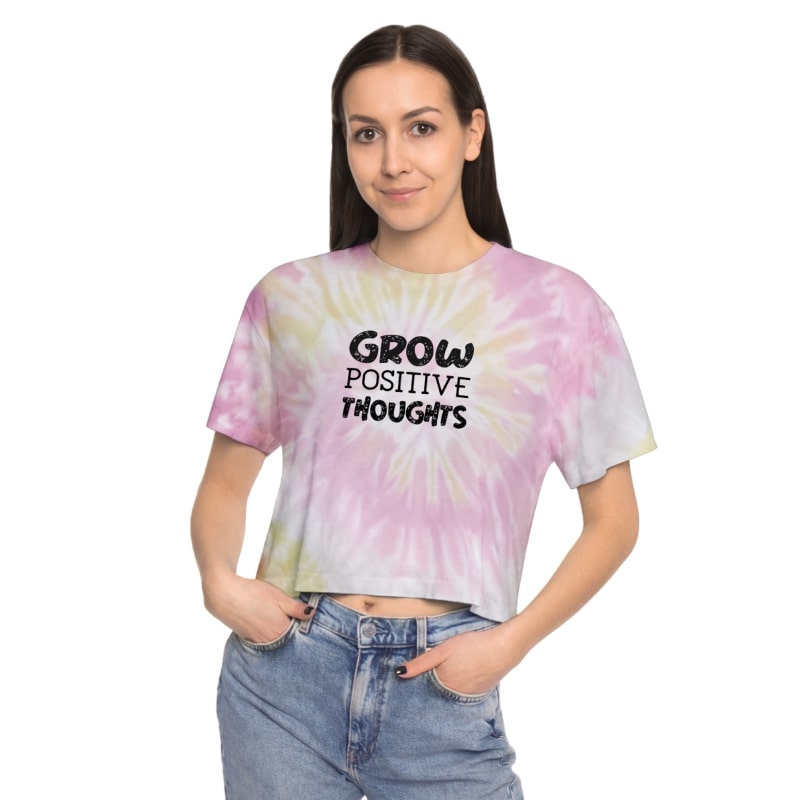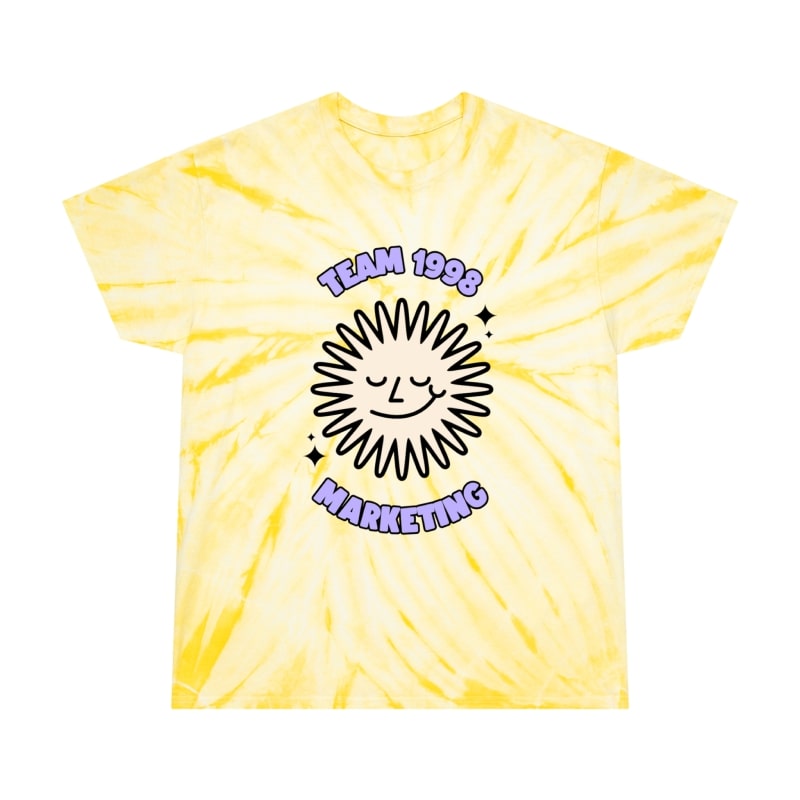 Decorate our t-shirts with your business name, logo, or relevant graphics and create unforgettable uniforms for your employees. Tie-dye screams youth, fun, and sunshine. Paired with high-quality print, these shirts will surely make them love their job even more.
Start Selling Personalized Tie-Dye Shirts
Sell Personalized Tie-Dye Shirts With Printify
Print on demand – tie-dye shirts and beyond – is the perfect business model that requires no investments, no physical stock, and pesky walks to the post office to ship your goods. You get to design cool products and focus on marketing them without needing to lift a finger to handle the actual stock. It's this simple.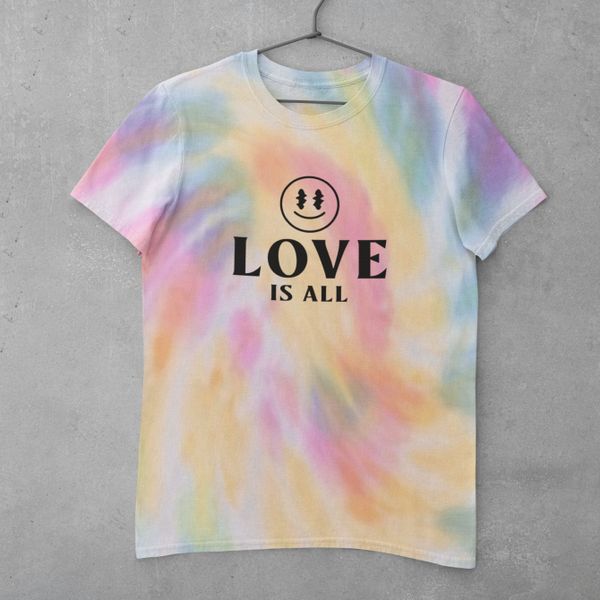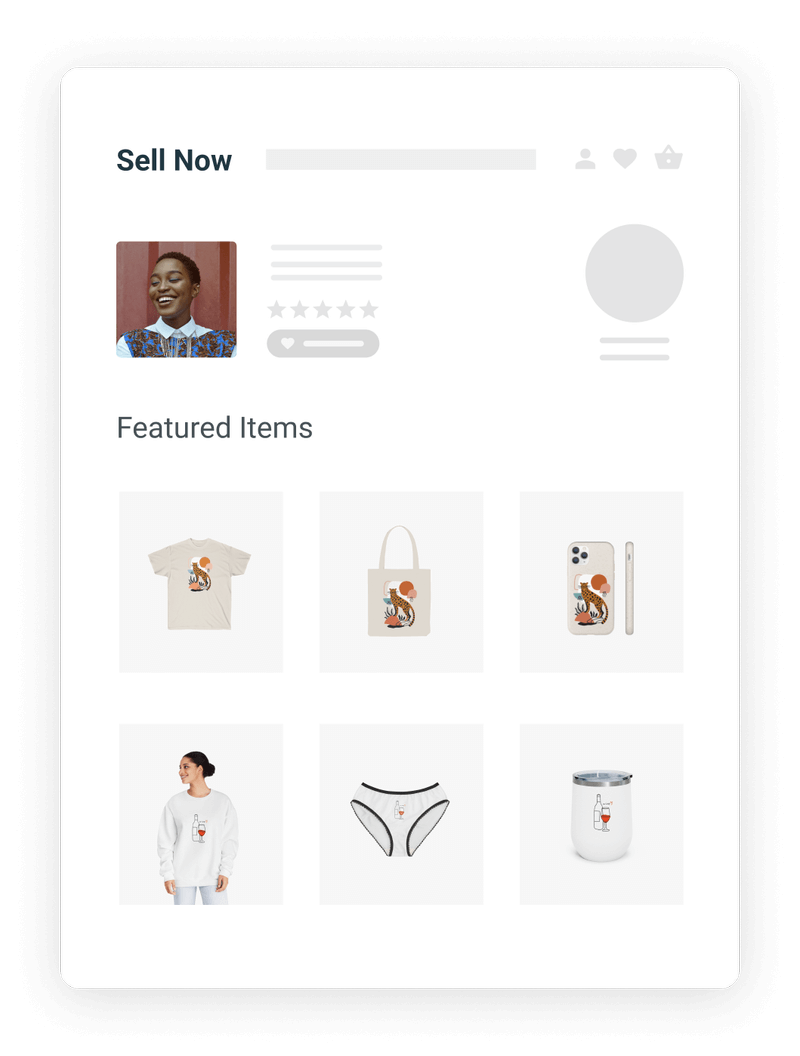 Explore our catalog of over 800 custom items and choose your winning tie-dye shirt model. Among t-shirts, find other matching products such as hoodies, tank tops, hats, and even custom sneakers. Then on the product page, click Start designing.
The Printify Mockup Generator lets you easily upload the designs to the virtual garment and play around with patterns in up to five layers from desktop and mobile devices.
Sample your creations to ensure they meet or exceed your expectations before offering the tie-dye t-shirts to your customers. Samples are also great for marketing use – wear them, take photos and show them off to the world!
Easily connect your Printify account to the most popular eCommerce platforms and marketplaces: Shopify, Etsy, Wix, Squarespace, and others, thanks to our easy integrations.
Now that you're happy with the tie-dye shirt with a print as beautiful as the rainbow, your only task is to market it to your target audience. How so? Because we'll handle the fulfillment, packaging, and shipping for you. We even have excellent 24/7 merchant support to take care of any possible order issues, so you don't have to.
Frequently Asked Questions
Find More Custom Shirt Options From Printify
Sell custom tie-dye shirts in minutes with print-on-demand drop shipping and appeal to that 60s good vibe nostalgia. Upgrade your store's collection of high-quality custom products with cool and trippy tie-dye shirt designs that bring the good old days to the 21st century.