Check out our custom t-shirts! Make and print custom t-shirts with our simple step by step instructions below.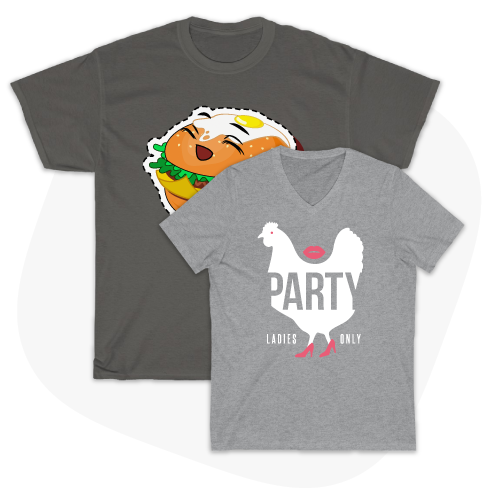 Custom t-shirt printing with no minimum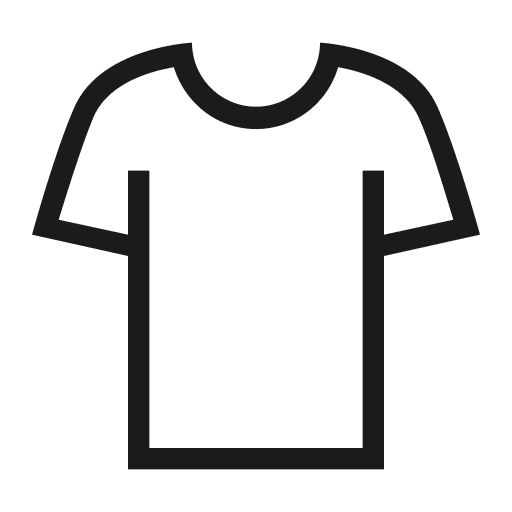 Come in sizes and colors for every taste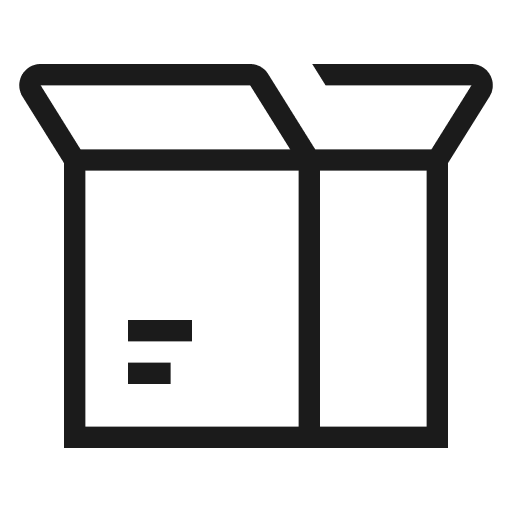 Only produce when you receive an order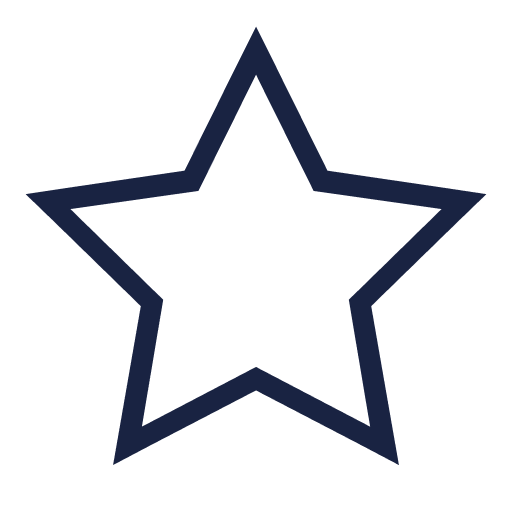 Maximize profit with the most popular item to sell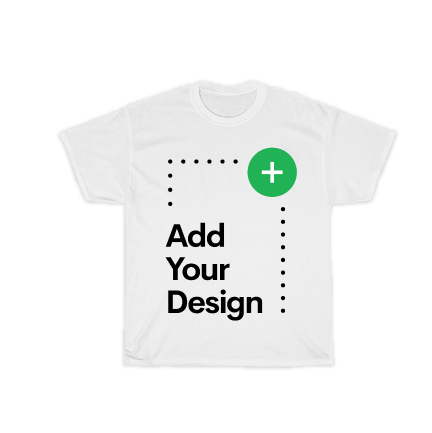 Custom t-shirts are a fantastic way to make some extra money. In fact, of any of our products, t-shirts are by far the most popular.
Our print provider network gives you the options you need to make more money, choose from the largest possible selection of products, and have the lowest possible shipping times. 
Custom Men's T-shirt Printing
The classic Men's t-shirt, men from young to old still wear these wardrobe staples. There are huge opportunities for sales here, of course. Luckily, we have a wide selection of Men's T-shirts for your custom t-shirt printing needs! You can find high quality, inexpensive t-shirts from brands like Gildan, Next Level, Delta, Bella+Canvas and more. We're ready to help 
These t-shirts are ready for printing and comes in a wide variety of attractive colors and sizes, making them suitable for all kinds of designs. We also have options for polo shirts, including embroidery ready custom polos for all your semi-fancy needs.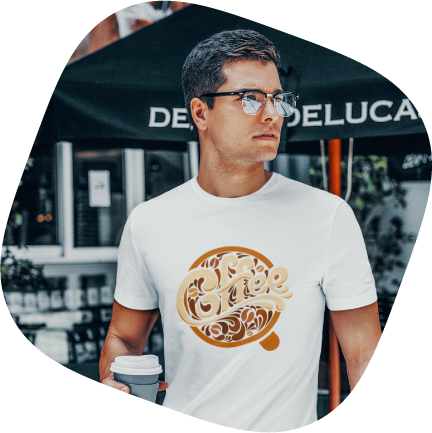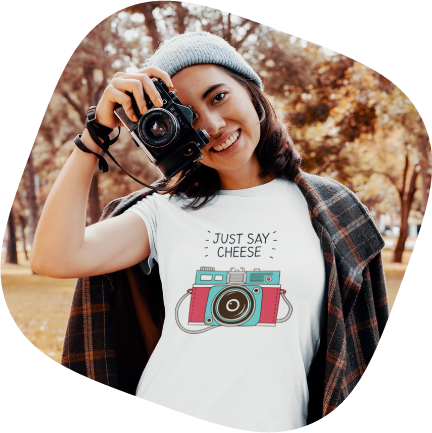 Women's T-shirts Printing
Our custom women's t-shirts also feature an extensive collection. In addition to the great styles above, we have crouchy top, scoop neck and curvy and softstyle. Don't forget that a lot of partners struggle with gifts for their significant others, so even novelty gifts will probably sell – if it's the right type of humor. 
Women's custom t-shirt printing is a huge opportunity for most stores, because generally they are underserved by the many talented designers that create t-shirts more broadly, not just for women. 
There are great options for your store that will let you express yourself and your designs, in a huge variety of stylish colors and must-have staples. Women will appreciate the huge variety of colors, options and sizes available on our platform. Add them to your store today and start your custom t-shirt printing business!
Don't forget about Kids! Kids sizes and selections are often overlooked, but that doesn't mean they should be. Fans of teams and movie franchises often love dressing their kids up in their own favorite fandom. Custom printed t-shirts are great gifts for kids from family or friends, and it's an easy way to show them – and their parents – that you've thought about their gift a bit, so we see their popularity on the rise in our shops.
Kids also have a mind of their own and can become quite attached to different things as well. You'd be amazed at how many kids will surf onto shops with their parents tablets or phones, and their parents take notice if they really like something – after all, there's always a birthday or holiday approaching! 
With that in mind, we have some of the widest selection of custom kids t-shirts ready for printing. Check out brands like Bella+Canva, Gildan and the aptly named Rabbit Skins, so take a look and deck your store out with some great designs for kids!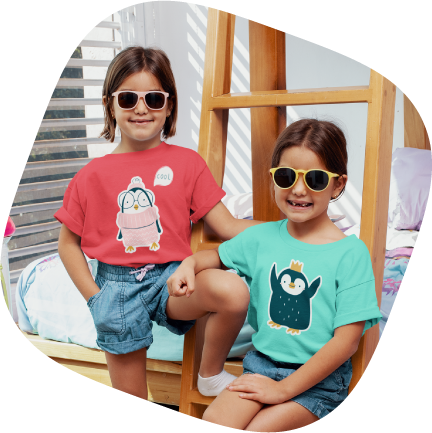 Custom T-Shirts with no Minimum
A lot of people, including stay at home parents, Youtubers, influencers are earning extra money by starting custom t-shirt printing business, and you can too! We at Printify make it super easy by selling custom t-shirts with no minimum order. That means that you don't need to pre-buy and store all the products and inventory in your spare bedroom, garage or basement! 
T-shirt printing require no minimum order quantity, boxes, or inventory with our platform. What's even better? You'll never have to put an "out of stock" flag on your t-shirts, simply because you've run out of inventory, which means you'll never lose money because you don't have an item in stock.
Whenever we see this on one of our favorite YouTubers stores online, we're crushed, because custom t-shirts should have no minimum order. What a wasted opportunity! There's never an excuse for not making all of your loyal fans or potential customers happy, and being out of inventory is a great way to lose money. 
Why bother with the boxes? Print-on-demand t-shirts make it so easy to print and sell t-shirts that are dropshipped to the customer directly from the print provider. Once you make your design and put it on our platform and your store, there's nothing left for you to do, other than rake in all of the cold hard cash from those sweet sweet sales.
Questions about custom t-shirt printing answered
T-shirts printing step by step
1. Creating Printify account
The first step to creating your budding custom t-shirt printing empire? Create your Printify account with us today. Once your account is created, you just need to wander over to the mock-up generator to start putting the first pieces of your store together.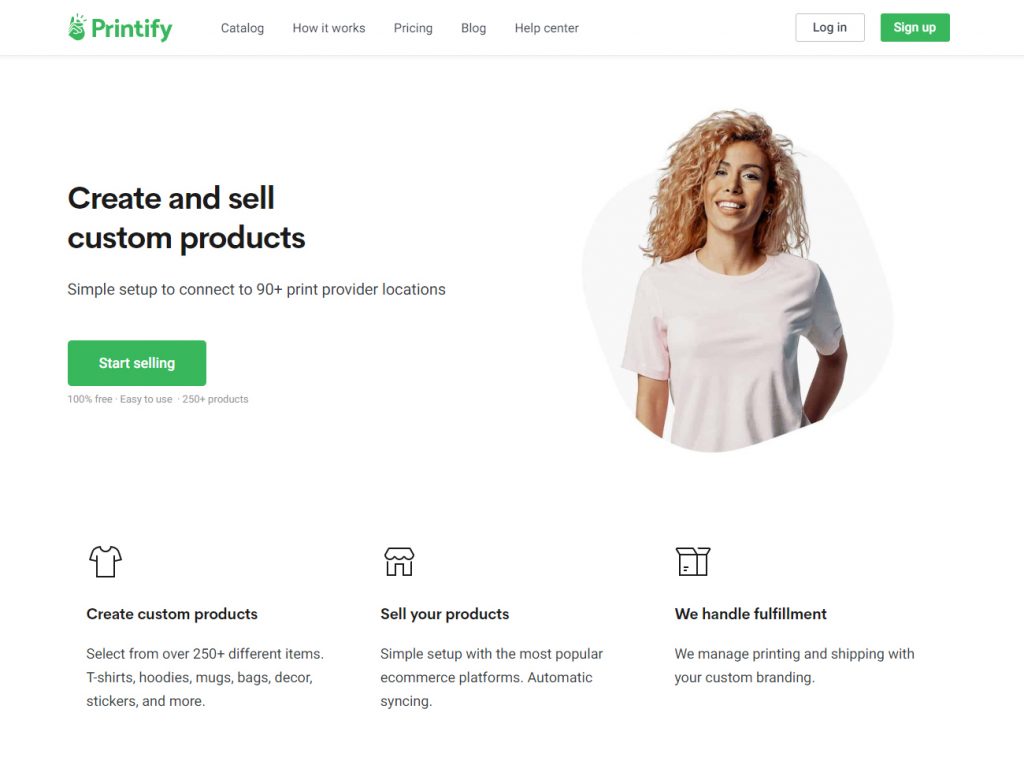 2. Choose a t-shirt you want to print
Choose the t-shirt you'd like to print from our product catalog. You can see which are the best selling, and also compare print providers and sellers by price. Not only that, you can see our ranking of the print providers, that way you know which ones are rated the best! 
Here are some of our best selling custom t-shirts for printing: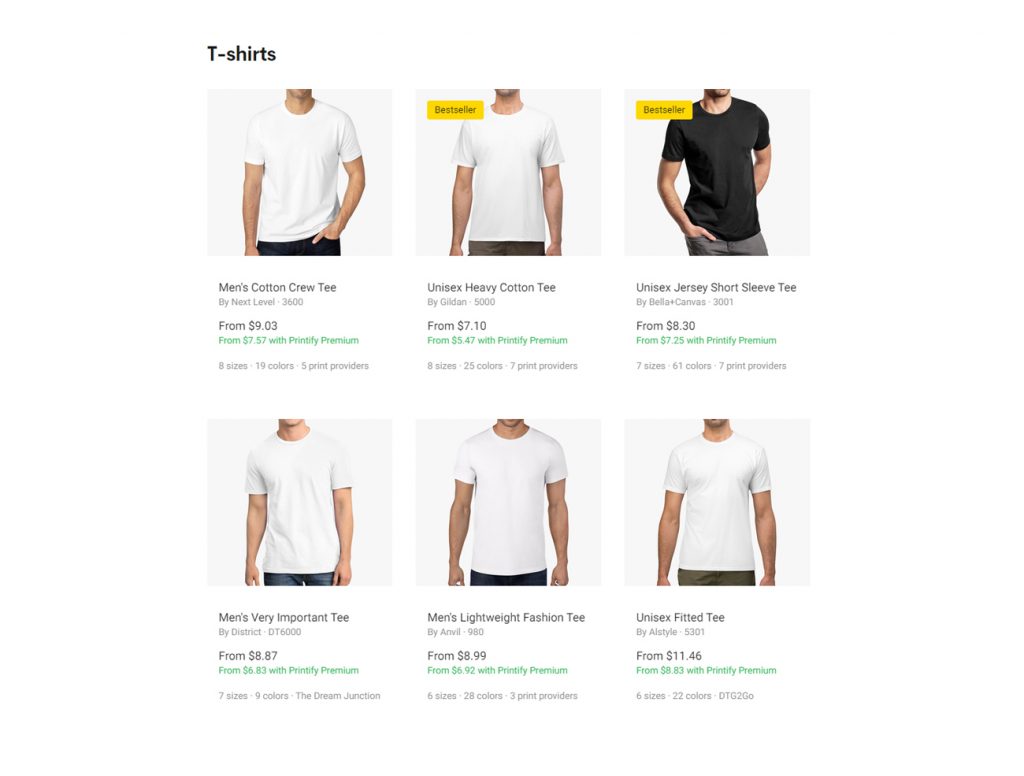 Then, the mockup generator launches. The mock-up generator is the way you can develop products on our platform. Use it to upload your image and place it on your product. The mock-up generator will show you where the print zones are on the product. Some shirts have front, back or sleeve options, while others will be just front print. 
Don't forget, we have three methods for creating shirts:
DTG printing: Direct to Garment Printing, your design is printed directly on the t-shirt print areas
All-over print t-shirts (AOP), your design can be printed on the entire t-shirt. 
Embroidery: Your design is sewn into the garment. See our embroidery guide.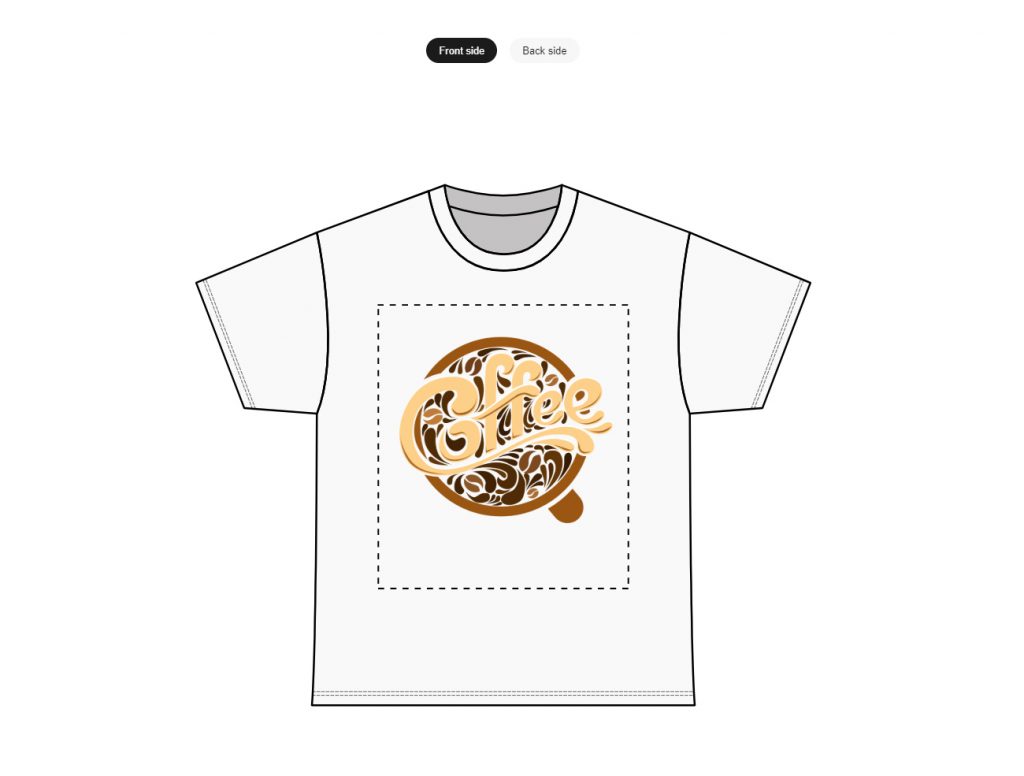 Take special note of the image quality, we do a quality check just to make sure the image you're using for your design meets our printing standards. If you're able to, make sure you have a dpi of 300 – this is the best quality for t-shirt printing. The quality will suffer if you stretch the image from a smaller to a larger design.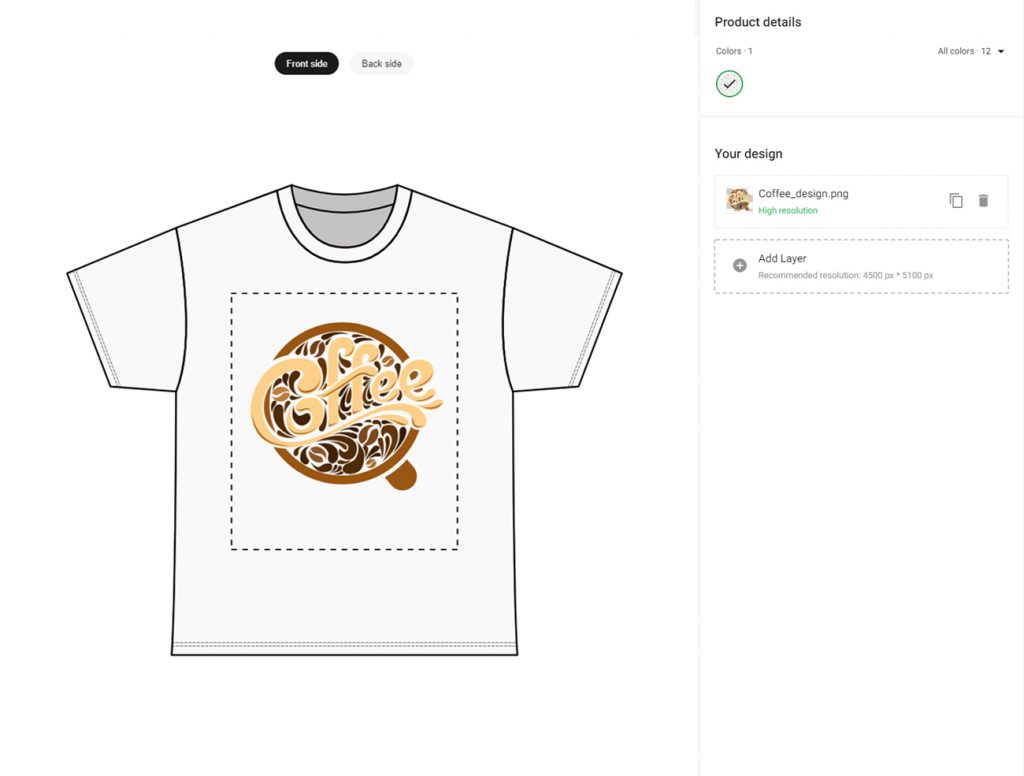 5. Print your custom t-shirt
Custom t-shirt printing is the next stage. You'll want to order a sample to make sure your custom t-shirt design is cooked to perfection. That way, you can be sure that your design looks exactly the way you want it to look. Once you've done that, you're ready to get things published to your store!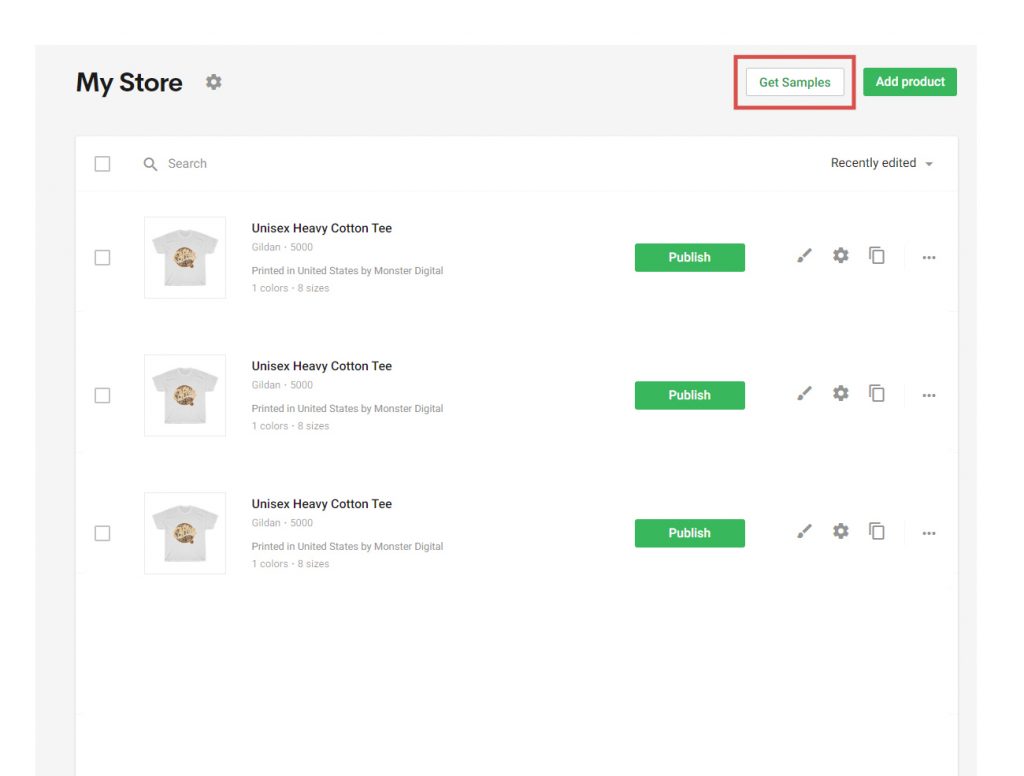 Get started with t-shirt printing
Custom t-shirt printing is one of the most popular ways you can monetize your content or your brand online.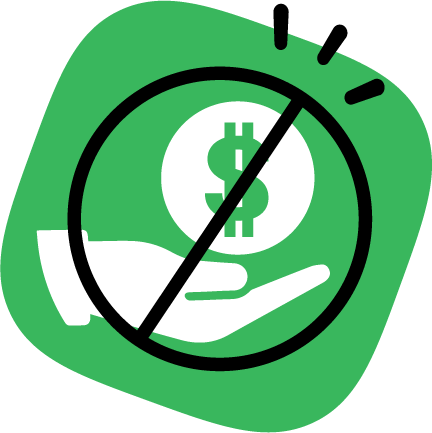 Even if you sell other products, selling custom t-shirts costs you nothing and can add real money to your bottom line. Consider that of 50 stores we surveyed from popular Youtubers and influencers, all of them sold at least some kind of t-shirt in their shop.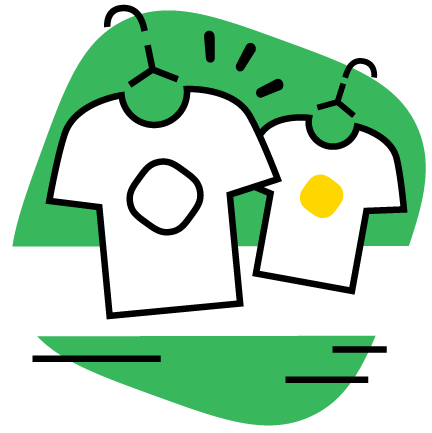 Designing custom t-shirts
The most popular custom t-shirt designs aren't even complex. Catchphrases, slogans, even inside jokes are usually what sells best. A lot of the designs are just words on a simple black or white t-shirt that lets every other fan that the wearer comes across know that they are in good company.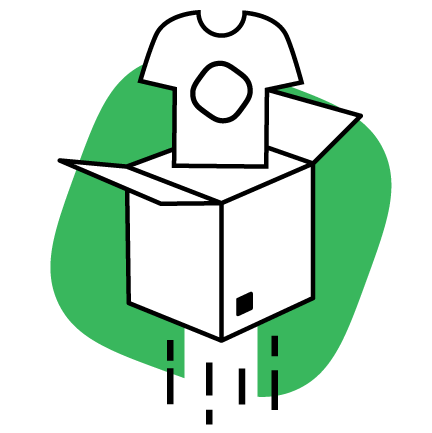 Custom t-shirt dropshipping
This is where the magic happens – custom t-shirt dropshipping. Because the t-shirt is printed on-demand and shipped only when sold, the print provider can ship the t-shirt directly to the customer. Never has it been so easy to make, sell, and deliver custom t-shirts than before.
Start your custom t-shirt printing journey!