Best Valentine's Day Marketing Ideas for 2024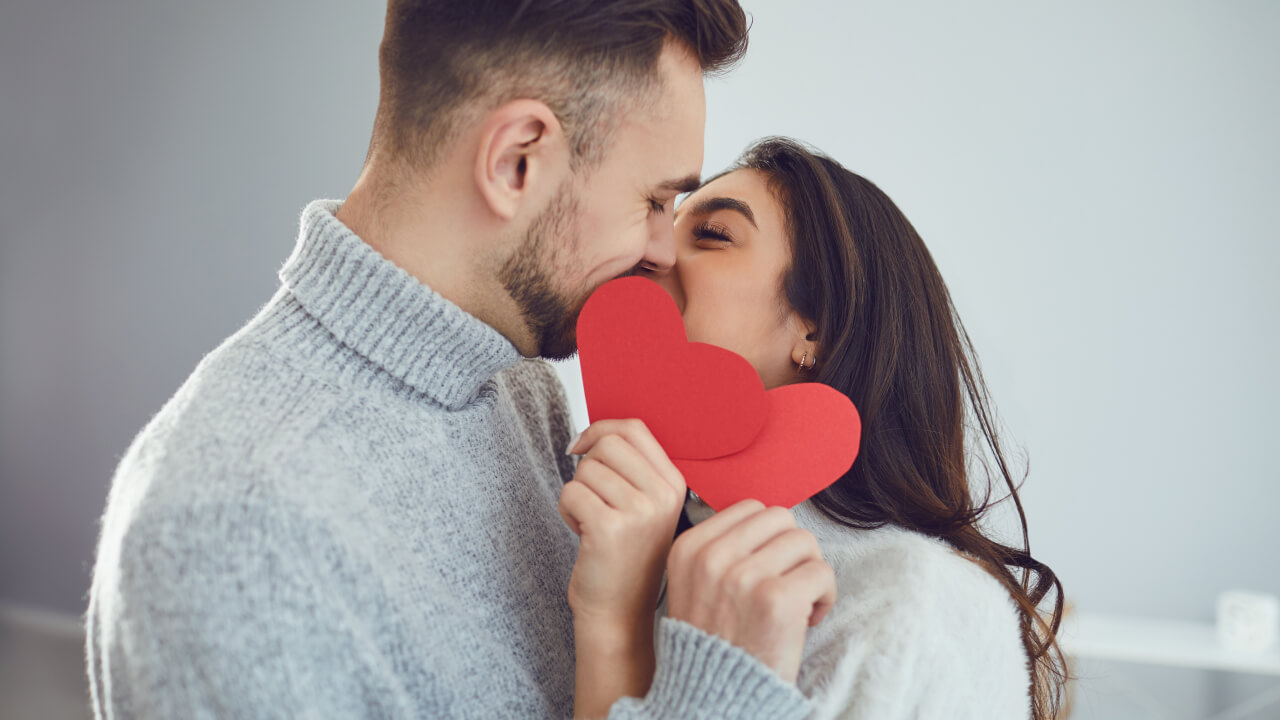 Valentine's Day is huge for eCommerce. And with every passing year, it's harder and harder to surprise anyone with generic red and pink heart motifs. The name of the game is making profits by selling love-themed goodies. So, to reach more customers and boost store traffic, you need a solid marketing plan.
To help you out, we've compiled a list of clever marketing strategies, useful stats, and helpful tips and tricks for increasing your customer reach and attracting more visitors to your eCommerce store. Take notes, take action, and reach hearty results.
Happy Valentine's Day!
Valentine's Day Consumer and Product Trends
Before we dive into Valentine's Day marketing tips, let's look at spending trends and statistics in previous years.
How Much Do People Spend on Valentine's Day Gifts?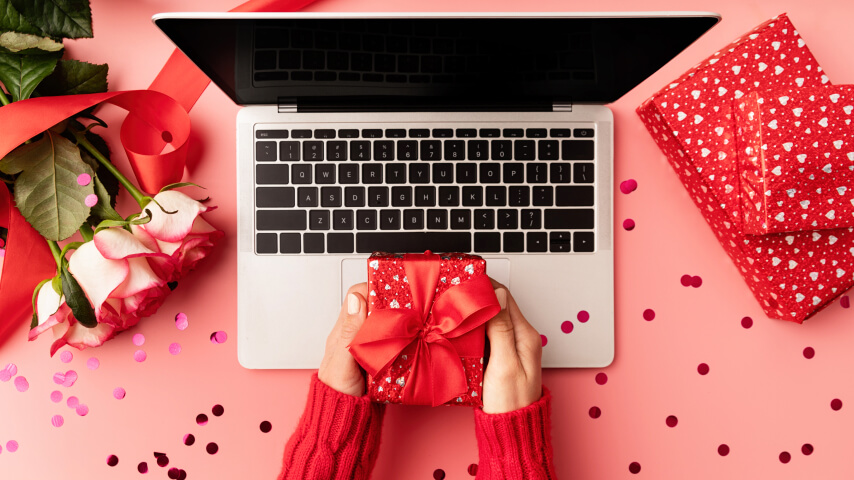 Whether it's gifts, dates, or activities, people are willing to put down quite an amount of money to celebrate love with their friends, family, or their sweet Valentine.
In 2020, we witnessed a massive surge in spending, averaging

$196

per person, totaling

$27.4 billion

– people were still going out on nice dinner dates and other Valentine's Day activities. 

As the Covid-19 pandemic continued in 2021, we witnessed a

20%

drop in spending. People spent most of their time at home and celebrated Valentine's Day at a good, safe distance.
However, 2022 is already back with a bang. Celebrating Valentine's Day with significant others is possible, as people are allowed to gather once more. In 2022, the total spending on teddy bears, flowers, chocolates, and other goodies and activities on the day of love amounted to $23.9 billion. 
This increase in overall spending is a great excuse to jump on this trend and drive sales for next year with unique products and epic Valentine's Day campaign ideas.
Where Do People Shop for Valentine's Day?
With eCommerce taking the world by storm, the answer is unsurprisingly clear – online.
In 2021, 38% of all Valentine's Day shopping occurred online. This number grew to 41% in 2022, proving that consumers gladly turn to online stores when shopping for holidays, utilizing eCommerce's diversity, speed, and convenience. 
If there's one thing we can be thankful for in the context of the pandemic, it's that it fuels eCommerce like nothing before. Everything is happening online with a flick of your finger, from food, furniture, and pharmaceuticals to custom apparel for loved ones and a worldwide audience.
When Should You Start Your Valentine's Day Marketing Campaign
While there's no one right answer that will fit all business plans and Valentine's Day marketing ideas, starting early is the perfect opportunity to attract more new customers and provide existing ones with new and exciting products.
While you could go to the extremes and start your Valentine's Day season at the end of this year, it's likely unnecessary. With the majority focusing on Christmas and New Year, your marketing strategies might pass by unnoticed. 
That's why a good time to start promoting your Valentine's Day sales ideas is mid-January – early February.
Celebrating Valentine's Day With Custom Gifts
Now more than ever, people love everything custom-made. That's why print-on-demand is doing so well. If you've been waiting for the perfect time to open an eCommerce store, the perfect time is now. 
Custom apparel accounted for the largest revenue share in 2021 in the $4.9 billion global print-on-demand market. Celebrate Valentine's Day with personalized gifts because nothing says "I love you" more than a bespoke hoodie or a heartwarming t-shirt.
Creating and opening a store and starting your own POD business is easy. And if you produce winning designs in a timely manner, you can start selling cards, Valentine's Day shirts, and many more heartwarming products in time for the most romantic day of the year. 
Note. If you plan to offer consumers personalized products and ideas for their loved ones, custom products have longer production and delivery times. So it's extra important to start your Valentine's Day marketing campaign early.
Who Do People Buy Gifts for on Valentine's Day?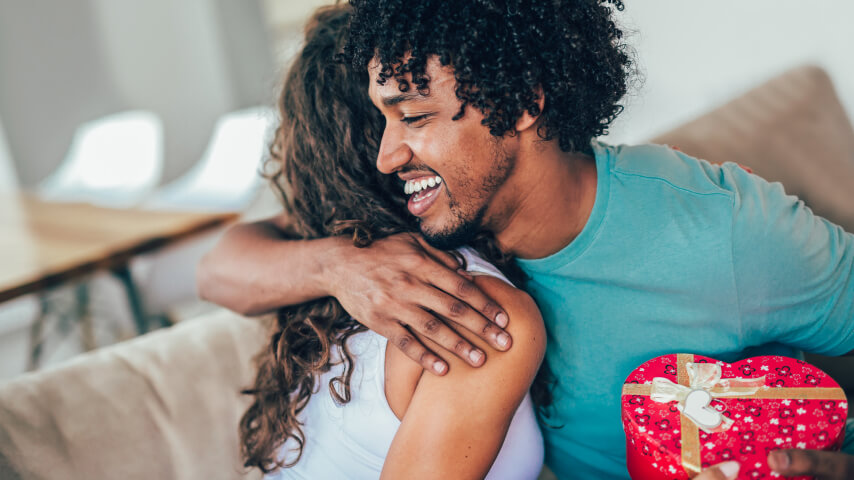 Over the years, Valentine's Day purchasing habits have changed. Most people only focused on one specific person – their Valentine. Whether a date, wife, husband or a special someone, they were the main gift receivers. 
But nowadays, things have changed. People use Valentine's Day to celebrate friendship, unique relationships with co-workers, or simply the love a family shares. Now, customers approach this holiday by getting gifts for everyone.
Significant Others.

(People look for gift ideas for their life partners)

Friends.

(Some people like to celebrate their friendship with hearty gifts for friends)

Family.

(People look for gift ideas for other family members, daughters, sons, etc.)

Co-workers

(Some people are looking for fun and cute ways to make colleagues smile on Valentine's Day)

Pets

(Pet lovers intended to spend

1.2 billion

for their furry friends in 2022)

Themselves.

(Don't forget single people who want to improve self-love and self-care)
Considering all the different people we shop for, it would be sensible to offer an assortment of love-themed products for every taste. Custom socks, mugs, blankets, posters, greeting cards, and t-shirts make gift-giving truly memorable.
The Different Types of Valentine's Day Shoppers
As eCommerce sales and conversion rates grow through the weeks leading up to the most romantic holiday of the year, online retailers need to recognize the various types of shoppers to best capitalize on them.
This is your well-prepared shopper who starts scouring for gifts weeks before. Make sure the store is as ready as this individual by having the store and designs nice and prepped with the Valentine's Day theme.
You'll recognize their 'smartphone pinky' from holding the device in hand almost 24/7. They won't ever look for gifts in a physical store; instead, they scroll until they can scroll no more. And then some. 
And, thanks to this type of shopper, the spike in mobile purchases during the weekend before Valentine's Day skyrockets. So make sure your Valentine's Day sale with the goodies and descriptions look good on mobile screens.
These consumers aren't ahead of the curve, but their heart is in the right place – they're still getting something for people they care about, even if they are last-minute gifts. 
February 14th is the day when most Valentine's Day spending occurs, and businesses experience the most powerful surge of traffic and orders, so keep these people in mind, too. The ones who always say, "Darling, your gift is still in the mail."
Create the best Valentine's Day offer for last-minute shoppers. Help them find the perfect gift and surpass other brands by promoting ideas and products for the last-minute audience.
15 Valentine's Day Marketing Ideas and Strategies
Preparing for Valentine's Day traffic is like preparing for any other central retail event: start early to catch your customer's eye.
To make things easier, we've put together a list of 15 Valentine's Day marketing ideas to help you boost sales during one of the busiest retail periods of the year.
1. Create a Sense of Urgency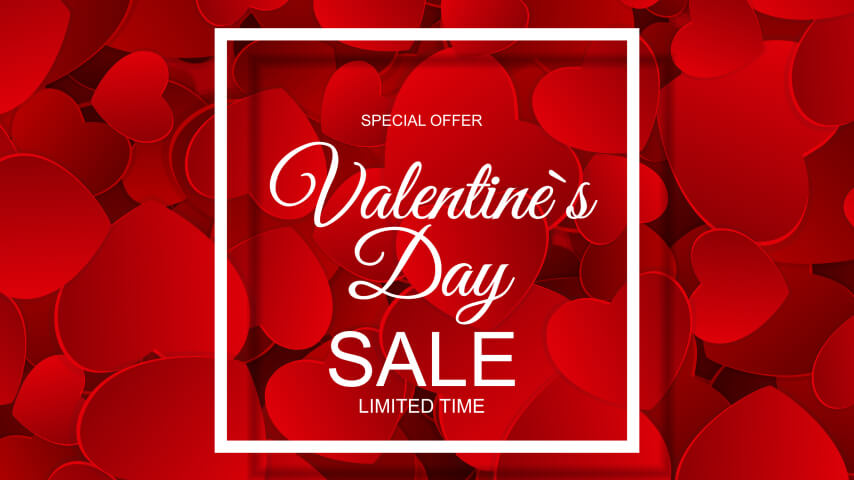 Urgency pushes people to act fast, and scarcity triggers anxiety, forcing us to act promptly.  These methods can help eCommerce businesses boost conversions and increase sales if done right. Scarcity and urgency are undoubtedly powerful tools. However, it's best to use them cautiously since customers can smell pushy methods from miles away.
2. Out-Of-The-Box Valentine's Day Gift Ideas
According to a Statista survey, almost a third of adults (29%) admit they'd appreciate treats and sweets like chocolate and candy. While the rest of the surveyees (approx. 15% for each category) would gladly receive flowers or plants, jewelry, or some sort of experience to celebrate love.
While 10% of people would be generally happy with some sort of custom apparel, and 9% would opt for electronics as the perfect gift for Valentine's Day.
Even if you don't sell these products, it doesn't mean you can't branch out and capitalize on Valentine's Day holiday shopping. With the right messaging, even products not traditionally associated with Valentine's Day could become part of your customers' gift plans.
Think matching phone cases or a personalized lamp that will literally shine the light on somebody's love. A romantic pillow. An ultra-romantic wine tumbler… It's not the product. It's how you market it. Forget a boring old love letter or a generic gift card. Turn a fun idea into a bestseller for new and loyal customers who love Valentine's Day and are looking for something unique.
3. Create Valentine's Day Content Early to Boost SEO
Searches for Valentine's Day gift ideas spike early in the year, as early as January, so create Valentine's Day-themed content right after New Year's to grow your SEO rankings.
Many shoppers begin looking for that perfect gift without any indication of what they're looking for, so help them by creating a beautiful storefront and content with unique gifts they can purchase for their loved ones.
Write Reviews.

Discuss and write positive reviews for products that could be great gift ideas for men, women, kids, and even pets.

Write a Blog Post.

Blog about Valentine's Day. What it means, how to celebrate it, add some ideas and promote self-care just as much as love for everyone.

Create a Gift Guide.

Introduce new unique products and patch ideas to attract new customers and keep the loyal ones intrigued. A gift guide will be a great help for consumers.
4. Social Media Accounts Matter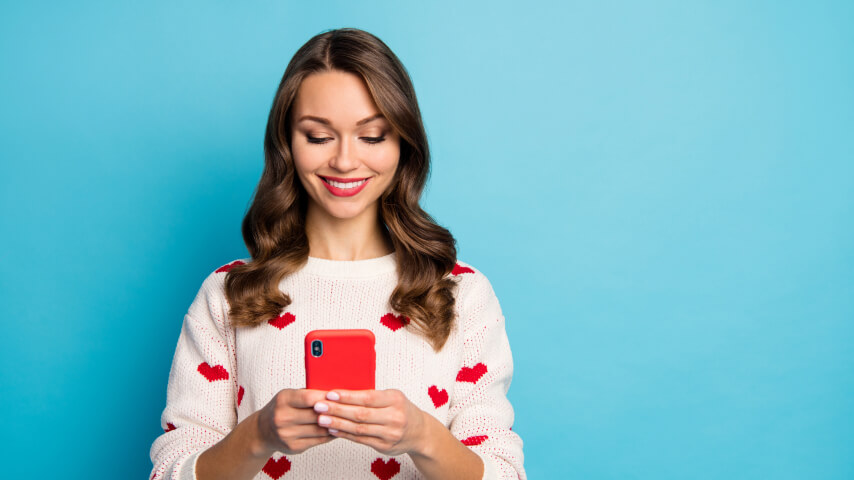 Regarding Valentine's Day promotion ideas, nothing will help you reach the right audience like social media. Use all social media platforms to discuss the upcoming holiday with beautiful and fun videos, photos, and graphics. 
Valentine's Day is perfect for showcasing your brand's personality, so keep it fun and romantic while engaging the audience. Create user-generated content for your TikTok or Instagram followers with stunning product mockups or, better yet, share photos. 
Showcase products in a non-intrusive way that you'd like to sell and design them to appeal to all the Valentine's Day shoppers. 
Create polls on Instagram, allowing followers to vote for which product they like best. And don't forget to add links that will send customers to your product pages with just one click. Utilize social media accounts for your Valentine's Day marketing ideas and boost your business during the holidays.
5. Upselling and Cross-Selling
Valentine's Day shoppers are rather generous. 53% of Americans celebrate this holiday, and the average purchase in 2022 was $175.41, which means that upselling and cross-selling can be great tools to boost your sales this Valentine's Day.
Likely, you already have articles in your store that can be featured as a set. For example, a pillowcase that would pair nicely with a fleece blanket or a customized wireless charger that would go perfectly with a personalized phone case. Matching hoodies. Matching cheeky undies. The possibilities here are nearly endless.
The customer may not have seen these products before, but suggesting relevant articles to the ones already in their basket will improve their shopping experience and your revenue. Use ultimate special offers to feature similar products of higher value (upsell) or relevant products that go together, like Valentine's Day and chocolate (cross-sell).
6. Start First, Finish Last
Target all types of customers – the early birds and last-minute shoppers. Start your Valentine's Day marketing campaign early, and keep it going throughout the buying period. Use tools like Google Trends and Consumer Barometer to understand search trends before, during, and after the holiday and adjust keywords, ads, and promotions accordingly.
Like with all other holidays, expect some last-minute shoppers. If, for some reason, you can't offer next-day shipping, think about digital gifts that would satisfy last-minute hunter needs. For example, offer gift cards that their loved ones can use in your store. It's a win-win deal here.
7. Don't Forget About Self-Love
Valentine's Day is no longer just about celebrating our significant others. February 14th is the annual 'Treat yourself' day for some individuals. Many men and women won't celebrate but will treat themselves with a gift or two to mark the occasion.
How to appeal to this demographic? Add to all the mushy-gushy mix some messaging that empowers single people and celebrates self-love by creating a separate gift guide for singles. And don't forget to encourage your customers to treat themselves.
8. Galentine's Day: Romance Is Not Everything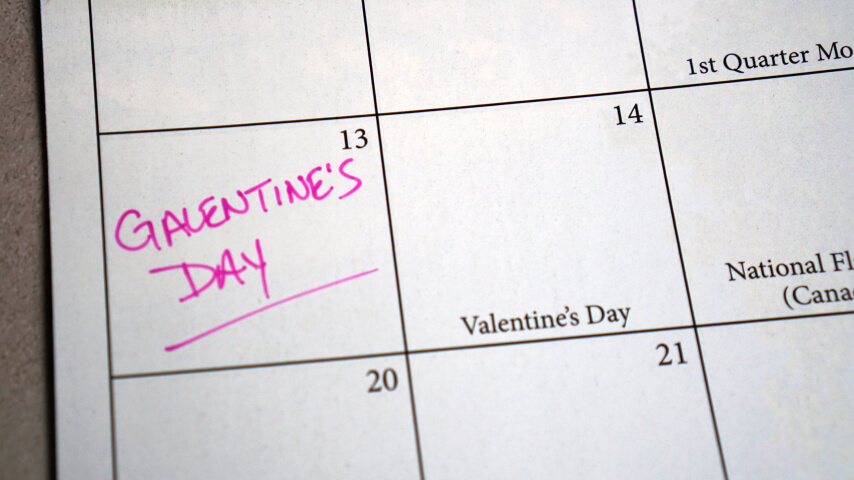 People may call it the most romantic day of the year, but the key to a successful Valentine's Day marketing strategy is thinking way outside the box of chocolates. Relationship status isn't relevant anymore.
Right before Valentine's Day, on February 13th, is Galentine's Day, which celebrates female friendships. This phenomenon, created in a beloved sitcom, is recognized by millions. Create a social media post or a whole marketing campaign around this day.
What are the perfect Galentine's Day gifts? Think all things friendship: custom wine tumblers, scented candles, t-shirts, accessory pouches, or shopping totes for their next trip to the mall.
9. Create a Social Media Contest
Nothing beats a free gift. Especially if you're low on ideas in the first place. Another way to boost your Valentine's Day sales and products is by promoting a giveaway on one or more social media platforms.
Engage with your audience and market your business simultaneously by posting a contest online. Brainstorm a creative idea and choose one lucky Valentine who'll receive a unique gift. Whether a holiday gift card, discount code, or a freebie with a special Valentine's Day card – the customers will eat this idea up faster than the heart-shaped candies.
10. Collaborate With Other Brands
Collaborations can only be good for your business – if you choose the right partners. They'll expand your customer reach and raise credibility in your brand, making you a trustworthy eCommerce player for the customers.
But don't rush into anything. You don't want to partner up with a brand that doesn't match your personal and business values. Do your research and choose your partners wisely.
11. Use Email Campaigns for Valentine's Day Marketing Ideas
One of the best Valentine's Day marketing ideas are email campaigns. They're highly effective and affordable, with a return on investment of 4400%. Pick a click-worthy subject line and engage loyal and new customers within a click's reach. 
There are different types of email campaigns you can use.
Promotional Emails.

Get the word out about your epic Valentine's Day deals, promotions, unique offers, and more. 

Welcome Emails.

Send out emails to new customers, getting them all excited for upcoming events, for example, a unique Valentine's Day offer.

Abandoned Cart Emails.

Intrigue the customers who abandoned their carts with an intriguing subject line and special holiday offers.
12. Indulge in Paid Advertising
If you don't mind spending a few bucks to earn tremendous profits, paid advertising is your thing to try for the upcoming Valentine's Day. Marketing ideas are different, and so are their results. The one thing paid ads guarantee is success because you'll definitely reach your customers.
Promote your Valentine's Day sale with Facebook, Instagram, or Google ads, and don't forget local newspapers, radio stations, and every page that might interest your audience. Boost your business with paid advertising.
13. Reward Loyal Customers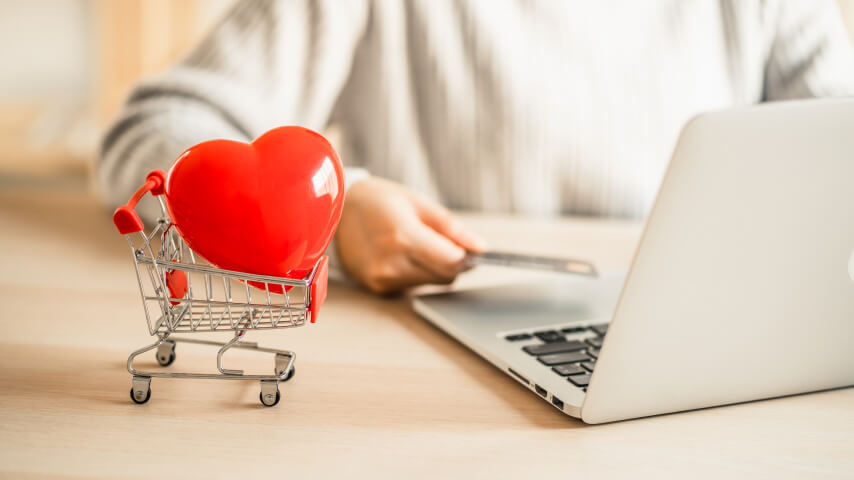 Another great Valentine's Day marketing idea is showing appreciation to your loyal customers who pick you as their go-to merchant for seasonal and personalized goodies. From a custom gift guide to discounts or a special Valentine's Day card with a promo code – reward your regular customers with something extra lovely.
Happy customers will spread the word about your business to their friends, families, and acquaintances. And they'll keep coming back for more deals and products. When it comes to Valentine's Day marketing ideas, this one's a win-win for everyone.
14. Utilize the Power of Valentine's Day Hashtags
If your Valentine's Day marketing ideas include Instagram, TikTok, Facebook, or any other social media channels, hashtags will be your best friends in terms of showing your business to the world and reaching potential customers.
Relevant hashtags will allow the right people to find your content effortlessly, increasing likes, clicks, and shares on your Valentine's Day posts. #️ReachSuccessWithHashtags!
15. Offer Anti-Valentine's Day Products
Don't forget all the realists and haters, too. Plenty of shoppers love to splurge on "anti-Valentine's Day" products, so if it fits your brand, include some funny Valentine's Day-hating shirts, greeting cards, hoodies, blankets, or any other products.
From "I tolerate you" to a heart-shaped "meh", get creative with witty ideas for your anti-Valentine's Day customers.
Your Valentine's Day marketing success is determined by planning and how well you connect with your customers. Be bold, sexy, and lovable with the designs and generous with your promotions. Offer items people love and unique pieces they've never thought of as Valentine's Day gifts.
Help your customers express their love for their partners, pets, gal pals, BFFs, and co-workers, or make them feel good about being single by promoting self-love. Valentine's Day can be lonely, and if your store's offerings can help shoppers get through it, they'll love you for it.
Start prepping for Valentine's Day marketing activities early, but don't forget about the last-minute shopper, and use these marketing campaign ideas to set yourself up for success.
Share the article
Topics