How to Sell Digital Art Online in 2023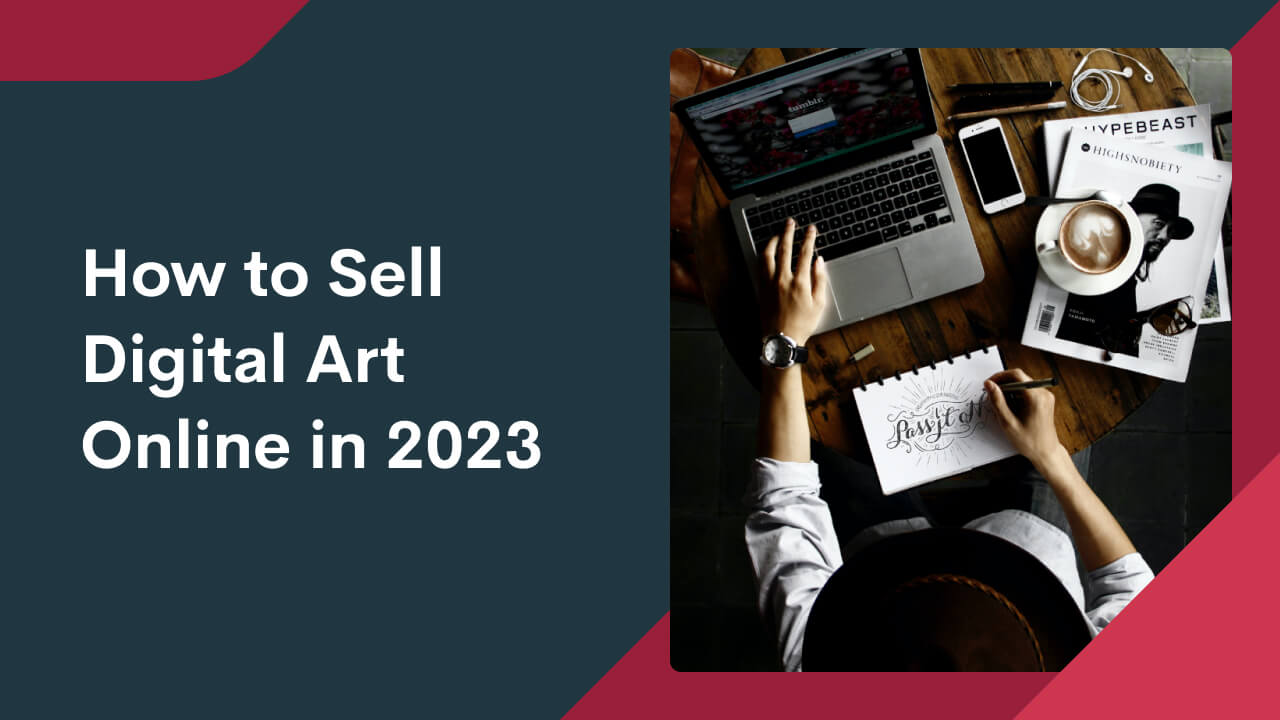 Like many artists and graphic designers before you, it's high time you learn how to sell digital art online. Establishing your own art business isn't as time-consuming as it may seem – develop your online store, promote via marketing tools, and generate passive income while you're at it.
Once you have a social media presence and feel comfortable producing art consistently, selling online art is a natural next step in your creative career. This blog post will offer a comprehensive introduction to selling digital art products through your own media channels, in an online marketplace, or on your own website.
The best part of being an online artist is cultivating a unique art style and improving your creative skills, but you can't survive on exposure alone. Never devalue your work; continue reading to learn how to make money with digital art.
What Counts as Digital Art
Much like the concept of art itself, digital art is a broad term with a simple definition – any art made through or transferred onto a digital medium is digital art.
If you've made art with digital assets, used graphic design tools, an Etsy shop, or have an online art portfolio for your personal use, you've seen, made, and distributed digital art.
Categories for digital art include:
To sell online, you first have to create a digital file of your artwork. Our image digitization article offers detailed insights on the types of formatting and post-production you can expect to work with. Creating a high-quality digital file shouldn't be complicated if you're already familiar with graphic design tools – Adobe Photoshop, Illustrator, Gimp, Pixlr, Canva, etc.
Once you've learned how to produce a digital art file, you can choose between selling digital downloads online or shipping physical products to customers – a service we offer on the Printify print on demand platform.
Digital products – online art commissioned for, produced, and sold digitally, e.g., fanart, graphic designs, crypto art, or any other digital download.
Physical products – printable artworks on posters, stickers, graphic apparel designs, embroidery, i.e., any physical items with your digital art prints.
Begin with an idea for a product type that best suits your style. Then, define a place to sell your art, establish a path to purchase through a payment gateway, store page, or marketplace, and promote your products to your niche audience via marketing tools and social media posts.
Is Selling Digital Art Online Profitable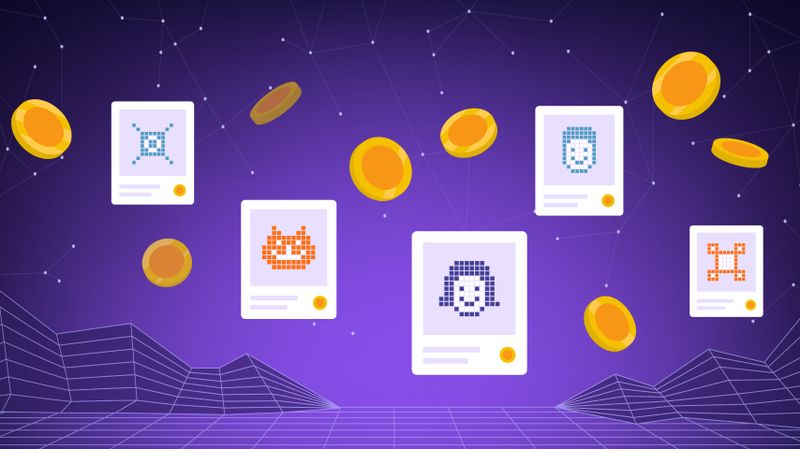 The age of eCommerce has made selling digital art much easier and more profitable. Online art sales were estimated at almost $13.6 billion in 2021 – nearly double the increase from the $7.9 billion in the previous year. 
While digital literacy, optimized social media platforms, and physical restrictions are all part of the increased online profits, we can't deny that the blockchain, aka NFTs, has a role to play in the success of the art market. Creating NFT merch as custom printables can be your next road to profit.
The key to selling art online is finding the right target niche and growing your online presence through marketing and sales promotions. By researching and selecting a business model for your art – which we'll cover in more detail below – you're already on the path to online sales success.
Online Art Safety Concerns
First, let's briefly examine the safety concerns you should aim to prevent. As with all artwork, you might be subject to scammers and con artists.
Make sure to advertise a fixed price and define a safe payment method. Don't accept money transfers from foreign or unreliable accounts and applications – they might bounce or be otherwise non-functional.
You can receive your money online through six different payment methods:
The main concern for artwork is the chance that it goes viral for the wrong reasons. Art theft can significantly reduce your passive income stream, so it's crucial to prevent it as thoroughly as possible.
Let's take a look at some of the methods to make sure your art doesn't get stolen and sold by a third party:
Make sure your authorship is recognized. When adding art to social media, add your signature, a watermark, or a link to your portfolio that can't be easily erased or cropped out.
When doing art commissions or advertising your business online, provide low-quality preview pictures instead of the original. Make sure to only send the finished artwork after payment.
Once your work is out in the world, there are plenty of chances it will end up in Google Photos or other social media profiles. That's expected and can't be helped, but the issue arises when people think they can profit from stolen work instead of just sharing it privately. To limit bootleg accounts and retraced prints, ensure your images are copyright protected.
Art theft and online fair use restrictions are hotly debated issues, but no one should ever question your right to profit from your work.
How to Turn Your Digital Art Into Profit
There are two main ways to sell digital art – keeping it as a digital product or transferring it onto physical items. For example, you can start to sell downloads through your socials via PayPal or sell printables on Etsy. The following sections will explore both categories and offer more possible business model examples.
How to Sell Your Artwork as Digital Products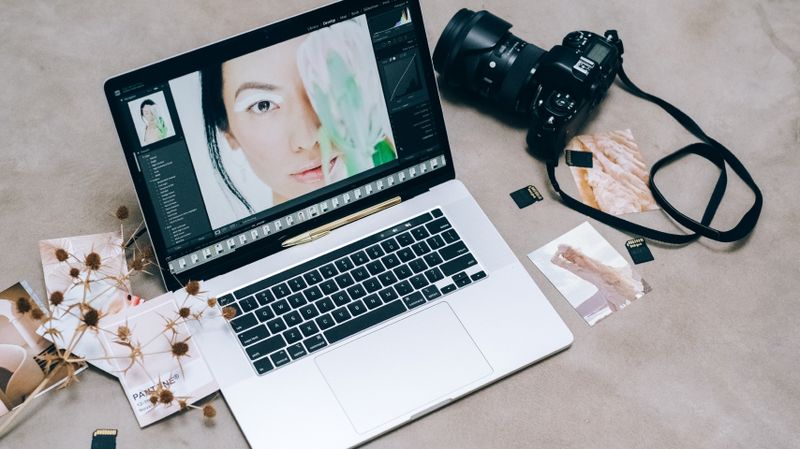 Selling digital downloads is the easiest way to start your online art career. Design your online business profile, interface, and catalog of artwork, or start offering commissions right away through social media and image-sharing platforms. 
Find Places to Sell Art Online
Once you start producing content, you'll have to find a sales channel for selling downloads. Downloadable content does not require additional supply and shipping constraints, which allows you to use almost any payment gateway.
You can direct your social media following to fan support sites (Patreon, Ko-fi, etc.) or a digital wallet (PayPal, Venmo, CashApp, etc.) and provide the downloadable file upon payment.
Use online marketplaces or image repository sites for a more integrated sales option. It can be as simple as choosing to sell digital art on Etsy – where you create a banner, tags, pricing, and product descriptions for your digital files. Alternatively, you can become a member on a stock image site like Adobe and Shutterstock (if you work with photography or mixed media).
Finally, with a more sizeable following for visual media or podcast merch ideas, consider eCommerce domain sites, for instance, Shopify, WooCommerce, or Wix eCommerce, which provide many more customization options. We'll go over those in more detail in the physical products section.
Note that the best platform depends on what type of art you produce – whether you're a graphic designer or a more traditional artist. Some of the top-selling digital items include:
With more personalized artwork – like site templates or digital cards – you might want to change your business strategy from, for example, an Etsy shop and offer commissions instead.
Personalization is a significant selling point for most users, especially if you work with thumbnails, banners, or any online profile building. Instead of selling original art pieces, use them for social media promotion and start accepting commissions at a fixed rate, depending on the cost of your time and resources.
You can stick to social media sites like Twitter, Instagram, or Reddit, with links to payment gateways to fan support sites or digital wallets, or take advantage of more personalized art profile sites like DeviantArt and Fiverr (if you offer graphic design services).
One of the more profitable and niche aspects of the art market is the recent web 3.0 decentralized blockchain protocol – a chain of words you won't find in any dictionary. For artists, it's learning how to sell digital art NFT exclusives, themed to bandwagon on cryptocurrency exchange rates.
Artists participating in NFTs have the disadvantage of catering to a smaller, somewhat insular target group. Still, the interactive auto-generated artwork involves a layer of risk to reward, which appeals to high-paying entrepreneurs.
Our article on NFTs provides everything you need to know about creating art through the blockchain medium. For beginner marketplaces, try Rarible, Foundation, and Nifty Gateway, which pay more attention and focus on the artwork itself.
As cryptocurrency evolves and values shift, much of your time will be spent on platforming and branding your products at reasonable times for high buy-outs. It might take more initial investment costs to get the project started.
How to Sell Digital Art as Physical Products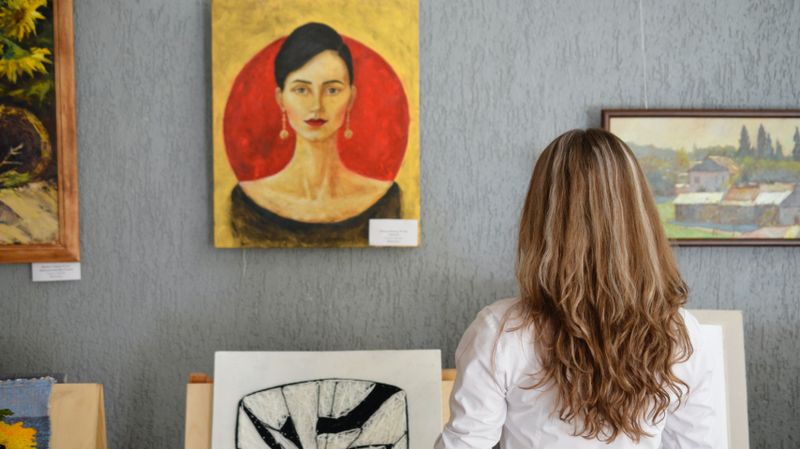 Selling physical items might seem like a giant leap forward in effort and maintenance. Still, on-demand apparel platforms have significantly reduced the logistics necessary for shipping, handling, and tracking your merchandise than, for instance, a local printing shop.
It might seem obvious, but physical products have a higher perceived value than digital, which can increase your margins, letting you earn passive income that can be managed, optimized, and changed without relying on art as the only selling point. 
You can make your products or order some inventory, but here, we'll pay closer attention on how to print digital art to sell as shop owners under a print on demand service. The print on demand or dropshipping model has a quick learning curve and can achieve profits without keeping inventory. 
We'll highlight some Printify product examples for reference and inspiration.
Sell Canvas Prints, Wall Art, Posters, and Cards
Selling posters and wall decor is good if you want to sell art for art's sake – to be displayed and admired, not necessarily making it practical. Create epic collages or striking murals with custom canvas prints, perfect additions for long-term media projects such as podcast merch.
Simply pick an item from the Printify catalog, upload your design in the mockup preview, set up a price tag and shipping costs, and integrate your new designs into any top eCommerce platform like Etsy or Shopify. Some of the items you can look to decorate are: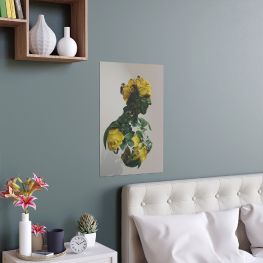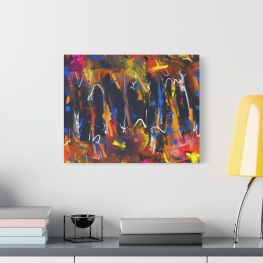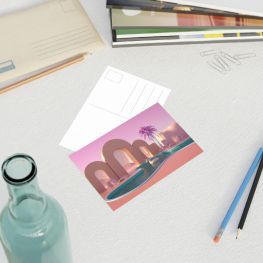 Put Your Art on Merchandise
Choose an approach to make your art more practical (and more in-demand) – start selling your art on t-shirts, mugs, socks, etc. – the possibilities are endless. Define your customer niche, demographics, buying power, and interests, with a chance to start selling digital products on your store apparel items.
The best part about your own company merch line is the opportunity to generate passive income using a diverse supply of ready-made products that can fit your art in multiple different print locations – less artwork, more custom products.
Selling posters and wall decor is good if you want to sell art for art's sake – to be displayed and admired, not necessarily making it practical. Create epic collages or striking murals with custom canvas prints, perfect additions for long-term media projects such as podcast merch.
Start your online business with these print on demand favorites: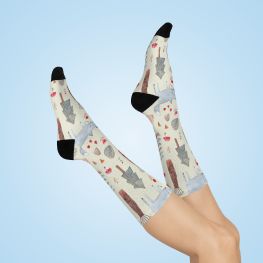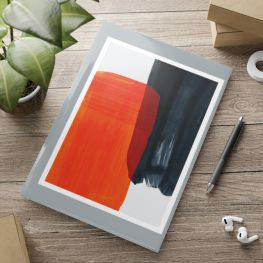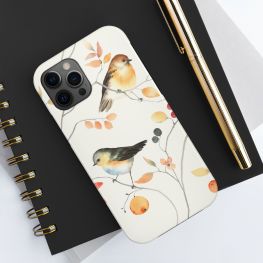 Find Your Niche and Plan How to Market Your Art
The age-old question of how much a digital artist makes depends on the niche you choose to focus on. Famous character portraits or emerging trends can bring more traffic than original concepts, but you might want to cultivate a loyal audience first.
Foster a community profile before you decide to sell digital downloads or a digital art print. Make sure to establish who your audience is, where they spend most of their time online, and how much they're willing to spend for your level of skill and originality.
As you stick to a specific niche for an extended time, you can optimize your marketing efforts by offering promotional deals, introducing parallel themes that your customers already enjoy, and collaborating with like-minded artists to broaden your digital presence.
Why Selling Your Art With Printify Is Easy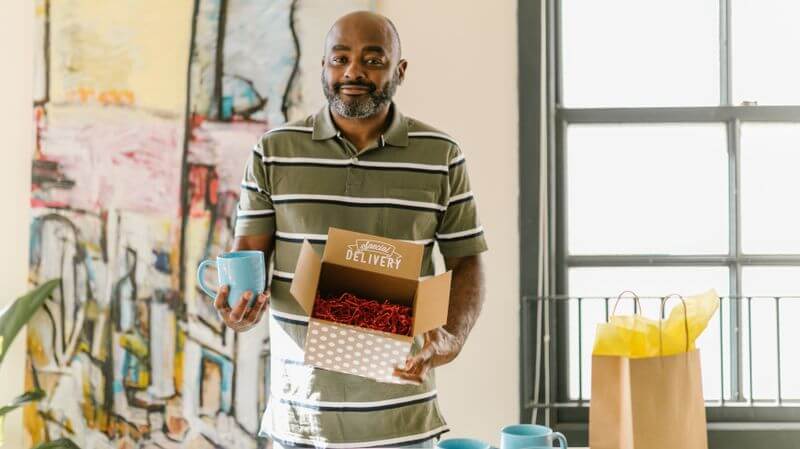 We've talked the talk, but it's finally time to show you why Printify's merch maker is an excellent option for all your print on demand needs. With Printify, your shipping, inventory, and production needs are set. Time to create your first product:
Printify has an excellent list of features that offer one of the largest product catalogs with a user-friendly interface and top-rated support networks and design articles:
Here's a step-by-step tutorial to get you started:
Whether you use print on demand, create your own products, or sell digital downloads, producing online art is one of the most rewarding, gratifying, and profitable experiences for any artist.
Create a plan for your business and learn how to make money as an artist. Define your target audience and marketing strategy, secure your art from theft, and promote your niche to anyone who would listen.
Sell art as digital products or physical clothing and apparel – earn money from your creative passion.
Share the article
Topics