Print on Demand or POD is an ecommerce business model that involves working with a print provider to customize white-label products.
Print on Demand or POD is an ecommerce business model that involves working with a print provider to customize white-label products. You then sell these products on a pre-order basis under your own label or brand. Print on demand is similar to dropshipping in that the products are printed only after a customer places an order, meaning you don't need to keep a stockpile of inventory.
Moreover, when you work with a print on demand company, they handle everything after the sale, including printing, counting, packaging, and shipping the products. Such companies are also useful for testing a new product line or business idea without the risks that come with inventory purchase.
How Print on Demand Works
The process from set-up to sale of POD products is only a few steps long. However, the first of these steps vary depending on the chosen platform.
If you're looking to use a print provider, you only have to choose their preferred service and set up an account. There are many options to choose from, so research will be necessary. Once an account is made, you can upload designs and choose the products to sell them on. A print on demand company will sell and fulfill items on your behalf. 
If you wish to work directly with a fulfillment service, it will require much more planning. First, you will need to find a POD platform and integrate it with your site. Then the products and designs must be chosen and put up for sale. From here, advertising and order processing will be handled by the seller.
If you're using a print provider, they will handle most of the sales and marketing for you. But if you're a solopreneur running a print on demand business, you can start marketing your products and attracting people to your website.  
When the POD platform receives the order, it will be printed, packaged, and shipped out to the customer. The seller receives payment, and the goods arrive at the customer's doorstep.
As a business model that runs primarily through dropshipping, Print on Demand has many benefits for the budding ecommerce company. This includes:
No Inventory Hassle –

Since this is a service in which a company orders through a third-party merchant, the primary seller has no stock to hold. The printing company holds the items to be printed on, and completed products are only shipped after they are made. This ensures that there will never be an excess of stock. If no one has ordered a specific product, then it won't exist. In essence, a POD fulfillment company never has to have any products on hand.

Zero Fulfillment Efforts –

As with handling the inventory, each order needs minimal input for the front-end company. After receiving the order, the printing and shipping of it are handled by the service provider.

Easy-to-use Accounts –

For the most part, POD platforms are uncomplicated. As a user, the seller must create an account for themselves to place their orders. Often this is as simple as setting up an account with any other ecommerce site. Other details regarding the delivery of products are added as each order comes in. 
Due to its versatility as an art, POD products come in many types of items and uses. Anything that can be adhered to can have a design printed on it. Such items commonly sold using POD services include:
Anything that can advertise a person's interests can be sold as a print on demand product. If it can be imagined, it can be printed.
Fulfillment Services and Marketplaces
Print on Demand service is accomplished through two different methods: fulfillment services and marketplaces. It is important to know the difference between these two as their business models change how they function in the ecommerce space. 
A Print on Demand fulfillment service is a company that takes design specifications for a product and brings them to life. These are companies that provide printing on demand services. They maintain warehouses full of blank items, such as mugs, t-shirts, bags, and the machinery to print them. 
POD marketplaces are where you license your designs to be put on physical items. However, the marketplace also promotes and sells the items for you. You simply upload your artwork to their platform and wait for the sales to happen.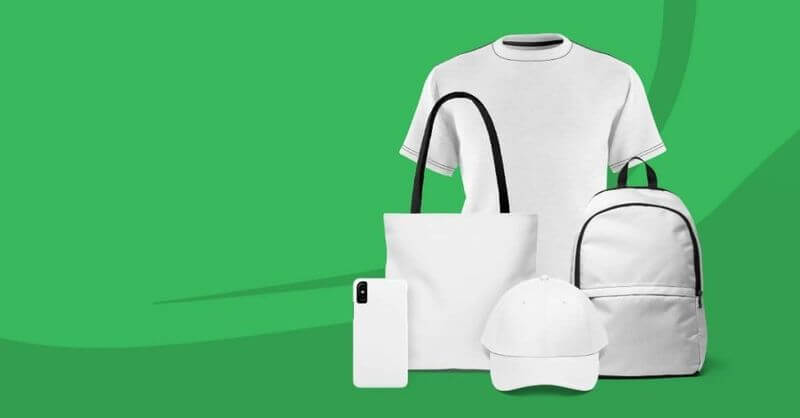 Fulfillment Service or Marketplace?
The main difference between the two is that a marketplace will provide shoppers with products to buy. A fulfillment service will only make what is given to them. The type of business model you choose will depend upon the resources available at your disposal. 
If you have your own designs and a means to sell them, a fulfillment service will cover all the production. This will require you to set up your own print on demand storefront and do your own marketing, research, and order processing. You will also need to find a reliable fulfillment vendor to print and ship your orders. The good news is that you will have control over the entire marketing process.
Alternatively, you can use a marketplace. In this case, orders will be processed and shipped by the platform automatically without your involvement. But remember, this comes with the caveat of relinquishing control of the selling and possibly taking smaller cuts of profits from each sale.
How to Start a Print on Demand Ecommerce Store
The particular steps of starting a print-on-demand store vary according to each ecommerce platform. However, there are a few common steps to follow, start from the following: 
1. Choose Right Print Provider
Your print provider is the entity that will bring your products to life. When assessing different print providers, make sure to consider the following:
Integration is an important factor if you sell through a website. Your print-on-demand platform should be compatible with your shopping cart. A solution that integrates with your existing platform will be both seamless and efficient for the customer. Whether you are using Woocommerce, Shopify, or Bigcommerce, the print provider should provide existing integration.
Review all policies of the print provider you are considering. Look into factors like turnaround time, price reimbursement, and commissions. These things can have a critical impact on your business, so pick a vendor with policies that suit your business setup.
It would be best to look into how products are created, packed, and shipped to the customer. Some providers have in-house staff that handles packaging, customization, and fulfillment, while others rely on third-party platforms. Any of these are good if they are suitable for your business operations. Focus on your preferences of fulfillment when choosing the supplier.
The cost of setting up the POD service can make or break your decision altogether. In addition to per-item charges, you should look at the subscription fee as well. Some printing services operate on a monthly fee, so it is up to you to decide if you want to work on a monthly fee structure or otherwise.
The types of products you want to sell dictate the decision of a POD supplier. If the POD supplier lacks covering your product catalog, you need to look elsewhere for a wholesome solution. This is not a common issue for those selling t-shirts and mugs, as most POD services offer those items. You may have to search harder if you are offering niche items. 
By this point, you must narrow down your search for a POD supplier. Before going ahead with the contract, ask them if you can order samples first. This allows you to get a firsthand look at how the order will reach the customer. Product sampling procedure varies from one supplier to the other. Some people may offer discounts if you order product samples. This is a crucial step, so do not miss it. 
Are you ready to start selling your products? Make sure to come up with attractive mockups for your products. Mockups allow your customers to come up with a visual in their minds about how your custom print will look like. Mockups done right can make people make a purchase.
The best part is that most POD websites have mockup generators that you can use to envision your products. With a wide range of environments and models, you will be able to build mockups that look as realistic as real-life products.
If you're going to target everyone, it will be hard for you to stand out in the market. But if you have a clearly defined audience, you will find it easier to create personalized marketing campaigns that engage and convert customers.
There are numerous ways to market a POD business, but the following ideas work best:
Whether you want to test a new design before getting it printed on a product or build a print on demand store to sell your work, the steps mentioned in this blog post should make things easy for you. Make sure to do your research when selecting a print and fulfillment provider, as your success heavily depends on their quality and efficiency of work.