Custom Crewneck Sweatshirt
A custom crewneck sweatshirt is the holy trifecta of apparel merchandising. People buy it all year round, you can set a great profit margin, and it's fully customizable to fit the flashiest trends. Start selling crewneck sweatshirts with no upfront costs and satisfy the needs of streetwear and comfort lovers worldwide.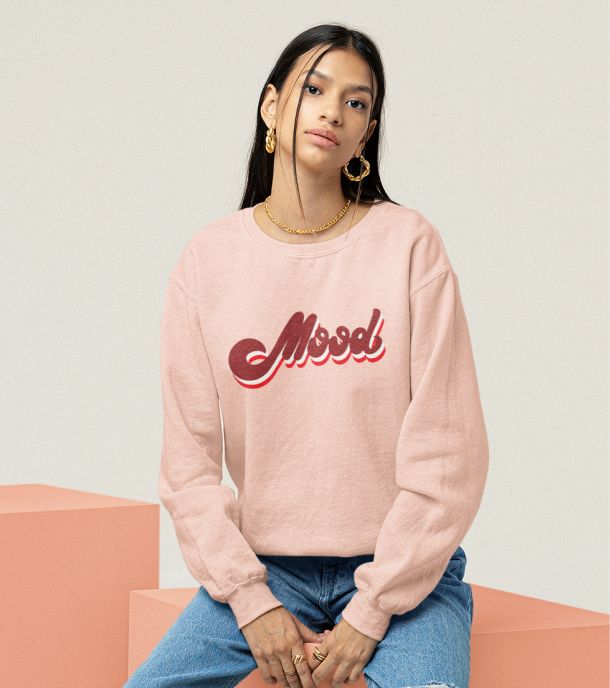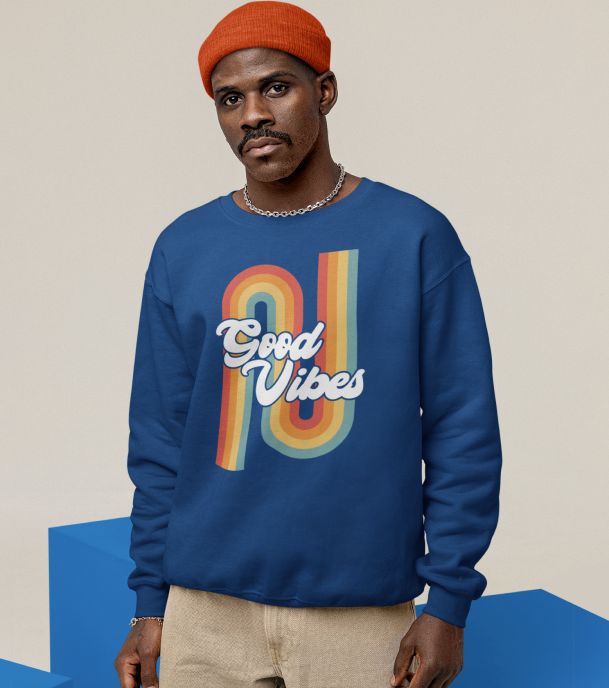 Design and Sell Custom Crewneck Sweatshirts
Crewneck Sweatshirts: The Universal Garment
Since 1926, this seemingly ordinary garment has conquered almost everyone's wardrobe, from A-list celebrities at fancy dinner parties to college students running late for math class. There's no way to pinpoint a single group of people who mostly wear crewneck sweatshirts because they're versatile and can be customized to fit anyone's character.
Don't feel like putting effort into your outfit today? Slap on a sweatshirt.
Need to look smart-casual for an interview at a startup? Throw on a dress shirt underneath.
First day back to college and want to look preppy? Pair it with a skirt, and you're good to go.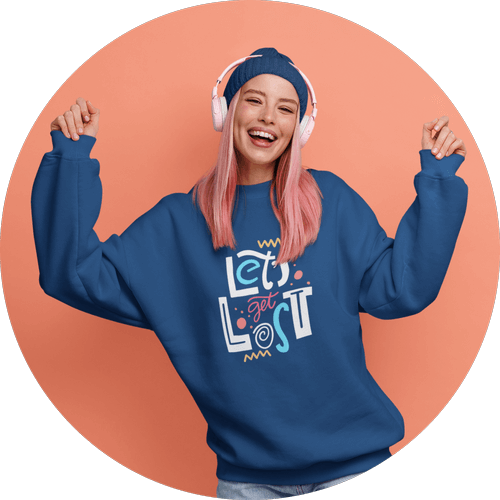 How to Sell Custom Crewneck Sweatshirts Online
If you already have a store up and running, check out steps two and three. If you're new to eCommerce, welcome to print on demand. It'll be a journey worth your time, and these seven steps will set you up for success.
Remember, the most important step is to start. There's no need to have it all figured out right this second – you can always make adjustments along the way, and that's perfectly normal.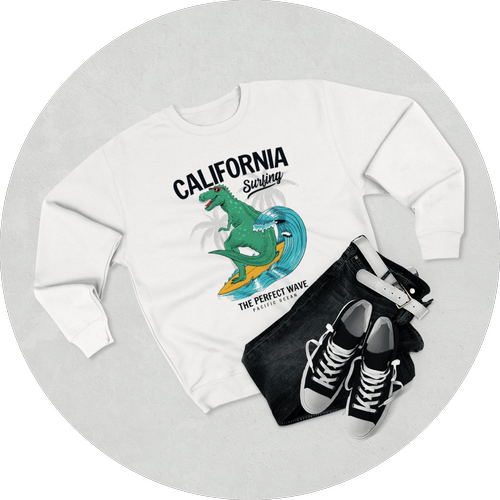 Search no further for the best canvas for your amazing artwork. The large print area and more than six neutral base colors will make your designs pop and catch the eyes of eager buyers. It's made from an 80/20 cotton-polyester blend fabric that keeps people warm on chillier summer evenings or when the cold winter temperatures hit. 
We love a good cotton-polyester blend, and this sweatshirt brings out the best of both worlds. Polyester brings durability, and cotton ensures a comfortable, soft feel. A sprinkle of spandex in the ribbed collar creates a slight stretch when you put the sweatshirt on. It immediately returns to its original shape and doesn't stretch out over time.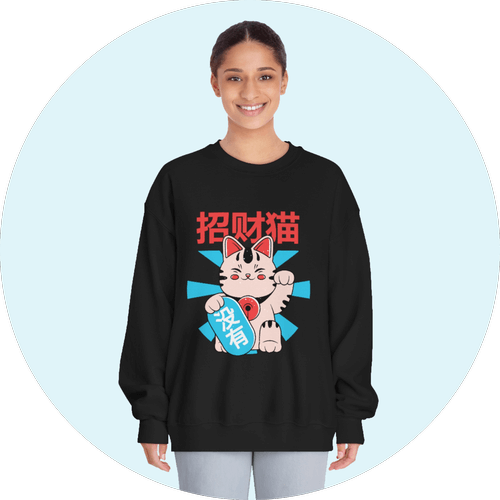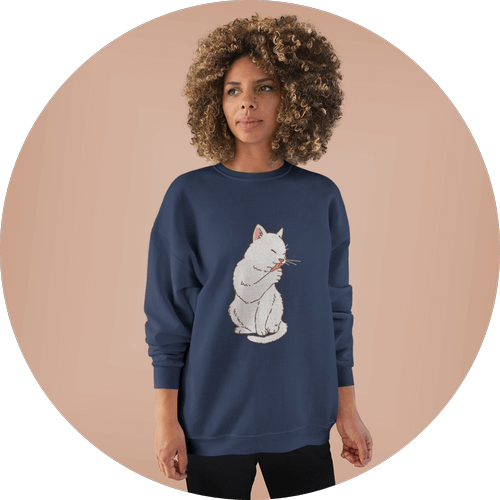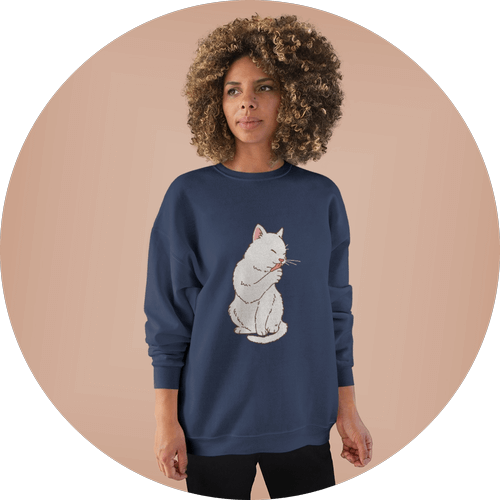 EcoSmart® indicates that the manufacturers of this blank crewneck sweatshirt made it using 5% recycled polyester. They also created this garment without side seams to further reduce production waste. Choose between three beautiful base colors – white, black, and Kelly Green – and customize it to the moon and back. Printing is available on both sides.
Available in all the colors of the rainbow (and more), these sweatshirts sport a looser fit. It'll be a fan favorite among people who love the trend of wearing oversized clothes. NuBlend® means that the garment is made from a three-end, pre-shrunk fleece, aka a 50/50 cotton-polyester blend, and an anti-pilling surface. The cotton used in making this sweatshirt is sustainably sourced in the USA.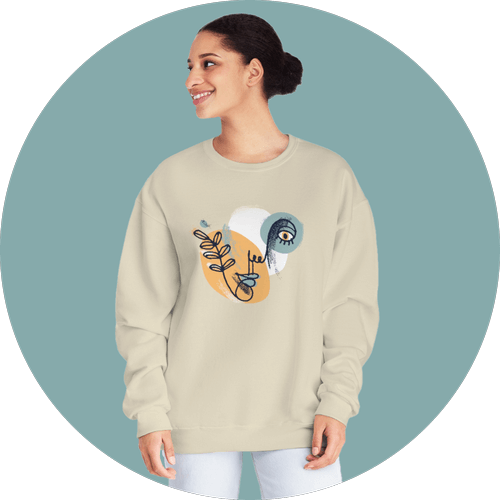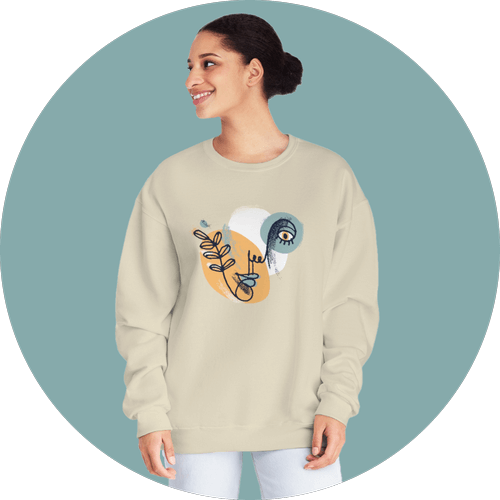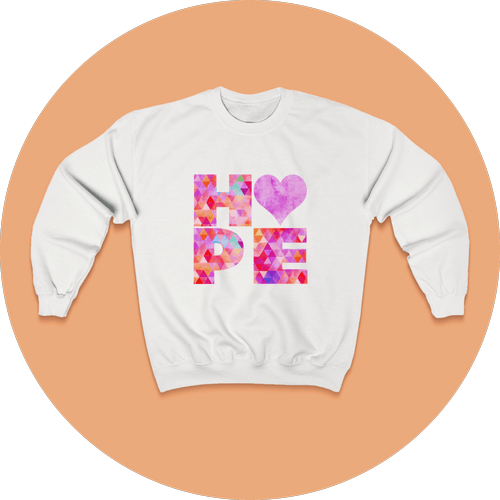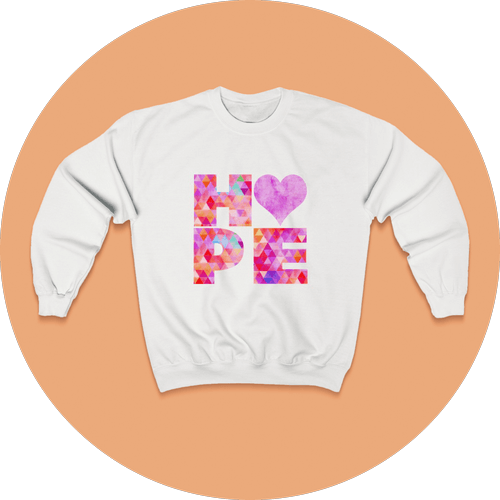 Another one with a loose fit and lots of color options, the Gildan 18000 is the go-to universal blank crewneck sweatshirt. It features a ribbed knit collar and is elastic enough to comfortably put it on and take it off without losing its original shape. 
Printify Is Trusted by 2 million+ Merchants Worldwide With More Joining Every Day
I don't have to invest the money I can't lose into my business. With Printify, I only pay the fulfillment fees, and the rest is all profit.
I really appreciate working with Printify on my brand. Afro Unicorn was only supposed to be my design on a white shirt. It is so much more. Printify allows me the time to run the business and not work in the business.
Printify helped me start a completely hands-off revenue stream. When you spot a niche that you want to enter quickly, you don't have to worry about buying stock or equipment.
Printify Premium has helped my profit margins tremendously, and spending $20 a month has probably saved me over $200 a month.
Using Printify saved our struggling business of 6 years and gave us more time with our family.
I like Printify products because they tie in with our organisation's message.
I love the Printify Mockup Generator. It keeps everything consistent and allows me to keep my brand looking sharp and professional.
Make Your Own Custom Crewneck Sweatshirts
Custom Crewneck Sweatshirt Design Ideas
Take inspiration from these six artwork ideas to get the creative ball rolling.
Keep it cute and clean with a toned-down color palette and simple illustrations. This style works great when paired with catchy, witty phrases.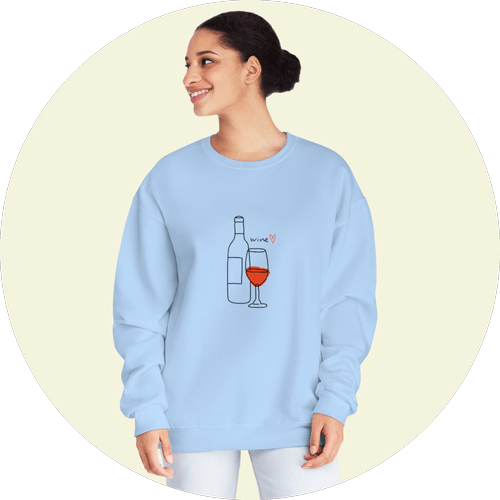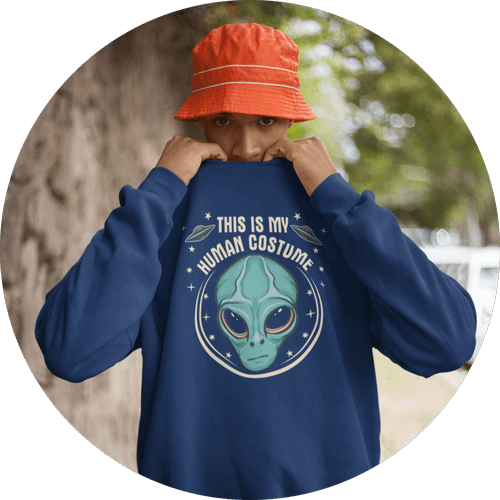 Design your own cartoon characters or get a commercial license to feature already existing and beloved heroes. They are great for fuelling childhood nostalgia, and who doesn't love a good walk down the memory lane.
Help people show off where they're from with custom-made sweatshirts with flags or other location-specific attributes.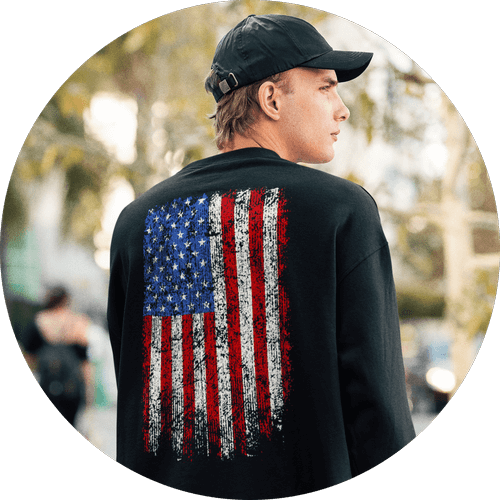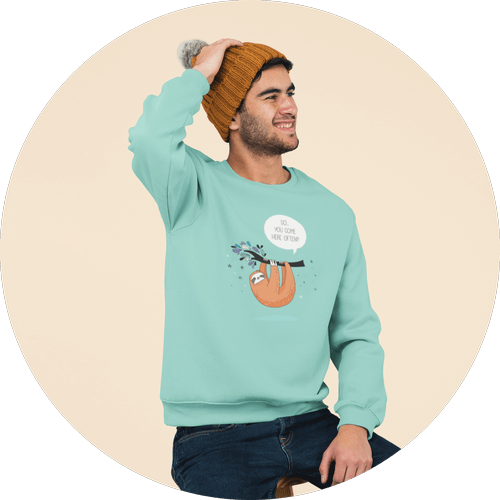 They say everyone has a spirit animal, so why not take it everywhere you go. Alternatively, you can make custom crewneck sweatshirts for pet owners. Don't limit yourself to all dogs and cats. Go breed-specific to narrow down your niche.
Some people treat plants like they're their children. Spread that love with custom crewneck sweatshirts with cute plant illustrations.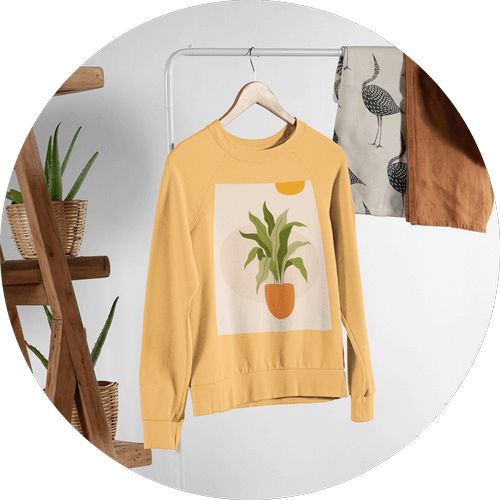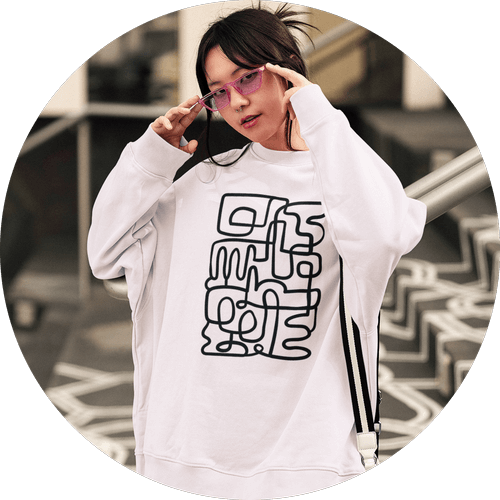 With designs like these, anyone can embody a stunning, walking art exhibition. Sometimes shapes and splattered colors speak louder than words.
Frequently Asked Questions
Congratulations, you're ready to start your journey as a crewneck sweatshirt seller. All there's left to do is register to reap the sweet benefits of our vast product catalog, seamless sales channel integrations, and competitive pricing.
Start Selling Custom Crewneck Sweatshirts