How to Print on a Mug – 5 Popular Methods for Mug Printing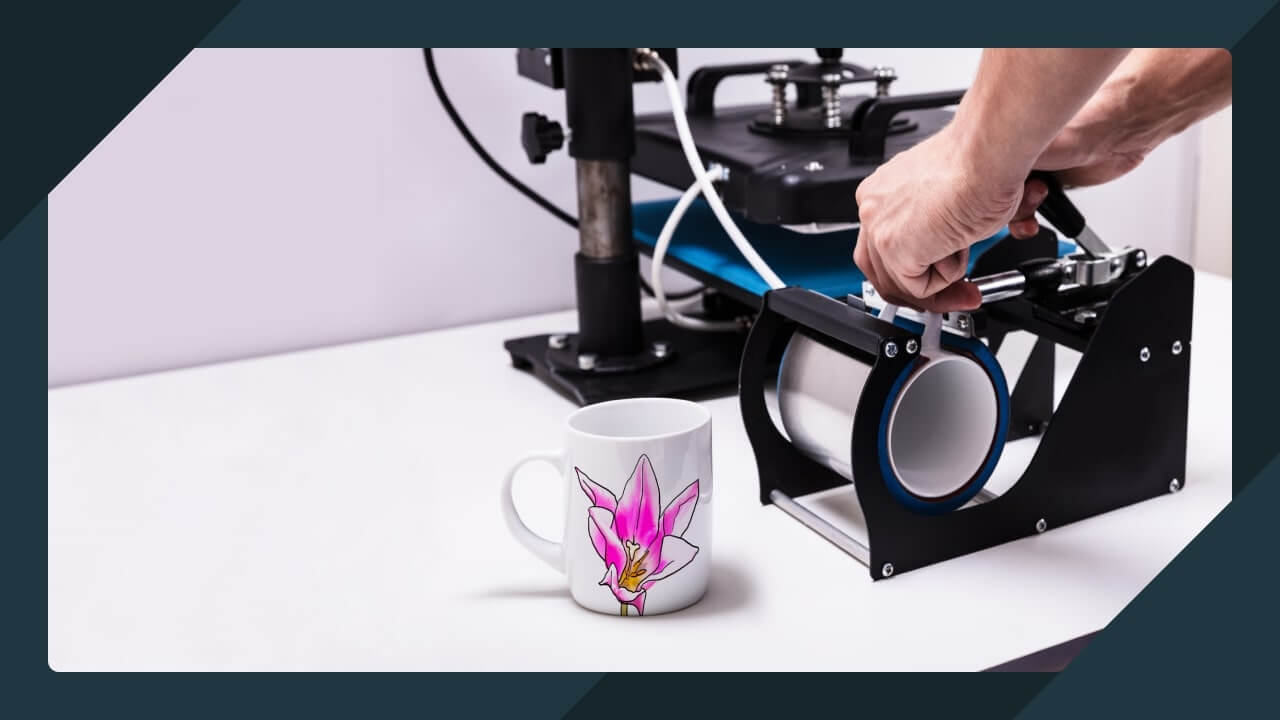 Whether you need personalized coffee mugs for your home aesthetic or promotional mugs and online bestsellers – making custom mugs at home can be demanding and time-consuming. 
Not only that, you'll also need the right knowledge and mug printing equipment for the perfect result. 
Keep reading and learn how to print on a mug effortlessly with Printify. We'll also list the five most popular mug printing methods with pros and cons – so you can make informed decisions for your mug printing business.
How to Make Your Own Custom-Printed Mug in Just a Few Steps
Forget about a heat press, printer, special paper, cooling rack, and other gadgets that come with printing mugs at home. Choose our platform to unlock business opportunities with effortless and automated processes. Here's how to print on a mug with Printify.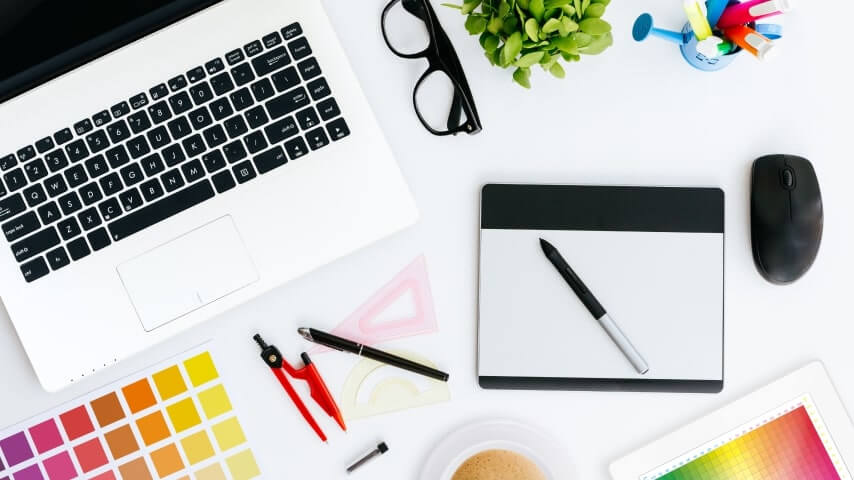 It all starts with the design. Here are a few ways to get the perfect image for your mugs.
Create Designs Yourself.

If you have the skills and time, make your own art. Use software like

Adobe Illustrator

or

Photoshop

to add a personal touch to your mug designs, from various colors to epic patterns, texts, and more.
Use Shutterstock.

Printify has partnered with

Shutterstock

. You can easily access their library (from our Mockup Generator) and use stock photos and graphics for your designs. Pay for an image only after an order is made.

Use Printify's Free Graphics.

Our dedicated team of designers created a

free

graphics library on the Mockup Generator with themed images for your designs. They vary from different topics to unique niches – perfect for every mug and occasion.
Sign Up for Printify and Pick Your Mug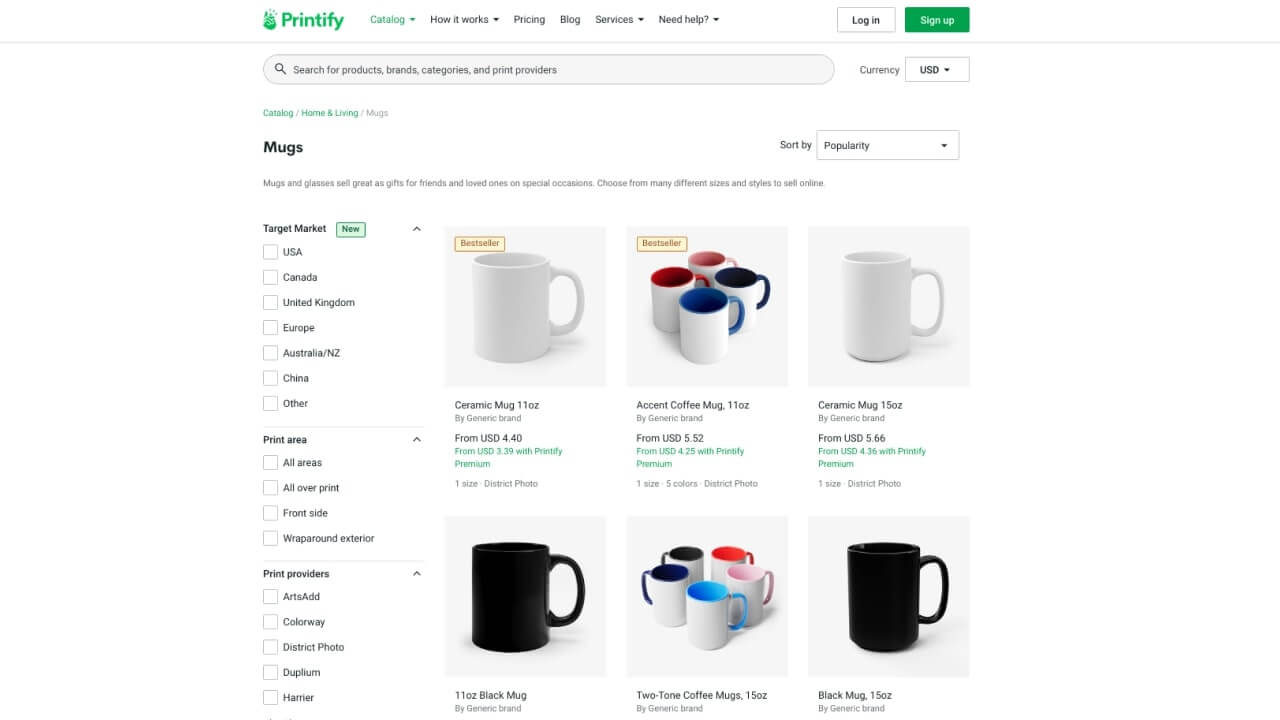 Use your email address and a strong password to create a Printify account in seconds and gain access to our free and beginner-friendly platform.
Head over to the Catalog and find mugs under Home & Living. The left-side filter section allows you to filter mugs by criteria important to you – Print Provider, location, printing method, and even target market. Choose a blank mug and click Start designing to make the magic happen.
What types of custom-printed mugs are on the Printify Catalog?
Ceramic mugs

Coffee mugs

Color changing mugs

Two-tone accent mugs

Enamel mugs

Metallic mugs

Latte mugs

Frosted glass mugs

Heart-shaped mugs

Mason jars

Travel mugs

Beer mugs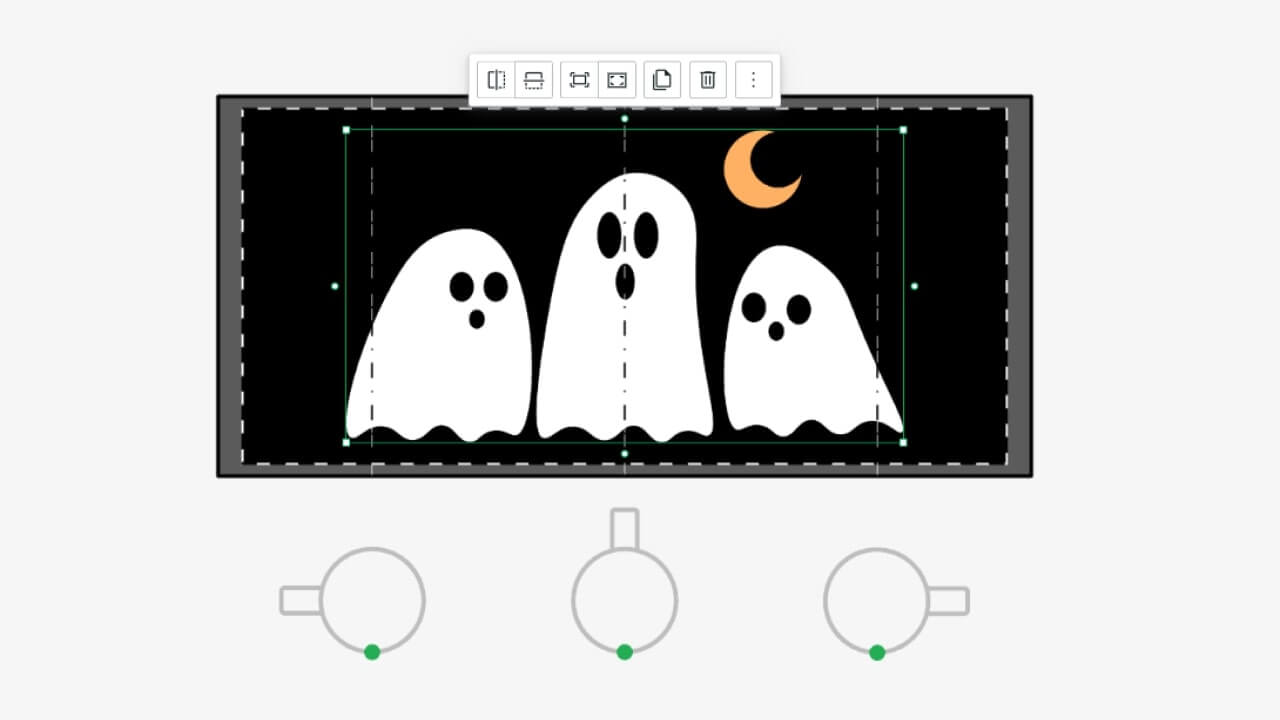 Now comes the exciting part – designing your mug. With the Mockup Generator, you have endless opportunities to personalize and make the mug unique.
Add your own artwork, photo, company logo, or text. Create patterns directly on the tool. Switch among various colors and fonts, scale, flip, and adjust the design. Now is your time to shine and unleash your creativity. 
Create custom mugs that are epic brand ambassadors, online bestsellers, or the perfect gifts among friends and family – the Mockup Generator is at your service.
Save and Order the Product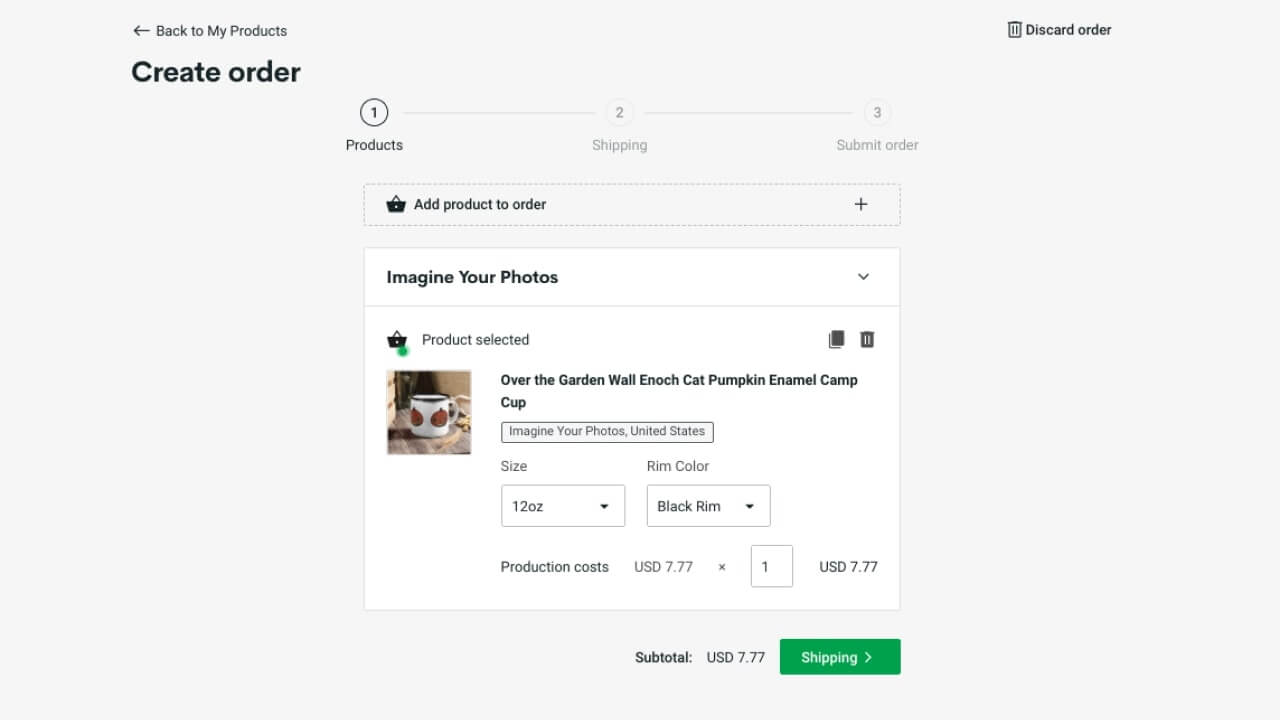 Once you're happy with your design, click Save and prepare for the next steps.
It's time to place an order. Whether as private or corporate gifts for family or business use – or personal knick-knacks for your home – you can order as many coffee mugs as you want or need.
If you plan to sell custom-printed mugs on your website or online store, order samples to test the image quality, delivery, and overall fulfillment before listing them on your site.
Publish to Your Online Store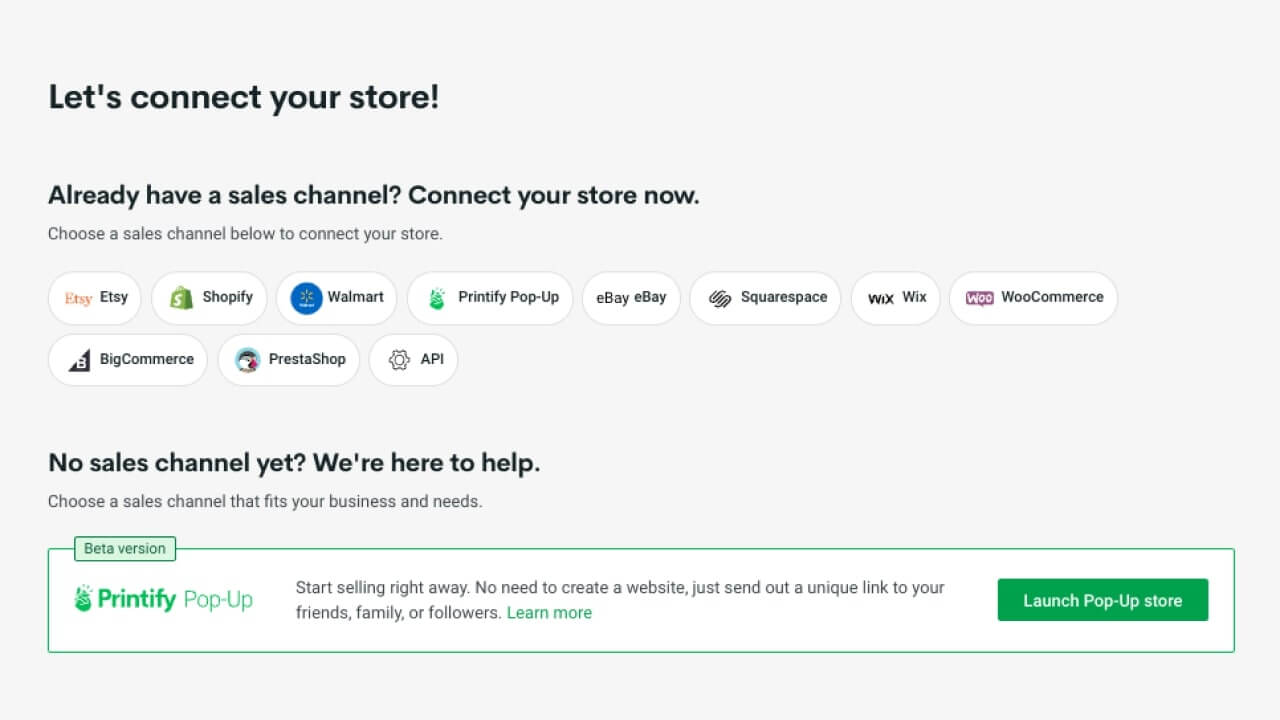 If you want to sell mugs online to all the hot chocolate, tea, and coffee enthusiasts, it's easy to do with a little help from Printify.
Choose your favorite eCommerce website where you want to run your business and integrate it with our platform (My stores – Add new store). We offer integrations with all the top players: Etsy, Wix, Walmart, Shopify, eBay, PrestaShop, BigCommerce, WooCommerce, and Squarespace.
You can easily list your personalized mugs with our descriptions, measurements, and mockups – which now have customizable backgrounds.
Promote Your Mug Printing Business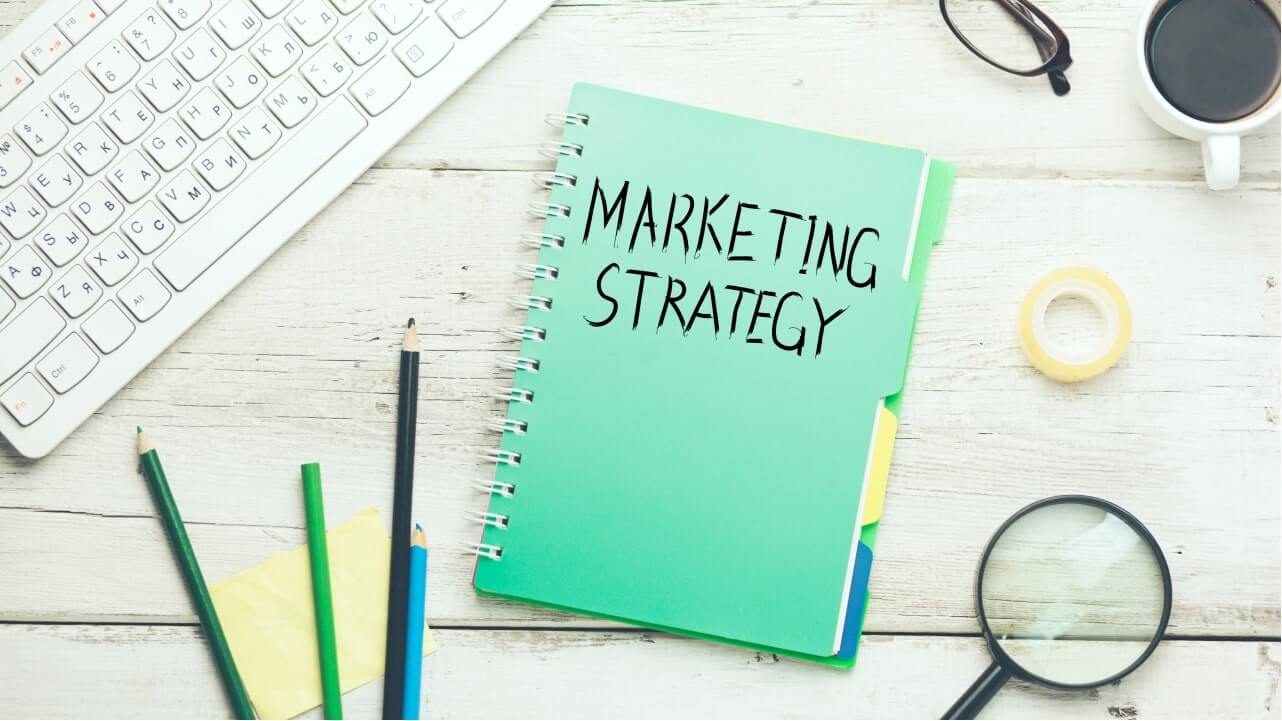 Show your custom mug collection to the world through marketing to boost your sales and traffic.
Social Media Marketing.

Utilize channels like TikTok, Instagram, Twitter, Facebook, and others to get your personalized mugs noticed and engage with your audience.

Content Marketing.

Write compelling blog posts and film videos describing and showcasing your products and features – from the mug surface to the print itself.

Email Marketing.

Encourage your customers on a personal level with newsletters, seasonal promotions, unique sales, and exclusive offers via email. 

Paid Advertising.

Promote your mug printing business via paid advertising on Google and other social media sites to reach potential customers.

Collabs.

Join forces with other eager sellers, businesses, or influencers to cross-sell custom coffee mugs and tap into each other's audiences.

Offline Marketing.

Participate in fairs, presentations, conferences, exhibitions, and other local and global events to showcase your personalized mugs.
Five Popular Printing Methods for Making Custom Mugs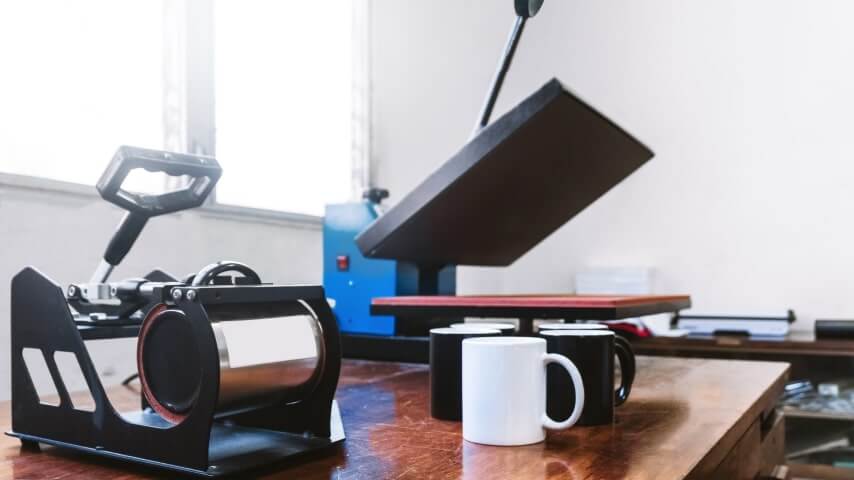 Equipment: blank mug, design software, sublimation printer, ink, paper, heat press, heat-resistant tape.
How it works:
Print the custom design on special paper with dye-based inks.

Wrap the print around the mug and use tape to secure it.

Preheat the press machine for more heat (follow the manufacturer's guidelines).

Put the mug in the heat press and set the time accordingly.

The heat turns ink into a gas, penetrating the mug's coating.

Take the mug out and let it cool properly.

Remove the sublimation paper and check the design.
Equipment: blank mug, design software, UV printer with UV-curable ink, UV light source.
How it works:
Prepare a design that works with the UV printer.

Clean the mug with alcohol or cleaning supplies to remove any unnecessary residue.

Calibrate the UV printer and set it up according to the manufacturer.

Position your coffee mug in the printer and align it with your desired print placement.

Print the design.

Place the mug under the UV light to cure the ink.
Equipment: blank ceramic or glass mug, design software, inkjet printer, organic color dyes. 
How it works:
Prepare a design that works with the inkjet printer.

Clean the mug with alcohol or cleaning supplies to remove any unnecessary residue.

Calibrate the printer and set it up according to the manufacturer.

Place the mug in the intended print area.

Print the image.

Dry or cure the ink (depending on the manufacturer's guidelines).
Equipment: mug, design software, screen printing press, mesh screens, squeegees, emulsion, ink.
How it works:
Create your custom design.

Prepare the mesh screen, covering it with an emulsion.

Place your artwork on the prepared mesh screen and expose it to bright light.

Wash off the hard emulsion, leaving only your design on the mesh.

Place the mug in the screen printing press and align it for accurate results.

Apply the desired inks on the mesh and use squeegees to distribute it evenly across the design.

Press the screen on the mug to transfer the image to the mug's surface.

Let the inks dry.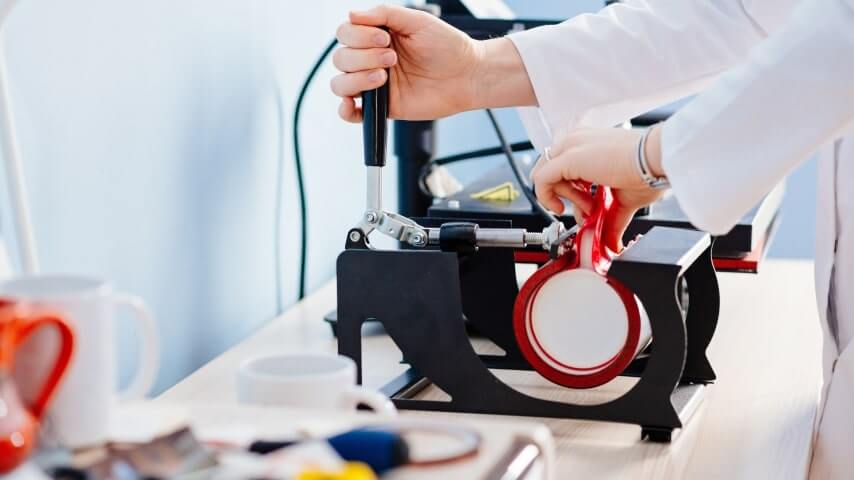 Equipment: mug, design software, heat press, transfer paper, printer, cutting tools.
How it works:
Create your custom design and adjust the size and resolution accordingly.

Print the design on the transfer paper.

Trim the transfer paper to ensure the design is properly aligned with the mug.

Clear off any residue from the mug with alcohol or proper cleaning supplies.

Apply the transfer paper on the mug and secure it to ensure the design is firmly attached.

Put the mug in the heat press and set the right time and temperature for a perfect result. The press transfers the design to the mug using heat.

Let the mug cool, then remove the transfer paper to reveal a perfect finish.
Care Instructions for Sublimated Custom Coffee Mugs
Sublimated custom coffee mugs are easy to care for – as this printing method guarantees durable and long-lasting designs that don't cave into daily wear and tear.
Simply clean them in the dishwasher or wash them by hand with warm water and dish soap. But!
Avoid soaking

Handle with care

Avoid direct sunlight

Avoid extreme temperatures
Why Create Personalized Mugs?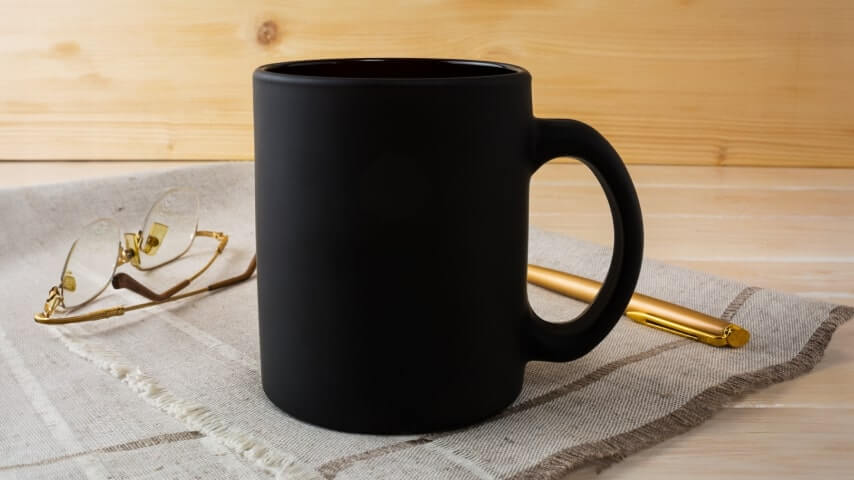 They make great gifts for everyone – friends, family, colleagues.

They're excellent promotional materials for businesses (with logos and company names, causes, or slogans).

They provide a unique way to display your art.

They're evergreen and practical (ideal for homes, offices, events, and on the go).

They're online bestsellers (especially for different occasions all year round, like Christmas, Mother's Day, Father's Day, Weddings, and other events).
How Much Can You Earn Selling Personalized Coffee Mugs?
A lot.
In 2021, the global coffee mug market was valued at $21.39 billion and is expected to double in size by 2029. 
And if numbers don't impress you much, look at the facts mentioned above on why you should make custom coffee mugs. Their versatile use and evergreen appeal are a goldmine for eCommerce.
FAQ: How to Print on a Mug
How to Print Coffee Mugs and Make Money? Use Printify
Join Printify and print on coffee mugs effortlessly. Design your own mug in minutes and list it on your website for a global audience to see. Simple, fast, and convenient. Start a mug printing business today.  
Share the article
Topics