Custom Stainless Steel Travel Mug
Want a way to enjoy your morning coffee or tea on the go, while contributing to the health of our planet? A stainless steel travel mug is your best companion, keeping beverages at the right temperature for several hours and sparing plastic waste into the environment.
Our Personalized Stainless Steel Travel Mug
Sip of your favorite hot beverage on your way to the office, sitting in traffic, or simply waiting for your day to start outside the comfort of your home with our personalized stainless steel travel mug. The perfect reusable mug for everyday needs.
While other travel mugs tend to leak, poorly hold heat, or the design wears off quickly, our stainless steel mugs come with assured quality and multiple key features that will make your customers pick them from among others.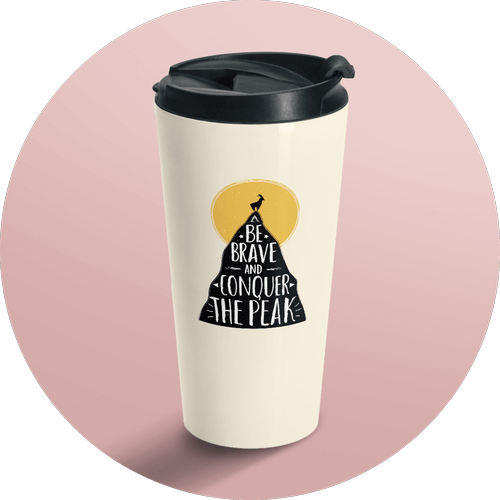 Leak-Proof. No need to worry about spilling hot coffee in the car, making a mess while on a trip with kids, or ruining your favorite work outfit while taking a sip. Our travel mugs are leak-proof and will prevent spills, keeping you and your surroundings protected.
Quality Material. Stainless steel beats plastic in every way possible. It is environmentally friendly and a worthy investment for people enjoying hot beverages on the go. The material is durable and resistant to rust, staining, and corrosion.
Dishwasher-Safe. While any other plastic or ceramic reusable cup might require being hand-washed only, these stainless steel mugs can easily be cleaned in the dishwasher.
Convenient Volume. Our travel mugs can hold up to 15oz (0.44l) of liquid. For any type of hot or cold beverage, just pour it in, close the lid and toss it in your bag. The convenient volume of these mugs provides hydration without the need for refills for quite a while.
Sell Stainless Steel Travel Mugs With Printify
The Printify catalog offers 800+ unique products available for your design and online store. Create an account, search for the stainless steel travel mug and get creative.
Make Your Own Custom Stainless Steel Travel Mug!
Design Ideas For Custom Travel Mugs
Designs are so much more than just a colorful logo on a product. They allow people to express themselves, their interests, hobbies, likes, dislikes, favorite bands, sports teams, pets, and more. Add these symbols to your designs and appeal to customers worldwide.
"It's a coffee kind of morning"
"Best dad ever"
"Stay hydrated"
"Cat mom"
"Every day is a fresh start"
Quotes can appeal to everybody on different levels, topics, and meanings. Use quotes and sayings in your designs to appeal to a specific audience. Use inspirational quotes to start the morning, favorite drink quotes, something sweet for mom and dad, or something completely random to fit everyone's taste.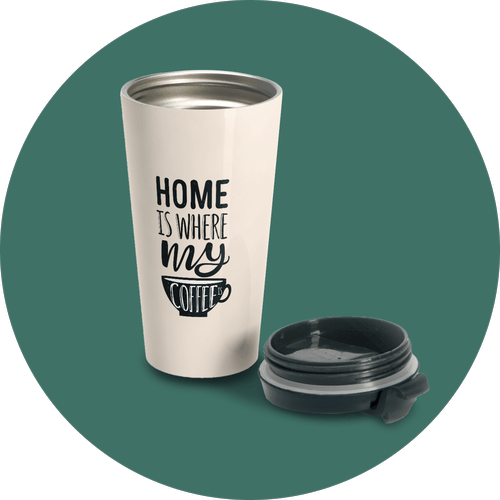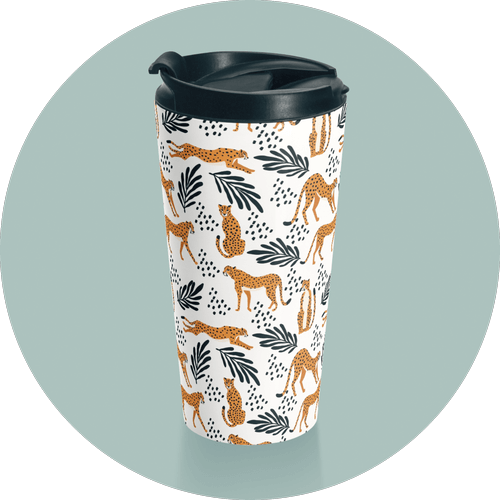 Patterns, Patterns, Patterns
Abstract designs are the go-to choice for those who don't want anything specific on their travel mugs. Not all people are coffee lovers, tea drinkers, pet owners, or enthusiasts of something in particular. And not all of them want to put their interests or hobbies on mugs. That's where patterns come in handy.
For those who just want to take their water or any other favorite beverage in their cars to workplaces, or on daily errands, colorful and abstract patterns will be a perfect choice. Be creative and limitless with your designs and they will be a hit without a doubt.
Customize slippers for the ladies around the world. From the perfect gifts for Valentine's Day, bridal showers, birthdays, anniversaries, and other special occasions to simple accessories for everyday use. Custom slippers for her will be a great addition to your online store.
From bright patterns and designs to special quotes to the worlds best mom, wifey, aunt, and more. The smallest detail will make the custom house slipper a must-have for one and all.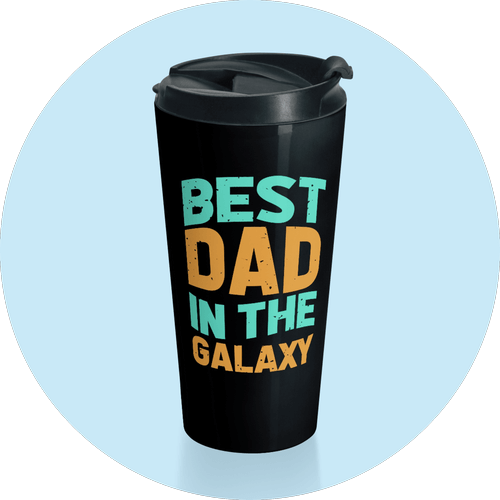 Explore Similar Products From Printify
While our stainless steel travel mug is a must for every online store, there are other great products that fall under the same or similar category. Items such as stainless steel water bottles, travel tumblers and bottles, camping mugs, and more are no exception.
This tumbler is a must for everyone who spends a lot of time on the road, whether traveling for work or simply enjoying the pleasures of road trips. The tumbler perfectly fits in a cup holder, is firm, steady, and easy to use.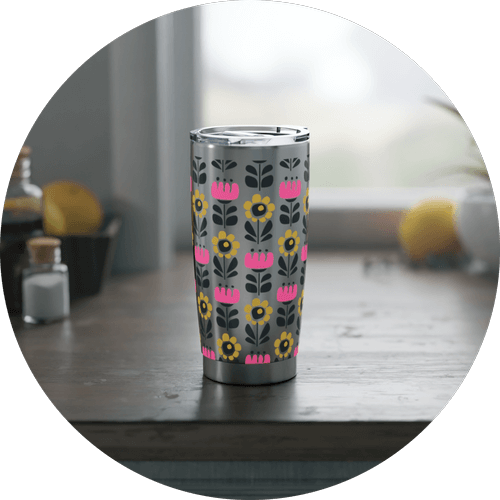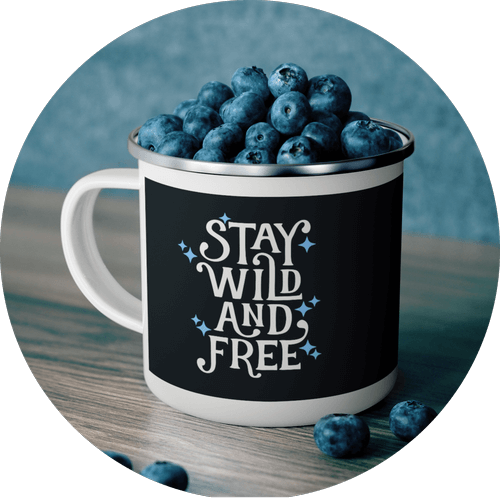 Stay hydrated and help the environment all at once with a stylish, durable, and useful stainless steel water bottle.
Frequently Asked Questions
Travel mugs are a worldwide trend all year round. Customize designs, list them online, and watch the magic happen with Printify. Earn passive income while print providers take care of order fulfillment, shipping products directly to your customers.
Replace glass and plastic tumblers with a durable stainless steel travel mug that keeps your drinks at the right temperature for many hours to come. It's a long-lasting solution to cold drinks, unwanted spills, and environmental trouble. Reduce your plastic footprint in style.
Start Selling Personalized Stainless Steel Travel Mugs