If you want to spend less time running your business and more time drinking, we have the perfect solution! Custom pint glasses are perfect for sporting your company logo or designs – they're customizable and ready to sell in minutes.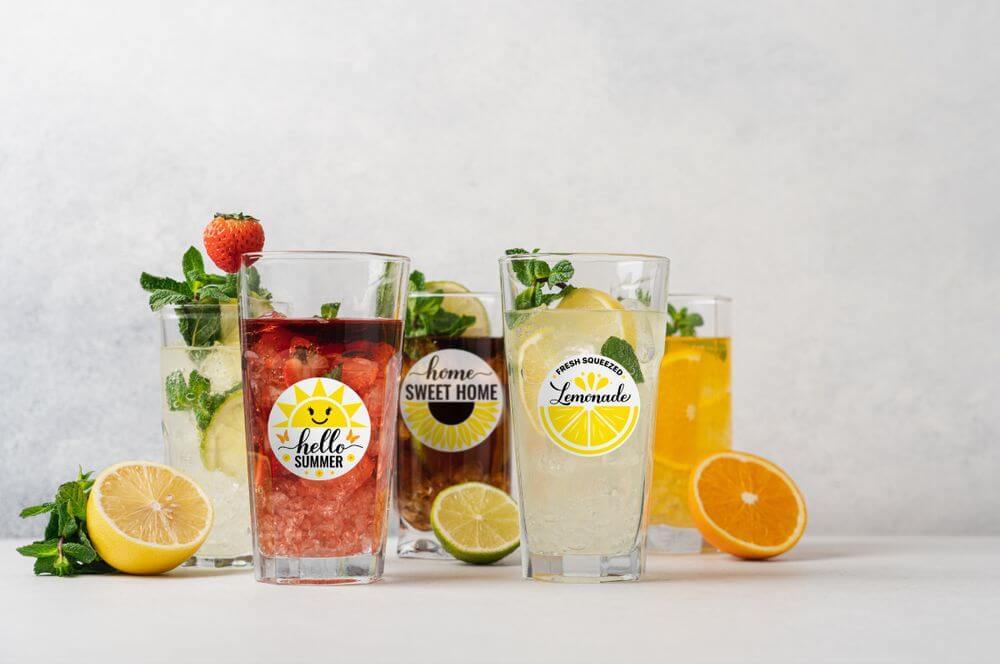 Design and Sell Custom Pint Glasses
Why Sell Custom Pint Glasses
There are plenty of reasons to sell custom pint glasses online. For one, they make great gifts. Everybody knows someone who loves drinking beer, so a custom pint glass is a perfect present. You can also use them as custom promotional products for your business. Give them as gifts to event guests or use them as part of a marketing campaign.
A pint glass is also a great way to show off your personality or style. If you have a favorite sports team, you can design glasses with their logo. Or, if you're a fan of a certain type of beer, you can make glasses that celebrate your favorite beer styles: lagers, stouts, IPAs, or others. There are endless possibilities when it comes to custom pint glasses. It's a timeless product for all sorts of beverages at home, bars, restaurants, and other venues. Besides, custom drinkware sells better and better with each year.
Custom Pint Glass From Printify
We can't help but love this customizable clear glass pint. You can't get better than 16 oz – that's a full beer pint to quench even the most thirsty fellas out there. Fill it with iced tea or coffee for those who don't enjoy beer as much, or design it as the perfect go-to glass to put on one's work desk to always remember to hydrate – everything tastes better in a proper receptacle. Our personalized pint glass is very sturdy and comfy to hold. But treat it with care, as it's not dishwasher safe due to the printing technique.
Printify Is Trusted by 2 million+ Merchants Worldwide With More Joining Every Day
I don't have to invest the money I can't lose into my business. With Printify, I only pay the fulfillment fees, and the rest is all profit.
I really appreciate working with Printify on my brand. Afro Unicorn was only supposed to be my design on a white shirt. It is so much more. Printify allows me the time to run the business and not work in the business.
Printify helped me start a completely hands-off revenue stream. When you spot a niche that you want to enter quickly, you don't have to worry about buying stock or equipment.
Printify Premium has helped my profit margins tremendously, and spending $20 a month has probably saved me over $200 a month.
Using Printify saved our struggling business of 6 years and gave us more time with our family.
I like Printify products because they tie in with our organisation's message.
I love the Printify Mockup Generator. It keeps everything consistent and allows me to keep my brand looking sharp and professional.
Start Making Your Own Custom Pint Glasses Today!
Design Ideas for Personalized Pint Glasses
We got you if you need some inspiration when it comes to custom printed pint glasses and design ideas. Whether you want to personalize one for yourself or add a special touch to one's home bar, or you wish to design a unique gift for all the beer lovers out there, our print on demand pint glasses are the perfect medium for that. There are endless design possibilities, so you can make a pint glass that perfectly suits the recipient. Here are a few ideas to get you started.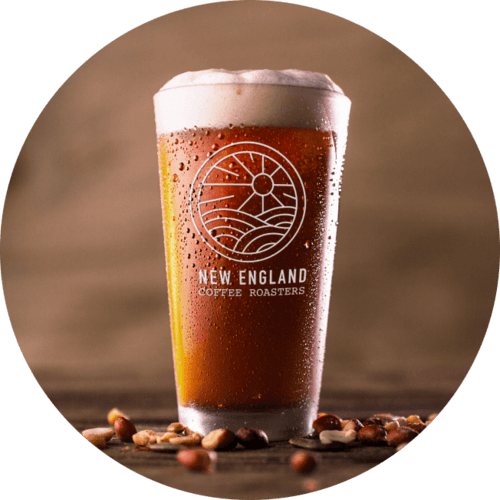 Custom Pint Glasses With Logo
Get creative with logos. Be it for a small local brewery or bar, a glass adorned with a logo will surely stand out. Small business owners can definitely benefit from serving their drinks in personalized glasses – branded items always convey professionalism and quality. Besides, our glassware comes at a very competitive price, but if you want to save even more, consider becoming a Premium subscriber, as you can save up to 20% on each item in our catalog, thus earning more.
While designing the glass, incorporate a funny quote or saying to have a good laugh with every pour. This could be something the recipient loves or lives by, or even just a joke that you know will make them laugh. Or go with funny or risqué graphics to appeal to a broader audience – bachelorette and stag parties or wedding dinners. Sometimes the most straightforward designs are the best. Just make sure to choose a font style that is easy to read and good for printing – our print on demand pint glass is made in a digital printing technique where the designs are transferred line by line, meaning that faint horizontal lines could be visible on the end product.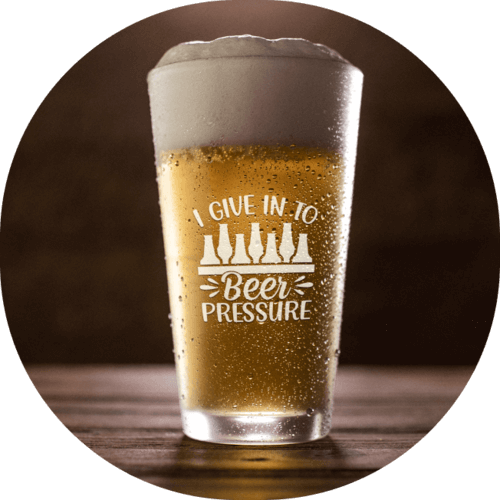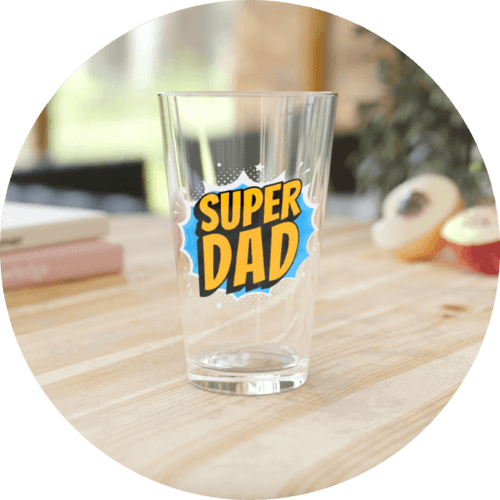 In this genre, you can use imagery to represent popular dad hobbies or interests. If the recipient loves sports, consider using team logos and graphics on their new favorite beer glass and stylized sports gear such as clubs, balls, nets, mitts, hats, or even popular players. Don't forget about fishing, carpentry, motorized vehicles, and simply beer-themed graphics. Or, for dads who enjoy cooking or baking, include images of utensils, food, or other related graphics. You can also choose a simple style with names or initials.
Cocktail Mixing Pint Glass
Here, you can let your creativity run wild and cater to small restaurants, bars, or house parties. Use our text editor to add bar and cocktail-related words to make serving drinks even more fun. Find funny sayings about drinking, and add gorgeous floral patterns for a truly Instagram-worthy product. This pint glass is as universal as they come – perfect for beer, lemonade, cocktails, juice, and iced coffee.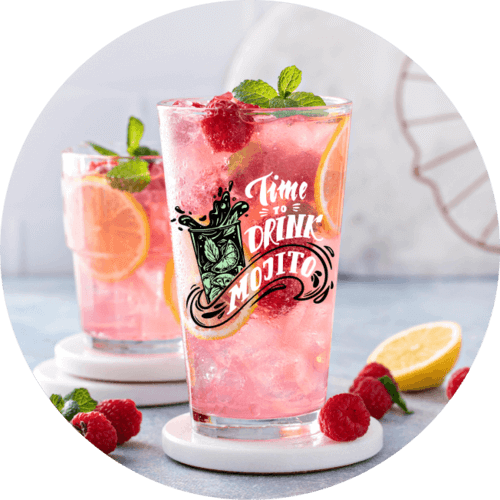 Sell Custom Pint Glasses, No Minimum Order
So you want to sell custom pint glasses with your designs, but you're unsure where to start? Look no further! Printify is the leading provider of on-demand printing services for merchants of all sizes. To start selling custom pint glasses, you need to follow these four steps:
Choose Your Print Provider
With Printify, you've got world-class print providers at your fingertips. We love laying low and letting your business shine: your customers will only see your brand and your design when you make your own shirt and sell it online. Make your own shirts come to life with over 80 printing providers from all over the world – US, Canada, Europe, and even Asia. This means shorter delivery times and lower shipping costs no matter where your clients are.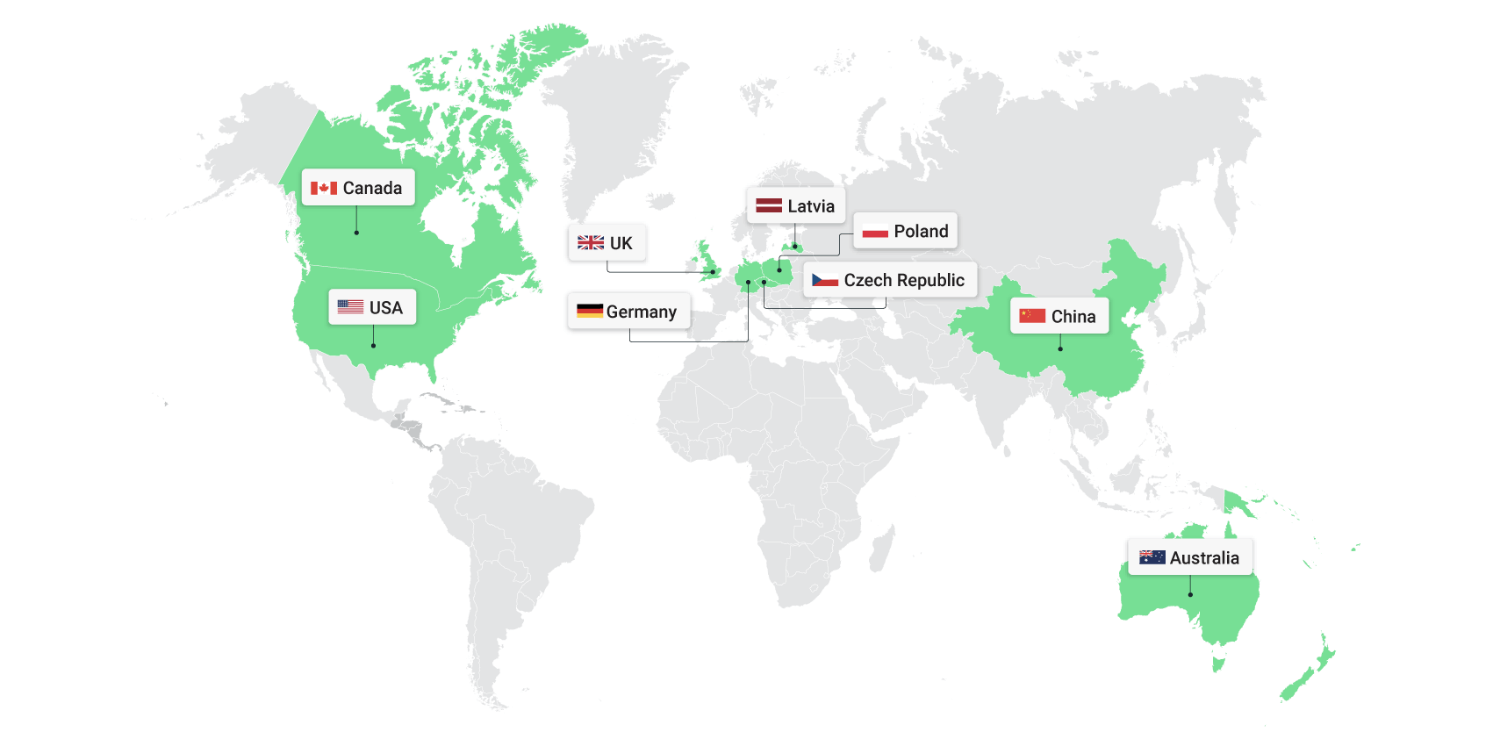 Frequently Asked Questions
Start making custom pint glasses for your home parties and bars with Printify! The designing process is easy, and the production cost is low, allowing you to earn a handsome income while providing customers with stunning products. But don't stop with a custom pint glass – we've got a range of over 750 customizable items in our catalog. Go ahead, take a look around and start selling with zero monetary investment.
Start Making Your Own Custom Pint Glasses Today!