How to Make Shirts at Home: 6 Ideas for You to Try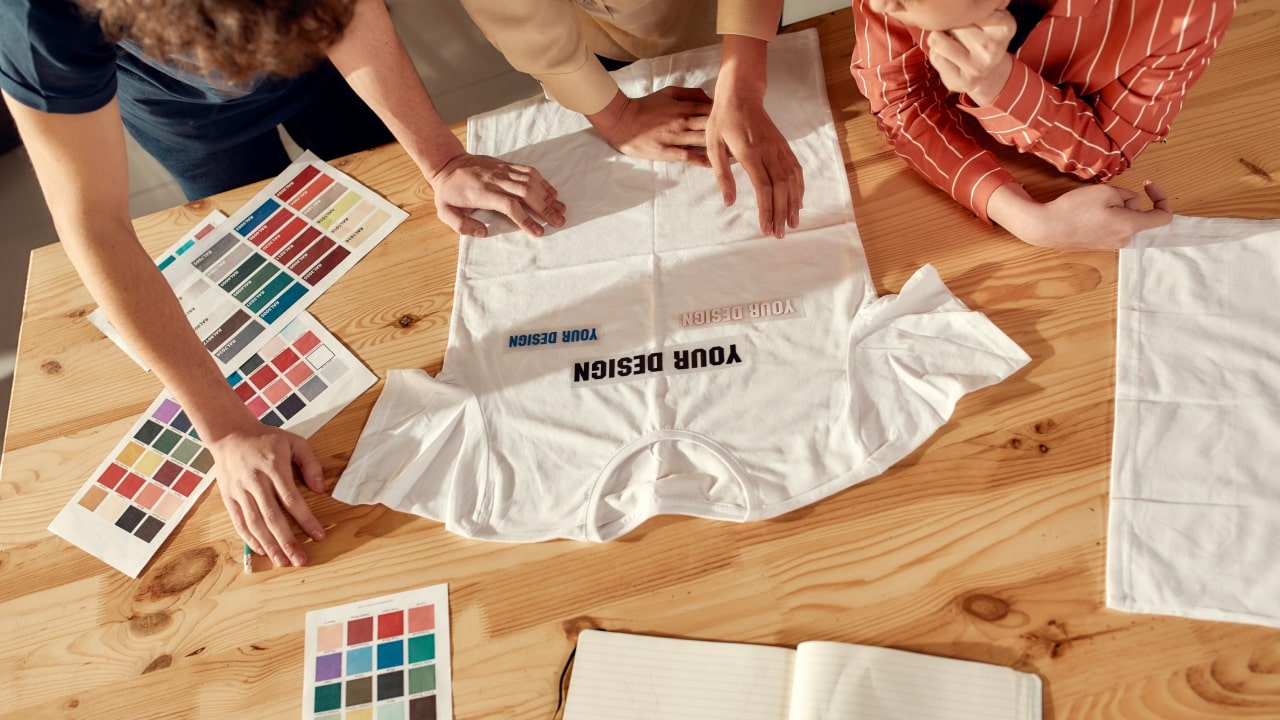 With the right tools and knowledge, you can create graphic t-shirts from the comfort of your own home. In this article, we've compiled several ways to make shirts at home with varying costs associated with custom printing.
Before diving into the thriving art of t-shirt printing, you need to know the essentials and challenges you might face when adding ink to fabric. Use our list of ideas as a guide on what you need to know before starting.
How to Make Custom T-Shirts at Home: 6 Ways You Can Do It
Learning how to make your own t-shirts at home is in no way a simple process, but with a bit of patience, you can master a technique that best fits your artistic vision and skills in fabric design. Some methods won't fit every fabric type and color, and some tools may require a larger budget.
With all that said, let's check out six accessible printing methods – how to make custom t-shirts at home and save money in the process.
1. Print on Demand – Less Hassle, More Free Time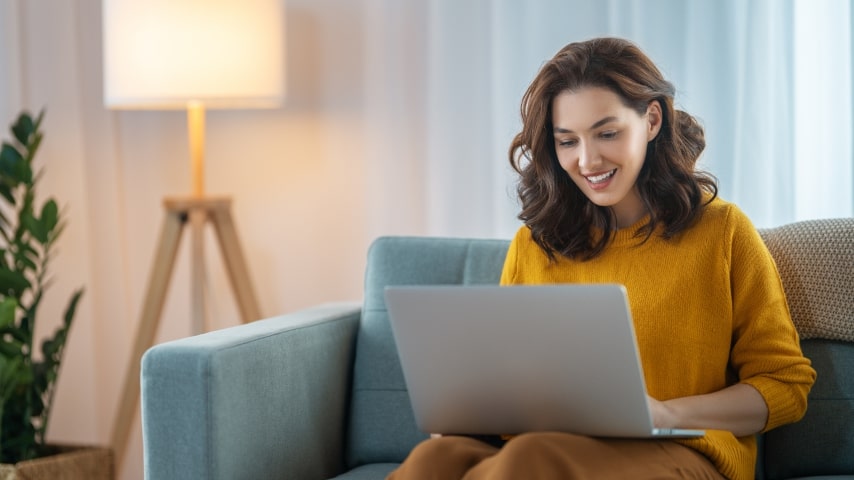 Industry-grade print fulfillment services have become increasingly accessible to individual producers. Now, with a print-on-demand (POD) order fulfillment method, you can create finished shirt mockups exclusively online, manufactured, and shipped on your behalf.
Open an image editing program like Adobe Illustrator (or a free alternative) and create a digital design. Fabric printing uses vector graphic design software like Adobe Illustrator to ensure the image is sharp and doesn't create fuzzy lines on the entire shirt fabric.
Once finished, save your design as a high-resolution JPEG, PNG, or SVG file.
Upload your vector images on a free online t-shirt mock-up tool. Place the design on a selected t-shirt template, taking note of the available canvas dimensions and file requirements. Choose and add any available design features and save the custom t-shirt template.
Place an order for your product sample through a print-on-demand platform like Printify. Select a print provider close to your address to limit shipping costs and keep track of the production time estimate.
Printify has partnered with nearly a hundred independent print provider companies that use industry-grade techniques to manufacture excellent print designs for single orders or bulk purchases. Try ordering a sample today.
2. Iron-on Transfer Paper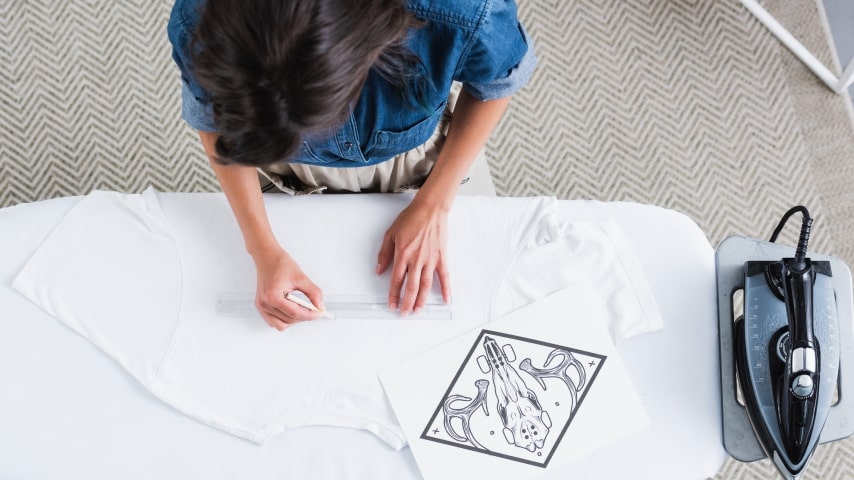 The iron-on transfer paper process is one of the easiest and cheapest DIY t-shirt printing methods. Iron-on designs can be a fun project for families, hobbyists, and artists, producing great custom shirts with enough patience.
You will need an inkjet printer, an iron, a cotton underlay (you can use a cotton pillowcase), and scissors. Purchase transfer paper from stationary or craft stores. Choose between iron-on paper for light-colored shirts or dark-colored shirts. Check the product packaging to make sure you purchase the right option.
Note that the iron-on printing method works best with cotton fabric shirts.
Here's how you can make a t-shirt graphic with iron-on transfer paper:
When printing out your design, the steps you'll need to take will depend on whether you're using transfer paper for darker shirts or lighter fabrics.
With light transfer paper, you'll have to place the image face down. This reflects the image backward, so you must mirror the design (especially if you're working with text). Select the mirror image or reverse setting in the print options window. You may also flip the image in an editing program.
No additional action is required for dark shirts – the graphic will appear exactly as it's shown on your screen, with the transfer paper face up.
Instead of regular printer paper, load the printer with transfer paper. Choose a high-resolution image setting, check the print preview for safety, and click print.
Cut out your design very carefully, using sharp scissors. Any remaining blank paper will leave an imprint on your shirt, so it's important to be thorough and patient during this step. Use a paper craft knife if needed.
Once done, place your cotton underlay on a hard, smooth surface that can withstand heat – an ironing board will not suffice. Turn on your iron and set it to a cotton setting or high temperature. Check the transfer paper packaging for any specific instructions. Place your t-shirt on the cotton underlay and start ironing to get a flat surface.
Now, it's time to apply your transferred image to the shirt fabric. This step will determine whether your final results succeed expectations, so take your time to be extra precise. Measure out your dimensions and center your placement. Feel free to follow our design placement guidelines.
Light-colored shirts – transfer paper goes face down.
Dark-colored shirts – transfer paper goes face up.
Press the transfer paper down on your shirt and start ironing with a firm hand, starting from the center and moving outward. Slide the iron swiftly to prevent burning and face the entire paper surface following the transfer paper instructions (up to a few minutes), depending on the size of the design.
Leave the t-shirt area in a well-ventilated room for a few minutes until the paper cools down. Take a corner of the image and carefully peel off the paper. If the image gets stuck, repeat the ironing process. Your design should now be ready.
The design can be fragile during the wash, so use a gentle cycle and turn the shirt inside out before loading the laundry. Do not place iron-on transfer shirts in the dryer since it can damage and peel off the design.
3. Direct-To-Garment Printing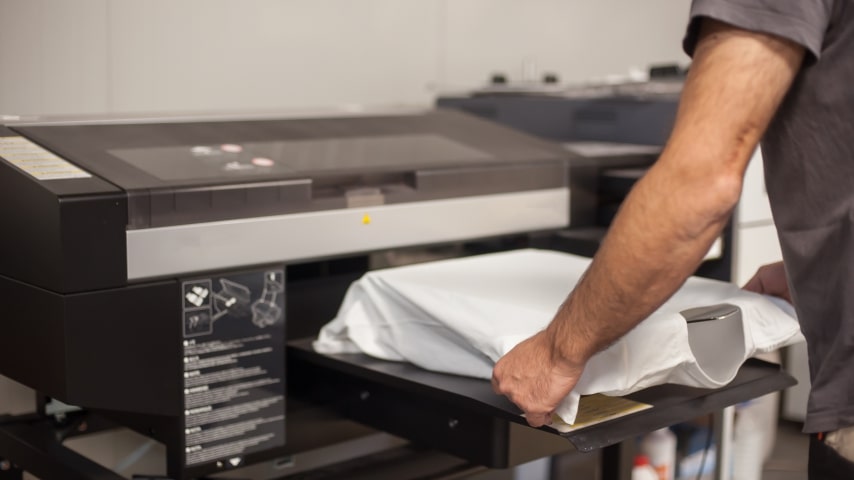 For a more high-tech shirt design, you might want to invest in a direct-to-garment or DTG printer. A ready-made fabric printer allows you to make bulk shirts without worrying about your design's final quality and consistency.
Also called a heat transfer laser printer, direct-to-garment printing can apply images to a shirt in just a few minutes. Note that this is in no way a cheap option. DTG printers can cost from a couple of thousand dollars for personal use to well over ten thousand dollars for a professional business set-up.
Once you have it, however, the printing process is exceptionally easy. Similar to iron-on transfer paper, DTG initially prints on a transfer media (a thin film), which is then applied to an adhesive paper via a heat-press method. The water-based DTG inks captured by the transfer media are then manually pressed into the t-shirt. 
Some advantages of DTG over iron-on transfer printing include the ability to use polyester fabric shirts under a lower heat method, better design durability with water-based inks, personalized transfer media (gloss, glitter, etc.), and a more automated application process.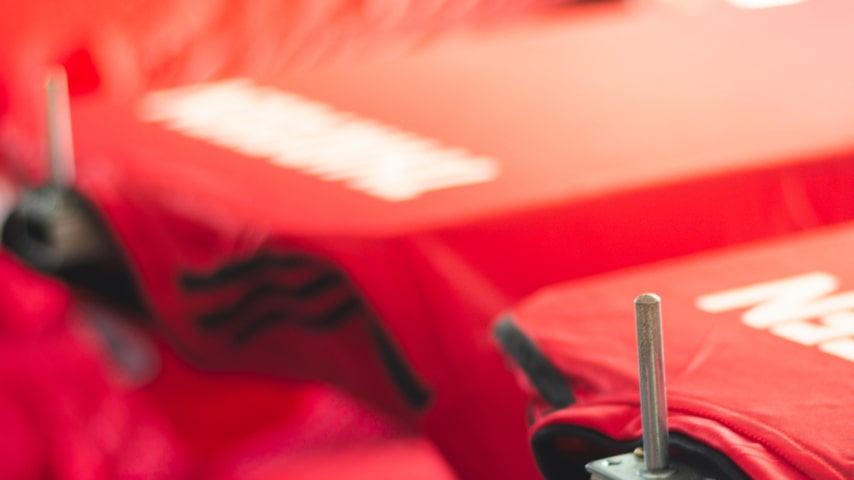 The heat transfer vinyl (HTV) printing method can be an exceptionally durable and aesthetic option for hobbyists willing to apply their designs to multiple fabric types. You can purchase pre-cut vinyl designs or create your own through a roll of heat transfer vinyl and a cutter.
You can purchase a roll of HTV for just a couple of dollars. However, you'll need to invest in a vinyl cutter – ranging from smaller hobby machines for a couple of hundred dollars to full-scale professional equipment.
The cutters work much like a printer – they translate your digital art into a working design file, apply it to the rolled-out vinyl, and cut it out appropriately. For the cut, you will also need a weeder – a metal crafting tool that evens out the HTV lines. Finally, finish off with a heat press for the final application.
Create design: Use vector graphic software to create a design.
Cut out the vinyl: Send the design to your cutter, following instructions and applying the appropriate machine settings.
Weed excess area: Take off HTV material around the cutlines, using a weeder to scrape off the excess you don't want in the final design.
Apply heat press: Place the vinyl design on the heat press with the adhesive side on the shirt. Cover with wax paper or another protective coating. Press according to instructions, and gently fold off the vinyl carrier after cooling.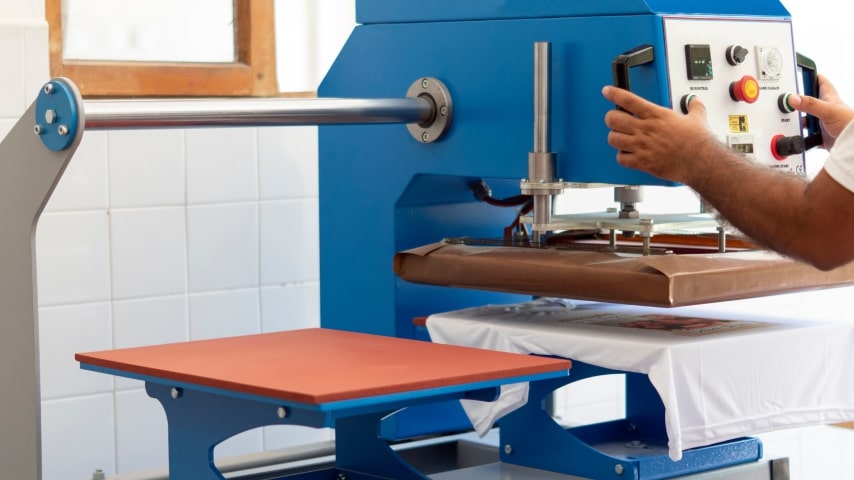 The sublimation printing process uses special inks that, when applied to heat and pressure, completely evaporate and fully integrate into the fabric, creating one of the most durable and effective printing methods to date. This is an especially attractive option in print-on-demand printing.
Also known as all-over-printing, sublimation can only be applied to polyester shirts or other synthetic fabrics. Larger temperatures involved in the sublimation process will damage organic fabrics and not fully integrate the ink. Once applied, however, the image will be permanent – an inseparable part of your shirt.
Like DTG, you'll need a sublimation printer with special inks and sublimation paper for the transfer process. We recommend that you try sublimation printing through a print-on-demand service without spending a huge initial investment. Check out Printify's product catalog for all-over-print options.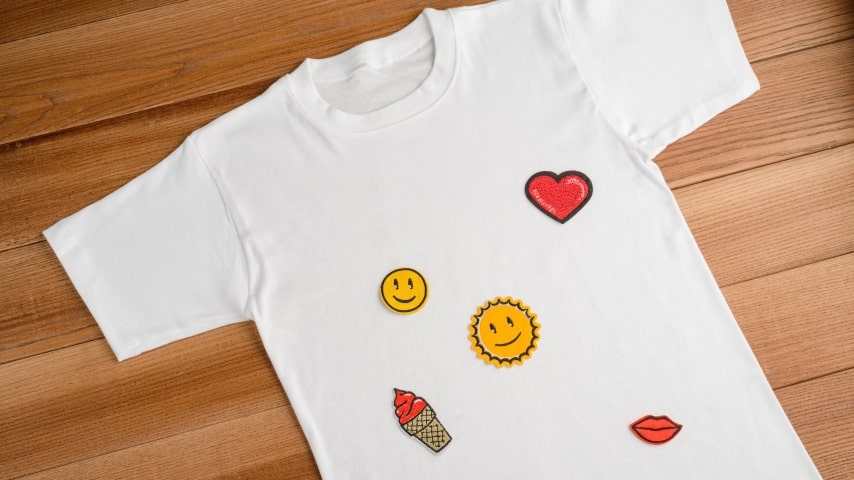 Inks aren't the only option for imprinting designs. If you've had good results with stitching projects, we recommend a return to classic – embroidery. This is an excellent option for simpler, quality-oriented designs that work for any fabric type.
You can automate the embroidery process with print-on-demand – check out our full embroidery guide to familiarize yourself with the topic.
Sell Custom T-Shirts With Printify
You can try to perfect any one of these options, but why not create t-shirts with top-of-the-line printing methods all at once without ever needing to learn the process yourself? Create a custom t-shirt business from home with Printify.
Check out Printify's catalog of t-shirt blanks, select a product, add a design and create an eCommerce store page with integrated Printify product listings. Sell your shirts with no order minimums, no inventory, and worldwide shipping.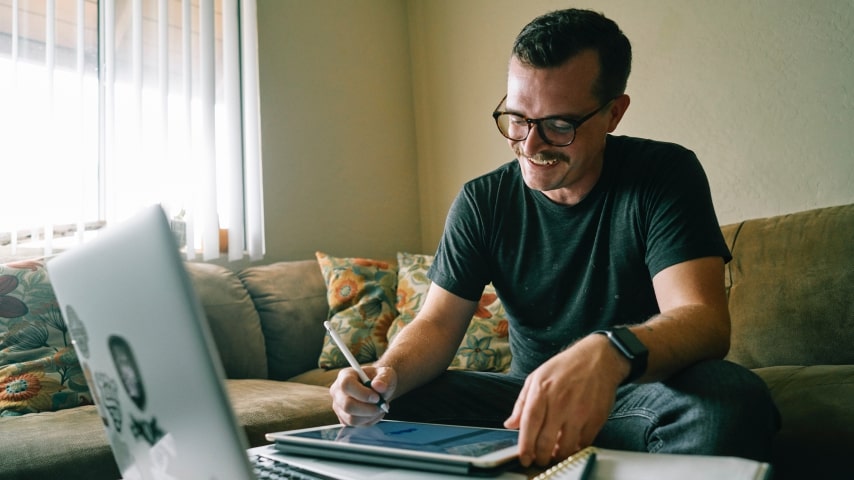 Adobe Illustrator might be a great option for vector designs, but it's neither the cheapest nor the easiest to learn. If you want to apply a simple design without a costly subscription, check out our blog for t-shirt design software alternatives.
Try Printify's Mockup Generator right away, adding your designs on nearly a hundred unique printed shirt blanks in the Printify catalog.
Make your own custom t-shirts at home. Select your preferred printing method from iron-on, direct-to-garment printing, sublimation, heat transfer vinyl, and embroidery techniques.
Invest in quality t-shirt printing tools that can produce an excellent design straight from home. Alternatively, with a few clicks of a button, fulfill your t-shirt design dreams with print on demand.
Share the article
Topics