Create a blast from the past with these 80's inspired T-shirts.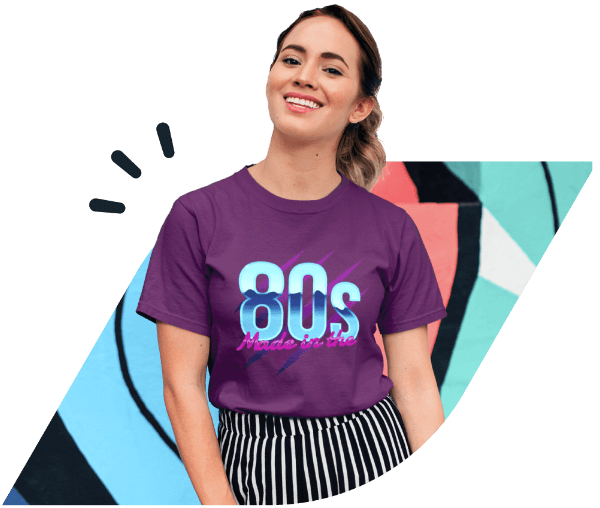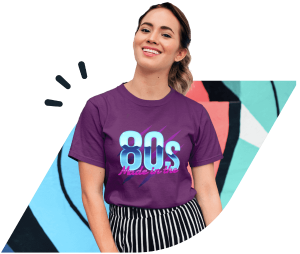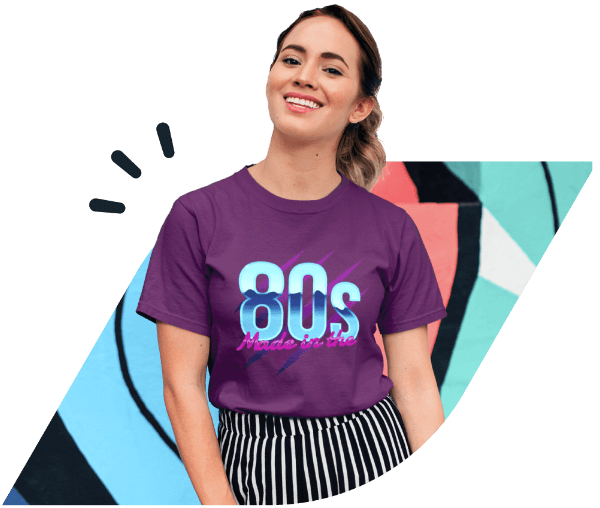 Why Sell 80's T-Shirts​ Online?
Giving and receiving presents is one of life's little treasures, and the feeling you get knowing your treat has made someone's day, is the cherry on top! Personalized 80's shirts make terrific gifts, and you don't need an occasion to appreciate them, there is never a bad time to make someone feel special!
The 80's era may have passed but its bold style and flamboyant colour combinations left a long-lasting impression in the world of fashion and culture. So much so its movies, music and most importantly its diverse range of styles, is continually being revived and is a source of inspiration for new generations. 
You can design 80's t-shirts for males, females and even kids! Either way, the vibrancy of the colors and symbols of the era, is a certain way to cash in on its latest revival. Our catalog boasts of a vast array of style choices, for every age group and gender. 
So this means that, if you are thinking of creating 80's T-shirt designs for one of our tees, you have an extensive assortment to choose from, all of which of course are available in a comprehensive choice of styles and sizes! Which makes choosing and matching the perfect combinations of designs and t-shirt styles a huge part of the creative process. 
Once you have uploaded your designs in our mock-up generator and seen how great they look on a real t-shirt, by clicking on one of the preview options available, you will see that there is t-shirt design out there to suit the many different themes the '80s has to offer.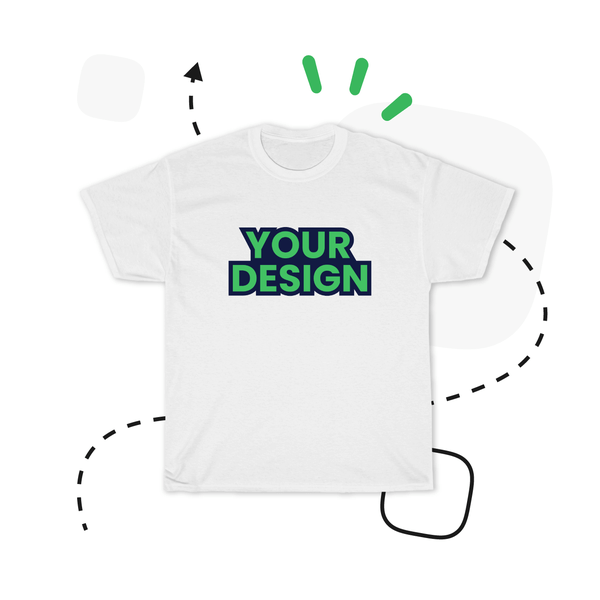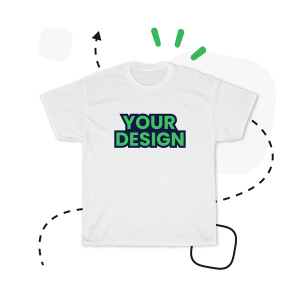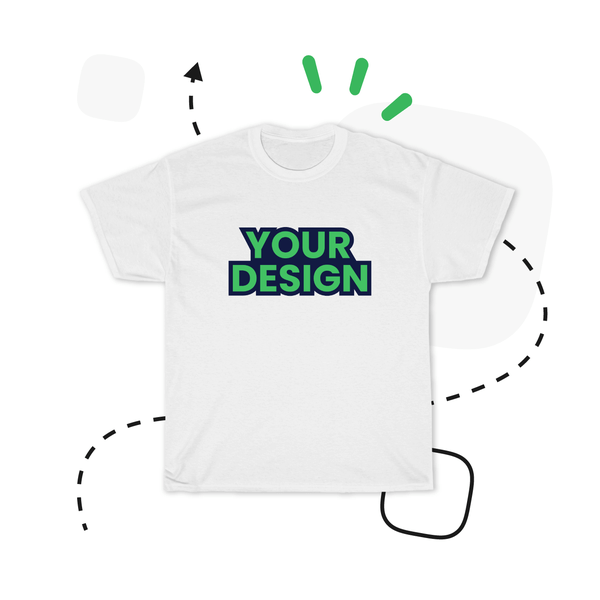 Choosing the Right 80s T-Shirt
Choosing the right style Tee for your designs is like pairing wine and cheese, it's the combination of them both that brings out the best in each other. When it comes to picking your target market, of course, having male, female and kids styles to choose from is a real benefit! And from a creative and business point of view, it means you have an array of options to test out what combinations will work best.
For those designers wanting to create t-shirts for the 80's market, they are very much in luck! Here at Printify, we stock Tees for every taste and style. From Jersey short-sleeved, men and women's V necks to Polo shirts and unisex ringer t-shirts. There is also the option of "AOP" (All-over print) and not to forget long-sleeved shirts! Whatever style you want to use as your canvas of your 80-shirts we have you covered!
The '80s are well known for the use of block colors and having bright vibrant design combinations, which is no problem because we have you covered there too. Not only is the quality of our t-shirts assured, with base options ranging from 100% organic ring-spun cotton, to 100% Polyester with microfibre knit fabric. You also have some of the best blanks available ( Bella+Canvas, Gildan and more) to make sure your 80's shirt designs will be crisp and fresh!
Get Started With 80s T-Shirts Printing
So let's get started. The first thing you will need before you set up your store is a Printify account. We have made this a very straight forward process that can be completed following 3 easy steps and will take minutes (not hours) to finish.
Once your account is created you will see that within our catalog there are a whole host of products ready to be personalized – over three hundred in fact! With new exciting ranges being added all the time. As a store owner, you will have access to them all. 
If you are a new merchant then 80's inspired t-shirts is the ideal way to start your journey in e-commerce, and if you already have a store these Tees are a great way to boost revenue.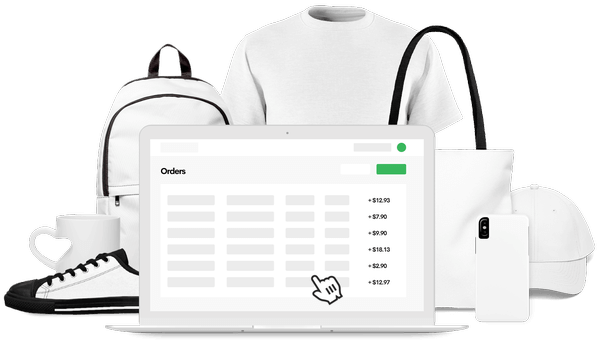 Our mission here at Printify is to offer budding designers and entrepreneurs the opportunity to realise their ambitions and become the owner of their own store. We believe that with the right combination of business practices we can help make this mission a reality.
What we offer in simple terms is a no money upfront business model, that allows you to customize any product from our ever-growing catalog with your designs and bring them to market. Once your store is up and running you can start designing a collection of your chosen products and with a few clicks, they will become inventory for your store.
What makes this a no-money upfront business model is none of the products will be made until there is a confirmed order. When the order has been confirmed then our 2nd part of our business model kicks in – dropshipping, this means your order is taken care of by us!
In short, we aim to make sure as a merchant you will not have the headache of maintaining a physical location to store the design products in or the worry of staff costs, to name just a few hurdles start-up businesses face.
You will be free to do market research and to create the range of 80's shirts born out of your findings and creativity. This hybrid business model offers a unique opportunity of low risk and high gains.
Create Custom 80s T-Shirts!
80's T-Shirts Design Ideas
80's Party Paired With Short Sleeve Tee
When we think of iconic images and symbols of the '80s nothing comes to mind more than the classic cassette tape. What is trending right now for 80's shirts is to use the image of the cassette tape with three or four bright colors either trailing off the tape or going through it, to create a rainbow of colours. Simple and stylish on their own or with an added design element such as a disco ball with sharp bright block colors.
We think pairing this design with our 100% Soft cotton Men's fitted short sleeve tee is a great combination. Not only is the shirt made of specially spun fibers that guarantee the Tee has a smooth and durable surface, it's a perfect base for one of our vast spectrum of colour choices available.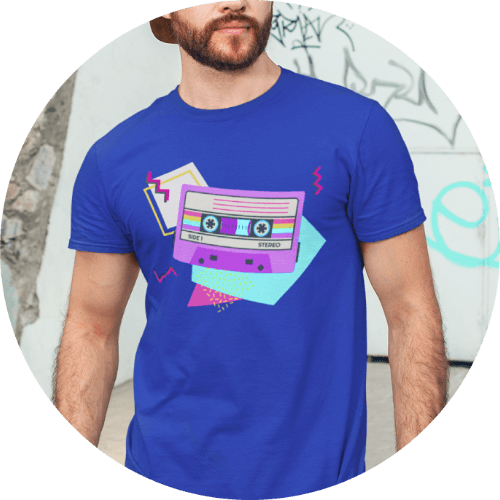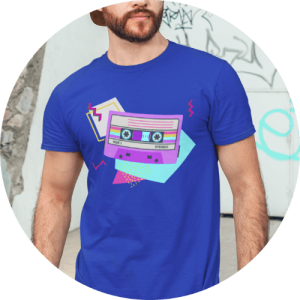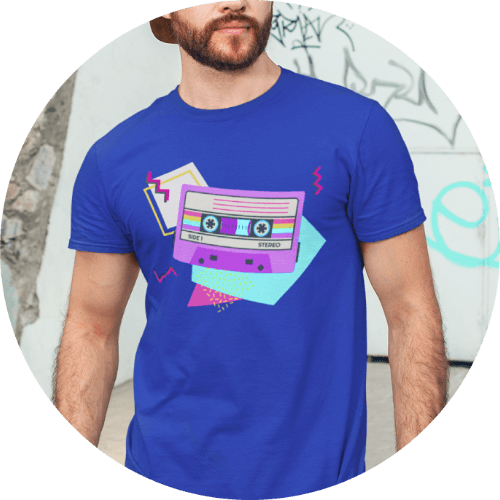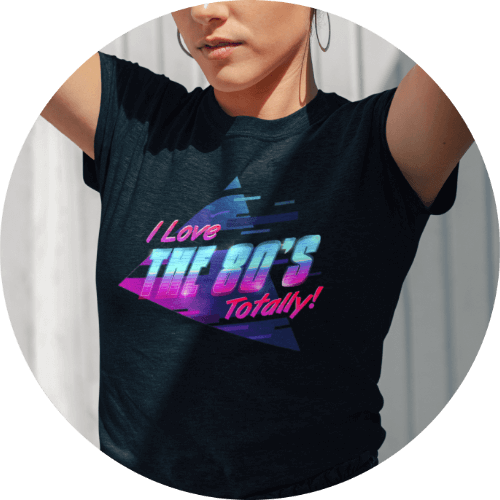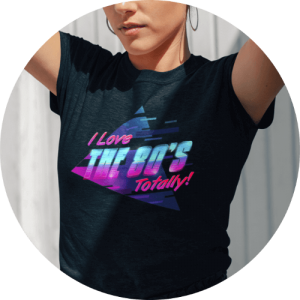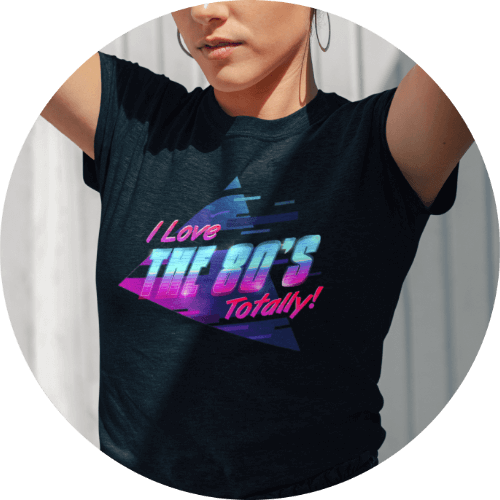 I love the 80's! Well, who doesn't!? It's easy to see why this design is always so popular, its simplicity says everything you need to know about your connection to the decade. This 80's shirt design is all about font choice and color schemes, both of which can catch the tend with bright bold colors and work just as well with faded lettering to give the Tee a retro feel.
We think that our best selling Unisex Jersey Short Sleeve Tee is a great canvas for this style of 80's shirt! With different areas available as the print surface and a whole host of base colors to choose from, its light fabric makes this ideal of everyday use.
Born in the '80s T-Shirt With Aop Print
For those who were born in the era, this is a great 80's shirt design to show off their generation X credentials. Visually this Tee looks stunning with a dark base and bright bold pops of color for the font.
Our Unisex AOP Cut & Sew Tee is a great way of complementing the design because all over printing is available on this shirt, meaning there are plenty of printing areas available, just in case you wanted to add an extra design element.
Made from 100% Polyester and thanks to the microfibre knit fabric this T-shirt is quality assured, so just like the '80s your designs will last the test of time.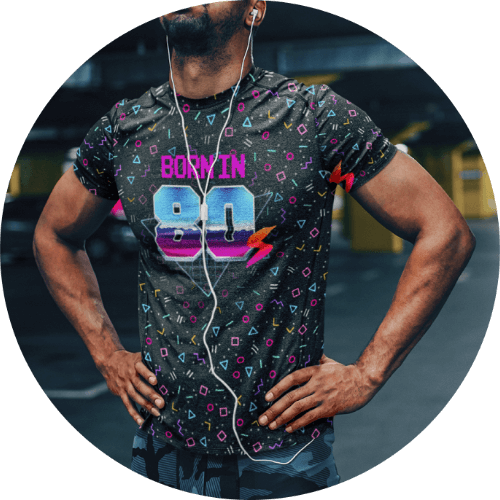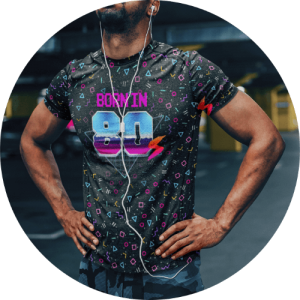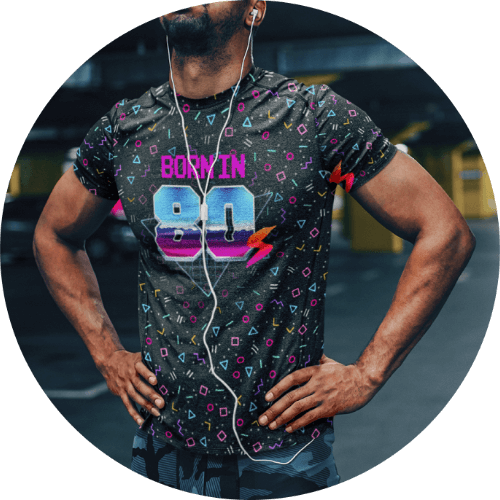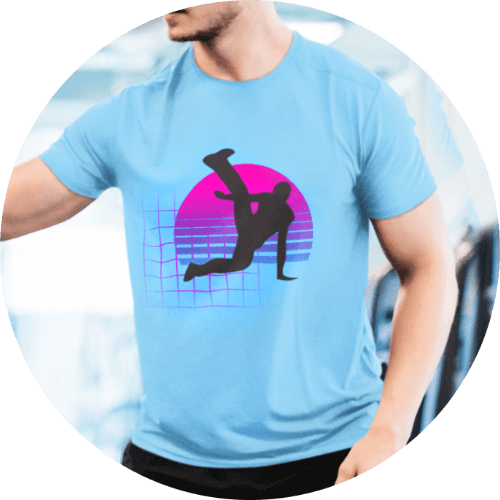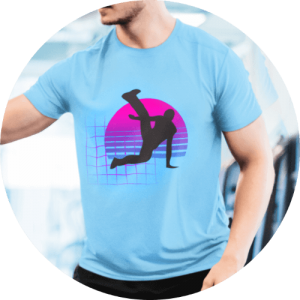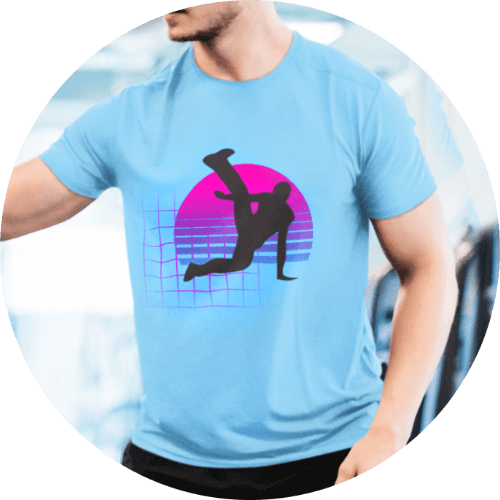 80's Retro Shirts With Vintage Design
Combine the 80's vintage vibe with casting silhouettes of ghettoblaster break dancers, BMX's or whatever 80's themed symbols and imagery that inspire you, with a pink or baby blue base and you will be bang on-trend.
This style of 80's shirts has a real retro feel and because of the many different tones on offer for the base of this tee, picking a color combination to stand out has never been easier.
As well as movies, music and fashion the '80s is also celebrated and remembered by its leaps in tech, especially video games! The arcade was the place to be and was big business back then. But it's not just the games that are iconic, the arcade machines themself were design feats and using their shapes to create 80's t-shirts has never been more fashionable than now.
Our unisex heavy cotton Tee made from 100% Open-end cotton gives it a snug fit with a thick vintage feel. The ribbed knit collar is without a seam and is also highly elastic making sure the shirt retains its shape. Available in varying colors and sizes this design can suit every taste.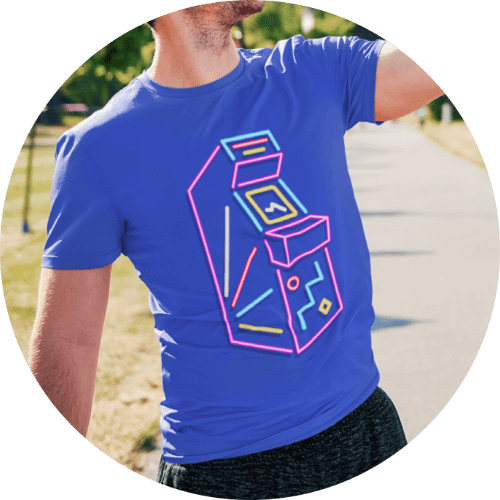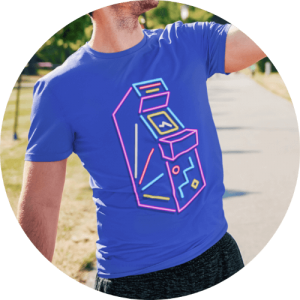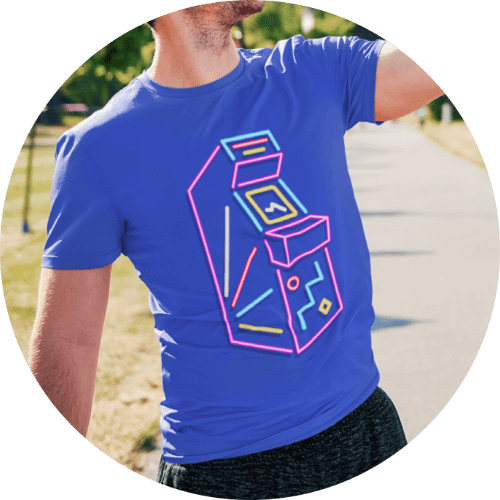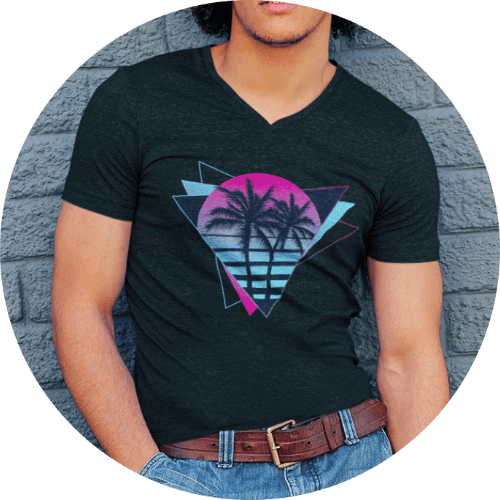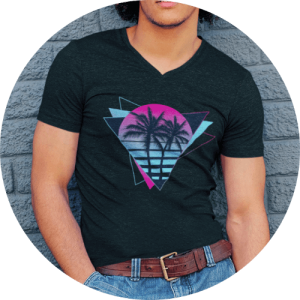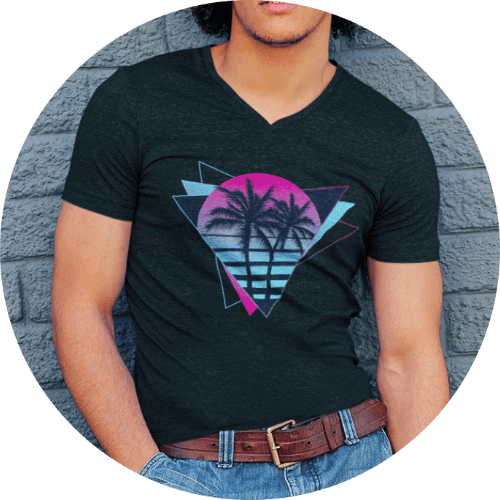 Vaporwave 80's Shirt Aesthetic
This Japanese inspired style was the inspiration behind a mixture of arcade games and music videos, its graphics and style have since been elevated into iconic status. 
One of the designs is a circle broken up into different coloured lines, with a palm tree in a block color with a contrasting outline. Using fluorescent color combinations really makes this design pop!
Which makes Unisex Jersey Short Sleeve V-Neck Tee its perfect partner, with its 100 soft cotton and wide range of base colors available, this 80's shirt is screaming out for high-quality designs and print!
This is a fun design that is ideal for '80s themed get-togethers, house party club nights and office parties. What makes these T-shirts stand out and have the 80's vibe is the font choice and accompanying image – a perfect example is using the pixelated font Bitcraft with a pair of square aviator sunglasses.
Of course, there is no shortage of distinct imagery out there, to inspire the creation of your own rage of 80's-shirts. We thought this design would work well with our Women's Favorite Tee, because of its slim fit and slightly longer body it's a classic top for a night on the town.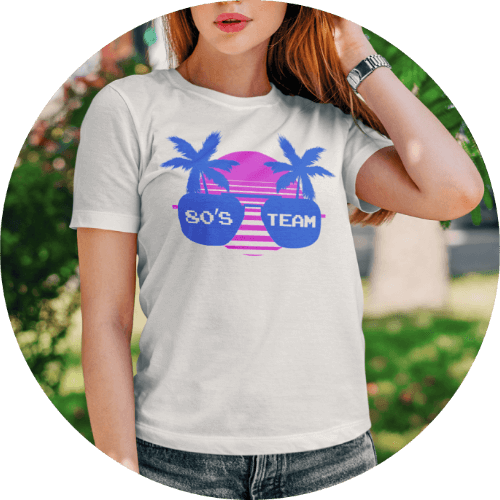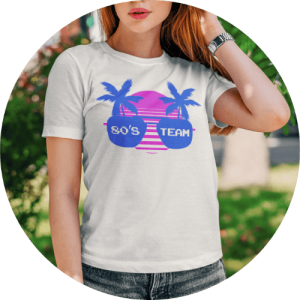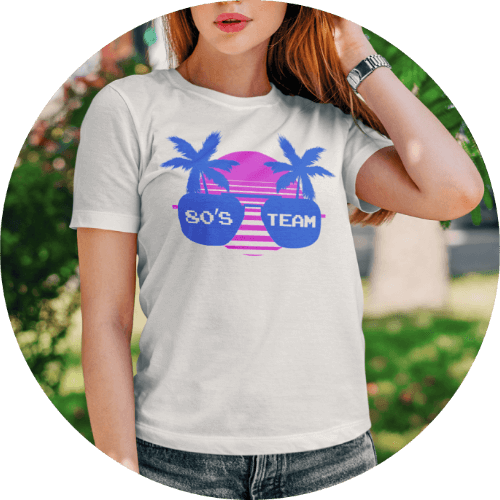 Customizing 80's Inspired T-Shirts - A Step-By-Step Guide
Designing your own range of 80's shirts with Printify is not only a simple and straightforward process, but it can also be a very financially rewarding one too! 
The '80s is an era full of vibrant iconic imagery of fun patterns and retro fonts, all of which can inspire truly unique designs. The real advantage of designing t-shirts for the latest 80's revival, is the wide range of flavours and styles the era represents to the customer.
The 80's shirt is the ideal product if you are a new designer or have never tried out e-commerce, but always wanted to get involved. Our business model of print on demand and drop shipping has been set up to eliminate any risk any you might face before becoming a merchant.
So with all the stress taken out of the equation of setting up your shop,you are free to concentrate on your market research and design choices, which is exactly the reason why our business model was created.
With our vast array of Tees ready to be customized and a spectrum of base colors to choose from, you have all the materials you need to create a stunning collection.
Start Designing Your 80's T-Shirts!
In just 3 easy steps you can be up and running in minutes not hours and have instant access to some of the best print suppliers around! Once you have created your Printify account you will also gain access to our 24-hour merchant assistance team.
For more seasoned store owners, 80's shirts are a sure-fire way to turn your designs into cash. The market is never of trend and never out of fashion! The '80s for those who were born in it hold a real sense of nostalgia which a good design can tap into. For those who were born after but are in tune with all things 80's, these T-shirts can make a real style statement.
Start Designing Custom 80s T-Shirts!