Enjoy your favorite crispy-cool drinks wherever you go with our custom can coolers. Perfect for a day at the beach, a hike in the wild, or a party with friends – start designing and selling custom can coolers with Printify.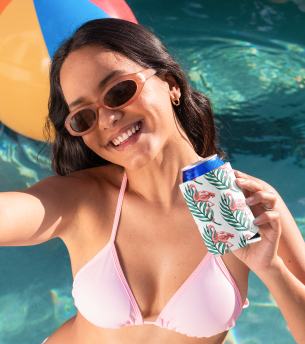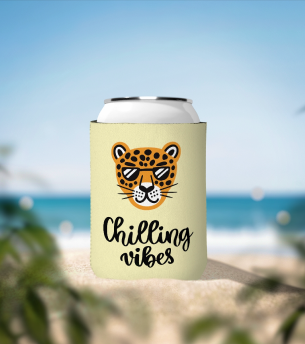 Why Design and Sell Personalized Can Coolers
Every time we enjoy our favorite carbonated beverage, there's a chance of a terrifying scenario – our drink getting warm. Thankfully, we've got can and bottle coolers. They help keep our drinks cold and our hands warm.
A custom can sleeve with a unique design is sure to stand out at any get-together. Your customers will never confuse their drink with someone else's, and they'll never have to worry about condensation on their beer can. Personalization and practicality – our can sleeves, also known as custom Koozies® or stubby holders, offer it all.
They also make any occasion a lot more fun and personal. You can design can coolers for any promotional event, celebrations such as birthday parties, sports events, or any other occasion that asks for a refreshing beverage.
With the print-on-demand market continuing its growth and online shoppers looking for new ways to personalize gifts and everyday items, a line of custom cooler sleeves can provide you with that passive income stream you've been looking for all along.
Keep Your Drinks Cold With Our Customized Can Coolers
Printify's product catalog offers three blank can coolers to customize with your designs. All coolers are made in the United States with the help of the latest printing technologies, providing rich, vibrant, and long-lasting colors.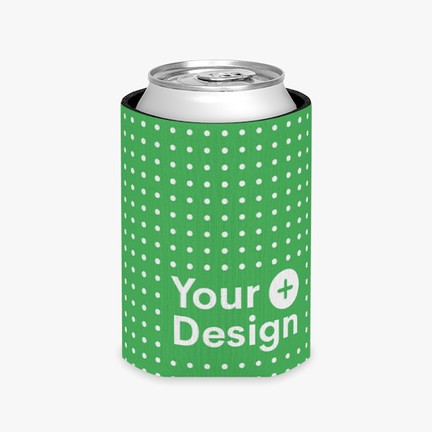 Pic the Gift's Can Cooler comes in two sizes – one for regular cans (3.5" x 4.3") and one for slim cans (3.5" x 6"). It has a 100% polyester exterior that is durable and dries quickly, and edge-to-edge printing lets you make any visuals come to life. You'll never drop your drink, thanks to the foam liner interior of the cooler.
A great lightweight option that will make any occasion a lot more colorful. Prices start at $3.63.
One more  Can Cooler Sleeve that fits all standard 12 oz cans. Made from durable slip-resistant neoprene, this cooler is the perfect companion for any adventure or party. You can be sure of superior quality print results that'll do your beautiful designs the justice they deserve. Prices start at $7.00 ($5.39 with Printify Premium).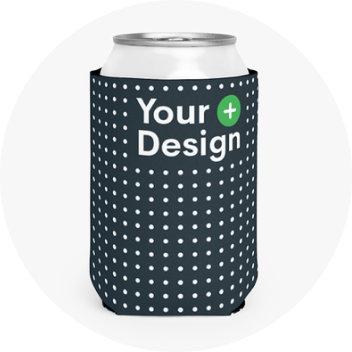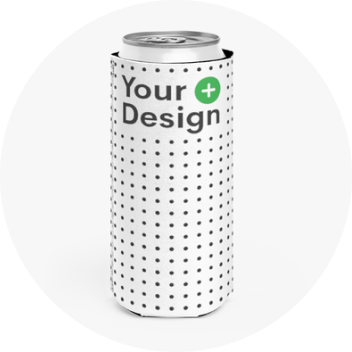 Our Slim Can Cooler is the perfect option for all 12oz slim cans. The 100% neoprene material will keep your favorite drinks cool and your hands warm so you can enjoy the party without a single worry. Your design will be printed on the sleeve with the help of dye sublimation, making visuals super vibrant and rich in color. Prices start at $6.34 ($4.89 with Printify Premium).
Printify Is Trusted by 2 million+ Merchants Worldwide With More Joining Every Day
I don't have to invest the money I can't lose into my business. With Printify, I only pay the fulfillment fees, and the rest is all profit.
I really appreciate working with Printify on my brand. Afro Unicorn was only supposed to be my design on a white shirt. It is so much more. Printify allows me the time to run the business and not work in the business.
Printify helped me start a completely hands-off revenue stream. When you spot a niche that you want to enter quickly, you don't have to worry about buying stock or equipment.
My experience has been amazing so far. With thousands of sales, there's always going to be obstacles to overcome. But, when something has needed fixing, it has always been amazing.
Printify Premium has helped my profit margins tremendously, and spending $20 a month has probably saved me over $200 a month.
Using Printify saved our struggling business of 6 years and gave us more time with our family.
I like Printify products because they tie in with our organisation's message.
I love the Printify Mockup Generator. It keeps everything consistent and allows me to keep my brand looking sharp and professional.
Make Your Own Custom Can Coolers
Design Your Own Custom Can Coolers Online
Easily Connect Your Products
You need to reach customers to sell your designs. The best way to do this is by connecting to an eCommerce platform or marketplace. Fortunately, the Printify merch maker supports automatic integrations for Shopify, eBay, Wix, WooCommerce, Etsy, Squarespace BigCommerce and PrestaShop.
Design Ideas For Custom Can Coolers
Weddings, Halloween parties, Christmas dinners, birthday celebrations… What do they all have in common? You guessed it – people enjoying their favorite beverages. And with so many themes to work with, there are tons of design ideas to choose from and personalize your printed can coolers.
Pick one of our blank can coolers and design it to be a bestseller in your store.
If there's a perfect event for personalized can coolers, weddings are probably it. You can offer a customized Koozie® that includes the initials of the newlyweds or their shared family name. Displaying the date and location of the wedding is also a nice touch.
Wedding guests will enjoy a cooler sleeve design that includes a good pun or an inside joke about the couple, but you can also go with a more general design. For example, you can adorn the beer and soda cans in a tux and a dress or have a specific design theme, depending on the time of the year the wedding is taking place.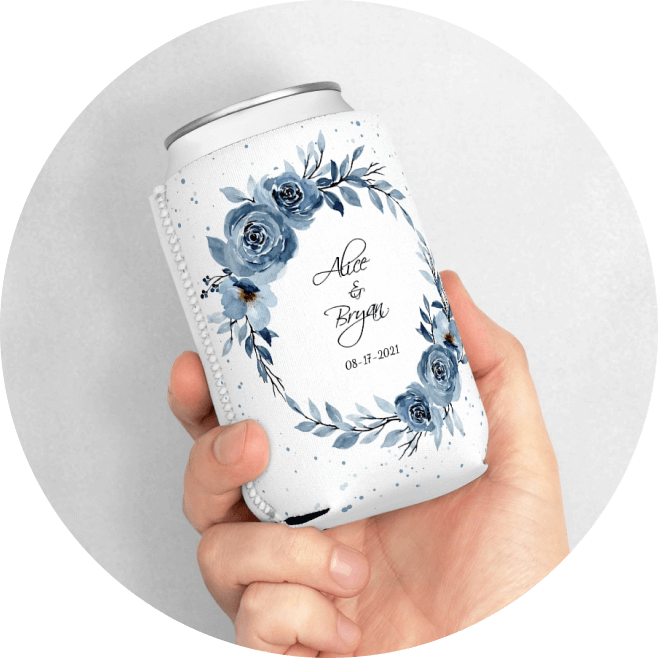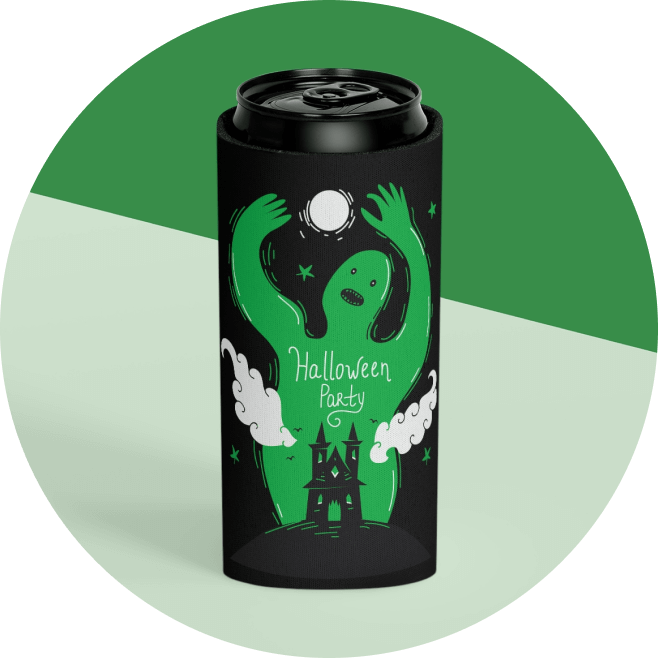 Halloween brings parties left and right. Make sure to have a collection of customized designs during the spookiest time of the year. For example, you can create typography designs with a creepy font, come up with patterns of ghosts and jack-o'-lanterns, or use clever Halloween puns.
It's also good to offer personalized cooler sleeves for Halloween parties to give your target audience a more personal touch. You can be sure about the cooler keeping the beer cold, just make the design fun and personal.
Whether your audience is looking for gifts or party favors, the season to be jolly comes with plenty of sales opportunities.
Can't think of the right design? Try creating a collection of ugly Christmas sweaters for beer and soda cans so your buyers can party in style. You can always go for a more traditional design that wishes Merry Christmas, depicts Santa and his reindeer, or gives that cheerful Christmas spirit in any other way.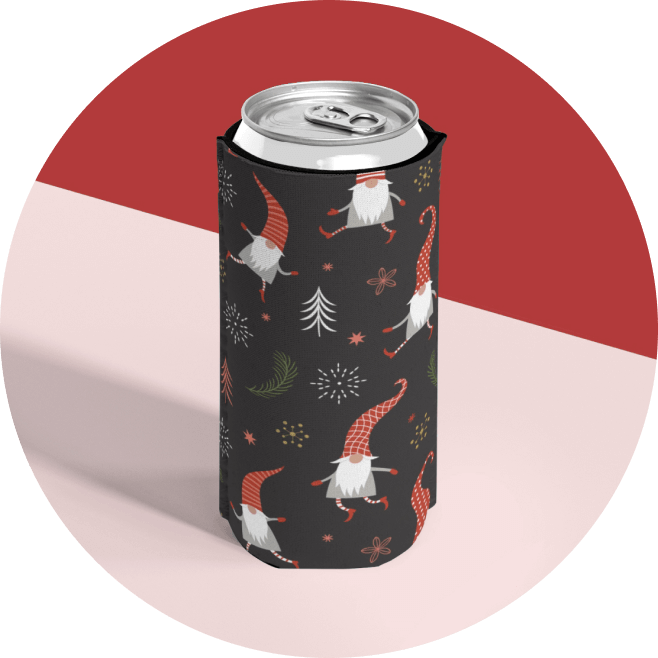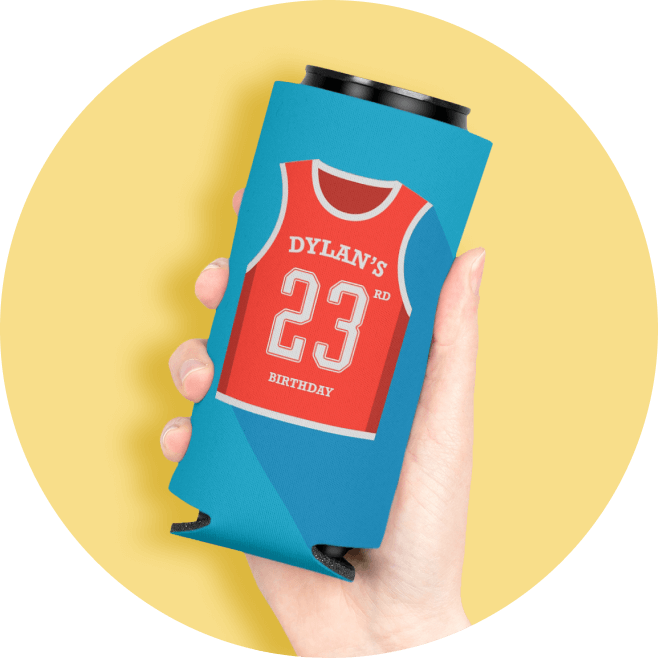 When it comes to birthdays, it's all about personalization. To start, think of some themes your ideal customer might want to pick for a personalized Koozie®. These can be seasonal designs, quotes from TV shows or movies, sports-related visuals, etc.
Once you have the design ready, you can offer your buyers the option to include their own names in the design. This way, you can simply use your ready-made designs and make the necessary adjustments to keep the design more personalized.
Frequently Asked Questions
Why wait any longer? Design your own can coolers and start making money right away. Sign up with Printify and create products without any upfront costs, and we'll take care of production and shipping. Just spread the word about your store and see the sales come in.
Start Selling Custom Can Coolers