A SHYFT of Fortune: How Raihanaty Started a New Apparel Brand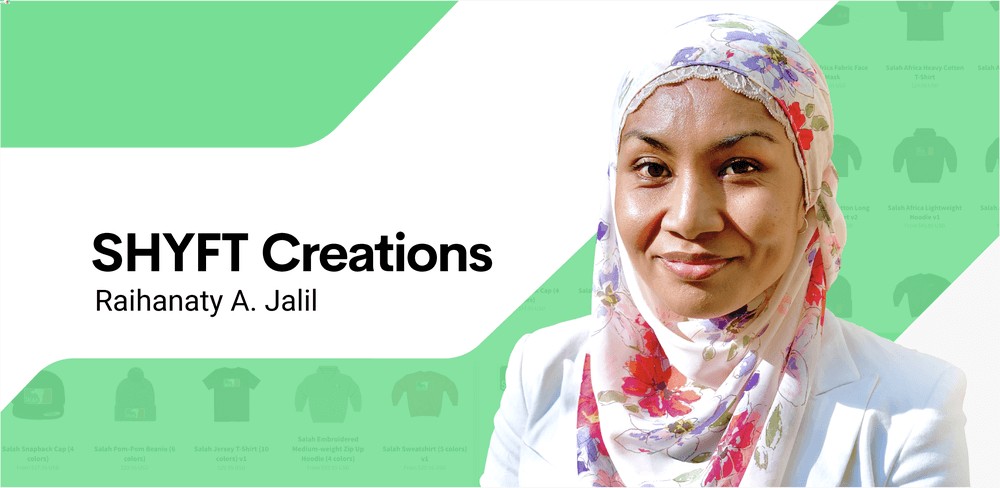 The hardest part about starting an online business is exactly that, starting an online business.
It can sometimes take years of experimentation before finding a successful product idea or business niche. And if you happen to be a complete newbie in a competitive market like print on demand, that becomes pretty daunting prospect. 
However, like many things in life, if you want to start a successful online business of your own, you're going to need to overcome your anxiety and hesitation. For some that's easy, but for the resort of us, the process begins with a change in mindset or circumstances. That's why it never hurts to hear the account of a newbie who got it right to guide us along the right path.
When Australian entrepreneur Raihanaty A. Jalil made her very first online sale, it inspired her to launch SHYFT Creations, a unique apparel brand that fuses a love of Hip-Hop with Streetwear, creating an inspiring clothing brand with a positive and uplifting theme.
We recently caught up with Raihanaty to chat about her apparel company, eager to learn about her success story and find out how she grew her brand.
Fresh Online Entrepreneur Takes on Print on Demand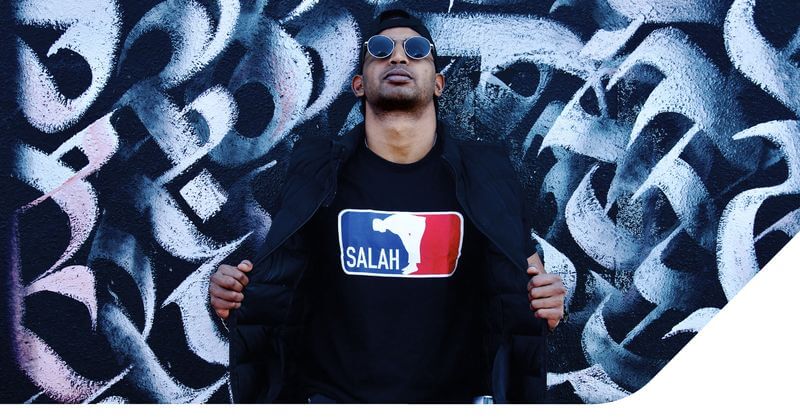 What made you want to be an online entrepreneur?
I've had a very varied career, I graduated with majors in mathematics and chemistry and started my working life as a high school teacher. That only lasted for a year before I moved on to a job as a youth worker. I always knew that I wanted to do something bigger. I wanted to help people, but I wanted it to be more of an "out of the box" kind of thing, ideally as part of my own business. Becoming an online entrepreneur seemed like my next step.
Was SHYFT Creations your first attempt at an online business?
Definitely not. I tried all kinds of things over a ten year period, like working at an Apple store whilst I figured out how to create the perfect online business.
One of the biggest realizations during my journey was that I couldn't see myself doing service-based jobs forever. As a freelancer, there's no real business as such, as you have to do all of the work yourself. When you're an entrepreneur, you're looking for ways to outsource the work so that you can concentrate on growing the business.
I guess that ever since I discovered print on demand, I realized I'd been working on the wrong business models for ten years.
SHYFT Creations ended up being the brand that really gained traction for me. I'm now making consistent sales and getting some incredible feedback, which is such an amazing and pleasant surprise.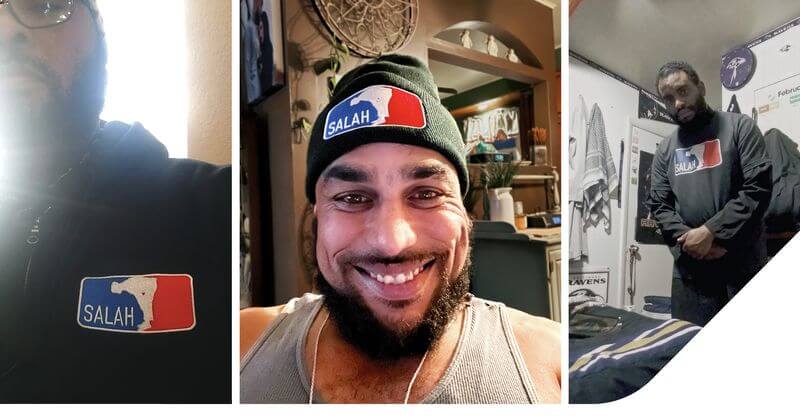 How did you find out about print on demand?
Initially, I had no idea that this would be about making money. I was actually hunting for a t-shirt design that I'd seen many years ago, inspired by a basketball logo. It was a gift idea, and when I couldn't find the design I was searching for, I decided to investigate if I could print the design myself.
As it turns out, the process was really painful. I'm not a graphic designer, so it took me about 20 hours just to make one simple t-shirt.
I settled on Printify because even though the shirt was going to be a gift, I liked how easily the site integrated with eBay. I figured that since I'd put so much effort into this design, I should at least see if anyone else wanted one.
Starting Small and Still Winning Big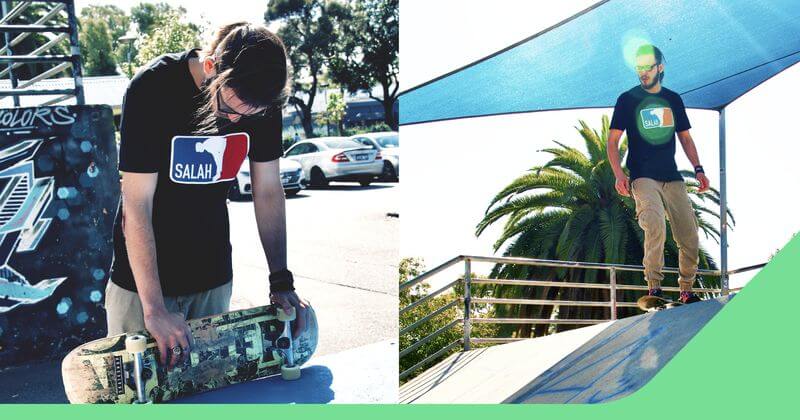 How did your one t-shirt become an apparel brand?
After a couple of months sitting on eBay, I eventually received an email telling me that my t-shirt design had sold. After a third sale, I figured I should start an online business and take the process more seriously.
I didn't tell any of my friends or family, until after I had eventually launched my website and brand in November 2020. By the end of the month I'd made my first sale and I've been making consistent sales through Facebook Ads ever since.
What inspired you to take such a leap of faith?
One of the biggest influences on me has been the renowned eCommerce entrepreneur and mentor, Tai Lopez. One of his mantras is that "the one who experiments the most, wins". His approach to making money is centered around the idea that there's no right or wrong, everything you do is just an experiment. He's constantly testing his ideas and encourages people to try multiple angles.
That's why I decided to just set up a bare-bones website and see if my idea worked. If I failed, I figured it was all a learning process and I could simply apply it to a new experiment.
That's probably how I got my confidence. I knew I was going to succeed because I wasn't focused on one single business, but on a process of constant experimentation.
Print on Demand for Beginners Tip:
Raihanaty has the perfect mindset and positive outlook to succeeding online. It's hugely important to enjoy your entrepreneurial journey, without stressing too much about your results, especially in the early days. Print on demand doesn't require any up-front investment or stock, so it's the perfect place to start.
Pro Tips From a Successful Newbie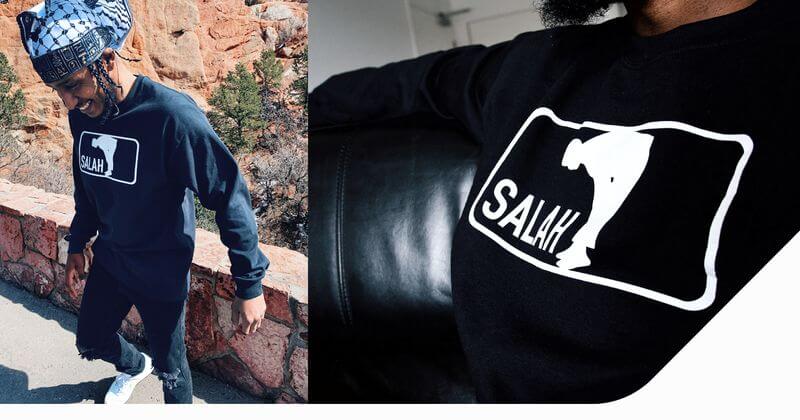 What's important for a print on demand newcomer?
If you're a new print on demand seller, I'd say that the most important thing is to always think about your market. Your audience is really important. Everything in e-commerce centers around the people that are going to buy your products.
I knew that my audience were likely to be Muslim, although perhaps not entirely. I knew that most of them would be guys that liked sports, hip-hop and looking good. I tried to think about how brands like Nike and Fubu marketed their products and tried to tap into that culture.
I thought really carefully about the colors I used, and even the lingo and photography on my site needed to reflect that streetwear vibe. You need to be relatable and appealing if you're going to promote apparel, and you need to grab people's attention instantly.
Print on Demand for Beginners Tip:
Raihanaty's brand and style might be on point, but there's another reason she's found success with SHYFT Creations: She's picked an original and very specific niche. Instead of offering regular street clothing or products based on a religious faith, she's successfully fused two niches to fill a gap in the market.
Finding the Right Tools for Your Business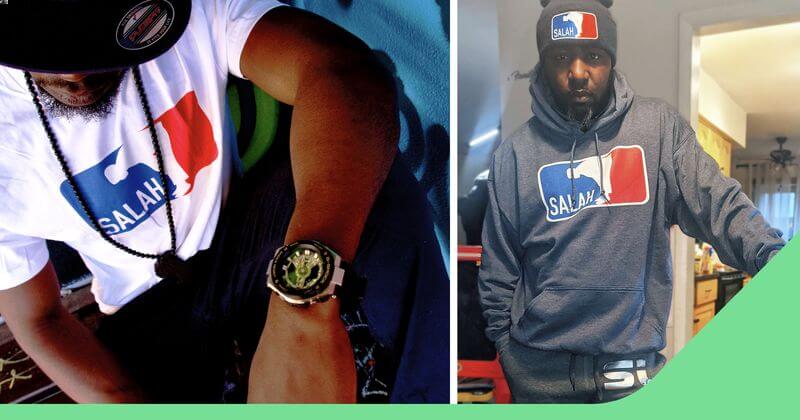 What platform are you running your website on?
My website uses Shopify. I absolutely love the platform. I originally started out on WordPress, as I have a little bit of experience building sites this way. In the end, I wasn't happy with what I'd made and I decided to try something different. Shopify appealed to me because of all the tools and applications that come with it. You can do anything under the sun, and it's super easy to use if you aren't very tech savvy.
Print on Demand for Beginners Tip:
Raihanaty probably made the right decision to opt for a Shopify based site. WordPress is a really powerful platform that can be customized for literally any use or style of website, but it can be tricky to use once you start trying to integrate shopping carts and online storefronts. An already available integration such as Shopify or Etsy are better ways.
What tools do you use for your store?
I think the most important tool for an online entrepreneur is a good email campaign app. I personally love Klaviyo, it's so easy to use compared to some of the big named providers. Klaviyo makes it super simple to set up email campaigns and automate a lot of the processes on my site like welcome emails and mailing lists.
It's important to automate your mailing lists and create follow ups so that customers remember who you are. It can definitely lead to additional sales, so never be afraid to offer more products to your list.
I also use a service called Yotpo, which allows me to automate the process of asking customers for reviews. This app also integrates with Facebook and Twitter, enabling you to post testimonials automatically to your social media feeds.
How do you create your products?
I should start by saying that I love the Printify mockup generator. It keeps everything consistent and allows me to keep my brand looking sharp and professional.
When one of my customers reached out to me asking if I could create a Pan-African flag design with a green, red and black palette, I thought I'd give it a try myself. I'd not really tried any design work since my original 20 hour attempt, so as you can imagine it didn't go too well.
Eventually I decided to hunt for a freelancer on Fiverr. It was a great investment, as I was able to trade $10 for hours of my own time and piece of mind.
Print on Demand for Beginners Tip:
Outsourcing your design work to a freelancer can be a fantastic way of automating your business. However, whilst places like Fiverr are good places to search for design talent, they can be hit or miss. Always keep the following tips in mind:
Keep your requests simple and easy to understand. Your designer might not use English as a first language.

Be patient and engage with your freelancer in a friendly manner. You'll get far better results if you can form a good working relationship.

If possible, get your designer to create template files that you can easily manipulate yourself, cutting down on extra work in the future.

Pay careful attention to a freelancer's feedback and response to any negative reviews they may have received before making a commitment.
Cracking the Code on Marketing and Shipping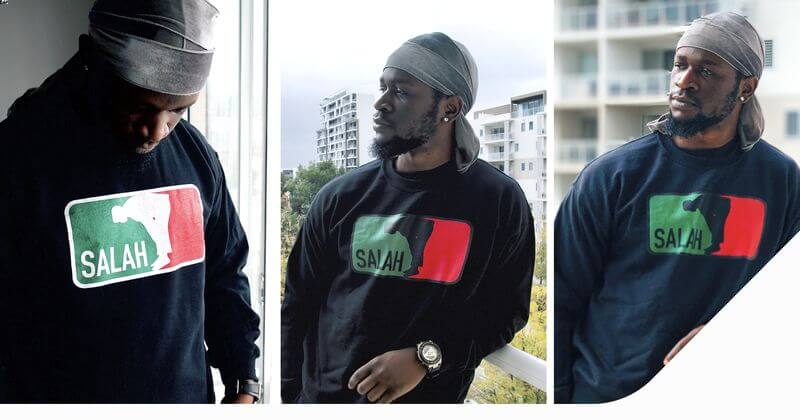 What have you learned about advertising so far?
That everything is a trial and error process when you're an online seller. This journey has taught me that I don't necessarily have any of the answers myself, but I can learn to use tools that will help me. For example, I've created Facebook ad campaigns that featured photos that I really loved and thought would work well. As it happens, the images that I considered boring actually had much better engagement.
How important is testing?
Definitely. The key thing for me was getting used to the idea that I wouldn't make a sale until I'd tested 10-20 ads. I try to stay methodical, running three day tests and learning from the results. I experiment with pictures, headlines and wording, as well as videos. I test everything until I find the right audience.
I was lucky enough to have a very successful ad campaign for one of my beanie hats. It just happened to be winter in the USA and I went from my usual 10 likes to over 700! I was able to scale the ad over a week or so. I had lots of interest from the UK and Canada too.
How did you figure out international shipping?
I just found the entire process of calculating shipping rates really complicated. So I decided that because my profit margins were decent, I'd try out flat rate shipping instead. I later found out that people would buy more products if the shipping was flat rate, which was a double win for me.
However, going with a flat-rate was not an easy decision to make overall. I spent a long time scrutinizing spreadsheets trying to work out if I would lose too much money. So far it's not been too bad.
What have you learned about customer experience?
I'd say that working for Apple taught me all about customer service: The key is to acknowledge what a customer is feeling, offer a solution to their problem and show your commitment to helping them realize that solution.
I mentioned the Pan-African flag design: When I first started out I only had a couple of designs that were based around the NBA logo and its colors. A few of my customers reached out and commented that they loved the designs but weren't so into the color schemes. I had someone email me to ask if I'd consider creating a design with the green, red and black color scheme. That led me to branch out and create separate "collections", which proves how important it is to listen to your audience.
What do you love most about print on demand?
I love the passive income model that it can create, because it allows me to focus on things I'm passionate about. I love writing, so I'm working on self publishing a book of poetry towards the end of this year. If you're a new print on demand seller, never forget the power of your customers and what you can learn from them.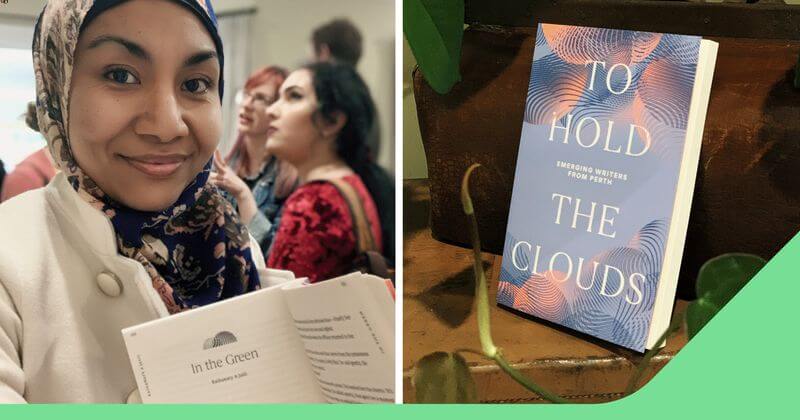 Check Out More of SHYFT Creations and Support Raihanaty.
We Want to Hear Your Story:
We would like to thank Raihanaty A. Jalil for taking the time to share her story with us.
Do you have a story to share with us? Write to us on [email protected] with a summary of your experience and how it will help other merchants like you. If we pick your story, you get a one-year premium membership for free!
Create Your Own
Print on Demand Success!
Share the article
Topics