Afro Unicorn X Walmart: April Showers Becomes the First Black Woman to Partner With Walmart for Party Supplies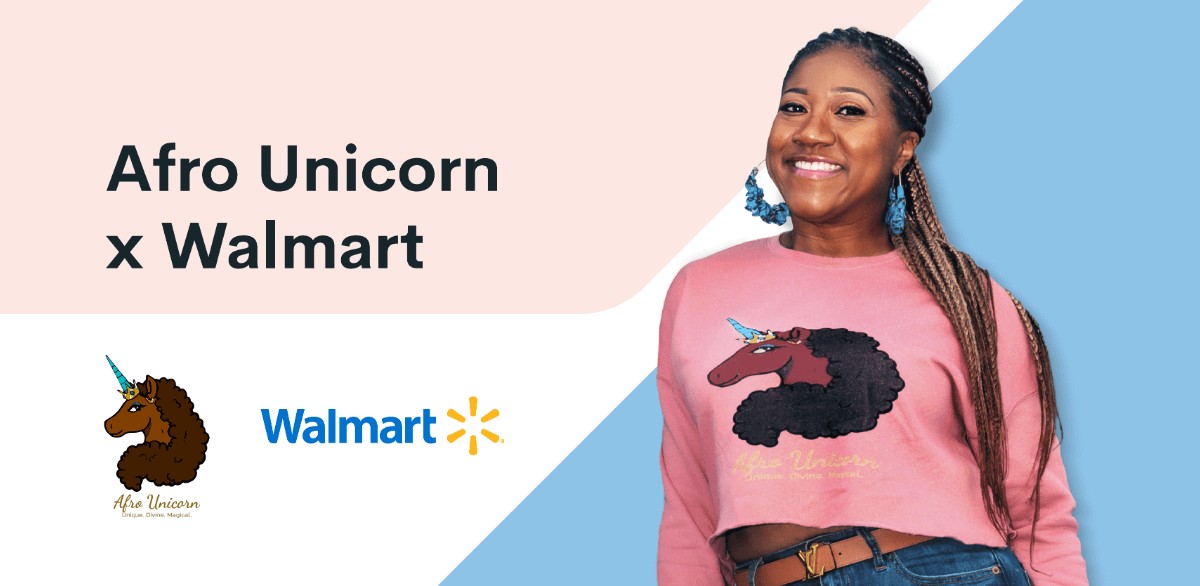 For our last success story of 2021, we're catching up with the brilliant April Showers, first featured on our blog mid this year. April showed us how she grew her brand, Afro Unicorn, and developed a strong community around it. Since then, April has achieved what many can only dream of: A brand partnership with Walmart, the largest retailer in the USA!
As a merchandise and clothing brand, April created Afro Unicorn to empower and inspire women of color to pursue business opportunities. Having Afro Unicorn products on the shelves of such a massive company as Walmart is an enormous cause for celebration for us all. It's also a significant win for a community-based brand focused on representation and pride in one's identity.
Hi April, Welcome Back. Tell Us How Afro Unicorn Has Evolved Since Our Last Chat?
"Since then, I have continued to develop the Afro Unicorn brand. I'm happy to report that I'm now the first Black-woman-owned business to enter into the party supplies in a significant retail store! To put it into perspective, Afro Unicorn is now sitting alongside Mickey Mouse, Finding Nemo, and Elsa from Frozen from the mega-brand Disney! That gives me pause with gratitude.
I always wanted Afro Unicorn to be a household name. But I didn't think I'd get there without selling the business. In the end, I discovered I am really a unicorn with Black girl magic, and I got it figured out."
In our last interview, we learned that April created Afro Unicorn to address a lack of representation for WOC. But the brand developed into a strong community with a clear vision of empowering women of color to start their own businesses. To that end, April was keen to build Afro Unicorn slowly while shining a spotlight on small business owners and promoting their ventures.
What Has Been the Most Significant Investment Into Afro Unicorn?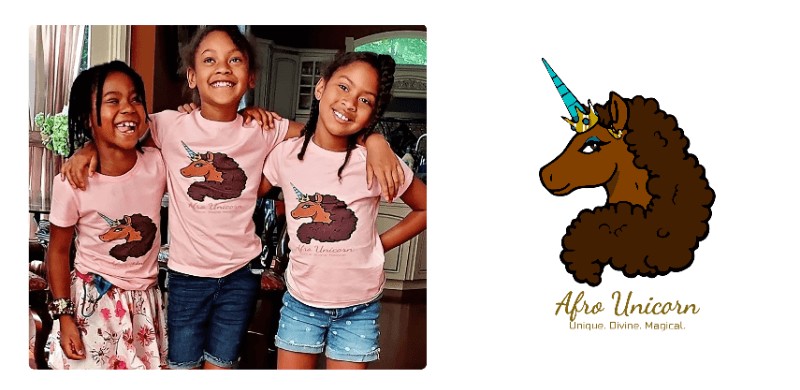 "Time has definitely been the biggest investment. A few of my colleagues like to joke that I prefer a slow marketing style. I prefer to do organic marketing versus paid adverts to get the products seen.
When you do organic marketing, it helps to leave a longer-lasting legacy, whereas paid ads only work for the duration of the campaign. I spent hours searching through Instagram to find ideal customers to let them know about the brand. I'd message them and say things like, 'I see you describe yourself as a Black unicorn, well I have a brand called Afro Unicorn!'
I'm convinced that I single-handedly created the trend of adults wearing unicorn clothing. Organic marketing is cheaper, but you have to put in a considerable amount of time, so of course, I understand that I'm still spending money in a way."
With so much time devoted to marketing and a dramatic surge in popularity, April has had a busy year. Yet she's managed to find time to raise a family and involves her children in the business:
"I didn't want to give up time with my children, so I invited them into the business. My 15-year-old son Jessie is now my right-hand man. He does so much to help keep things running smoothly. He booked all of the travel for an upcoming Walmart strategy meeting and helped complete orders before he went to school. He's been an enormous blessing to me.
I always made sure that I scheduled quarterly trips to celebrate our wins. We missed out on a few outings and didn't eat out as often the last two years, but so was everyone. The self-isolation allowed us to focus and removed lots of distractions to grow the brand."
The Viral Video That Changed Everything
Thanks to the countless hours spent on Instagram outreach, Afro Unicorn grew in size and popularity. The value of such an enthusiastic community became clear when a video of a little black girl wearing an Afro Unicorn t-shirt went viral:
The mother of Cassidy Brianna, a kid influencer on Instagram, shot a video of her daughter. Cassidy was wearing an Afro Unicorn t-shirt when she said the now memorable words "It's an Afro" in response to a compliment about her hair. The clip went viral with celebrities such as Viola Davies, Tina Knowles, and Oprah Winfrey sharing the clip. The Afro Unicorn community flooded the comment sections tagging Afro Unicorn, and soon after, Walmart reached out asking to post it in their IG stories.
April: "It was my community that got Afro Unicorn into Walmart in the first place."
After the Instagram video went viral, April received an email with an enticing subject line: 'Afro Unicorn X Walmart Collaboration.' Thrilled at the prospect, she quickly set up a meeting."
Afro Unicorn X Walmart:
The Record-Breaking Collaboration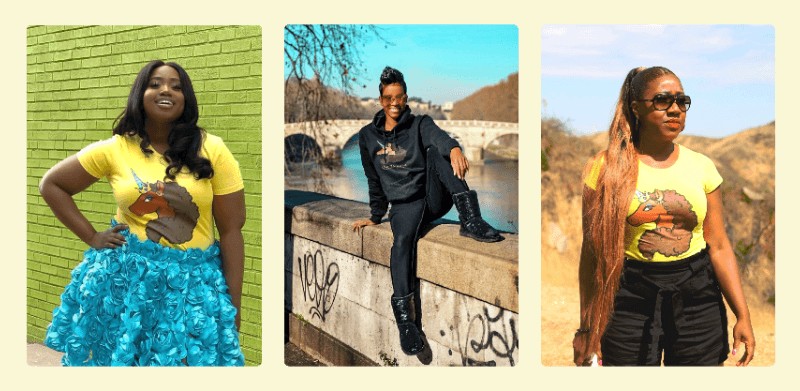 "I set up a Zoom call, which ended up being scheduled for 6:30 in the morning, as Walmart was on central time. I ended up taking the call on my laptop in my bedroom. The representative told me that she was in the party supply category and loved my brand. I'd written down a goal that I would have an Afro Unicorn stuffed animal and party supply products, so that was amazing to hear.
I'd always wanted to create party supply products such as wrapping paper, plates, and napkins. But it's so expensive sourcing it yourself, so I'd always presumed that the only way I'd be able to achieve my goals would be to sell the brand to a corporation. Walmart told me that they had manufacturers that worked with licensed brands and could get Afro Unicorn products into stores. I began working with a new business manager, Askia Fountain, who pointed out that many big brands like the Ninja Turtles and He-Man became household names once they made toys under license."
Luckily, April had the foresight to trademark and copyright Afro Unicorn in February 2019. That meant the only thing left to do was convince Walmart's marketing department that she could grow the brand.
"It was my community that got Afro Unicorn into Walmart."
April the Unicorn Prepares the Perfect Pitch
In April's eyes, nothing on the shelves in major retail stores stood for representation and pride in black identity. The idea of getting Afro Unicorn onto the shelves of Walmart was enough to make her cry. But first, she'd have to make a killer presentation to wow the Walmart marketing executives.
"They wanted to see a presentation to learn more about how I was going to market my brand effectively. I think the manufacturers were skeptical about whether I could pull it off. As black women, we know this feeling all too well. I was about to prove my case.
I'm not very technical, especially with Canva and other presentation tools, but I am a self-proclaimed Unicorn, so I figure it out. With the help of Kalea of KSW Social Media, I put together a marketing presentation and set up a meeting.
I felt like my whole identity was being questioned, so I put a tremendous amount of effort into the presentation, which in the end, blew everyone away. They told me that they'd never seen anything like it before, and that included big brands like Disney and Nickelodeon."
April's Vision Comes Full Circle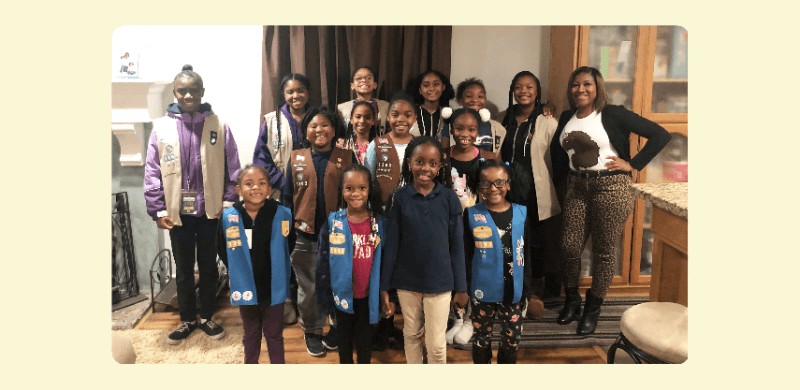 Afro Unicorn started as a platform for representation and inspiration. April held conferences where women could pitch ideas to investors and entrepreneurs. But she never dreamt that she'd be pitching her own brand to the likes of Walmart. Although it's a dream come true, April has always believed that anyone can realize their goals.
"When I first started Afro Unicorn, I had a pre-launch party with some of my closest friends. I used to use the line 'if they don't give you a seat at the table, bring your own folding chair.' So we literally had a party sitting at a table with folding chairs. The fact that Walmart made room for Afro Unicorn at the table means everything has come full circle.
"I haven't made any official posts about Walmart, as we're not in stores until May 2022, but the community knows about it. They're elated, and it affirms for them that anyone can achieve their dreams."
After the presentation, April began the process of product development. In a few short months, she was able to take Afro Unicorn from an eCommerce hustle to the shelves of the USA's largest retailer:
"After I'd set calls with a couple of manufacturers, we were able to develop an amazing line of party stuff. We designed napkins, balloons, tablecloths, mugs, lip glosses, and plush toys. It's amazing to see and live it."
The Journey to Walmart Stores Begins
"Walmart has a mockup store in Arkansas, where they add products to the shelves to see how they will look in real stores. Afro Unicorn went through that process and got accepted, then other departments saw the products and wanted their own items. I now have two shirts and two sets of pants going into the children's section, as well as Christmas wrapping paper and a full line of color-changing mugs. Overall, we're now in four Walmart categories!"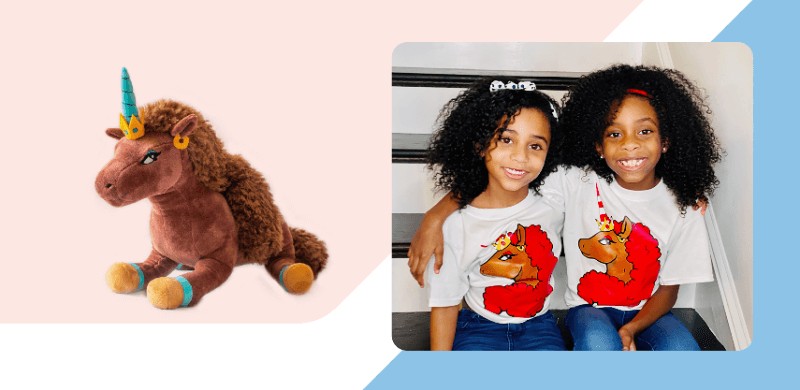 Now the dust has settled and the Walmart partnership has been finalized, April is delighted. However, she's aware of the challenging journey that lays ahead:
"Afro Unicorn is going into over 3,800 Walmart stores, out of a total of 4,000. So we're going nationwide, including Puerto Rico. That's huge, and I'm excited, but on the flip side, I'm no longer an eCommerce seller; this is a brick-and-mortar retail store. I now have to shift gears from the online mindset and figure out how to get people into the stores. To that end, I've had to build a team to strategize, brainstorm and help me create a strategic plan.
If you don't feel a little bit of fear and hesitation, you're not going in the right direction. I feel a lot of pressure, but it's still wonderful to be able to do all this. The fact that I'm the first Black woman doing this means that I represent not just Afro Unicorn, but the entire culture behind it. All my packaging says, 'Afro Unicorn, because representation matters. Woman-owned. Black-owned.' That's going to end up on the shelves of Walmart, and I love it."
The Future for Afro Unicorn
Afro-Unicorn x Walmart products will hit the shelves in 2022. And that's just the beginning. April plans to get the Afro Unicorn brand into homes across the USA.
"I still hope for the brand to be a household name. Next for Afro unicorn is books and hopefully an animated TV series. If you think about Mickey Mouse or Elsa, I'm the only brand without an accompanying story. So there will be an animation and storybooks in the works."
And if April achieves her goals, would she ever be tempted to sell her trademarked brand?
"I always want to be the majority owner of my brand. At first, I thought I'd have to sell the Afro Unicorn name, but now I know I don't need to. I want it to sustain my family forever, with the name April Showers still attached to the brand."
"Stay Driven, Stay Focused, and Believe In Yourself."
With worldwide success firmly in April's hands, she has this to say:
"I put in so many hours, and I didn't allow anyone who couldn't see my vision to hinder me. I realized from the beginning that the vision I had was meant for me alone. The glasses that I see through are my prescription and don't belong to anyone else.
I'm also a firm believer that you must write everything down. You need to confirm what you're thinking inside your head. Anything is possible if you believe it, write it down, and execute it."
Let's all congratulate April Showers on her tremendous achievement by supporting her and showing out for her Walmart collaboration. Please follow Afro Unicorn on Instagram, Facebook, her web-store, and across social media. Keep repping Afro Unicorn from wherever you are. Don't miss the biggest drop of 2022!
Printify congratulates April Showers on becoming the first black woman to soon have her products on party supply shelves in 3800 Walmart stores across the US. We are proud to be part of your journey and will always show our support. Thank you to the Afro Unicorn team for choosing us.
Create Your Own
Print on Demand Success!
Share the article
Topics