Why This Champion T-Shirt Is Winning the Print-On-Demand Race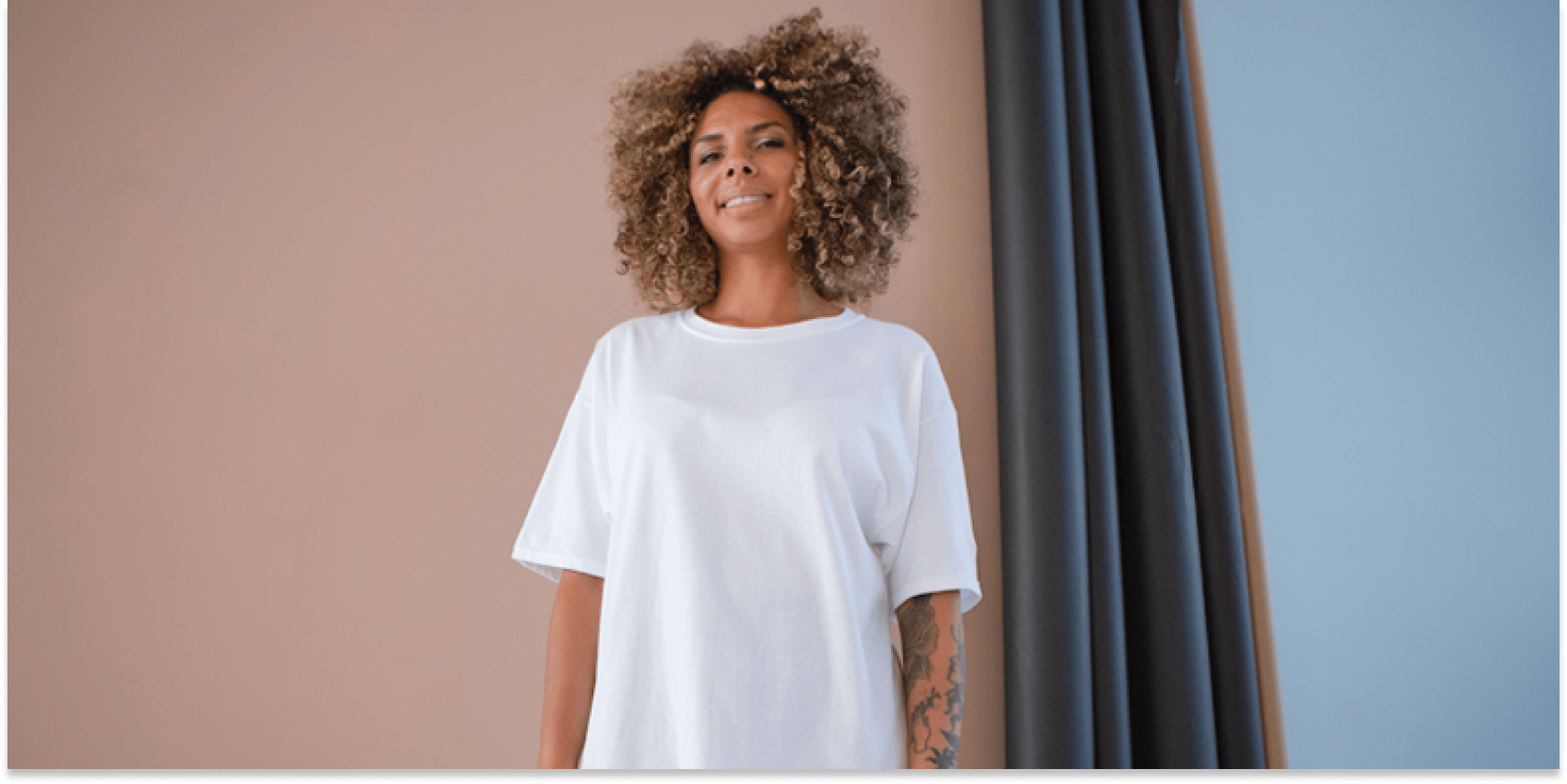 Picking the perfect shirt should be easy. Fortunately, Champion has you covered there.  
This Champion t-shirt is made from quality materials like ring-spun cotton, fits great around both shoulders and waist, and is able to support a stellar print job. In other words, these factors make this Champion t-shirt a solid contender for most popular base shirt out there.
Why Include Champion T-Shirts in a Store Lineup?
Long story short, because this model has been making serious waves throughout the print-on-demand ecosystem for years now. This recurring fame is largely a result of the garment's seamless combination of fashionable fitting, superior product engineering, quality construction, and the presentation of a display surface that allows for vivid color expression in designs. 
In other words, the shirt itself is solid. This feasibility has made it a regular contender in worldwide shirt sales – following a predictable pattern of significant popularity spikes coinciding with major sales events like Black Fridays, sporting events, the winter holidays, etc. Let's go over a few of the reasons this model is so popular.
Not all shirts are created equal. They're a composite of a variety of factors that, together, can result in an outcome far greater than the sum of their respective parts. This Champion t-shirt is an excellent example of just that' it feels good while looking better – in both fitting and the printed design on front or back.
Here's an easy breakdown of this shirt's key features:
Firstly, these Champion t-shirts are 6 oz. This measurement is a bit of a misnomer because (if you put a shirt on a scale) it won't weigh 6 oz. Instead, this is a description of the weight of fabric per square yard used to make a shirt type. Therefore, a higher number is a good indicator that the fabric is thick (usually meaning stronger, warmer, softer, and more durable). For comparison, lighter shirts can be found around 3 oz., mediums range 4.5 oz. to 5.3 oz., and heavies come in at 6 oz. or above. 
Now, while this Champion t-shirt falls on the heavier side, the breathability of its quality raw materials prevent wearers from overheating while still providing warmth – the best of both worlds. This is an important factor for POD merchants. As the T425 is suitable for a spectrum of temperatures, it's ideal for broad customer demographics (both hot and cold climates).
These are made of 100% ring-spun cotton. This is a fabric world-renowned for durability, comfort, and usefulness created by applying additional processes to cotton refinement. Anyone familiar with this cloth is well aware of how wonderful it feels against the skin. 
As a superior material, the champion t-shirt will last longer than a cheaper, conventional cotton counterpart. The only drawback is that there are often higher costs associated with sourcing and production.
Disclaimer
The T425 is 100% ring-spun cotton for all colors except Light Steel and Charcoal Heather, which include other materials than ring-spun cotton. Light steel is a cotton-dominant composition that includes 10% polyester. Charcoal Heather is a cotton-dominant combination that includes 40% polyester.
This Champion t-shirt has no side seams. This removal takes away any possibility of that itchy scratching that some shirts prickle down the sides – especially during hot, sweaty moments. Furthermore, this process reduces fabric waste, making better use of available resources, and drawing less from the earth.
Champion does a great job of remaining true to themselves while also encouraging their customers to express themselves. Instead of making all shirts sport a massive logo, the company instead sticks their trademarked "C" in a manageably small size on a single sleeve. It's more of an accent than anything else.
This model of Champion t-shirts is reinforced with neck-to-shoulder taping along that all-important seam. This location supports a great deal of strain throughout the lifetime of a shirt. So, bolstering that fault line is a prime way to extend the Champion t-shirt's usefulness.
Moving on, all seams are worked over with double-needle topstitching. When it comes to stitching, one needle is good, but two is better. Why not three? While it is possible, that would be a very thick layer over the seams – almost like a super lengthy patch.
Removing that awkward flap from the back of the neck is an obvious improvement. They can flop out from the top, form a bulge in a weird spot, or rub and chafe along the spine. Furthermore, this removal gives merchants the stage by taking away that branding location.
The Champion T-Shirt Has a Strong Base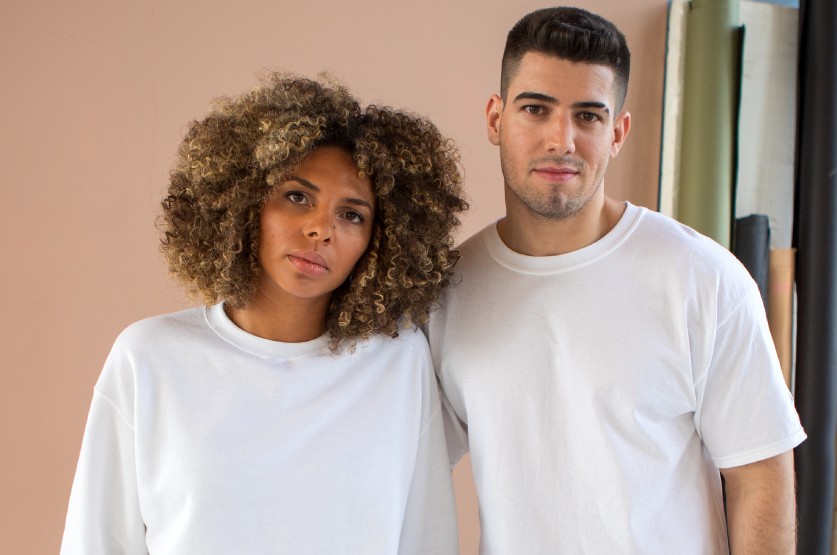 As an industry OG, Champion is acutely aware of how the t-shirt evolved through time. Originating as the Knickerbocker Knitting Company back in 1919, the brand is now firmly established throughout conventional clothing environments. Their trademarked red, white, and blue "C" logo is virtually universally recognized due to the company's extended longevity, engagement in regular familiarization campaigns, and through business alliances with prominent (lucrative) organizations like the NBA (the 1980s) and the NBA2K (2019). 
In addition to routine use amongst a more athletic-oriented crowd, Champion t-shirts (and other items) also occupy a large component of the casual retail realm. But it's far more than just basketball-related demographics that have connected with Champion t-shirts, hoodies, and other such branded products. The company has a proud history of inventing both the first hooded sweatshirt and sports bra. These (and several other) accomplishments lend them a significant degree of credibility – a thing difficult to sustain in the shifting crucible of modern business.
Here's How Easy It Is to Sell Champion T-Shirts With Printify
Even if you've got the perfect product, a few more factors need to come together before a business is profitable. Fortunately there, Printify has the whole thing covered. Any merchant can become fully operational without a single upfront payment. Everything can be accomplished by following these 5 easy steps to becoming a print-on-demand success with the Champion t-shirt T425.
1. Consider Print-on-Demand (POD) Dropshipping: This is the business model Printify uses to help our merchants succeed. Here, merchants create digital inventories in online stores, customers buy those virtual items, and then the money the customer provides is used to physically create and ship the product. This means that the merchant never takes any risk in business proceedings. Because it's 100% free, profitable, and accessible it's becoming more and more popular. See some of our success stories to get inspired.
2. Sign Up with Printify: Starting at the beginning, registration is entirely free. No commitment there. Startup costs are a huge hurdle for budding businesses, so we do our best to make sure that merchants don't ever have to foot the bill.
3. Design some products: Once you're in, you'll have an online store. So, to stock those virtual shelves, there's a handy Mockup Generator that can be used to create a diverse inventory of products. There are over 300 right now, but let's focus on shirts. Simply select the Champion t-shirt T425, upload a design (via drag-and-drop, if desired), and place that design onto the shirt's printing area. That viable product is now ready to be sold.
Free trial?: No need, the whole thing is free! Furthermore, the Mockup Generator can be used even if someone doesn't want to sign up. We fully encourage any prospective vendors to play around with it. It's a fun way to see if the print-on-demand environment is a good fit for you.
4. Branch Out: This is where things get exciting. Without investing anything, you've got an online store and an inventory of Champion t-shirts. However, those items still need to reach the customer somehow. For this step, we've got an easy integration with big eCommerce platforms like eBay, Etsy, Wix, Woocommerce, Shopify, BigCommerce, and Prestashop. Lastly, we have the Printify API if you've got a more tech-savvy solution in mind. This means that your shop can be easily lined up with any of these entities. Then, your products can enter their traffic streams. Exposed to that demand, the idea is that customers start buying and the store rises to stardom.
5. Stay active: There are few feelings as exciting as then the sales first start rolling in. The system is almost entirely passive, so customer purchases, product creation, shipping, and other burdens are totally taken care of. However, it's not a bad idea to continually check out what the market is doing. There are many seasonal items that go better with certain times of the year. For example, your Champion t-shirt T425 sporting a snowy Santa design will probably resonate better in the later months leading up to winter holidays than in June. There are so many opportunities to reach different points of the market, it's all about honing in and acting.
6. Go Premium: While you always have the option to step up, this option is super popular for POD merchants once they've solidified their baselines. The Premium option immediately drops production costs by 20%. This is saved cash that can be used to pay for advertising, lower selling prices, or directly move to profit. It's your money, you decide where it goes.
Two things are needed for a successful business: supply and demand. With Printify on your side, the supply side is pretty much entirely taken care of. The only thing that's necessary is for a merchant to make the decision to tap into the huge (and growing) market for customized clothing. 
Arguably the best part of all this (besides being free) is that it can all be accomplished from the comfort of a couch. The digital accessibility of this model means that anywhere can be an office. All that's needed is some desire and an internet connection during product creation. Start selling custom Champion t-shirts today!
Share the article
Topics