Champion Sweatshirt and Hoodie: An In-Depth Review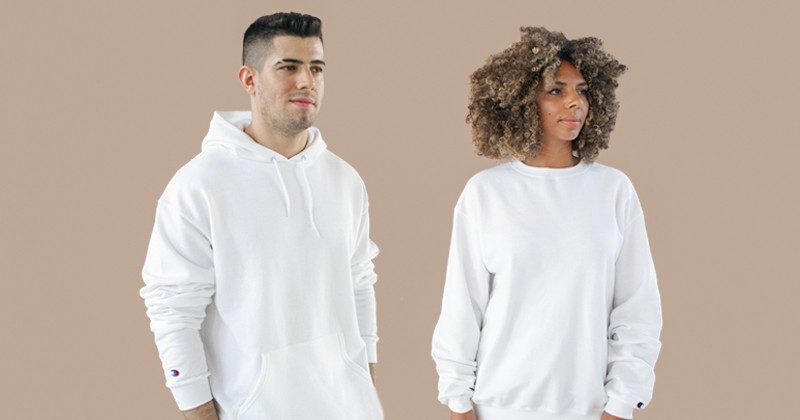 You know you can trust a brand if it's been around for a hundred years and is still going strong. Champion is one of those brands. Maybe that's why they've made the perfect sweatshirt and hoodie. In this article, I will give an honest Champion sweatshirt in-depth review.
The Quest for the Perfect Hoodie
Over the past eight months or so, I have tried out many different brands on my quest for the perfect athleisure wear for lounging around my apartment and going for a quick jog after a long day of dwelling indoors: from cheap to high end, from name to no-name brands. But there's always some issue, whether it's the material, fit, etc. But now, I might have just found the perfect one, and it's a fully customizable Champion sweatshirt. 
A hoodie is not a novel piece or apparel – it's been around for 80 years. Still, it's been enjoying such a revival lately that it just keeps selling out, over and over. Sweatshirts and hoodies are staples in virtually every casual closet. According to The Market Journal, huge growth in hoodies sales over the next six years is expected. 
The hoodie sales growth is big news for any apparel store out there. Whether you already run a print-on-demand dropshipping store or are thinking about starting one, Champion sweatshirts & hoodies are a lucrative business opportunity. In this Champion sweatshirt in-depth review, I will tell you why to add it to your online storefront.
Champion Sweatshirt - About the Brand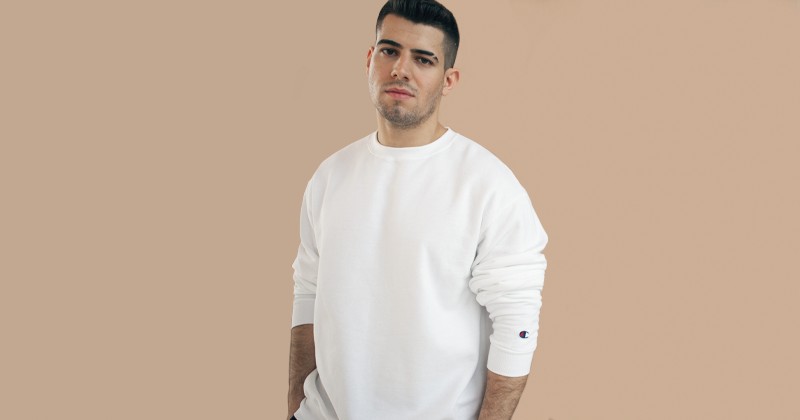 Since its inception in 1919, in New York, by Simon Feinbloom and his sons William and Abraham, Champion has always been focusing on comfy and durable athleticwear manufacturing. The company's original name was a mouthful: Knickerbocker Knitting Company. Last year, Champion turned 100. If that doesn't mean that a company knows what it's doing, I don't know what does. 
Champion established the technology known as the 'reverse weave' and played a significant role in developing and introducing the Champion hoodie and sweatshirt to the world of athletic wear.
The famous red, white and blue Champion logo was born in the 1950s. At first, the logo was on the neck label and featured a running man crossing the finish line, but the brand gradually changed it to the iconic "C" placed on the left sleeve, where it remains to this day. 
As I said earlier, the hoodie is not a novel creation born in the early 1930s. By adding a hood to a Champion sweatshirt for extra protection against the cold, Champion had unconsciously invented what has now become one of the most popular pieces of apparel of our time. Now, the hoodie is the epitome of streetwear. 
Today I will do an in-depth review of both the Champion hoodie (S700) and the Champion sweatshirt(S600) – the latest additions to the vast Printify catalog. I'll look at their features, material, size, price, etc. to help you decide whether these are the best Champion hoodies for you and your eCommerce business.
Why Add Champion Hooded Sweatshirts to Your Store
Champion hoodies are extremely trendy among dropshipping e-commerce stores. By utilizing a print-on-demand platform, like Printify, store owners can create their own designs to make custom Champion hoodies for their website.
When your customer orders a custom Champion sweatshirt or hoodie, our printing partners handle order fulfillment and shipping, letting you focus solely on designing and advertising.
Printify offers to customize the blank Champion sweatshirts. Add your print the designs on the hoodie's front and back using the direct-to-garment (DTG) method. 
S700 Powerblend Eco Fleece Champion Hoodie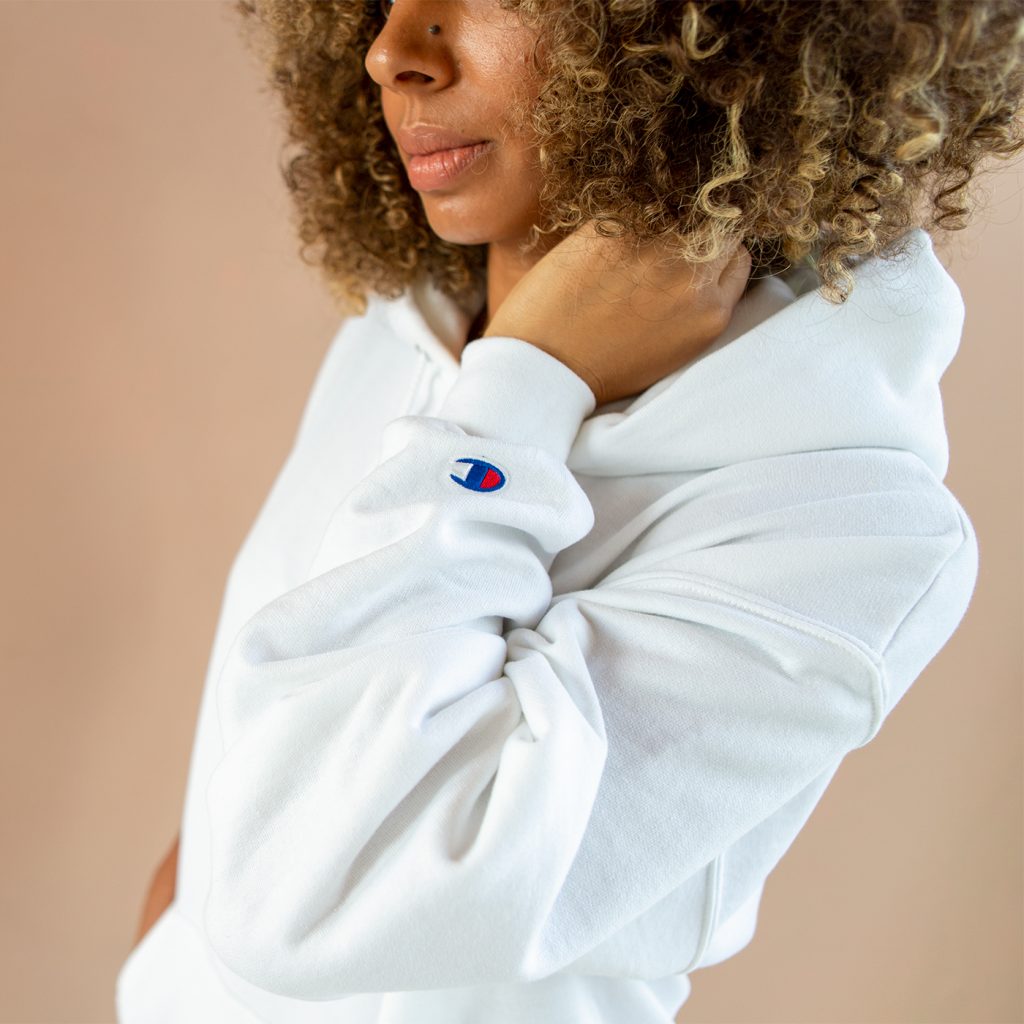 There's a reason they call it the Champion Powerblend Eco Fleece Hoodie: their experts crafted the fabric blend for maximum moisture management and comfort, so your customers stay comfy all day long without feeling sweaty and gross. Printify offers a decent selection of colors and sizes up to 2XL, so whatever your needs are, the Champion Powerblend Eco Fleece Hoodie will deliver. This eco hooded sweatshirt is ideal for customization and, with its oversized fit, will suit both men and women. 
The hooded sweatshirt features Champion's Double Dry® technology that keeps the wearer toasty and warm. It is a medium-weight two-ply fleece hoodie in a regular fit with a spacious frontal pocket. It has the iconic red and blue letter "C" logo on the left sleeve and is made of up to 5% recycled polyester from plastic bottles.
Double Dry Eco® Crewneck Champion Sweatshirt - S600
Made by specially spun fibers that make solid and smooth fabric, this Champion crewneck sweatshirt is perfect for printing. Its ribbed knit make waistband and cuffs highly elastic and helps retain the shape even after many wash cycles. It also has a durable coverstitching throughout the product that makes the seams stronger and long-lasting. Because it doesn't have side seams and is knitted in one piece, it reduces fabric waste and makes the garment more visually attractive.
Championing the Polyester-Cotton Blend
When it comes to Champion hoodies, the material is critical, as it affects everything from the look to durability to day to day comfort.
Champion hooded sweatshirt and crewneck Champion sweatshirt are both made of a 50% cotton and 50% polyester blend. This type of blend is versatile and is used to manufacture everything from hoodies and shirts to bedsheets and tablecloths for longevity and easy care. What are its pros and cons?
Why Choose a Polyester-Cotton Blend?
Poly cotton combines the strengths of both materials. Polyester-cotton blends are very popular in sportswear production due to it being more robust, more customizable, and more versatile – it dries faster than 100% cotton but doesn't stick to the skin like 100% polyester. This blend makes for a perfect canvas for vivid and bright designs. Also, with a Champion sweatshirt, it won't take a lot of ironing. However, if some ironing is needed, we suggest low heat because high heat doesn't work well with polyester. 
In short, poly-cotton garments are:
Soft

Durable

Breathable 

Wallet-friendly
When opting for a polyester-cotton blend, the biggest issue lies in how the fabric is weaved. While pure materials can be weaved very tightly, blended textiles are generally a bit looser. Most POD methods are designed to work best on tightly woven cotton. Blended fabrics are looser, meaning that prints sometimes can appear a tiny bit faded; however, it is more noticeable on, for example, tri-blends, where besides polyester and cotton, there's also rayon.
Champion Sweatshirt Colors
In the Printify catalog, you'll find five base colors for the Champion sweatshirt and Champion hoodie. Both of them come in black, white, and grey, plus two additional universal colors for each model. In my opinion, it's more than enough, as sometimes people can get a bit overwhelmed upon seeing 24+ different colors. 
According to a study conducted in 2000 it's more reasonable to offer fewer variants, as the customers are more likely to make a purchase when offered a limited number of choices. With this study in mind, Printify offers Champion sweatshirts and hoodies in limited base colors to let your designs shine.
Champion Sweatshirt Sizes
Oh, how I despise an ill-fitting hoodie. Back in spring, when the Covid saga began, I ordered myself a name brand sweatshirt and pants, only to realize upon opening the package that the fit is not what I expected. I'm sure you can relate. To avoid these kinds of situations, be sure to check the sizing charts for anything you buy for yourself or offer to your customers.
In general, Champion sweatshirts tend to run small, so order one size up for a comfy fit. However, you shouldn't just look at the letters on the label; it's better to take measurements and check the sizing charts to ensure you get the fit you want. Here are the size charts for both the Champion hoodie(S700) and Champion sweatshirt(S600):

Champion S700 Powerblend Eco Fleece Hoodie size chart, imperial.

Champion S600 Double Dry Eco® Crewneck Sweatshirt size chart, imperial.
To ensure that your customers are happy with their purchase, you should add a size chart to your store and potentially warn them that the hoodies are a bit small. That way, they won't get any nasty surprises and receive a hoodie that doesn't fit.
Champion Sweatshirt and Hoodie Price
If you compare the prices of other hoodies on the Printify catalog, you'll notice that Champion sweatshirts come at a higher price point. For example, if other brands are as low as 17 dollars per piece, the Champion hooded sweatshirt is $34.70. But that's what you get for choosing a name brand, which, of course, also means higher quality. 
With Printify, you get to choose the price you sell your Champion sweatshirts for. You can charge whatever you want. However, we recommend having a profit margin of around 30%. This allows you to attract a lot of customers while still making money on each sale.
Fact
If you want even better profit margins, get 20% off on every item by subscribing to Printify premium.

Learn more.
Create and Sell Champion Sweatshirts and Hoodies Online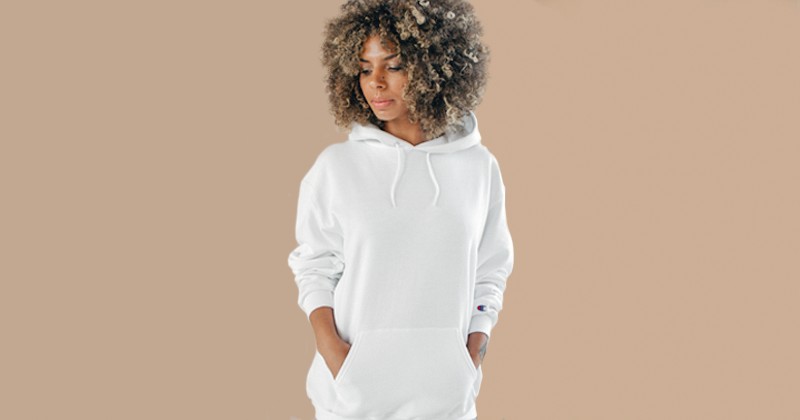 So, now you've learned that the Champion sweatshirt isn't a newcomer to the fashion industry – it's got a long and athletic history, plus an impressive comfort quotient, it's obvious there's a visible demand for high-quality Champion hoodies. Some of you might think all hoodies are the same, which is only partially true. But like I said (and you can probably relate), I've been disappointed by hoodies. I've tried them all. But this Champion one is good. Very good. I love how no matter what design you choose to print on it, there's still the recognizable "C" logo on the sleeve, promising a great quality after many washes. 
Champion sweatshirt will be a great addition to any online print-on-demand dropshipping or apparel store. And Printify is definitely the best partner you could wish for, as they always provide relevant information, trendy products, and an easy-to-use platform for your eCommerce venture. Have fun designing Champion hoodies and sweatshirts, and maybe take time to learn about other apparel and accessories you can add to your store and marketing tips to up your selling game.
Share the article
Topics