How to Dropship Sublimation Socks Like a Pro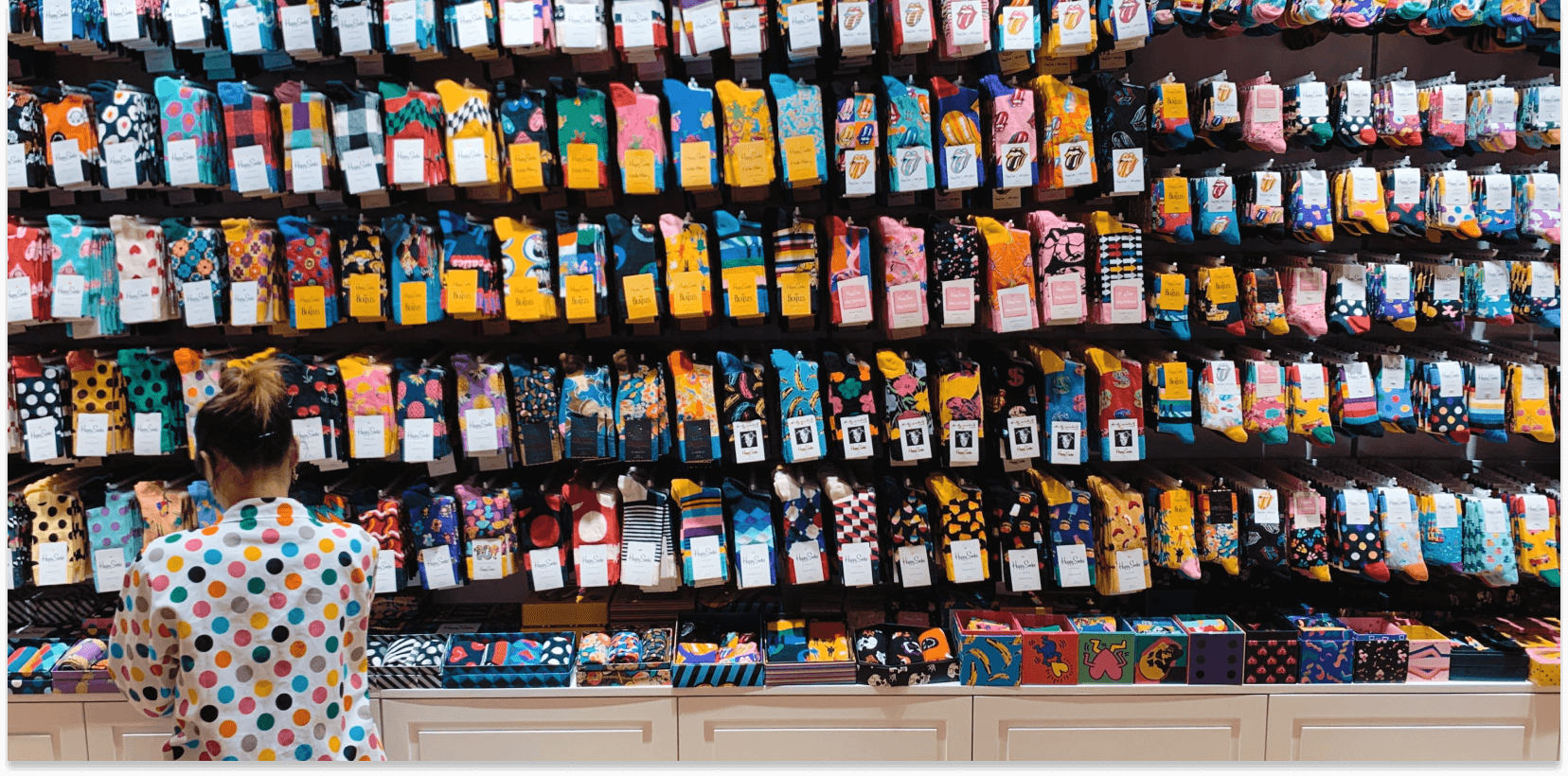 Why sell sublimation socks? 
Socks have been a basic commodity for a long time, but lately, their role in fashion has turned many heads. You might have already noticed this phenomenon – personalized brick-and-mortar stores popping up with walls of sublimation socks like rainbow draperies, covered with dizzying and colorful patterns.
Today, we're here to put the power of sublimation socks in the hands of your online store and explore some helpful design tips on how to sublimate socks. By the time you're through reading this article, you'll know:
Start a new addition to your eCommerce store for the potential to sky-rocket your sales. It's time to step up your design game by stepping into the soles of sublimation socks.
How Does Sublimation Work?
There are several printing techniques in the print-on-demand dropshipping world. Here, we'll be talking about the all-over-print method: sublimation.
Sublimation uses heat to merge ink and fabric. The inks used in sublimation turn into gas when brought under heat, then combine and completely fuse onto the textile. The result is permanent and less prone to fading – the ink is embedded in the textile rather than simply laying on top of it.
In a nutshell, here's how sublimation sock printing works:
Design is printed with sublimation ink onto sublimation paper

The blank template product is then placed onto a jig

The sublimated paper is wrapped around the product

The combined material is put under a heat press

After the heat exchange, the print is infused
Why Sell Sublimation Socks?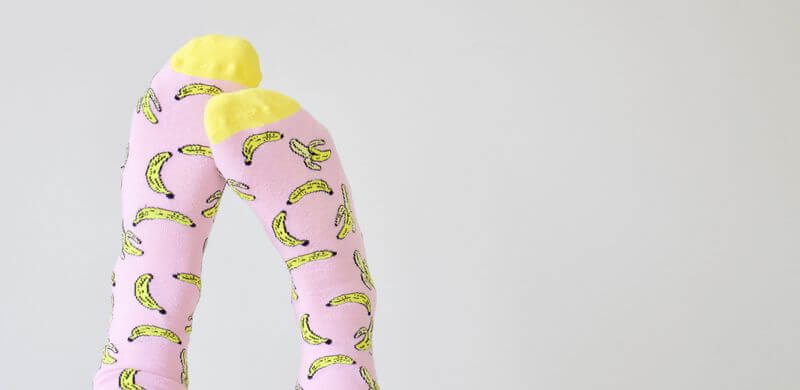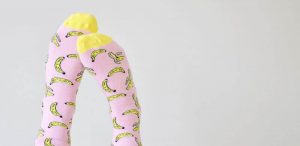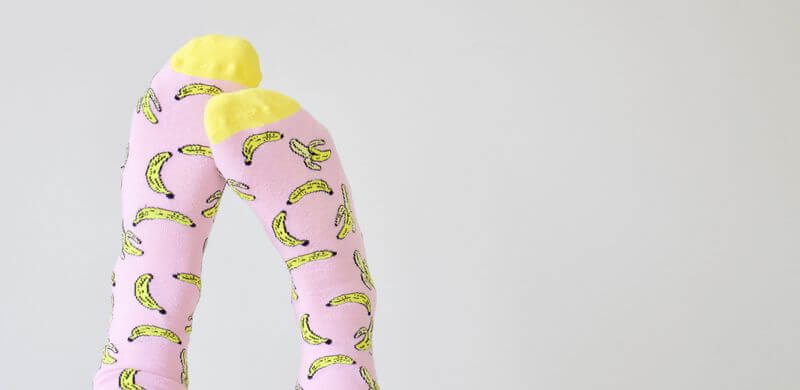 "One can never have enough socks," said Professor Dumbledore in the first Harry Potter book. And frankly, we agree. All of us wear socks – there isn't a week when they're not a snug fit that cushions your step.
If you're looking for custom printed socks that are long-lasting and feature distinct colors and high-resolution quality, sublimation is what you want. The best-designed graphic apparel and home decor use the sublimation process to achieve vibrant, all-over graphics – an everlasting gob-stopper of printing.
1. Colorful Sublimation Socks Are the New Black
Socks are a product that fosters a lot of potential for creativity and design – they're versatile and act as an easy product to switch up in a customer's wardrobe. The global market seems to agree. 
With a 2018 value of $11.7 billion, the global socks market is expected to grow more than twice its size by 2025, with an annual compound growth rate of 10.09% between 2019 and 2025.
This market increase is not due to the commodity of socks, it's due to wearing unique socks bought from the comfort of your home. The custom clothing scene has given online eCommerce a new golden goose to latch onto, and sublimation printed socks are a print-on-demand stand-out.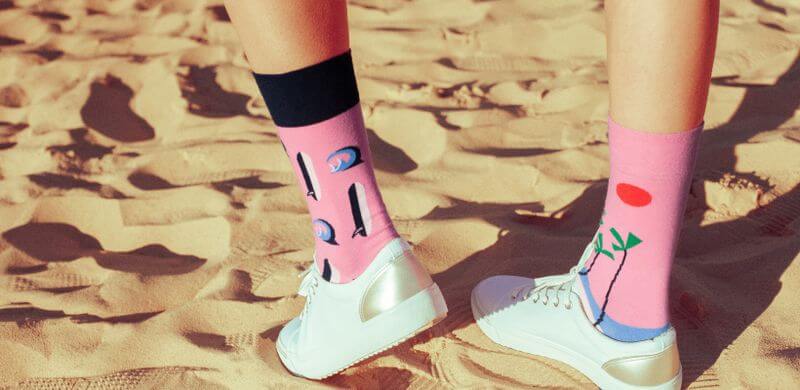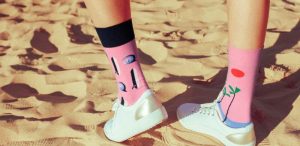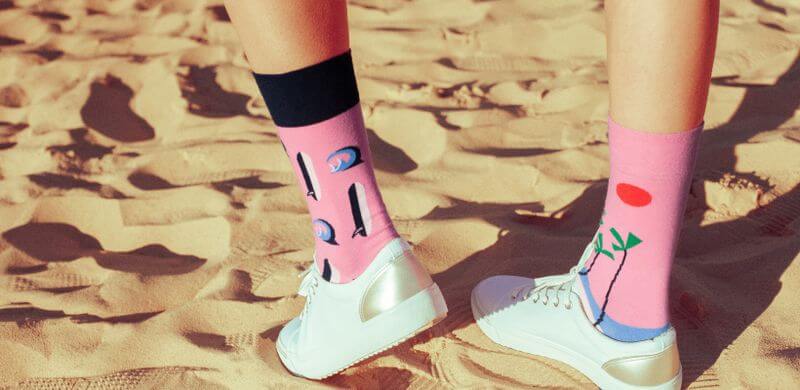 Luxury socks have become a new trend in recent years, evolving from commodity or formal accessories to everyday fashion items.
Because of the ever-growing sneaker trend and cozy knee-highs, men and women are an equally large part of the sock-buying crowd. The fashion staple of high-cut jeans, shorts and trendy skirts puts socks in the spotlight of nearly every demographic and season.
Luxury footwear is no longer just black garter socks for suits and dresses at a flaunting price, hand-stitched in the peaks of the Alps. Sublimation socks peak the existing demand for rich colors and affordable pricing, putting old standards to shame.
Speaking of the demand, there isn't a month in a year or a day in a week when socks aren't highly sought out.
Socks embody the nature of daily demand. Their number usually exceeds 4-5 pairs for a single person but can reach – including for yours truly – dozens of pairs of colorful socks for every possible occasion.
Every one of us loses an average of 15 socks per year – high demand appears quite naturally and can generate a steady income.
4. Your Customers Are Basically Everyone
Since socks are such a universal accessory, you really can't go wrong when choosing a customer segment. Multiple demographics can overlap, making socks an excellent item for gifts.
You can produce a huge variety of categories for socks. Cozy socks for home, on the go, for showing off, for males, females, teens, adults, athletes, business people, teachers, artists, and anyone else.
Build your store strategy for different audiences, and offer a variety of sock designs to choose from. Your designs can be simple, themed, repeatable, and play with different color palettes – any gimmick works as long as you know your audience's interests.
5. Low Product Price and Tiny Weight
Naturally, we have to include the fact that sublimation socks are cheap and easy to ship.
To profit from your dropshipping business, you put a certain markup on the products in your eCommerce store. When you do this with socks, it's still a low-priced product that is appealing for bulk purchases.
The design process is quicker than for other products, and with the small product price, you can provide large order discounts to increase your turnover rate.
Sublimation Socks Design Ideas
Let's recap some of the reasons why sublimation socks are a treasure trove for design ideas.
Sublimation socks make for great gifts. There's no audience limit, and the demand is always high.
Got the perfect top-selling design idea brewing? If you already know your way around print on demand, go straight to the Printify catalog and look for AOP item highlights – you will find a perfect blank unisex pair to go wild with your designs.
Need more inspiration? Let's look at a few sublimation socks ideas for your designs.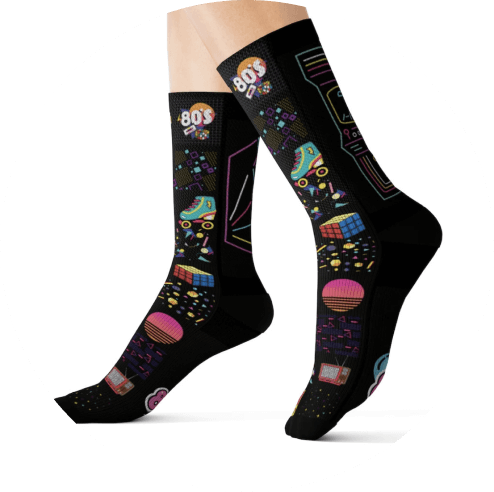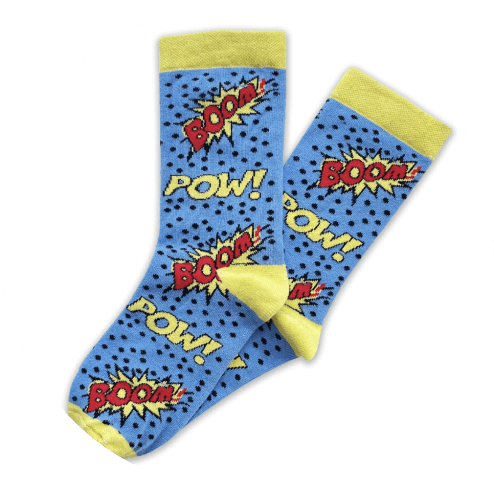 We've all had a love-hate relationship with tube socks, but the style has charm. There's a certain feeling of nostalgia whenever our collective brain cells image of Tom Cruise's opening dance in "Risky Business".
The 80s might have gone in weird ways, but sock designs are a thing worth bringing back. The younger sneaker crowds could use a refresher from days gone by.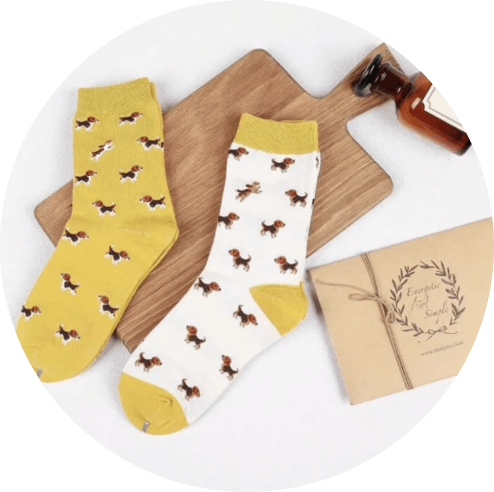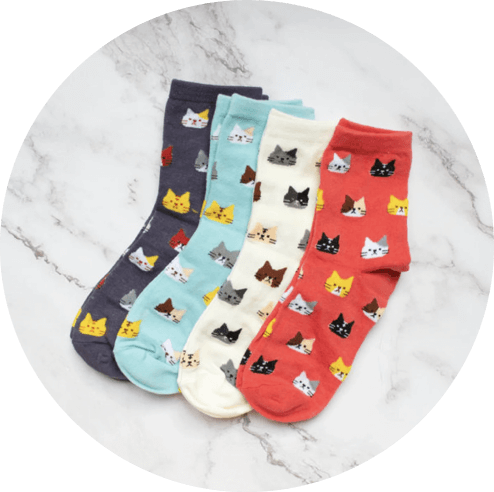 If you've stared at your screen for long enough, you'll know how memetic pet designs can be, especially when placed on small prints. You've got dancing dogs, frogs grooving to the beat, and cats with knives.
They're widdle rascals, sneaky fluff balls, and innocent fur babies. You can't go wrong with animal prints.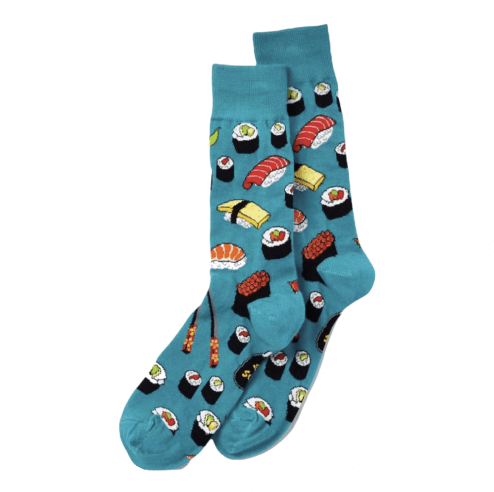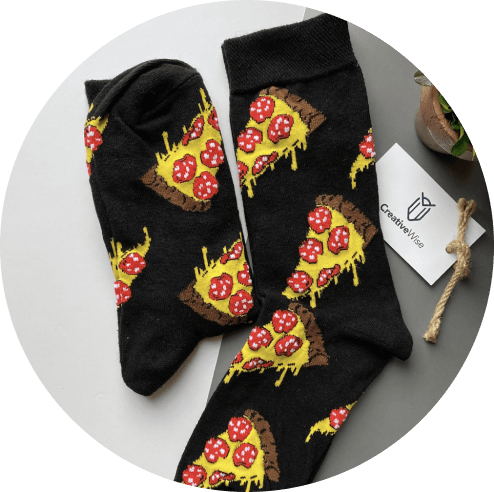 Now, food is a known sock staple. Pizza patterns or avocados are a usual sight in fast fashion socks, but a world of culinary delights is still left to be explored.
The best part about sublimation socks is that you can couple beloved food designs with high-contrast background colors that add an extra dimension of style to build a wardrobe around.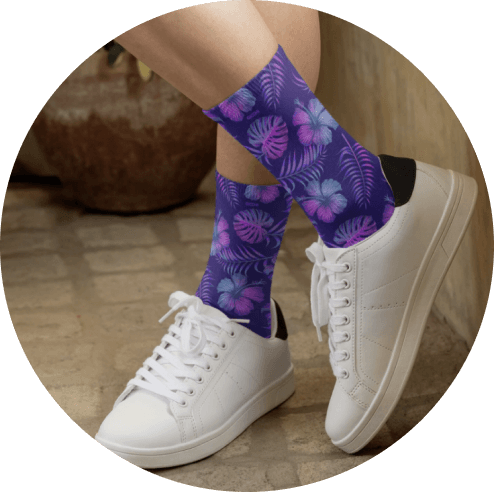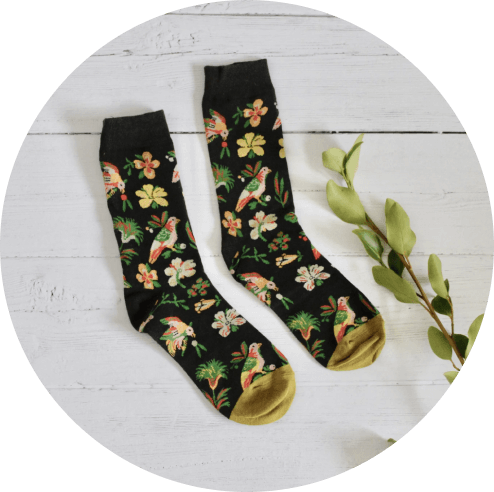 Floral patterns won't go out of style regardless of the fashion season. From the striking Frida Kahlo floral backgrounds to wild rainforest patterns, you've got a literal world of possibilities when invoking plantlife.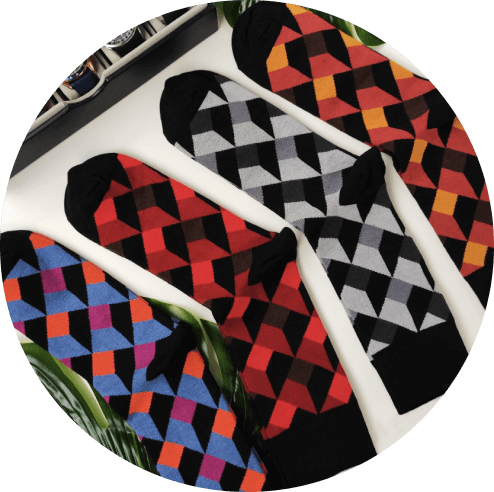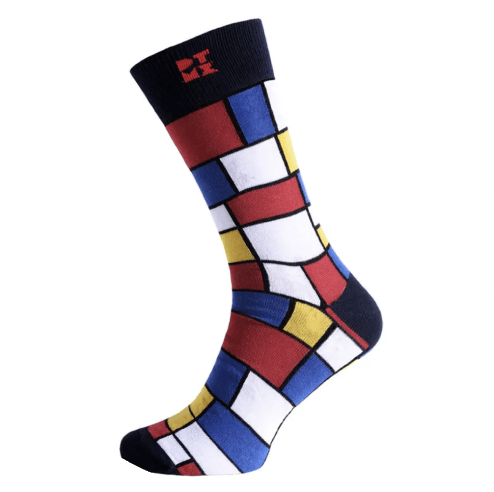 Sometimes the most simple design is one that sells best. Geometric patterns are a great addition to sublimation socks since the intricate line detail will make a beautiful curved scenery that goes great with formal and casual outfits alike.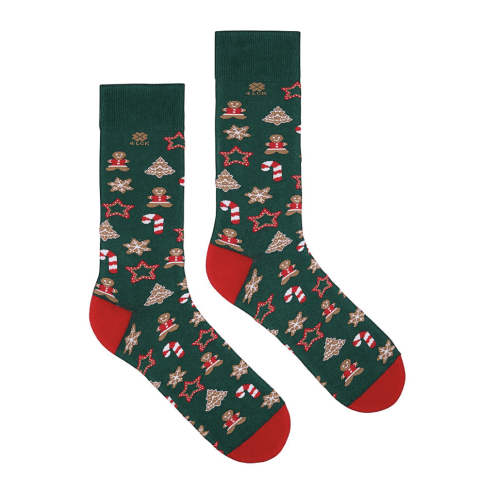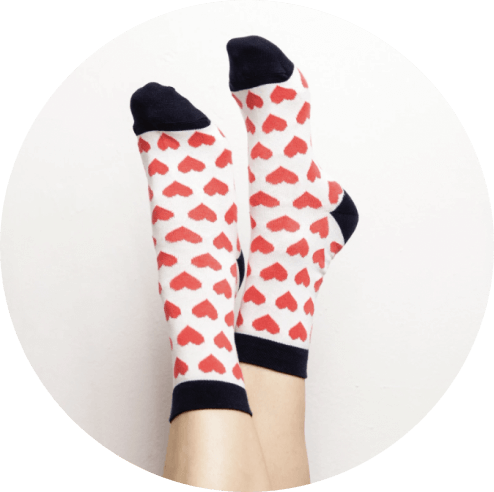 Bring socks to the holiday months. 
Seasonal Christmas socks and ugly sweaters go hand-in-hand. Or, create a heart pattern to match Valentine's boxer briefs, set up an easter egg sock hunt, or pride the nation with preppy flag socks.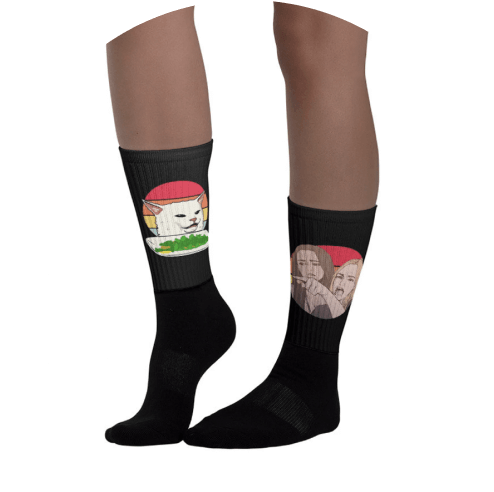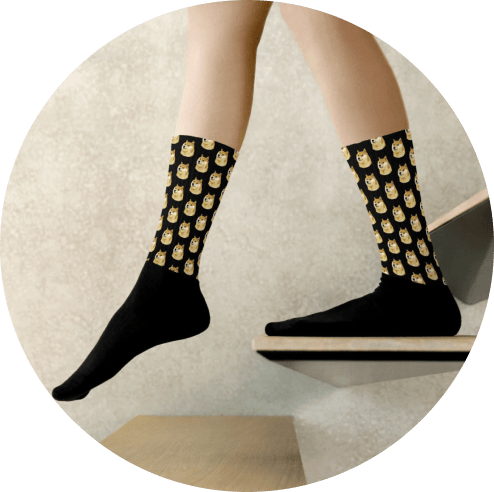 We can't guarantee that the next internet frenzy will last long, but if you have a knack for calling the new meme of the year, the next step is to go ahead and monetize it. Because, why not?
Ground Control to Major Tom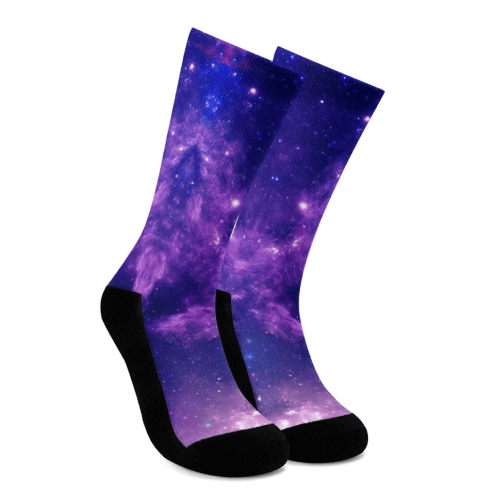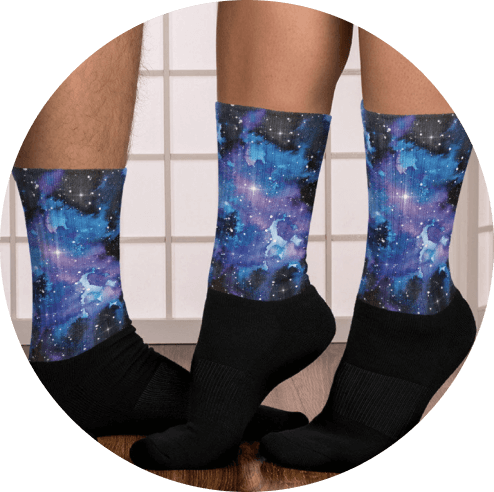 The NASA brand logo design has sparked a new generation of space-themed apparel, but even that won't stand ground against the beauty of cosmic scenery. As we raise our heads to better horizons, let's look down to the ground and realize we're already standing on a giant rock hurtling through space – in our socks.
How to Sublimate Socks with Printify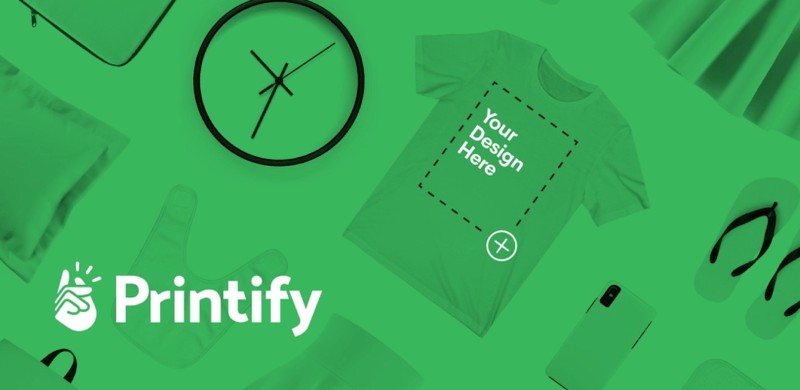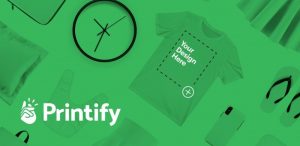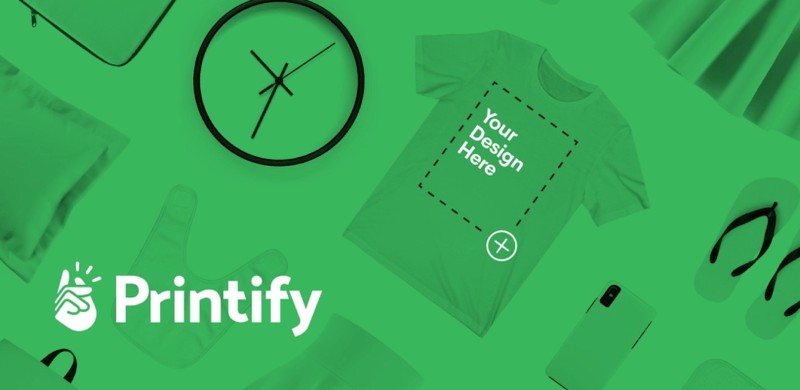 Printify is a print-on-demand platform that facilitates an extensive framework of tools and how-to's for any eCommerce dropshipping start-up.
As you create top-selling designs and manage your online store and promotion, we work in the back and manage all the technical maintenance. We offer a catalog of product blanks, print providers, an inventory management system, store integrations, sales margins, and merchant support – the list goes on.
If your eCommerce journey is in its infancy or you're willing to try your hand with Printify for the first time, we'll outline the steps that'll get you to sell sublimation socks in no time. Open a new tab and follow the vision we're happy to set out for you:
1. Create a Printify Account
Go to Printify and click to Sign up on the top right dashboard. Enter your credentials, and complete the registration process.
Click on your profile icon on the top right corner and select My stores from the drop-down menu. Click to Add new store and choose your eCommerce platform or marketplace.
If you're new to print on demand, learn how to start a print-on-demand business and move on to more information on our blog or help center.
Once Printify is integrated with your eCommerce platform and store website, you can move on to selecting a product you wish to sell in our catalog. It's that simple.
Get your inner vision ready because you're about to decide on a perfect pair to place your designs on.
Locate Socks in the Printify product catalog dropdown menu under Accessories. On the left-hand side of the screen, use the category filter and check Dye sublimation under the Print type section. You may also filter out Fulfillment locations and Print Providers to narrow down your options.
We currently have five unique options for dye sublimation socks in the US, each with specific styles and sizes – the best socks for sublimation you can start out with.
3. Prepare a Sublimation Socks Template
For your design to look top-quality and high-resolution, you'll need to follow a few guidelines to make sure your image file fits print standards.
First, make sure that your image file is in one of the two supported file formats – JPG or PNG.
Then, make sure your image is at least 150 DPI in print resolution. For a more detailed framework, check out our guide to get a high-quality design file.
Following that, make sure that all your images have transparent backgrounds and your fonts are outlined instead of existing as separate font files. You can create a font outline and erase white backgrounds using free graphic design software, or find a handy in-browser tool to process the image.
Check the list of product details – the make and model of the blank AOP sock pair – to define the size variants for your designs. It's common to have to resize your designs until they fit the template with high quality.
When resizing your designs, never brute force your dimensions on the preview tool itself, but change the size and resolution on a photo editing app. This will ensure that the quality remains consistent.
If you're any fan of ease of use and quick accessibility, you will love Printify's Mockup Generator.
When you click on your preferred sublimation sock product blank, click on Start designing. Printify will direct you to our mock-up tool, where you can see the exact dimensions of the product, the required measurements of your image file, and the custom features you can add and play with.
Click to Upload your design, and drag it to your envisioned location. Remember that AOP designs are wrap-around, so take your time until everything lines up correctly along with all print areas.
Remember to save your design once it's finished. You'll be able to review and edit it on your My Products page on the upper dashboard.
5. Add Them to Your Store
Now that you have a ready design, you can integrate it straight into your own store catalog.
On the My Products page, navigate down to the list of products and click on the name of the sublimation sock design you just created. Here, you can edit the description and price your product.
When you're satisfied, go back to the products page and click Publish. Your design will be imported to your store domain in a matter of moments.  Finalize the process by adding any necessary details on your website to spruce up the imagery, tags, and catalog location.
You're all set to start selling. With your designs trickling in your store catalog, remember to add some creative highlight locations for the new products, market on other media channels, and sit back as the sales roll in.
The sublimation technique endures a lot of heat, so most sublimation socks are made with polyester or a blend of synthetic fabrics.
Most print providers will not sublimate on cotton socks. The frail, natural material can degrade and damage during the sublimation printing process.
Now that you know that socks are a great niche to conquer and some of the design ideas have hopefully inspired you, it's time to get cracking. If you haven't already, set up your store, connect it to Printify and let the fun begin.
Play with the intense richness of sublimation print colors, and don't skip out on the theatrical, goofy, ridiculous, and down-right playful designs that the people know and love. Create socks dropshipping is made best for, and start selling today.
Share the article
Topics